The best motorcycle helmet speakers or loudest Bluetooth helmet speakers allow you to communicate with family and friends while driving and call for help in an emergency. In addition, you can use the Best Bluetooth helmet speaker to listen to music and navigate without losing concentration while driving.
Therefore, helmet speakers are ideal equipment for riders. Use these advanced wireless speakers for hands-free calls, calls and listening to music. The best motorcycle helmet speakers on the market have advanced features such as GPS voice control, Bluetooth intercom and built-in FM radio.
They will change your noisy journey into an exciting adventure by listening to music and sharing it with other drivers. A whole new world awaits you with these fantastic inventions.
Finding a motorcycle helmet headset that perfectly matches your helmet type requires some research. However, the products I found to put in this article will completely change your world with all possible functions.
10 Best Motorcycle Helmet Speakers for Music
Here are the List of chosen products, Just click on your favorite company speaker and land on its description to understand the original specs.
After all descriptions, I suggest the buying guide to take notes before buying one. I also interlink other related posts to help in fulfilling your Musical interest.
Latest Article: What Is A 4 Way Speaker?
1) Sena 20S-01 Best Motorcycle Helmet Speakers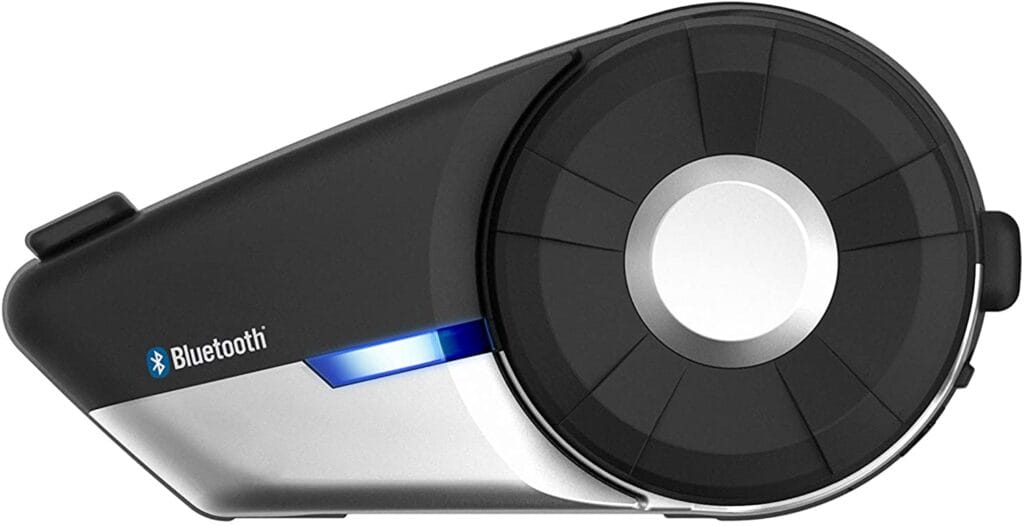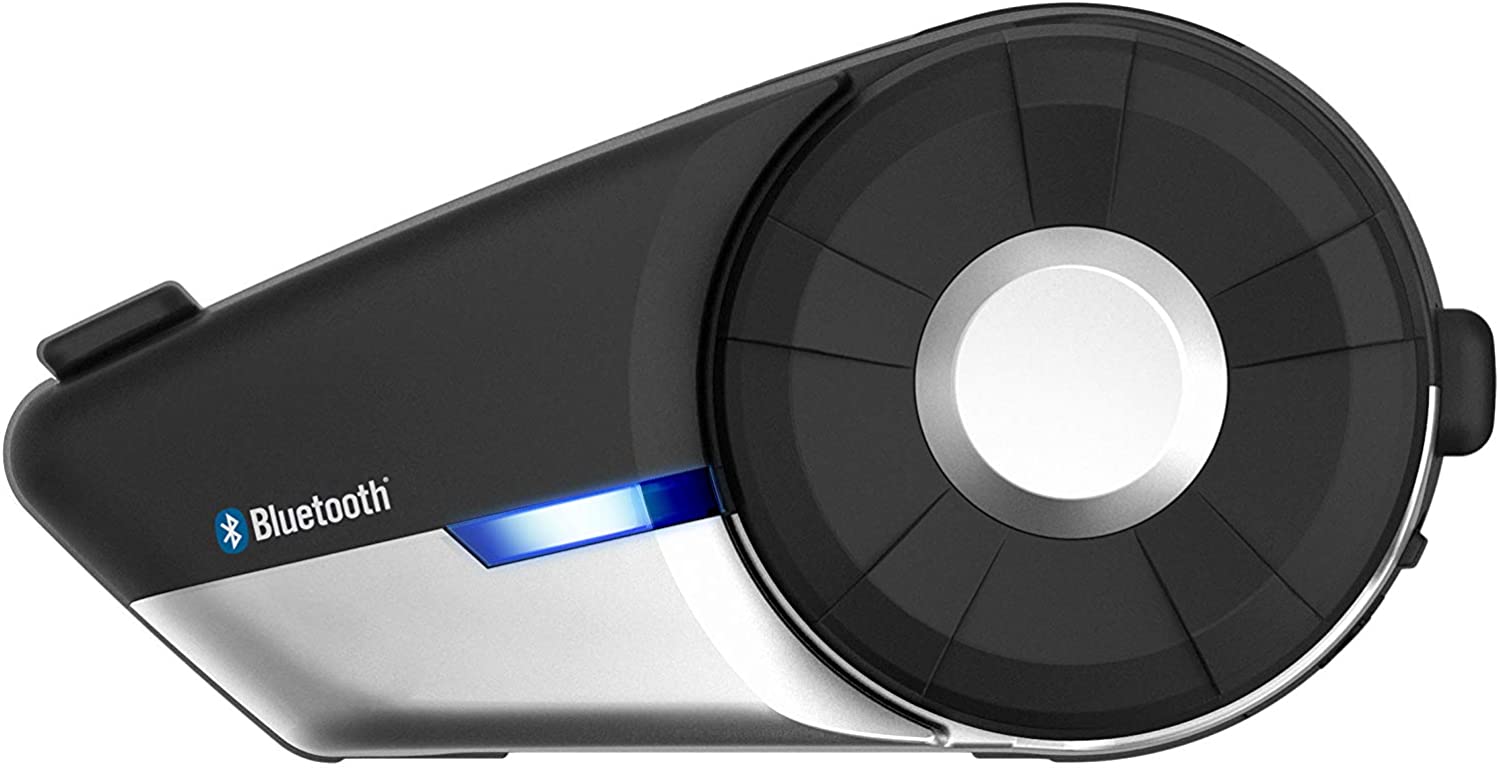 Motion sensor technology
Voice command system
Dual module architecture
Audio Multitasking technology
Sena 20S-01 is one of the best high-quality speakers helmets. The Sena 20S Motorcycle Bluetooth communication system can connect up to 8 friends with clear high-definition audio up to 1.2 miles away through Group Intercom stay, helping you make the most of your riding.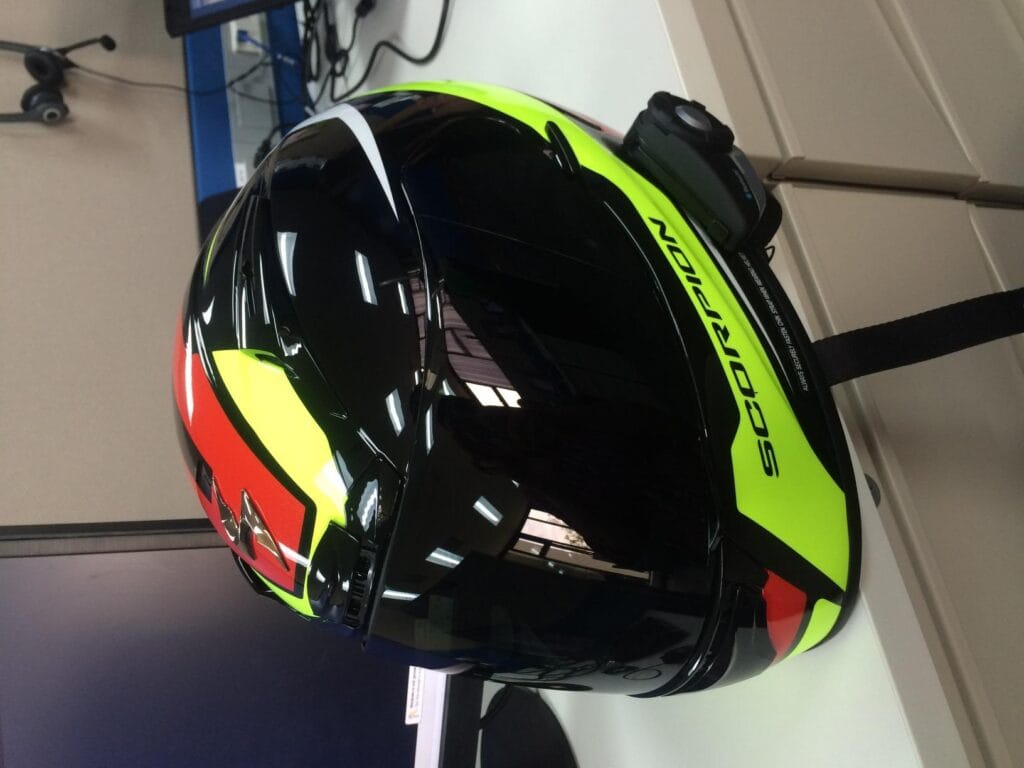 This is an ideal bluetooth headset for universal motorcycle helmets. It uses a universal intercom protocol to be used with all Sena and third-party Bluetooth headsets on the market. You will be surprised by his performance. The 20S can provide clear, precise and comfortable high-definition sound in any environment.
Sena's advanced noise reduction system ensures that ambient noise will not interfere with incoming and outgoing audio.
Bluetooth 4.1 technology and dual-module architecture ensure a smooth, precise, and responsive user experience, which you will experience soon. In addition, with Sena 20S multitasking audio technology, you can make intercom calls while listening to music, FM radio or GPS.
You have to face the frustration of the audio interruption function of previous Bluetooth devices. The 20S universal walkie-talkie is the perfect solution. The new user interface makes it extremely easy to set up and pair your 20S with Sena motion sensor technology.
Just swipe the 20S to pair your device. On the go, you can fully control the 20S with hands-free voice commands. Intuitive technology enables safe and controlled driving through seamless music, phone and intercom functions.
In addition, the optional steering wheel remote control gives you more flexibility in steering and controlling technology to simplify things making it the best motorcycle helmet speaker.
Benefits
It has a feature of group intercom
It uses the Universal Intercom protocol
Sena adopts the Advanced Noise Control Function
It also has optional Handlebar Remote control
Drawbacks
It is not weatherproof; it will damage easily in the rain.
Latest Post: How To Hide Speaker Wire?
2) JZAQ Motorcycle Sounding loudest Helmet Speakers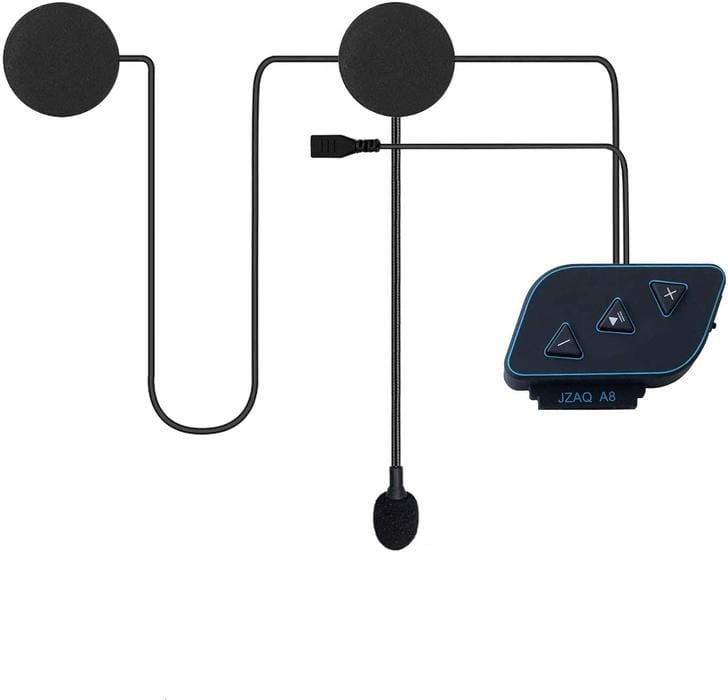 IPX7 Waterproof
Long Play Time
DSP Noise Reduction Technology
Nano Coating Technology
JZAQ is one of the best Sounding best Helmet Speakers. It is equipped with detachable Velcro fasteners that can be easily fixed on the helmet for a stable sitting posture. Connection is stable in the windy environment. Furthermore, due to DSP noise reduction technology at high volume, this helmet headset transmits clear and high-quality stereo.
It is compatible with MP3, and GPS are independently supported on all Bluetooth-enabled smartphones. In addition, the walkie-talkie connects two mobile phones wirelessly at the same time, automatically connects to listen to music, and the connection signal is strong. Thus, it provides effective and comfortable communication when riding a motorcycle helmet.
Whether you are driving in the rain, the waterproof case can support music streaming. Thanks to Nano-coating technology, it has an IPX7 protection level, dustproof, waterproof, and outdoor safety.
So don't worry about rain or snow. It is equipped with a built-in 900mAh lithium-ion battery, Long standby and playtime. It supports 50 hours of continuous call and playback and 500 hours of standby. The charging time is 2 hours and also supports the screen battery of your phone.
The motorcycle helmet headset uses 4.0 chips, compatible with Bluetooth/GPS/MP3 mobile phones, suitable for any motorcycle helmet. It has comfortable and reliable buttons, a convenient plug-in design.
You can easily skip songs or answer calls on the loudest motorcycle helmet speakers. These headphones are beautifully packaged, so you can send your family and friends happier and warmer gifts. It is for you and friends or family who like to ride motorcycles that make it the best motorcycle helmet speaker for music.
Benefits
It has a 90days replacement guarantee
High sound quality with an effective range
Easy to install and easy to use
Affordability matches with its quality
Drawbacks
It has very little bass. Not good as competitors
Related Post: How To Use Amazon Alexa as A Speaker For PC Without Wifi?
3) THOKWOK BTS3 Wireless Best Motorcycle Helmet Speakers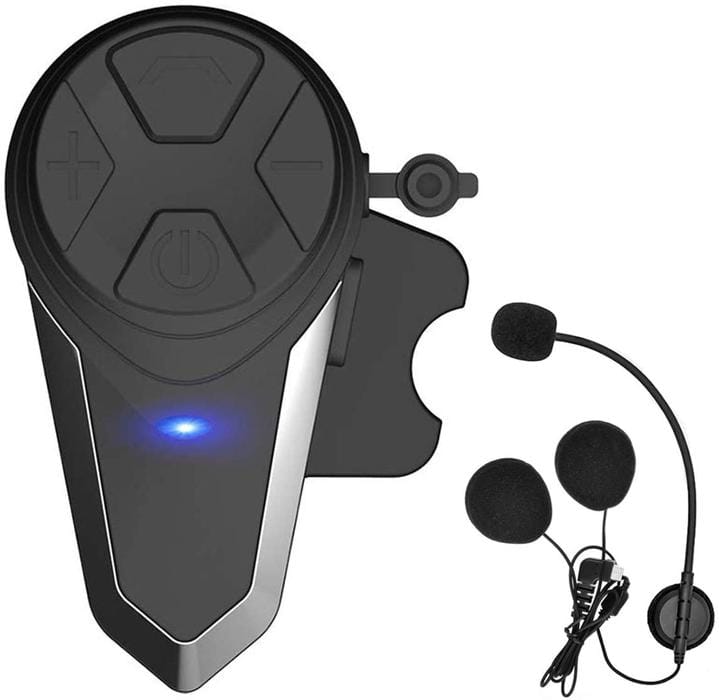 CSR Bluetooth Chip
DSP echo cancellation
Noise suppression technology
Built-in FM Radio
THOKWOK BTS3 is an excellent wireless motorcycle loudest helmet speaker. BTS3 is a Class 1 Bluetooth V3.0 + EDR stereo headset with a durable Bluetooth intercom system specially designed for motorcycles. With BTS3, you can talk hands-free, listen to stereo or GPS voice guidance, use wireless Bluetooth commands, and performs a full-duplex intercom with passengers or other motorcyclists.
It has DSP echo cancellation and noise cancellation technology to provide clear voice quality at high speed. It fits any full-face helmet and most half-face helmets that can cover the ears.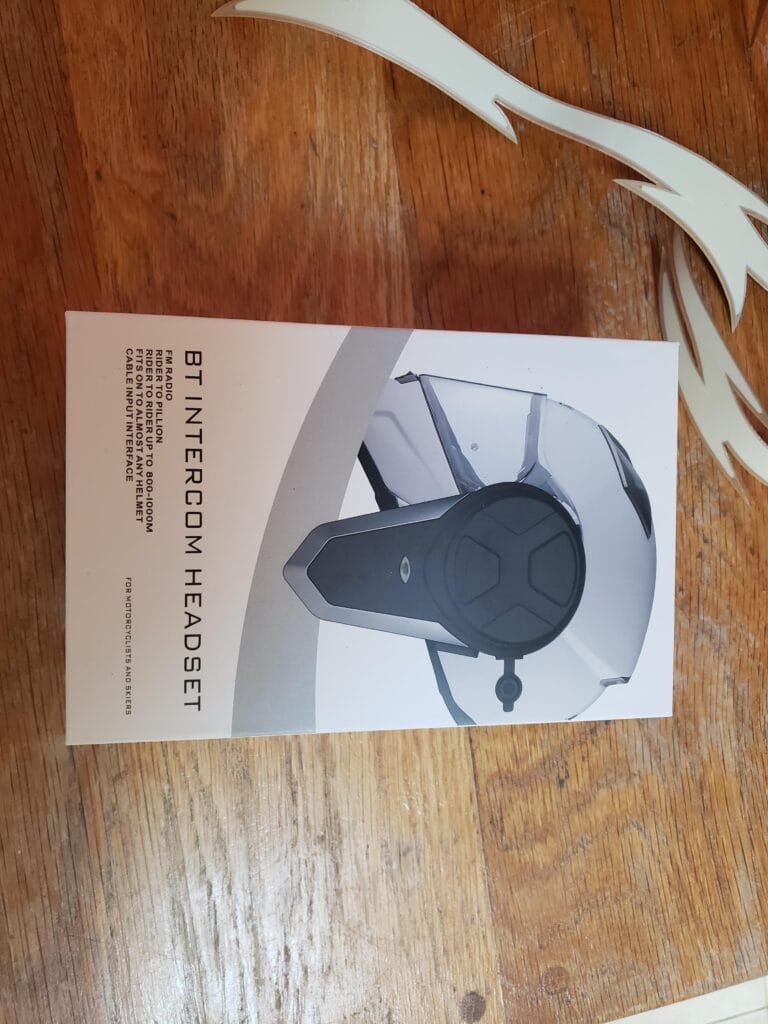 Larger buttons can work more efficiently even when wearing gloves. The connection between the headset and the clip is easy to assemble/disassemble.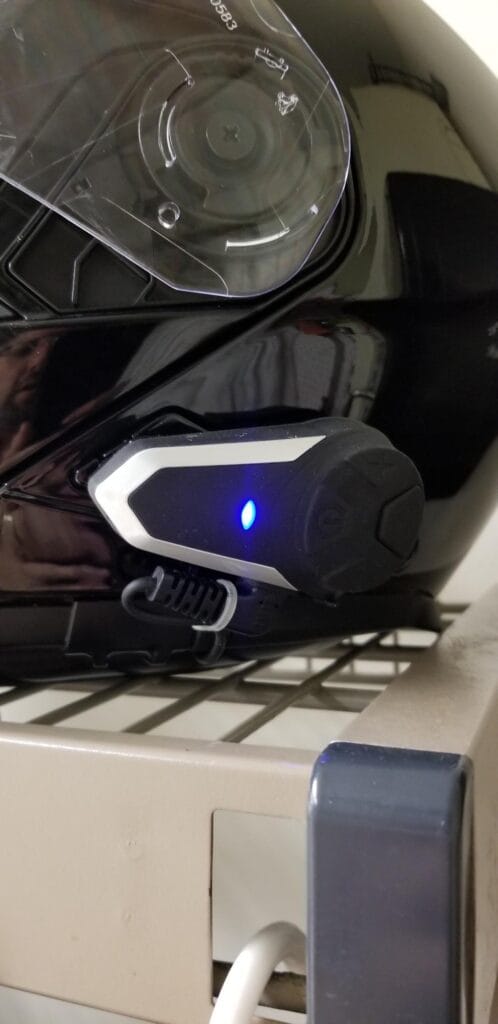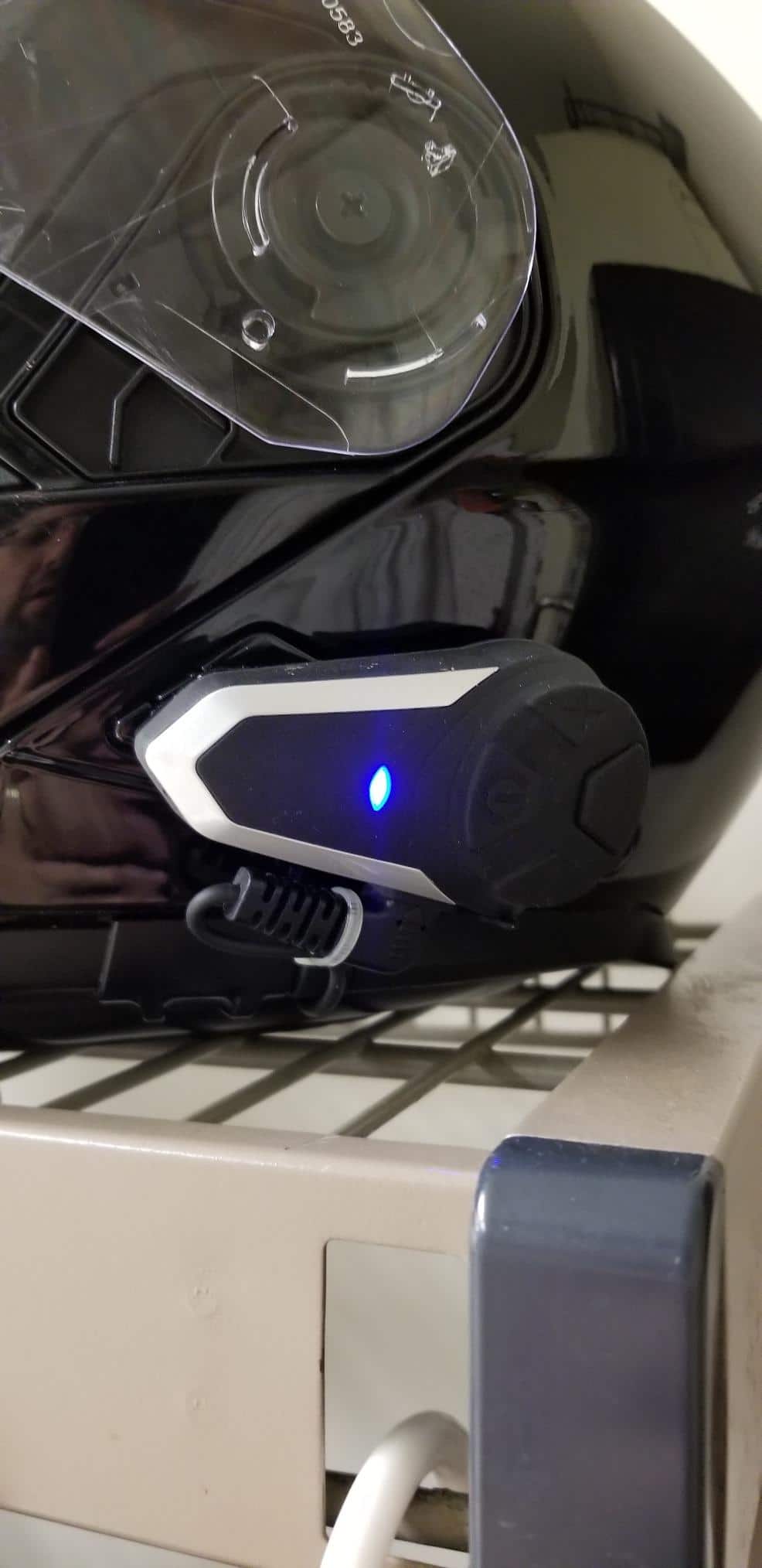 It uses waterproof silica gel, which will not affect its use even in rain or snow, making your outdoor driving more exciting. It will perform brilliantly at the maximum ideal speed is 80 km/h, 110 km/h, and the maximum distance is 800-1000 meters (without obstacles).
After the mobile phone is connected to Bluetooth, it can realize the priority switching of telephone, intercom, and stereo music. With the walkie-talkie, it can automatically answer incoming calls and automatically resume the music after hanging up.
In the intercom mode with headphones, cyclists can communicate within an open distance of up to 1000m in this best Bluetooth motorcycle helmet speaker for music.
In addition, 2 to 3 cyclists can communicate with each other using full-duplex communication technology, supporting the pairing of three cyclists and only two cyclists simultaneously. FM radio can automatically select the most suitable frequency for the program listening during the journey.
Benefits
It is suitable for any type of helmet
It is completely waterproof
Provide you with easy and hand-free communication
It has big buttons for easy to use and press
Drawbacks
The firmware of this product is weak
Related Post: How To Use Amazon Alexa as A Speaker For PC Without Wifi?
4) IASUS Premium Audio Bluetooth Helmet Speakers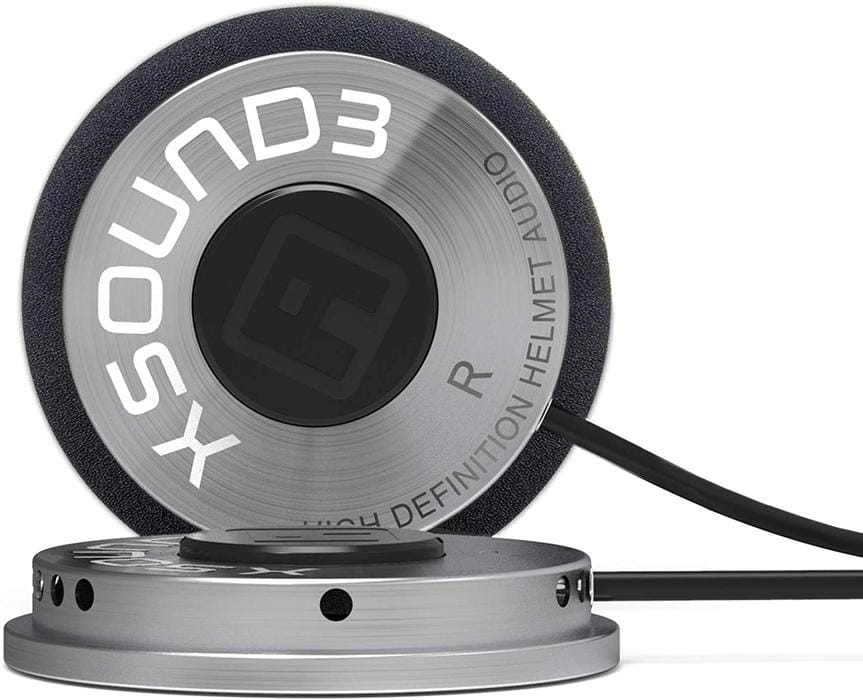 IASUS REKON motorcycle comms
IASUS throat mic headsets
Kevlar reinforced wires
Foam Spacing Pads
IASUS Premium Audio is one of the best Bluetooth Helmet Speakers for music. The slim, ultra-light, CNC-processed aluminum housing provides an extremely thin but durable acoustic tuning housing for the dynamically tuned IASUS audio driver, providing the most comprehensive and clear audio experience. In addition, it is the best over-ear headphones on the market.
The XSound 3 helmet speaker represents the pinnacle of helmet design. They use the best materials to ensure the best sound quality.
It is an unparalleled third-generation Bluetooth motorcycle helmet speakers in the market to get the perfect sound. The high-quality aluminum shell realizes a slim and ultra-light design (1.2 ounces, 34 grams).
The high quality, durable materials are suitable for extreme sports such as parachuting, hang gliding, paragliding, and wing-mounted flying.
The wiring behind the head allows the user to route the Kevlar-reinforced cable behind the helmet pad for a neat fit. The loudest helmet speaker is equipped with high-quality 3M foam and Velcro gaskets, perfect for your helmet.
You should place it in the helmet and directly above your ears for the best listening experience. The 1/8-inch plug can be connected to almost any mobile audio device.
In addition, the speakers are compatible with IASUS Rekon helmet communication systems, invisible neck microphones, or other directly connected communication devices for wireless applications.
Benefits
It has Gold plated connectors for increased audio performance
It will produce a 125 dB level of sound
These are attached with premium 3M Velcro Adhesives
It eliminates the audio degradation from wind and engine noise
It comes with a 1-year warranty
Drawbacks
These are fine up to 40-50 miles per hour. After that, these are useless.
Related Post: How To Use Multipro Tailgate Speakers?
5) LEXIN LX-B4FM Stereo Best Motorcycle Helmet Speakers For Music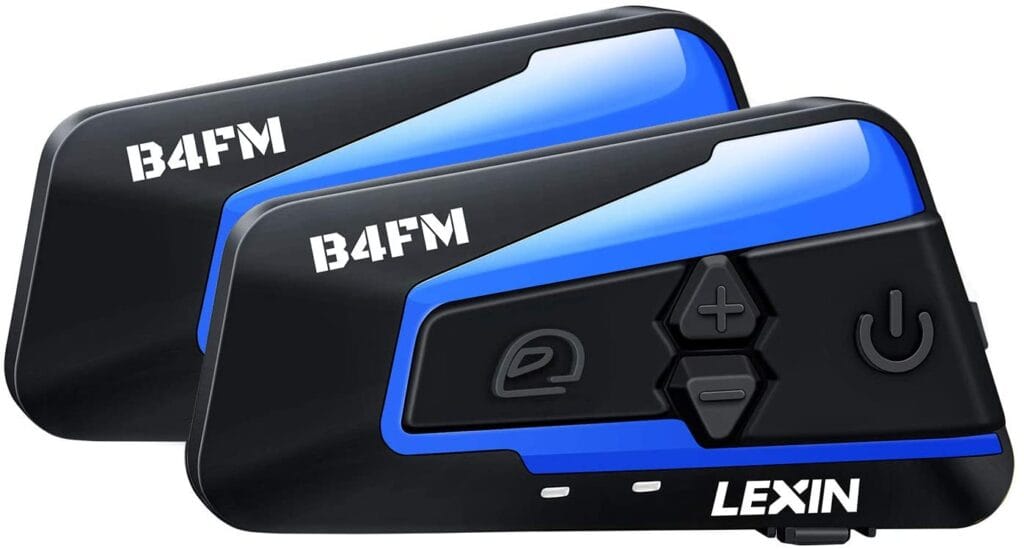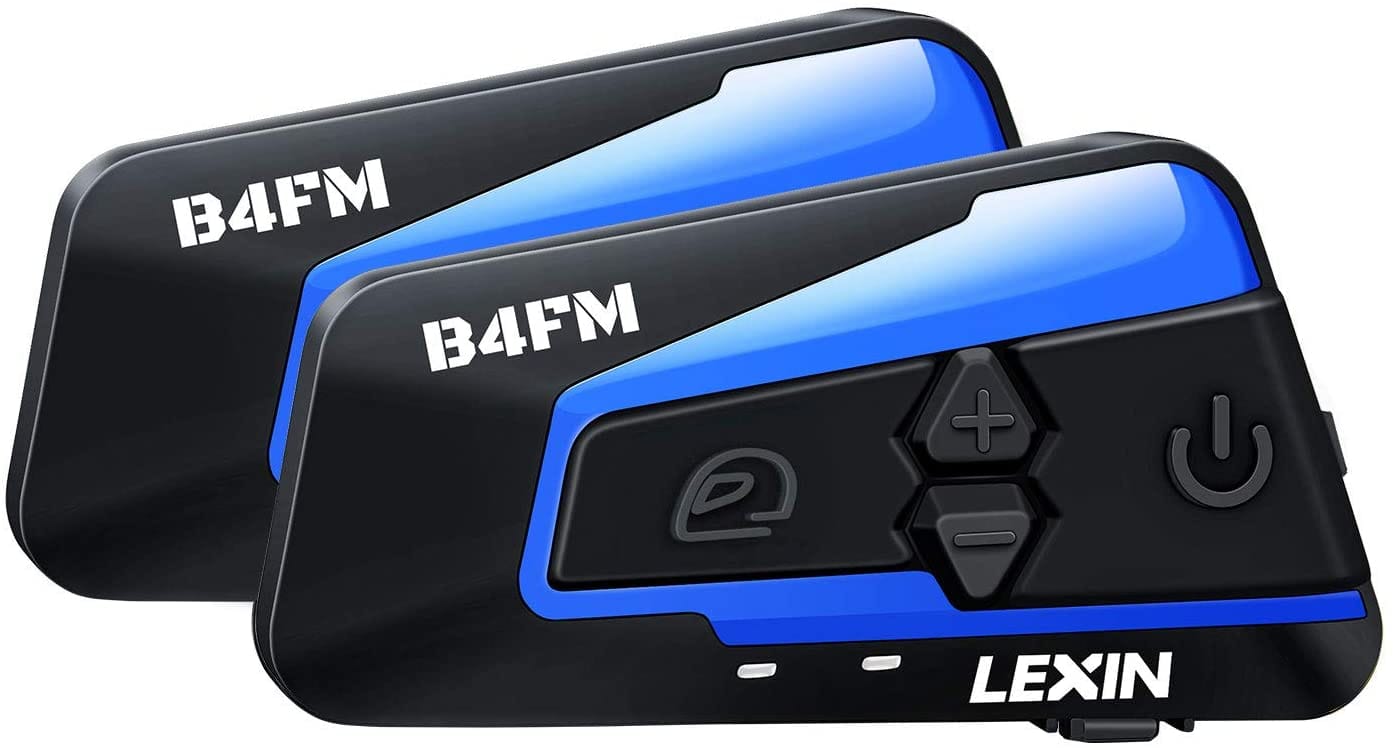 IPX7 Waterproofing
Universal Pairing Technology
4-way group intercom
Noise cancellation system
LEXIN LXB4FM is a high-fidelity best Bluetooth motorcycle helmet speaker for music specially designed. With LXB4FM, you can use a bluetooth phone to make wireless calls, listen to high-resolution stereo music, FM radio, or voice guidance from Bluetooth-enabled GPS navigation devices, and hold conference calls with up to 4 passengers
The walkie-talkie can operate within 1600 meters. In addition, LXB4FM can connect to other Bluetooth devices that support HSP/HFP (headphone profile/hands-free profile) and A2DP (advanced audio distribution profile).
HSP/HFP is the standard configuration of all Bluetooth-enabled phones, MP3 players, smartphones, and Bluetooth audio dongle support A2DP to send stereo to Bluetooth headsets such as LEXIN LXB4FM.
B4FM motorcycle Bluetooth helmet speakers can connect 4 wires simultaneously, and the maximum range is 1600 meters. Once connected, you can talk back and forth without pressing a button.
B4FM motorcycle walkie-talkie is just like a connector. So if you have speaker problems such as a headphone jack, then make sure it is properly connected.
The communication system of the B4FM helmet has excellent battery life, which means that music and calls can always be played through the walkie-talkie.
So it is very suitable for long-distance travel, and you will not be bored at any time. LEXIN B4FM also has an FM radio, so even if you don't have a mobile phone outdoors, you can listen to the radio to get the latest news.
Benefits
It performs great even at high speeds
The bass is loud and works better with earbuds
A very affordable communication system
It has a great range of 1600 meters
Drawbacks
Build quality is not as good as competitors
Complete Guide: How To Refill Dancing Water Speakers?
6) Cardo PACKTALK Bluetooth Motorcycle Helmet Speakers for Music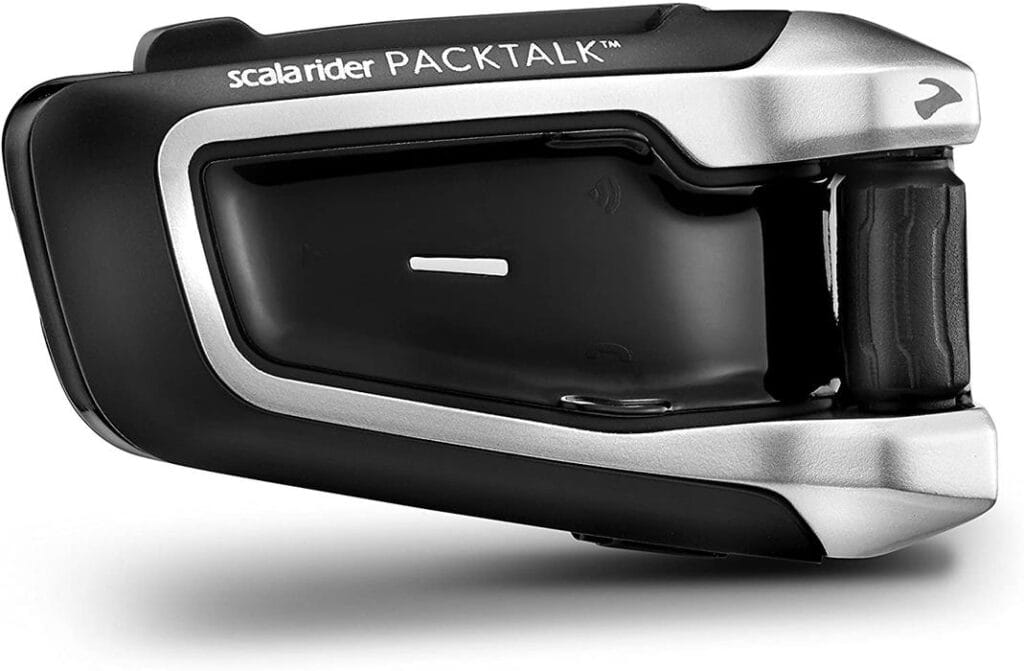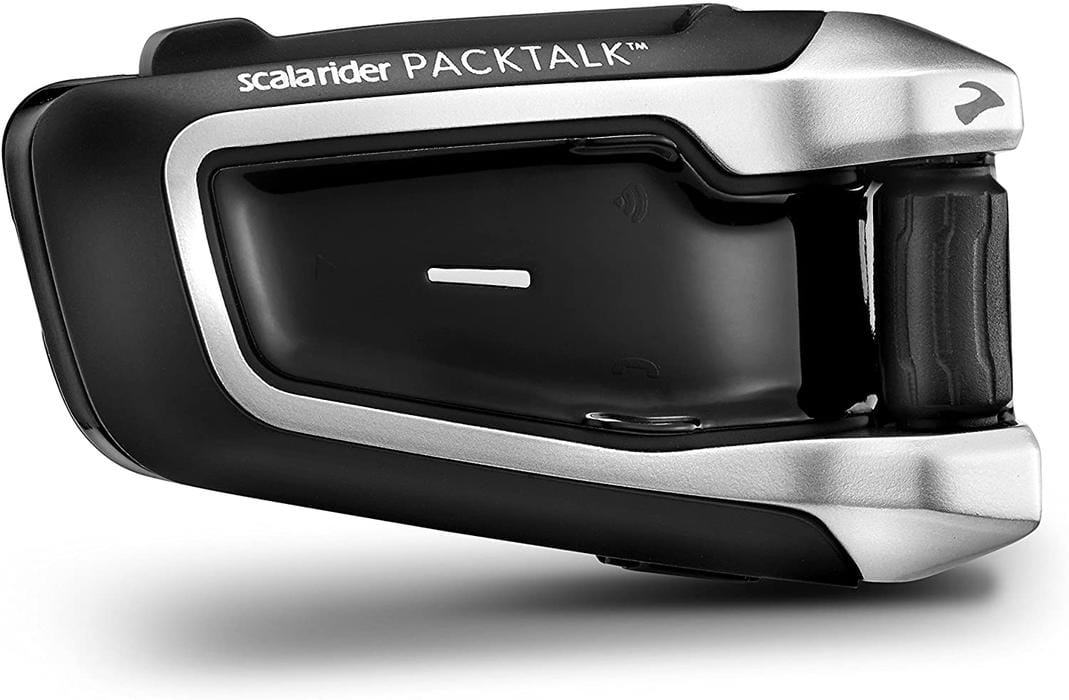 DMC Intercom Mode
Self-Adjusting Audio
Dynamic Meshwork Communication
4-Way Bluetooth Conferencing
The world's leading manufacturer of motorcycle communicators and has been connecting drivers since 2004. You can enjoy the unprecedented actual collective driving through innovative technology. Cardo Scala rider PACKTALK is one of the best bluetooth helmet speakers for music. It is undoubtedly the most advanced and most versatile motorcycle communication system on the market.
It combines the latest technology with a very intuitive user interface, dual technology DMC (Dynamic Mesh Communication), and Bluetooth 4.1 in a robust communication system.
The DMC mesh intercom and Bluetooth conference are used to make and receive mobile phone calls, GPS navigation instructions, and listen to stereo music via A2DP or built-in FM radio.
The Built-in bluetooth also provides the freedom to make internal calls with non-DMC Cardo systems and any other bluetooth helmet speakers for music on the market. The unique Cardo DMC patent-pending technology is the only communication system that provides proper conference functions for multiple participants.
For the first time, groups of 2 to 15 passengers have achieved end-to-end communication up to 8 kilometers away. In addition, DMC's adaptive spontaneous mesh network can easily overcome the service interruption problem that traditional bluetooth connections cannot solve.
Any group member can automatically join, leave, and reconnect within a fraction of a second (150 milliseconds) without having to press a button. It has an accurate range of up to 1600 meters (1 mile) under perfect conditions, but under natural conditions, it will bring you closer to 1000 meters, which is about twice that of the competition.
Benefits
It has a feature of Bike to Bike Intercom
Auto-adaptive technology for non-stop connection
It empowers with ultra-fast pairing
It is completely dustproof and waterproof
Drawbacks
If a single link leaves, the group intercom collapses.
Latest Post: How To Connect Speakers To Amplifiers in Car?
7) SCSETC S-9 Bluetooth Motorcycle Helmet Speakers Audio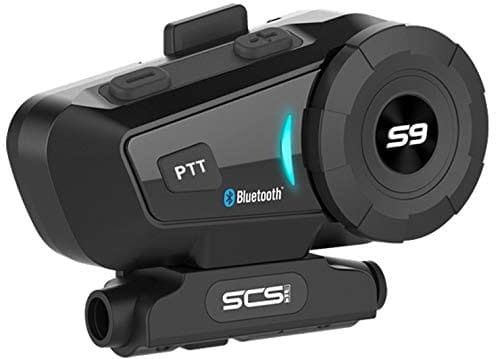 CVC noise reduction technology
IPX5 waterproof rating
Siri Voice control function
Front and rear seat intercom
SCSETC S-9 Motorcycle Helmet Audio is equipped with a new 40mm high-definition speaker, using advanced CVC technology to effectively eliminate incoming and outgoing noise effects. In addition, the bluetooth headset walkie-talkie can easily switch music during a call and provide crystal clear voice quality at high speed.
With the S9 wireless motorcycle headset, you can make hands-free calls and answer, hang up, reject and redial calls. Using this headset, you can also enjoy music through BlueTooth, receive GPS navigation and receive voice commands, making your travel more enjoyable, safer, and more convenient.
S9 motorcycle communication system is waterproof (IPX5 waterproof) and dustproof. It has a good seal, can protect the internal electronic components, and make the bluetooth headset weatherproof.
You can use it in any weather. It allows you to answer calls and listen to music while riding a motorcycle in any weather. The 900mAh lithium polymer battery can work for about 15 hours after long-term driving.
Benefits
It has two modes of active and passive pairing
Supports the 6 rider's group communication
It comes with a 1-year free service
Crystal clear sound quality
Drawbacks
The voice command function only works for the iOS system.
Read More: How To Clean Guitar Strings at Home?
8) FreedConn Bluetooth Motorcycle Helmet Speakers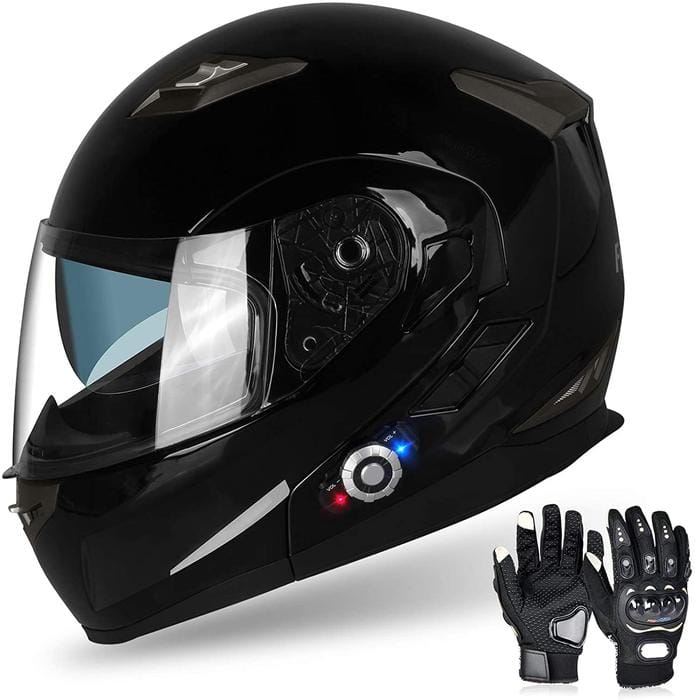 Circuit Optimization
Advanced Noise Control
Audio Multitasking Technology
LCD Screen intercom system
FreedConn's goal is to become an industry leader in the field of bluetooth intercom. Convenience and safety are the core concerns of FreedConn, which is dedicated to providing a convenient way of working for safety. These are the flat Bluetooth helmet speakers.
TCOMSC allows drivers to communicate with teammates through walkie-talkies and control functions (such as GPS, MP3, telephone, etc.) without removing their hands from the motorcycle handlebar to protect them while driving. In addition, it has an LCD screen unique in the visual design market, making it easier to use.
When TCOMSC is in intercom mode, it maintains a maximum speed of 120 km/h and a maximum distance of 800 meters, allowing 3 cyclists and 2 cyclists to communicate simultaneously, which is especially suitable for group communication. In addition, TCOMSC can be connected to other Bluetooth intercom systems from different manufacturers.
TCOMSC supports Bluetooth 3.0, supports HSP (Headphone Profile), HFP (Hands-free Profile) and A2DP (Advanced Audio Distribution Profile). Therefore, the best bluetooth motorcycle helmet speakers are suitable for most devices, such as smartphones, MP3, GPS, etc.
For example, you can easily make hands-free calls or listen to voice notifications via GPS. Similarly, you can connect it to an MP3 or mobile phone and enjoy your favorite music by controlling the music through AVRCP (forward, backward, play, pause). With the FM radio function, you can listen to music, news, and traffic information while driving.
Benefits
Offers different types of headsets and microphone
Its panel is waterproof and heatproof
It has DSP echo cancellation
Crystal clear voice quality
Drawbacks
It is not compatible with a modular helmet
Read Also: Best Cheap Guitar Pedals to Enhance the Sound Quality of Your Music
9) YOVDA Bluetooth Motorcycle Helmet Speakers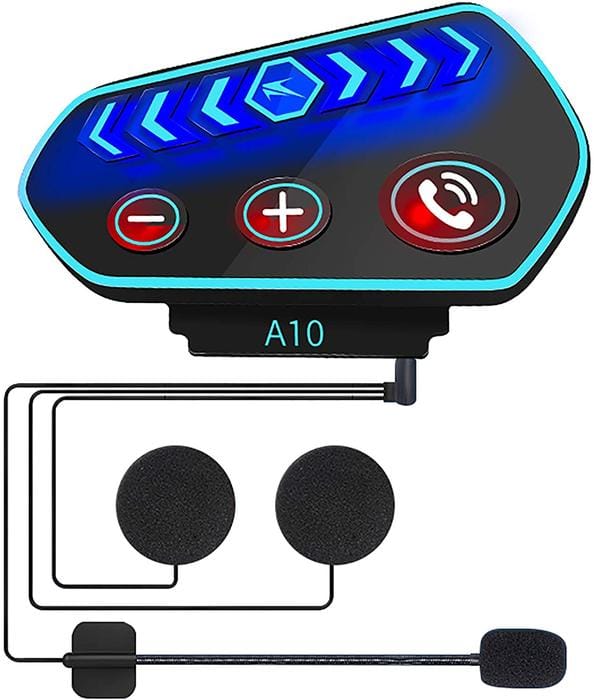 IPX7 waterproof rating
Innovation Design
Breathing Lights
Voice Assistant System
YOVDA Bluetooth Motorcycle Helmet speaker is equipped with CSR 5.0 intelligent core noise reduction, voice assistant system, 40mm strong magnetic speaker and 20 meters stable transmission distance. The headphones will bring you shocking music even when riding a motorcycle at high speed.
The Bluetooth 5.0 helmet headset is equipped with two modes, automatic answering and manual answering, connecting two devices simultaneously to switch freely. The new design brings you more fun. In addition, it supports different types of mobile phones to display power information.
One click on the button turns the backlight; DoubleClick can be easily turned off, providing you with a stylish appearance and protection on the go. Two fastening methods provide elastic Velcro and clip fastening.
This Bluetooth device is very suitable for use on motorcycles or anytime you are actually wearing a helmet. The design is very simple because it comes with a Velcro strap placed inside the helmet. The separate left and right earbuds have Velcro tapes so they can be stuck inside.
The remote control has a sturdy clip that can be used on the back of each helmet with large buttons that can be easily operated even when wearing gloves. The remote control can be easily charged via USB. You can use an external microphone. It's easy to answer the phone with this configuration which makes it the best bluetooth motorcycle helmet speaker.
Benefits
It has low energy consumption electronic components
Ultra-thin speakers with easy adjustment
It has 2600mah Lithium-Ion Battery
It provides 160 hours of Play Time in a single charge
Drawbacks
The device cannot play music and answer calls during charging.
Lastest Post: Best Flute for Beginners, Kids, Adults, & Professionals
10) Gelaten BT-S3 Bluetooth Motorcycle Helmet Speakers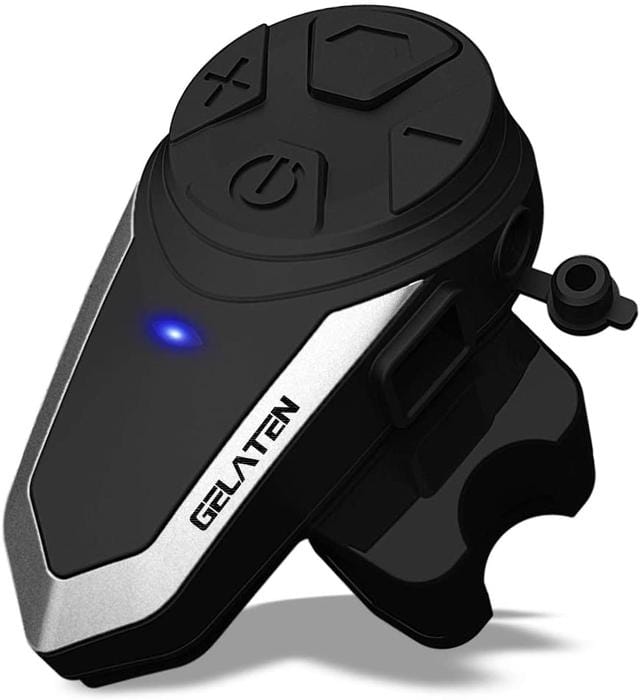 Built-in FM Radio
Bigger Pushbuttons
Buckle type connectivity
Voice prompts
The Gelaten BTS3 Bluetooth motorcycle helmet speakers is an intercom system that can be used on the road. You can communicate with other travelers without taking off the helmet, even in windy conditions. The waterproof silicone gel is used in the DSP noise cancellation and echo cancellation technology that provides clear voice quality.
You can listen to music or speak at a speed of 80-120 km/h is amazing. It fits any full-face helmet and most half-face helmets that cover the ears. You can use it by wearing gloves. The headset and clip are connected by a buckle, which is easy to disassemble. You can chat with friends and listen to music, answer calls or dial calls, GPS, and FM radio.
The bluetooth headset and wireless music streaming (A2DP) make your travel more interesting. In the intercom mode, using Gelaten earphones, passengers can communicate outdoors at an amazing range of up to 1000m. A group of 2-3 cyclists can communicate with each other using full-duplex communication technology.
The Bluetooth mode allows you to control your phone and listen to music anytime, anywhere. In addition, the built-in FM radio keeps you informed of the latest news and music while driving. The Bluetooth loudest helmet speaker is easy to install, and plastic clamps connect the host and equipment, making assembly/disassembly easy.
Benefits
It is suitable for any type of helmet
It offers wide volume control
Have full-duplex communication technology
It can suppress your background noise
Drawbacks
The battery has some charging issues
Latest Article: How to Clean Vinyl Records?
Buying Guide for Best Motorcycle Helmet Speakers
These are some main features of high-quality best helmet speakers with Bluetooth for music.
Bluetooth Helmet Speaker Compatibility:
You cannot assume that your speaker is compatible with all motorcycle helmets on the market. First, you need to determine the size of the helmet and match the headset holder you want. Your helmet usually has built-in speakers.
The Bluetooth wireless design requires your helmet to have audio capabilities and a pre-installed soundproof cover to effectively receive wireless speakers. The gasket should also easily accommodate the flexible cable.
When it comes to wired design. The bracket connected to the Bluetooth module must be compatible with the helmet. The seal should fit the speaker stand without over-adjustment.
Lastest Post: Best Distortion Pedal – Top Choices For You…
Bluetooth Communication:
All motorcycle helmet speaker types are based on bluetooth technology for hands-free communication with mobile devices. Most brands use Bluetooth 3.0 technology, and some brands have been updated to Bluetooth 5.0 technology.
Make sure your Bluetooth connection range is at least 400 meters. In addition, the technology must be able to share music among cyclists.
The walkie-talkie technology enables passengers to establish Bluetooth conferences between two or more headsets. You should choose the model that fits your ideal number of drivers.
For example, if you are going out with three other cyclists, they should all buy headsets that support four-way intercom conferences.
Mobile Phone and Multi-point Sharing:
Bluetooth technology must be connected with your mobile phone to get the best driving experience. Bluetooth headsets are usually designed to connect using hands-free mode. However, through the multi-point sharing mode, you can effectively connect to two hands-free profile devices.
Design and Speaker Quality:
The dynamics of each motorcycle helmet are ultimately determined by design. Most drivers easily turn off certain headsets based on the sound quality they hear from the speakers.
If you are looking for high-quality acoustic and high-fidelity headphones with integrated noise reduction technology, you have to find speakers with these specifications.
You should be able to listen to music or chat with passengers without the constant noise of engines and wind. The speaker should also be easy to install and have a universal connector to provide universal compatibility with third-party BlueTooth headsets.
Built-in Microphone:
When buying a helmet speaker, especially when making/receiving calls while riding a motorcycle or skiing/snowboarding, look for a helmet speaker with a built-in microphone.
Although many Bluetooth helmet speakers also come with detachable cantilever microphones, it is best to buy bluetooth helmet speakers with built-in microphones because they are hidden and not distracting.
Comfort and Loudest:
Finally, please make sure that the loudest motorcycle Bluetooth headset you plan to buy is comfortable to wear. Remember to wear a helmet for these specific speakers. Therefore, if they are uncomfortable and do not have a cushioning surface, they can cause earache.
The Sena 20S-01 is the first pick after my personal experience with this product. It has Sena 20S-01 motorcycle intercom, mic headsets, Kevlar-reinforced wires, and Foam Spacing Pads. Manufacturers use the best materials to ensure the best speakers for helmet sound quality. It is an unparalleled third-generation helmet speaker in the market to get the perfect sound.

Editor Pick # 1
The THOKWOK BTS3 is the second pick in the list of best motorcycle helmet speakers after personal experience. It has CVC noise reduction technology, IPX5 waterproof rating, Siri Voice control function, and Front and rear seat intercom. You can make hands-free calls and answer, hang up, reject and redial calls. Using this headset, I enjoyed music through Bluetooth, and GPS navigation, and receive voice commands that made my travel more enjoyable, safer, and convenient.

Editor Pick # 2
Do motorcycle helmets play music?
The helmet is compatible with iPhone and Android devices, easy to set up and sync. The bluetooth works well, loud and clear. This half-shell glass fiber reinforced plastic helmet uses Bluetooth 4.1 technology, integrated FM radio, speaker and microphone.
Are helmet speakers any good?
It is great for making calls, navigating, or listening to podcasts, but the lack of low speaker output means there is no upper limit for bass and squeaking at high volumes. So stick the game everywhere or on your partner's helmet / back.
Is a Bluetooth helmet worth it?
The Bluetooth helmet provides many benefits for motorcyclists, such as hands-free calling with passengers or other motorcyclists, music streaming, and navigation. Bluetooth helmets are not suitable for all motorcyclists, but they are a valuable asset for some people.
Are Bluetooth motorcycle helmets legal?
I don't want to say that, but accidentally putting a bluetooth headset or sports camera on the helmet will not work for you and is illegal. However, police in all states connect cameras and bluetooth devices to their helmets.