The built-in speakers of a laptop don't carry enough juice to let you enjoy music, gaming, working, or watching movies. But you're in luck because we have assembled a list of the best speakers for laptop you can buy and enhance your experiences!
We will provide you a mix of different kinds of speakers to hit your personal preference. A laptop is infamous for its convenience. You can carry it to your office, university, or even vacation. You can work or fill your entertainment needs no matter where you are, unlike a PC.
Even though some might argue that headsets are way more convenient, but it's fair to allow your ears some rest. Most movies and shows are best enjoyed on an immersive sound system.
If you have company over, you can quickly put on some music for everyone. Plus, some games, like the 'Death Stranding,' which thrive on sound systems, are best played on some good speakers.
Elevate the work and entertainment life by getting a good sound system to accompany you in all your digital efforts. Investing in some of the best speakers for a laptop can never go wrong. To help you out, we've aligned some of the best speakers available in the market.
Top Picked Best Speakers for Laptop and Desktop
Before we move onto our list, here are some of our best picks from all the other speakers based on different features and elements. Based on compactness and design, we picked out Creative Pebble 2.0 USB.
The highly portable speakers are fantastic to travel with because of their intelligent compact design, which is also unique and good-looking. They are simple to use and can easily be connected with your laptop by simply plugging them in.
Secondly, we've proudly picked out Logitech Z200 for its features and ease of use. A simple volume dialer, a built-in headset jack, audio output jack, and a bass level dial. You can quite easily customize it according to your preference without any hassle. In addition to that, it also has one of the best designs, and they look perfect next to a laptop set up.
5 Best Speakers for a Laptop Review
So, to cut your time short, these are top picks for the best wireless speakers for a laptop. We've solely picked these out for laptop users based on our factors. If you have a different setup, or maybe you prioritize some other elements, then you can go through the extensive review of the five best external speakers for a laptop down below.
Speakers come with different connectivity and components. Not all speakers are great for indulging surround systems, and likewise, not all speakers are perfect for carrying around.
Some of the speakers can be connected to your laptop with Bluetooth, which enhances its benefits. Some speakers require a wired connection that can be a little tedious, but it allows a smooth, uninterruptable connection.
There are varying factors to examine and analyze. That is precisely why we have lined up these five best speakers for a laptop computer for you. You can take your time going through the key features, advantages, and disadvantages. Then after embracing all the required information, you will be able to make the best decision according to your needs.
Without further ado, here are our unbiased reviews of the top five best external speakers for laptops.
1) Creative Pebble 2.0 USB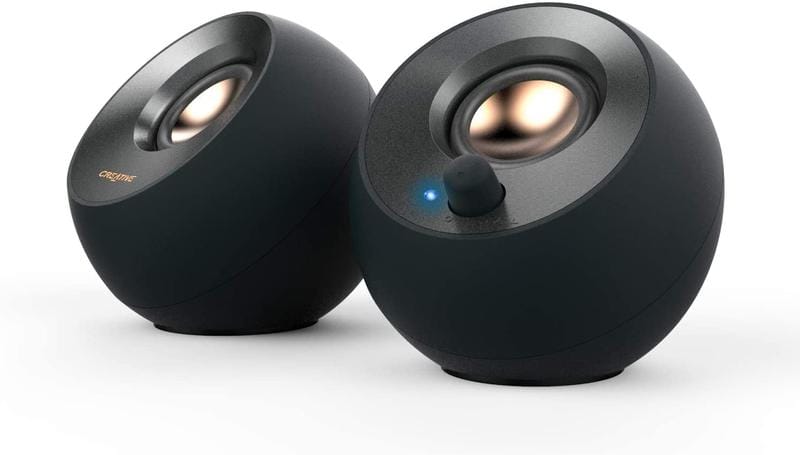 Weight: 645 Grams
Elevated drivers at 45°
4.4 inches wide
PCMAG's best voted speakers
USB or 3.5mm audio jack connection
100 Hz frequency response
2.2 Watts power per speaker (4.4 Watts in total)
The Creative Pebble has successfully pulled out some of the best affordable speakers since its launch. The 2.0 USB version is an easy-to-use portable speaker. The shape is based on Japanese Zen rock. Its elegant shape and style are some of the best out of this list.
The sleek design makes it suitable for minimalistic modern home offices and is pretty simple to carry around even if you're traveling. The speakers are available in black and white color choice.
The speakers sound different from a lot of other speakers; the cause of this is its design. The speakers are angled at 45°, so the sound reaches the user as quickly as possible. The Creative Pebble 2.0 USB has passive radiators attached to its back. The passive radiators help this mini speaker pack some punch and let out quality sounds at a reasonable volume.
The Creative Pebble 2.0 USB is connected by a 3.5mm or a 2.0 USB port. The 3.5mm jack allows it to connect to mobile phones as well other than PC and Laptop. This means you can even use it with your phone, only if you have an android or older iPhone model.
The pebbles carry 2.2 watts of power which may seem a bit low but trust us, they still somehow manage pretty loud noises.
The base of the speaker has good quality rubberized grips. The grip allows it to stick to its place without moving around due to loud bass sounds. The main speaker has all the wires coming out of it, one wire attached to the other speaker, two other USB cables, and a 3.5mm jack. It has a volume dial on it that can turn the speaker on, and rotating it will adjust the volume with ease.
Creative Pebbles are not wireless and don't support Bluetooth connections. You need to either use the USB wire or the 3.5mm jack. On the brighter side, the cables are pretty long and won't create much of a problem.
The wire connection between the right and left speaker is 3.9 ft long. For simple setups like laptops or PC, there won't be any problems with stretching the speakers on each side.
Although these are not mean monstrous speakers, they still provide some sheer sound quality. If you're looking for speakers for home office use or just casual use, and you want them not to take a lot of space, this is undoubtedly a huge potential shout for you, and they even come in cheap.
Pros:
Simple USB connection
It can be connected with a phone
Smart 45° elevated speaker
Sleek and elegant design
Pocket friendly
Cons:
It doesn't support a Bluetooth connection
2) Amazon Basics USB-Powered Speaker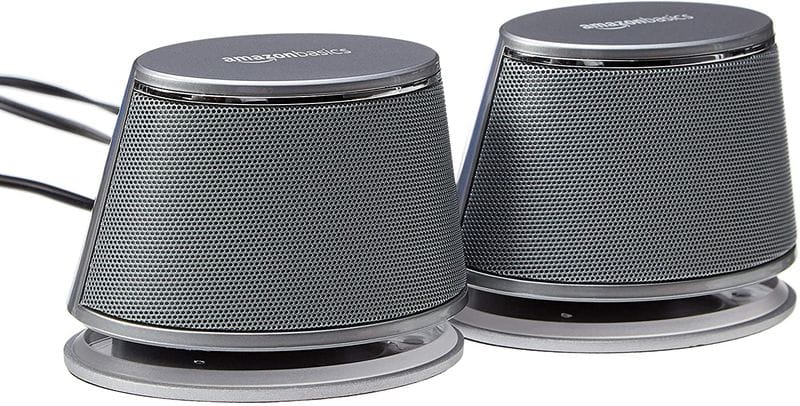 2.8 inches size of the speaker
Weight: 630 Grams
80 Hz frequency range
Dimensions: 3.9 x 2.6 x 2.8 inches
2.4 watts power
LED built-in
3.5mm and USB connections
Amazon Basics are self manufactures products by the team of amazon. The primary thought behind this is to provide popular products at reasonable prices. In this list, we look upon their USB-Powered speakers.
The Amazon basics USB-powered speakers for desktop have a brushed silver metal finish and an oval shape. You may have noticed that the design and build are almost identical to the Sanyun SW102.
Despite the similar shape and style, there are still some differences between the Amazon basics USB-Powered speakers and Sanyun SW102. The silver metal body and 180° makes the amazon basics more suitable for a clean, sleek office setup.
They can go well with any kind of furniture. Most laptops are silver-colored, so these speakers would highly complement them.
The rubberized base does its job holding its position and not bouncing around while playing sounds at a high volume. The Amazon Basics USB-powered speakers have an in-line dialer which is a cheap addition.
It's better to put it at the maximum volume and control it through your device. A USB or a 3.5mm cable can connect the speakers. The 3.5mm line can also be used to work with mobile phones.
Although, since you can't plug in the USB cable on the phone, this means the LED won't turn on, and the internal amplification won't work, making the sounds a bit quieter.
The size is even more compact than the Sanyun SW102; it's only 2.8 inches wide. Its size makes it easy to carry and portable during traveling and even moving it around your house. The blue LED adds to the atmosphere of your setup and serves as an indication that it's working.
Depending on your laptop set up, this LED feature may or may not suit your style, and since you can't turn it off, you'll have to live with it. All in all, they still pack some fantastic sound quality and are far better than the internal speakers of your laptop.
They may not be as powerful or loud, but they still are highly recommended for people who travel a lot and don't fancy their built-in laptop speakers as much. Plus, you won't regret your choice considering how cheap you can get these.
Pros:
Compact oval shape
Easy plug and play
Lightweight
Available at a low price
Cons:
The cord between the speakers is a bit short
3) Logitech Z200 Speakers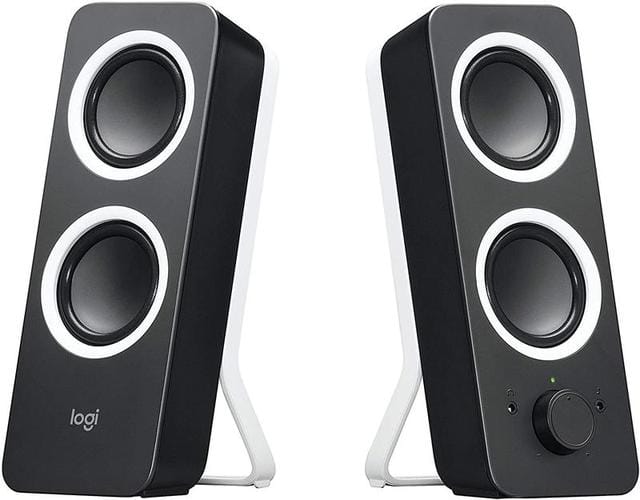 Weight: 1000 Grams
10 watts power required
Wired 3.5mm connection
Headset jack on the speaker
Manually adjustable bass
Dual Aux connection
Dual 2.5″ Audio drivers
Two active and passive drivers
Logitech is a famous company when it comes to computer peripherals. From mouses, keyboards, headsets, and our main focus the speakers. Z200 speakers from Logitech is quite remarkable best compact speakers for laptop. They may not look fancy, but they can quickly go along with all kinds of setups.
Unlike the Creative Pebbles, the Logitech Z200 is rectangular. Each speaker holds a tweeter and a woofer. They inherit a clean, round black shape with white rings around them. As for the look, the left speaker has nothing but the Logitech logo. In comparison, the right and the main speaker has a smooth and straightforward volume dial on them.
You will notice a headphone port and an output audio port on each side of the volume dial. There is a toning dial on the side specifically made to control the speakers' bass.
The bass may sound a bit lackluster at first, but we just mentioned a bass dial on the side of the main speaker. Which does an adequate job, and you can quickly fix it to suit your style of bass!
The manually adjustable bass dial is a fantastic add-on, and we're sure all of the music lovers would find this feature cool. The headphones port is easily accessible, and if you feel like zoning out, you can quickly connect your headphones to the speakers. With a laptop, it won't be much of a problem to connect the headsets to the laptop audio port.
The package also includes a power brick that runs on 10 watts. Compared to the Creative pebble 2.0 USB speakers, cable management is far easier on the Logitech Z200. Merely because it has fewer wires to deal with but only having 3.5mm jack connectivity, the speakers can get connectivity incapability with some of the new devices.
The sound emission on these speakers is fantastic considering their price. You can thoroughly enjoy multimedia sounds with some excellent audio quality on Desktop setup with addition of Logitech G923 Racing Wheel.
Because it has four drivers (two active and two passive), this allows it to carry out some incredible sound quality, and they will surely surprise you! They work amazingly with many games and are perfect for music and sound editing if that's your thing to do.
Pros:
Convenient controls
Amazing design
Less chances of cable mismanagement
Good sound quality
Cons:
No USB or Bluetooth connection
4) Sanyun SW102 Speaker for Desktop and Laptop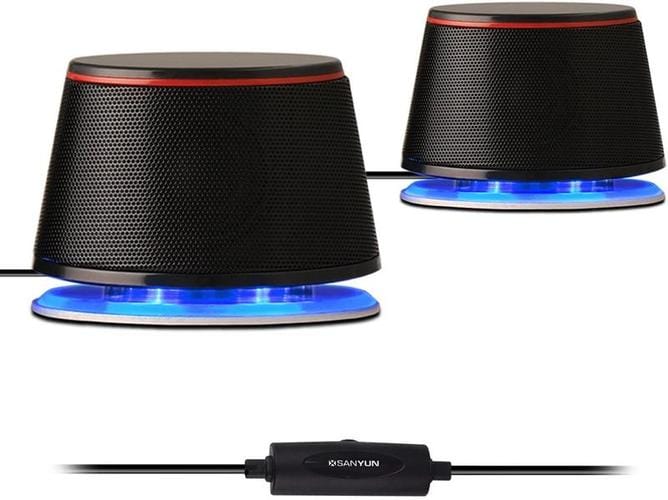 Weight: 520 Grams
2.95 inches speaker size
5 watts power usage (total 10 watts)
USB and 3.5mm connections
Built-in LED
360° sound emission
Sanyun SW102 is not a simple speaker. These conical shapes speakers are known for their 360° sound system. At an amazingly reasonable price, you can get your hand on these portable, lightweight speakers that are highly suitable for laptops.
Laptops are made for convenience, so the peripherals you connect with them should be convenient as well, and Sanyun smoothly eradicates that problem.
The Sanyun SW102 is 2.95 inches in width, and it can easily fit into your palm. Their size makes them a match made in heaven for laptops. The design itself is unique, and a 360° speaker allows it to emit sound in all directions, which helps to rectify its size. The metal base is relatively steady, which helps to keep the speakers stable.
There is also a built-in LED which indicates that the speakers are turned on and running. The silver and black body with blue LED light will significantly enhance the ambiance of your room. So far, we've seen dialers on the speakers to control the volume and other things.
The dialer is located on the wire in Sanyun SW102. This is convenient, but since in-line dialers are more suitable for headsets, these do kind of seem a bit off.
The treble and bass levels are pretty impressive on these speakers. The Sanyun SW102 is not as bassy as the Edifier R1280DB, but they still put out some fantastic bass levels. Although we think these speakers are more treble-based.
The connections are similar to the Creative pebbles 2.0 USB. You can either use the USB wire or the 3.5mm aux cable to connect it to your laptop. These speakers are easily one of the best speakers for laptops and mobile.
Even though they are pretty small, they still create unique sounds at high volumes. We had to turn down the volume almost to 10% to tone down these speakers. So, it would be beneficial for you if you don't judge it by its size.
Coming at a fantastic price, these are surely worth checking out because they also offer one year warranty and a money-back guarantee of up to 30 days if it doesn't suit you. If you're constantly on the move, you can easily carry these around with your laptop and set up your sound system anywhere in no time!
Pros:
360° sound system
LED base
USB and 3.5mm connectivity
Includes a 1-year warranty
Compact and portable
Cons:
Inability to turn the LED off
No Bluetooth connection
5) Edifier R1280DB Bookshelf Speaker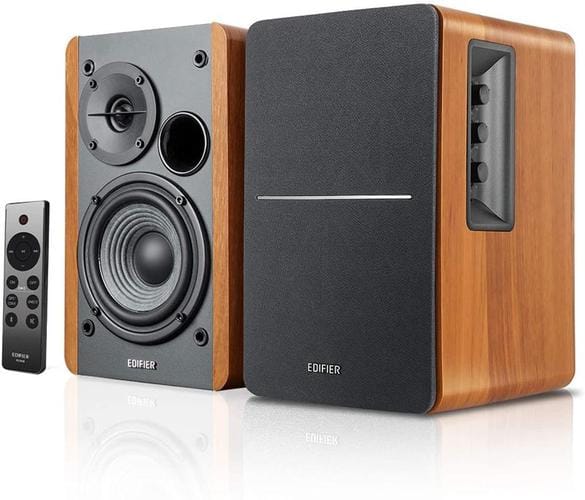 Weight: 5.6 Kg
4-inch-wide speaker cone
Bluetooth supported
Bookshelf speakers
Remote control
42 watts (in total)
RCA, optical, and coaxial inputs
Detachable grill
This entry in our list of the best speakers for laptop is one of the mean prominent speakers. Edifier has provided some top-notch bookshelf speakers during these years. The one that is in our focus today is the Edifier R1280DB Speakers.
These are much bigger than the ones we've already reviewed until now because they are bookshelf speakers and have everything from an amplifier to an RCA input.
The dimensions of these speakers are 146 x 241 x 178mm. It's safe to say that these are pretty big and would only suit your laptop or pc if you have enough space on your desk. The front of the speakers is covered with a grill and the Edifier logo on it.
Detaching the grill exposes the 4-inch speaker cone. If played at a high bass, the cone generates enough power to blow a candle off. So, it's recommended to keep the grill attached. Other than that, the design is unique; the sides have a wood-grained finishing that looks neat on a tabletop.
As for the input choices, the Edifier R1280DB has many more connections than the Creative Pebble and Logitech Z200. It allows you to connect using either optical, coaxial (AUX), and Bluetooth connection. So not only are these suitable for your laptop, but you can also easily connect them to your mobile phone, TV, or PC.
It has three dialers on the back, which represent volume, bass, and treble. These allow easy and outspoken control over the whole sound stereo system. To make things easier with this model, Edifier also included a wireless controller. If you're a music fanatic and love watching movies in theatrical scenarios, then it would surely fulfill and exceed your needs.
These are heavy-duty speakers as compared to the other speakers on this list. Like we mentioned before, a studio setup or a theater setup is a better-suited habitat for these speakers. They're not portable and are better used at a fixed designated spot.
The Edifier R1280DB may seem a bit expensive compared to the other speakers, but in reality, they are reasonable in the market of bookshelf speakers.
If you're thinking about investing in a system for a specified spot with your laptop that can create a virtual surrounded world for you, then this is it for you. The Edifier R1280DB is easily the best bookshelf speaker for a laptop and desktop from this list.
Pros:
Amazing sound quality
Complete control over the speakers
Bookshelf heavy duty Sound system
Multiple connection choices
Good price
Cons:
Not portable
It does not look as good next to a laptop
Buying Guide for Laptop or Desktop Speakers
This section covers the factors that you should consider before making your final purchase. Every person has a specific intended use for a particular product. You may want to buy it for a speaker to carry it around to different places, or you could be buying it for gaming purposes too.
Therefore, it's important to enlist your priorities for which you want to buy a speaker. We've stated some of the primary and most common factors to assess before purchasing based on your specifics.
Connectivity:
As we've seen, speakers come with different kinds of connections. The most common one we've seen is the USB or 3.5mm cable connection. There are also some speakers with a Bluetooth connection that you can use.
So, it's of utmost importance that you realize what you're using it for and if your device supports the specified connection. A 3.5mm or USB is suitable for a laptop, but if you have a new iPhone, you would need a Bluetooth connection instead.
Size of a Speaker:
Size matters a lot when it comes to a speaker. You wouldn't want giant speakers on a small table with your laptop on it. That won't suit your setup and style at all. Luckily speakers come in various sizes, from small ones that can fit your palm to as big as a cabinet.
A more prominent speaker would be expensive and bulky but would have a lot more power and features. In contrast, a small speaker would be portable and cheap but won't be as loud.
Volume Control Buttons:
In technology, it's always better to have the most control over your devices. Control guarantees smooth operations and a better experience. Speakers have various kinds of controls on them. Some speakers come with a simple volume dial, and some even provide bass and treble dials.
So, depending on your style of music control, you can choose what suits you. If you're a tech-savvy or just a music freak, then you'd most probably want something with more controllability.
Power of An Amplifier:
Power is required to smoothly and safely run your speakers. Although laptop speakers do not demand a high energy supply, it's still safe to know what kind of power you need to use your speakers safely. There is a wide range of watts requirement with different speakers. The ones with high wattage are much louder and more prominent.
On the other hand, portable speakers may only demand 2-3 watts which is possible on almost all power plugs. So, it would help if you worked out the power needed for your choice of best speakers for a laptop. So, you can use it on a suitable power socket.
Creative Design and Shape:
Innovation is based on creativity, and creativity lets our minds run free. Due to vast levels of creativity, there are hundreds of designs to choose from. You'll find speakers in different designs and shapes. There are bookshelf speakers, conical speakers, floor speakers, round speakers, cube speakers, and many more.
Depending on your space and area, you'll pick what's best for your room's atmosphere. If you choose your laptop and a small table, then a small round or cubical speaker would be the best, but investing in a big bookshelf speaker would waste your money.
As much as technology is a vital part of our life, so is multimedia. The expansion in entertainment has undoubtedly increased a lot over the years. We hope we've improved your knowledge about sound systems and hope that you chose your product out of all the best speakers for laptops and desktop too.
So, even if it is to feed your entertainment bug or you require speakers for work (Music and Video editing), external speakers are a necessary investment at one point. You'll make tons of memories with your friends, playing your favorite songs and watching scary movies. Now get a good set of speakers and upgrade your laptop setup!
How to connect external speakers to the laptop?
It may seem a bit tricky, but it's one of the easiest things to do. When you unpack your speakers, you'll notice a set of wires. You'll probably figure out the power plug out of the bunch. Other than that, you may find a USB or a 3.5mm Aux cable. You need to plug one of these wires into your laptop, and your computer would automatically recognize it and choose it as its primary sound output. Bluetooth speakers are somewhat different as they do not require any wire connection. For that, you need to turn your speakers on and find them on the "Bluetooth device list" on your laptop and pair them together.

How to use phone speakers for a laptop?
If, under unfortunate circumstances, your laptop's internal speakers break or stop working. You can easily use your phone speakers as an external sound source for your laptop. This is not the recommended method. It's better to get a proper speaker set for your laptop. But if by any chance you do have to use your phone speakers, you can simply download 'Soundwire' software on your laptop, and then you can mirror it on your phone using the same WIFI network. The Soundwire software will allow your laptop to use your phone's speaker as its sound output. 
Can speakers damage a laptop?
Excessive and extreme uses of anything will cause problems and damage. Similarly, speakers can damage themselves and other devices, too, if they're played at a loud volume over and over again. Cheap speakers can be victims of this; they might stop working, or their sound system might break and produce crackling noises, which you won't like. A giant subwoofer speaker close to your screen can also cause damage to your laptop. But these happen in extreme cases, which rarely occur. So as long as you're using it safely, you don't need to worry about anything.
Is it important to have external speakers for your laptop?
The answer is based on personal preference and liking. In reality and truth, laptop speakers are not that good. You won't enjoy watching movies, listening to music, or playing games. The speakers have a limited volume capacity and are generally quieter. Investing in an excellent external speaker will surely enhance your experience by a mile!