Modern computers and devices design with a single 3.5mm jack pin used for both Headset and mic. This can confuse Windows 10 users, as some computers have separate headphones and microphone jacks. However, Windows 10 includes a built-in solution for using headsets with a single jack.
By adjusting the settings, you can ensure that your headset's microphone is properly configured and ready for use. With this solution, you can enjoy high-quality audio on your Windows 10 PC, without the need for additional hardware or software. There are a few easiest ways to use a headset mic on a PC with one Jack.
First, You Purchase a Y-Connector Cable 3.5mm That Has 2 Female Jacks and 1 Male Plug.
Ensure the 3.5mm connector is purchased to connect the audio headset and mic. Several 3.5mm connectors are built for two sets of the audio headset instead of one headset and mic.
You can take a 3.5mm USB adapter. It will support you to connect the headset to a USB port on a PC. If your headset has two separate plugs for the mic and headphones. Then you purchase an adapter with separate audio in and audio out jacks.
When you have a headset with one 3.5mm plug for headphones and a mic and you have an old computer with two separate jacks for headset and mic. Then you need to buy a splitter cable that converts one single input to two separate outputs.
Do Connect the Headphones Plug to The Headphones Jack in the Y-Connector.
The Y-connector is 3.5mm with two jacks for connecting to the headset and mic separately. The jack is designed for two separate colors and the green color jack is for headphones with the icon of headphones on the jack to identify or resemble a pair of headphones on it. Connect the headphone with the headset via the y-connector.
Connect The Plug to The Port of The Mic on the Y-Connector.
The mic jack on the Y-connector is designed with a separate color like red or pink with an icon resembling a microphone. Now easily Connect the mic plug from your headset to the mic jack on the Y-connector.
How to Use Single Jack Headset on PC without Splitter Windows 11?
When you have a single jack headset and your computer doesn't have a separate microphone input, you can still use the headset for both audio input and output without a splitter in Windows 11.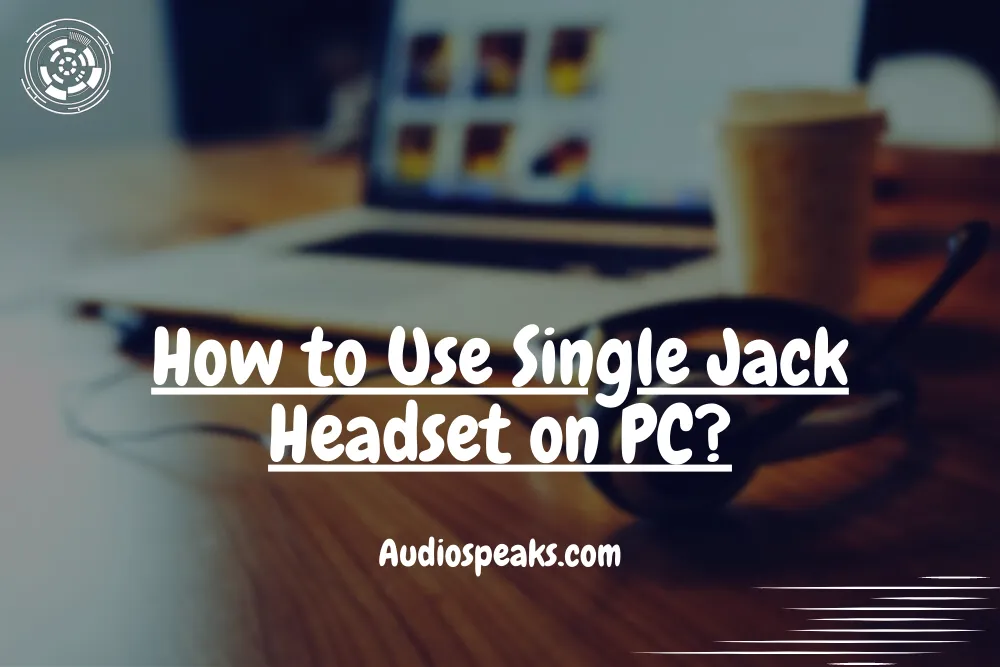 Plug your single-jack headset into the audio jack on your PC.
Go to the taskbar, right-click the volume icon, and open the sound settings.
In the input, section click on the device properties for your headset.
In the device properties window, go to the Additional device properties section and choose to disable all sound effects. It will ensure that the headset's microphone is not muted or turned off.
Go back to the sound setting window and under the output section choose your headset as the default playback device.
At last, under the Input section, select your headset as the default recording device.
With these settings in place, your single jack headset should work on your Windows 11 PC without the need for a splitter. If you're still having issues, you may need to adjust the volume levels for your headset or make sure that the headset's drivers are up to date.
How to Use Headset Mic on PC with Two Jacks?
To use a headset mic on a PC with two separate jacks for the microphone and headphones, you will need to use an audio splitter to combine the two jacks into a single audio jack that can be plugged into your computer's audio port. Follow the steps to work smoothly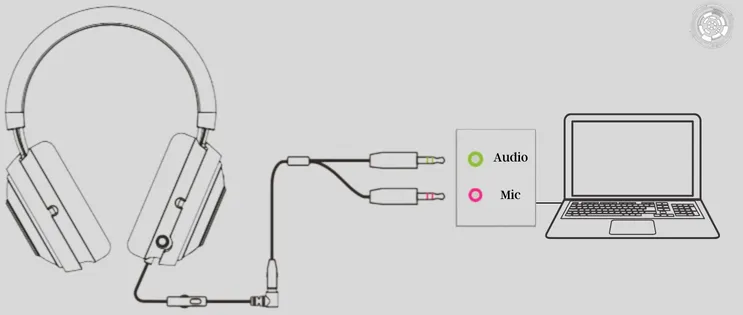 Buy a 3.5mm audio splitter that can convert the two separate jacks on your headset into a single jack.
Plug the headphone jack into the headphone port on the splitter and the microphone jack into the microphone port.
Plug the single jack on the splitter into the computer's audio port. Normally it has a green port on the back or front of the pc and is labeled with a headphone icon.
go to the computer audio setting, select the microphone option, and ensure the external microphone option is selected. Adjust the volume setting to confirm that the microphone is working.
Speak in it to test the microphone and use features in your computer audio setting. you can check it is working. 
Where to Plug in Headset with Mic on PC?
Where to plug in your headphones on a computer plug there is at least one port to correct your headphones. Some have two, there is always one at the back of your PC. It is important to recognize the color of the ports.
There are three ports, red one or rose. In some pieces, it is used to connect the microphone. The 2nd blue one is used to capture audio and 3rd green is used to plug phones or speakers. We connect our headphones to the green port and they are ready to use.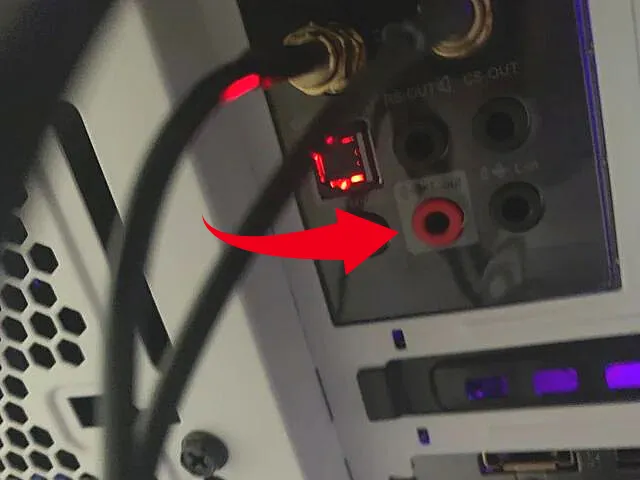 Similarly, there are ports at the top of the front in the CPU case. They don't have colors but they have symbols to recognize the 1st symbol of a mic is for Mikes'. The 2nd has the symbol of headphones and we can plug in our headphones or speakers there.
When Single Jack Headset with Mic for PC Not Working?( 5 Reasons)
The single jack headset with mic for pc is not working. You can follow the best five easy ways to fix the issues.
Modify your PC setting.
Use a 3.5mm splitter
USB to 3.5mm jack adapter
Updating of sound drivers
Hardware issues
1) Modify Your PC Setting
Ensure that your PC's audio settings are configured to use the headset as the default audio output and input device. If you mostly work on audio-related tasks you may have configuration issues. To make your headset mic for the default recording device.
Navigate to the taskbar and search for "Control Panel".
Select Hardware and Sound.
Open the sound.
Navigate to recording on the new window.
Choose your microphone from the options available.
Set as default.
2) Use a 3.5mm Splitter
You can use splitter cables for the same audio pair of headphones in different ways. They are compatible to share a single signal amount with various headphones without having any noticeable loss in audio quality.
The splitter combines audio cable to fit in one 3.5mm jack. A "Y" splitter has 2 inputs with one output. It can be utilized when your PC has one jack port, and your headset has two jack outputs.
3) USB to 3.5mm Jack Adapter
USB ports are mainly used for data transfer and charging activity. If you want to use a USB port with a headset you need a USB 3.5mm jack adapter. It is a small device that has one end, a USB input. They plug and play and don't need any software to run. If it doesn't recognize it, you first ensure to make your headset mic the default device on your setting.
4) Updating of Sound Drivers
The drivers can be updated to follow the below points.
Go to the device manager by right-clicking on start.
Expand audio input and outputs.
Update the driver by right-clicking on your audio device
Now Search, it will search automatically.
The driver will be updated/installed for your audio device.
5) Hardware Issues
First, you try all the above issues. It might be the hardware issue but check your headphone on another PC. If the problem persists means your headphone is faulty. You must restart your computer sometime it happens that after restart it works. If the problem is only in the mic, you can replace it with a new one.
Why is My PC Not Detecting My Headset Mic? (5 Type Solution)
There are a few solutions that be helpful to resolve why the PC not detecting the headset mic.
Solution # 1
Go to the setting by pressing the windows
Click on troubleshooting.
Click on other troubleshooting.
Click on playing audio and run
Click on NO. Do not open audio
Click close
Solution # 2
Solution # 3
Go to the control panel
Click on a category and go to the small icon.
Click on the system.
Go and click on the advanced system setting.
Click on hardware.
Click on the device installation setting.
Go to click yes save the changes
Click Ok.
Solution # 4
Do right-click on this PC Icon on the desktop and then select manage.
Click on device manager.
Explained sound video and game controller.
Click on a high-definition audio device.
Click on the driver then click update driver.
Click on browse my computer.
Click on let me pick from a list.
Select high definition audio device then click next.
A message window update driver warning will appear, Click on yes.
Click on close when the update installation is completed.
Solution # 5
Press the start menu and go to the setting.
Click Windows update.
If you have the update available click download and install then restart your PC.
How Do I Use My Headset and Mic with One Port?
To use your headset and mic with one port, you can follow these steps: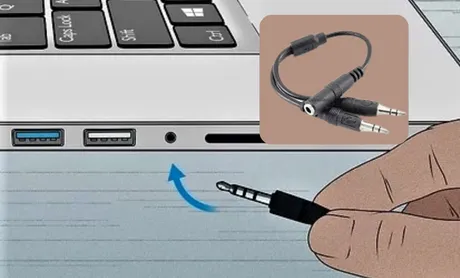 For modern computers which have single dual-purpose audio ports. Single ports are used for dual purposes. It is compatible with a headset that uses that TRRS plug. A TRRS jack offers functionality for both the microphone and headphones via one connection.
It has the feature to use both a mic and headphones on a PC with one plug. Normally it's a plug and play when you connect it with your headset to this port it runs instantly.
If it doesn't work, you can do the headset settings on your PC. You can also adjust the headset settings on your PC using the Realtek Audio Console if your computer has a Realtek audio driver installed.
How Do I Connect My Jack Mic to My Computer?
To connect a jack MIC to your computer, you can follow a few easiest steps.
Locate the mic jack on your computer. It is usually marked with a microphone symbol and may be colored pink.
Now insert the jack plug of your mic into the mic jack on your computer.
when your mic is plugged in, you will need to select it as the default recording device.
Do Right-click on the volume icon in the taskbar and select Open Sound settings Under the Input section, then select your mic as the default recording device.
To ensure that your mic is working properly, you can test it by recording a voice message or using a recording app. If you can hear your voice clearly, your mic is working.
You can adjust the mic volume by right-clicking on the volume icon and selecting Open Sound settings and then clicking on Device properties under Input.
Using a headset mic on a PC is easy. If your headset has a single jack, you can use a splitter cable to separate the headphone and microphone signals. Connect the splitter cable to your PC and then plug in your headset's headphone and microphone jacks into the respective ports on the splitter. Alternatively, you can use a USB headset or an audio interface to connect your headset. Adjust the microphone settings in the Windows sound settings or your headset's software to ensure it's working properly.

Conclusion