If you want to start playing any instrument, starting with a flute is a great idea. You will become an expert quickly due to the ease of playing. It is one of the most ancient and popular instruments worldwide and is a choice of most people beyond any skill and age. Although it has easygoing nature, it is still a basic part of different choirs, band programs, orchestras, and jazz ensembles.
With the best flute for beginners, you can play various types of music, from jazz to rock. For beginners, there are various flutes, from E flat to piccolo and from bass to concert flute. But I narrowed down a list for enthusiasts so that they can get a better experience of their choice. This guide will help you find the best flute according to your skills and the functions for your preferences and playing level. So, let's start.
Top 7 Best Flutes for Beginners Review
Table of Content
I find these flutes best due to their strong performance, as they can make a distinctive sound among the other instruments. After testing all the important features of the best flute, I narrow down a list for beginners.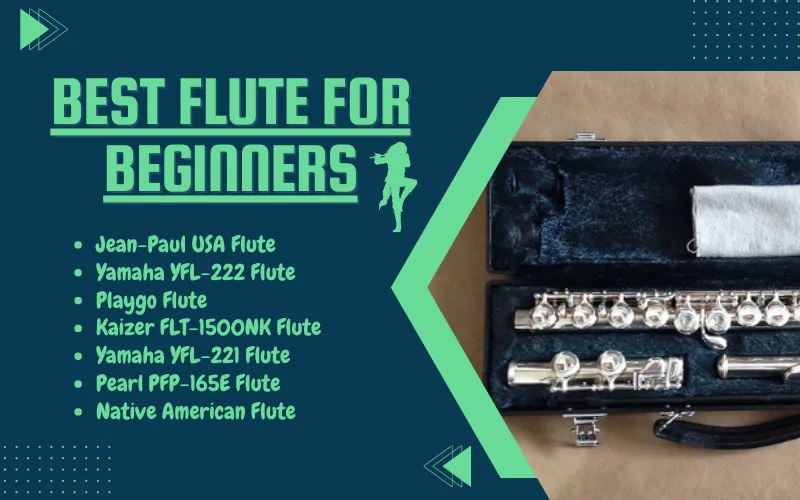 Complete Guide: How Much is A Flute Cost?
These flutes have lengths, keys, holes, plating, and warranty information. I ranked up according to these features so that you can get a better idea about your needs and instruments. However, these are my recommendations you can come down according to your needs and budget.
Which One Is Best: Flute Vs Recorder
1) Jean Paul USA (FL-220) Best Beginner Flute for Adults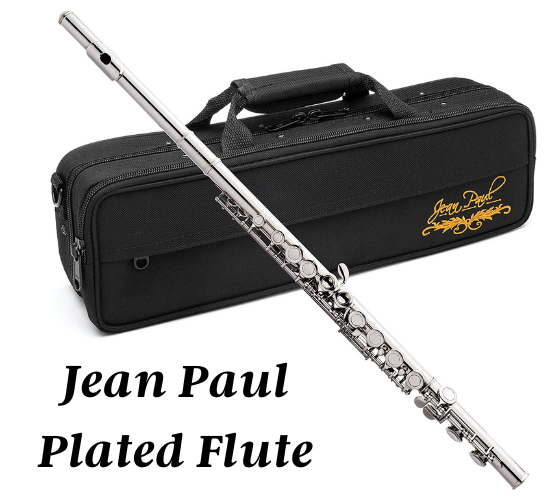 | Specifications | Values |
| --- | --- |
| Brand | Jean Paul USA |
| Material | Silver-plated Cupronickel |
| Instrument key | C |
| Weight | 2.2 pounds |
| Product dimension | 5.25 x 17 x 4 inches |
Everyone desires their first instrument to have something recognizable. You not only want it to be a long last, durable, and nice looking but also want a nice sound and easy to play. The Jean Paul (FL-220) can fulfill all your requirements with its brilliant features. I shortlisted this flute because people like to play flute for fun and music.
Strong Build Quality
Its cupronickel body gives a nickel-plated finish as the chronicle is an alloy of copper with nickel in it and known for its hardness. Due to its hard-wearing attributes, Jean-Paul has become a durable and one of the best flutes for beginners.
Improved Technique
The Jean Paul (FL-220) best beginner flute for adults has a nice design and is put together in a friendly manner. With 17 closed holes, it gives me a relaxed and great playing style and helps beginners to maintain a good technique for future performance as an expert. Moreover, it contains an offset G design which is also a great feature in itself and provides aid playability.
Clear Sound
The Jean-Paul looks good and produces a clear and nice sound that you can distinguish from the other instruments. Although it has a special design for beginners and students, it will take them beyond that as they progress in their learning and technique. After testing, I get a clear sound that takes me to another world.
Carrying Case
It includes a zipper case, clothes, and a cleaning rod. I take it with me when I travel to entertain others and myself. Jean-Paul also has an affordable price range, making it attractive for beginners. But it is a little bit heavy for new users with a weight of 2.2 pounds, and the length is also short and has a measurement of about 5.2 inches by 17 by 4 inches which are not large enough.
Foot joint
The C foot joint adds more flexibility and adjustments for new users, and I also feel relaxed due to this foot joint while playing. It produces warmer tones that can bind the listeners and give a soothing effect to the ears.
Benefits
It has a durable and sturdy build.
The design is very nice and appeals to others.
The sound quality is good enough.
Ease of play makes it more reliable.
It is low in price, and anyone can afford it.
Drawbacks
Heavy for new users.
Less in length and, because of this, not easier to handle.
2) Yamaha YFL-222 Best Flutes for Intermediate Players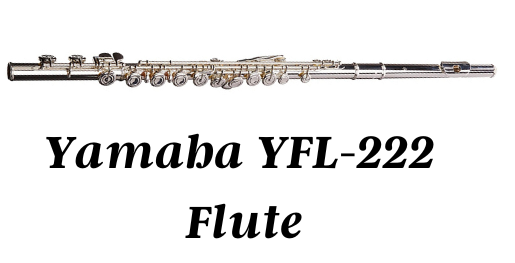 | Specifications | Values |
| --- | --- |
| Brand | Yamaha |
| Material | Nickel, Silver |
| Instrument key | C |
| Weight | 2.86 pounds |
| Product dimension | 2.76 x 13.39 x 3.54 inches |
If you are an intermediate player and want something different than a beginner flute, then I have an option for you. The Yamaha YFL-222 is the best flutes for intermediate players with top-of-the-line quality.
Foot Joint
The YFL-222 has a nickel silver body, foot joint, and head joint with a completely silver finish. While testing, I turned the key C and experienced that it comes with a C foot joint. The foot joint of the Yamaha has a unique alignment with markings to facilitate beginners.
Curled Holes
The holes are curled and drawn, and the keys are neoprene bumpers that give more durability than the cork. They have closed-hole keys for ease of playing, and the G key is offset due to his. The head joint has an embouchure hole with an undercut design responsible for a warm and rich tone.
Comfortable to Play
Its embouchure design makes this flute comfortable, and its ergonomic key shape and placements give ease while playing. It includes a cleaning rod, plastic flute case, polishing cloth, and gauze.
Benefits
Has a reasonable price range.
It has a durable build quality.
Give ease of play to all users equally.
It brings European style pointed key arms.
Drawbacks
The D#trill and D key are very close to each other.
3) Playgo Flute Best Beginner Flute for Kids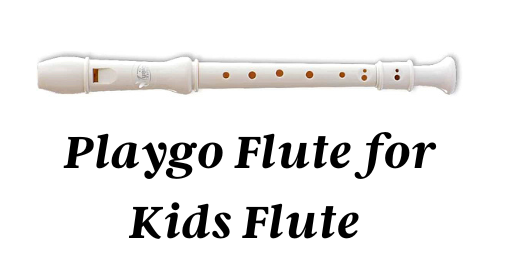 | Specifications | Values |
| --- | --- |
| Brand | PlayGo |
| Material | Plastic |
| Instrument key | Music |
| Weight | 1.6 ounces |
| Product dimension | 1.5 x 1.5 x 13 inches |
If you are looking for the best beginner flute for kids, then the PlayGo flute is a good option. Its bright colors can attract your child and develop musical talent in your child. It offers everything from a perfect sound to the beginner-friendly usage that your kid needs.
Non-Toxic
It is a colorful tasteless, non-toxic flute for your kids and has rainbow Recorders that will develop a sense of music in your child. I brought this flute for my kids, and they liked its Records very much. These are best for clubs, homes, and schools and are specially designed for young kids.
High Quality
What I like most is that this flute has a high-quality build, and the manufacturers make it by keeping the attitude of kids. The material is secure, so it cannot affect kids' health while playing, and conforms to European safety standards.
Easy to Play
It gives way to encourage imagination and creativity and generates excellent sound. The ease of use gives more space. The PlayGo is best for a child of 3 years and has a length of about 32.5 cm.
Educational Toy
I find Playgo Flutes an educational toy that can promote and enhance kids' hearing and increase their interest in music. The kids can exercise their hands and eyes and improve the beat and rhythm of hearing while playing.
Perfect Gift
I think there is nothing better than giving PlayGo flute to babies because of the many things it can do. It is suitable for kids of different ages and fulfills their needs as they grow.
100% Satisfaction
PlayGo provides hundred percent satisfaction. They give you a money-back guarantee if you are unsatisfied with its performance. But I think there won't be any need once you test it and play it.
Benefits
It has a non-toxic build.
Comes in different and attractive colors.
Prove an educational toy for your kids.
Perfect gift for a child.
Drawbacks
The plastic build is not much reliable.
4) Kaizer FLT-1500NK Flutes with Closed Hole Keys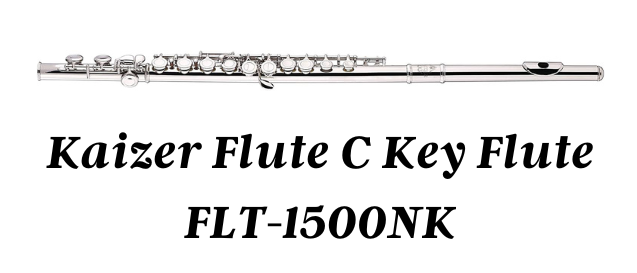 | Specifications | Values |
| --- | --- |
| Brand | Kaizer |
| Material | Nickel, Silver, Steel |
| Instrument key | C |
| Weight | 14 ounces |
| Product dimension | 26 x 1 x 1 inches |
If you are looking for the best cheap flute for beginners, the Kaizer FLT-1500NK is the best pick. It is a budget-friendly flute with various features that fulfill your instrumental requirements. It is a combination of playability, functionality, and versatility. It is a good choice for beginners who don't want to break the bank.
Great Features
Although it is a cheap flute, it still provides me with improved spring, quality intonation, and smooth actions. These features may be a beginner's dream, and affordable price adds extra marks to its list.
Padded Keys
The FLT-1500NK flutes with closed-hole keys have padded keys and give me a relaxed feeling while pressing. There are 16 closed-hole keys, a G with a split of E, a plateau key, and a removable foot joint. It can work with an offset G key which helps you to land the notes.
Ease of Use
The Kaizer Flute is easy to use and can travel without worry. It comes with a maintenance kit, polishing cloth, joint lubricant, cleaning rod, and a molded case. I find its case travel friendly and keep my flute safe from scratch.
Built to Last
The Kaizer Flute has a nickel-silver body and contains power-forged keys, making me assured it lasts for a long time. It is great for beginners as they don't have information on maintaining it. There are adjustable screws with steel springs, and after testing it, I must say that it will grow with you as you become a better player.
Sensitive Response
Its playing style is French, gives a highly sensitive response, makes it easy to play, and gives excellent intonation.
Benefits
It is easy to assemble, and the entire assembly fits together.
The keys are well-padded.
Produce a pleasant tone.
The screws are adjustable.
Drawbacks
The joints are a little bit tight.
5) YFL-221 Yamaha Flute for Beginners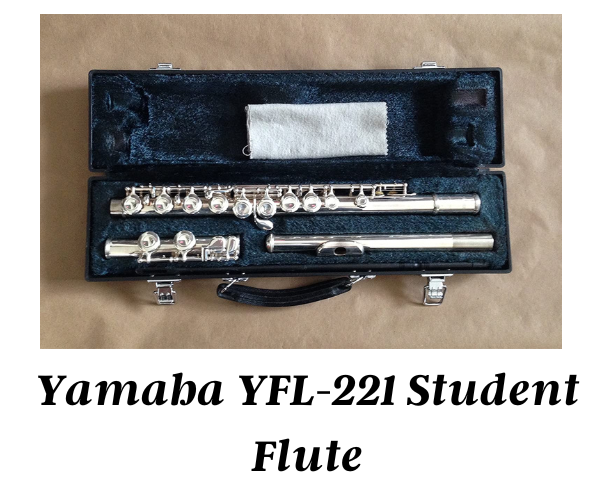 | Specifications | Values |
| --- | --- |
| Brand | Yamaha |
| Material | Nickel Silver |
| Instrument key | C |
| Weight | 0.01 ounces |
| Product dimension | 16.6 x 6.6 x 3.3 inches |
The Yamaha YFL-221 is one of the top-rated and best flutes for beginners. It is the best in design and comes with an amazing body, head joint, and foot joint; the YFL-221 is a standard series of flutes and has reliable nickel construction. The overall finish of the flute matters a lot.
Durable Construction
Its nickel construction and feature of neoprene bumpers, which, when used rather than a cork, increase the durability. Due to all these features, it achieves maximum fit against the body and gives a good grip.
Easy Adjustments
The YFL-221 Yamaha flute for beginners has upgraded features to the previous models and brings a great instrument for beginners. Its post design strongly prevents it from bending, and adjustable screws give ease of use, assembling, disassembling, and adjustments. I find that the adjustment screws are also of good material.
Foot Joints
Many different notes and finger placements on the flutes may scare beginners about the world of flutes. But I love Yamaha YFL-221 as it gives me ease of use due to the body marking to position the foot joints. It makes it easy for beginners to understand the positions correctly.
Notable Sound
It is a choice for those who want a unique sound, and most teachers like to use it for their students due to its closed-hole nature and easy playability. Moreover, I got an included case with this best flute for beginners and an offset extra G key.
Warranty
For the ease of users, YFL-221 comes with a 5-year warranty to claim for your instruments if there is a technical issue.
Benefits
Easy to play and has an excellent sound.
Contains extraordinary and upgraded features.
Its silver-plated design is of good quality and makes it durable.
Provide open sound for good acoustic.
Flexibility and adjustments are more than enough for beginners.
Drawbacks
Require a bit of key reset and has a sort of airy sound.
6) Pearl PFP-165E Best Flute for Professional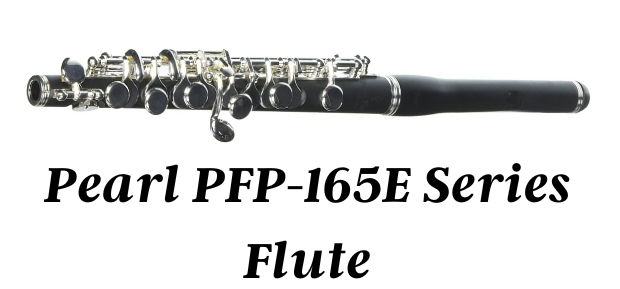 | Specifications | Values |
| --- | --- |
| Brand | Pearl |
| Material | Wood |
| Instrument key | E |
| Weight | 1.8 pounds |
| Product dimension | 15 x 3 x 5 inches |
The Pearl PFP-165E is another best flute for beginners and gets a place in this list due to its features. Piccolos have the smallest number of the flute family and come with the highest pitch range. These flutes have an above-octave number as compared to the concert flute.
Composite Body
The Pearl PFP-165E has the construction of Grenadilla wood head joint and composite body. I find it hard, oily back, durable wood suitable for manufacturing woodwinds. It uses a composite for the body, which Pearl developed.
Tolerate Changes
Pearl PFP's best flute for professional players has a warm tone and fast absorption power for humidity and temperature. I experienced the Pearl PFP is extremely durable and can withstand various environmental changes without any difficulty. But for me, they are so small and create difficulty for the tune, which is important for high-quality instruments.
Synthetic Pads
The Omni synthetic pads are very responsive and reliable. The pin less mechanism and its one-piece core bar created by Pearl give a smooth, fast, and continuous key movement. There is a padded cover included with it, which makes it travel-friendly.
Benefits
It has head joints of Grenadilla wood.
The body is of Grenaditte composite.
Body can tolerate temperature and humidity.
It contains omni synthetic pads.
Provide a pin less mechanism.
Drawbacks
There are a few complaints from the users about this flute.
7) Native American Handmade Best Wooden Flute for Beginners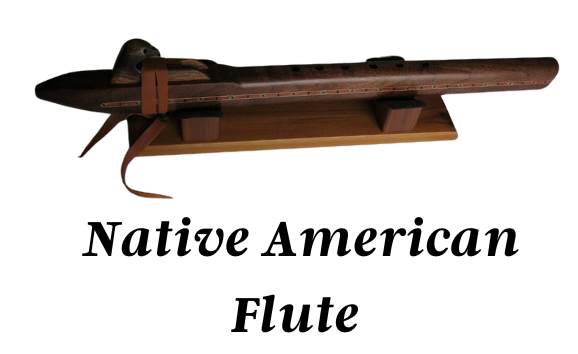 | Specifications | Values |
| --- | --- |
| Brand | Spirit flutes |
| Material | Wood |
| Instrument key | Low D |
| Weight | 29 pounds |
| Product dimension | 24 x 2 x 2 inches |
If you are looking for the best flute for beginners with a real and natural sound, then the Native American Flute Walnut is one of the best wooden flutes on the market. Due to its excellent feature and traditionally built, this flute became successful in making its place in this list.
Handmade Build
The handmade build makes it prominent among the other flutes on this list, and I feel a traditional look. With the use of real wood, this flute contains the low key D. it is 24 inches long, but it is hard to play but easy to finger and produce a sweet sound.
Deep Tone
I like that this best wooden flute for beginners has a deep tone on a professional level but uses little air. Moreover, the sensitivity and response of this flute are outstanding. It lacks a flute stand, but its entire handmade design makes it unique.
Simple to Play
The Native American Flute is not only simple in design but also simple to play. Beginners can easily handle this flute, and for me, the ease of use and good sound are the features that make this flute worthy of investment. It includes a DVD, CD, songbook, and carrying bag.
Small Holes
The Native American Flute has small holes and is quite easy to manage. It is a good choice for those who have relatively small fingers.
Benefits
It is a good pick for small fingers due to its ease of use.
Produce a sweet and smooth tone.
It has leather binding.
The handmade build makes it unique.
Drawbacks
The octave comes out of tune while playing.
There are many best flutes for beginners with different keys, materials, sound quality, and lengths. But it is important to buy a higher-end flute for beginners according to your needs and read the description carefully to know about the features of any flute. I hope this guide will be helpful for you and that you can get your right flute for a better start. Yamaha 221 is a good choice as the best flute for beginners, with open holes for advanced and professional play. It is a high-quality flute backed with a 5-year warranty, including the case, adjustable screws, and strong build.

Product Recommendation
Which size of flute is best for beginners?
The flute with a diameter of 2 cm is best for beginners for their initial lesson. A carry case with PVC pipe allows users to carry it with care whenever they want to take it.
Does playing flute improve lungs?
The flute is a windpipe instrument and works when you blow air through its mouthpiece. It will give your diaphragm and lungs a respiratory workout and strengthen them from the core.
What are the side effects of playing flute?
Excessive use of the flute may cause nosebleeds, taste change, headache, cough, fungal infection, voice change, stomach discomfort, tremors, burning sensation, etc. So, avoid playing it consistently.
What is the disadvantage of a flute?
It is important to tune the instrument before playing and assemble it carefully. A flute is a high-pitched instrument that sounds awful if any section is not tuned properly. Ensure to tune it before use to avoid any inconvenience. Remember that the temperature also affects the tuning of your flute.
How many hours a day should I practice flute?
It depends on your schedule, but it is good to practice for about 1 to 4 hours in a gay. Remember that the quality of practice matters a lot instead of quantity. A 30-minute practice can give excellent results if you do it with great care, detail, and mindfulness.