Setting up a karaoke setup is the easiest job when you have suitable equipment at your disposal. Karaoke speakers are an essential part of a good karaoke setup. There are many other prerequisites like good-quality microphones and mixers, but speakers affect the quality significantly. So you need the best speakers for karaoke set up to make it worth your music.
But the question here is that what are the best karaoke speakers? To make this simple for a novice, the best karaoke speakers come in different prices, specifications, and manufacturers. It becomes tough to select the speakers that fit your needs.
To make this decision-making more effortless, we have gone through the top 10 speakers for karaoke and provided an extensive buying guide to facilitate. It up to you to choose the right product out of these top karaoke speakers + Best Speaker Stands are also available. Let get started.
10 Best Karaoke Bluetooth Speakers System
1) Moukey Portable Karaoke Speaker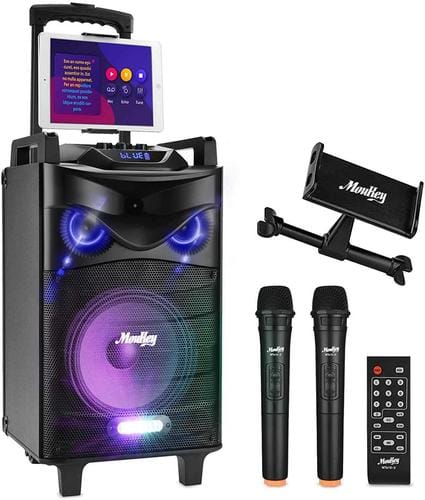 Peak power: 520W
Frequency Response: 55-20kHz
Battery Life: 3 hours
Moukey karaoke machine is a wireless power amplifier with a 10-inch subwoofer system that produces a full-range stereo sound. The portable Moukey Karaoke machine comes in handy when you want to enjoy outdoor gatherings, speeches, and parties.
It comes with a built-in Bluetooth audio streaming system. However, if you do not prefer a Bluetooth connection, you may find a cable in the package for an easy connection setup best suiting your needs.
The presence of a 3-inch tweeter is a drag that ensures a good listening experience. It allows the amplification of a wide range of frequencies. Moreover, the 10-inch subwoofer has pretty good bass, which makes your party experience worthwhile.
It also supports four entertainment modes: a music player, power amplifier system, FM radio, and a unique FM karaoke system.
The anti-interference ability and noise reduction allow you to showcase your great songs in the background, making them the best speakers for singing.
Furthermore, a holder is also in place to put your tab or mobile phone to sing freely and read lyrics on the screen.
The LED lights guarantee a good party look with the ability to change lights along with the beats of the music. Especially the owl eyes look lit when the bass hits hard.
It also accompanies a rechargeable large-capacity battery that can last for about 3 hours. However, if you want to use the speakers for a longer time, you may connect the charger for any time interval.
From the budget and aesthetic point of view, this product is worthwhile to consider. It has all the premium features that a good Karaoke machine contains.
Additionally, it is portable and compatible with all significant wireless devices, including Android, iPhone, laptops, PCs, and others. You cannot go wrong with these wireless karaoke speakers.
Pros
One-click elimination of the original sound function
Multiple connection options with extra dual-mic plugs for guitar & music instrument
Additional input mic for karaoke
Power amplifier enhances sound quality
Cons
LED lights may be annoying to some, but they can disable
2) EARISE T15 Tower Karaoke Speaker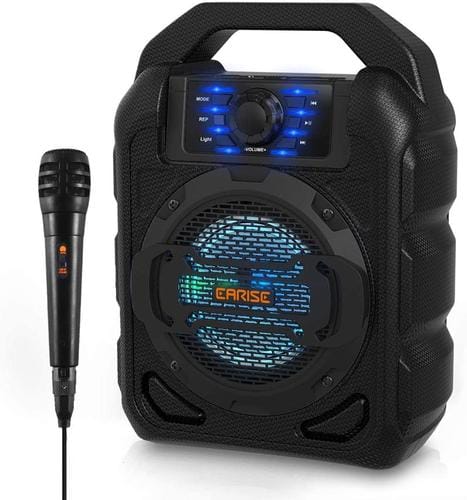 Frequency response: 90HZ – 20KHZ
Battery life: 6 Hours
Bluetooth 2.4
Multiple-connectivity: 5 inputs
The T15 Speaker with FMM radio includes an integrated Bluetooth 4.2 module with a range of up to 33ft. It is multi-functional and capable of reproducing full-range stereo sound. It strengthens and balances the bass, and the technique of separating high and low pitch components leads to the creation of a clear and powerful sound. This portable speaker integrates sound quality and creative design of Bluetooth speakers, catering to user requirements.
Its vibrant and attractive appearance fits any indoor and outdoor environment. This plug-and-play portable karaoke system comes with a wired microphone, an inbuilt speaker, and a flashing light effect for a fun and colorful party. Everything you need is in place to put on a show.
The Karaoke machines with colorful LED lighting effects elevate your music to a whole new level of enjoyment, creating a great party environment with flashing and glowing lights. Although there are few audio adjustment features, the overall sound quality does not disappoint.
These are the best speakers for karaoke with an integrated rechargeable 3.7V/2400mAh lithium-ion battery that enables nonstop audio playback for up to 4 hours at maximum volume. With the micro USB connection, you can recharge in only 6 hours which is quite impressive for a low-budget speaker.
EARISE T15 is a high-performance indoor and outdoor Bluetooth speaker that provides clear music and strong bass. You can certainly enjoy a good time with your family and friends with this karaoke machine with high-quality sound and jaw-dropping light effects.
Pros
Charging port for mobile
Bluetooth range of 33 feet
Compact and lightweight
Fascinating LED party lights
Cons
Fewer audio control features
3) PRORECK PARTY 15 Bluetooth Karaoke Speakers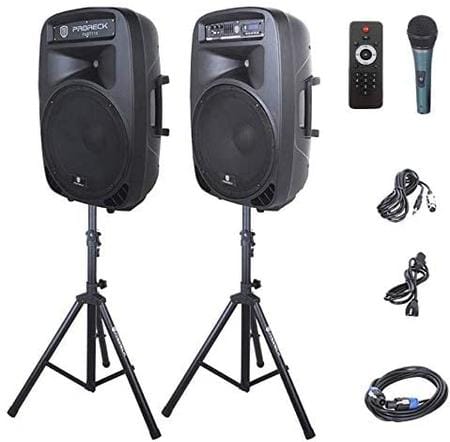 Frequency response: 50Hz – 20kHz
Built-in FM radio
Bluetooth connectivity
LED lights
Proreck Party 15 karaoke Bluetooth speakers are not ordinary karaoke speakers as they have a multi-function design. The two-way powered system makes the music playing more fun with both active and passive speakers. You can operate it at your parties with the help of a wired mic and let the audience mesmerize with your music and sound.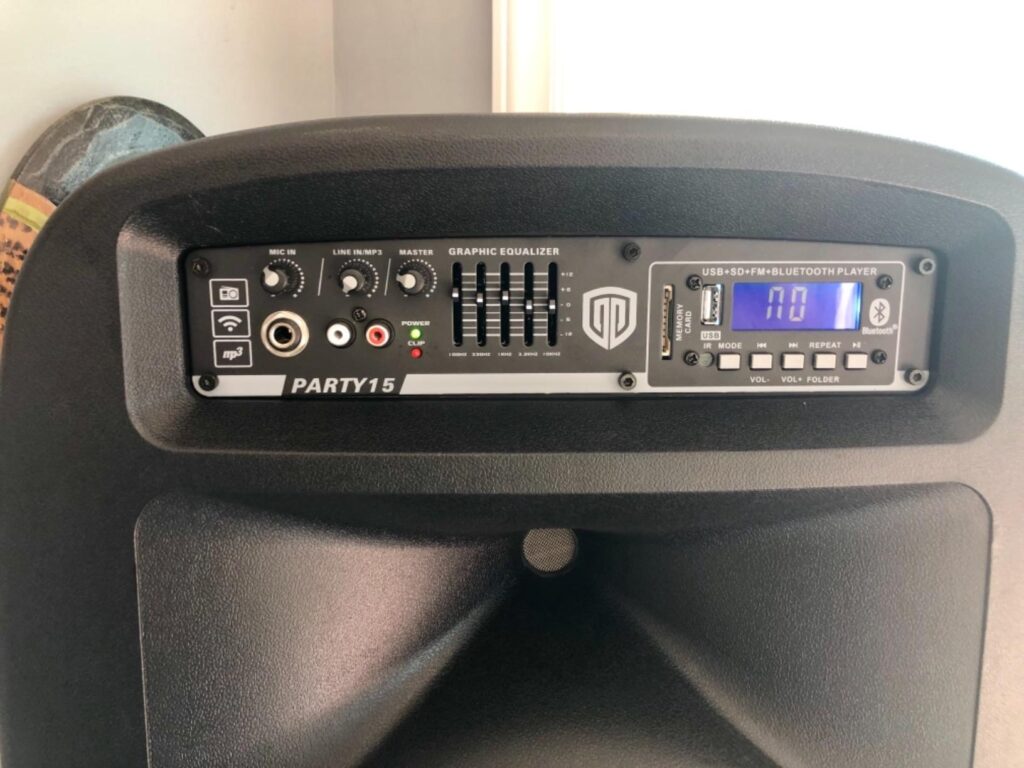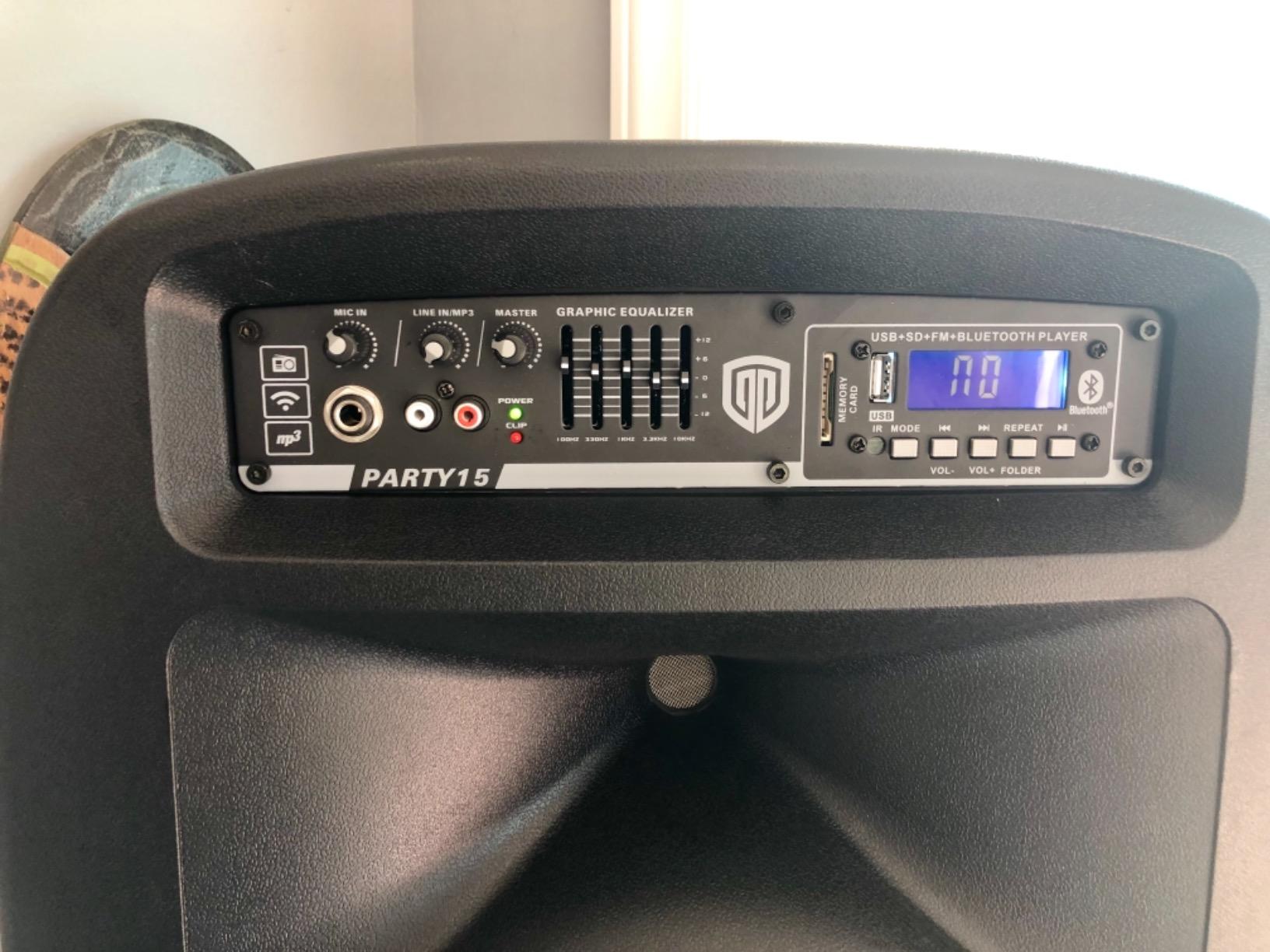 Besides the wired functionality, you cannot miss the opportunity to sing your favorite song through Bluetooth connectivity. Whether you are partying at the bar or having a fun time with your friends, the reliable Bluetooth connectivity lets you compete with your friends without the hassle of organizing the connecting wires.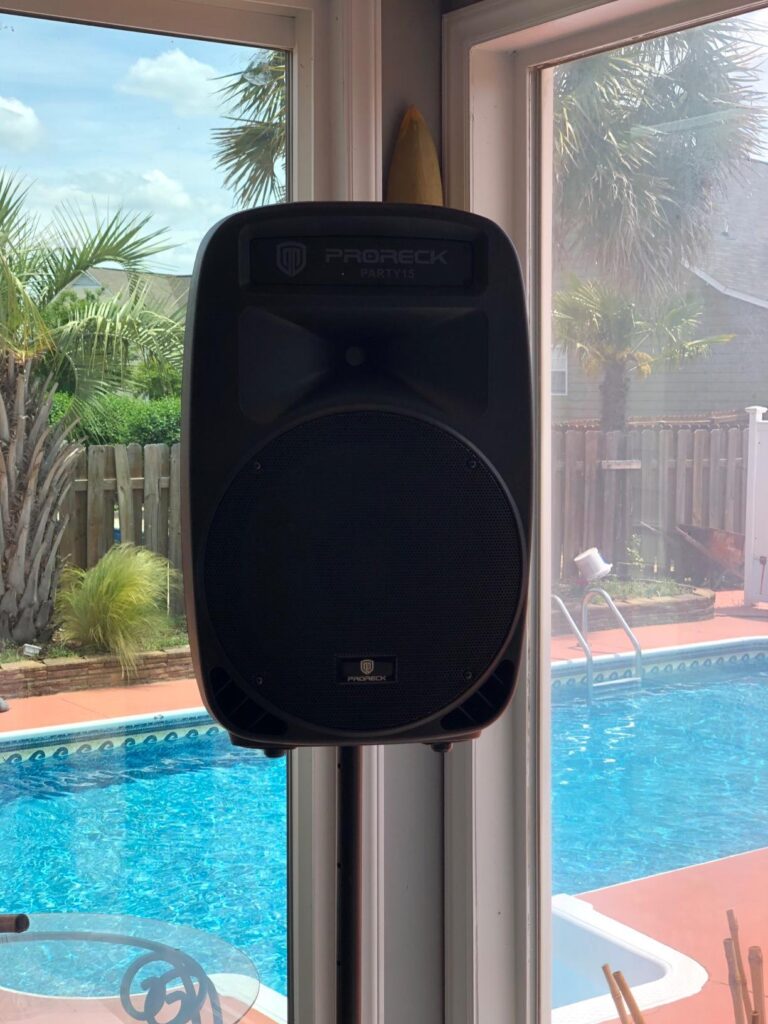 The remote control option is incredible for monitoring and changing the functions at your ease. You can play, pause, and do multiple commands with the help of the remote. Furthermore, if you taste for listening to FM, these karaoke speakers do not disappoint you with their excellent FM connectivity.
In this era where lights are a prerequisite in every second product, how can you miss having party lights in the karaoke setup? Proreck Party 15 does contain LED lights in 4 colors to make your party colorful and more vibrant. Its built-in LCD display makes the control easy, and you can make necessary changes using the display.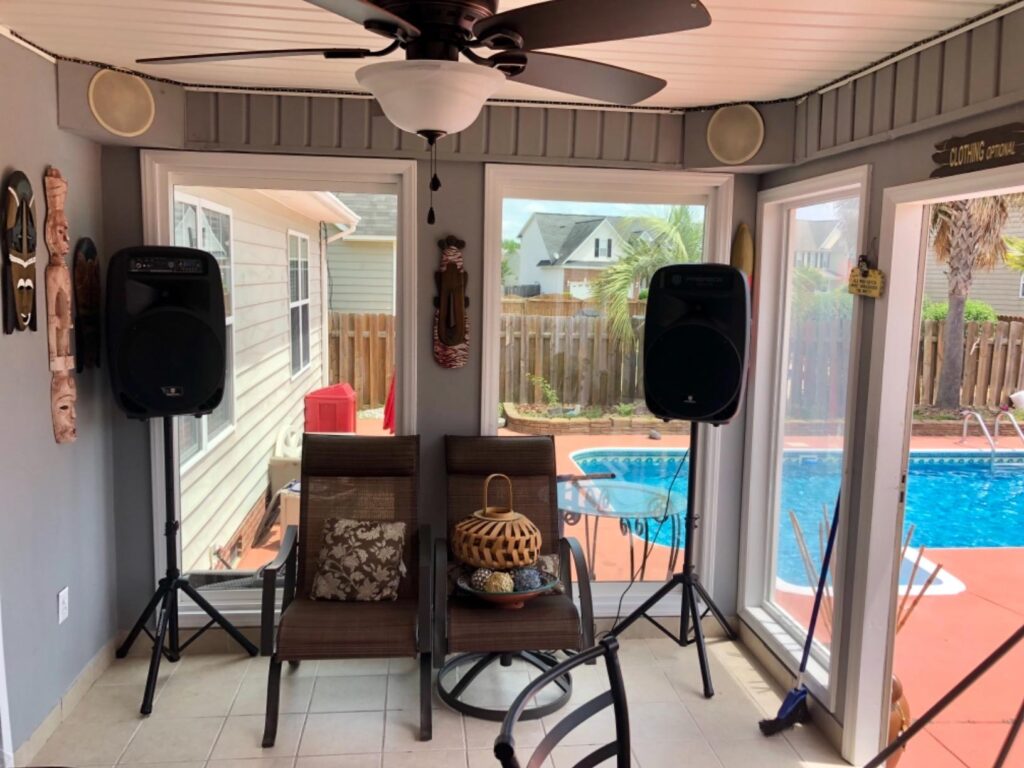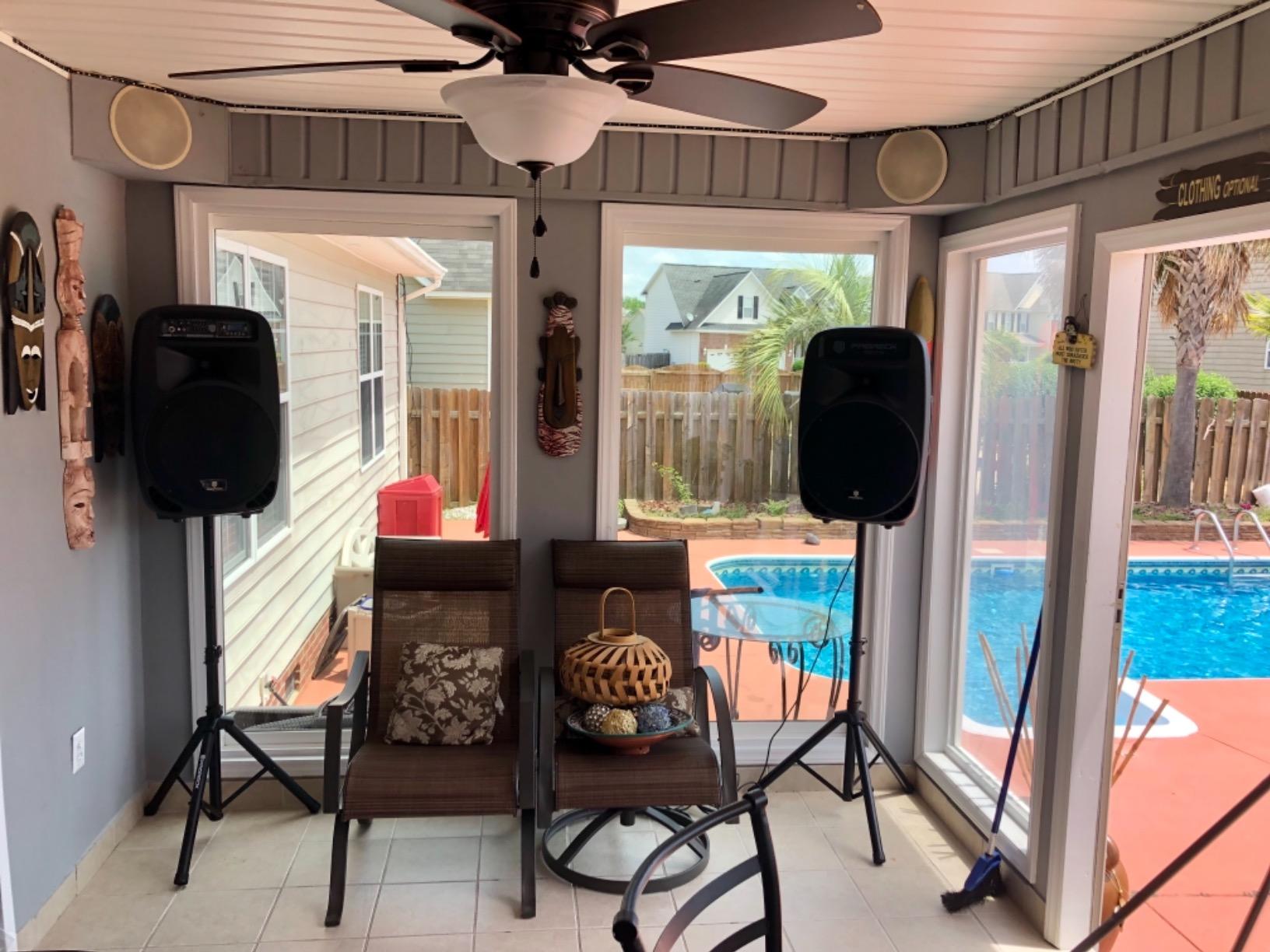 For the karaoke speakers, the biggest problem that users face is their portability. As these speakers often need to travel from one place to other, portability is a must-have feature. Proreck has 2 transport wheels to facilitate its transport while the convenient top and side handles to keep things simple and more portable.
Pros
High-quality sound experience
Readily portable
It comes with color light options
Bluetooth connectivity for wireless operation
FM connectivity
Cons
Microphone quality could be better
4) Alphasonik Wireless Speaker for Karaoke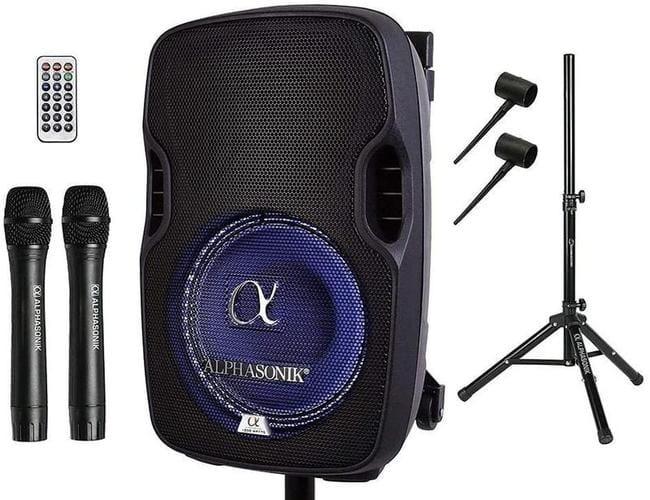 Frequency response: 44Hz – 17kHz
Quick rechargeable battery
LED lights
Bluetooth connectivity
Alphasonik portable is a small DJ speaker system that offers high-power components which ensure clear voices and sharp highs. You can take your music anywhere with its convenient rechargeable battery. The battery provides a longer run time with one charge. The rechargeable battery gives cord-free mobility to hours, so you can enjoy the loud sound without compromising quality.
These speakers are compatible with any Bluetooth device like iPhone, Android, or PC with minimal effort. Simply by inserting an SD card or a USB, you can enjoy your play-list for hours after hours.
Alphasonik is also compatible with analog devices. An output jack of 3.5mm can also play audio via the aux input by connecting to various other devices and instruments. A built-in FM radio allows you to listen to your favorite channel with its auto-searching technology.
The most exciting feature of this portable speaker is its built-in echo feature, and you may add vocal effects. Use the VCM function to make your messages or announcements stand out.
When you talk into the microphone, VCV automatically lowers the volume of the music. When you remove the microphone, the music volume returns to normal. With the bundled IRR wireless remote, you will have extra control options.
Two high-quality wireless voice microphones come with the package. Each microphone receives a reliable wireless audio transmission thanks to built-in dual antennas.
Moreover, to raise the sound, there is a tripod mounting platform that comes with the package. The output sound of this remarkable speaker is easily adjustable with its built-in precision soft-grip.
With the beat of the music, the LED lights synchronize with the music exhibiting a good show for the audience. In addition to the retractable handle and rolling wheels, the DJ speaker has a built-in handle for portability. Overall, it has a good build with a lot of premium features to offer.
Pros
Tripod mounting platform
Built-in handle for convenient portability
Built-in echo function
VCM feature for conveying more precise messages
Cons
Mic quality could be better
5) Rockville RPG2X10 Powered Karaoke Speakers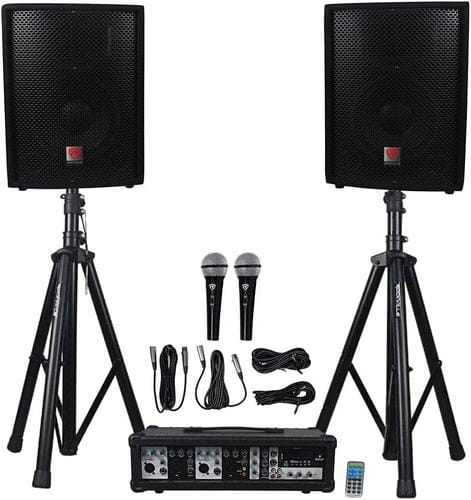 Peak Power: 800W
Frequency Response: 65-20kHz
SD/USB port
The Rockville RPG2X10 is a fully functional DJ system. The package includes two speakers, a powered mixer, two wired microphones, two adjustable stands, and all the connection cables you wish to have in one gadget. Also, the setup is pretty simple.
This DJ system is adaptable and loud enough for a variety of applications. The RPG2X10 offers great strong sound with 800W of peak power and 400W of program power. It provides various options, a PA speaker system, a DJ system, or even a Karaoke DJ system. All these features make for a great karaoke machine.
Rockville RPG2X10 has complete control over the sound, thanks to the integrated four-channel mixer. The mixer gives you full control over source and mic channels, allowing you to get the exact sound. The mixer also has Bluetooth built-in so that you can play music from your phone, tablet, or laptop.
For even more music listening choices, there is an SD Card and USB port. The mixer's additional features offer you even more customizability. Each channel in the mixer includes reverb and digital delay to improve your musical experience.
Rockville speakers and bundle offer great value with an affordable budget. The Rockville RPG2X10 PA system is popular among DJs and individuals for bands, churches, and schools. The underlying secret to its popularity is its combination of a low price and highly excellent sound quality.
Pros
Customizable amplifier and mixer for better sound dynamics
Easy to set up and operate
Good sound quality and clarity
Fully functional DJ setup
Cons
The speaker stacks could go higher to improve sound projection
6) Pyle Wireless Karaoke Speaker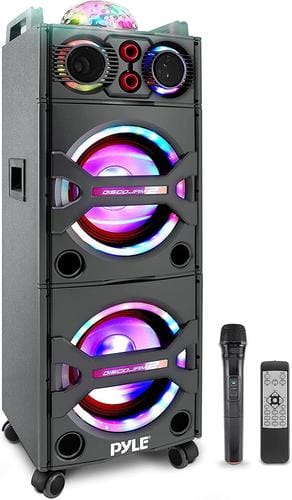 Built-in support for 6 inputs
Power: 2000W
LED lights
The Pyle Wireless Karaoke PA Portable Bluetooth Speaker is a powerhouse. This powerful Bluetooth speaker system is compatible with many devices, including Android and iPhone smartphones, tablets, and PCs. Due to its wide-range compatibility and portability, it is very convenient for both inside and outdoor usage.
The build quality is remarkably reliable and sturdy. This speaker has twin subwoofers, dual tweeters, and 2000W peak output at 4 ohms for full-range surround-sound stereo rendition and deep bass response. These features ensure quality sound and a ground-shaking music experience.
It has a USB flash drive and SD card reader to function as an MP3 player, RCAA. (L/R), and Aux with the standard 3.5mm input. Moreover, two 1/4-inch mic/guitar input and an FM radio with auto scan also add to its quality features.
Compared with other rivals, Pyle continues to provide robust, dynamic speakers at an affordable price point.
Featuring multi-color flashing disco LED lights, this portable Bluetooth party speaker is a great way to add some life to evening gatherings or outdoor patio parties.
The aesthetic lighting that moves with the pulse of the music synchronization is thrilling. Additionally, a rotatory knob is built-in to control and adjust the volume of the speakers.
Although Pyle are the best karaoke speakers home use but can liven up any gathering. You can enjoy a variety of music streaming choices to liven up any event.
It comes with a wireless microphone for singalong karaoke parties, Bluetooth audio streaming for wirelessly playing all of your favorite songs, and built-in flashing DJ party lights to add visual elements to the high-powered music.
Pros
Convenient carry handles to move around
Sound equalizer for controlling bass and treble
Long-range wireless connectivity via Bluetooth
Rotary Knobs
Cons
Battery life is just 3 hours
7) VeGue Professional Karaoke Speakers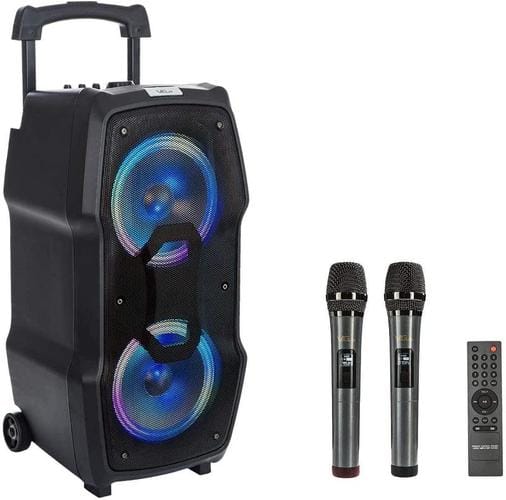 Frequency response: 26Hz – 18kHz
UHF wireless microphone
Long-lasting battery
LED lights Available
VeGue professional karaoke speakers make your music and sound more reachable with a practical wireless connectively. You can sing for a large audience while standing at a 33ft distance from the speakers. This incredible range makes it one of the best speakers for karaoke for a larger audience.
It features a full stereo sound that sums up a clear and loud experience. The 250W RMS and the single tweeter and dual subwoofers produce a more robust and more balanced sound. You can run the audio at full sound without getting any distortion from the speakers.
With the powerful rechargeable battery, you can listen to music nonstop for up to 10 hours. So whether you're attending an indoor party or outdoor pool party speaker, you'll be able to jam out to your favorite tunes without having to worry about tangled cords. Furthermore, you can recharge your phone or devices with the help of the USB port, which acts as a power bank.
The LED lighting makes you submerge into the beautiful effects and their color change in each beat. Together they shake up the room and make the experience more entertaining. The addition of strip lighting on the front side form a pattern of the lights that makes the atmosphere more romantic and pleasing. 
If you are looking for karaoke speakers for convenience and quality, then these are the perfect setup. You can easily transport it outside for any activity thanks to the anti-slip wheels and handles to grasp. The aesthetics of this machine impresses everyone with the curve modeling on both sides. 
Pros
Beautiful LED lighting for a soothing experience
The sounds quality is clear and loud
Wireless connectivity for the mic
Easy to operate with remote
Cons
Minor issues with Bluetooth connectivity
8) Bose S1 Pro Wireless Karaoke Speakers
Built-in optimal sensors
Bluetooth connectivity
LED lights
Battery-powered karaoke speaker
The Bose karaoke speaker is the best speaker for karaoke with a dedicated sound system. It has the best positioning system or speaker as you can place it horizontally or slightly titled back. Either it's a party or singing competition, these speakers provide natural sounds with an excellent performance adjustment accordingly.
As per the dimension of the speakers' system, you do not need to worry much about its placement. It fits nicely in various places and facilitates its multipurpose functioning. The shape of these karaoke speakers works well with the horizontal position as you can easily use it as a screen wedge.
No matter where you place the speakers, you get a clear and crisp sound. The loud sound becomes possible due to its neutral sound system. The neutral property makes it suitable for many genres. Having such adaptability makes it a versatile choice, although it lacks the required base.
There is an exciting function of wireless connectivity in Bose S1 Pro karaoke system. It can connect with the other compatible Bluetooth-enabled Bose speakers or with the same model for getting a more powerful voice for your audience.
The configuration windows are relatively vast that provides Bose S1 Pro an advantage over other competitors. However, you need to jump into the advanced configurations carefully. Once explored with care, you can harvest more from these karaoke speakers.
Pros
It is lightweight and compact for portability
Ease of placement options
Excellent Bluetooth connectivity and functions
Advanced configurations
Loud and clear sound
Cons
9) JBL Professional EON610 Speakers for Karaoke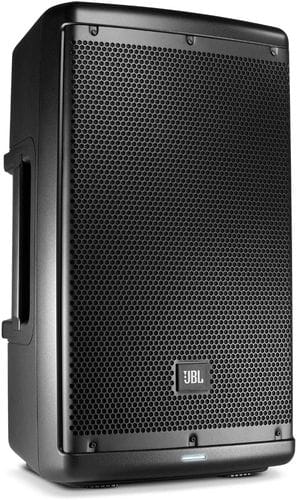 Frequency response: 52Hz – 20kHz
Parametric EQ
Bluetooth integration
LED lights
JBL is the quality producer of musical instruments and represents many premium quality products. These karaoke speakers show the same remarkable quality that we often see in JBL instruments. This affordable karaoke speaker is more than what it looks like in the specs sheet.
JBL high-end karaoke speakers produce an excellent loud and clear sound. The sound quality speaks for itself as the highs are well pitched and crisp without harshness.
Contrary to this, the mods represent an excellent blend with the highs. For this 10-inch speaker, the lows are very consistent and have a good punch to them. However, you need an extra subwoofer if you want to hit the floor hard.
The JBL EON 610 shows a solid build quality and has a rugged appearance due to the injection modeling technique. Plastic may seem less attractive and not the most durable material.
JBL took advantage of their speakers' knowledge and produced a cheap karaoke speaker with almost the same quality that its premium speakers carry. 
It is incredibly light in terms of weight. When compared to other speakers, it weighs only 26 pounds, which feels like an ultra-lightweight. As a result, you may conclude that it has low quality, but you would be incorrect.
The intelligent use of materials and construction results in a speaker that facilitates portability. You won't have to exert much effort transporting. Because of the low weight, it is also effortless to mount these on poles and get them up and running.
When you consider the price of the JBL EON 10 speakers, you get a lot of bang for your buck. Solo performers will appreciate the solid construction and lightweight design of this model.
It can handle a wide range of situations thanks to the numerous presets that are available. The addition of Bluetooth functionality is a nice bonus that is exceptional for a speaker at this price. 
Pros
The working is flexible for versatile use
Excellent sound quality
Improved technology to handle the sound
Good value for money
Cons
Bluetooth sometimes does not pair
10) STARQUEEN Karaoke Speaker for Home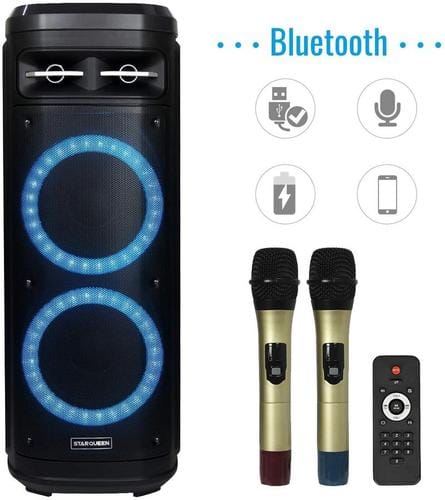 Battery life: 6 hours
Colorful DJ lights
Built-in Bluetooth
STARQUEEN Karaoke speaker strives to offer high-quality with excellent performance. This speaker features dual 10″ inch robust woofers and features double 3″ inch tweeter that produces high-quality sound. Therefore, you can perform music or deliver a speech in a vast room or outdoor space. These are the best speakers for karaoke at home due to their diverse functionality.
You can quickly and easily tune this speaker using the top operating panel. Furthermore, the multi-color lights make it easier to see and read the buttons in the dark. The speakers light up in perfect sync along with the music beat, which is both thrilling and entertaining. Also, you can disable the lights if it is annoying.
With a built-in rechargeable battery, this karaoke machine can play songs nonstop for more than 6 hours at maximum volume. It can also enhance your voice thanks to its twin 6.5′ inch woofer and 3″ inch tweeter.
It can improve both higher and lower bass frequencies based on a solid stereo sound and excellent subwoofer.
This speaker has a variety of functions that make them the best speaker for karaoke system. It has five modes of operation, integrated USB, TF/MMC MP3 media player, built-in Bluetooth, FM radio, and plugin connecting cable.
Switching between these modes is also at the ease of your hand, simply press the "MODE" button on the panel or remote control. Additionally, this speaker is compatible with several different other devices like mobile phones, PCs, etc.
Most individuals want to relax and enjoy their leisure after a long day of work. It instantly transforms your home into a fantastic party atmosphere.
Speakers may be a bit on the pricey side, but it is worth the money. Last but not least, it includes all the features that a good sound system can provide.
Pros
MIC priority feature to sing along the song
Wireless connectivity
Switching among modes is easy
Musical instruments are connectible
Cons
A little pricey but worth the money
Related Blog: Best Loudest Bluetooth Speakers
Best Portable Speaker for Karaoke Buying Guide
For a user, it isn't easy to choose a suitable speaker for karaoke and select the best for them to use. We took a look at the features and qualities of the speakers that a buyer wants to have in their karaoke speakers. It depends on the user which quality is preferable for them in their speakers.
Few features may be critical for some users, and at the same time, they are not essential for others depending on preference. Now we take a look at specific features of the best karaoke speakers.
Price Factor:
The most important and the first thing is money for a person. Everyone who wants to buy karaoke speakers and spend money on them must wish to get it in their budget.
It is important that how much a person can spend on it. The price of speakers is the main point that one should think about when buying the speakers.
Besides a karaoke speaker, you must look for other essential accessories that come with the karaoke speakers. Some companies offer microphone with the speakers, while other don't which definitely affect the cost of the karaoke speakers. So if you want to buy karaoke speakers, first establish your budget.
Actual Wattage:
The loudness is not its only valuable feature to look for in the speaker. There are other features like wattage that play a vital role in the selection of the karaoke speaker.
Wattage means that how loud your speakers are, and the loudness covers the area. The rule of thumb is that the 1watt cane covers the 1 square meter of an enclosed space, which means that if a karaoke speaker has a 50-watt rating, it is sufficient to cover 50 square meters of an enclosed area. It depends on where you perform and the site where you use your karaoke speakers.
Ease of Mobility:
It's not necessary to carry your karaoke speakers all the time. If you can lift your karaoke speakers with you, your speakers are just like your mobile, which you can take with you anywhere.
If they are heavy to carry, then you probably have a hard time carrying them with you. So, choose wisely when buying the best speakers for karaoke by keeping their portability and type of use in mind.    
Rechargeable Battery:
A fully charged battery is most important for getting endless enjoyment on the karaoke speakers, either you go on a trip or a beach party. A karaoke speaker with rechargeable batteries comes in different qualities.
The benefit of a chargeable speaker is that you need no socket to run your speakers because the sockets are not reachable everywhere. The chargeable batteries make our event more enjoyable at a place where there is no electricity.
Wireless Operation:
Nowadays, Bluetooth is a part of life. If a device has a Bluetooth facility, then it provides extra facilitation. If the karaoke speakers have Bluetooth, you can rely on it to connect various multimedia devices wirelessly.
You can efficiently run your karaoke speakers with your mobile by connecting your Bluetooth. It is an easy way to play the music according to your choice at your fingertips from your mobile.
Radio Support:
Most of the models of karaoke speakers come with the default feature of AM and FM radio settings. If you are a big fan of radio, then karaoke speakers are already equipped with modulators that can help to find the frequency for your best channel on the radio. These modulators are helpful to adjust the FM stations to your choice. 
Proreck Party 15 is the best speaker for karaoke due to its incredible PA speaker system and active speakers. We have used them for few weeks and concluded that they are the best speakers for karaoke

Our runner-up for raw performance and ability is JBL EON karaoke speakers. They are highly portable and have a Bluetooth system to connect with other devices. These speakers' vibrant sounds with LED lights give a pleasing sight for eyes and soothing sounds for ears.

EARISE T15 Tower Karaoke Speakers are not lagging in this competition. They are the perfect choice if you want a mixture of portability and utility. We recommend them for the casual players who use speakers for karaoke.

Best Recommended Products
What are speakers good for karaoke?
PRORECK PARTY 15 are the best speakers for karaoke. These speakers have the features which are essential for karaoke. They are the best PA speakers for karaoke, including an active speaker, a stand that can hold two speakers, a mic with wire, and remote control. It has Bluetooth connectivity, an FM radio modulator, and has the rechargeable batteries that you can enjoy this speaker at any place and anywhere.

Can I use home theater speakers for karaoke?
It is better to use an active PA speaker set up for your karaoke. Because the home theater speaker may damage the health of karaoke, the reason is that it depends on the loudness you may sing loudly at the party, and the atmosphere of the party may overload them. So the recommendation is that home speakers must be avoided and use good PA speakers for karaoke.

Are Soundbars good for karaoke?
The manufacturer recommends you do not need one. Although you can run karaoke with Soundbars, it may bother you because the soundbars don't have a mic-in option. There are many audio options, but it is not helpful without a dedicated microphone-in port. Karaoke must use without selecting soundbars to avoid difficulty.

Do I need an amplifier for karaoke?
In some cases, individuals who operate karaoke speakers may choose to utilize a typical musical amplifier. However, an amplifier developed specifically for karaoke provides better mobility, may perform multiple functions and may include additional operating capabilities.