The appeal and vibes created by the vintage distortion sounds are more than satisfying for enthusiasts and music lovers. Using the best distortion pedal is the most revolutionized thing that you can achieve for the effectiveness of the guitar tone and creating those sounds. Having the best guitar and amplifier helps you to get the job done, but the distortion pedal adds a new life to your songs and live performances by giving you access to powerful effects.
A distortion pedal does more than a standard overdrive as it saturates the guitar's tone and provides a distinctive touch for the audience. It is one of the best effects you can add to your music as it gives a predominant effect for many music genres. You can expect mind-blowing results when combining the distortion pedal with other instruments like reverb, delay, and wah. These pedals come in different packages having various capabilities, so utilizing the relevant choice is crucial.
Table of Content:
Top 10 Distortion Pedal Reviews in 2023
When buying the distortion pedals, reviews play a vital role as you cannot check all the pedals when there is a storm of these gadgets. I have curated this list of the top 10 distortion pedals available in 2023.
I have got you covered whether you want rock, bass, metal, or any other genre. With all the experience and hours of research and testing, I am sure that these options are best for anyone looking for distortion pedals. Let's get started with a brief review followed by buying guide to let you make an informed decision.
1) Boss DS-2 Turbo Best Distortion Pedal for Beginners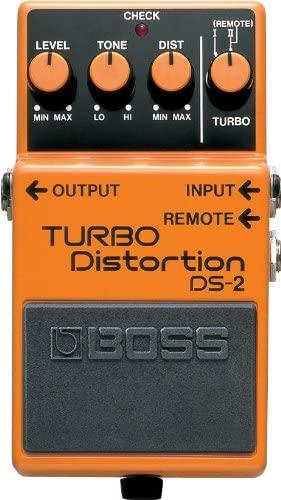 | Specifications | Values |
| --- | --- |
| Manufacturer | Boss |
| Model | DS-2 |
| Type | Analog |
| Effects | Distortion |
| Power | 9 Volts |
| Connectivity | 6.35mm jack |
| Dimensions | 6 x 4 x 6 inches |
The Boss DS-2 Turbo is the best distortion pedal for beginners due to its user-friendly controls and diverse distortion options. It shares the same functionality that its predecessor, DS-1, offers. I have tested it for different levels of tones and effects, and it provided the best tones for the distortion pedal price. You don't need to look further for other distortion pedals with all the options and sound drivers.
Customizable Modes and Remote Jack
Boss has stepped up their game with the DS-2 Turbo Distortion pedal. It has two different modes of distortion and a switch that activates the suppression of the signal. Boss also added a customizable remote jack, so you can connect an external footswitch to it, allowing hands-free changing of the distortion at any time during your set only with one stomp movement.
Wide Range of Distortion
The DS2 offers a range of different distortion effects with three main controls for each mode. During my tests, it produced warm and creamy overdrive in Mode 1, which makes it ideal for mellow, bluesy rhythms with the option to add additional turbo for grungey rhythm parts to achieve a classic 90s sound.
With average distortion pedal settings, the DS2 offered chunky distortion effects, which complement the lead parts nicely without taking control of the frequencies in your mix.
In contrast, Mode 2 shows great potential for the leads as it has boosted upper mids and toned low mids. These provide sufficient trebly bite with overdrive boosted for the custom used during the performances. There is a lot of tweaking potential in the Mode 2 as it can change the crunch solos to screaming face-melters. However, the chunky distortion is flawless, which I liked most in this pedal.
Versatile Usability
The DS-2 boss distortion pedal provides a solid, versatile distortion pedal capable of producing different sounds depending on the kind of music you play. You can use it for indie pop/rock and metal, but this pedal might not be for you if you're after a cleaner tone or heavy metal sound. It has an endless combination of tone, level, and distortion, which possesses plenty of potentials and can take a while to master.
Benefits:
Excellent sound; despite the gain, it gets a tap.
The tone is clean and close to the guitar sound.
It has good capability for overdrive and provides excellent distortion.
Good heavy grunge style distortion.
Drawbacks:
It is not possible to footswitch between two distortion voices.
It does not come with a power source.
2) JHS Angry Charlie V3 Distortion Pedal for Electric Guitar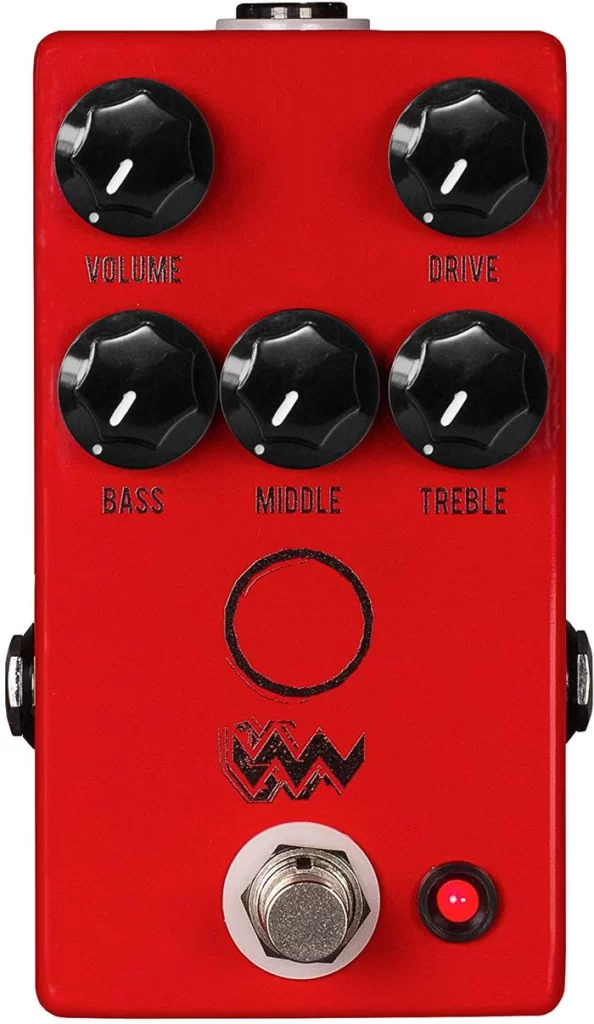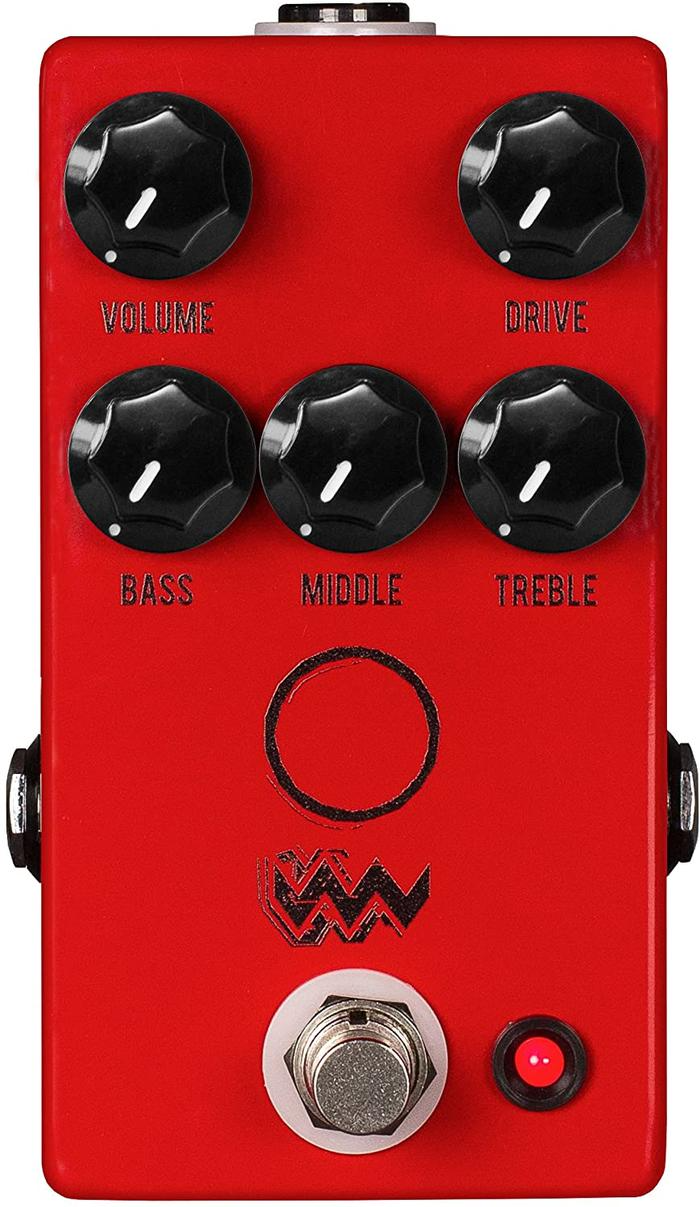 | Specifications | Featured Values |
| --- | --- |
| Manufacturer | JHS Pedals |
| Model | Angry Charlie V3 |
| Type | Analog |
| Effects | Bass, Overdrive, Distortion |
| Power | 9 Volts |
| Connectivity | 6.35mm jack |
| Dimensions | 6 x 3 x 3 inches |
JHS started off manufacturing Marshall-in-a-box pedals, specifical ones with the features of a classic JCM 800. You get super chunky mids with all the gain you need, from a light crunch setting to slicing solos using JHS Angry Charlie V3 distortion pedal for electric guitar. Thanks to wide EQ options, there are plenty of ways to tweak this pedal for whatever sound you're going for.
Wide Range of EQ
The JHS Angry Charlie V3 pedal EQ has a wide range and is stable at 12 o'clock, making it a fairly flat option. You can cut or boost each frequency band drastically by turning the knobs even slightly, meaning you can get a lot of sonic variety in such a confined area. This EQ is one of the best options I have seen for its price point.
Perfect Distortion Voicing
I was particularly impressed by the Angry Charlie when voicing this distortion. While I enjoy that pedals can produce a wide range of sounds, I'm most impressed when they are hard to make sound bad despite using them at very high gain settings. Even as a clean boost, I was surprised with how well it sounded with any given set of effects added on top of it. It is not something one can typically say of pedals that accurately mimic a JCM 800 amp at high gain levels.
Excellent Highs and Lows
The distortion is perfect, giving me everything I need to get aggressive tones maximized by the creamy and smooth element of the sound. One impressive thing about it is that I achieved different clean tones by turning down the gain and increasing the volume.
Adjustable EQ allows me to get wildly different tones just by adding a little more of that grit and crunch while cranking up the gain gives me that awesome fuzz distortion on the edge of sanity.
Benefits:
It provides endless distortion to play for live sessions.
The boost without distortion function is more than handy.
Noise floor is perfect for voice.
The clean boost sounds are exceptional for distortion.
Drawbacks:
Some users have a middling issue with the distortion.
It has the limited ability when used for an overdrive pedal.
3) Pro Co RAT2 Top Distortion Pedals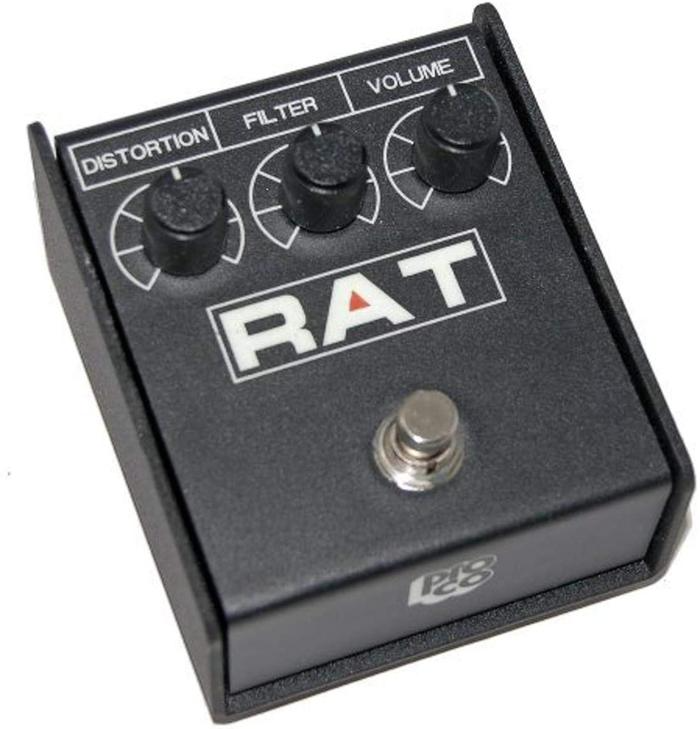 | Specifications | Values |
| --- | --- |
| Manufacturer | ProCo |
| Model | RAT2 |
| Type | Analog |
| Effects | Filter, Distortion |
| Power | 9 Volts |
| Connectivity | 6.35mm jack |
| Dimensions | 4.8 x 4.5 x 3.3 inches |
The Rat 2 still holds a special place in the hearts of guitarists everywhere due to its features. Even after decades of being an industry-standard distortion pedal, it's still one of the best distortions. It offers the same vibes and tones as the original RAT for the guitarists.
Incredible Sound
The RAT distortion pedal is incredible for the thick, chewy sound as it has a lot of bottom ends. Despite all the bottom ends it has, it does feel balanced for the audience and performers. It feels half distortion and half fuzz while remaining the interesting mixture of both.
Easy to Use Functions
The pedal feels spartan for use with all the build quality it offers. The easy to dial mechanism with the three knobs action lets it stand out. These knobs feature filter, volume, and distortion with the footswitch. They offer a smooth switching with the indicators that glow in the low light to let you easily operate it without any hassle.
A Good Battery Access
The RAT2 has rubberized feet, keeping it from sliding around and getting scratched. The no-tools thumbscrew should enable you to get at the battery compartment without too much trouble, and the 9-volt DC input is present on the top of your circuitry. Unfortunately, the power supply doesn't come with this product.
Highly Versatile Functionality
The RAT 2 is our favorite overdrive pedal, and we love it because of its versatility. With it, you get a beautiful sounding overdrive that rivals the tubes. You can also use this pedal to create awesome crunchy tones that seemingly come from nowhere because it is an analog pedal. If you're looking for moderate distortion and a healthy amount of sustain, this is a perfect choice.
A Choice of Guitarists
While the RAT2 might not have the same amount of control as some of our other multi-effects pedals in this top 10, you don't need to worry because it's still one of the best options out there on the market.
I recommend this pedal for those looking for bluesy or hard rock tones because there is none better than completing a guitar's tone and getting it prepared for solos. Guitar greats like David Gilmour and James Hetfield also use this pedal for their performances.
Benefits:
It is highly versatile for beginners and experts.
It is an excellent choice for balanced distortion, fuzz, and overdrive.
It has distinctive sounds that provide an excellent experience.
It is tweakable, and you can use custom settings for more effects.
Drawbacks:
It seems complex for beginners at the start.
It doesn't have modern and fancy aesthetics.
4) Fender Pugilist Most Versatile Distortion Pedal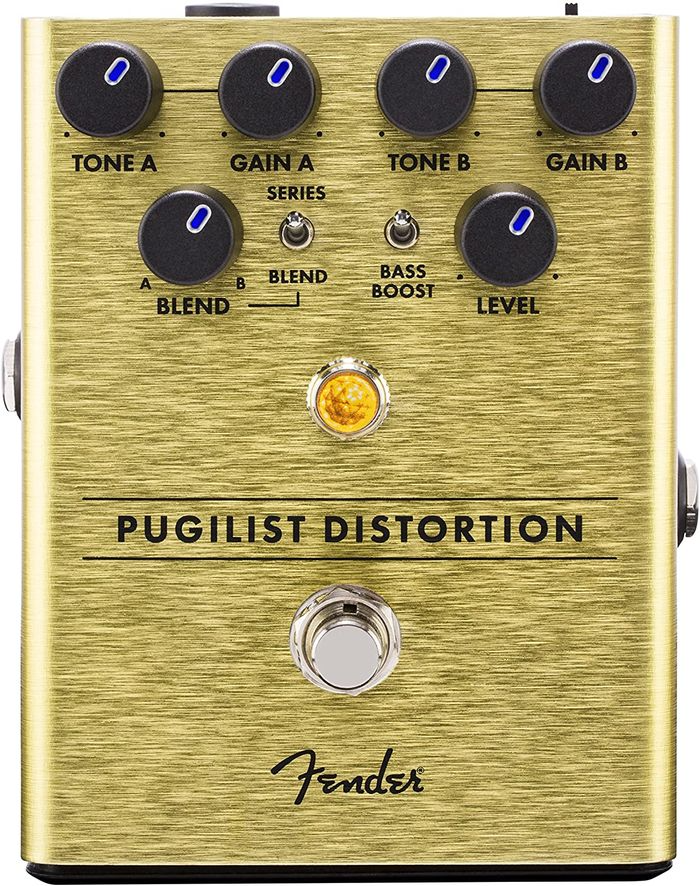 | Specifications | Tested Values |
| --- | --- |
| Manufacturer | Fender |
| Model | Pugilist |
| Type | Analog |
| Effects | Distortion |
| Power | 9 Volts |
| Connectivity | 6.35mm jack |
| Dimensions | 5.45 x 4.85 x 3.25 inches |
If you're into hazy, sinewy stoner rock, your collection will have a place for the Fender Pugilist. It sounds very close to the fuzz I get from other premium distortion pedals. And it is amazing how different a distortion pedal can get, even if it presents the same type of distorted sound.
Build Quality
The Fender Pugilist is a guitar pedal that seems to have taken on the hard-hitting, sturdy qualities of a pugilist to give your guitar the tone it deserves. With features such as its gold anodized aluminum chassis and other elements, this is one of the best pedals for the price point. I love the extra kick that it gives off with its magnetic latching 9V battery door.
Aesthetics and Attention to Details
One of the best features of the fender distortion pedal is its illuminated control knobs. They can indicate how much gain you want, but they also give off a bright blue glow during operation, which will not distract you during your performance. You can switch them off if you find their presence to be distracting. Each detail orchestrates together to create a flawless minimalist pedal.
Independent Controllers
Fender employs a unique approach to its musical instruments. They're particularly well known for their looks and their sound quality. The Fender Pugilist Most Versatile Distortion Pedal is no exception to that rule. It comes with two distortion engines – each of them driven by its TONE and GAIN knobs.
Excellent Tones
Interestingly, the more aggressive of the two engines on the Pugilist, Gain B, boasts a bass-heavy sound. The blend knobs allow you to determine exactly how much each engine's sound should be blended. It gives the amp even more versatility with its numerous possible applications and uses cases.
Rock Focused Powerhouse
Fender Pugilist pedal can give you a lot of heavy distortion while staying clean as a guitar tone – not too shabby. Though used in conjunction with heavier styles of music, it may give some odd mud to the sound. It's certainly more than adequate for someone who enjoys rock and alternative styles of music.
Benefits:
It provides excellent performance for its price.
It allows a dual-channel engine that lets you set the blends level.
It features magnetic battery doors for easy access to the battery.
LED illuminated knobs are best for performing in low light.
Drawbacks:
It targets the high-gain players, which can intimidate others.
9V battery can drain the power quickly, so it needs a direct power supply.
5) MXR M75 Super Badass Best Cheap Distortion Pedal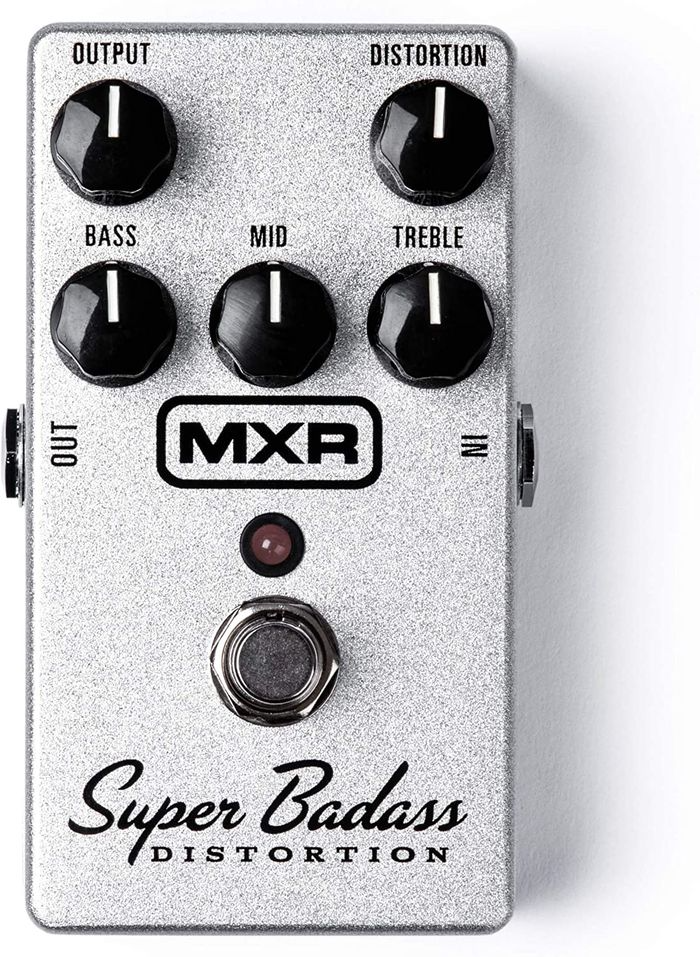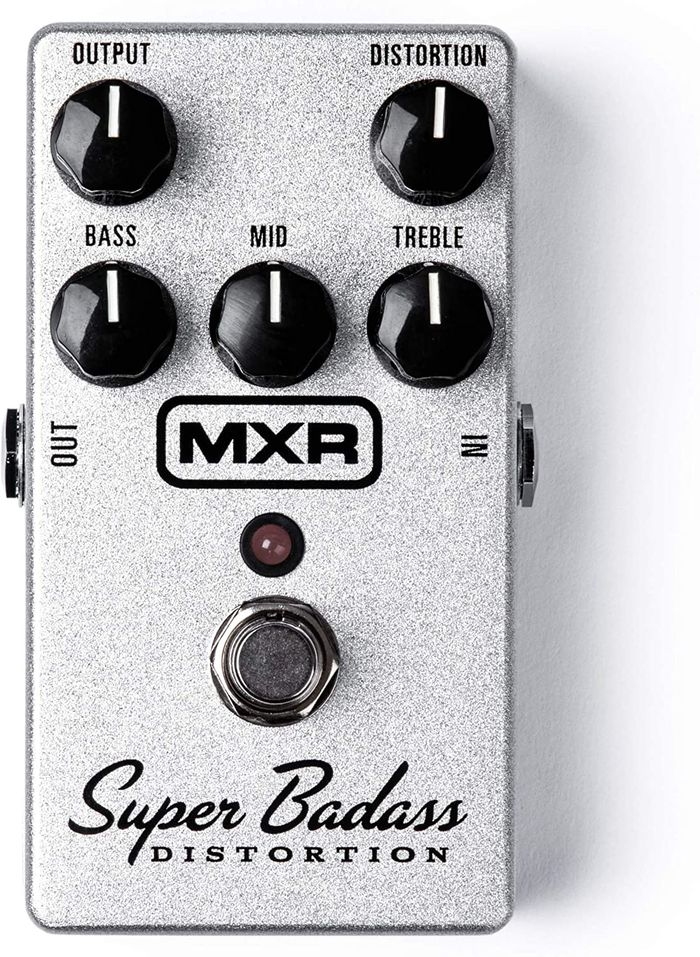 | Specifications | Values |
| --- | --- |
| Manufacturer | JIM DUNLOP |
| Model | MXR M75 |
| Type | Analog |
| Effects | Bass, Distortion |
| Power | 9 Volts |
| Connectivity | 6.35mm jack |
| Dimensions | 4.5 x 6 x 2.75 inches |
The MXR M75 Super Badass is the best cheap distortion pedal and ranks well among the most versatile pedals in the MXR line-up. It has a variety of controls at your disposal to fine-tune your distortion sounds. If you're looking for a reasonably priced distortion and delivers quality design, this could be just what your rig is missing.
Highly Tweakable EQ
MXR M75 is one of the finest options that provide suitable controls for the perfect distortion. However, the most distinguishing part I feel about the Super Badass is its highly tweakable and responsive EQ. It has separate controls for the bass, mid, and treble to provide a customized and powerful frequency spectrum with a wide array of settings.
Range of Upper and Lower Frequencies
The Badass is versatile enough to range from the lowest bass ranges to the highest trebles. It can match with a greater range of amps and unique voice combinations. This versatility enables you to build up smaller pedalboards for more compact pedal setups, perfect if you're limited onboard space or just like to reduce the number of pedals on your board.
A Great Boost
The MXR M-75 Super Badass pedal is serviceable and will be your new best friend when adding some pretty boosted tones. It can range from a nice, light distortion to heavier overdrive sounds blended with harmonics. So don't be afraid to crank the knobs up so high for crunchy overdrive or mids for the modern metal tone.
A Solid Performer
With a full set of gain and output controls, this overdrive pedal can provide you with an encyclopedia's worth of rich, vibrant tones perfect for genres ranging from punk to rock and blues to metal. And the coolest part about it is that you can achieve all of these tones with just one pedal.
Benefits:
Provides a complete gain range with three-band EQ for ultimate performance.
It has a dynamic and responsive gain circuit.
Offers a wide range of tones to make it suitable for everyone.
It has a great combination of overdrive, saturation, clean boost, and texture.
Drawbacks:
The knobs seem slightly tight, but they are manageable.
There is an addition of weight to the pedal that can hinder portability for some people.
6) Revv Amplification G3 Overdrive Distortion Pedal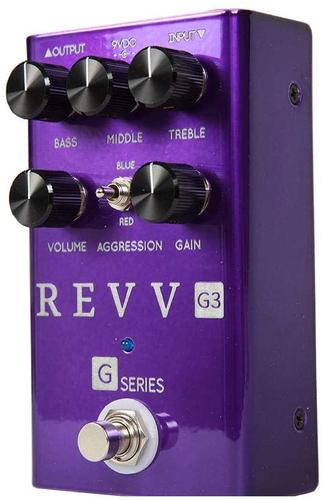 | Specifications | Tested Values |
| --- | --- |
| Manufacturer | Revv Amplification |
| Model | G3 |
| Type | Analog |
| Effects | Overdrive, Distortion |
| Power | 9 Volts |
| Connectivity | 6.35mm jack |
| Dimensions | 5.75 x 5.59 x 2.6 inches |
Revv Amplification has made a name for itself with its all-tube amplifiers, famous for being both powerful and extremely versatile. When you try the G3 Distortion Pedal, you will be blown away by how accurate it is. It's so realistic that we initially wondered if it was just an updated version of their Purple channel.
Superb Build Quality
As soon as you get your hands on a Revv G3, you can tell from the high-quality materials that there was a lot of care and thought put into every detail. Everything about this pedal says quality, from the top-mounted jacks to the smooth knobs.
Simple Control Layout
Revv G3 distortion pedal is the perfect overdrive distortion pedal that features a simple layout. It is self-explanatory with all the good stuff at your access. The top row has EQ knobs giving you easy access, while the bottom row has volume and gain to add more versatility to your tones. The three-way aggression switches with blue, red, and off adds more to your overall experience.
Clarity and Aggression at its Best
It's always a pleasure to find pedals that take anything you can throw at them and never skip a beat. The Revv G3 features the same clarity and aggression that you can expect from any top-notch pedal. It makes for an incredibly versatile pedal that handles any rock genre with grace and ease, which encourages you to play loud and have fun with it.
Benefits:
It suits a large number of modern sensibilities owing to the sophisticated options.
The controls are silky smooth, responsive, and very easy to trigger.
Excellent quality purple housing gives it a beautiful look.
It is one of the best in business for the excellent selection of metal and rock tones.
Drawbacks:
It needs a sweet spot for the settings to avoid any unpleasant sounds.
It is not a perfect buy if you want something that produces high gain tones.
7) Wampler Dracarys High Gain Best Distortion Pedal for Bass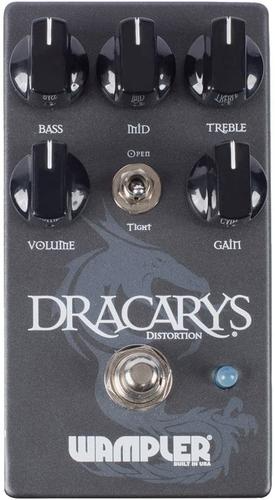 | Specifications | Values |
| --- | --- |
| Manufacturer | Wampler |
| Model | Dracarys |
| Type | Analog |
| Effects | Bass, Distortion |
| Power | 9 Volts |
| Connectivity | 6.35mm jack |
| Dimensions | 7 x 4 x 7 inches |
When I searched for the best distortion pedal, Wampler Darcarys got my attention. It is one of its kind that provides you with distortion and a combination of effects that you would prefer for your next performance. Besides that, it contains all the goods of its competitors, making it one flawless option for everyone.
Clean Channel with Huge Distortion
It is not every day I find a pedal that can do it all for the audience. The Darcarys high gain is the best distortion pedal for bass, providing monstrous feedback to the input. It lets you forget the transparent drive pedals by providing a clean channel packing huge distortion.
Minimalistic Controllers
One thing worth mentioning about the Wampler Darcarys it's familiar but simple to use controllers. It provides access to the three EQ knobs on the front containing Bass, Mid, and Treble. You can use these knobs and the Volume and Gain knobs to get the desired tones without hassle.
A Versatile Choice
Backing off the gains provides absolutely fine and modern rock tones using the Wampler Darcarys distortion pedal. I would prefer it for the people who like to play heavier genres as it has all the bits and bytes to give them what they want from their distortion pedals. You can work on it to produce progressive metal genres and get chug and djent with improved accuracy.
Great Pick for Modern and Sweet Tones
If you search for modern and sweet tones while getting enough distortion, Wampler Darcarys is a perfect choice. It provides high gain distortion with one of the finest quality. The controllers enable easy operating while providing the desired tones at your disposal.
Benefits:
It has top-notch build quality with an aesthetically pleasing layout.
The controls and features are self-explanatory for easy understanding.
Excellent high and low gain for the live performances.
The pedal is highly tweakable, giving access to lots of possibilities.
Drawbacks:
It can sound muddy when not toned accordingly.
It does well most times but getting individual string clarity seems challenging.
8) Empress Effects Heavy Dual-Channel Distortion Pedal Kit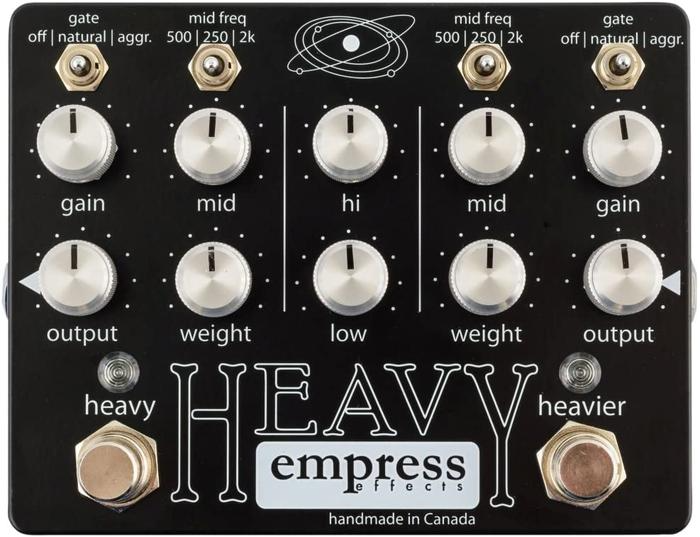 | Specifications | Featured Values |
| --- | --- |
| Manufacturer | Empress Effects |
| Model | Heavy Dual Channel |
| Type | Analog |
| Effects | Distortion |
| Power | 9 Volts |
| Connectivity | 6.35mm jack |
| Dimensions | 6 x 5.2 x 2.5 inches |
Empress Heavy is an exceptional pedal that I can't get enough of. It's modern, providing a unique and saturated effect that blends well with today's mainstream sounds. It works best for most players and especially guitarists since the quality of its output makes this pedal on par with high-end products from popular brands.
Unique Customizations
The channels on the Empress Heavy Dual-Channel distortion pedal kit are completely individual. However, my friend Daniel has identified a misconception found on the labels. The "heavy" and "heavier" labels do not provide any gain boost as other competitors offer. He discovered that each control knob repeats on both sides. It lets you customize the things while remaining unique.
Two Channels
It is worth mentioning that you can utilize the independent channels on both sides of the pedal to your advantage. You can set these channels with different presets to get a unique experience. It will leave you with the advantage of getting the power of two pedals for one price. The master EQ in the middle also lets you set the additional details for high and low settings.
Clear Tone with Aggression
The Revv G3 eliminates the need for stacking different pedals for various needs. Its beastly amp-like sound provides a special feel. You can get the satisfying mid-range while getting all the aggression you need for the performance. It leads from the gritty rhythm to the liquid shred lead while you pump the aggression switch.
Benefits:
It provides excellent provision of dual-channel distortion for more fun.
The analog circuit provides a good experience when dealing with distortion.
It packs tons of customizations to play around with the tones.
It features one of the best noise gates.
Drawbacks:
The pricing is slightly expensive.
It lags a chug that you can get from other pedals.
9) Walrus Audio Iron Horse V2 Best Distortion Pedals for Metal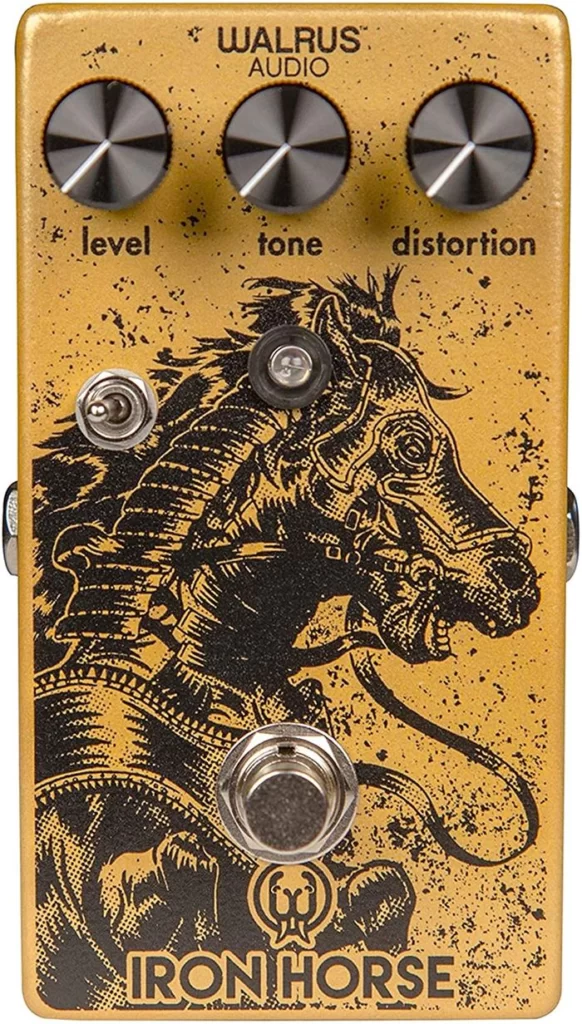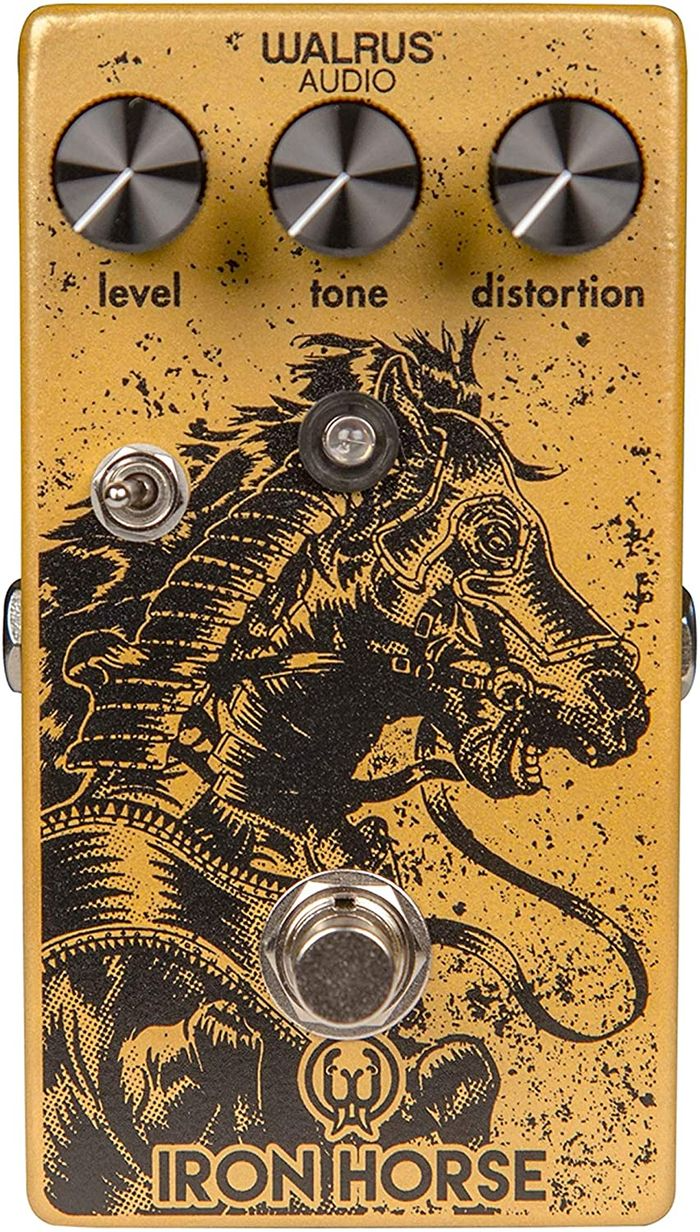 | Specifications | Tested Values |
| --- | --- |
| Manufacturer | Walrus Audio |
| Model | Iron Horse V2 |
| Type | Analog |
| Effects | Distortion, Overdrive |
| Power | 9 Volts |
| Connectivity | 6.35mm jack |
| Dimensions | 6 x 4 x 3 inches |
The Walrus Audio Iron Horse V2 is among the best distortion pedals for metal and a beast for the performance. It features a distinctive and cool artwork that provides a fine-looking pedal with a rough and rowdy appearance. I have reviewed this pedal for live performance and found it good for low gain levels.
Various Distortion Modes
The Walrus Audio V2 features three different distortion modes that can adjust for various occasions. One preset sounds classic while the other sounds super fat with the last one is more modern. I like these presets as it helps to switch between the effects during the live performance.
Highly Adjustable Tone
Walrus has provided a knob for adjusting the tones according to the frequency requirements. It allows adjustment according to the frequencies. You can play around with the high-end treble frequencies while turning the knob clockwise. Turning the knob counterclockwise can decrease the treble frequencies giving a nice touch to the sounds.
A Good Obituary Rat Tone
This pedal is a groundbreaking Rat distortion with an insane amount of gain. This pedal is based on the famous "Rat" distortion used by Obituary, so it's perfect if you are into that kind of sound and tone boost.
Improved Dynamic Range
The Walrus Audio Iron House V2 is the best distortion pedal that provides a classic distortion sound. It excels over other options while providing the options for compression and control. Featuring the three-toggling mode, enthusiasts can take advantage of the classic distortion with the improved dynamic range.
Benefits:
It has three distortion modes with easy-to-adjust settings for quick switching.
The aesthetically pleasing design and beautiful design give it a superior look.
It is a great distortion pedal with excellent value for money.
It is the best performer for live performances and instant distortion.
Drawback:
The power connector seems to loosen over time slightly.
10) KHDK Dark Blood High Gain Distortion Pedal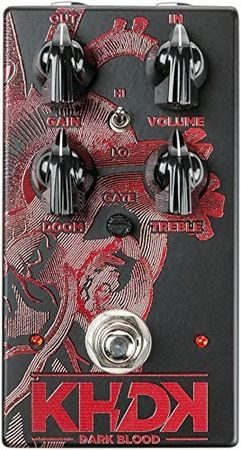 | Specifications | Featured Values |
| --- | --- |
| Manufacturer | KHDK |
| Model | Dark Blood |
| Type | Analog |
| Effects | Bass, Filter, Distortion |
| Power | 9 Volts |
| Connectivity | 6.35mm jack |
| Dimensions | 5.75 x 3.4 x 3.4 inches |
The KHDK Dark Blood high gain distortion pedal is one of the best in the market for the well-defined high tone sounds. It is an incredible addition to the distortion pedals as it provides gains that you would like for any live performance or recording session. My friend Daniel used it for live performances and gave it a solid 9/10 for its sounds and gains.
Feel and Looks
It is the pedal that I can recommend to anyone who prefers looks and feels. Not only does it is aesthetically superior to the competition but features chicken head knobs for easy access. These knobs are silky smooth to adjustment while giving access to options like Gain, Doom, Volume, and Treble. The noise reduction is controllable through the Hi/Lo selector switch, enabling compression and providing a sustained Gate knob.
Splendid High and Low Tones
I got shocked by how well the high gain treble leads on this distortion pedal. Few people complained about the low-end tone sounds as they got mediocre sounds. However, Daniel and I figured this out by turning the Doom knob past twelve O'clock. Overall, the pedal gave an impressive performance for both high- and low-end sounds when configured correctly.
Onboard Noise Gate
The Doom knob is not the only impressive thing I have observed in this best distortion pedal. What sets it apart from other pedals is its onboard noise gate. It is a minimalistic and simple knob that removes any unnecessary or unwanted feedback from the sounds.
I got pumped up when I observed the functioning of the noise gate. It is simple to operate and works flawlessly even with single coils. However, during my tests, the ideal gate levels varied, and the performer had to maintain a good ratio. Once you work out the sweet spot, there is nothing that can distract your live performance.
Benefits:
It provides well-defined and tight high gain sounds.
The treble control works flawlessly and is useful in most cases.
It has built-in noise suppression for controlling the noise levels.
It has a wide range of tones, and the controls are very sensitive
Drawback:
Low gain sounds are not much exciting compared to high gain tones.
Despite built-in noise control, the noise seems aggressive.
Best Distortion Pedal Buyers Guide
When choosing the best distortion pedal, it is essential to keep your need in mind. It mostly depends on the music style that you play using the distortion pedal. However, some other things matter, too, while selecting the distortion pedal. Here are the crucial factors that need consideration:
Disortion Tone
The tone is the most important thing you should never ignore when buying the distortion pedal. Checking each option tone gives you the idea of what better suits your styles when comparing the pedals. I have made the selection easy by giving reviews about the tones of the distortion pedal so that you can buy one which relates to you.
Built Quality
The quality of the distortion pedal tells how durable and well-made it is for its usage. You can explore the options by looking at their reputation. Positive reviews about the build quality and overall usage show good quality aspects. If there are repetitions of the same issues, the manufacturer did compromise on the quality of the pedal.
Overdrive or Fuzz or Distortion
Identify the needs first: whether you need distortion or fuzz or overdrive accompanied by a wide gain spectrum. Once you have identified the needs, you can proceed with testing the tone and quality of the distortion pedal. If you feel more inclined towards the fuzz or overdrive, you may look for anything else than getting the distortion pedal.
Versatility
Getting more out of a single pedal is what you should aim for when buying the distortion pedal guitar. The more versatile it is, the more you can take advantage and benefit from the pedal. Maybe you need a solid performer for metal or a single pedal with the potential for overdrive and heavy gain. Always consider the pedal that suits your type of music.
I find it challenging to test all the pedals to select the best distortion pedal. It looks like a sea of options where your senses get muddled, and you feel like every product sounds the same. However, I have carefully curated this list to provide you with the best distortion pedal reviews. If I have to select the most versatile and complete pedal, nothing can beat Pro Co RAT2 Top Distortion Pedals. They provide a complete solution to all your needs while equally addressing the beginners and expert players.

Best Recommended Product
Is overdrive better than distortion?
An overdrive pedal works to match your input and the level set by your amplifier, allowing it to boost easily. A distortion pedal, however, on the other hand, replaces the signal in an entirely different way, totally altering your sound. Overdrive imitates the sound of an amplifier, but distortion pedals create entirely new sounds.
Who makes the best distortion pedal?
When deciding on the best distortion pedal to buy, make sure it matches your musical genre. In addition to that, you want something with enough controls to meet your needs. Several good brands to choose from, such as Walrus Audio, JHS, Fender, Boss, MXR, and Earthquaker Devices.
What is the most versatile distortion pedal?
The Fender Pugilist pedal offers a wide range of distortion tones because of its two gain stages and how they can be run in series or blend. The dual version offers more flexibility, especially for bass guitar players.