Electronic drum amps are an essential piece of equipment for the drums as they have a wide application with these drums. They serve the purpose of the primary amp for the stage monitors for the drummers. These amps have dedicated usage for the voicing on the drum and maintaining the beats to their fullest. If you are a professional drummer or a hobbyist, they fulfill your needs by providing the necessary features.
We have summarized the best electronic drum amp list according to the best experience and user feedback. If you are planning to buy electronic drum amps, this detailed buying guide with the positives and negatives of the products can help you select the best product. There is a buying guide at the end that especially explains that what you should consider when buying these best drum amplifiers according to your need.
5 Best Electronic Drum Amplifier Set
1) Alesis Strike 8 Best Amp for Drums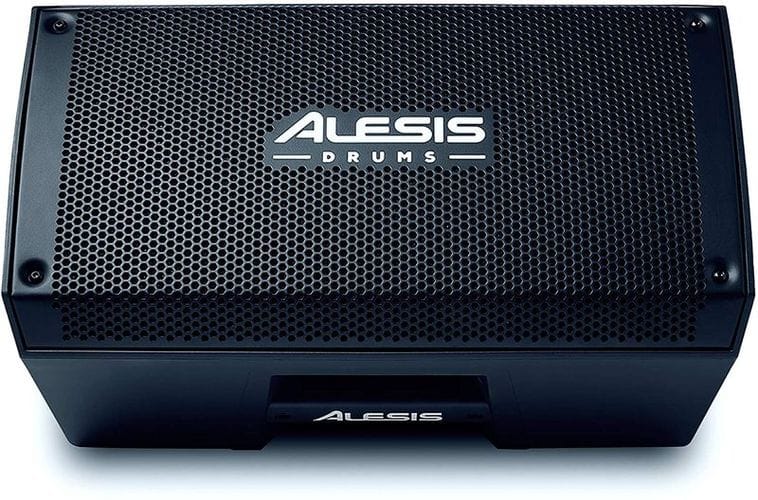 Contour EQ switch
XLR/TRS input
Bi-Amplified power
Simplified setup
Alesis is a world-renowned maker of electronic drums which has produced some impressive drum amps. The latest much-anticipated Strike Amp 8 makes their lineup more versatile and oriented towards better sound quality.
This best electronic drum amp features a more lightweight and compact form factor than its predecessor, Strike Amp 12. However, the sound clarity and a punch of high performance remain a constant factor in both products.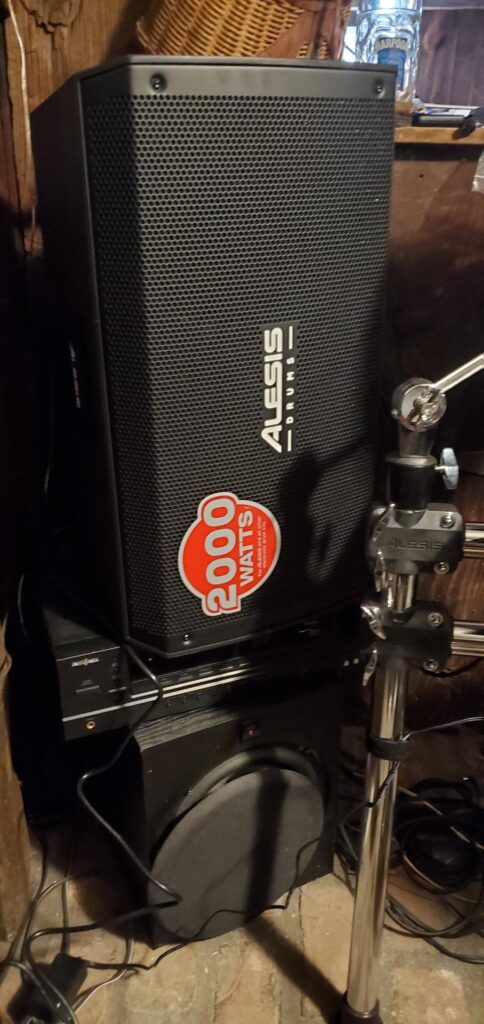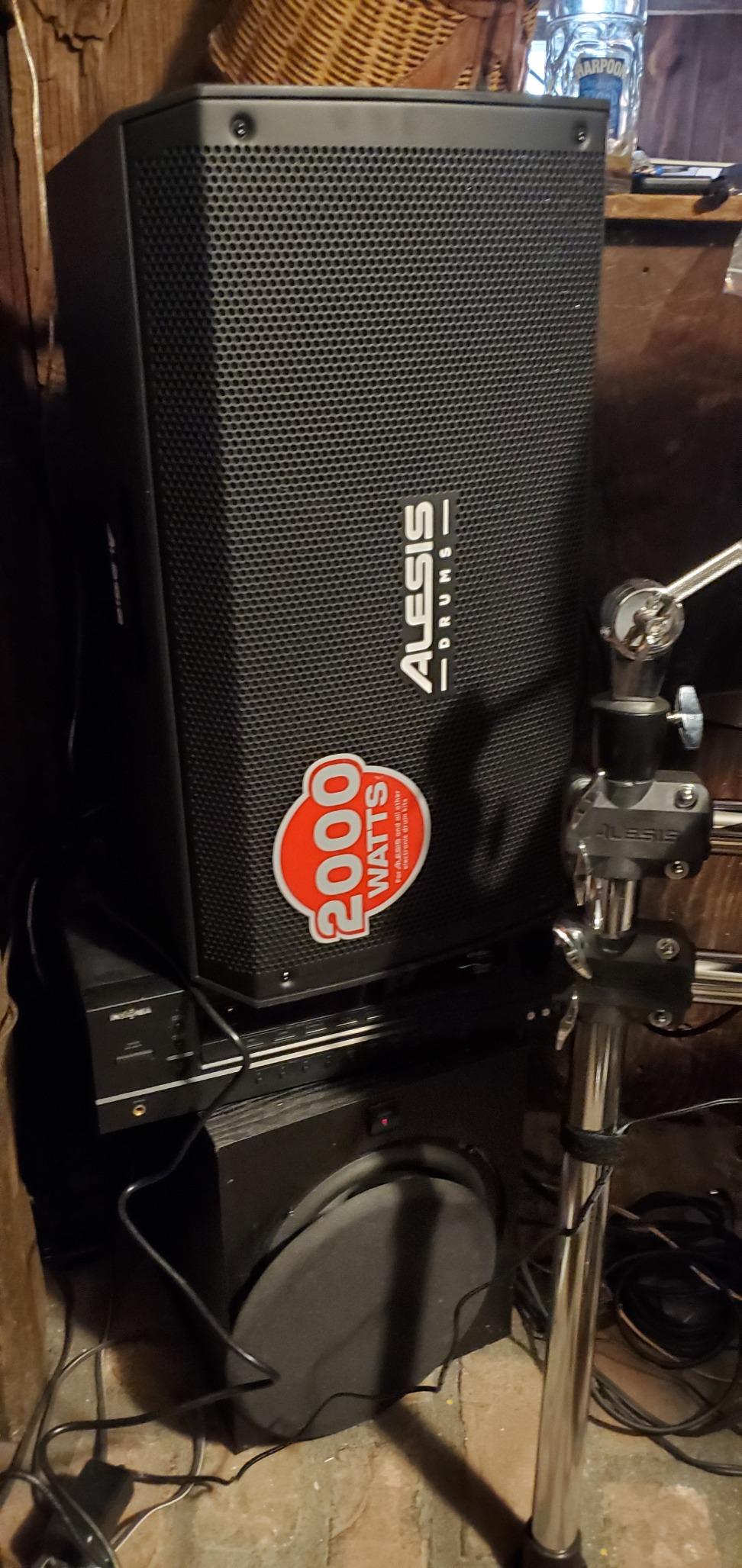 This electronic drum system features a 2,000-watt peak output, an 8-inch woofer, and a 1.4-inch tweeter that produces natural, clear, and loud sounds. It detects every beat and sounds that electronic drum produce and amplifies them effectively.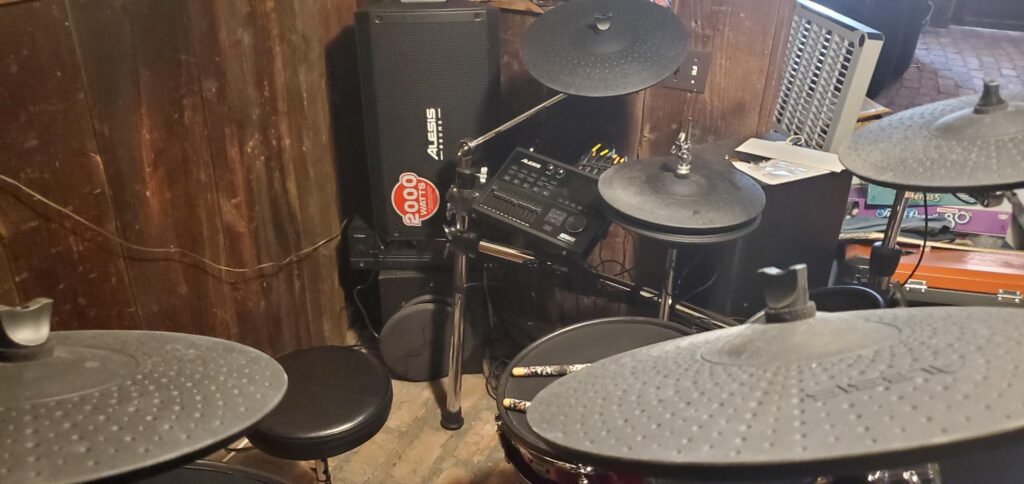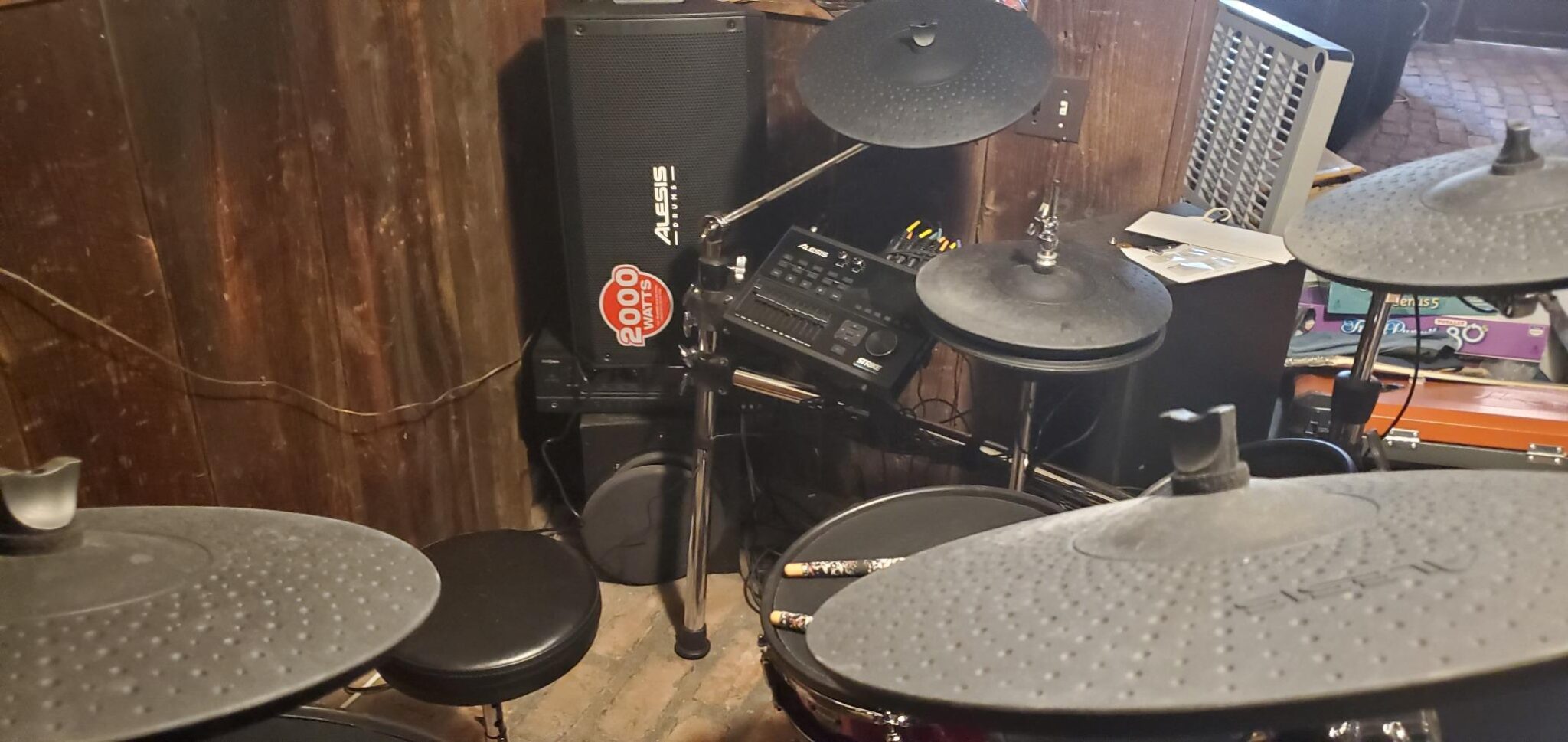 We have keenly observed its abilities and headroom and found out that Alesis Amp 8 can be the best electronic drum monitor. Due to its broad applicability, you can use it as the main amplifier for a limited audience.
The dimensions of this electronic drum are perfect for its portability and carrying around from one place to other. You can place it horizontally or vertically on the floor without going through an extensive installation process.
The two-channel configuration makes the choices easy as it comes with volume controls and a ground button. Strike Amp 8 best drum speaker contains a contouring button, which allows you to shape the intermediate frequencies with greater precision further.
This function makes it an excellent drum amp and monitors individuals who need something more compact and portable, and does not compromise on the sound quality in any aspect.
Pros:
Impressive sound experience
Lightweight and compact for a party playing
Crisp and loud sounding
Highly customizable portable drum amp
Cons:
2) Alesis Strike 12 Electronic Drum Monitor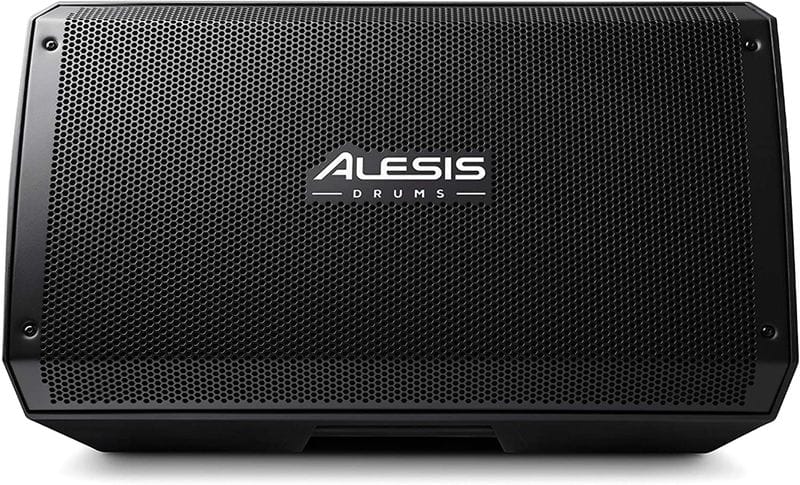 TRS/XLR input
Contour EQ switch
High powered drum amplifier
Tilt-back PA cabinet design
Alesis Strike 12 is a welcoming addition to the best powered speaker for electronic drums list as it plays loud and clear sounds that strike right on the notes. Thanks to its 2000W power, it shatters the surround with its fantastic sound.
It features a 12-inch woofer and a high-frequency compression driver, which allows it to present the complete sound produced without distortion or artificial coloration. Additionally, it is highly responsive while playing at low settings.
You can feel vibrant when you play it, and its power output can set up a fantastic experience without distorting the volume. You can utilize the built-in controller or contour equalizer to achieve this effect in full power.
Besides that, Strike Amp 12 electric drum set speakers have a Ground-Lift switch, which helps to eliminate extraneous noise.
Furthermore, it allows the accurate reproduction of the sounds without external distortion and produces a clean and unique tone. An advantageous characteristic of the Alesis Strike Amp is that you can mount it to anyplace owing to its compact size.
The setting up process is straightforward due to its lightweight build and good mounting flexible angle. The amplifier features an XLR output, which is helpful in the dissemination of your recording or connecting other devices to your setup.
Overall, it offers an excellent value for money despite its similarity with a Powered PA speaker. However, you can get better features and a more flexible equalizer in this best electronic drum amp than a standard drum amp.
Pros:
Easygoing set up anywhere
High-quality sound experience
An equalizer is highly customizable
Responsive to the input and output
Cons:
Weird sound controls location
3) Donner DDA-35 Electronic Drum Amplifier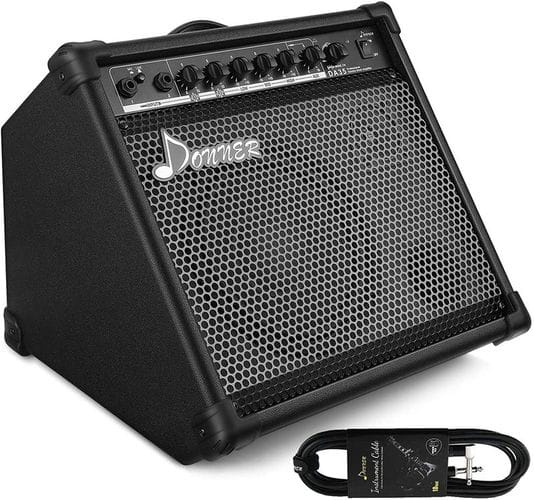 Line-in microphone input
Diverse device compatibility
AUX input support
Silent practice output
Donner DDA-35 are solid electronic drum speakers with two speakers that are easy to use and provide perfect sounds. It has 8-inch woofers, unique as one carries an 8-inch woofer while the other has a 2.5-inch tweeter. This instrument impedes 4 ohms, may produce a rich tone and represents easy control over the amp.
The audio output of best amp for electronic drums is outstanding in that it creates when connecting with other speakers via a connecting cable. This instrument features a one-of-a-kind design that can align with various electronic drums.
It is beneficial for band rehearsal and street performances, and crowd performances for a larger audience. Donner DDA-35 has an excellent frequency response that works in a range from 20Hz to 20KHz, making it a perfect choice for high-end purposes.
It is among the few devices on the market that features a musical instrument input for connecting to the external electronic drum.
More notably, the device has two different types of drum amplifiers, two inputs, and volume control for each channel. Its tone can be adjusted using the treble, mid, or bass controls. It makes sure that you get a clear and pure quality tone.
The Donner DDA 35 amp has the capability of accepting microphone input. Additionally, a headphone jack output encourages silent practicing for the users who want to rehearsal before a big event.
This function allows one to conduct practice sessions without interfering with the serenity of the surrounding neighborhood.
Pros:
It works well will the both low and high pitched sounds
Capability to handle AUX and headphone jack
Impressive silent practice mode
Clear and loud sounds
Diverse choices for volume output
Cons:
Expensive but quality drum amp
Heaver for portability
4) Roland PM-100 Electric Drum Speakers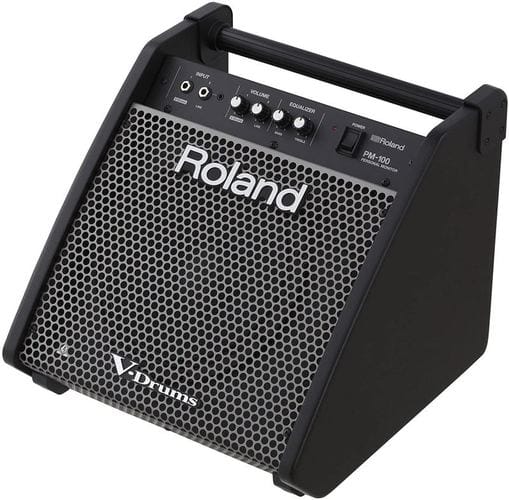 Two band EQ
Full-range audio system
Angled seated player
Dedicated V-Drum input
The Roland PM-100 are the best speakers for electronic drums that deliver powerful and dramatic sound from a small footprint in a small package. It makes them the ideal compact monitoring solution for electronic drum amps. It boasts 80 watts of power and has a unique full-range speaker system and a durable cabinet for recreating the renowned expressive V-Drums sound and responsiveness.
Furthermore, thanks to the onboard mixing features of powered speakers for electronic drums, you may connect portable devices and music players for practice and fun when playing at home.
These are a cheap speaker for electronic drums that features a speaker system and a robust enclosure that allows for apparent full-range replication of electronic drum sounds.
Its angled architecture delivers excellent direct sound coverage for the player in terms of form and construction. The bar handle on the body makes it easy to carry around and helps in adjusting its body against the floor.
Roland drum speaker is the ideal accompaniment to any V-Drums set, and due to its tiny footprint, it remains suitable for performing in the comfort of one's own home.
The robust and unique speaker system produces a rich and full-range sound that has tremendous power and impact.
It shows remarkable performance with its built-in mixer and customizable volume control. The equalizer contains excellent voice controlling for an extended range of use.
The PM-100's inbuilt mixer helps monitor your gear while also listening to background music or connecting external devices. The dedicated V-Drums support and extended input for connecting the smartphone make these amps the best choice.
You can connect the music players with the freedom of extended functionality. Volume controls are available for both the V-Drums and the line input components of the instrument.
Pros:
Highly durable and excellent build quality
Input connectivity for the smartphones
Easy to set up in any space virtually
Cons:
The loudness needs a big push
Tweeter may fail on high notes
5) Roland PM-200 Best PA Electronic Drum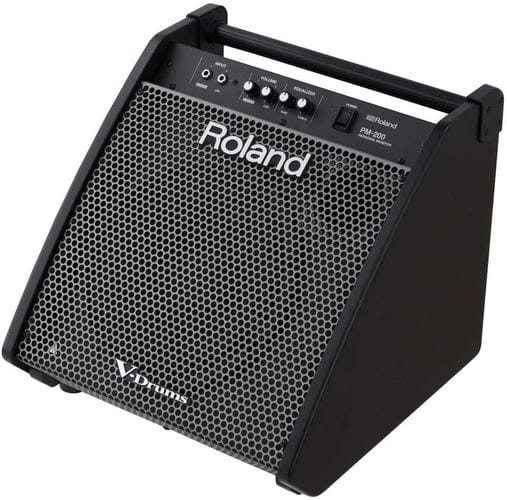 TRS/V-Drum/Line input
Two band EQ
XLR direct out output
Dedicated V-Drum input
Roland is a respected name among electronic drum amp. It released the PM-200 drum monitor amplifier, which works excellently with their V-Drums electronic drum sets. However, their applicability is not only limited to their V-Drums but also supports many other electronic brands. Their versatility and ability to outperform the competitors make them stand out.
The amazing features of Roland PM-200 speakers for electronic drum kit are best for routing and transmitting sounds to multiple devices, including mixer, recording device, and interface.
This best drum monitor broad compatibility makes it versatile for usage in studio purposes and live performance and monitoring on the stage.
The sounds feel crisper and without any distortion, making it earn respect among the wider audience. There are many additional controls, including EQ and volume adjustments, that are independent of one another.
Similar to the PM-100, it shows performance so that the playing surface squarely slants toward the seated player.
It also features a bar handle for floor changes and making it's carrying around more easy and portable. Because of a power output of 180W, PM-200 can produce a loud and clear volume that best suits large gatherings.
The XLR inputs are ideal for both live monitoring and recording applications, depending on the application. There is various size choice for this drum amp that let you decide on buying the right size according to the use and need of their placement.
Pros:
Highly appreciated and positive feedback from users
Excellent sound clarity and frequency spectrum
Supports a wide range of devices
Performance is appreciable with a 12-inch woofer
Cons:
There are some better choices out there
Things To Consider for Best Speakers for Electronic Drums
When you want to buy an electronic drum for yourself, first have a hearing experience of these drums amp while others play it either online or in a live party as it may help you decide better which is best.
Some people say that the PA system onstage makes sound good and amplifies, but exactly PA system does not play an important role in sound mixing.
There are certain things like headphones that some people use with electronic drums for solo preparations, but these headphones are not in practice when you execute live performances and practice with others. That's why they are not a necessary thing with drums.
There is a list below in which we tell you about the aspect you must keep in your mind while buying the best electronic drum amp.
Amplifier:
Amp is an integral part of any drum system because it depicts the power of the electronic drum. Drums are useless if you do not have to amp with them. When you buy an electronic drum, you should know about the best amp and need thorough research about which one is good.
Power Requirement:
Any drum amp does its job excellently if your only anticipation is to use it for personal monitor and only intended to play for yourself.
Even if your purpose is to play it, in any event, live for people, you do not need a powerful amp because the only need is for the people on stage in your band capable of hearing it.
At the same time, the rest of the amplification depends on the PA, which powers it for the audience. In common use, the range required is 50 to100 watt amp with DI.
When you want to play with a loud band and intended it to cover large venues and not use any PA system for amplification, then you may use a powerful PA system with a range of 200 and above.
Ease of Portability:
For your shows and rehearsals, you may need to go out and also brings your drum system with you. For this, it is vital thing that your drum system should be lightweight.
You must find a drum set that is readily portable or has a handle grip for taking it from one place to other. Some Amp may cause difficulty in portability, for those who want to place it permanently on a location can use any amp.
Channels, EQ, and Other Features:
Some features must keep in mind what kind and how many built-in channels are present in drums. Different types of drum sets come with varying channels and EQ. Some have stereo drum inputs, while we see more common auxiliary inputs in most drum amps.
Auxiliary input is most important for connecting external devices like backing track players and percussion pads. XLR lines balance out, provide noise-free signals to get recorded on the PA console. Most of the amplifiers provide multi-band EQ which offers to set sound according to your fondness.
Slanted cabinets and battery-powered options are extra features of electric drums. Another exciting feature is the ability to jam backing tracks and songs, headphones provided, which may help you in solo performances.
Positioning:
The positioning of the electronic drums amp is very important so the drummers can easily hear the amplification of sound. Most amps come in wedge shape and are ideal for personal monitoring.
However, there are some disadvantages because their position is upward, which makes it hard for implementation as main amps. You need your amplifiers close to you when performing without a PA system in venues and when you want your elevated position.
Look for Alternative:
In some scenarios, the electronic drum amp does not fulfill the required job. To mitigate this, there are substitutes for the amp of an electronic drum. They may provide versatility to your system for the drummers. Some of these options that you can often use are:
Keyboard Amps: As a substitute, this may often use commonly. This alternative can temporarily attack and also offer a wide and higher frequency range. They also fulfill the purpose of general use of small PA systems.
Powered PA Speakers: These speakers have only one channel but are helpful for different situations, such as a PA system or practicing as an onstage monitor. The other advantage of the best PA speakers for electronic drums is that we can get more watts per dollar, making them cheaper than drum amps.
Portable PA System: These systems have more than one channel also have a mixer. Their prominent advantage is their ability to use a common amp by the whole band. But there are some downsides to this system.
There are too many pieces to bring with you when you are moving. The only other downside is their frequency range. Some of the models may not respond even in the frequency range of 12kHz.
Amps use for guitar or bass are different from the amps use for drums, so it's not good practice to use them for drums because they accent to high and low frequency, color the sound, and change the signal authentically repeating input.
Alesis Strike 12 Electronic Drum Monitor is our second choice for its clear sound and enough headroom for the most performance. The lightweight design makes it suitable for portability, and the selection of input devices enhances its coverage for a larger audience and situations. We have tested it in various systems and found the performance overwhelming.

Donner DDA-35 Electronic Drum Amplifier is the best performer and an honorable mention due to its variety of features and reliable drum amp performance. It has diverse device compatibility and supports AUX connections. The silent practice output is worth trying for solo performances and practicing.

Top Recommended Product
Can you use a guitar amp for electronic drums?
Any amplifier designed primarily for electronic drums is essential for your safety to have a superb musical performance. Some of the keyboard amps can be connected to electronic drums so that we can get significant output. It is always best to choose the compatible drum amp for a better experience and sound.
What type of amp works best for Roland electronic drums?
For Roland electronic drums, the suitable amp is with strong power and has a combined mixing program that has direct output competencies. Roland PM-200 or PM-100 are highly recommended electronic drum monitor speakers. They are reliable and produce the amp in a natural way for the audience and band crew.
How do you hook up an amp to electric drums?
The most common way to accomplish this is to use a 1/4 inch cable, but it is not the same for every electric drum set as it may vary from one set to the other. One end of the wire plug in the output jack of the electronic drum set and the other into the amplifier's input jack. The second step is to connect the other wire with the amp's output and speaker's input.
Can you use brushes on electronic drums?
The answer to this question is that it depends on the quality of the material and the drum set model. Some of the brands armed with the kit of brush and allow to hit across head while on the other side may have built-in sound brushes and not designed for brush strokes.
What do you need for an electronic drum set?
At least five drums are best for top performance and also need three cymbal pads with them. A bass drum is the basic part of any drum system. This also requires a hi-hat controller. Even cheap and affordable drum sets also offer chuck drum throne along with earphones.