Music is an essential part of our lives now; speakers are getting more common with time. Portability and compact sizes allowed us to carry these speakers with us almost anywhere. Similarly, the water-resistance capabilities are critical for unforeseen events. Therefore, to provide you with a tank of a portable speaker that can resist water too, we have made a thorough list of the best waterproof speakers.
Waterproof speakers are convenient in loads of different situations. Either you're an outgoing person who loves to take part in various social events. Occasions like fishing trips, hiking, pool parties, and beach days are where your portable waterproof speaker will thrive, and you won't need to worry about a thing. Even if you enjoy music during showers, buying a waterproof speaker will keep your mind at ease while playing all your favorite songs.
There are endless benefits of buying a best waterproof speaker for shower. You will be calm about your speakers getting wet under sudden rain showers or even when your clumsy friend spills their juice all over the speaker. Without any doubts, these things won't matter a bit to you with a Waterproof Bluetooth speaker.
Top 5 Reviews of Best Waterproof Speakers
So, before we get into the mix of things, to help you enjoy the hottest tracks with your friends. Here are some of the top picks that we deemed the best out of the 5 waterproof speakers we've reviewed today.
Our overall best pick has to be the W-KING D8. This speaker is loved by both music freaks and tech freaks. With a highly dense and durable body with some fantastic powerful speakers' system, this will make your gatherings much livelier and more fun with ease. A built-in power bank further adds to the convenience of this speaker, which is why it makes it our top pick without much competition.
As for our top pick based solely on waterproof intensity, the Sony SRS-XB12 takes on the spotlight. The portable yet sturdy-looking speaker can hold its own for a reasonable time, and thanks to being IPX7 waterproof, it can be dipped in water without any hiccups.
Now that we've mentioned our opinion, you can carry on and read through our detailed reviews of best waterproof speakers to build up your own opinion on them as well.
1) Sony SRS-XB12 Wireless Bluetooth Speaker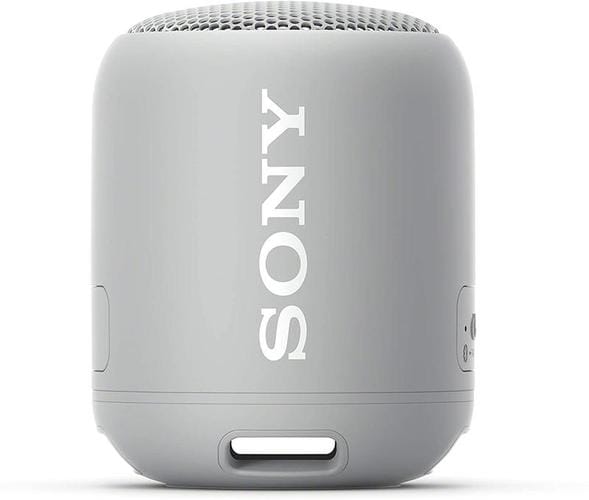 243g weight
5 watts power output
16 hours battery life
46 mm speaker size
Available in multiple colors
IP67 rating approved (water and dustproof)
When it comes to building quality, we like the XB-12. It's incredibly portable due to its small size (it can easily fit in your hand) and can handle some heat, durability-wise. If you accidentally drop it, you don't have to worry because this thing is meant to be sturdy. It has a nice strap on the side which allows easy carriage. We have a metal grill on the top of the speaker, and wrapping around the Sony XB12 is a smooth rubbery plastic material.
The design is modern and sleek, and it allows the speaker to look good almost anywhere it's placed. The portability is great if you're traveling with the Sony XB12 speaker. It is IP67 certified, which means it's fully waterproof and dustproof; this allows it to submerge inside water without getting damaged fully.
A rubber flap at the back of the speaker can be pulled open to reveal Micro-USB and a 3.5mm jack port. The 4.2 Bluetooth systems should be fine to able to work.
If you look at the side of the wireless speakers waterproof loud, you'll find some buttons on it, which are pretty easy to use. There is a power button, volume button, receive or end a call, and an "add" button.
You can use the "Add" button to pair it with another XB12 and create a stereo sound system. The battery life of this speaker lasts up to 16 hours at a 50% volume rate. Although after testing, we realized the optimal volume is 80%, which means the battery will drain quicker.
The sound on these speakers is excellent. Judging by its size, it will surprise you with its loudness and sound quality. The XB12 holds two speaker cones inside. One is facing up, and the other face down; this gives out a good surrounding effect.
The bass is pretty average on these speakers, but to be honest, it pulls out an outstanding performance, all the while being portable and durable.
The XB12 works amazingly when paired together. Regardless of that, the Sony XB12 will make your pool parties even more fun, and even if you drop it in the pool by accident, you won't have to fret on it at all. The XB12 is by far one of the best waterproof mini speakers available in the market right now.
Pros:
Impressive performance considering its size
Compact, sturdy design
Allows dual pairing
Affordable price
Cons:
Battery life is a bit low
2) W-KING D8 Bluetooth Speaker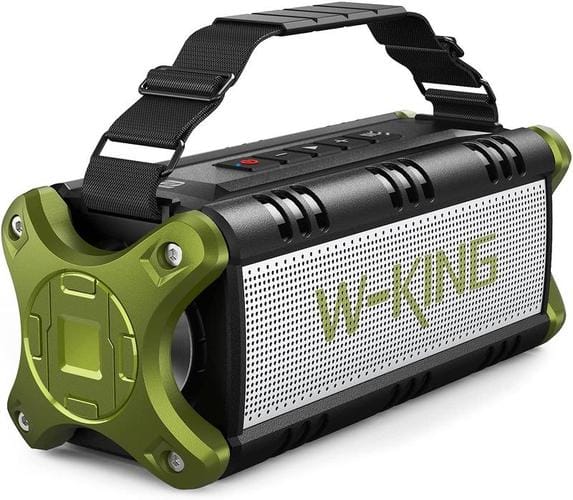 2.4kg weight
50watts power output
Range: 100 ft.
24-hour battery life
IPX5 rating
Built-in 8000mAh power bank
Dimensions: 32 x 12 x 12 cm
The W-KING D8 is the king because this is more than just a waterproof Bluetooth speaker for pool! The bulky and sturdy design carries a lot of call features in it, which will impress you. The body is constructed from polycarbonate and plastic material and shows impressive resistance and durability.
The front stainless-steel grill dons the W-KING logo with pride. The insides hold a unique set of components; two full speakers with passives subwoofers paired with tweeters. This speaker can make your music experience reach new heights.
The roof of the D8 speaker has rubberized control buttons. There are volume control buttons, pause/play, power, and a loudness button. You can use the loudness button to bump up the volume above its maximum range.
The back has three interesting ports we can't wait to tell you about. Other than the type-C charging port and the TF card slot, it also has a USB slot. Why is there a USB slot, you ask? Well, because the D8 has a built-in power bank which you can use to charge your devices on the go!
The speakers are NFC, and this helps with the unnecessary Bluetooth connection hurdles. So, you pair and play with utter ease. Another thing worth mentioning about its design is that it comes with a carrying strap.
The strap is tied to both sides of the speaker. This may or may not suit you, but in our opinion, it's a much-needed feature because it won't be convenient to carry this speaker in your palm.
Just like the Sony XB12, you can pair the D8 with another set and create a high-power stereo system. Trust us that a single D8 can get extremely loud without any deterioration in the sound.
You can imagine how loud two of these bad boys would sound together. As for the water resistance, it's IPX5 rated. The D8 can smoothly handle rain and splashes but is not able to fully submerge in water.
By the specifications and its design, you can tell this speaker will blow your mind away. It can get extremely loud, and the bass is one of the best waterproof speakers with bass.
Even if you're out fishing or at the beach, you can quite easily enhance the atmosphere with a W-KING D8, and indeed the power bank will have people begging you to rely on its convenience. And a yearlong warranty and a month-long money-back guarantee show some great after-sales customer support.
Pros:
Built-in power bank
Rock-solid design
Convenient carry-strap
Long-lasting life
One year warranty
Cons:
Not fully waterproof in deep waters
3) Ultimate Ears Wonderboom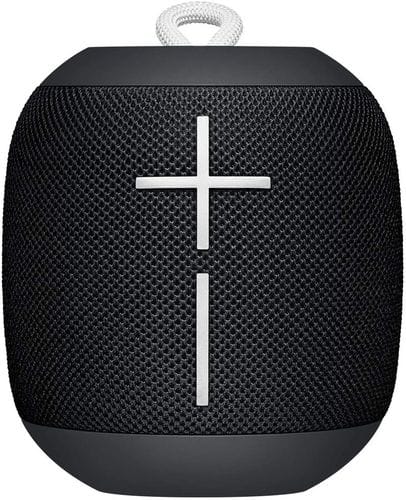 Weight: 0.43 kg
Dimensions: 9.35 x 9.35 x 10.19 cm
Bluetooth range of 100 ft
Battery life up to 10 hours
IPX7 waterproof and dustproof
The Ultimate Ears collection cannot ignore when it comes to durable Bluetooth water-resistant speakers. The Wonderboom is a Bluetooth-connected speaker available below hundred bucks. It is designed perfectly to be portable and durable at the same time.
The size of this good waterproof speaker is almost like a big apple. Similar to the previous speakers, this one also has a little carrying hoop on the top so you can attach it to your backpack or pocket.
The fabric weave exterior is pretty standard with UE speakers. It gives it a nice simple touch and also helps in reducing sound crackling at higher volumes. It's IPX7 rated, and you already know what that means.
Other than being dustproof, it is best outdoor waterproof speakers and can be safely submerged in water. You no longer need to be extra careful now when you get this. Even if it does drop in a lake on an unfortunate fishing trip, it'll automatically float back up.
You can find a micro-USB port at the back of the Wonderboom that allows it to get charged. Beyond being portable and robust, it's also effortless to use. There are giant-sized click buttons on the front, which helps control the volume. There's a power button on the top, and the UE logo itself is a button too. You can tap the UE logo once to pause or play and tapped twice to skip a track.
Although the UE button is a little unresponsive, this feature still makes it super easy to navigate during beach days or pool parties without the hassle of going through your phone or a selection of various buttons.
Holding down the UE button allows you to pair it with another Wonderboom speaker to create a stereo sound. The 10-hour battery life is adequate for daily routine but can be a problem on long trips.
However, the range on this thing is one of the best waterproof speaker for shower, and it can easily secure a safe and smooth connection even if the connected device is 100 ft away.
The sound is quite good when you see how tiny the speaker is. It holds enough juice to fill up a whole room, but the biggest stronghold of the Wonderboom is its durability and strength. Either way, it still produces decent musical waves, which you would thoroughly enjoy as a casual listener. These are undoubtedly the best floating waterproof speakers in the market.
Pros:
Easy to carry
Amazing waterproof durability
Impressive Bluetooth range
Automatically float back up
360° surround sound emission
Cons:
The UE button is not as responsive
4) LENRUE A15 Portable Bluetooth Speaker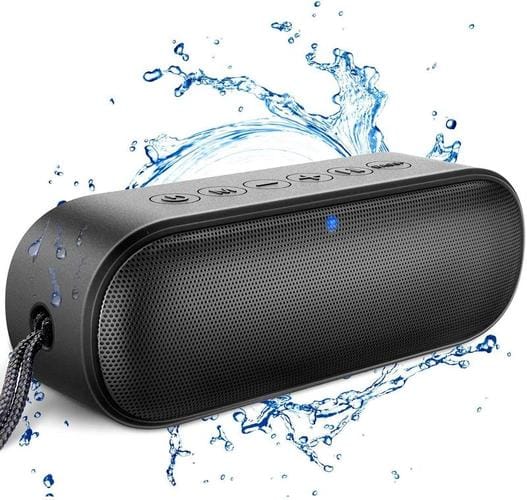 Weight: 360 g
Dimensions: 17.5 x 5.51 x 6.1 cm
100 feet BT range
2200mAh battery
Up to 20 hours battery life
IPX7 waterproof
14w power output
Built-in Microphone
Let's get started with another product on this list of the best waterproof speakers for shower. We have a Lenrue wireless speaker A15 review, which takes the shape of a pill and is covered in an overall matt black body with a grill covering two speaker cones inside. You have a lanyard on the side of the A15 that you can use to stroll and carry around.
The design is very rough, rugged, and well built. The bottom has some nice rubbery protection feet that allow it to stay in one place with good stability and friction. The back of the speaker is where you can find all the ports. The A15 has a micro-SD card port, an Aux port, and a micro-USB charging port. The option of connecting a memory card enhances the diversity of this waterproof wireless speaker.
There are multiple buttons on the top of the A15's body. The usual power, volume, play/pause button are present. In addition, you will also notice a "Mode" button which helps to select between different modes of BT/Aux/Memory card. You can also control the bass with a specified button which is a nice touch.
The 5.0 Bluetooth system allows it to connect almost to any device available. Like the Wonderboom, the A15 also secures a connection as far as 100 feet without interruptions or stutters.
This is an essential factor in waterproof speaker reviews, especially when you're outdoors or just working around the house. The A15 is also a speakerphone, you can easily use it to receive calls, and its built-in microphone won't require you to pick your phone up physically.
The Lenrue A15 is fully compatible with Alexa, the initial setup can a bit tedious, but once you go through that, it'll be calm waters ahead. Like a handful of other speakers we reviewed, the A15 is also IPX7 water and dustproof; this deems it viable for outdoor activities.
The 20 hours battery life is quite impressive even though it's based on the volume level. The 14W power output generates some unlikely mean energy from these small-sized speakers.
With this power, they can quite smoothly blast some top tunes. To make your outdoor activities even more fun, you should consider the Lenrue A15 because it's undoubtedly one of the best rated waterproof speakers. With a great price, these are indeed worth checking out.
Pros:
Compatible with Alexa
High power output
Convenient shape
Cost friendly and loudest waterproof speaker
Cons:
Not the best sound quality
5) Sony SRS-XB01 Bluetooth Speaker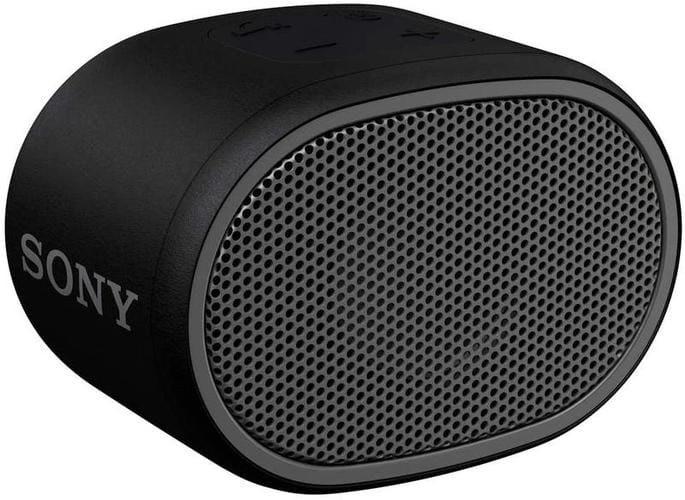 Weight: 160g
Dimensions: 5.65 x 8.15 x 5.75 cm
BT range: 50 ft.
Battery life: 6 hours
IPX5 water-resistant
Sony SRS-XB01 is the best inexpensive waterproof Bluetooth speaker, and we thought it would be worth mentioning these if some people wanted a budget waterproof speaker. The XB01 is indeed the tiniest speaker on this list. The sturdy and small round shape includes a passive radiator inside.
There are four buttons on top; up/down the volume, power, and play/stop button. The power button will allow you to pair your device one touch via Bluetooth. You can also respond to calls with its built-in microphone, which isn't high quality, but it does the job.
It does feature a micro-USB port and a 3.5mm Aux port under the water-resistant cover. They also do include an Aux cable in the box. What sets the speaker apart from the average Bluetooth speaker is the fact that it is water-resistant. An IPX5 rating means you can get this wet; however, don't take it under a shower or inside a pool.
For you sound gurus, the speaker transmits anywhere from 20 to 20,000 Hertz. The XB01 can hold up a Bluetooth connection up to the 50-foot range, which in comparison to others may seem less but is still good. Although one concern is its battery life, the XB01 can work for 6 hours on an average volume.
Even though this seems far inferior in front of all the other speakers we reviewed, we should remind you that this comes at a low price. And per its price, it gives out significant performance levels. It can play some of your favorite tunes with impressive bass with its Extra Bass technology, even while being so tiny.
These are perfect for personal uses and a daily on-the-go routine to be tossed or hung up on your bag and be carried around. The user-friendliness of this product is impressive, and this will not disappoint you if you're a casual listener.
Pros:
Cheap in price
Extra Bass technology
Built-in Mic
Lightweight best pool Bluetooth speaker
Cons:
Low battery life
Less bluetooth range
Buying Factors for Best Waterproof Speakers
As we saw, the waterproof Bluetooth speakers get different ratings which demote their water and weather resisting abilities. There are three significant ratings we saw in fully waterproof speaker which are; IPX5, IPX6, and IPX7. IPX5 can endure low-level splashes and rain.
Resistance Rating:
IPX6 is also water-resistant, but it can go through higher pressures. Whereas IPX7 means the speaker is fully waterproof, and getting dipped won't do it any harm. So, based on your activities, you can figure out which one best water resistant speakers would suit you.
Bluetooth Range:
Each Portable speaker has a specified Bluetooth range. Once you step out of this range, your music will start cutting off, and the link between the device and the speaker might even cut off.
For camping, pool parties, beach days, the BT range of 100 ft. would be more than enough to give you a sound experience. On the other hand, if you're someone who intends to use the speaker within their room, then a BT range of 50ft will also suit.
Battery Life:
Portability and wireless speakers don't mean that they'll work forever. You have to charge them up before taking them off the wire. Depending on the power of their batteries, the lasting life varies from speaker to speaker.
Some may last up to 6 hours, whereas some might even keep playing your tunes for up to 15 hours. So, if you like using your speaker intensively outdoors where it is impossible to charge, we recommend you focus on the longer battery timing.
Connection Options:
Even though this article was based open the best waterproof wireless speakers, it's still nice to have other connection options available. Some speakers have a 3.5mm Aux port in them as well, this may not be the primary method for some, but it can be helpful to use at home or any other convenient place.
The option of a TF card is good to have as well. This is purely based on preference, but if you're someone who intends to use the speaker in various ways, then having more than one connection option wouldn't hurt.
Size & Shape:
The waterproof speakers come in distinct shapes and sizes. The physical appearance might seem as if it's all aesthetics, but it plays an important part. These portable waterproof speakers are meant to be carried around and use outdoors.
Thus, it is crucial to have a suitable size and shape of the speaker so that the intended user can safely and securely carry it without facing any problems.
Additional features like straps and lanyards help massively. So, if you're someone who loves going outdoors, we would want you to assess the shape and size of the speaker you end up choosing.
What is the difference between 'Waterproof' and 'Water-resistant'?
When a speaker is water-resistant, it can withstand water contact like splashes during a shower or on the beach. On the other hand, a waterproof speaker is entirely impermeable, and water cannot damage these speakers even if they are fully submerged inside the water.
Can you submerge waterproof speakers in water?
Yes, waterproof speakers can drown in the water, and it won't do a thing. Waterproof speakers are built for unforeseen circumstances. It is not made for users to listen to music underwater. Also, water-resistant speakers cannot be submerged in water.
Can saltwater cause problems to your waterproof speakers?
An excellent sturdy speaker will manage to keep itself strong against saltwater. But this is based on speculations because the waterproof ratings are made for normal water and now saltwater. So, it's better to keep your speakers away from any saltwater bodies.
Music amplifies all kinds of activities, so we hope that all the music lovers out there make the best decision for this summer. Make your summer even better by getting one of these best waterproof speakers 2023. From the diverse list we put out, we expect you to choose that completely falls on your preferences and budget. It won't matter if your clumsy friend drops the speaker in the pool anymore, so go on and make your purchase.

Summary Note