My love for music keeps growing day by day. People tend to listen to music during various activities. Technology has introduced us to different music devices such as jukeboxes, record players, Walkman, headsets, and speakers. All these items were made for music lovers.
Music makes things enjoyable and fun, whether you're cleaning your house, having a BBQ, or working out. Portability is the key factor of this article. We have picked out the best Bluetooth speakers you can easily carry around and use everywhere you go. Connecting your phone to your speaker also helps you receive calls with ease.
Some speakers include built-in Alexa or Google assistants, which double your control over smart devices. With long-lasting life and wireless functioning, you will make a worthy investment.
The simple pair and play make Bluetooth speakers highly efficient and convenient. With features like waterproof and dustproof, you can easily carry them to a beach day or a pool party without any worries!
Table of Content:
Before we step into the mix of things, here are some of our top picks out of the best Bluetooth speakers under $1000.
We pick Oontz Angle 3 Ultra; something about this speaker's audio quality hits different. Its size is relatively small, but it still delivers terrific sound waves across the room and will fill you and all your friends with great euphoria! The price tag makes this option even better. Based on durability, nothing can beat the Ultimate Ears BOOM 3 in our eyes. It's successfully tested through 20+ durability and drop tests. It is by far the safest and the most durable Bluetooth speaker in the market. Extra innovative features like Waterproof, floating abilities, thoughtful interface, and sleek design make the BOOM 3 viable of being one of the best Bluetooth speakers with high bass.

Top Picks:
Top 5 Bluetooth Speakers under $1000
1) Ultimate Ears BOOM 3

Weight: 1.34 lb.
Dimensions: 7.3 x 18.4 x 7.3 cm
Wireless Bluetooth connection
Waterproof and Floats
15 hours battery life
360° Surround sound
First up, we have the fantastic-looking Ultimate Ears BOOM 3. This sleek and modernly designed product was surely making into our list. Ultimate Ears have supplied one of the sturdiest speakers in the market with their BOOM series. It's a cylindrical shape speaker with multiple great color options.
The BOOM 3 has a big 'plus' and 'minus' sign on the front. These add a lot to the design and make it look clean, but they work as volume up and down keys. On the back of the speaker, you'll find a bungee which makes it easier to carry it around. You can simply attach it to your bag.
On the bottom part of the cylinder, there's a micro-USB port for charging. You will notice a power button, a Bluetooth pairing button, and a magic button on the speaker's top.
The magic button serves as a play, pause, and skip button all in one, making it easy to use. BOOM 3 is not only good at designs, but they excel in functionality too. Due to the shape of its body, the sound is emitted at a 360° angle.
The entire 360° creates an immersive experience, and you won't have to turn the speaker's face towards you again and again. Even though you can charge it with a micro-USB cable, but if you have a wireless charging dock, that will make things even simpler for you.
We did mention the sturdiness of these builds on the Ultimate Ears BOOM series. The BOOM 3 doesn't fall short; it can stay in water for up to 30 minutes without any problems. The design allows the speaker to float on top of the water, which is quite impressive.
The sound quality is fantastic on this thing. It packs in a lot of power and will give you deep clear bass and treble quality. The portability in no way hinders its sound quality, and it is one of the best we've seen.
With 15 hours of battery timing and a 45 m BT range, you can thoroughly enjoy this speaker in your outdoor activities and keep it by your side for emergencies. It's well under $1000, considering its price; it's a great deal to get such a great durable Bluetooth speaker.
Pros
Impressive sound quality
IP67 rating
Simple button configurations
Solid durability
Easy portability
Cons
2) Tribit XSound Go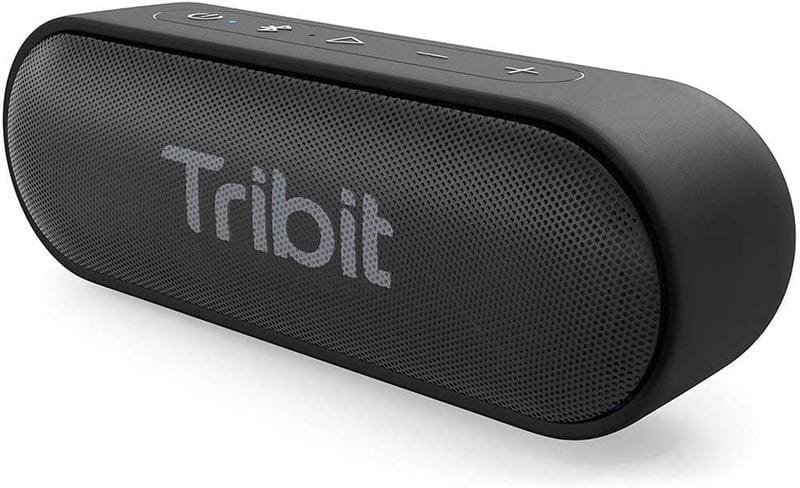 0.85 lb. weight
Battery life: 24 Hours
Dimensions: 6.7 x 2.2 x 2.3 inches
Water-resistant
12 watts power
Type-C port for charging
How can we ignore pill-shaped speakers, one of the best designs when it comes to Bluetooth speakers? The Tribit XSound Go is a lightweight speaker, merely exceeding the size of your palm. The size ensures easy portability, making it easy to carry it around without any hassle or extra weight. The built-in strap makes it easy to attach it to your bag pack or bicycle.
The simple and small design will easily blend into any setting. Either you're in the kitchen, hiking trails, park, etc. The compact pill design is as good as it gets. Inside the casing, the Tribit XSound Go covers two 4cm drivers and a passive bass radiator.
You'll find all the buttons on the speaker's top, which are; play, pause, volume, and BT pairing. On the back, you'll notice the type-C charging port and a 3.5mm aux port. Just like the BOOM 3, the Tribit XSound Go is also waterproof. It has an approved IPX7 rating and won't break down when submerged in water.
The 3.5mm aux port gives the user the ability to have a wire listening session, too, if they want. The range on the Tribit XSound Go is a little less than the BOOM 3, and you can stay connected to it within the scope of 30 m. The range is still quite good, but the great thing is that the Tribit XSound Go can last for up to a whopping 24 hours! This makes it great for day-long trips into nature.
We experienced no clarity issues or stuttering even when we were further away from the speakers. They constantly give out fantastic music quality. Built-in XBass technology dramatically enhances the bass of this speaker, which is an impressive feat considering its size. We can safely say it has one of the best bass levels.
If you're an outgoing person and can't live without music, then this is an essential product for you. Tribit XSound Go is the easiest to carry around out of all our options not only because of its size, but the shape is also easy to fit into pockets and even smaller bags. It's available at a reasonable price, and the telegraph claims it as "The Best Sound Quality to Cost Ratio."
Pros
Cons
3) OontZ Angle 3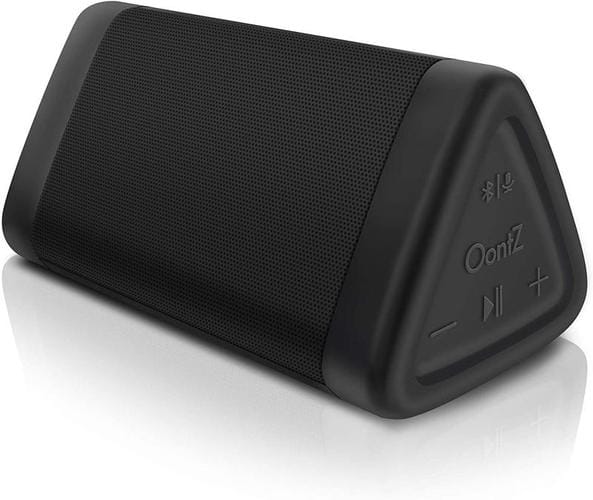 Dimensions: 5.3 x 2.8 x 2.6 inches
9 Ounces Weight
It lasts up to 14 hours
2500mAh Battery
Water-Resistant
Built-in Mic
100 ft. BT range
The first OontZ budget-friendly speaker on this list is Angle 3. Just like the Tribit XSound Go, this is also compact-sized and can easily be carried around in your hand. It won't take a lot of space and can place horizontally and vertically due to its shape. The triangular body makes it grip on the base and not fall or topple over in any stance.
The OontZ Angle 3 is available in different sets of colors (even a Coca-Cola-themed body). The triangular body makes the speakers a bit elevated, which is a smart thing to add.
Elevated speakers help in the better flow of sounds; however, the controls are not the best. You can find them on the triangle-shaped side of the speaker. It has a play button and volume buttons on the side, and also a power button.
The Oontz Angle 3 has Precision dual stereo Drivers. This makes the audio crystal clear even at higher volumes. Another intelligent design strategy used on the Angle 3 is that the passive bass radiator is at the bottom of the body, which allows it to bounce against the floor bed and create a better surrounding bass.
But this also means that you may experience vibrations at higher volume levels. 10+ watts of power is enough to ensure it can efficiently emit good loud music.
The Bluetooth range is the same as the Tribit XSound Go. It can safely secure connections in the field of 30 m. Bluetooth 4.2 allows it to connect to almost any type of device capable of BT connections.
Unlike the last two speakers we reviewed, the OontZ Angle 3 is not fully waterproof. However, it is splash-proof and water-resistant. So, it's safe to use under rain or beach/pool as long as it doesn't fall in the water.
The OontZ Angle 3 can last up to 14 hours which may seem less after reviewing the 24-hour battery life of the Tribit XSound Go. The speaker also has a built-in mic which helps in receiving calls and talking through the speaker. All in all, OontZ Angle 3 is a decent speaker under $1000 and is one of the best sellers on amazon.
Pros
Great Bluetooth range
Dust and Waterproof
Amazing sound quality
Impressive bass
Built-in Mic
Cons
4) Oontz Angle 3 Ultra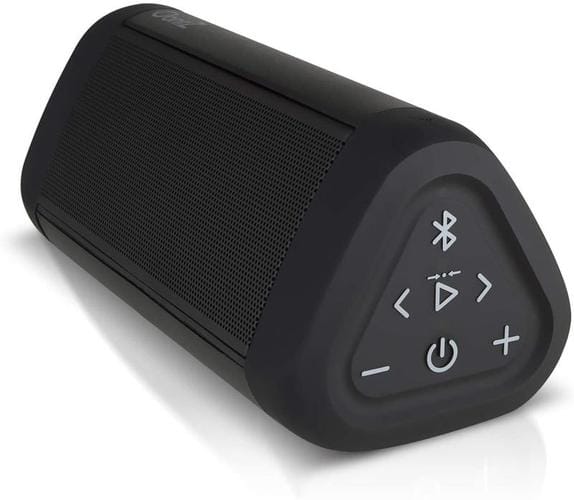 Weight: 0.9 lb.
Dimensions: 6.4 x 2.8 x 2.75 inches
Battery timing up till 20 hours (50% volume)
7 hours charging time
Splash and dustproof
100 ft. Bluetooth range
We just reviewed Oontz Angle 3 previously. This is the Ultra variant of that product. OontZ provides reasonable budget-friendly speakers, and this one is not at all falling short of that. The triangular-shaped speaker has an aluminum grill that covers up the drivers placed inside the speaker's body. The drivers are only placed on the front, so this is a purely directional speaker.
The control panel is also placed just like it was in OontZ angle 3. They add additional buttons to it, there are two buttons for volume control, power button, play/pause, and song navigation.
The control panel on the Angle 3 Ultra is better and easier to use than the previous variant. OontZ re-shifted the inputs to the edge, where you can insert a 3.5mm aux cable and micro-USB charging wire.
The OontZ Angle 3 ultra's Bluetooth connection can work up to 100ft, and it works well in stabilizing the link. Even when we moved away from it, the audio quality did not weaken at all.
You can pair 2 Oontz Angle 3 Ultra's together and work them as stereo speakers, which is a fantastic feature and dramatically enhances the music atmosphere. The battery level is adequate, and it serves 20 hours at a 50% volume level.
The sound quality was by far the best we've experienced, which significantly surpasses its predecessor by miles. Even though it's pretty tiny, it still does a great job in carrying out all your favorite beats in crisp quality.
It is undoubtedly one of the best sound quality Bluetooth speakers under $1000 available in the market. The splash-proof feature makes it safe to use in all kinds of outdoor activities.
Pros
Affordable price
Splash proof
Long-lasting battery
Good audio quality
Lightweight
Cons
Audio gets a bit distorted at high volumes
5) DOSS Soundbox Touch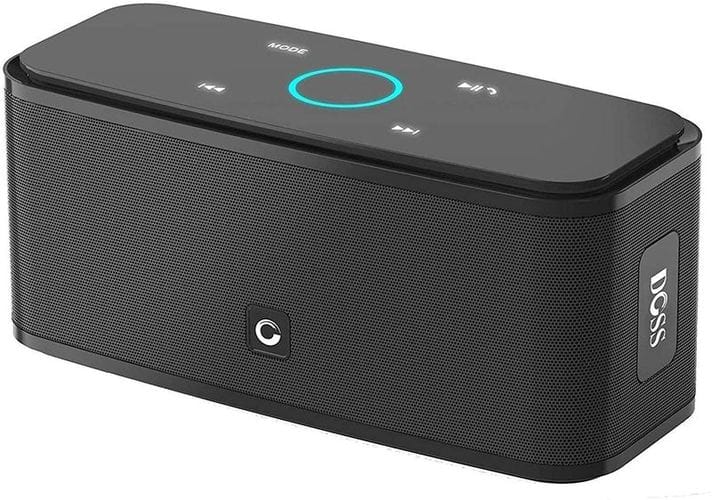 Weight 1.23 lb.
Dimensions: 6.6 x 2.9 x 2.7 inches
Battery life: 20 hours
IPX5 waterproof
Touch control
Built-in Mic
We're finishing up our list with the DOSS Soundbox Touch as one of the best Bluetooth speakers under $1000. This speaker is quite portable, just like the rest. It has a somewhat bulky brick shape with smooth edges. The design is easy to carry around or keep in a bag. DOSS also provides a custom pouch bag for the Soundbox Touch, which we think is pretty cool.
The aluminum grill, which covers the whole 360°, is excellent and does not bend or flex under pressure. The roof of the speaker has a matte finish which is where the control panel lies. The controls are touch-based; they're not buttons like the other speakers we saw earlier. The button lights up when you turn the speaker on.
The "mode" touch button is meant to select the form of the medium being used, which can either be Bluetooth, Aux cable, or micro-SD card. The other three buttons are used for navigating songs and playing/pausing. The most remarkable feature lies in between these buttons, a touch dial to control the volume.
The rear holds the on/off button, 3.5mm port, TF card slot, and a micro-USB slot. There's a charging indication just below the micro-USB slot, and we think it is a bit lazy design as it doesn't help and can be a bit tedious to check if the battery is charging. The battery life can last up to 20 hours if you set it to 50% volume. The higher the volume, the quicker the battery will die out.
The 12W superior sound system does a great job of providing a pleasant audio quality experience. The bass is not on the elite level but keeping in mind the size of the speaker, it does a pretty good job with the bass levels. The audio quality is smooth, and you won't experience any cracking or audio blasts. The DOSS Soundbox Touch covers the tingling at high notes nicely.
The sound quality is impressive, and the size makes it easy to move around and carry along. It is a little bit heavier than the Oontz speakers and Tribit XSound Go. In conclusion, these are worth checking out and are one of the best mini-Bluetooth speakers under $1000.
Pros
360° sound emission
Smart touch controls
Allows call receiving
Budget-friendly
Con
Charging indication inconveniently placed
Buying Guide for Best Quality Bluetooth Speakers
Before you enter up your credit card on amazon and purchase a Bluetooth speaker, we would advise you to go through the following factors for buying. These determinants will help clear your needs when it comes to Bluetooth speakers, which will ultimately assist you in making a worthy purchase.
Battery Life:
When it comes to chargeable devices, battery timing is a huge factor. Some Bluetooth speakers may work for 10-15 hours, and some might even keep on running for 24 hours. So, it's better to figure out where and how much you want to use these speakers. If you're an outgoing person, then it would suit you to have a speaker with a long-lasting battery.
Size matters for Portability :
The main element of having a Bluetooth speaker is its portability. The ease of carrying it to your friend's place or playing it on a picnic in the scenarios where BT speakers thrive. Therefore, the size matters a lot. If you want to carry it around frequently, you would like a speaker which can easily slip into your bag.
Connection Parameter:
Bluetooth speakers rely on a connection. Without a link, the speaker won't work. The main point of owning a BT speaker is so that you can easily do other things without having your phone connected through a wire. BT speakers mention the ranges they can hold the connections on.
A suitable connection parameter would be more than 100 ft. This range would allow the user not to feel restricted. Hence, keeping in mind your personal preference, you can choose the range which suits you most and pick that speaker.
Weather Resistance:
Bluetooth speakers are compact and portable; hence you can carry them around. Some people like having BT speakers at the ease of their homes, and they don't keep it with them when they go out. If you're the latter, this shouldn't concern you, but you should make sure your selected speaker is water and dustproof if you carry your speakers around. So that it doesn't get damaged while being under various weather conditions.
Affordable Price:
Our last buying guide factor is price. Price is always a factor that will direct your purchase choice. Luckily, there are various types of good BT speakers in different price ranges that you can get. Once you consider your budget, you can easily pick out what is suitable for your wallet.
Do Bluetooth speakers work with PS4?
Most BT speakers do not work with the PS4, which is solely due to compatibility issues. However, you can connect the speaker to PS4 if it has a 3.5mm aux port, by any chance. Using the AUX cable, you can connect the speakers to your PS4, and they'll work just fine.
What are the benefits of Bluetooth speakers?
There are plenty of benefits to having a Bluetooth speaker. The most common ones are; BT speakers are highly portable, so it's easy to carry them around, wireless connections provide freedom for the user you will not be restricted due to any kind of cable.
Do Bluetooth speakers need power?
Every electronic does require some kind of power to work. Some Bluetooth speakers work with a power plug. The portable Bluetooth speakers, however, need to be charged by either micro-USB or Type-C wire. The charging fills up their power and allows them to work wirelessly while depending on the charged battery.
Can Bluetooth speakers connect to TV?
If you own a smart TV, it will most probably have a Bluetooth compatibility feature in it. You can connect Bluetooth speakers with them. However, it may not be possible to connect the speakers to an older TV without having a Bluetooth transmitter dongle.
With that, we wrap up our extensive review of different but the best Bluetooth speakers under 1000 for you. Portability is vital for humans now, merely because it helps and suits our life while we have access to all the things we want. So we hope that you learned from this article and now have a clear vision on which Bluetooth speakers to purchase and make all your activities more enjoyable.

Summary