How can you connect headphones or multiple Bluetooth speakers to Android or iPhone? Wired systems allowed you to share music with someone else in the same room with the help of a simple audio splitter.
Thankfully, Bluetooth speakers are commonplace now. However, it turns out that you can achieve something similar using the Bluetooth connection in a few different methods.
The ability to connect Bluetooth hub for multiple speakers or headphones is primarily dependent on the equipment you have. It also depends upon the Bluetooth version your phone supports.
Can Two Bluetooth Headphones Connect at the Same Time?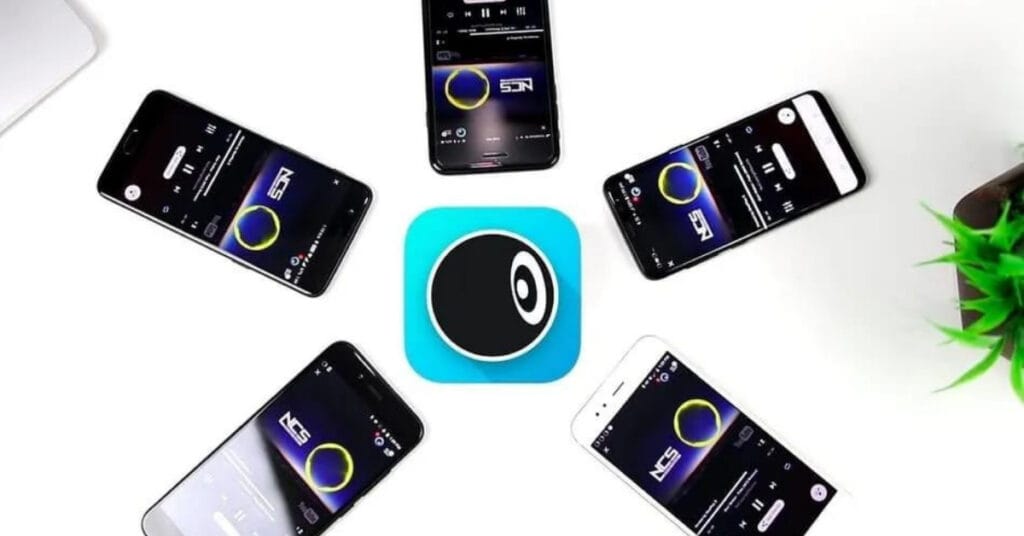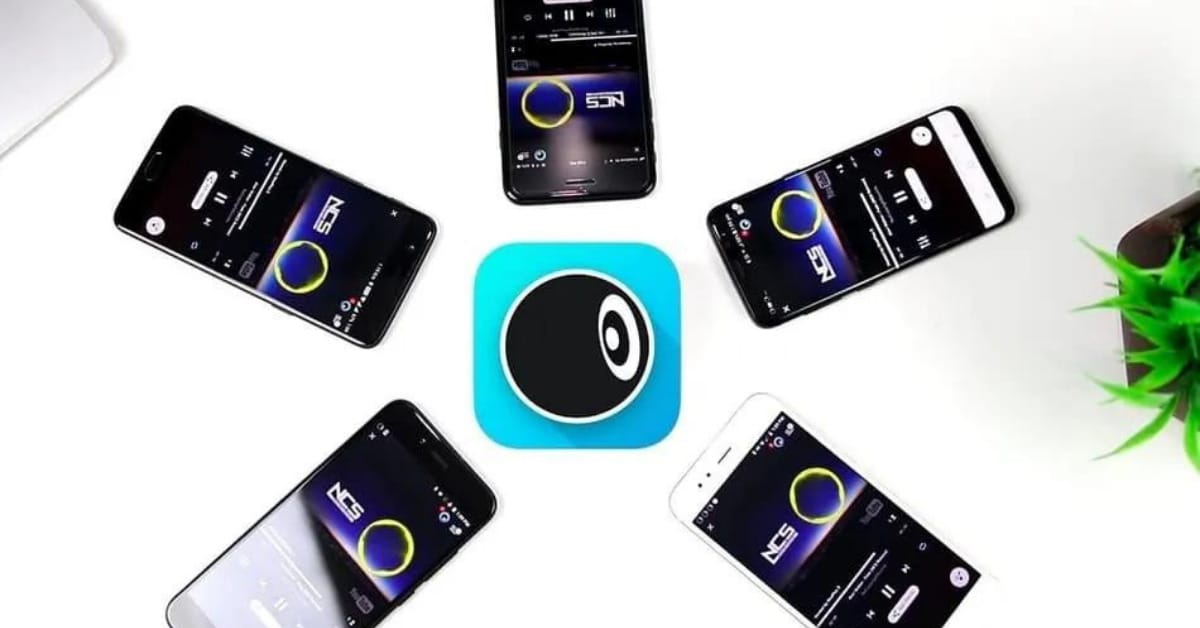 Latest Article: How to Clean Vinyl Records? Safely Remove Dust at Home
Multiple Bluetooth headphones can be connected at the same time, but only one device can receive the audio output. Bluetooth hub is frequently required when sending music or other sounds to multiple headsets at the same time.
The basic criteria have been cleverly circumvented by several smartphone and headphone makers. The same is true when numerous Bluetooth speakers are utilized at the same time.
Although multiple Bluetooth speakers can be connected simultaneously, only one device can receive audio output. Some Bluetooth speaker manufacturers include the option to pair or chain multiple speakers together. Users can concurrently send music or other audio streams to all of the speakers.
There are more Bluetooth gadgets in homes than ever before. Thanks to the rise of smart speakers like Amazon Echo and Google Home.
Use an app like AmpMe, Bose Connect, or a few from Ultimate Ears to transfer audio to multiple speakers. Bluetooth 5 also sends audio to two devices at once.
Different Bluetooth Versions:
Bluetooth v4.2, for example, only allows for a 30-meter one-on-one device connection and Bluetooth 5.0 connection range is up to 120 meters.
It enables the pairing of up to two devices at the same time. Some Bose speakers come with their audio apps that allow you to couple two speakers at once.
Bluetooth speakers such as the JBL Charge 4, Bose Soundlink Micro, and Electro-Voice ZLX-12BT are viable alternatives to Amazon Echo and Google Home.
Bluetooth active speakers have grown in popularity due to their portability—no use of Wi-Fi and ability to resist harsh environments. The speakers may be used with any smartphone and serve as smart speakers and provide high-quality music.
When a group of individuals is in the mood for some nice music, a single speaker or a smartphone cannot reliably send sound to them. The most recent breakthroughs in the field of technology. Do you need extra speakers to connect and turn your house into a music haven? This list may be useful.
Connect Multiple Bluetooth Speakers to Android
You can connect multiple Bluetooth speakers to Android by the use of apps.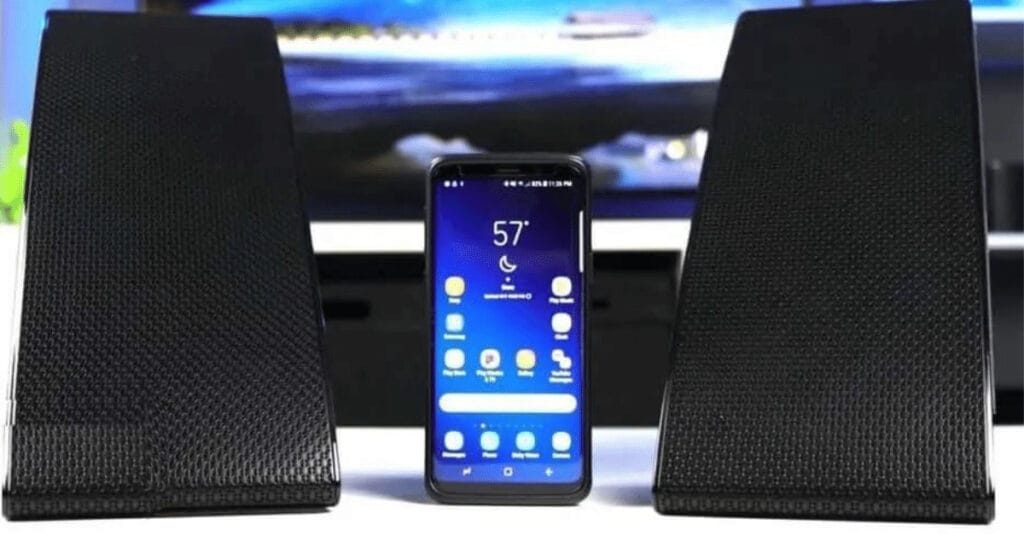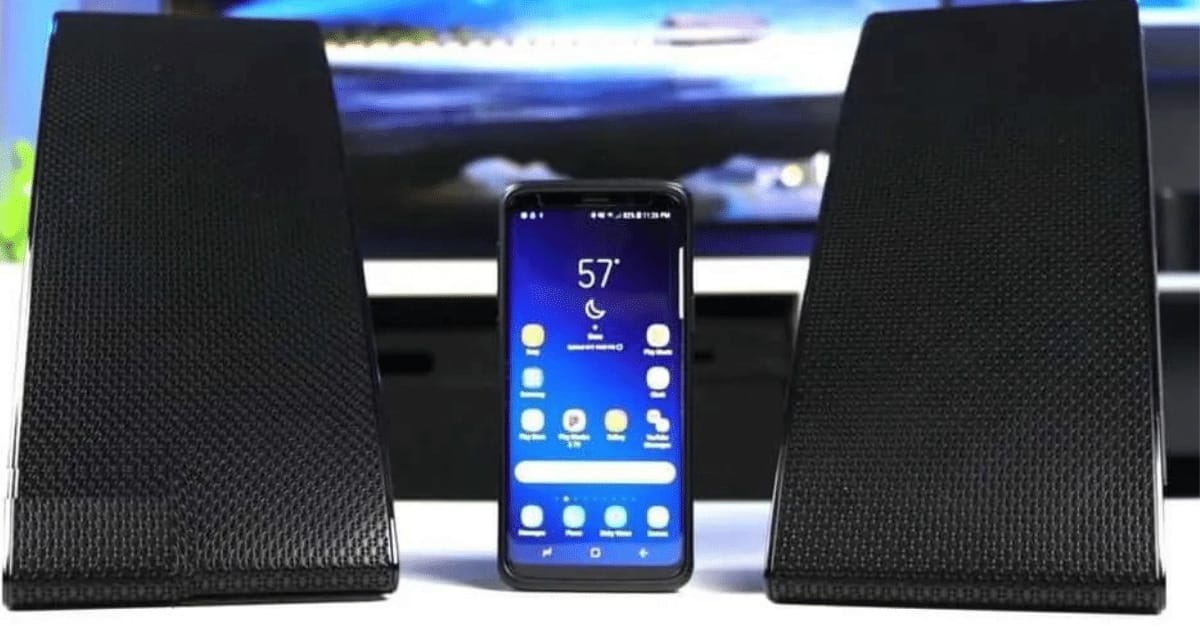 Use AmpMe to Connect Multiple Bluetooth Speakers:
AmpMe, Bose Connect, and Ultimate Ears are three apps that connect numerous Bluetooth devices. The AmpMe app is the most versatile because it isn't brand-specific. 
AmpMe connects cellphones with Bluetooth speakers. They are helping you listen to music from SoundCloud, Spotify, YouTube, or your music library. On any of these platforms, users can establish or join parties and sync with an unlimited number of devices.
The music is controlled by the individual who hosts the party. However, other users can offer song requests through the app's chat feature. The host can also enable the Guest as a DJ option, allowing other guests to add songs to the playlist.
After downloading the app, connect it to your Facebook or Google account to get if any of your friends are with it. You can also turn on-location services to find a party near you even play music through multiple bluetooth speakers android.
Here's how to connect 2 Bluetooth speakers using one smartphone. You can connect several Bluetooth speakers or wireless headphones depending upon the Bluetooth Version and the tools. To connect numerous audio devices, follow these steps:
Step 1: To pair your devices. Connect your speakers and headphones to your Bluetooth one by one.
Step 2: The people who use Android have to go to Bluetooth settings and pair each Bluetooth speaker or pair of headphones individually.
Step 3: Once the pairing is complete, go to the right-hand three-dot symbol and select 'Advanced Settings.' If it isn't already enabled, enable the 'dual audio' option.
Step 4: If you're using Android 10 or a later version, you can access the linked Bluetooth devices by going to Media in the Quick Panel. Select both of the associated devices for audio output.
Step 5: To use Airplay on an iPhone, go to the Control Centre and tap the 'Airplay' icon. Then, to achieve simultaneous output audio, choose either speakers or the linked wireless headphones. If you deselect any headphones or speakers, the audio sharing on that device will be disabled.
Features Two Audio Channels:
Today's Android phones and iPhones both support dual audio and audio sharing. It means that audio can play music through multiple Bluetooth speakers' android. All iPhone 8 models include an audio sharing capability, even if you have an older phone.
So there's a good possibility you'll be able to use dual audio Bluetooth app android. The Samsung Galaxy S8 and other recent models are in the same boat. The dual audio option, which can be found in Bluetooth settings, allows you to connect multiple speakers to iPhone and Android.
Option not Available on All Devices: 
Not all manufacturers make it easy to connect two Bluetooth speakers to a single android/ iPhone. It will enable you to connect two devices at once. Some Bose speakers come with audio apps that allow you to connect multiple bluetooth speakers app at the same time.
Connect Multiple Bluetooth Speakers Using Apps
You can combine a smartphone with two speakers using the Bose Connect and Ultimate Ears apps. The Bose Connect app is only compatible with Bose speakers and headphones. The Party Mode feature allows you to stream dual audio Bluetooth app to use two headphones or speakers at the same time. 
Boom and MegaBoom are two lines of compatible speakers. They are two Ultimate Ears apps that transmit audio to numerous speakers. PartyUp is a function in both apps that allows you to connect up to 50 Boom 2 or MegaBoom speakers together.
To get a party started, do the following:
Toggle the Plus (+) button.
Tap Connect after selecting the service (Spotify, YouTube, etc.).
Connect by pressing the Connect button.
Make sure you're logged in to your account.
Make or choose a playlist.
Take use of Samsung's Dual Audio Feature:
Take advantage of Samsung's Bluetooth Dual Audio, which works with most Bluetooth speakers and headphones and doesn't require Bluetooth 5 if you have a Galaxy S8, S+, or newer model.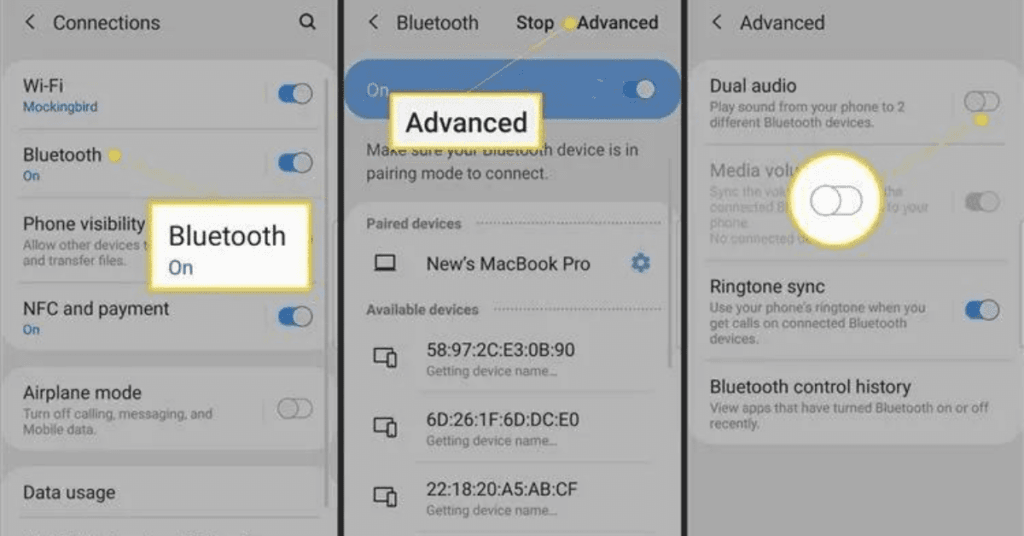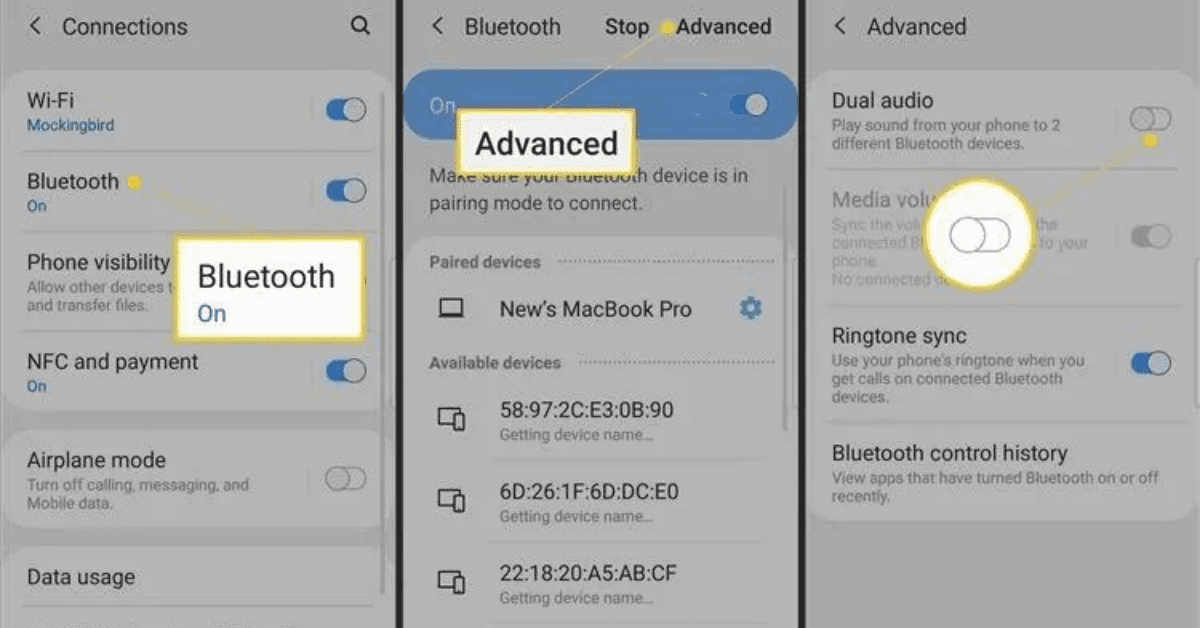 To make this functionality of dual bluetooth speakers available, follow these steps:
To turn on Bluetooth, go to Settings > Connections > Bluetooth.
Tap Advanced in Android Pie. Tap the menu icon in the upper-right corner to get earlier Android versions.
Toggle the Dual Audio switch on.
Pair the phone with two speakers, two headphones, or one of each to use Dual Audio, and audio will be streamed to both.
The first paired device will be turned off if you add a third.
Make Use of the HomePod Stereo Pair:
Apple's HomePod Stereo Pair feature, similar to Samsung's Dual Audio, allows users to pair an iPhone or Mac with two HomePod speakers.
When you connect two HomePods in the same room, you'll have the option to use them as a stereo pair. You may use the Home app on an iPhone, iPad, iPod touch, or Mac to set up this function. Both HomePods must be in the same room to pair in either case.
Double-click on HomePod and tap Settings.
Create a stereo pair by clicking or tapping Create Stereo Pair.
Select a second HomePod from the list.
In the app, there are two HomePod icons. To map a Home Pod to the correct channel, tap or click it (right and left).
Return to the previous page by clicking or tapping Back, then click or tap Done.
Connect With Bose Connect:
You can connect two Bluetooth speakers to Android phone using the software Bose Connect simple sync; however, this capability is only available with Bose hardware, not all speakers.
Install the Free Music Apps to maintain your Song's playlist.
So, if you have two of these devices, you can use this app to link them to the same phone. It works on all Android devices. After you've downloaded it, all you have to do is open it and perform a standard Bluetooth search to pair the two speakers.