To enlighten a stressed mind or to have a fun time with your buddies, the best party speakers are the only way to get loose and have fun. Music is said to be the soul of life, no matter what type you play.
Having a blasting party at your place requires a decent speaker setup. If you often through the party for your mates, then the quality of the music dramatically affects the atmosphere.
But getting the right equipment is always a prerequisite for creating a sensational setup. If your party speakers cannot hit the emotions and fail to provide the beats, they are not the right ones.
To make the party more fun, the right selection of the best party speakers is essential. We have listed the top 10 party speakers that can light your party's environment and give you the perfect beat to dance. On our research, these are the best you can get for an ideal party setup.
10 Best Party Speakers for Big House Party
1) Aiwa Exos-9 Big party Speakers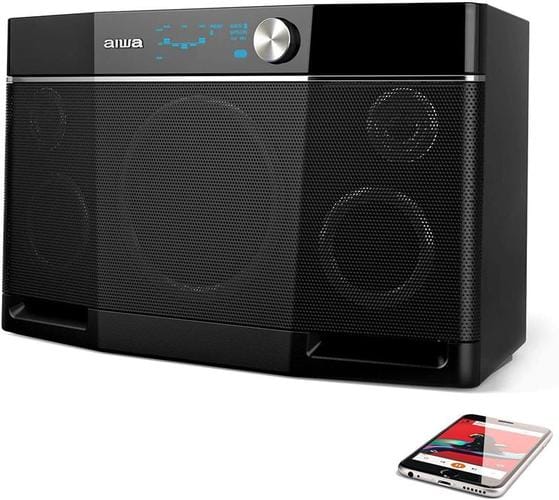 Dual voice coil subwoofer
All-day battery life
Extended connectivity options
On-board graphic equalizer
Aiwa Exos 9 Bluetooth party speaker has everything that a host can desire for making their audience hit the floor hard. If you want a great addition to your party setup and want to upscale the limits, this is precisely the speaker you should seek after from the market. It has a killer combination of style, features, and quality that makes it stand out from the competition.
Powered by five high-quality drivers, including a robust dual-voice coil subwoofer, the Aiwa Exos-9 delivers deep, powerful bass. Regarding the sound, this speaker is genuinely remarkable.
In addition to the features mentioned above, it boasts very distinctly mids and highs, which are highly crucial for a party speaker. If you are wondering about its range and sound clarity for guests, it has a fantastic reach for a party of 75-80 people.
There are amazing controllers and customization for making the music louder and clear for the audience. When using Aiwa Exos 9 speakers, you have control over the mids and highs.
You can make the bass more effective and fine-tune the equalizer according to your taste and liking. What more could you ask from a party speaker?
Although these Bluetooth party speakers are ideal for everyone who likes to party, they are gifts for the refined partygoer who enjoys a good time now and then while keeping it classy.
These large party speakers sound excellent for indoor and outdoor parties and can handle a large gathering like a boss. We recommend these best party speakers for those who like a classy party speaker who can handle anything we throw.
Pros:
Moderately decent battery timing of 9 hours
Excellent drivers and subwoofer
High quality and durable material
Loudest and clear sound quality
Cons:
Relatively less battery life from its competitors
Portability could be bette
2) JBL PartyBox 310 Speakers for Outdoor Parties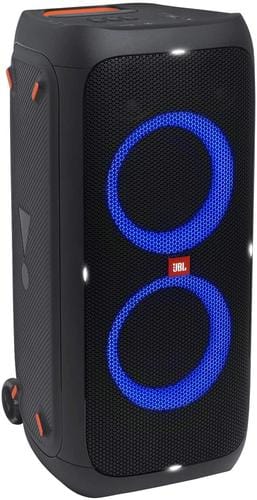 Dynamic LED lights
Music blasting battery life
IPX4 splash-proof rating
PartyBox smartphone app
JBL PartyBox 310 is the best Bluetooth speaker for outdoor party that produces excellent beats and sounds to mesmerize you at the moment. The robust and durable body ensures an incredible lifespan and futuristic design. The portability is easier and more realistic with the convenient handles given and the top and bottom. You can never feel these speakers to leaves their ground due to the rubber feet.
The powerful speakers work on a 240 Watt power with a perfect frequency response of 45 Hz to 20 kHz. These are applicants for the party due to its high power and sounds and work fine even for in-house use.
We have tested the volume at a low level and found out that it works great. This sound quality at lows and highs give broad applicability of these speakers for both party and home use.
The four-speaker system in JBL party speakers comes with a wireless Bluetooth module, an amplifier, and a durable battery. The battery charging does not take long and fully charges to capacity in 3.5-4 hours.
This battery proves helpful at the party, especially when you connect a microphone or musical instrument. The synchronization of the speaker becomes easy when connecting it both wireless or with the wire.
Talking about the Bluetooth connectivity, JBL has improved it a lot in PartyBox 310. You can easily connect two Bluetooth devices to both speakers simultaneously.
The connectivity options are only dependent on Bluetooth as you can connect using the USB port and audio jack.
So it easier to connect any device during the party that makes the possibilities of connecting to a vast device. Having such liability with an IPX4 rating and backlit button makes it a perfect party speaker.
Pros:
Long battery backup for continuous fun
Two levels for the bass boost
Several lighting effects for making the party more colorful
Handy options to add customizations to the tracks
Con:
3) ION Audio Tailgater Plus Cheap Party Speakers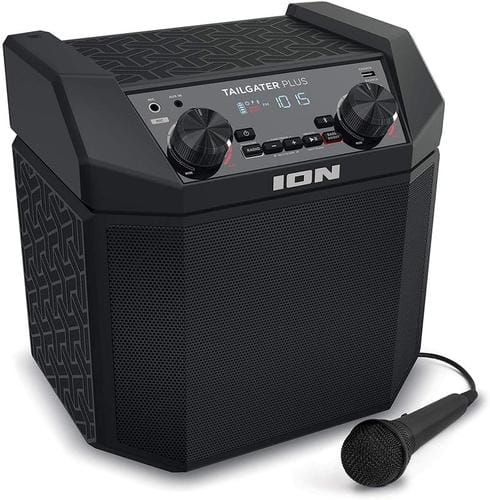 Wide dispersion tweeter
Wireless and NFC connectivity
Radiant display
Rugged enclosure
The ION Audio Tailgater Plus is a portable party speakers ideal for outdoor parties and listening to music while you camp or bonfire. This Bluetooth speaker stands just over a foot tall and has a tough material that makes them ideal speakers for outdoor parties. It impresses with its top-of-the-line playback and sound enhancements. It features controlling the microphone and audio presets by using the front control panel of these speakers.
ION Tailgater Plus supports both Bluetooth and Aux cable support for a wide range of multimedia devices. The Bluetooth connectivity is not ordinary in this party speaker as it allows connecting and streaming audio from any device up to an extended range of 100 feet.
It gives equally good sound for an indoor or outdoor party. You can control your speaker settings wirelessly and customize them. Besides that, the handy USB port keeps your party going by charging the device simultaneously.
Despite the modest size, the Tailgater Plus produces incredible sound to keep the party engaged with crisp and loud audio. It becomes possible due to its 50W amplifier and two-way speaker.
The built-in subwoofer does justice with the sound and provides a bass to please your ear. During our indoor and outdoor audio testing, we observed that the sound quality and loudness are more prominent in the indoor environment.
Setting up ION Tailgater Plus is straightforward and can only take few minutes to make it running. If you are new to all this, a manual comes along with your purchase that can help you set up it for the first time.
The battery that comes along has a 50 hours battery timing that makes your party more colorful by adding a sense of reliability. The quality of material, rugged design, wireless connectivity, and superior sound quality make it the best choice.
Pros:
Cons:
No LED lights for making the party colorful
Some of the expensive speakers in its class
4) Sony XB72 House Party Speakers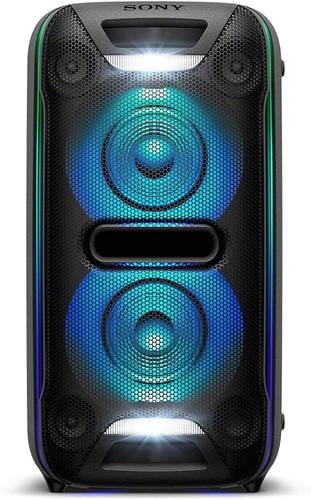 NFC and Bluetooth integration
Smartphone connectivity
Speaker light and flashing strobe
USB charging for other devices
Sony XB72 offers some incredible speakers for rocking the party with its excellent audio clarity. While most of our list has speakers with portability issues due to best-sounding equipment, this best speaker for party from Sony is no exception. Considering its features and quality experience, you cannot complain much about its portability. It ramps up the party on the exact notes you want while keeping the audience engaged with microphone input.
Even though it does not have a battery, this speaker falls behind the JBL 310 and takes second place. For indoor use, this speaker delivers a great deal of power while taking up very little space.
You can engage a massive gathering with its powerful sound.  Speaking of the build quality, you won't see these excellently finished party speakers more often. With its customizable LED lighting pattern, it increases the vibrance of the party.
Due to the versatile audio system in Sony party speakers, you can listen to any genre. Still, we recommend listening to hip-hop and electronic music as they are bolder and loud in these speakers.
The bass hits right to the floor no matter what genre you play. If you want the best sound experience, then Sony XB72 with its 2-inch tweeter and woofers is the best option.
You can use it for karaoke, dancing, and other activities that need high-quality audio. Even when playing at maximum level, this speaker is clean and loud, with no noise at any level.
Through Bluetooth connectivity, you can connect up to three devices simultaneously, with additional connectivity for a microphone. There are charging ports that can help you keep your devices charged during a party.
Overall, the Sony XB72 is a powerful Bluetooth party speaker that's perfect for any occasion, especially parties. It can limit outdoor use due to no battery mechanism, but a power outlet can solve it.
Pros:
High-quality tweeter and woofers
Sound is crisp and loud for parties
LED lights sync with the music
Top-notch boss
Cons:
Not highly portable
It does not come with a battery
5) Pyle PSUFM1035A Loudest Speakers for Home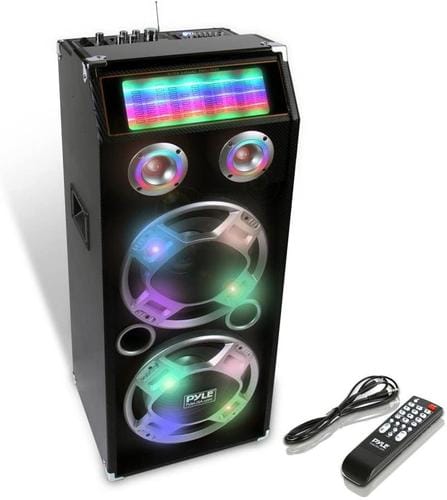 Active PA amplifier system
USB/SD card support
Flashing DJ lights
Top control panel
Pyle PSUFM1035A are those loud speakers that nobody complains about, except the neighbors. Yes, you hear me right! Its crazy loud and powerful sound makes the neighbor go crazy. The 1000 Watt powerful model tempts you to go louder when playing music. With the inclusion of both active and passive configurations, you never miss anything from these party speakers.
The connectivity of these best party speakers has a significant impact on how well they adapt to versatile conditions. Pyle PSUF1035A has included the compatibility of Bluetooth, SD card, and FM radio to makes it the perfect party speaker.
You can connect your audio devices and smartphone with Bluetooth connectivity and play your favorite party anthem. Two microphone inputs can make the party go crazy with karaoke speaker, and DJ mixes may be some Raps.
The weight of these party speakers is slightly less than some of its competitors but still touches 50 pounds figure. It seems pretty hefty for most users, but a helping hand from a friend makes the transport and placement process easier.
The convenient handles on the sides make the process easier. The heavier side of this party speaker is due to the components that make your party go crazy; no manufacturer would like to compromise on quality for making the speakers more portable.
The sound of the Pyle Party Speakers is impressive to many folds. You are already familiar with its loudness, but the audacity and clarity are at par with the loudness. The highs, mids, and lows are clear, and you won't feel any distortion even at full volume.
While bass doesn't disappoint either, giving the audience natural vibrations for making the favorite party anthem more mesmerizing. Talking about mesmerizing, how can we forget the flashing DJ lights that make the atmosphere go insane.
Pros:
Versatile connectivity options
Included FM radio for more diverse experience
It consists of both active and passive configurations
RCA stereo supported input and output
Con:
6) ION Audio-Block Best Speakers for House Parties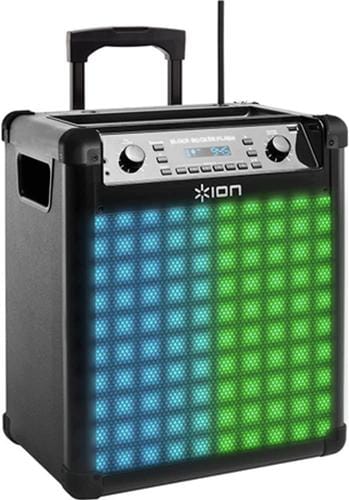 50-watt dynamic power
Multicolor LEDs
Built-in rechargeable battery
USB power bank
The ION Audio Block is precisely what you're searching for if you're seeking a sound system that is genuinely portable. This is one of the most compact and lightweight choices we looked at, weighing approximately 25 lb. The additional upgrades that this speaker offers were what we found to be the most appealing about it. It has a durable and long-lasting body with rubber corners and transport handles to make it ideal for portability.
These best speakers for house party features a considerably sizeable eight-inch subwoofer and a three-inch tweeter. Besides that, many easy-to-use playback functions help to make the crowd go crazy with live edits.
The LED lighting takes the vibes to the next level and makes the lighting effects mesmerize the party crowd. This all nonstop entertainment can continue the whole night, thanks to a 50-hour battery timing.
When it comes to the practicality of the party speakers, connectivity is a primary concern. ION Audio Block has diverse connectivity solutions with a USB input, microphone input, audio in, and Bluetooth connectivity.
There is an AM/FM connectivity if you need a live commentary of a match or getting your favorite program aired to the audience. The sound quality remains top-notch in this party speaker. Due to the high-quality amplifier, you never need to add additional equipment with the party audio system setup.
It's both speakers engage in producing clear and loud audio. No matter you have an indoor or outdoor party, the sound makes the audience go crazy. Using karaoke works the same as you connect the smartphone, involving a plug and play mechanism.
Pros:
Excellently balanced and loud sound
The lighter weight makes it portable
LED lighting boosts the crowd
The strong power of 50 watts
Various input connections
Con:
Not a viable option for a huge crowd
7) SOUNDBOKS 2 Loud party speakers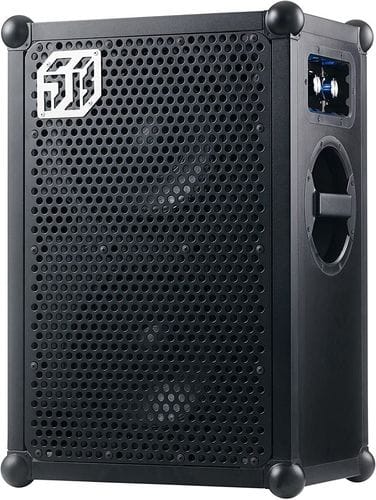 Swappable battery pack
Dirst resistance design
Endless use possibilities
Portable and wireless
Soundboks 2 is not an ordinary speaker as it can revitalize the souls of party members with its powerful sounds and beats. It can shake any party with its powerful portable setup. Either it is an in-house party or an outdoor party, you will feel the same vibes. The 40-hour long battery life on audio and perfect connectivity options for Bluetooth and wire makes it an ideal party speaker.
The impressive design amazes everyone with the dimensions that take to the next level of entertainment. The speaker's weight is hefty in the book, but what you can expect from a speaker that can replace an entire active stereo system.
The portability is not a big issue as you can carry it around in a car trunk but not in a backpack. The finely finished aluminum corners protect against any impact of the speaker upon falling.
Regarding connectivity, Soundboks 2 is very aggressive but straightforward. You have both AUX and Bluetooth audio options to allow a diversity of devices to connect.
Moreover, the operation of connecting and getting it started is quite simple. You do not need to perform any additional settings or functions to set up the due to its plug-and-play nature for the audio devices.
The sound quality is very impressive in these best party speakers with bass. Its premium quality sound and bass make the party go crazy.
The speaker has three 72 Watt amplifiers, two 96 dB speakers, and one 96 dB dome tweeter for hitting highs and lows and extreme. The sound reproduction at 120 dB gives enough loud and clear sound for the party to go crazy with bass and beats.
Pros:
Very loud and clear sound
Wide range of connectivity with the audio devices
Extended battery life
Water resistance for an outdoor party
Secure Bluetooth setup
Con:
Bass may peak out at higher volumes
8) JBL PartyBox 1000 DJ Party Speakers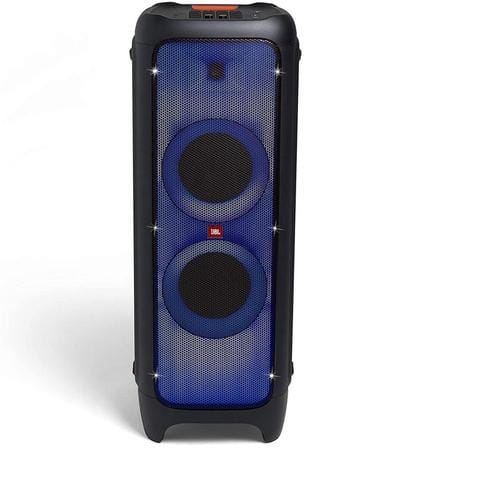 Authentic audio experience
Full panel lighting effect
Wireless Bluetooth streaming
DJ launchpad
JBL PartyBox 1000 are the best DJ party speakers for audiences as it packs with features suitable for both. The sound quality is perfect for a gathering, while the DJ touchpad makes the party more interesting than manual edits on the go. Besides that, it offers a stationary design rather than a portable one because of the hefty weight. Although the primary material is hard plastic, the inner parts add to most of the weight.
Despite its immobile design, JBL 1000 offers wireless connectivity, USB, and a 3.5 mm Aux connection for making the speakers more versatile. You can connect with any audio or Bluetooth-enabled device without issues of having drivers installed.
Because of the plug-and-play nature, anyone can connect and make the party groove into the music. It has both horizontal and vertical placement options because of the rubberized feet to adapt it to pretty much every placement.
Power is not a big concern for JBL PartyBox 1000 party speakers as it features a single 1 kW output power, a 12-inch subwoofer, and patented speakers to enlighten your party needs.
This setup generates strong and crisp sounds with an enhanced lighting effect. Besides that, a DJ touchpad and vocal effect module help make the party mixes easier.
The guitar and microphone connectivity powers up the party and enlightens the audience's mood with the live performance.
The middle part of JBL 1000 speakers has a bass reflex that monitors and enhances the low-frequency sounds and music. The connectivity of JBL speakers is limited to audio devices and smartphones; it can connect with other JBL speakers.
This connectivity becomes possible due to True Wireless Stereo technology that lets the Bluetooth connection. Meanwhile, you can use RCA speakers to connect to other JBL speakers with much ease.
Pros:
Fantastic lighting and enhanced LED effects
Louder and crispier audio quality
Easier to record and save loops
DJ touchpad for managing the mixes instantly
Cons:
Bulkier and stationary
Don't have batteries
9) Anker Soundcore Rave Mini Boat party Speakers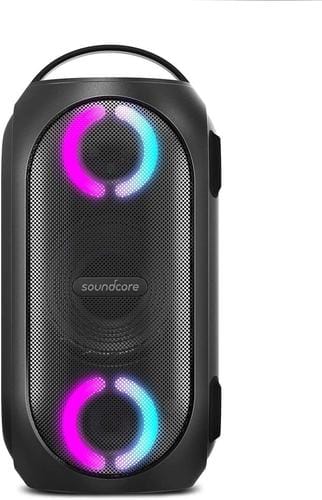 BassUp TM technology
Beat driven lights
IPX7 waterproof
Soundcore app connectivity
When it comes to low-cost Bluetooth party speakers, Anker is one of the industry's best-known names. The Anker Soundcore Rave Mini is undoubtedly one of Anker's best speakers to date, with a slew of features that are native to expensive speakers with subwoofers. While the Rave Mini is a little larger than portable party speakers, it is still easy to carry and transport with handles.
The Soundcore Rave Mini is a big party speaker with impressive LED lights and six different music playback modes tailored to different music types.
You can connect the speaker with the Soundcore application to get more control over the options like EQ presets and other audio parameters.
Because the Soundcore Rave Mini has an IPX7 waterproof rating, it is best for pool parties and beach parties. The build quality is sturdy to withstand the occasional bump, scrape, or drop.
The built-in battery, which has a capacity of 18 hours, is another excellent feature for use in outdoor parties. The battery life depends on how loud you play and the amount of LED lighting used.
But you don't have to worry about the battery timing as it takes only 4 hours to restore the battery power. For connecting the devices, there are options for USB, Aux cable, and Bluetooth 5.0. The party host can manage the speakers easily with the help of a ten-button control panel.
While in full party mode, you can even use the BassUp button, which provides a small bass boost to keep things moving along.
Anker's Rave Mini is one of the best-sounding party speakers the company has produced as it amazes us with the loud sound and 80 watts of power. The bass feels right at the spot. However, some premium party speakers may produce a much better sound.
Pros:
IPX7 waterproofing for outdoor use
Easier to connect with other Rave mini speakers
Loud and crisp audio
Extensive control options
Good battery life
Cons:
Lacks EQ customizations
No USB charging for smartphones
10) DiamondBoxx Model XL2 Bass Party Speakers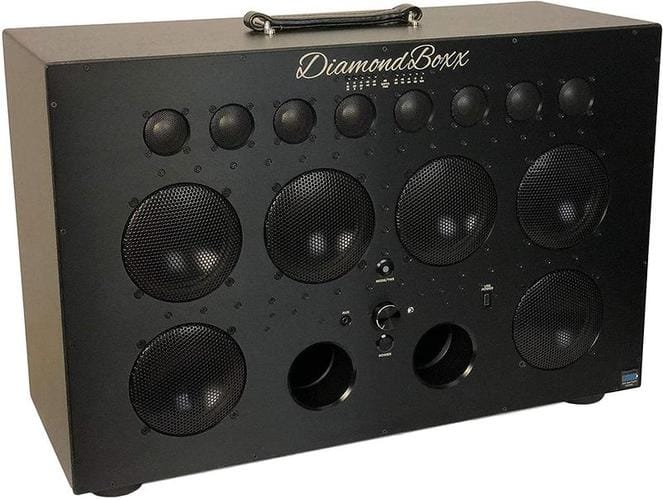 Huge speaker cluster
1000-watt sound setup
Smartphone connectivity
Long battery life
The DiamondBoxx Model XL2 party speaker is an exciting addition to our list as it features premium quality at the cost of a high price tag. It can qualify as the best party speaker for overall use for its features and customizations possibilities. Although it is one of the most expensive party speakers on our list, it works accurately with a loud audio capacity to handle a large gathering at your home or outdoor party.
The speaker system is compact, with 14 speakers on the go. Besides that, it has 4 subwoofers, 8 tweeters, and 2 mid speakers for bass.
This setup is one of the most amazing yet expensive for party speaker lovers. Overall, the material used shows premium build quality with the aerospace aluminum at the front and MDF at the back.
The DiamondBoxx Model XL2 is the best party speaker for moderately sized for indoor and outdoor parties. If you like the sound more clear and pure, it is the best option as the quality doesn't affect loudness.
The 1000 watt sound makes it best among party speakers. For people who like minimalistic design and control panels, Model XL2 is perfect. It has only one volume button that controls everything and saves time you spend in individually tone each element.
When handling a considerable party crowd, you need versatility for the speakers. XL 2 offers the freedom of connectivity as you can stream music directly from your device via Bluetooth.
It is easier and more convenient than wired connectivity as you don't have to deal with the cords. Another perk of Bluetooth playback is that you don't need to organize music every time, as you can play it directly from your saved playlist.  
Pros:
Highly portable for an indoor and outdoor party
Contain a cluster of 14 speakers
Durable aluminum build quality
Reasonable battery life to handle several parties on a single charge
Full of life sound
Bluetooth connectivity for smartphones
Con:
Not a good option for a large crowd
Best Party Speaker Bluetooth System Buying Guide
When we decide to buy the best party speakers, our first attention is making our budget and looking at what we can afford. We dream of buying B&W Nautilus, but everyone cannot spend a lot of money only on speakers. There are many options of party speakers in the market that may remain under your budget and prove the best option for you.
Cheap party speakers of good quality are more valuable than premium and expensive. So, the expensive things are not always of good quality as sometimes affordable things perform well and offer the same set of features.
Gathering and Location:
The size of the party and the location is a vital part of the purchase of party speakers. A party in a small house with 20 or 30 people considerably needs house party speakers while a larger gathering needs much better speakers.
Both of the conditions have different requirements for speakers. It is essential to look at party size and location, making it easy to choose exact party speakers.
The right choice of speakers according to the environment makes it extra fun for your party. Some of the speakers may perform well indoors, but when you take them in an open area, the audio effect provided by walls and roof "fall flat."
When you want to plan an outdoor party, it's important to choose speakers with an excellent audio effect in the open atmosphere.
According to the party's theme, if there will be water nearby, it may matter to use party speakers that resist water or fully waterproof. There is various kind of speaker in the market like Soundboks, which are specially designed for pool parties and fully waterproof.
Volume Capacity:
The volume of the party speakers needs respectable power to keep up with the crowd. The power of the speakers is vital for making the volume loud enough to reach the audience.
The most important thing to monitor in a party speaker is its sound quality on the louder range. If the most audible range does not sacrifice the audio quality, it the speaker you are looking for in your party setup.
The speakers having low power may reach the ability to produce a fair amount of decibels in volume. Still, low-power speakers have a problem that they can distort the audio quality, and the sound loses its quality when you want to increase the sound to the party level volume.
Connectivity and Battery:
Nowadays, Bluetooth is an essential part of our lives, and you are in luck if your speakers can connect with Bluetooth. For party speakers Bluetooth is vital to make sure that the speakers can connect with the available hardware.
The wired speakers are better than the rechargeable as they have generally strong signals, and there is no problem with cutting the signal during your favorite songs.
The speakers with small sizes tend to have convenient Bluetooth connectivity as they have a plus point because they are portable due to their size. All of the discussion will come down to size, power, and capability for your party.
Durability:
If you have a cultured social circle with all manners of attending a party, you can use any speakers or even a little more fragile. But if you are throwing a party for the university boomers, you must try to find a set of speakers that may handle all the situations.
Nowadays, most of the brands provide portable speakers with waterproof qualities and are relatively durable. In most cases, you should not worry about any accident, but you need to keep in mind all the situations.
Compatibility:
The most crucial factor is how much compatible your speaker is with the other equipment of your party setup. Know the compatibility before setting up the speaker for the party. If there is no compatibility, it may ruin your whole party because you can not fix all the sound systems at the last minute.
That's why you need to check all the setups and make sure that your system is strong enough to compatible with your device or not. This will help you to save from unnecessary problems and headaches.  
A Balanced Bass:
In an actual intense party with all necessary things like snacks, music, and bass, people want to enjoy the music rather than listen to it. If you have picked up the music with heavy bass, but your speakers cannot make a high bass itself, it isn't very pleasant.
Can we determine that the speakers have good bass or not? Before answering this question, we should learn about bass first. The notes that drop on the lower end of the range are called bass notes. If the sound of your speakers is powerful, then these voices may felt vibrating through your body
Sound Quality:
It is important that a speaker can produce mids and high music clearly and distinctly. The excellent quality speakers provide better quality to mids and high without any flaw and distortion of high volume.
These all factors need your attention; otherwise, when your speaker goes high from a specific volume, it will start hearing like scratching noise which may ruin your party and music. (Create you Playlist)
You must make sure when you are buying party speakers that you must read all the reviews so that you may know that the speakers are of good quality or not. Also, make sure that the sound quality remains good and does not distort when you increase the volume to maximum.
Portability:
Most of the listed speakers are equipped with Bluetooth, making sure that they are all portable. There are two types of portable speakers; one is come with batteries and can be played at any place as they do not need a power source, but the second one can also move from one place to the other, but when you transport them, you should need a power outlet.
Weight plays an important part when you want portable party speakers. That's why it is a vital thing when you order online.
Make sure that weight should bearable and check that there is a handle on your speaker. When you look for party speakers, choose speakers with stand, wheels and a collapsing handle to quickly move them from one place to the other.
Battery Life:
All the speakers listed above are not run on battery. When you buy speakers, make sure the speakers have rechargeable or not. However, the speakers with non-rechargeable batteries are slim.
The size of the batteries is different. Some of them are strong enough, and some sadly very weak. Make sure that when you purchase the speakers, check how powerful your battery is and how long it may discharge on max volume. A battery may consume more power when there are lights on the speakers and other accessories when playing music.
Accessories:
Some of the speakers may have some extra features and accessories which make them better than their competitors. Some of the features are good to know, and at the same time, some look silly.
In the party speakers there, you may find the most significant accessory lights. Some of the speakers have cool strobe lights, and some have multicolored lights on them, and some of the speakers have both of the lighting features.
One of the other great accessories and the feature is the presence of wheels. Many speakers have wheels with telescopic handles that allow you to move them with you from one place to the other.
Some other accessories such as remote, speaker stand, microphones, etc., but it depends on your taste which accessory is best for your needs as some of the people do not like the bunch of light on their speakers.
From our personal experience of testing a month, Aiwa Exos-9 Big party Speakers is simply the most versatile party speaker. It is the perfect setup for you to search for portability, excellent battery life, and deep bass. The IPX7 rating keeps the party going near the pools or during outdoor rain showers.

If we are sorting best party speakers and forget ION Audio Tailgater Plus Cheap Party Speakers it is an insult for such an excellent speaker. It is far most the loudest speakers for home that we have tested. It doesn't matter that you are partying indoor or outdoor. The sounds retain the same crisp and loudness to entertain a reasonably more significant gathering.

The is Sony XB72 House Party Speakers our best pick for overall quality and sound. It is currently the best party speaker with a loud and crispier sound. The LED setup looks fantastic, and the customization you can do with the sounds is amazing. Besides that, it supports USB and Bluetooth connectivity for a wide range of audio devices.

Top Recommended Product
What wattage speakers do I need for a party?
The wattage of the speakers depends on some factors like the environment and the location. For indoor use, you need about 5 watts per person. But when you are playing outside in an open place, then you should prefer rave volume. For this purpose, you may need to double it and have 10 watts per person.
Which speaker has the best sound quality?
ION Audio Block party rocker speakers are good party speakers as they have the best sound quality; the sound pitch does not sound like scratching at its max volume. Its loudness is enough for entertaining a large gathering.
Are party speakers any good?
The sound of your party speakers is good enough that you may enjoy the music without any disturbance. You can connect your best party speakers with a Bluetooth device and listen continuously at the volume of your choice for hours. They are portable and show some incredible sound quality and loudness.
How do I choose a party speaker?
When you are looking for the party speakers must know about the requirements for which you want to need them. However, the speakers must have a connectivity option, which can b easily portable from one place to another. Have high power output and customized audio input, and make sure to handle easily.