Suppose you're planning to get a good sound system to create a better atmosphere inside your television lounge or studio while keeping the layout minimal. Then the best option for you is to go for some in wall speakers. Not only do in wall speakers add great visuals to your home theatre setups, but they also offer fantastic sound quality. Keep on reading this article to find out about the best in wall speakers.
If you have a small space or someone who likes to keep the design and décor to the minimum, wall speakers can satisfy all your needs in such situations. By simply buying an in-wall speaker, you can install it inside the wall, and you won't even have to worry about any messy wires mess. Not only do wall speakers waste space, but they also make the setups look much cleaner. 
10 Best In Wall Speaker For Home Theater
1) Micca M-8S 2-way In Wall Speaker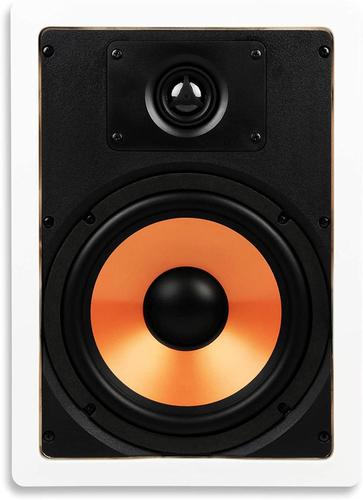 8-inch poly woofer
The 1-inch silk dome tweeter
12dB crossover network
Two-way in-wall speaker
We start our list with the Micca M-8S In wall surround sound speakers. This is their 8-inch model and a 2-way class speaker. The Micca M-8S are pretty popular among people who have purchased and installed wall speakers in their homes. Speakers look clean with a black base and an orange woofer. Also, the material is safe to be painted on to make them blend with the décor.
Micca M-8S uses the Poly-Mica woofer, situated at the speaker's front face and 8 inches in size. The woofer packs enough power to emit some high bass levels, making this speaker capable of usage without any external subwoofer. 
In addition to that, the Micca M-8S In wall speaker has pivoting silk dome tweeter right on top of the woofer. This 1- inch tweeter is all black protected with a well-designed grill layer; it helps create clear and detailed audio through all sources, which dramatically helps deliver a theatre-like experience. 
On the back of the in wall speaker, we can see some details of how the system is laid out.
Micca M-8S uses an advanced crossover design, creating a great connection between the woofer and the tweeter through a 12dB crossover network. This helps in delivering some good transitions between the upper and midrange region. 
The specifications and design deem this in wall speaker worthy of music jams and movie watching sessions. And overall that it's pretty easy to install into your setup.
First, you will need to cut mounting holes into your wall, and after that, all you need is a screwdriver, and you're all good to go in no time. 
If you're someone who wants to keep things simple and just want to experience something that is in your control, from listening to soothing background music to watching high-action movies, the Micca M-8S In-wall speaker will have you covered.
Pros:
Reasonable price
Dedicated woofer and tweeter
Great transition connection between the woofer and tweeter
Easy to install
Cons:
Read More: How To Clean Guitar Strings at Home?
2) Polk Audio RC65i 2-way In Wall Speaker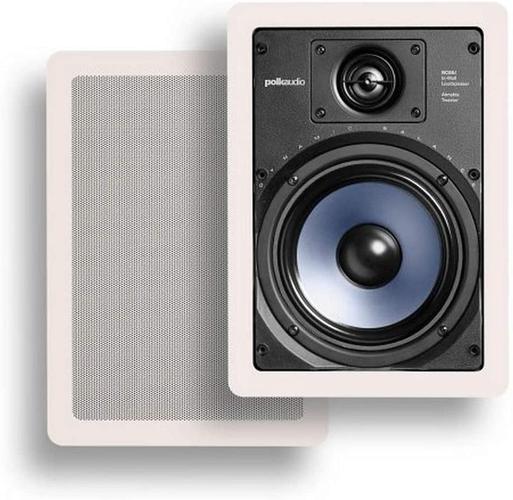 Set of 2
Indoor/outdoor 
6.5-inch woofer and 0.75-inch tweeter
Detachable grill
Streamlined design
If you're looking for some extraordinary sounds but in a minimal package, then look no further, as the Polk Audio RC65i in wall home theater speakers will satisfy your needs. The simple-looking in-wall speakers are all black with a blue shade of woofer in the middle. You also get detachable grills with them which can be painted to make them suit the room décor. The grills are pretty clean looking as it is in simple white shade.
The Polk Audio RC65i home theater speakers deliver outstanding audio results, and the quality is fantastic. The timbre-matches recessed speakers are great to enhance the audio surroundings inside your room. 
Another great thing is that they're designed to counter humidity and dampness, which is why you can attach these inside the kitchen or the bathroom or outside on porches or near pools because they're water-resistant speakers. The application of rubber seal makes it suitable to be applied in such places.
Polk Audio sell their in-wall speaker in pair. They are made out of premium quality components and materials. On the front of the speaker, there's a 6.5-inch dynamic balance woofer with a 0.75-inch swivel-mount tweeter.
The size of the woofer and tweeter are insignificant as they do a great job in making the users experience lifelike sounds with excellent balancing and bass control. 
Just like the Micca M-8S, the installation is relatively straightforward. And once installed, they hold up pretty well as you won't feel any unnecessary vibrations sound against the screws or the wall.
The Klippel motor optimization helps create a streamlined design that helps deliver smooth and soothing volume performance at different ranges. 
So, if you're planning to get you're in wall speakers to be installed outside or in the kitchen or the bathroom to enhance the overall ambiance of your house, then the Polk Audio RC65i in wall speakers are great options you could consider.
Pros:
Suitable for almost any place
Easy installation
Smooth, paintable grills
Water-resistant
Cons:
The speaker design is too simple
Read Also: Best Cheap Guitar Pedals to Enhance the Sound Quality of Your Music
3) Silver Ticket 82W In Wall Speaker For Lining Room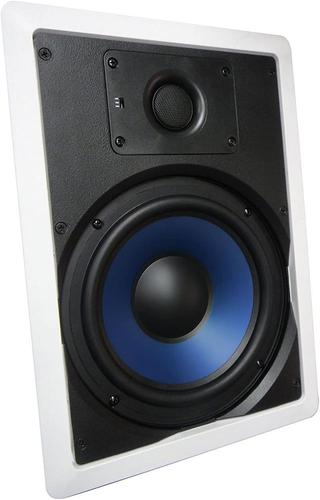 Pivoting tweeter
Can be mounted on wall, ceiling, or outdoors
8-inch woofer
20mm silk dome tweeter
Removable grill
51Hz – 20kHz frequency response
Silver Ticket came into being around the 80s, and their goal was to produce high-quality speakers at affordable prices. And in all fairness, they've made some quality and reasonable speakers, and the Silver Ticket 82W in wall speaker is one of them.
The speakers are pretty simple in design. There's nothing much special about their looks. However, having a simple design means they'll be able to suit any kind of room décor with ease.
On top of that, the frame of the speakers and the removable grill are paintable, so you could simply apply a color that makes the Silver Ticket 82W in wall speaker look lovely on your wall or ceiling. 
The Silver Ticket 82W in-wall speaker can be applied to walls, ceiling, and even outdoors speaker. The rubber surrounding and intelligent designs make it resistant to humidity and dryness.
Since it gets clipped on the wall using six brackets, the grip is excellent, and there's almost no vibration or distortion. 
It has an 8-inch woofer which is comparatively more significant than the usual sizes of woofers on an in wall speaker.
In addition to that, the 20mm silk dome pivoting tweeter can be rotated up to 15°, which allows you to adjust the sound placement and enhance the experience. 
The Silver Ticket 82W budget in wall speaker has a frequency range of about 50Hz to 20 kHz, almost around the same range as the Klipsch speakers.
The power and sound loudness are pretty surprising on this thing. You can watch movies and shows with excellent surround sound quality at a much reasonable price. 
The installation may not be as simple as some other in wall speakers, but these are still not that hard to install. Although a bit of care is needed since the brackets are vulnerable if put under a lot of pressure. 
So, if you're trying to get your hands on a diverse in wall speaker at a budget price, then the Silver Ticket 82W in wall speaker is up there on the consideration list. You'll get some great features at a low price.
Pros:
Great sound at an affordable price
Pivoting tweeter
Moisture resistant
Paintable frame and grill
Cons:
Nothing special as far as the design is concerned
Read Also: Best Flute for Beginners, Kids, Adults, & Professionals
4) Yamaha NS-IW660 3-way In Wall Speaker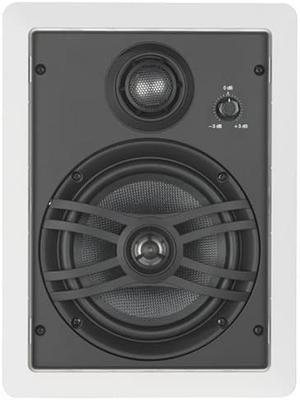 3-way channel
6.5-inch Kevlar cone woofer
1-inch titanium dome tweeter
Limited warranty
Detachable grills
Next up on our list of the best in wall speakers, we have the Yamaha NS-IW660. As we know, Yamaha is no stranger when it comes to top-quality products, which is precisely what you should expect from this speaker. The nicely designed speaker comes in a black body with a detachable grill.
The design on this in wall speaker is rather good, and it will make your home theatre look even more official with these in wall speakers on sides of your screen. As far as the design is concerned, you won't be disappointed. 
Coming towards the front side of the Yamaha NS-IW660 in wall surround speaker, you will notice a 6.5-inch Kevlar cone woofer with a 1-inch swivel titanium dome tweeter. The power of the sounds and bass output this speaker creates is outstanding. 
The tweeter does a fantastic job of creating realistic sounds, which enhances the atmosphere even more. It also has a dial on the front of the speaker from where you can switch between the three channels.
The speaker has a high-quality crossover network between the woofer and the tweeter. The Yamaha NS-IW660 speaker can reproduce frequency levels as low as 50 Hz, which is impressive for an in wall speaker.
It can ensure ample attention to low, mid, and high frequencies and ranges with all of its features. All of this together creates a smooth, crisp audio quality that will impress you within seconds. 
The crossover network helps in minimizing distortion as the signals are passed on from the receiver. As we saw with most of the in wall speakers, you can simply install the Yamaha NS-IW660 without any problems by following its simple instructions. 
Even though it's a bit expensive, the Yamaha NS-IW660 in wall speaker is one of the best in wall speakers we've come across.
You can even claim a limited warranty if you purchase this from a verified Yamaha dealer. But in reality, the speakers are very durable, and the need for a warranty might not even be needed if you look after the speakers.
Pros:
Crisp quality
Good sounds on all frequencies
Smart design
Limited warranty
Cons:
Lastest Post: Best Flute for Beginners, Kids, Adults, & Professionals
5) Pyle In Wall Midbass Speaker System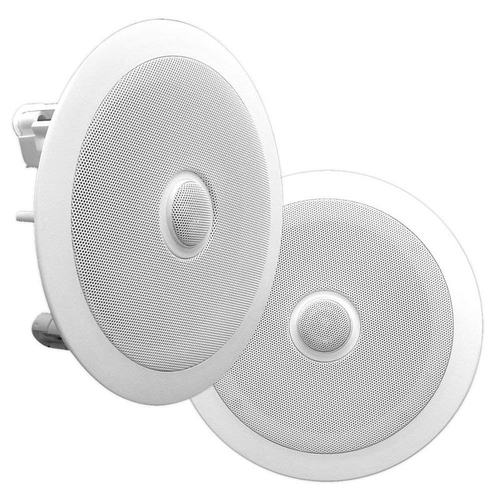 Moisture Resistant
2-way channel
1-inch titanium tweeter
Wall and ceiling mount
250 Watts peak power
The Pyle in wall Midbass Speaker System is one of the best budget in wall speakers systems that you will find. They are incredibly reasonable and compact and can surely fulfil your short-term wall speaker needs. The speaker itself is 6.5-inch-wide and has a 1-inch titanium dome tweeter installed in the center.
You can also mount these speakers in the wall or ceiling, just like the two Polka Audio speakers we reviewed earlier on this list.
The minimal Pyle in-wall Midbass Speaker System is excellent and blends in amazingly with the room's atmosphere. They may seem like ceiling round lights, but they will surprise you with their sound quality. 
There are also three shades of grills available to make these speakers look better with the room's ambiance. You can get black, white, or grey colored detachable grills.
It may not carry as much juice as the Micca or Polka Audio in wall speakers, but it's still standing its ground, considering its low price. The 6.5-inch driver with its 1-inch tweeter generates nice sounds that can quickly fill up a big room when synchronized together.
The tweeter can be angled or rotated to divert the sound in any direction. These features will let you get a significant effect of mid and high frequencies. 
Like most of the in wall speakers we already reviewed, the installation is pretty simple. The Pyle in wall Midbass Speaker has a peak power of 250 watts, which lets out a pretty loud volume, which is why it comes in touching distance of some of the heavy-duty in wall speakers. The speakers are also moisture resistant.
In conclusion, these are great entry-level wall speakers that you could get your hands on for a price below $50. At such a bargain, these speakers offer some great features and good audio quality.
Pros:
Very cheap
Supports mid and high ranges
Fairly easy to install
Loud volume power
Cons:
Not as durable
Not as good as high-tier speakers
Lastest Post: Best Distortion Pedal – Top Choices For You…
6) Polk Audio 265-RT 3-way In Wall Speaker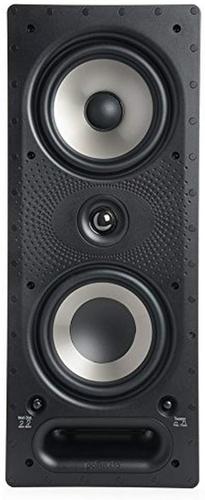 Wall and ceiling compatible
Paintable grill
Two 6.5-inch woofers
1-inch swivel-mount tweeter
Output: 200 Watts
Right off the bat, we have another Polk Audio center channel speaker at our hands. The Polk Audio 265-RT 3-way speakers are a bit different as compared to the RC65i. But this does not mean that these are not as good, they may have another purpose, but the Polk Audio 265-RT is still worthy of making it into this list.
The Polk Audio 265-RT speakers are compatible with ceilings and wall installation. So, you can create a tremendous surrounding system by installing a bunch of these around your living room or home theatre.
This is a single speaker, so purchasing more than one would cost a good amount of cash. 
Like most in-wall speakers, the Polk Audio 265-RT also has a detachable white-colored grill, which is also paintable to help them blend in with your wall or ceiling. Since it's a single unit, it has more on it than the other Polka Audio in-wall speakers we reviewed. 
The system carries two 6.5-inch woofers with 1-inch swivel-mount tweeter; the two woofers make this single unit bring enough juice to run on its own. Although if you have a big room, this may not fully cover the room with its loudness. 
The Polk Audio 265-RT also has a power port technology that smoothly lets the airflow through the system canceling all kinds of distortions and helping in creating a better bass experience.
This in wall speaker has another intelligent feature which is its distance toggle option. You can change the distance proximity of the speakers from 50 to 200Hz. 
It's pretty different as compared to some other Polk Audio speakers. This is mainly designed and best suited for home theatre setups rather than outdoors, bathroom, and kitchen. This 3-way in wall speaker is compatible with 3.1, 5.1, 6.1, and 7.1 systems.
Pros:
Good frequency response
Easy to install
Clean design
Smooth sounds
Cons:
Not suitable for big rooms
7) Klipsch R-5502-W 2 In Wall Speaker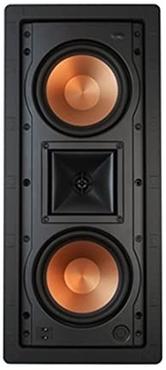 Dual woofer
Tractrix horn
130W power output
3-way channel
Magnetic detachable grill
Mountable vertically and horizontally
Here we have another well-known speaker producer. The in wall speakers by Klipsch are not far behind their bookshelf speaker line. Most of the speakers Klipsch produces carry a unique design that catches attention right away. In the same manner, the Klipsch R-5502-W II in wall speakers is an eye-catcher. You can fit it vertically or horizontally.
The build is quite solid and sturdy, which makes it very durable over the years. It's also pretty lightweight, even though it does seem heavy visually.
The design is quite sleek, with a black body and dual 5.25-inch woofers that stand out in their appearance. Between the two woofers, there's a Tractrix horn that contains the 1-inch titanium tweeter. The horn rotates 90° to accurately project the sound.
The tweeter does a great job and is of top quality. The tweeter on the Klipsch R-5502-W II high end in wall speakers can raise the treble and acoustic and emit some great real-life sounds while reducing all kinds of distortions. 
The Klipsch R-5502-W II comes with detachable magnetic grills, but these speakers look outstanding with the grills off, in all fairness. However, it's better to keep the grill on now and then as it can help keep it safe from dust. The grills are all white but can be painted. 
The sound on these speakers is excellent. It hits some remarkable frequency ranges, precisely 46Hz to 20 kHz. And since it's a 3-way system, it can handle some good crossovers too. 
Either you're planning to jam some music or binge-watch a show on Netflix, the Klipsch R-5502-W II in-wall speakers will deliver some crazy levels of audio quality to enhance your experience. 
In conclusion, the Tractrix horn makes the speaker stand out from the rest of the wall speakers on this list. And in our opinion, this is one of the best-looking wall speakers available right now.
Everyone is aware of Klipsch speakers' sound quality and durability; therefore, you can never go wrong while buying theirs in wall speakers.
Pros:
Smart magnetic grills
Rotating horn
Great looking design
Excellent audio quality
Cons:
8) JBL SP6CII 2-way In Ceiling Speaker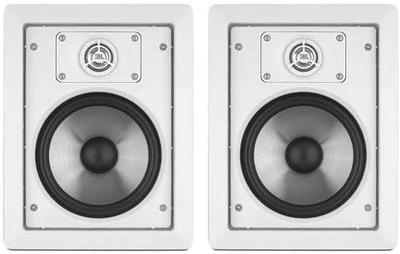 2-way channel
Ceiling speakers
Titanium laminate tweeter
6.5-inch round speakers
The all-white speakers come with a detachable white grill which gives this speaker an overall nice blending look on your ceiling. The white detachable grills look great, but you can even paint them if you have a different preference. 
The JBL SP6CII speakers are 6.5-inch sized speakers with titanium laminate tweeters in the center, which pack a punch when creating a lifelike atmosphere around the room. It can direct the different levels of frequencies straight towards the listening position. 
The JBL SP6CII has a frequency response of 40Hz – 20 kHz, which is enough to reproduce a vast sound range that consists of deep bass to ultra-high frequencies.
The woofer and tweeter are backed by an impressive 80W of power, which is highly impressive considering how small and compact these in ceiling speakers are.
This speaker's frame is covered with rubber that helps reduce the distortion and any vibration sounds against the ceiling. The installation is quite simple; all you need to do is cut the drywall, connect the speakers to appropriate wires, and mount it up, and you're done. 
We included this in our list of the best in wall speakers because you can get these at a reasonable price, even though JBL speakers tend to be a little expensive.
So, this is a great option to get a JBL speaker at an affordable price, specifically if you're planning to apply the sound system to your ceiling. 
Pros:
Amazing frequency response
Slim and smart design
Good sound emission
Compact 
Affordable as compared to other JBL speakers
Cons:
Constricted sound loudness due to its size
9) Klipsch R-5650-W 2 In Wall Speaker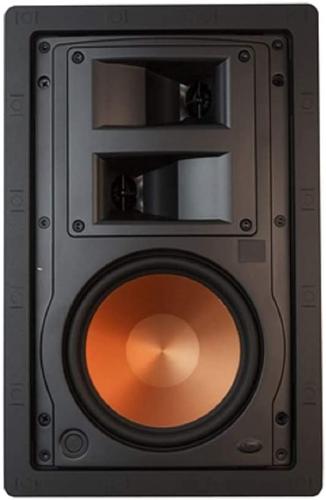 Pivoting Tractrix horn
6.5-inch ceramic woofer
1-inch titanium dome driver
Slim magnetic grill
It can be mounted outdoors
Just like that, we have another Klipsch wall mounted speaker on our hands. The Klipsch R-5650-W II speaker is one of the best top-tier quality speakers that you would find in the market. With its elegant design and body with some extraordinary sound, this audio system is far one of the best but expensive.
By now, you must be aware that Klipsch makes high-quality speakers systems, and this one is no exception. The body is somewhat similar to the last Klipsch speaker we reviewed, and the only difference is that it does not have dual woofers. Other than that, the color scheme and design are almost the same. 
There's a single 6.5-inch woofer at the front of the speaker. Above that, the 1-inch tweeter is surrounded by the Klipsch Tractrix horn, which is something we also saw while reviewing the Klipsch R-5502-W.
The woofer has the signature Klipsch copper design finish, giving it a nice clean orange look, and looks extremely good. Thanks to the woofer and the tweeter with the Tractrix horn, the Klipsch R-5650-W II in wall speaker can deliver some out-of-this-world sound quality with utter clarity. 
Just like the last Klipsch speaker, the tweeter on the R-5650-W is also moveable up to 15°. The selection of direction allows better audio experience and smooth sounds.
They also have mid-bass and treble controls for the audio. The speaker is not tiny but not huge either; the size is almost perfect, in our opinion. 
As for the technical aspects of this speaker, it carries an impressive range of frequencies from 40Hz to 23 kHz, and it has a power output of 200W. This tells how powerful and means this speaker can be. You can thoroughly enjoy loud music on this one. 
The Klipsch R-5650-W II in wall surround speaker also comes with a slim magnetic white grill painted. However, this is a single unit up for purchase, plus it's expensive, and you'll need to buy an installation kit separately, which is a bit inconvenient. 
Pros:
Nice frequency range
Powerful sound loudness
Amazing design
Durable
Cons
10) QQ CHINAPA LTH-8115S In Wall Speaker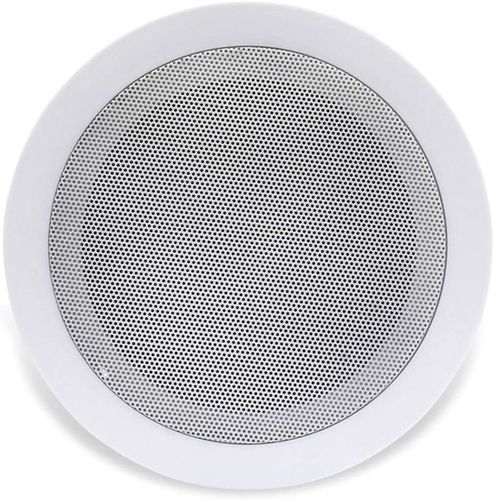 Can be mounted in-ceiling or wall
2-way channel
1-inch 40mm Myla dome tweeter
5-inch woofer
Round design
Lastly, we have another best budget in wall speakers. The QQ CHINAPA LTH-8115S in wall speakers are not from any big well-known companies, yet they perform great at a low price, and that is why we included them in our list. These white-colored round-shaped speakers are pretty standard in public places like supermarkets, bus stations, and meeting rooms.
You may wonder that they may not suit a house setting if they're common in our mentioned places. However, that is not the case at all; these speakers are used in such sites due to their loud sounds, but they can play music at suitable frequencies and emit real-life sounds during movies. 
They are pretty compact and probably one of the smaller in wall speakers on this list. The QQ CHINAPA LTH-8115S speakers have a 5-inch woofer with a 1-inch 40mm Myla dome tweeter, with the crossover integration of 12 db. 
All of these together create great bass and treble sounds with the least amount of distortion. Again, the tweeters were pretty impressive with their clean output and crisp sound. 
The QQ CHINAPA LTH-8115S top rated in wall speakers are heat and low-temperature resistant. The speakers are designed to be installed on the ceilings because of their shape and size. They even blend with the ceiling far better than they do on the wall. 
The speakers have a frequency range of 130Hz to 18 kHz, which may not be as high as some of the other in wall speakers we reviewed, yet it's a fantastic range considering the price and size of these speakers.
Like most wall speakers, the QQ CHINAPA LTH-8115S are pretty simple to install because they are quite small. With fewer screws and nuts to worry about, you'll be done in no time. 
In conclusion, these are some nice simple in wall speakers. If you're looking to transition from your external speakers to wall speakers, you can quickly try these out because they are affordable and will provide you with a taste of what the wall speakers hold. 
Pros:
Very affordable
Simple installation
Decent frequency range
Compact design
Cons:
Not suitable for large rooms
In Wall Home Theater Speakers Guide
Whenever we're about to buy something, it is crucial to be aware of some of the basic information about the product. With so many variations and differences among products, it is pretty easy to buy something which doesn't entirely suit your needs. 
Therefore, before you choose the best in wall speakers from this list, it is highly recommended that you go through some of the significant factors that could make or break your purchase. Luckily for you, we have listed some of the factors you should consider before spending your money.
Ease in Installation:
First things first, when it comes to in wall speakers' installation is a major factor. You should be aware of their installation process for in wall speakers and what tools you would need.
Unlike primary speakers, you can just bring these in and place them on a table. However, some in wall speakers require separate installation kits, which means you end up spending more money. So, make sure that you confirm the installation procedure and that you're ready for it. 
Frequency Range:
Frequencies are essential in all kinds of speakers. In the same way, it is necessary to know what the frequency range is before you buy an in wall speaker. The frequency range represents the highs and lows of the range.
Some people with hearing loss have a hard time catching high-frequency range sounds. So based on your setting, make sure the frequency range is suitable.
Speaker Size:
Either you're planning to fit the speakers in the wall or the ceiling, or it is immensely vital to know the exact dimensions of the speaker you're choosing. You will waste your money if you buy a speaker that is bigger than your planned spot.
You would make your room look not as good. Therefore, make sure that the speaker in question is sized perfectly for your wall or ceiling.
Installation of Tweeter:
Tweeters create incredible surround sound lifelike audio emissions. Every speaker has a tweeter installed, but the quality of the tweeter matters a lot.
Tweeters with Tractrix horns are a great option, and pivoted tweeters are game-changers when it comes to in wall speakers because they allow you to direct the sound at your desired spot, creating a better experience. So, keeping these factors in mind with your setup, choose which kind of tweeter would be the best. 
Budget Range:
Your budget will have the final say in your purchase. Some of the more prominent and well-known brands have some high-tier expensive wall speakers, which are worth their prices, but it's better to spend on something you can afford. You can even get reasonably priced wall speakers with some great features. 
To make things even easier for you, we have chosen what we think are the best options out of all these top 10 best in wall speakers. As for the best overall in wall speaker, we believe that the Micca M-8S tops the list.
Although the list had some outstanding wall speakers, the Micca M-8S stood out due to its high-quality intelligent features at an amazingly affordable price. You'll get crossover circuitry with a dedicated woofer and tweeter system on a cleanly designed speaker.

Best Recommended Product
Do in wall speakers need power?
Mostly in wall speakers are passive speakers. So that means that they won't need a power source to be plugged into. However, they will need to be connected to an amp or a receiver, acting as the power source.
Should I get in wall speakers?
Experiencing wall speakers is worth it because they have many advantages. First, you will have a much sleeker design to your room, also in wall speakers can create a better surround sound experience if placed in such a way.
How many subwoofers do I need?
The numbers of subwoofers depend on the size of your room that holds the in wall speaker. Subwoofers give off better bass deepness and quality. But if you have a smaller space, then having additional subwoofers would be unnecessary.
How long do in wall speakers last?
The life span of an in wall speaker depends on the brand that you buy from. Generally, considering that you care for the speakers, they can last from 10 to 15 years. Some high-tier in wall speakers can even last up for even longer.