Digital-to-Analog Converters (DACs) are essential for any audio or video streaming device. Most devices that output sound or video require a DAC to convert their digital signal into an analog one. For example, common devices, including game consoles, TV boxes, Blu-ray players, smartphones, and portable music players, use digital-to-analog converters. But knowing what DAC is better and more affordable while letting you enjoy subtle and clear sound is integral.
As an audiophile and person who like to test new hardware, I have considered looking at some of the best DACs available in the market. I have always been interested in product testing and evaluating performance according to various criteria. Today's guide on the best DAC audio follows the same pattern I usually follow, i.e., product sorting, testing, evaluating, and then writing the reviewed results for the users. Let's get into the details without further ado!
10 Best Audiophile DAC 2022
If you're looking to improve the sound quality of your music, you'll want to consider investing in a DAC. They are like the Google Translate of your audio system – they take the digital music files and convert them into an analog signal to play through your speakers.
Not all DACs offer the same performance, so I have researched and sorted the top DACs based on their features and sound quality. According to my digital to analog converter reviews, let's look at these options and see what they stand in the ranking in the race.
1) Sound BlasterX G6 Best Audio DAC For Gaming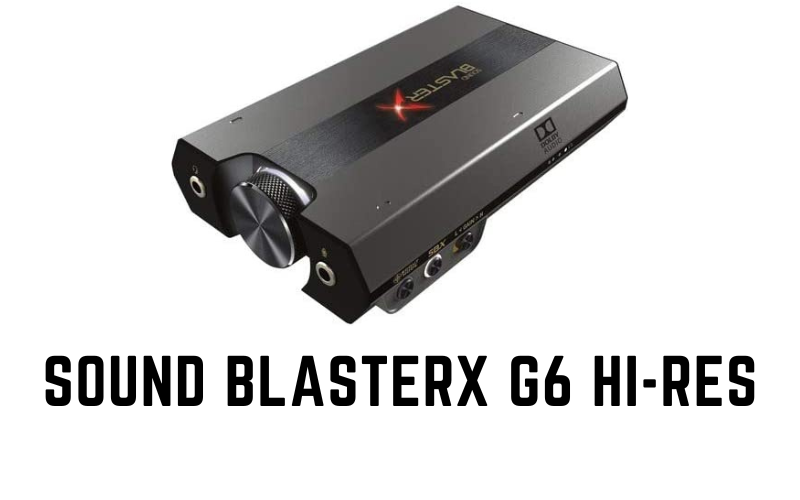 | Specification | Values |
| --- | --- |
| Manufacturer | Creative |
| Connectivity | USB, Aux, Mic, Optical |
| Audio Quality | 120 dB DNR. |
| Format Support | Virtual 7.1 |
| Headphone Amp | Yes |
I think the G6 is an excellent example of the best audio DAC for gaming that can change the users' views and what they perceive about other DACs. Although I would like it with SXFI technology, Sound BlasterX G6 contains a few main things which make it a valuable USB DAC and a sound amplifier for your headphones for other consoles and PC.
Build Quality and Design
The first thing that I observed about the Sound BlasterX G6 is its sturdy build out of the box. Despite being durable, it is very lightweight and will remain safe if you accidentally drop it. The size is also very considerable, and it is smaller, just like the modern smartphones, except for its thickness.
Extended Connectivity
There is a 3.5mm jack for headphones on the front side and another 3.5mm jack for the microphone, which helped me to track my enemies and teammates during hardcore gaming. While at the rear of the G6, there is a micro-USB input. BlasterX G6 lacks a power inlet because
Portable and Lightweight
The size is small enough, just like the smartphone, so it is easy to keep it with you if you want to move. It is highly portable, and G6 draws power from USB, so there is no battery inside it, and there is no need to worry about its charging. This form factor is quite helpful in its build and shape.
Holography Effect
The sound quality of the G6 is excellent, as it sounded clear during the audio and gaming tests. It is even better than the onboard cards on laptops and PCs. Overall, BlasterX G6 performs on the next level and gives you a holographic and 3D effect over the games you play. Some games transform a simple stereo sound from left to right, which G6 handles quite effectively.
Benefits
Highly customizable buttons for different functions
It offers a clean and powerful amp section
App connectivity offers functionality with ease
The sound quality is clean with a decent detail retrieval
Drawbacks
The direct mode does not offer one of the most linear frequency responses
It lacks settings for using fixed 100% for the line-out
2) AudioQuest Dragonfly Best Portable DAC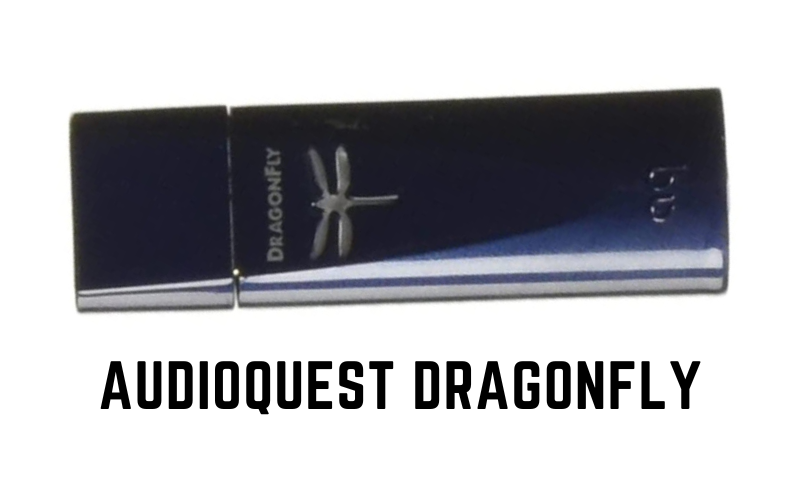 | Specification | Tested Values |
| --- | --- |
| Manufacturer | AudioQuest |
| Connectivity | Wired |
| Audio Quality | 140 dB DNR. |
| Format Support | Hi-res |
| Headphone Amp | Yes |
AudioQuest DragonFly is the best portable DAC in the race of DAC audio devices. The portability does not let it remain mobile and computer desktop. I can say that DragonFly is the best innovation from manufacturers due to its portability. Although this pocket-sized best DAC audio is not perfect, you can consider it very close to perfection, especially for the portability and features.
Compact and Best Sounding
Its compact design adds extra marks to its portability; undoubtedly, the sound quality of this DAC for headphones amp combo will urge you to buy it. However, its resemblance to the USB device and dime-a-dozen thumb drive may mistake you, so placing it in its included vinyl pouch is good to avoid mixing.
Improved Performance
AudioQuest uses an advanced chip, ESS ES9038Q2M, to provide a precise and natural sound, and its latest PIC32MX274 pulls less current but boosts the processing pace to a higher level. It will filter the power supply and increase the immunity to Wi-Fi, cellular noise, and Bluetooth.
Wide Open Soundstage
With the open soundstage of a wide range, you can analyze the music if you want, and the DragonFly Cobalt will provide you with an open soundstage for this with impressive clarity. Although it is a good DAC, AudioQuest will not go for so much detail and offer you an exquisite keen sense of rhythm with a dynamic range of sound.
Hi-Res Pocket Audio
AudioQuest's line of DragonFly DACs offers you an excellent doorway into the hi-res audio range. You can use it for mobile devices, laptops, and desktop computers. Moreover, its pocket-size design makes it more valuable. It is good to say that this manufacturer gives their users the combo of quality and portability in this pocket-size miracle.
Connectivity Options
Android users have an excellent option to connect with the USB-C with the DragonTail USB-A with the adapter of their Cobalt for connection. Moreover, if your iOS device supports a lightning connection, AudioQuest will acclaim you using Apple's Lightning to USB 3 Camera Adapter for connecting DragonFly.
Benefits
The dynamics and timing are right on the spot
Highly portable and compact
The sound quality is crisp, clean, and balanced
Wide range of file support
Drawbacks
No distinguishing light for CD and mp3 quality
Slight expensive compared to the predecessor
DragonTail adapter seems to slip out of mobile device frequently
3) FiiO K3 Best USB C DAC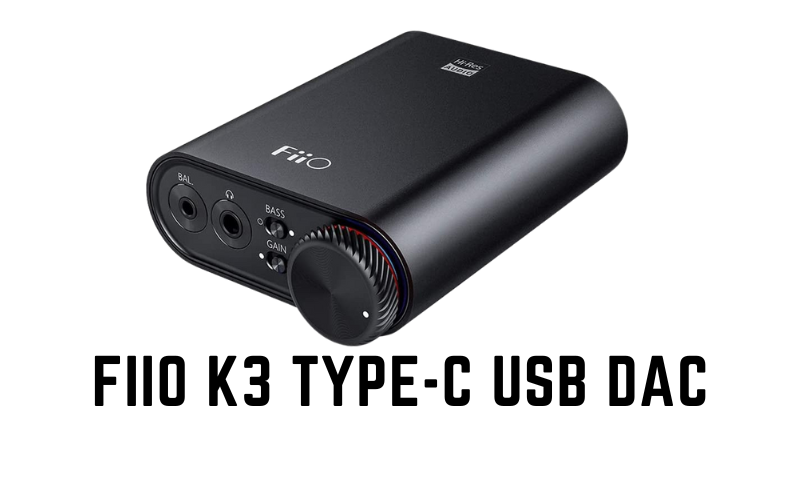 | Specification | Featured Values |
| --- | --- |
| Manufacturer | FiiO |
| Connectivity | USB Type-C |
| Audio Quality | 384kHz/32bit |
| Format Support | Hi-res |
| Headphone Amp | Yes |
Fiio K3 is the best USB C DAC that will surprise you with its performance and functions. The New K3 provides pretty good sound with comprehensive details. It is an excellent device for all In-Ear Monitors and headphones with a natural appearance and great dynamic sense. In this price range, the K3 is one of the highly recommended DACs for a great listening experience.
Build Quality and Aesthetics
Although the features improved in New K3 contain the same appearance and aesthetics as the older K3. Its old round frame has matte black polish, so any scratch will not damage it. There are two outputs on the front, two black switches, and a switch for volume double as a power switch. There are also RGB Led lights on it to indicate the rate of sample for sound.
Advanced DAC Chips
The New K3 also has the ES9038Q2M SABRE32 Reference DAC and gives a high performance of 32-bit. The design of this stereo system is for audiophile-grade power-sensitive applications like audio pre-amp, Blu-ray players, A/V receivers, and the best DAC audio player.
Impressive Sound Quality
It's the sound quality that impressed me, given the price range. The New K3 gives you a comprehensive, detailed, and natural performance with a great sense of dynamic and support for all types of In-Ear Monitors and headphones.
Operating Compatibility
Regarding the compatibility of the New K3, it will work with Android, Windows PCs, and MAC. Furthermore, they are also compatible with ISO devices, and no need to install any driver for this purpose.
Benefits
Clean and improved output
Lightweight and highly portable
It comes with a plethora of input and output options
It offers a great price and performance ratio
Drawbacks
Nothing extraordinary than all standard DAC features
The soundstage is slightly deeper and wider
4) iFi Zen DAC V2 Best Computer DAC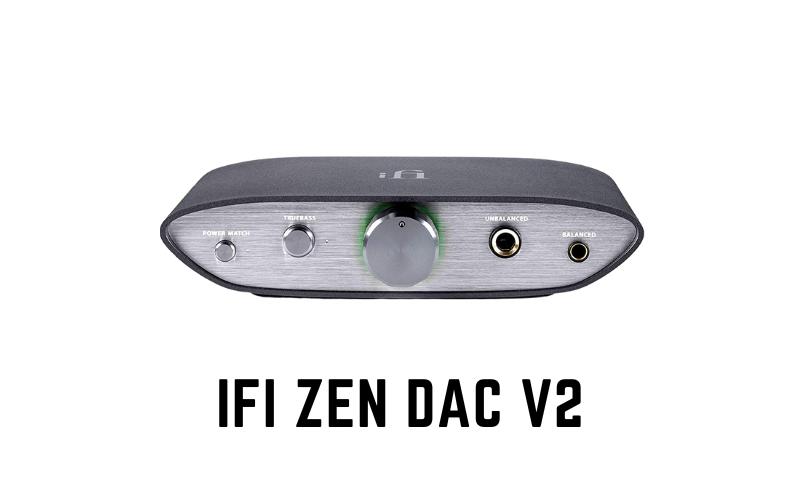 | Specification | Values |
| --- | --- |
| Manufacturer | iFi |
| Connectivity | Wired |
| Audio Quality | 384kHz/24 bit, |
| Format Support | Hi-res |
| Headphone Amp | Yes |
Zen DAC V2 is the best DAC audio for those who want to have excellent and cheap DACs for their digital resources. The iFi Zen will make your headphones sing in this low-price range. It is also good to say that Zen is an affordable product for many headphone rigs and will remain in its place in a good way. In this price range, many other devices cannot do the same things as Zen.
Low Profile Design
Zen DAC V2 is the best computer DAC with a low-profile design and consists of matte black metal that is low profile relative to the other, and due to this, it is very lightweight. Although it is small, you cannot place it in your pocket, and it is easy to keep it in your bag if you want to take it along with you. You can easily take it with you for your events and other occasions.
Improved Architecture
Zen DAC V2 contains two additions in its basic internal design. But these changes may significantly impact the sonic quality of DAC or Amp and depend on how you use it. The Zen V2 also upgraded from 8 core AMOS chipset to a 16-core chipset. Due to this upgrade, the audio quality reaches a higher enhancement level.
Internal Accurate Decoding
The upgradation from 8-core to 16-core significantly changes the behavior of DAC. Most audio systems act like a renderer for lossless audio or MQA tracks, but the Zen DAC V2, due to its design of 16-core, acts like a decoder. It means that the conversion is performed internally for more accurate signal output. When the LED light on the volume knob turns blue, you will know that the MQA is streaming.
Sound Accuracy
You will get good accuracy and clarity for your soundtracks with the Zen V2. However, when it comes to the variety of headphones, you will get more texture for more delicate, and the tracks will become more enjoyable. It will give Zen more variety and a big room of sound quality, and you will also get a range of energy for your sound when necessary.
Benefits
The output selection is great
It comes included with a full MQA decoder
The build quality is exceptional
The separation and details are excellent
Drawbacks
You need to purchase the power supply separately
It lacks a mains adapter with the purchase
5) EPOS Sennheiser GSX 1000 Best Audio DAC For PC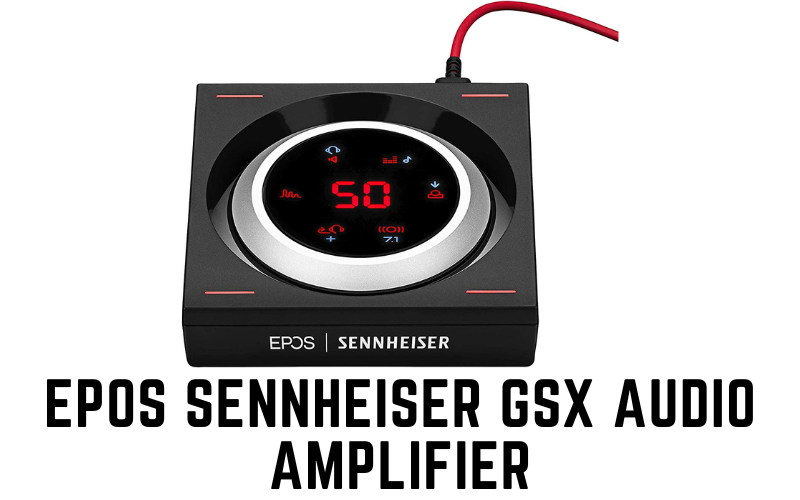 | Specification | Tested Values |
| --- | --- |
| Manufacturer | EPOS Gaming |
| Connectivity | Wireless |
| Audio Quality | 7.1 Surround Sound |
| Format Support | Hi-res |
| Headphone Amp | Yes |
The Sennheiser GSX 1000 is another best DAC audio, especially for gamers and those who want to benefit from its great features. There are features like virtual surround sound, screen interference, mic input, and many more. These qualities make it more comprehensive and beneficial for those who game often.
Sophisticated Build
The build quality of GSX's best audio DAC for PC is excellent. However, the material is not good enough, just like the other products of Sennheiser, but it is not bad also and gives you an impression of a good product that cannot break easily. It has rubber, plastic, and glass in its body. But the whole body is made of plastic and does not look cheap.
Virtual Surround Sound
The GSX is a source of virtual surround sound, and if you are fond of various adjustments for your mic and looking for more clarity settings, it will be a good pick. The GSX 1000 is the best sound processing DAC regarding sound clarity than the others. That's why it will be a good immersion for you in your gaming experience.
Basic Headphone Companion
The G.S.X. is not a good companion for power-hungry premium headphones, and its design is not for this purpose. So, it is good to connect a gaming headset or use other regular headphones for better results. If you follow it, then you will get a virtual surround sound. However, I think this may not be best for you if you want to use premium headphones and do not need virtual surround sound.
Sufficient Connectivity Options
For most people, the connectivity options on GSX are primarily sufficient for the market that the GSX applies. But it will not design for those wanting to connect tons of outputs for their speaker setup. However, it will be best for gamers as it has everything, they need for the best gaming experience.
Benefits
It has an impressive microphone monitoring feature
The 7.1 surround sound engine is fantastic
The touch controls are visually attractive and intuitive
Audio performance and sound quality are exceptional
Drawbacks
The microphone input compression is high
The equalizer is not user configurable
6) Audioengine D1 Best Desktop DACs
| Specification | Featured Values |
| --- | --- |
| Manufacturer | Audioengine |
| Connectivity | USB |
| Audio Quality | 24-bit |
| Format Support | Hi-res |
| Headphone Amp | Yes |
When sorting the best desktop DACs, Audioengine D1 is one of the first options that click to my mind. It can perform double duty as a DAC and as a headphone amplifier. It is a package of features that will be suitable and perfect DAC for your requirements.
Exquisite Build Quality
The Audioengine D1 is stellar for its price and made from a reliable material. All the connections and parts are solid enough that if you drop them accidentally, there is no need to worry about any damage. A knob for the adjustment of volume is also very sturdy. However, a lack of numbering or lines on the volume knob may prove very helpful in knowing how loud it will be.
Modern Design
The design of the Audioengine D1 is relatively very modern than the other DAC and very good in the quality of sound as compared to the others. It is very compact, and its pocket-size design makes it superior and unique. It has a dark grey finish without any fancy look, but the aesthetics will give you a beautiful quality, just like the other brands.
Two Stage USB Power Supply
The Audioengine D1 contains a two-stage power supply that will provide sound without distortion and stabilize the power supply. This ability also makes the floor noise very low, making you feel calm. This receiving chip helps to sync the transmission, which will reduce jitter and support controlling the poor sound quality in USB transmission.
Delicate and Smooth Sound
The smooth sound satisfies its users, who will feel calm on its performance with the modern feel of Audioengine D1. It will overcome the intense hearing and provide a good amount of bass volume with a considerable ability for sound diving. So, you can say that the overall impact of sound is very delicate and smooth so that you can enjoy every moment without distortion.
Benefits
The sound details are superior
Build quality is excellent with a compact size
It has the perfect ability to resample higher bitrates
The RCA output makes it capable of connecting devices other than headphones
Drawbacks
No optical cable comes with the purchase
Only capable of 3.5mm headphone connectivity
7) S.M.S.L SU-9 MQA Best DAC HiFi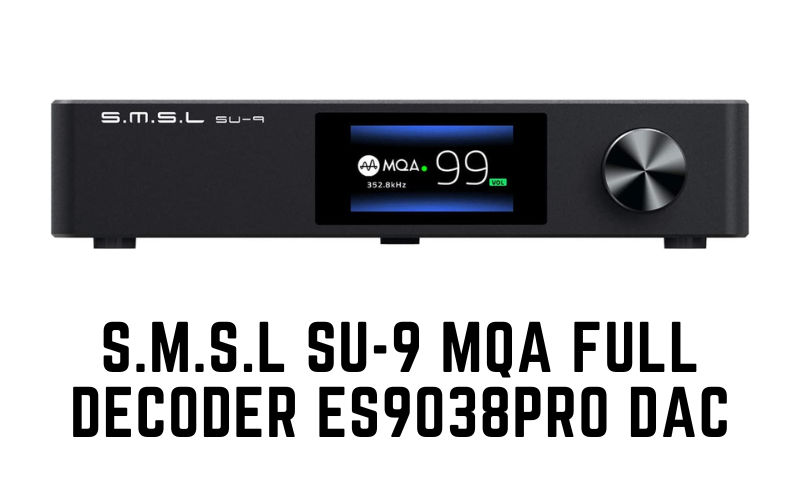 | Specification | Values |
| --- | --- |
| Manufacturer | SMSL. |
| Connectivity | Coaxial, USB |
| Audio Quality | 32bit/768kHz |
| Format Support | Hi-res |
| Headphone Amp | Yes |
I think there is no need for any questions about the best DAC HiFi when you have a SU-9. If your budget allows you to get the best DAC audio, then there is no need to prefer another DAC to SMSL SU-9 MQA. It offers many features for an elevated listening experience, whether music or games.
Robust and Clean Design
The SU-9 is one of the latest arrivals from SMSL with an improved form factor. It has a single construction design, and its back, front, and side consist of aluminum, and the top and bottom plates are separate and screwed on. Overall, the design gives you a robust and clean outlook. There is a TFT LCD color screen on its front panel, and it also contains a multi-functional knob.
Balanced Sound
SU-9 provides linear sound, is transparent, and is also virtually uncolored. Moreover, it is also not analytical because it overshadows the music. You can easily understand the vocals and instruments due to sound clarity. It means that the SU-9 is smooth enough to balance all details accurately.
Depth and Soundstage
The sound stage is not grand enough and not upfront. You will not feel claustrophobia when you hear the sound on it, but you may still feel a hair less wide open, just like a pricier unit would sound. However, this effect will not feel with headphones, and you may not worry about it as the sound will not cross the limits of your headphones.
Satisfactory Connectivity Options
The connectivity options offered by SU-9 are great. You will see a fully kitted 3-pin IEC power socket, RCA, coaxial, XLR, Bluetooth, optical, and USB. Furthermore, the analog outputs are activated, and you can toggle them in the menu between fixed line level or volume control by using your pre-amp.
Benefits
It supports every Bluetooth format, including UAT
Built-in MQA rendering and decoding
It supports all hi-res music formats
The sound is smooth and transparent
Drawbacks
Fixed output mode has a glitch that displays 99 every time
The menu seems slightly complicated for new users
8) RME ADI2DACFS Best Audiophile DAC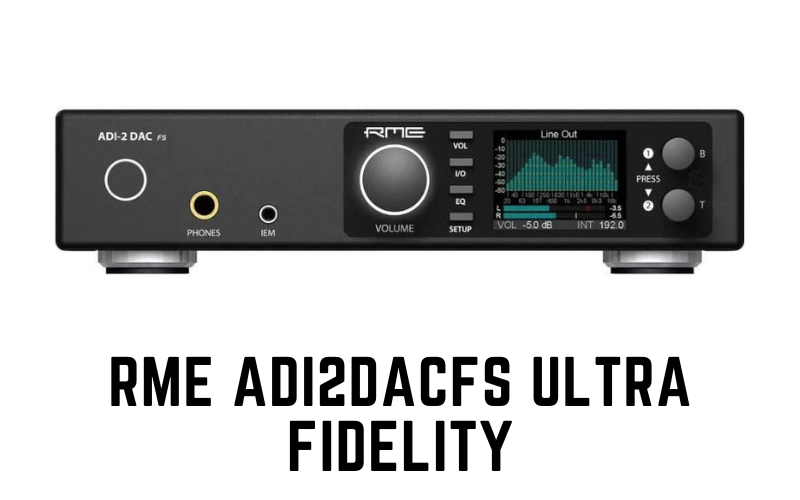 | Specification | Tested Values |
| --- | --- |
| Manufacturer | RME. |
| Connectivity | Wired |
| Audio Quality | 768 kHz |
| Format Support | Hi-res |
| Headphone Amp | Yes |
The ADI-2 is the best audiophile DAC 2022 with a compact desktop form factor and features, making it an excellent option for anyone looking for a premium DAC. The AKM4493 chip inside is standard but included RME offers additional features that make it shine among the DACs I have tested. It has RME's signature thoughtful and exhaustive feature set for promising performance.
Under the Hood
The ADI-2 DAC is a half-rack unit physically smaller than many audiophile models. It has a solid metal build and comes with an included remote control. The remote is handy, but its plastic case does not feel as robust. But it can withstand daily usage, which I liked because not every DAC offers such a sophisticated build.
Straightforward Functionality
The ADI-2 DAC is much simpler to use than pro audio interfaces which can be very overwhelming, even for experienced engineers. With this device, you can plug it in and start playing music using a headphone jack, RCA, or XLR without requiring any Total MIX routing.
Ins and Outs
The ADI-2 DAC is a top-of-the-line digital to analog converter that supports coaxial, optical, and USB 2.0 inputs. It provides exceptionally high-quality audio conversion, and its outputs include both balanced and unbalanced analog, a headphone output with an Extreme Power option. The ADI-2 is the best DAC under 500, with a USB recording function so you can record the input signal directly to your computer.
Improved Audio
With ADI-2 best DAC audio, you have complete control over the sound you hear through headphones. It comes with the standard Bass and Treble controls, but you can adjust the gain, frequency, and Q. There's also a Loudness feature that boosts the bass and high treble to compensate for the perceived acoustic changes at low volume levels.
Benefits
It offers incredible clarity, depth, and realism to the sound
The value and features are staggering for the price
A clear and easy-to-use built-in screen is handy
It offers control options and configuration for easy operating
Drawbacks
It takes some time to understand the menu navigation
It seems complex for people not familiar with audio terminologies
Lacks companion app and Bluetooth
9) iFi xDSD Bluetooth DAC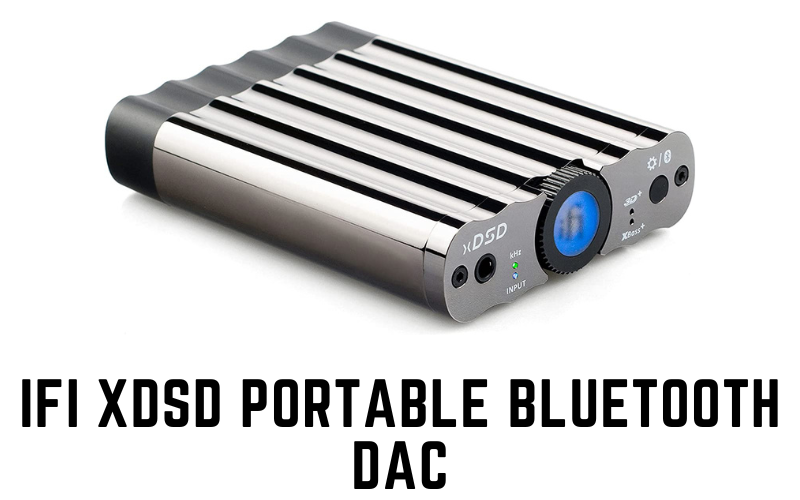 | Specification | Tested Values |
| --- | --- |
| Manufacturer | iFi |
| Connectivity | Wired, Wireless |
| Audio Quality | 768kHz |
| Format Support | Hi-res |
| Headphone Amp | Yes |
If you own high-quality headphones, you'll need an amplifier to provide the power they need to reach their full potential. The xDSD is a highly rated and award-winning digital-to-analog converter and amplifier that's ultra-portable and lightweight. It provides CD-quality Bluetooth DAC streaming from popular music services like iTunes.
Aesthetics and Build
At first glance, the black plastic cap and magnesium alloy shell look and feels like a luxurious, high-quality item. The sturdy feeling of the vivid mirror finish gives the product an air of sophistication and importance. However, I despise it as the surface is a fingerprint magnet and quickly catches the marks of anything that touches it.
Seamless Wireless Connectivity
Bluetooth support is essential for this device because it allows for a portable environment which is incredibly convenient. You won't have to worry about stacking devices or fiddling with cables and rubber bands. In my experience, it's always been a hassle trying to switch back and forth between wired and wireless, but with this Bluetooth support, it's never been easier!
Sound Quality
Line out mode provides a tremendous 2-channel stereo connection, making the xDSD a perfect option for desktop or home stereo use. While you could opt to connect your computer or playback device via a USB cable, I believe that the wireless convenience of Bluetooth significantly outweighs any negative impact on sound quality.
Sound Enhancements
I had the chance to test out the XBass and 3D+ features on the xDSD, and I was very impressed with how well they worked. These features result from careful thought and planning and sound more like analog effects than digital ones. XBass is a light bass boost that doesn't overdo it, while 3D+ widens the soundstage and gives you the feeling of being at a live concert.
Benefits
Sturdy build and compact footprint
It provides clear and high-quality sound
It supports headphone 3.5mm and line output mode
A plethora of connectivity options
It supports high-resolution files without any issues
Drawbacks
The alloy case is a fingerprint magnet
It does not include any USB or OTG cables
The switching mechanism between wireless and wired is not seamless
10) Chord Electronics Mojo 2 Best Headphone DAC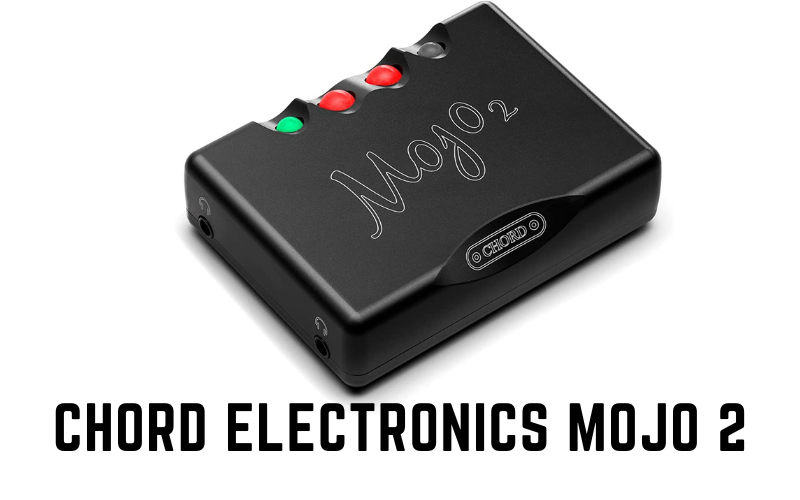 | Specification | Featured Values |
| --- | --- |
| Manufacturer | Chord Electronics |
| Connectivity | Aux, Coaxal, Optical |
| Audio Quality | 768kHz/32-bit |
| Format Support | Hi-res |
| Headphone Amp | Yes |
If you're looking for the best DAC audio for everyday use, Mojo2 is the ideal solution. Chord Electronics has improved on every single aspect that was an issue with its predecessor, making it the perfect choice for those looking for excellent sound quality. Its tone controls working on a hardware level do marvels with several headphones and balance many issues I had with other DACs.
Highly Portable
Mojo 2 is the best headphone DAC that is small enough to fit in the palm of your hand and comes with silicone feet that won't leave a mark or trail of glue on your table. You can easily carry it to and from the office without additional weight. I'm pleased that the silicone feet are sitting in small cutouts on the bottom of the device. It means that it won't move around while I'm rearranging it on the table.
Plethora of Connections
This tiny yet powerful unit is fully equipped with inputs and outputs to support various devices. A USB Type-C input and Micro-USB work well with computers and smart devices. Its coaxial input is still in place, and you can use it with their Hugo MS caller for even better performance. An optical input rounds out the unit's compatibility with TVs and gaming consoles.
Long Lasting Battery Life
Mojo2 sports an 8-hour battery life, although I found that it was more accurate to say that it lasted for around 7 hours. It will, of course, depend on the type of headphones you're using – if you're an IEM guy, then you might be able to get 8 hours of use. A small LED next to the charging port will let you know the battery status.
Sound Impressions
After engaging my usual playlist, I was impressed by the Mojo2's ability to keep up with the music's fast tempo. The Chord house sound is clear and powerful, and the battery protection mode ensures that there are no noises whatsoever, no matter where I place the speaker in the house.
Benefits
It is highly portable due to its tiny footprint
There are several input and outputs options
The sound quality is detailed and transparent
The transients are impressive and impactful
Drawbacks
The soundstage is moderately sized
Ultra-sensitive I.E.M.s produces some hiss
Moderate battery life for a DAC
Best Audio DAC 2022 Buying Guide
When choosing the best DAC audio, it can be tough to know where to start. Even experienced audiophiles can find themselves doing hours of research to compare various DACs and their features. Consider these important points before buying the DACs for your audio experience.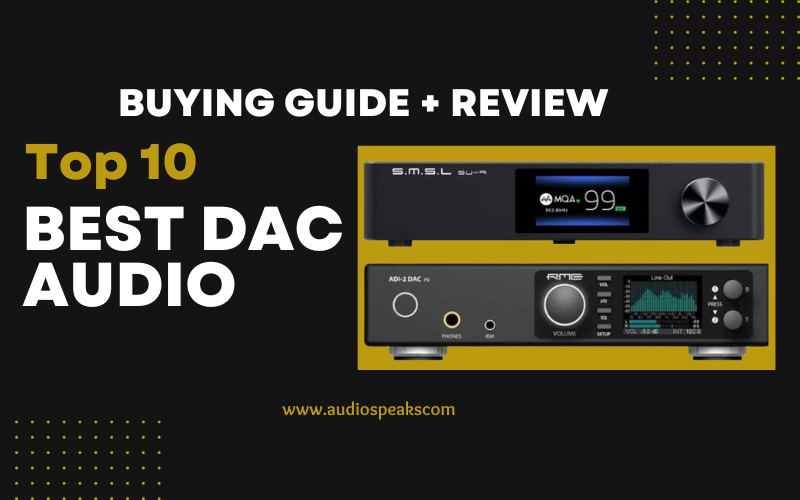 Desktop or Portable
Before shopping for a new DAC, you must consider where you'll be using it most. Desktop DACs are more significant and require an external power source, while portable DACs are smaller and more travel friendly. A desktop DAC may be better if you're mainly listening at home. But if you're often on the go, a portable DAC may be more convenient.
A portable DAC like the Chord Mojo 2 can be a great choice with headphones. However, standalone options like the AudioEngine D1 are usually better if you have other audio equipment. DACs like the Chord Mojo 2 can be more challenging to integrate with larger audio systems and may lack connections for dedicated speakers.
Chip Type
The conversion from digital to analog happens due to a tiny chip inside the DAC. The tole of chips is important in conversion and regulates the output quality for the headphones and desktops. Before hitting that Buy Now button, the first thing to know is what DAC chipset your device uses.
The chips will determine the quality of the DAC, so you want to ensure you get one that uses a good chip. Many DACs will label which chip they use, but if they don't, you can usually find out by looking at the feature and specification lists. Once you know which chip a DAC uses, it's a good idea to research it by typing it into Google and reading what experts have to say about it and what other real listeners have to say.
Connectivity Options
Another critical factor when buying a DAC is its connectivity. It means the input/output capabilities and wireless connection options. Does it have the correct input for how you want to send the audio signal, like optical, coaxial, and USB? And what options are for sending the output signals once it processes them?
Output options are very important when shopping for a DAC because the right one will save you from having to pay for features you don't need. Depending on the model, the number of outputs can vary dramatically. Buying the DAC with maximum output options keeps you at an advantage as you can use it with almost every piece of hardware.
Headphone Amplifier
Even the best DAC won't do you good if it lacks the amp to power the connected hardware. Most DAC comes built-in with the amplifier. The FiiO K3 is a top-of-the-line example of DAC that eliminates the need for an additional amp while saving the bucks. It offers decent connectivity and the right combination of an amp to make your music sound clearer and more balanced.
Choosing a DAC can be tricky because there are many options and specifications to look through. It's important to remember that DACs don't usually have a significant effect on sound quality, so you shouldn't feel like you need to spend a lot of money on one if you are not going to listen at an audiophile level.

Hi-fi is a hobby you can get into as time goes on, and, like other hobbies, there's always more to learn. In my recommendation, Sound BlasterX G6 is the best DAC audio for its features and portability. It offers many options for connection and has a clear and balanced sound compared to many others on the list. It follows the good aspects of its predecessor while carrying more features for audiophiles.

Best Product Recommendation
Will a DAC improve sound quality?
One of the benefits of using a high-quality DAC is that it creates a broader, deeper soundscape for your music. It is because it helps to reduce the amount of background noise, making it easier for you to hear all the different elements of the music. It can be a great way to improve your overall listening experience and make your music sound even better than before.
Is an audio DAC worth it?
Most people don't need an external DAC because the built-in DAC offers enough to enjoy outstanding audio. Investing the extra money, you'd otherwise spend on a DAC into getting better headphones is generally a better idea unless your audio is suffering from jittering or hissing.
What is an audiophile DAC?
If you're a fan of high-quality sound, you'll want to check out audiophile DACs. These digital-to-analog converters support resolutions of 192 kHz and beyond and often include features like error correction and multiple inputs. Some even include selectable up-sampling for even better sound quality.