A power source is an integral part of a pedalboard, and it's essential to use a clean, reliable one. And the most efficient way to do this is to use the best pedal power supply, available in different sizes with differing qualities. But it's up to you and your needs to figure out what you are looking for as they are versatile in their options and performance.
Going shopping for more guitar pedals can be tricky because you have to consider how many dozens of pedals you already own and their specific needs. What kind of demands will they place on your power supply? Do certain pedals require higher output voltages than others? Understanding the pedal power supply and its functionality is necessary to get the desired information.
Top 10 Best Pedal Power Supply
Table of Content:
Over a few years in the music industry, I have tested dozens of pedal power supplies. Based on my experience with these supplies, I have sorted the 10 best pedal power supplies for 2023. These power supplies perfectly meet your needs, no matter what guitar rig you have.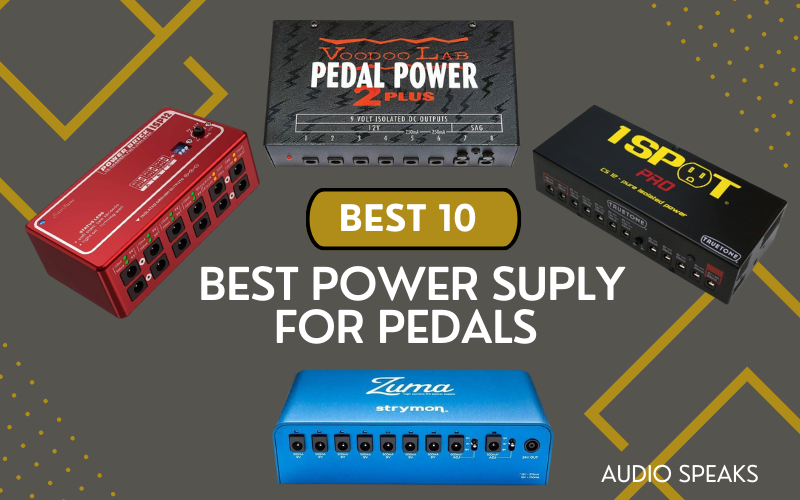 I will try to single out the best pedal power supply at the end of the article with a pedalboard power supply comparison followed by the buying guide.
1) Donner DP-1 Cheapest Isolated Power Supply for Pedals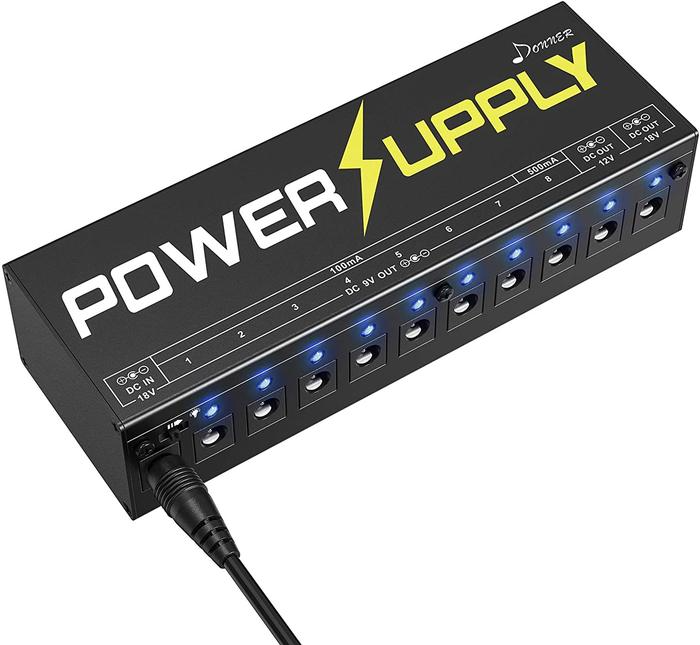 | Specifications | Values |
| --- | --- |
| Manufacturer | Donner |
| Model | DP1 |
| Type | Isolated Power Supply |
| Output Voltage | 9V, 12V, 18V |
| Number of Outputs | 8 |
| Switchable Voltage | N/A |
| Dimensions | 6.5 x 6.2 x 2.4 inches |
When I first came across DP-1 Cheapest Isolated Power Supply for Pedals, I was soon fascinated by its aesthetics. It has 8 individually isolated outputs that exceed the output numbers of similarly priced units. It has advanced protection features such as short circuit protection and all LED indicators for each output that separates it from other competitors.
Build and Aesthetics
The LED lights on the Donner power supply ensure that you always have information about the channel's status, whether they are on or off. The lightweight construction and portable design ensure that you can take it anywhere you want for live performance.
Independent Power Interfaces
Another selling factor was that the individual power supplies in Donner DP-1 were wholly separate and used a unique power interface (18b). With this particular voltage regulator circuit, which I believe provides us musicians with a sense of security, we can be confident that the Donner DP-1 will keep running whenever we need it.
No Isolation
There are seven 9V 100mA outputs, plus one each 9V 500mA, 12V 100mA, and 18V 100mA, for 10 outputs and 13.8W. All the 9V outputs connect to the same voltage regulator, so they're not isolated from each other. The higher current 9V output just has a larger filter capacitor.
Practical Indicator Lights
Donner DP-1 comes equipped with blue LEDs that ensure that you are aware of the connectivity. A switch lets you turn on and off the lights to operate the pedal power supply at your ease.
Affordable and Budget Friendly
The DP-1 is the best budget pedal power supply that provides eight isolated outputs and is suitable for powering up to eight high current devices. It's also one of the few units able to power up to 18V-rated devices and comes with a 5-year warranty.
Benefits:
A durable and compact metal case offers good protection.
Inexpensive power supply with various pedal connectivity.
It has ample outputs to cater to your needs.
The lightweight build makes it suitable for carrying around.
Drawbacks:
Outputs are not entirely isolated for the 9-volt ports.
Internal circuits are not comparable to the fully isolated power supplies.
2) Voodoo Lab Pedal Power 2 Isolated Power Supply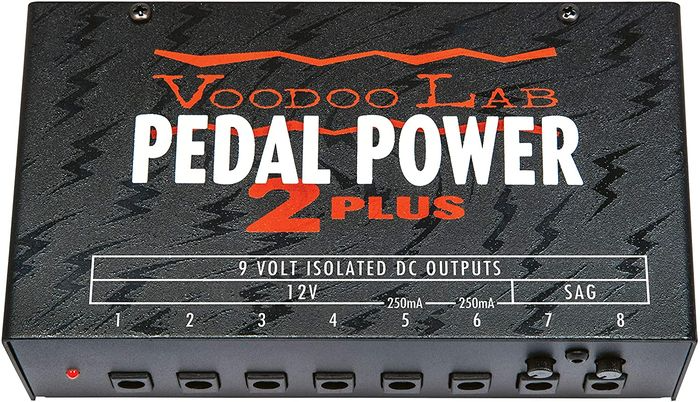 | Specifications | Featured Values |
| --- | --- |
| Manufacturer | Voodoo Lab |
| Model | Pedal Power 2 Plus |
| Type | Isolated Power Supply |
| Output Voltage | 9V, 12V, 18V |
| Number of Outputs | 8 |
| Switchable Voltage | Yes |
| Dimensions | 11 x 9 x 2 inches |
Voodoo Lab makes such fantastic devices that they can help you get the best of your pedal power. The Pedal Power 2 PLUS is their most popular model because of its versatility and quality features.
I recommended it to the fellow guitarists who complained about the noise and hum they received when using other power supplies. They claimed to get a noise-free experience for the guitar performance.
Isolated Regulated Outputs
I find the location of DIP switches attractive as a block of these switches sits at the bottom of the unit. These switches let you control the isolated outputs. When the button is in the normal position, it does regulate 9V. The presence of 250mA output as 5 and 6 number output is perfect for high current pedals while rest outputs are 100mA.
Highly Practical Pedal
The Voodoo Lab Pedal Power 2 Plus is a highly efficient power supply that includes isolated outputs. Its practical size and design appealed to me, and the fact that it contains eight 9V outputs helped me make my decision. It can power any compatible pedal, and each of its outlets is isolated, ensuring the highest quality sound for your pedal effects.
Short Circuit Prevention
Voodoo Lab has incorporated a series of clever protections into the design, and I was glad to learn that all outputs have protection from the potential issue of short-circuiting.
In addition, each output is regulated and highly filtered so that electronic hum doesn't make its way into your equipment. It helps ensure your pedal will deliver the cleanest sound possible when plugged in at home or on stage.
Huge Versatility
The Voodoo Lab Pedal Power 2 Plus provides adequate power for nearly any pedal setup. It even has more than enough room to support up to 10 pedals. This unit should be sufficient unless you have an extensive collection of effects pedals to connect.
Benefits:
Every output carries a dual-mode operation.
There is no ultra-low noise.
The voltage is variable for diverse compatibility.
It has clean power.
Drawbacks:
Cable length seems short for live performances.
Relatively expensive.
3) Truetone 1 Spot Pro CS12 Pedal Power Supply Isolated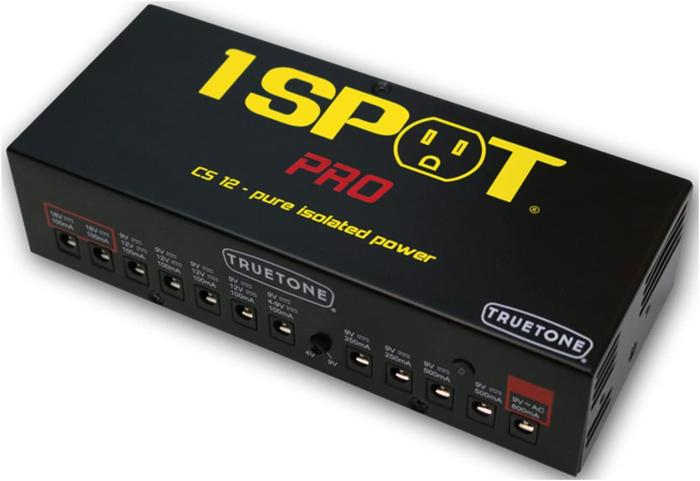 | Specifications | Values |
| --- | --- |
| Manufacturer | Truetone |
| Model | 1 Spot Pro CS12 |
| Type | Isolated Power Supply |
| Output Voltage | 9V, 12V, 18V |
| Number of Outputs | 12 |
| Switchable Voltage | Yes |
| Dimensions | 10 x 10 x 2 inches |
I mostly use Truetone 1 Spot Pro CS12 when connecting multiple pedals during the live performance, as it offers a lot of variety in terms of voltage and outputs. It can power anything from 9-volt battery pedals to 18 volts with unique connections that I have not seen in other solutions.
Build Quality
You won't find any inferior components in Truetone 1 Spot Pro CS12 Pedal Power Supply Isolated. It has been meticulously designed for your pedals, ensuring that every aspect is in perfect working order and easy to use. It weighs just enough to not get in your way-without sacrificing quality and utility.
I was delighted to find that, like all of the power supplies in the 1 Spot range, the CS12 is sturdy and well-constructed. Its metal casing ensures longevity while protecting the inner components, which means I can use it anytime without worrying about electrical damage.
Extensive Number of Outputs
Bands with many musicians may need several outputs for their effects pedals. The CS12 best pedal power supply offers 12 outputs to cater to such needs. Even as it offers this feature, the unit manages its energy efficiently and guards against noise pollution.
Switchable Outputs
Truetone CS12 is an excellent choice for switchable outputs as it provides 9, 12, and 18V outputs. Five switchable outputs cater to 9V and 12V needs. Besides that, the 18V 100mA output is also there to let you connect the compatible pedalboards.
Benefits:
High-quality isolated outputs serve everyone's needs.
It offers excellent flexibility, with lots of voltage options.
There is plenty of current handling and outputs for pedals.
Exceptionally reliable and safe power supply
Drawbacks:
It lacks a power switch, which is somewhat disappointing.
It is bigger and heavier to carry while on tour.
4) Truetone CS6 1 SPOT PRO Power Supply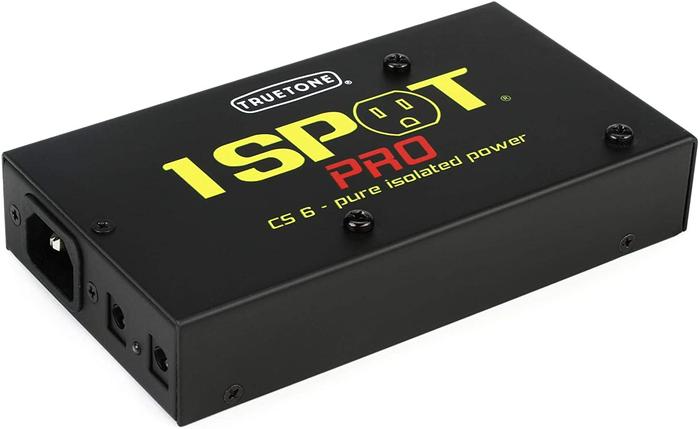 | Specifications | Values |
| --- | --- |
| Manufacturer | Truetone |
| Model | CS6 1 Spot Pro |
| Type | Pure Isolated Power Supply |
| Output Voltage | 9V, 12V, 18V |
| Number of Outputs | 6 |
| Switchable Voltage | N/A |
| Dimensions | 10.39 x 8.15 x 2.28 inches |
I have no idea why Truetone continues to be so overlooked? I've always thought that they sell some of the best power supplies available today. I was thrilled to see that the CS6 is no exception, as it has come a long way since previous models. It still uses an energy-friendly approach like its predecessors while maintaining many unique features.
Pure Isolated Outputs
The pedal offers four performance modes, providing up to 400 milliamperes of power and completely isolating them. Each one guarantees power without the ground loop risks typically experienced when using other pedals.
I found this feature refreshing as it allows guitarists to enjoy a signal that is not weakened and can bounce back quickly while also keeping their guitar tone intact.
Packed Power
Another thing I like about this pedal because it comes with two DC power outputs. These outputs can give 12v of power, making them more than suitable for powering a digital pedal used by a guitarist with high wattage output requirements.
Boutique Pedal Support
The 1 Spot Pro CS6 by Truetone is an all-inclusive power supply for music gear, and the technology is pretty advanced from what we've come to expect in this industry. It can interact exceptionally well with boutique pedal brands Strymon, Eventide, Line 6 Power Supplies, etc.
Quality Output for Multi-Effect Pedals
The Truetone CS6 may not boast many isolated outputs compared to its rivals, but it makes up for any shortfall in quantity through sheer quality. The internal circuitry has a specific design to maximize the quality of your digital effects pedals to give you a real taste of just how good they can sound.
Benefits:
There is a diverse rating voltage, including 9V, 12V, and 18V.
It is durable and sturdy for long-term usage.
An extended warranty period offers peace of mind.
It has the quality and an unbeatable price for a pro supply.
Drawbacks:
Limited outputs put it at a disadvantage.
Regulators can fail to work due to a lack of premium quality material.
5) MXR M238 Iso-Brick Power Supply for Pedals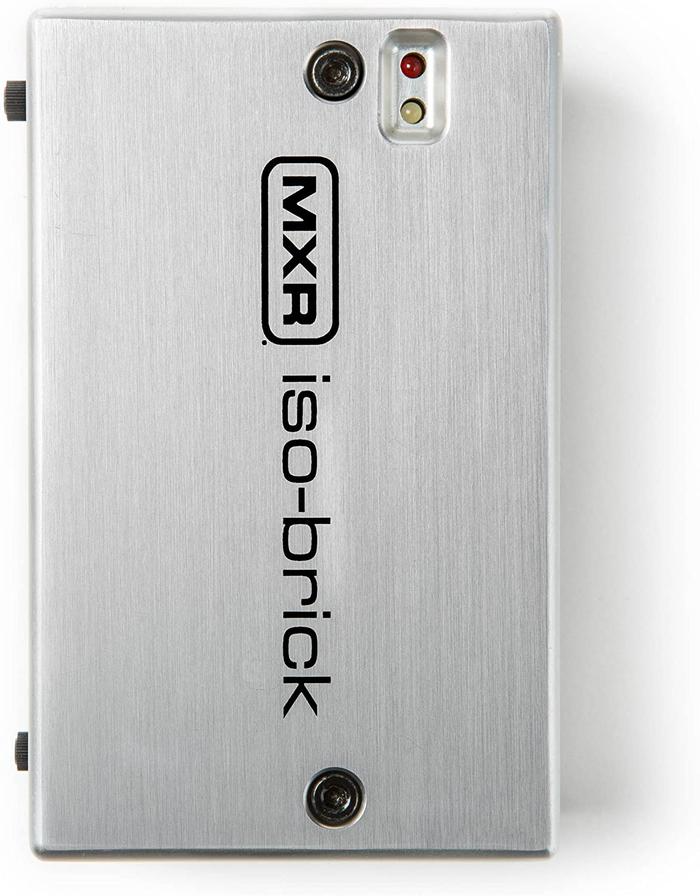 | Specifications | Featured Values |
| --- | --- |
| Manufacturer | JIM DUNLOP |
| Model | Iso-Brick |
| Type | Isolated Power Supply |
| Output Voltage | 9V, 18V |
| Number of Outputs | 10 |
| Switchable Voltage | Yes |
| Dimensions | 5.3 x 6.9 x 3.7 inches |
I don't often change the power supply for pedals based on recommendations. However, choosing the MXR M238 Iso-Brick Power Supply for Pedals was the right choice after my friend Brian suggested it. It is lightweight yet powerful for the guitar pedals. Due to isolated outputs, noise reduction is exemplary in this power supply.
Isolated Output Units
The MXR M238 has a diverse range of outputs, including six 9V outputs, two 18V outputs, and two variable outputs that can work between 5 to 15 volts. The 9V outputs can operate at 100mA, 300mA, and 450mA, while 18V and variable outputs can operate at 250mA.
Sleek Design and Appearance
MXR pedal power supply won't take up any room on your pedalboard with a sleek, compact design and footswitch jack. And yet I was pleasantly surprised to see just how many pedals you can power with this one unit.
Each output comes fitted with a built-in LED that indicates shorted wiring within the power supply. It is excellent for quick troubleshooting and makes it easier to identify short circuits.
Space Saving
The MXR is the best pedal power supply for musicians looking to save on space. Smaller pedalboards can often be hard to organize, so this power supply helps you with the variety and balance of voltages needed to power your pedals when performing or practicing.
Damage Proof Circuit
The short-circuit damage prevention feature is a beautifully minimalist design. The LED indication system lets you see which channels are on, off, or short-circuited. Each output is isolated, and the unit includes technology to ensure it doesn't get damaged by power surges.
Performance and Value
I love the new DC Brick by MXR, primarily due to its improved functionality and use over previous models like the DCB10. Since each output has a separate indicator light, it works very well in live performances where you may have technical problems because you can exactly tell which one needs your attention.
Benefits:
It has ten outputs for different effect pedals.
It has excellent noise reduction due to isolated outputs.
Various outputs for the voltages.
Space-saving design allows easy adjustment.
Drawbacks:
It lacks reverse polarity cables.
There is no on and off switch for the power supply.
6) Walrus Audio Phoenix 15 9V Pedal Power Supply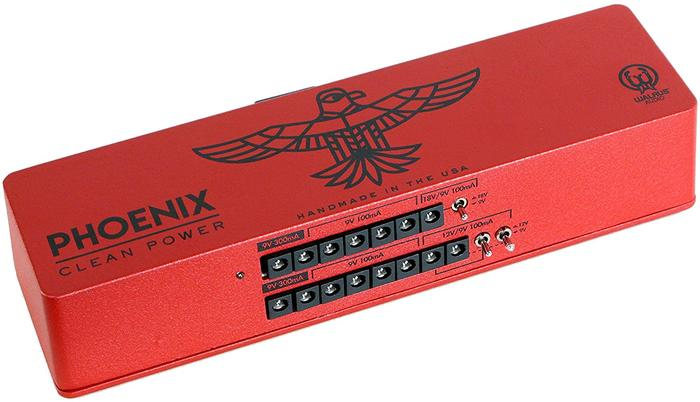 | Specifications | Tested Values |
| --- | --- |
| Manufacturer | Walrus Audio |
| Model | Phoenix 15 |
| Type | Isolated Power Supply |
| Output Voltage | 9V, 12V, 18V |
| Number of Outputs | 15 |
| Switchable Voltage | Yes |
| Dimensions | 10.79 x 5.12 x 3.62 inches |
Walrus Audio's Phoenix Pedal Power supplies are sturdy and reliable for powering effects boxes. Featuring two custom-wound toroidal transformers and 15 isolated outputs, they provide clean and stable power to any pedalboard setup. It's slightly on the expensive side, but I like its overall value for money due to the features it offers.
Build Quality
The build quality of the Phoenix 15 9V Pedal Power Supply didn't disappoint me, as it feels excellently crafted with a nicely polished finishing. I took it for the tour, and it felt slightly more significant than most pedal power supplies. However, I still managed to use it without any issues. It maintains the universal pedal board supply status as it can fit under most pedalboards.
Easy Toggling
There are 15 outputs available that you can easily toggle while performing. It has eight 9V 100mA outputs accompanying switchable 9V and 12V outputs. One output lets you switch between 9V and 18V without unplugging anything. I liked the toggle switch that let you quickly change the output without any accidental press.
Versatile Options
I liked the versatility of the Walrus Audio Phoenix 15 best pedal power supply, as the output design is extraordinary. They can power a wide variety of pedals – from the single standard 9VDC pedal that most musicians use to a more complicated setup, including several different pedals with different power requirements like digital delay pedals.
Practicality and Performance
The Phoenix's outputs come tightly packed together, making them difficult to maneuver when wires get messy. Additionally, the closeness of the power supply to the ground created issues with it not remaining fully stable while sitting on a surface, as I had to adjust it a few times after plugging cables in and out. Besides that, it is at par with other power supplies that I have tested so far.
Benefits:
There are 15 isolated versatile outputs for connectivity.
Switchable voltage enables easy output change.
It has toroidal transformers.
Power supply is completely isolated, which eliminates any inferences.
The voltage switch's position is ideal.
Drawbacks:
Distance between the ports seems inconvenient for use.
7) SanJune Power Brick ISP12 Effect Pedal Power Supply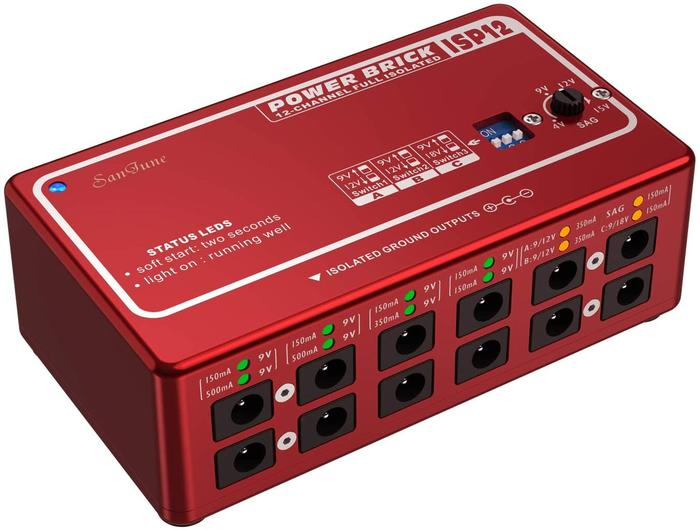 | Specifications | Featured Values |
| --- | --- |
| Manufacturer | SanJune |
| Model | Power Brick ISP12 |
| Type | Isolated Power Supply |
| Output Voltage | 9V, 12V, 18V |
| Number of Outputs | 12 |
| Switchable Voltage | Yes |
| Dimensions | 8.9 x 5 x 2.6 inches |
The SanJune Effect Pedal Power Supply has been a great asset in helping me manage the power consumption and pedal protocols for my musical journey. It's so thoughtful of the device to take care of the compatibility issues between different devices by making sure there is no signal interference on stage by isolating each output.
Several Voltage Outputs
One factor that made me decide to buy the ISP12 pedalboard was that it offers a generous twelve outputs for connecting my amplifiers and other effects pedals. It includes 9V, 12V, and 15V outputs for more powerful digital effects. Each output has a green LED indicator to see whether or not everything is connected correctly quickly.
Perfect Pedal Support
The SanJune ISP12 takes care of powering all your pedals, so you don't have to. With a generous 12 outputs, this ideal option provides plenty of connections for an extensive pedal collection. The SanJune ISP12 ensures there won't be any signal degradation issues with many effects pedals turned on at once.
Switchable Voltage
The SanJune ISP12 power supply has many high-quality features that improve performance and functionality, including a switchable voltage setting. It ensures that the power supply remains compatible with most pedals regardless of their power requirements.
Good Companion for Tours
If you are fond of touring for music concerts or live performances, SanJune ISP12 is perfect. It has a space-saving design that ensures that you always have it around when traveling. Additionally, 12 DC best pedal power supply cables and a power adapter increase its usage possibility around the globe.
Loaded with Features
The top end of San June's ISP12 best pedal power supply shows off its impressive range; you'll have quick switching between modes listed on this row and all the information you need regarding what each indicator means and how complete a given output slot is. It is all beneficial to quickly gauge, which lets you know which mode is active and how much power is available at any given time.
Benefits:
LED indicators help detect the output.
A wide array of output slots makes the power supply versatile.
It is lightweight and easier to carry during the tours.
It has different amperage selectors for multiple usages.
Drawbacks:
It has durability concerns for some users.
Its level of protection is unclear.
8) Strymon Zuma Best Pedalboard Power Supply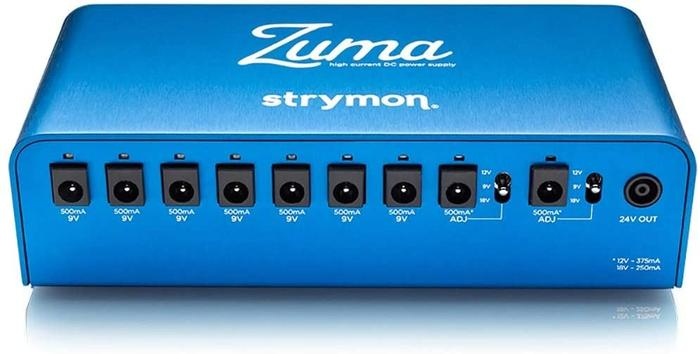 | Specifications | Values |
| --- | --- |
| Manufacturer | Strymon |
| Model | Zuma |
| Type | Partly Isolated Power Supply |
| Output Voltage | 9V, 12V, 18V |
| Number of Outputs | 9 |
| Switchable Voltage | Yes |
| Dimensions | 10 x 6 x 5 inches |
When I was looking for a power supply to accompany me for my music tour in Florida, the classy exterior immediately took me to try out the Zuma guitar effects pedal power supply by Strymon. The specs were incredibly impressive compared to the other products available. For the price, it's hard to argue with a product that is as efficient as this one.
Build Quality
All Strymon products come with a brushed anodized aluminum finish. And when it came to designing Zuma Power Supply, Strymon considered how they would appeal to the customers. So much so that they managed to design the power supplies so that no screws are visible on the top, giving a clean look.
Highly Versatile Power Supply
Nine outputs give musicians a lot of options to play with. The Strymon Zuma Best Pedalboard Power Supply does more than just power the pedal, and it helps to keep it at the ready for gigged performance.
Strymon's flagship power supply is packed with high-tech features comparable and even better than competitor brands with a reputation for putting out guitar effects pedals that are right on-trend.
Switchable Voltage Control
Its built-in voltage control sets the Strymon Zuma apart from other pedalboard power supplies. Unlike most other power supplies, this feature quickly and easily allows one to adjust voltage output via a switch without disconnecting cables when using pedals that require different voltage settings.
Highly Portable
The Strymon power supply is for you if you're a guitarist, bassist, or keyboard player. With nine outlets and modes for different types of performances, this device takes the best quality output possible to whatever pedals you've got.
Plus, with the ability to take your pedalboard wherever you go, no musician will ever have to be without their plethora of effects again, thanks to its sturdy exterior shell.
Powerful Power Supply
Strymon has created a modular power supply system that has the potential for personalizations to match users' individual pedal needs. Additionally, these units are compelling and capable of supplying ample power for all 9V pedals, making them some of the most influential and reliable power strips available today.
Benefits:
The power supply is rugged when it comes to the build quality.
Switchable voltage is an excellent addition to the multiple pedals.
Multiple voltage and current options are available to select.
It has a variety of options for guitarists.
Drawbacks:
Expensive choice than the competition.
Occasional slight hum issues when using different pedals at once.
9) Mooer Macro Power S8 18V Pedal Power Supply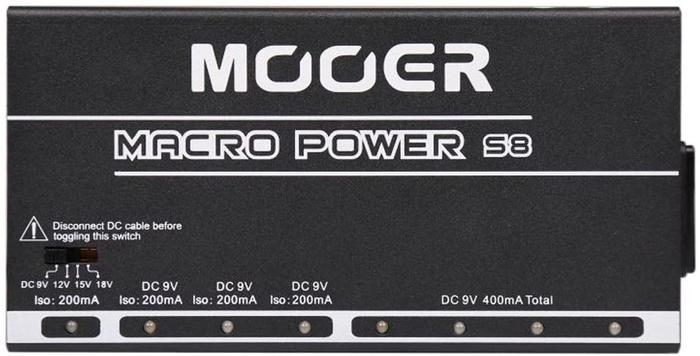 | Specifications | Tested Values |
| --- | --- |
| Manufacturer | Mooer |
| Model | Macro Power S8 |
| Type | Partly Isolated Power Supply |
| Output Voltage | 9V, 12V, 15V, 18V |
| Number of Outputs | 8 |
| Switchable Voltage | Yes |
| Dimensions | 7.6 x 6.61 x 2.6 inches |
When you need a versatile solution that is cost-effective and powerful, the Mooer Macro Power S8's best pedal power supply gives you the tools to do so. Its pedal is powered by 120VAC or 240VAC and protected by a 400mA fuse, allowing musicians from different world regions to use this product without a problem.
Excellent Build Quality
The build quality for these pedals is fantastic. They are relatively lightweight but still solidly built. It feels sturdy, just as well constructed as more expensive voodoo labs models, but is smaller, saving on pedalboard space. It is a real bonus considering that they are affordable.
Range of Power Requirement
I didn't expect to find eight isolated power outputs and a wide range of voltage options in such a conveniently sized power supply, but the Macro Power S8 proved wrong.
Its input voltage switch allowed me to use it for a multitude of devices and its variety of protection mechanisms helped shield my pedals from various electrical issues that were otherwise unpredictable.
Partial Isolation Output
The S8 boasts partial isolation and a supply of 12.6 watts. One isolated output comes accompanied by a switch that allows you to select 9, 12, 15, or 18 volts at 200mA which means the power supply is compatible with most digital and analog effects pedals which is fantastic if you have quite the extensive collection as I do.
Even more, it's well-sized, so not only does it fit on your pedalboard, but it doesn't take up unnecessary space.
Everyday Workhorse
Mooer Macro Power S8 18V Pedal Power Supply is the answer for any guitarist who needs to use more than one pedal at a time but doesn't want to spend a lot of cash. It's versatile and practical and can save you hundreds in the long run because it works with every pedal due to its diverse voltage range.
Benefits:
Switchable outputs are handy for most pedals.
High-quality construction ensures long-term usage.
It is easier to use as a single high-current out due to daisy-chained outs.
Excellent value for money.
Drawbacks:
Daisy chain outputs can cause noise.
It is not entirely isolated.
10) Mission Engineering Power 529i DC Power Brick Pedal Power Supply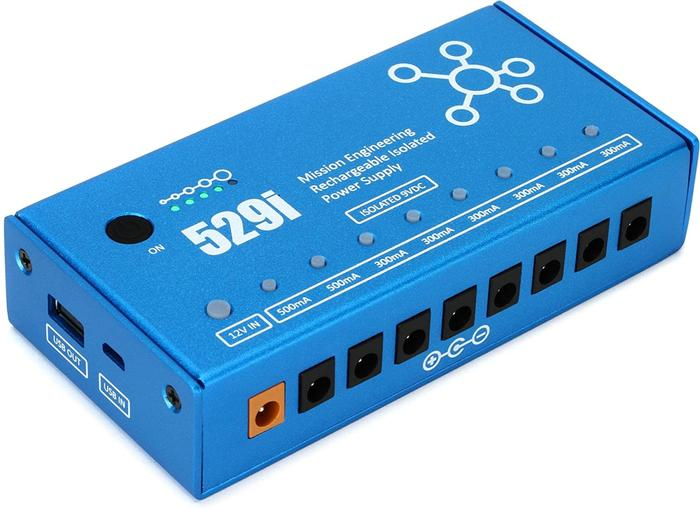 | Specifications | Tested Values |
| --- | --- |
| Manufacturer | Mission Engineering |
| Model | Power 529i |
| Type | Isolated Power Supply |
| Output Voltage | 9V, 18V |
| Number of Outputs | 8 |
| Switchable Voltage | Yes |
| Dimensions | 3 x 3 x 3 inches |
At first glance, I could tell Mission Engineering Power 529i DC Power Brick was unique because it had all the qualities required for a modern power supply. It has eight isolated 9V outputs alongside a USB charging port powered by an internal rechargeable battery, so you don't have to worry about finding a free outlet during live performance.
Modern and Sleek Design
Electric guitar enthusiasts who enjoy the sonic possibilities of modern digital pedals will find the Mission 529i to be a helpful tool. The unit combines a sleek, intuitive design with versatile powering capabilities and sound without any noise or hum.
Dual Isolation
The new 529i is the best rechargeable pedal power supply with a battery. It has 500mA outputs and six 300mA ones, which made me like it right away as this means that if you have a pedalboard that draws 1A, you'd be able to run it for 2 hours, all thanks to this innovative energy efficiency.
USB Connector Support
When I turned on the supply, I discovered a port that offers 5V USB output. It allows you to power any audio equipment while connected. To my delight, this feature is one I sometimes require when you want to connect USB-powered audio equipment with your setup.
Rechargeable Power Supply
A power supply that doesn't need plugging in for two hours? Mission Engineering 529i offers two hours of non-stop performances for the guitarist who prefers outdoor gigs over indoors. It is beneficial when there is no outlet available for the power supply in the outdoor environment.
Benefits:
High current offers reliable performance.
It is rechargeable, which makes it a perfect choice for outdoor performances.
There are eight outputs for connecting the pedals.
It comes included with the cables.
Drawbacks:
Autonomy is almost the same as the other competitors.
Noise issues while plugged into the socket.
Best Pedal Power Supply Purchase Guide
If you want to get the correct power supply for your guitar, the pedal power supply guide will let you make an informed decision. Keep the following features in mind when buying the best pedal power supply according to your needs.
Voltage Requirement
One must consider the power source required by their equipment. Most pedals, for example, will need at least 9V to run, while others might be able to function with either 9V or 18V, depending on the model in question.
Similarly, some pedals allow you to vary the voltage within specific ranges meaning that you'll effectively have enough room to customize your experience and tailor it to your liking. Make sure your power supply has all the proper voltages available so you don't damage the pedal and cause dangerous mistakes on stage.
Isolated Power Supplies
When searching for the best pedal power supply, it is vital that you first determine whether or not you need isolated power. Outputs that are not isolated share a standard ground connection, and as a result, your board can pick up on electrical interference. The board will pick up hum interference from each source with multiple paths to the ground.
An isolated power supply has individual outputs separated from the others by a transformer, voltage regulator, optoisolator, or integrated circuit with an internal LED. They cost more because they contain additional components, but they solve all the mentioned problems. If you want your device to work reliably, choose one of these.
Size & Shape
Power supplies come in different shapes and sizes, and it's important to know that one might not fit your needs exactly. Using a smaller power supply may mean you will lose valuable space on your pedalboard because it won't be under-mounted. However, some power supplies happen to have the ability to fit underneath.
Number of Outputs
If you want to power your pedals for years to come, you must buy a power supply with enough juice. Smaller power supplies are used to power 2-4 pedals, but larger ones can handle up to 12 pedals. Make sure you get one with enough space for your future upgrades.
Whether you like to perform guitar solo at home or a party, the best pedal power supply is to provide the best experience. While testing and evaluating the performance of the power supplies, I have found some significant improvements. My personal favorite for flawless performance is Donner DP-1 Cheapest Isolated Power Supply for Pedals which is best for its aluminum finish and high build quality. It has 9V, 12V, and 18V outputs to help you connect each pedal with different voltage demands. Overall, it is a solid performer with fully isolated outputs that makes the power supply stand out in the competition.

Top Recommended Product
Do Guitar Pedals Come With Power Supplies?
The guitar pedals do not come with the power supplies in most cases. Some manufacturers offer a power supply whenever the guitar pedal uses an excellent voltage rating. However, the guitars pedals with standard voltage exclude the power supply with the purchase.
How do I stop my guitar pedals from humming?
If your guitar makes a humming noise and you want to figure out which pedal is causing the issue, take them off one by one until you stop hearing the hum. If that doesn't solve it, try using some disposable batteries in each of the pedals to see if the problem lies with your power supply. Buying an isolated power supply can eliminate the issue.
Can I run a 12V pedal on 9V?
If you have an adapter with a 12V output and wonder whether you can use it to power a 9V pedal, the answer is almost always no. When using a 12V pedal adapter on one intended to be powered by 9V, there is the risk that the adapter's voltage might not provide enough power for the pedal alone, leading to damage.