Truck driving is a challenging task as it requires attention on the road while continuously attending to the phone calls of the customers. As the laws and regulations require truck drivers not to use their phones while driving, using the best headset for truckers becomes essential. These headsets eliminate the need to access the phone to answer calls physically. A good headset can help the trucker communicate with the customers, family, and colleagues without risking his and others' lives on the road.
To help my fellow truckers choose the best headset, I have tried several options with my trucker friend, John. We traveled across the busiest roads to one of the loneliest tracks to check the audio quality and noise cancellation abilities of various headsets. Over 60 days, we have selected the 5 best headsets for truckers that stand out from the other available options. In this guide, you can find our honest reviews and findings about the products you want to add to your trucking journey for calls and leisure.
5 Best Bluetooth Headset for Truckers
Table of Content
If you have wasted your precious time finding the best noise-canceling Bluetooth headset for the trucker and have no avail after an hour of Googling, I can understand your pain. I know how irritating and time-wasting this process can get, and the frustration at the end is unbearable.
Therefore, I have spent hours researching and testing to compile this list of the best Bluetooth headset for truckers in 2023. You can look at the options and know which headset meets your needs.
1) Poly Voyager Plantronics 5200 Best Bluetooth Earpiece for Truckers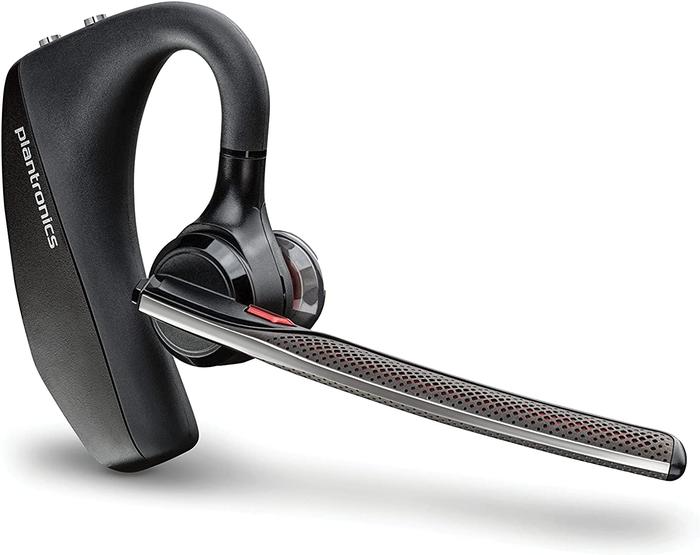 | Specification | Values |
| --- | --- |
| Manufacturer | Poly |
| Model | Voyager 5200 |
| Connectivity | Bluetooth |
| Form Factor | In-Ear |
| Noise Cancellation | Yes |
Poly Voyager is one of the best well-known brands in the market due to its extraordinary features, battery life, and comfort. I found the headset most interesting when testing the products due to its useful features and amazing build quality. With 5200 carrying on the reputation of Voyager, you can consider it one of the best Bluetooth headsets that can be used for intense mission-critical voice calling.
Sturdy Build Quality
The Voyager is very durable and sturdy in terms of build quality. It gives a robust look that is worthy of its price tag. Although the price is reasonable, you will find various expensive options in it. There are three different options for size in Plantronics so that you can easily manage its size according to your need.
Comfortable to Wear
No doubt, a headset that is comfortable to wear is the priority for any user. When wearing Voyager, I felt like I am not wearing a headset due to its comfy feel and eccentric fit. If you want to extend its microphone, you can do it without hassle, as it will not create any hindrance or discomfort. Due to its comfort, it is the best pick for truckers as it is easy to handle.
Universal Bluetooth Connectivity
The Voyager Plantronics best headset for truckers contains options for connectivity for all devices. It can pair via Bluetooth or NFC and has universal connectivity options. User can also dictate their text messages through built-in voice commands. If you lose your headset, you can give a beep through a smartphone app or Plantronics Hub and monitor battery life from your connected device or your phone.
Innovative Carrying Case
The innovative carrying case is also available with this headset, which becomes more convenient for you when you want to bring it with you during travel. You can keep the headset in the case when you are not driving to avoid any damage. It is also good to know that there are connectors inside the case so that you can charge it in its place. You can use an included USB A to micro USB cable to charge the case.
Standard Battery Life
One thing that disappointed me about the Voyager Plantronics is its battery life. The voyager promises to provide you with 7 hours of voice calling, but practically it will work for about 5 hours and 16 minutes. You may need an extra charging case to help you hold its tie period. There is only a need to place the headset in the battery case or sit up and get ready to pluck it out for use.
Voice Quality
The Voyager will not disappoint you if we talk about voice quality. The sound quality is very reliable; you will hear clear and loud sounds without any nasal sounds when speaking naturally. Even the low end of the voice is also very nice. For truck drivers, it will be good to have clear-cut sound so they can communicate with others while focusing on driving.
Voice Cancelling Quality
The option for noise cancelation on 5200 is aggressive, and the pitch of this headset may be a little bit robotic. It can mute the noise of cars and buses from the background without any problem. However, the wind noise may become a bit challenging, as some wind made it during testing. The Voyager 5200 is the best noise-canceling Bluetooth headset for truckers in noisy areas.
Benefits
The build quality is outstanding for the trucker usage
It is highly portable and valuable for hassle-free connectivity
The battery life is impressive for calls and standby
It has built-in voice control to let you automate the things
Drawbacks
The addition of the micro USB is unnecessary
It lacks USB C while still being expensive
It takes some time to get it perfectly adjusted over glasses
2) BlueParrott B450-XT Best Truck Driving Headset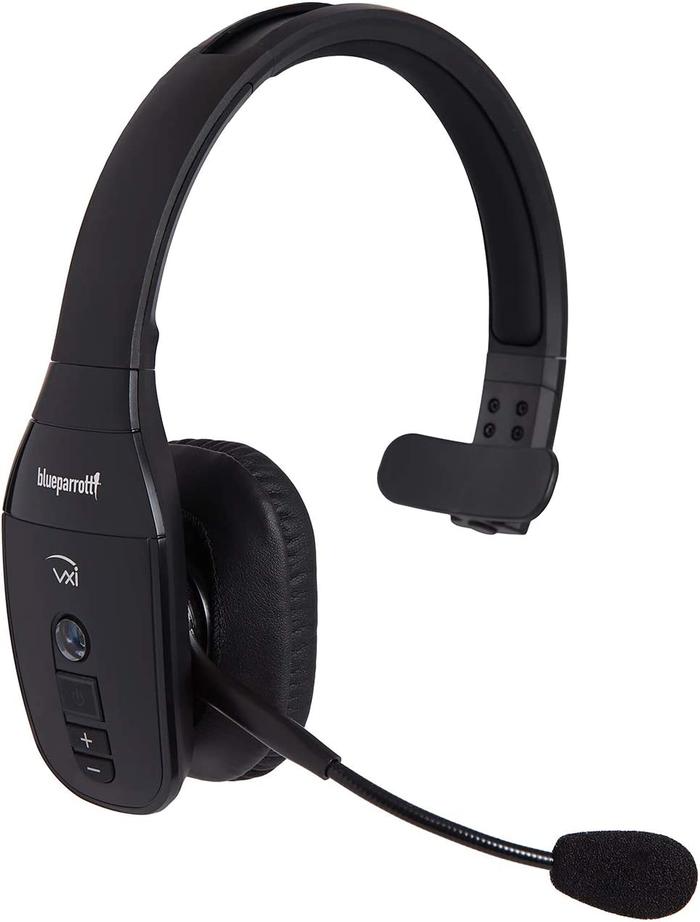 | Specification | Tested Values |
| --- | --- |
| Manufacturer | Blueparrot |
| Model | B450-XT |
| Connectivity | Wireless |
| Form Factor | Over Ear |
| Noise Cancellation | Yes |
The Blueparrot B450-XT is highly acclaimed and ranks on top for the best truck-driving headset among all. It impressed me with its extraordinary voice quality paired boom mic for a clear voice. It features an over-the-ear design with only one cup. However, this may not feel comfortable for many users, just like the other headsets, but it will be great for those who want to use them while driving. 
Solid Build Quality
The overall structure is very durable. The frame and headband also look sturdy. B450 is not a flimsy headset; you can carry it even for rough usage. This headset is built to last, so it becomes a little bulky. That's why you cannot call this headset a lightweight one; it falls in the category of moderately heavy weights. But at the same time, its weight increases its durability and strength.
Impressive Comfort and Fit
Due to the level of comfort, you can neglect the weight of Blueparrot B450-XT. The big and soft ear cushion increases the comfort level, and you can receive sound without feeling pain in your ears. However, if you wear glasses, it may hinder you as it has a big ear cup. You may feel heavy, but I still like its comfort and impressive fit.
Seamless Connectivity
This headset provides you connectivity option with Bluetooth 5.0 and A2DP support. So that you can get a seamless quality for the audio stream; furthermore, it will give you a wireless range about 100 feet away from the connected device. It also features NFC pairing, and you can connect multiple devices with it.
Hands-Free Operation
The Blueparrot best headset for truckers comes with hands-free operation. The power button will work to answer and end calls and pair devices. However, you can customize your favorite voice commands using the parrot button and the BluParrot app. That is why you can enjoy various options without using your hands. There is only a need to use voice control to answer or end the calls, adjust the volume, and many more.
Long Battery Life
This headset will provide 24 hours of talk time with its lithium battery only with a single charge. Having 500 hours of standby time from a single charge is also good. You will get a micro USB cable with it for charging the battery. I found it very well while driving as there is no need to worry about battery life.
Audiophile Level Sound Quality
The sound quality of this headset is also very excellent. You will hear a loud, bold, and clear sound during calls. This headset offers you an outstanding balance of frequencies and a solid low-end. The frequency response is 20 Hz to 20 kHz with an SPL of 123 dB. As a result, you will get signals from Techno to Talk Radio with excellent sound quality.
Active Noise Cancellation
The microphone can avoid any noise. However, it can reduce background noise up to 96%, which means you will get an authentic sound during your calls. The Mic has two windscreens, so the wind will not create any tenderness.
Benefits
The standby time of the battery is unreal
It provides an extreme level of comfort
The hand-free operations are outstanding with the voice controls
It features one of the best noise cancellations with up to 96% efficiency
Drawbacks
The build quality makes it robust but heavier
Wearing glasses is not highly comfortable with this headset
3) Sennheiser Presence Business Truckers Wireless Headset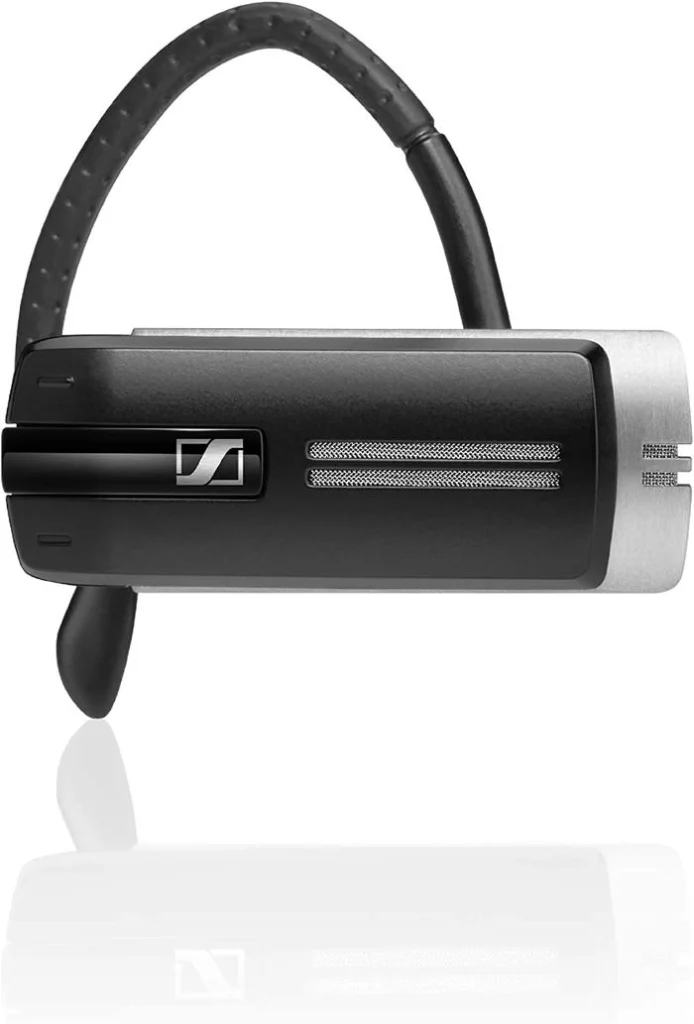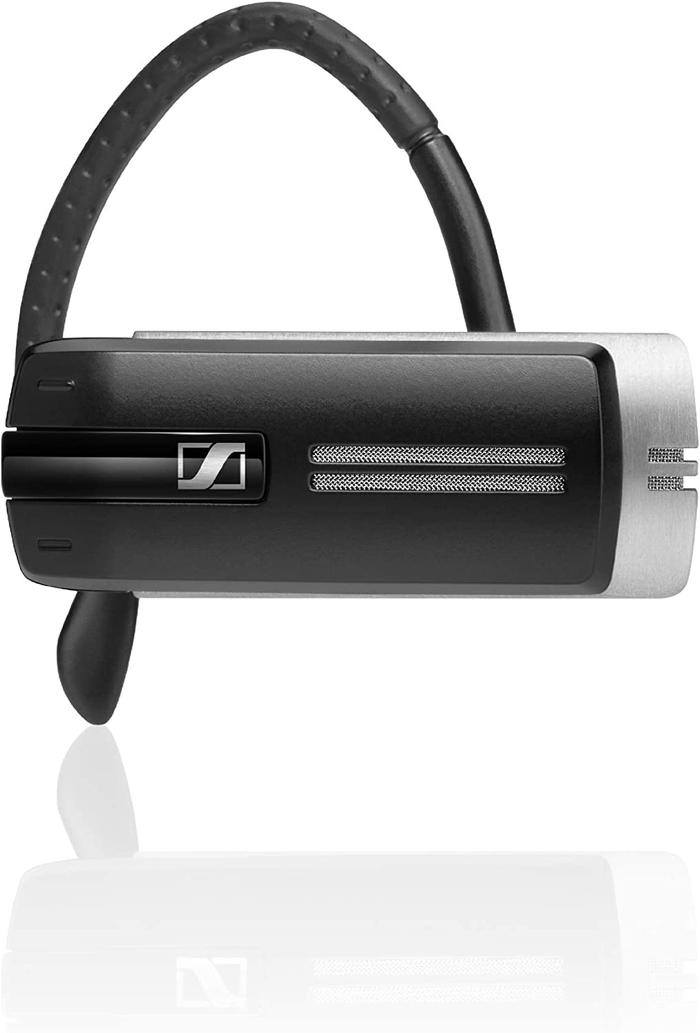 | Specification | Featured Values |
| --- | --- |
| Manufacturer | Sennheiser |
| Model | Presence Business |
| Connectivity | Bluetooth |
| Form Factor | On-Ear |
| Noise Cancellation | Yes |
Sennheiser is a well-known headset due to its reproduction and audio capture ability. Even in a crowded area, I was amazed by its sound reproduction quality. With good battery time and audio quality, the Sennheiser is the best truckers' wireless headset in an affordable price range.
Versatile Fitting
There are various fitting options offered for this headset. All these features add extra comfort and secure fit for their users. With 4 different ear sleeves, it becomes more valuable, and the ear hook and headband add extra marks to its list. So, you will not face any trouble in getting the perfect fit.
Unobtrusive Design
The Sennheiser Presence is exceptionally modest in design and gives a lovely look. The ear hoop is black and looks very sturdy and comfortable, while this headset's central unit is matte black. A silver mic comes out from the central unit, and the headset turns on.
Fully Controlled
There is a multi-functional button for answering and ending calls, and it has a unique microphone. Instead of using an adjustable boom, this headset contains a sliding boom. When you open the slide, you can take a call, and when you want to end the call, close this slide. You can control it using a Smart app that can work on iOS and Android devices.
Numerous Connectivity Options
With Bluetooth 4.0 and a wireless range of 82 feet, Sennheiser's best headset for truckers becomes very connectivity friendly. Furthermore, you can also pair two devices at the same time. There is a USB dongle so that you can connect it to your laptop or computer. This headset is also certified by Skype Business.
Long Lasting Battery
I think Sennheiser is one of the best headsets I have tried due to its best battery time. With 10 hours of talk time and a long time of 2 weeks in standby mood, this Bluetooth headset breaks the list. There is a three-mic array that will actively work for the cancellation of background noise. In my recommendation, this is an awe-inspiring performance.
SpeakFocus Technology
When it comes to the call quality, the Sennheiser is very excellent. Various features help increase its ability, like its three microphones, combined with SpeakFocus technology, will ensure clear sound during calls. The technology of WindSafe will reduce wind noise when you roll down your vehicle's window. The built-in Voice Recognition detects your voice and reduces background noise.
Sound Quality
I experience the outstanding quality of sound from Sennheiser while driving. The range of audio is excellent and gives a crisp voice; you will enjoy hearing everything. The onboard controls also give you ease so that you can manage to take calls without any problem.
Benefits
The noise reduction is impressive, along with noise cancelation
The auto-adjustable sound profiles are highly effective
It is highly reliable with Skype Business Certified
The USB dongle is only for PC use
Drawbacks
The fitting is slightly odd at times
Slightly more expensive than commonly available headsets
4) EKSA Best Bluetooth Headset with Mic for Truckers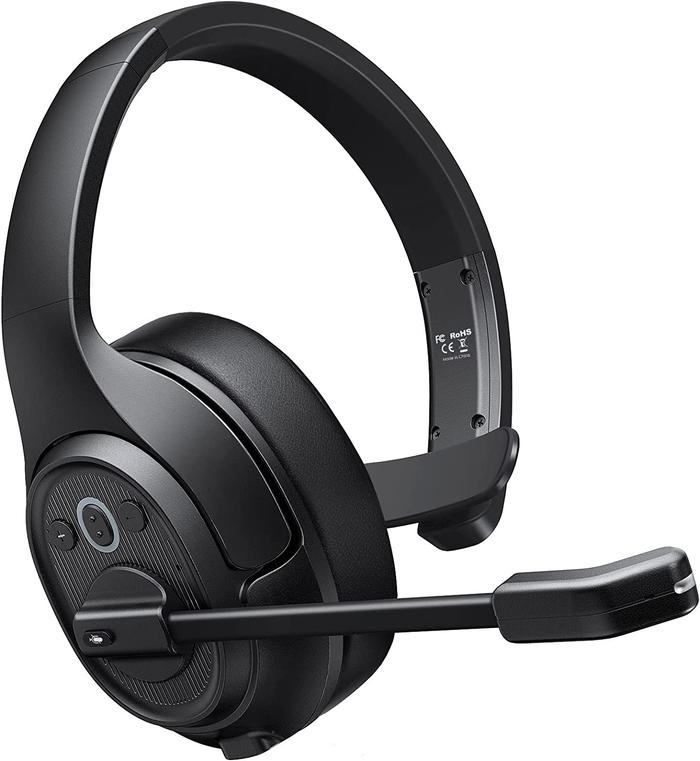 | Specification | Values |
| --- | --- |
| Manufacturer | EKSA |
| Model | Trucker |
| Connectivity | Bluetooth |
| Form Factor | Over Ear |
| Noise Cancellation | Yes |
At $80, ESKA is the best Bluetooth headset with Mic for truckers. If we consider the features of this simple headset, I think it may become much bang for your buck. It is an affordable headset with multi-use, excellent noise canceling. It provides a vast, crisp sound in this price range.
Sturdy and Comfortable
ESKA headset comes in a bright color packing and a Type C cable for charging. The design is very compact and sturdy, despite the plastic build. However, it is a good option if you did not expect lights and much chrome from this. Moreover, if you only need a tricky thing that will remain safe from damage, I found this headset that will knock and fall nicely.
Flexible Design
EKSA has flexible detachable earpads that give a nice feel when touching them. You can move your headset on both the left and right sides. The headset is also very adjustable that will fit any head size. But I find that there is a lack of headbands. However, overall, the headset is comfortable, and I have no problem wearing it for a long time.
Effective Features
If we talk about the features and functions of EKSA, I find many features worth spending a buck on. There is a simple button on and off, and it also functions for pairing and pauses or playing it. The volume control button is also on each side, and the micro arm has a mute button.
Wireless Connectivity
The ESKA best headset for truckers has 5.0 Bluetooth to ensure a range of connectivity of up to 50 meters. At this price, it is great to have a multi-pairing feature. I efficiently managed to pair my iPhone and OnePlus 9 with EKSA Bluetooth simultaneously. I only pressed the button between the volume buttons and was connected to the device without any issue.
Impressive Battery Power
At only 90 minutes of charge, you can use EKSA for about 30 hours for your talk time, and you can also use it for playback music for 57 hours. I think it is a very long battery time for truckers to enjoy music through their Bluetooth headset. I also use it while driving and enjoy my journey without boring.
Sound Clarity
When I tested the ESKA truckers headset, it took some time to get used to it. But once things settled, it became enjoyable to experience the sound with all the background. The single cup gives you solid audio sound performance, and you will hear the sound with all the mids, highs, and lows. However, I am not trying to say that this is excellent like the other high-end headphones, but they are still better than the other low headsets I have experienced.
Environmental Noise Canceling
Although the EKSA is very basic in looks, it contains a usual environmental canceling. This chip can detect your voice in a better way by using an algorithm to focus on picking up your vocals. I find this headset good for its job, and truckers can use it if they need only toughness more than other things.
Benefits
The Bluetooth range is highly suitable for use on the go
Highly reliable and sturdy for rough handling
The audio performance is clear and crisp
Lightweight and comfortable design helps long-day use
Drawbacks
During hot and humid weather, the padding can get wet
It requires some time to get used to
5) Jabra Stealth Trucker Bluetooth Headset Noise Cancelling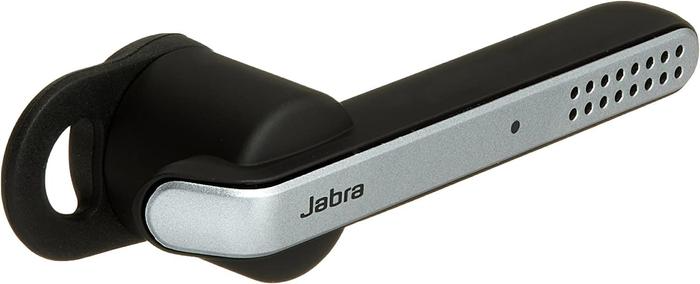 | Specification | Tested Values |
| --- | --- |
| Manufacturer | Jabra |
| Model | Stealth |
| Connectivity | Wireless |
| Form Factor | In-Ear |
| Noise Cancellation | Yes |
Jabra is another single in-ear design in the list of trucker headsets. It is also another headset that is Skype Business certified and provides a comfortable fitting. Like other headsets reviewed, Jabra Stealth also comes with noise cancellation, but the level of technology is advanced for this headset. It is the best Bluetooth headset with noise canceling among the options.
Refined Appearance
When it comes to its design, it is not as innovative and still manages a refined appearance due to its slim profile. It has a modern color scheme and comes with tactile buttons firmly placed on the frame. It has a matte black silicon finish and contains LED indicators to show the status of charging the device and that it is ready for pairing.
Lightweight Build
I noticed that the overall build quality is very reliable and lightweight. And I can resemble it with the Steel Headset, but there are some differences between them. However, the weight of this headset is in few grams, making it lightweight. But here I must mention that it is not dust or waterproof.
Easy Fit
There are ear hooks of two sizes along with the four different ear gel inserts, and I experienced that they are more comfortable than the Jabra Steel Headset. They will prove a secure fit for your ears. Moreover, the eight-gram weight will allow you to wear it for long periods.
Reliable Wireless Connectivity
With A2DP support, Jabra Stealth's best headset for truckers features Bluetooth 4.0 connectivity. You can pair it with your mobile phone, giving you a range of 33 feet for wireless connectivity. At the same time, you can pair two devices. Additionally, you can store settings for 8 different Bluetooth devices. For me, it is perfect as I use these settings later. 
Skype Business Certified
This headset is Skype Business certified, and I am excellent in addition to Siri and Google. So, it is easy to make Skype calls with all voice commands. Moreover, it has an option for a USB dongle; you can connect it easily from your laptop and computer if they don't have Bluetooth connectivity. Through this, it will become easy to switch between video conference calls to smartphone calls with one headset.
Helpful Controls
Just like the Jabra steel Headset, I find only three control buttons. However, you may also need the Jabra Connect App to customize your voice commands. I also find an extra feature of providing GPs tracking and battery level monitoring.
Standard Battery Longevity
The battery longevity of this headset also matches Jabra's other products. You will get a 6-hour talk time and ten days of standby ability with a single charge. In my experience, this is not enough for truckers as they have a long journey sometimes, and they can't charge them eventually, but it is the standard ba6ttery longevity of Jabra products.
Improved Soundstage
Jabra Stealth is an improved form of Jabra Steel; I think this is not a significant improvement. However, the call quality is better, and the dual microphone is also good at avoiding extra noise. But when you listen to music, there is no sound isolation. The other drawback I see is the mono soundstage with only headphones.
Benefits
The voice control is highly
Call quality is clear for use during driving
The inclusion of a USB dongle is highly effective for various connections
Lightweight design for all-day use
Drawbacks
It has an average battery life
Long-haul truck drivers will find it slightly uncomfortable
Buying Guide for the Best Headset for Driving
Functionality is a primary criterion when buying the best headset for truckers. You may settle for the product having the most features while being reliable and sturdy. Looking for parts like noise cancelation is a must, but the following factors should remain top consideration when finding a headset for driving.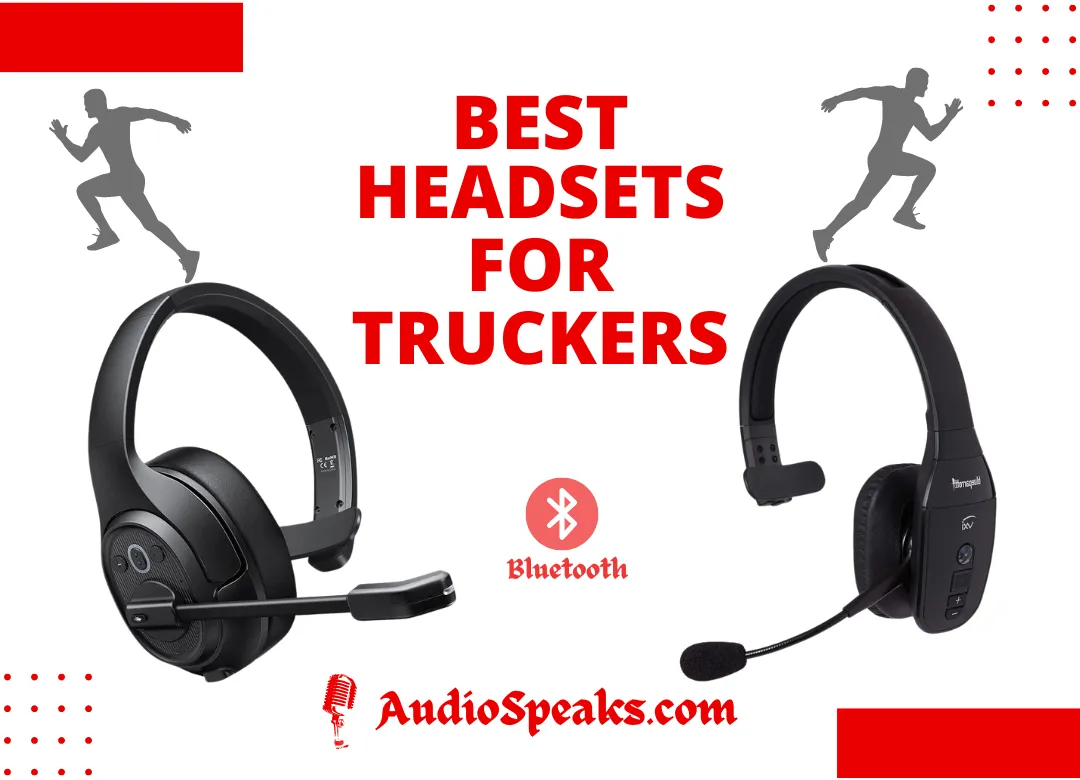 Excellent Battery Life
Battery life is one of the basic needs if you want a good headset, which matters a lot for truck drivers. Because they must travel for several days, and their headset should be compatible with applicable for extended traveling. BlueParrott B450-XT Best Truck Driving Headset is a good headset for you as it provides 24 hours of talk time and 500 hours in standby mood. However, you decide to choose, truckers need to pick a headset with a high-performance battery.
Good Microphone Quality
The microphone is a regular part of the headset for answering calls. That's why the quality of microphones is also essential. A good quality microphone will give you crisp, clear sound to understand the calls. Sennheiser Presence Business Truckers Headset is an excellent headset due to its microphone, which can face the wind due to its microfocus technology. For truckers, it is suitable for their microphone with wind resistance ability.
Noise Cancelation
Noise cancellation is another valuable feature for truckers as it helps them deal with the unmistakable sound, especially when they are stuck in heavy traffic. This feature will reduce the background noise, allowing truckers to talk effectively. In my experience, the Poly Voyager Plantronics 5200 Best Bluetooth Earpiece for Truckers is best as it can reduce the noise up to 96% so that you can listen to all things clearly on calls.
Comfort and Fit
Truckers may wear the headset throughout their journey, so it must be very comfortable. If the Bluetooth headset does not provide a good fit and comfort to you, it will become a problematic issue. If you want to buy a headset, make comfort a priority. Bose trucker headset and the Sennheiser Presence Business Truckers Wireless Headset are capable of this quality with their comfortable ear pads and other gears.
Assistive Controls
The headsets come with buttons or controls for playing and pausing your calls, and there are also buttons for answering and ending the calls. But nowadays, Bluetooth headsets with voice commands like Siri, Google Assistant, and Alexa consider better. In my recommendation, Jabra Stealth Trucker Bluetooth Headset Noise Cancelling is better for controlling and taking advantage of voice commands. Now pro trucker Bluetooth headset is another name worth mentioning for its impressive controls.
The best headset for truckers is a blessing for those who travel all day long while continuously communicating on calls. It prevents any distractions that the trucker can face while driving as they can handle the call without having to touch their smartphones. Furthermore, the voice commands and hands-free experience put you on another level of comfort while traveling across the country on the busiest roads. Although all the headsets listed here are narrowed down after investing days of testing and trial, BlueParrott B450-XT Best Truck Driving Headset is my preferred recommendation. It excels in comfort levels and features highly effective noise cancellation. The battery standby time is at par with the other competitors making it highly useful for truckers.

Product Recommendation
What is the best headset for truck drivers?
All the headsets listed above are good for truck drivers. It is up to you which one will be according to your needs. In my recommendation, if you want clear sound and comfiness, then Poly Voyager is best for you as it will provide good features and keep you in a comfort zone with good connectivity options.
Why do truckers use headsets?
The truckers go for a long journey to bring the products from one place to the other and remain far from the home or office. So, they need to have a link with them and answer calls during driving. They will not allow taking calls on the phone while driving, so they use headphones. This way, they can pay attention to their driving and answer their colleagues, family, and customers.
Why do truckers use headsets instead of earbuds?
Earbuds may cause problems as they fall, and truck drivers cannot pick them up while driving, so Bluetooth headsets are more reliable because they are connected to their phones and can easily communicate with others.
Why do truck drivers wear big headsets?
Truckers use GPS navigation to deliver goods on time to reach their destination. They connect their Bluetooth headset to their smartphones and listen to the directions carefully. In this way, they do not need to check their phone for directions.