Home stereo systems have come a long way since their inception 10 or 15 years ago. All the features you would expect from a modern audio device are now standard in most home stereo systems. They have USB ports, Bluetooth, AM and FM radio tuners, AUX, and CD players. Some systems even support WiFi connectivity and other smart functions.
The best home stereo system is your more old-school way when outfitting your home with a new audio setup. It comes with two speakers that sit separately from the primary source components. This separation allows you to move the speakers around the room and adjust their angle to face the listener directly. Typically, full stereo systems have more power and deliver better sound quality than their compact counterparts. Even though you can still lug them between rooms reasonably quickly, it's a two-person job compared to the one-person show you can put on with a compact system.
Table of Contents:
5 Best Home Stereo Speaker System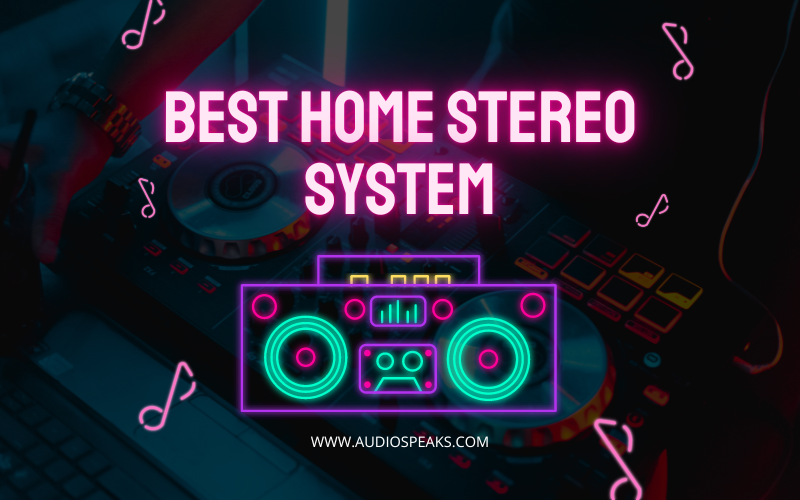 With so many different home stereo systems on the market, choosing the right one for your needs can be difficult. If you are new to buying these stereo systems, you will have difficulty buying them. I have compiled a list of the five best home stereo systems for 2023. I'll also provide helpful tips on what to look for when shopping for a home stereo system.
1) Bose Wave Music Best High-End Home Stereo System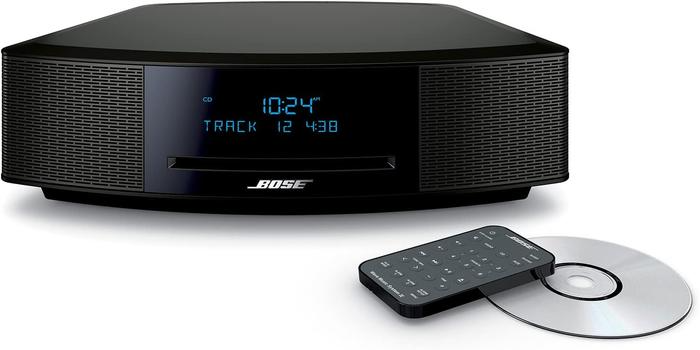 | Specification | Tested Values |
| --- | --- |
| Manufacturer | Bose |
| Power Rating | 60W |
| Speaker Type | Stereo Speaker |
| Connectivity | AUX, Bluetooth, USB |
| Dimensions | 6.97 x 12.75 x 19.02 inches |
Bose is a well-known stereo system manufacturer that needs no introduction. As one of the high-end brands in the market, it produces the best audio system for your home theater. If you want to enjoy incredible sound, your search may end with Bose Wave Music Best High End Home Stereo System. I liked its compact design and loudness, making it perfect for a stereo setup at home.
Compact and Modern Design
Design is the first thing you will observe: It has a premium finish in silver and espresso black. The remote combines modern design and a simple layout, making it more practical. There is no button on its panel; instead, it utilizes a touch LCD for a revitalizing experience. Only a single touch can turn on and off your sound system. I liked the idea of an alarm for the tune, which will be compatible with an intelligent touch app.
Responsive Touch Screen
There are two speaker drivers, and a touchscreen LED display. The CD slot is also below these speaker drivers. There is no button or physical connectivity option for WiFi and other devices. The touch screen plays the role of on and off buttons. It also displays album artwork and provides information for the system. When you tap for album artwork, a slider for playback will pop up, but this option cannot appear during the shuffling of songs.
Crisp and High-Definition Sound
Base Wave Music System IV gives you a remarkable base response. Its dual speaker stereo system possesses a crips sound with its advanced internal processing feature. The bass on the speakers is next level as it retains the true definition while remaining on the boost. The option to adjust the bass through internal EQ is also helpful.
That's why the user gets high control of the output sound with the option of customized bass. Bose speakers don't disappoint when talking about the treble and mid-range. It has a high-frequency response with a unique crisp that will give users a great experience. The 60-Watt power rating is enough for providing audio for most jobs.
Audio Performance and Loudness
The small and compact size of Bose Stereo Speaker may initially affect your decision to place it in the living room. But there is no need to worry because the robust sound with depth will give you brilliant results for listening inside a room. You can also enjoy FM radio because the stellar sound quality gives you more than enough.
Several Input Options
Several connectivity options like AUX, Bluetooth, and USB make the Bose one of the most versatile. The compatibility with Alexa adds to the fun and practicality. If you want to connect to home internet, Ethernet is available. A built-in analog radio and CD player keep it connected to its roots. It is also compatible with all digital radios, which is icing on the cake.
Benefits
It has exceptional sound quality and bass
The modern and sleek design fits any space
Voice recognition features are excellent
It is versatile and has tons of connectivity options
Drawbacks
Slightly expensive from the similar models
The CD player may seem unnecessary for most users
Old school users may find touch controls annoying
2) LG CM4590 XBOOM Best Home Music System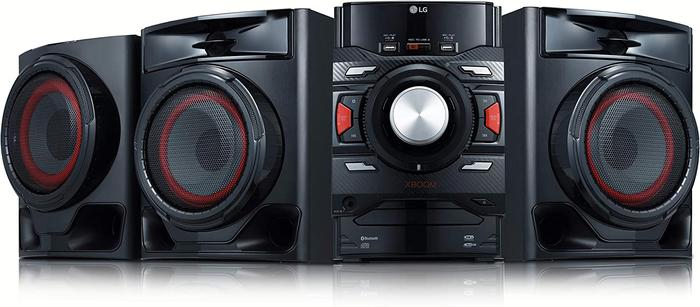 | Specification | Featured Values |
| --- | --- |
| Manufacturer | LG |
| Power Output | 700W |
| Speaker Type | Stereo Speaker |
| Connectivity | USB, Bluetooth |
| Dimensions | 29 x 11.8 x 1.4 inches |
I always recommend LG for its dependability and reliable products. The LG CM4590 XBOOM is the best home music system currently available. It will be a good pick for you if you want to host a dance party as its speakers give you explosive sound power with excellent performance. I think 700W power is enough to sound out a party for a huge gathering.
Balanced Output
Although this stereo system has a loud sound quality, it still contains quality and balance so that you can enjoy your music without any disturbance. The bass and treble level is adjustable through an equalizer. You can set it according to your required sound level with a low amount of disturbance, even at a high volume.
Powerful Bass
You can enjoy powerful bass with the two-way speakers. The speakers with 230W and subwoofer with 240W power make a noticeable difference. They are responsible for bringing the bass to its highest level. The sound clarity for mid-range and treble is excellent due to its 1.57-inch tweeter. You won't feel distortion, and the output remains clear.
Plethora of Inputs
LG provides a wireless technology called Sound Sync that lets you connect through WiFi and Bluetooth. There are two USB ports on LG CM4590 that give you more freedom of connectivity options. The traditional CD audio technology supports the CD player. Moreover, it contains digital and analog radio tuners.
Useful Settings
The handy settings of CM4590 XBOOM's best home stereo system is also great for new users, placing it higher than other home stereo systems. Moreover, if you want real party effects, the Auto DJ settings allow removing any gaps between the songs for running the party consistently overnight.
It will be a good choice if you find a play system with powerful bass. The resume play memory is another excellent feature for parties as it allows you to continue the last song playing when the stereo turns on.
Sound Sync
The LG stereo system is also easy to handle due to wireless connections; you will not see any clutter behind and beneath your system. Only an LG audio device can link to a compatible AL HDTV via Bluetooth. Due to this sound sync, you can connect your Home Theater, Sound Plate, and Soundbar with LG TV without wires.
If your other devices are compatible with LG devices, then each can attach with it through Bluetooth technology. All this makes your surround cable clutter-free and syncs between audio devices.
App Control
Regarding app control features, LG will not disappoint you either. You will easily access all the features you want to control wirelessly. Even you can do it with your smartphone, giving you a friendly graphical interference compared to the buttons. However, it has a remote full of features so you can control it according to your needs if you don't like smartphone controls.
Benefits
It has a handy Auto DJ function for parties
The sound quality is above the standards
It has high performances speaker and subwoofer
Bluetooth connectivity works without any issues
Drawbacks
Its shape is not great when it comes to aesthetics
The sub needs more power to use at full potential
3) Sharp XL-BH250 Best Small Home Stereo System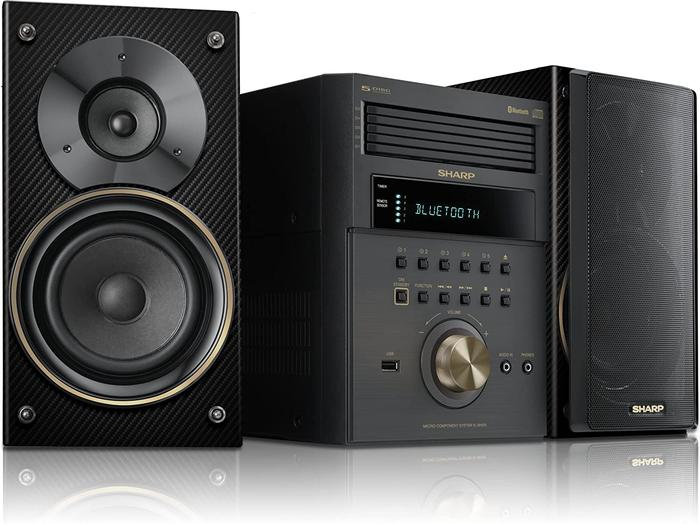 | Specification | Values |
| --- | --- |
| Manufacturer | Sharp |
| Power Output | 150W |
| Speaker Type | Stereo Speaker |
| Connectivity | USB, NFC, Bluetooth |
| Dimensions | 6.9 x 12.4 x 9.5 inches |
Since the 1990s, Sharp has led the audio systems industry, and they are also the market leader in CD players and cassettes. Over the year, they have produced excellent products, and Sharp XL BH250 is one of them. It is the best small home stereo system that still uses CD trays. Its superb audio quality and aesthetics got my attention when sorting products.
Intuitive Design
The design of Sharp XL-BH250 is very sleek and will blend with your home décor no matter how modern and neat the surroundings are. The speaker with this audio system is also compact, and you can easily place them on your bookshelf. The position of the LED display and volume control is convenient for easy access and use.
Superb Audio Quality
With decent bass, the good and apparent quality of sound, clean treble ranges, and excellent midranges, this audio system proves superb for music lovers. There are two speakers on the left and right sides, producing a good quality of sound to enjoy music even at parties. The digital AM/FM is there if you still listen to the local broadcasts, while the presence of 40 presets is appreciable at this price.
To my surprise, the Sharp XL-BH250 stereo system produced excellent sound. The sound from these speakers is out of class and detailed so that you can enjoy songs without distortion. Furthermore, the performance of the treble is also satisfactory without any harshness. Even the bass on these speakers gives a deep effect to the music.
Crisp and High-Frequency Output
The Sharp XL 250 carries 2.4-inch speakers with an analog receiver. These speakers can produce 25W RMS individually. Its 2-inch tweeter can produce crips and high-frequency responses with precise bass. It may not be as powerful to host a party, but it can cover the premises of your home easily. The balance between the treble and midrange is remarkable.
Room Performance
When it comes to performance, you can crank up the speakers' volume, and they will cover even a large living room with sound without creating any distortion. However, they may lack bass, but this can be handled with a dedicated subwoofer. It will enable the production of high-fidelity sound for giving high-quality audio output. I was surprised by the sound quality as it remained consistent for USB, AUX, and other connections.
Multiple Connections
If you have vintage records on CD, the Sharp XL 250 can let you play them using 5 CD changers. Besides, it has radio and Bluetooth with NFC, USB, and AUX options. On the front, you can find the AUX and USB options accompanied by the buttons to control the stereo system. The considerable rotary control also helps to regulate the volume according to your needs.
Control and Operating
The X-Bass feature is an excellent addition to the Sharp 250 stereo speakers. You can engage or disengage the function using the remote. For treble adjustment and bass control, there is a separate tone control. The feature of clock and timer settings is available on the remote. The LCD on the receiver's front panel is so large that you can handle it from a distance.
Benefits
The design is highly compact and sleek
The sound quality is above average
Five CD changer system helps play old records
It comes equipped with the latest Bluetooth technology
Drawbacks
Bass does feel a little bit underpowered
Speaker loudness is not suitable for large gatherings
Understanding the controls takes time
4) PHILIPS FX10 Best Home Stereo System with Subwoofer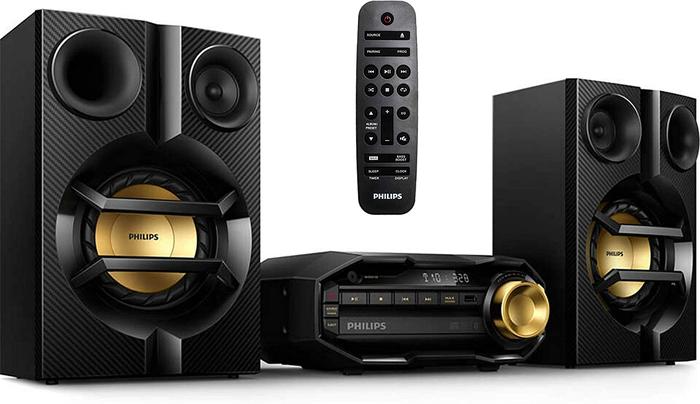 | Specification | Tested Values |
| --- | --- |
| Manufacturer | Philips |
| Power Output | 230W |
| Speaker Type | Stereo Speaker |
| Connectivity | USB, Bluetooth |
| Dimensions | N/A |
Philips is not a new name for electronics and stereo systems. FX10 carries the company's legacy of providing the best home stereo system with a subwoofer. I appreciate the fine details and attention to the quality of the body. The sleek-looking powerful home stereo systems are enough to give you unlimited entertainment for years.
Enhanced Sound Output
The sound of Philips FX10 is significantly enhanced due to the dual amplifier. However, there is a reason for the reduced intermodulation between the tweet and the woofer. It happens because the transducer contains individual amplifiers on its own. As a result, at high frequency, the sound level will not affect or tear.
Built-in Dual Amplifier
The dual amplifier reduces the intermodulation between the tweeter and woofer. I found this feature convenient feature for FX10. It helps to achieve rich bass, higher sound clarity, and less interference at higher frequencies.
The amplification power of 230W is more than enough to fill your home with music of your choice, and you may also feel a cinema-like experience with this level of amplification. The MAX sound bass combined with the volume booster setting enables you to oomph the music at a button press.
Preset Saving
The presets offered by Philips FX10 allow you to listen to radio streaming conveniently. Once you save the preset, you don't have to fine-tune the frequencies every time. The audio-in is a nifty feature that allows playback from other portable media players making it compatible with portable music playback. The Bluetooth connectivity and speakers' excellent sound make it a great home stereo system.
Wireless Connectivity
Wireless connectivity is one of the most vital things nowadays, and the Philips FX10 stereo system fulfills all modern requirements. It enables you to take benefit of maximum bass with an immersive listening experience. You can utilize the speakers at full potential without listening to any distortion.
Max Sound Technology
If you don't like the music the normal way, the Max Sound technology is there to cater to your need. At a press of a single button, it increases the volume and boosts the audio. You can quickly navigate and save radio stations with a digital tuning system.
Remote Controlled Operation
The remote control enables switching between multiple inputs, playback, retrieving presets, and controlling. The sleep timer for automatic shut-off and the CD player feature provides you the freedom to play your favorite compact discs. It allows further sound customizations using a built-in equalizer control.
Benefits
It has an outstanding dual amplifier design
The Bluetooth connectivity is top notch
Built-in FM radio and CD players
The sound is loud and clear
Drawbacks
Connecting wires are short
Remove quality is not up to standards
It lacks a treble equalizer
5) Toshiba TY-ASC400 1000 Watt Home Stereo System


| Specification | Featured Values |
| --- | --- |
| Manufacturer | Toshiba |
| Power Output | 1000W |
| Speaker Type | Stereo Speaker |
| Connectivity | USB, AUX, Bluetooth |
| Dimensions | 11 x 13.8 x 37.9 inches |
The last product on my list of the best stereo speakers for home is no other than Toshiba TY ASC400. It is a powerful speaker that delivers high-quality sound. No other speaker on our list can reach the power output of the Toshiba 1000 Watt Home Stereo System and its features.
High Output Power
The output power of the TY ASC400 Stereo system is up to 1000W, which is higher than the other stereo systems on this list. You will get entertainment at home and use it for your outdoor activities. Its five LED lights are aesthetically pleasing and provide a view of a nightclub while increasing your enjoyment during dance parties.
Extra Bass Power Button
There is an Extra Bass button on Toshiba's best home stereo system from which you can increase bass but produce little distortion. However, the distortion is not up to the annoying level. You can contain it by fine-tuning the equalizer settings and finding the sweet spot where bass and loudness feel balanced.
Customizable Equalizer
The Equalizer with 5 bands helps carry the sound forward and is also responsible for providing good pitch with a button tap. When it comes to treble and midrange, they are also fantastic. You can control the options like a pro as you rotate the dial to achieve the level where you want to listen to the music.
Seamless Connectivity
There are dual USB and SD ports for mp3 music, and these connectivity options make it a handy stereo system. One drawback is that there is no remote-control system with it. Moreover, its weight is about 35 pounds, and it is a little bit heavy due to the number of drivers which provide a mighty boom.
Besides the standard USB connectivity, Bluetooth connectivity allows for more control. You don't have to feed the music into a USB and plug it into the speakers when using Bluetooth mode. Once you connect the smartphone, you have the freedom to play anything, depending on your choice.
Benefits
The high bass feels fantastic on these speakers
The sound clarity and loudness are excellent
It comes with 5 LED disco lights for parties
One touch equalizer helps fine-tune the audio
Drawbacks
Feels slightly heavy to carry
It does not offer recording capabilities
It is not rechargeable
Best Home Stereo System Buying Guide
Having a great home stereo system is important to a lot of people. The best system for you is the one that fits your specific needs and wants. There are many different types of home stereos on the market, so it is important to do your research before making a purchase. Our guide to the best home stereo systems will help you narrow down your options and find the perfect system for your home.
Design Philosophy
Home stereos come in various designs, so choosing one based on your specific needs and preferences is important. If you're looking for an all-in-one system that includes everything you need, then an all in one home stereo system is a great option. However, a system with a central unit and two speakers may be better if you have more space and want more flexibility.
Sound Quality
Any stereo system should be held to a high standard regarding sound quality. Many models have excellent speakers, but the best one gives excellent audio clarity. The sound quality can include many factors worth considering. When buying the best home stereo speaker system, ensure that it has clarity, less distortion, deep bass, and loudness.
Stereo Controls
Controlling the stereo system is the most important aspect, especially when you want to use it for playing music regularly. You must consider the utility that fits best for your scenario. Most modern home stereo systems come with a remote control that gives you better control over the functionality. Some systems only have touch control, so choose these speakers according to your needs.
Some Extras Features
You have many options for extra features for your home stereo system. A CD player is a common choice, or you could go for Bluetooth connectivity. If you want everything the audio lover could need, buy the best home stereo system with a turntable having all the above features, including a CD player, headphones, NFC connections, Bluetooth, USB connectivity, and AUX connections.
There are a lot of home stereo systems on the market, and it can be tough to decide which one is right for you. The best way to narrow your options is to determine your personal preferences and needs. Once you know what you need, you can start looking at different products and see which one is the best fit for you.

Out of all the high-end home stereos, I particularly enjoy the Bose Wave Music Best High-End Home Stereo for its incredible sound quality and beautiful design. If you're looking for something that won't break the bank but still delivers a great experience, something like the Sharp XL-BF250 might be a better choice.

Best Product Recommendation
What is the best home stereo system to buy?
The answer to the question is pretty much subjective. The choice of the best home stereo system depends on your needs, budget, and features you want. It depends on whether you want a compact stereo system or likes to go with a full-sized stereo system with all options for connectivity.
What is a good stereo system?
A good stereo speaker is the one that you consider best for your needs. It may not have audiophile performance but plays music with absolute clarity. You must look for balanced treble and bass. The WiFi connectivity, multiroom functionality, and smart features are a plus in the stereo system.
How much does a home stereo system cost?
Home stereo system cost varies depending on the features. You can buy some cheap stereo systems for 50 to 100 bucks. However, a decent home stereo system can cost anywhere from 150 to 500 dollars. The cost can increase as you go for the extra features.
Do expensive speakers sound better?
When it comes to speakers, you usually get what you pay for. It's not always possible to find a great-sounding speaker for a low price, but the more expensive speakers will have better sound quality than the cheaper speakers. I always prefer the best home stereo system for the money with a balance of features and pricing.