If you are a newbie to guitar playing or a seasoned performer, one of the essential gears you require for a live performance is the best chair to play guitar. Most guitarists ignore selecting a comfortable chair to sit which is a mistake you don't want to make. A comfortable chair offers support for the live sessions and helps you deal with the extended practice hour without fatigue like a conventional chair. I have covered for you if you want to buy something stylish and practical.
Being a guitarist, I always try to bring topics for fellow guitarists that can help them in their performances. I compiled this list of the best chair for practicing guitar because I struggled to find the right one. I looked at the chairs available and compared them for their features. I succeeded in buying the perfect one for me, which landed an idea in my mind to write this article for my fellow guitarists who want the best seat to play guitar.
Table of Contents
Top 5 Chairs to Play Guitar in 2023
Selecting the guitar chair is not like buying an office or reclining chair. The experience is different as you look for the features that suit your guitar play and let you free your hands without any restrictions. Deciding between the features becomes challenging when you have these specific demands.
Addressing these issues, I have compiled the reviews of the top 5 chairs playing guitar in 2022. The experience of playing guitar on these chairs helped me sort these chairs from hundreds of other options. Let's have a look at them!
1) Gibraltar 9608MB Guitar Chair With Back Support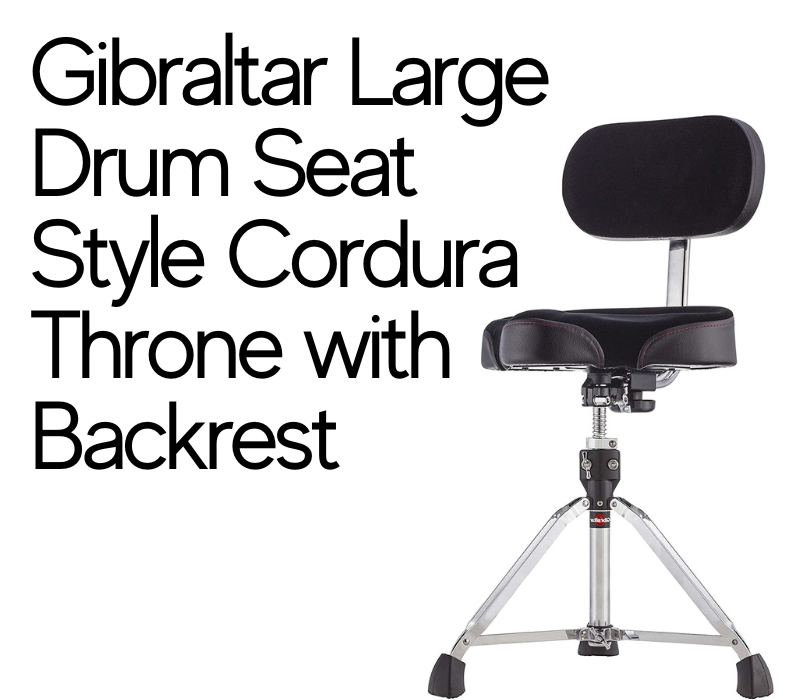 | Specification | Featured Values |
| --- | --- |
| Manufacturer | Gibraltar |
| Model | 9608MB |
| Backrest | Yes, Cordura/Vinyl |
| Adjustable Height | Yes |
| Footrest | Yes |
| Foldable | Yes |
| Weight Capacity | 300~ pounds |
Gibraltar 9608MB is the best guitar chair with back support due to its supportive backseat. Instead of choosing a guitar chair, I have picked up a drum throne as a top product for you because the Drum throne will provide you with everything you can expect from any guitar chair.
Stable and Sturdy
You will be amazed by the stability and sturdy design. It provides a good grip on the ground and lets you lock the legs. The seat is enormous that everyone can easily sit on, and it has a beautiful cross-stitch design.
Adjustable Height
The adjustability makes Gibraltar 9608MB more prominent than the others. Its adjustable feature will provide more comfort no matter how tall you are. You can easily adjust the height according to your sitting position. Moreover, you can adjust the backrest by pushing it back if you want to use a more extended slot to fit on the seat easily.
Comfortable and Well Padded
It is a very comfortable guitar chair with a well-padded seat. High-quality material makes this best chair to play guitar more durable and provides a comfortable seat to play guitar so that you will not feel tired after spending hours on this chair. To increase your comfort zone, you can push back its backrest.
Portable and Compact
The adjustable design and size make Gibraltar portable, and you can take it anywhere you want for your events. The compact design offers easy storage even at the back of the car when you are on the go.
Benefits
Its padded seat is very comfortable.
You will feel relaxed due to its adjustable height.
The rubber feet give a solid grip on the ground.
You can assemble its parts quickly without any problem.
Build quality is outstanding with sturdy material.
Drawbacks
The price is too high everyone may not be able to afford it.
Its backrest is not friendly for sitting positions.
2) Quick Lok Dx749 Best Chair For Guitar Studio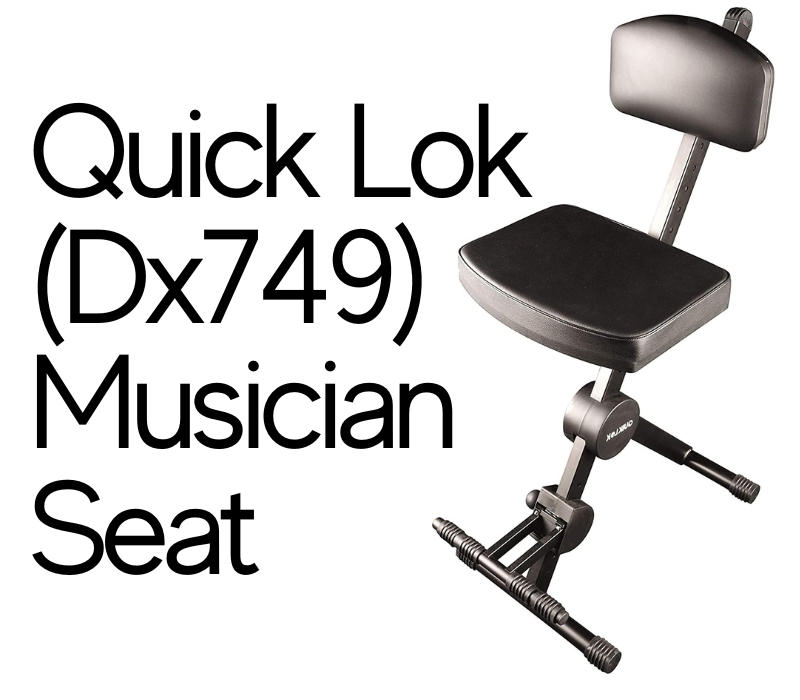 | Specification | Tested Values |
| --- | --- |
| Manufacturer | Quick Lok |
| Model | Dx749 |
| Backrest | Yes |
| Adjustable Height | Yes |
| Footrest | Yes |
| Foldable | Yes |
| Weight Capacity | 300 pounds |
Quick Lok Dx749 is the best chair for guitar studio out of the recently bought chairs for my space. It provided me with comfort during the recording that most other chairs failed to give. Having loaded with features, every guitarist can use it for versatile purposes. Quik Lok Musician chair has a padded seat that prevents fatigue after hours of sitting on it.
Durable and Stylish
Quik Lok manufactures the best guitar chair and makes no compromise on its build quality. The quality is top-notch, gives guitarists a comfortable sitting with a sturdy design, and provides a height adjustment of 58 to 80 cm. You can lock its legs when you want to use it, and the rubber pad on your foot gives a solid grip on the surface.
Flexible Adjustment Levels
You can adjust the positions of the backrest, seat, and legs according to your comfort zone. And it is easy to change the adjustment levels. It is one of the best guitar chairs with back support, providing a comfy sitting angle and preventing any problems that may cause due to bad posture. Moreover, you can adjust the backrest according to your posture.
Adjustable Seat Height
Although the seat is taller enough and its lowest seat height also looks very high, you can still adjust it according to your level. But its actual height may not be suitable for shorter than average people. The back sport is also perfect for the Quik Lok Dx749 guitar chair and offers many adjustment positions.
Unique and Portable
Quik Lok Dx749 has a beautiful musician-friendly design that makes it unique. It has seat folds, making it portable because it is easy to store for transportation. Only fold it and put it into your car storage, and you can take it with you.
Benefits
Assembling is very easy and gives a comfortable sit for playing guitar.
Provide great backrest support.
Build quality is impressive, with adjustable height and a handy back.
The overall look is exquisite.
The luxury of a foot stand.
Drawbacks
When you move, the seat may tip forward sometime.
The lowest height of the chair is too tall for ordinary people.
3) Vivo USA ADJUSTRITE Best Seat To Play Guitar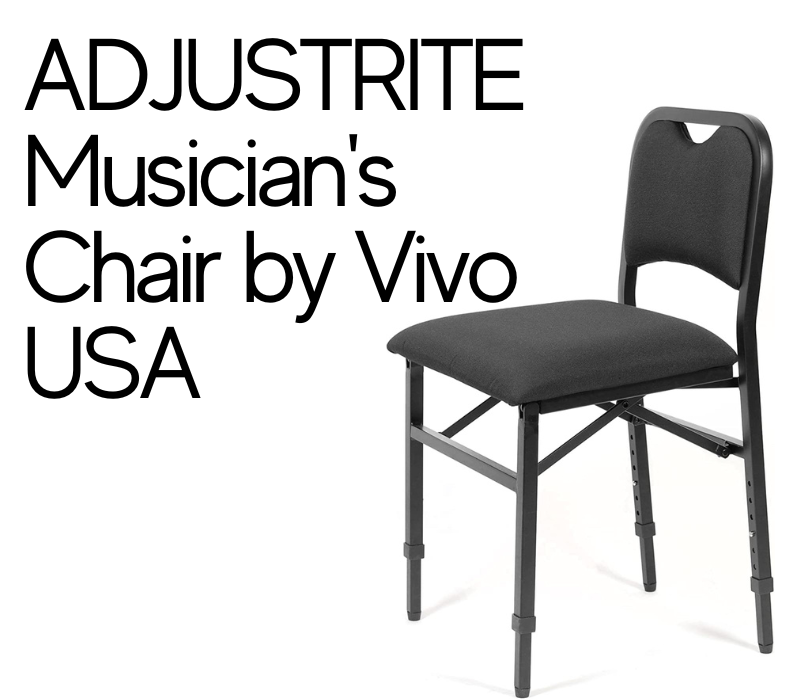 | Specification | Values |
| --- | --- |
| Manufacturer | Vivo USA |
| Model | Adjustrite |
| Backrest | Yes |
| Adjustable Height | Yes |
| Footrest | Yes |
| Foldable | Yes |
| Weight Capacity | 265 pounds |
Adjustrite musician chair is the best seat to play guitar because it has an excellent foldable nature. It offers plenty of features making it the best chair for a guitar studio. The design meets a guitarist's needs because of the ergonomics.
High Weigh Capacity
Adjustrite has a solid metal build with a well-padded backrest containing a standard cushion material. It is sturdy enough and lightweight and can hold a weight of 220 pounds. The best chair to play guitar with the black color scheme gives it a professional and classy look not only in the studio but also for on-stage performances.
Complete Back Support
It has a padded back and gives full support for the correct posture. Adjustrite is the best chair for guitar practice so that you will feel comfortable even during long sessions. To increase your comfort level, it offers a feature for adjusting legs. You can remove its seat pad for re-padding, but the backrest pad cannot remove as it is fixed.
Highly Versatile and Adjustable
There are buttons on the legs; through these, you can adjust the height in 1″ increments and the chair to a comfy level. Due to this feature, it's suitable for children and adults as well. You can adjust the seat as you prefer a flat seat or a slight downward slope. All of these aspects make it a more worthy and best chair for playing guitar.
Easy to Carry
The Adjustrite Musician chair has a foldable compact design and gives a neat finish. Due to this quality, you can place it in a small place, making it perfect and convenient for storage and transport.
Benefits
It has a compact, sturdy and lightweight design.
Comfortable and adjustable for both children and adults.
Capable of holding a weight of about 265 pounds.
It is easy to remove the cushion for re-padding.
Looks are exquisite and professional.
Drawbacks
A Little bit pricey.
Fix backrest and cannot remove for re-padding.
4) Konig & Meyer Performance Chair For Playing Guitar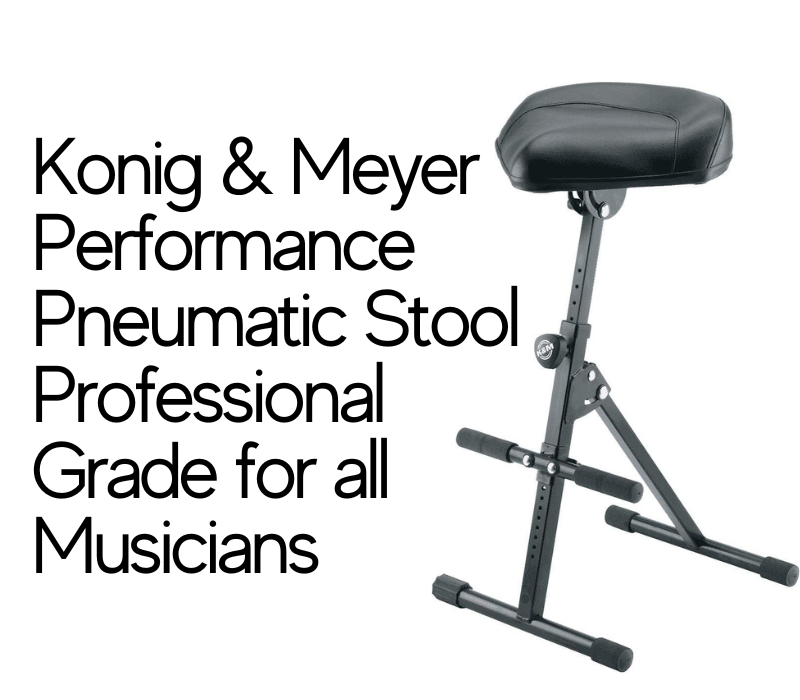 | Specification | Featured Values |
| --- | --- |
| Manufacturer | Konig & Meyer |
| Model | 14047.000.55 |
| Backrest | No |
| Adjustable Height | Yes |
| Footrest | Yes |
| Foldable | Yes |
| Weight Capacity | 330 pounds |
If you want something portable and comfy, then the K&M performance stool is for you. It is one of the most accessible options for any guitarist who travels a lot—the best chair for playing guitar with a beautiful design and comfortable features.
Unique and Sturdy Design
The K&M chair for playing guitar has a sturdy design due to its heavy-duty steel. It has an ergonomic seat that will help you to sit without any stress on your back, and its foot will give a good grip on uneven surfaces so that you can pay attention to playing guitar with passion. Its sturdy legs and locks can also bear the weight of 330 pounds. The seat material is good but not breathable, and you will feel sweat when you get up.
Easy Height Adjustment
The angle and height of the seat are also adjustable, and it is elementary to make changes with a clamping lever. There is a footrest; you can give it a position according to the tour rest level. However, it is easier to adjust the footrest than the seat. You may need more effort and time for these changes.
Fatigue Free Cushioning
The ergonomic seat has a comfortable cushion, and you will not feel any fatigue while sitting on it. Although there is no backrest in the guitar stool, it will still provide you with a comfortable posture. It is a unique design for your comfort and safety. Moreover, the footrest and caps also ensure it will remain safe and sturdy for guitarists.
Compact and Easy to Carry
K&M performance stool makes for musicians' comfort, and its portable friendly feature makes it worthy for them. When you fold it, this best chair to play guitar becomes flat and can fit in a small place so you can take it with you while traveling.
Benefits
The padded seat is comfortable for guitar practice.
Great design that will give enough support without a backrest.
The Angle & height of the seat is completely adjustable.
Easy to fold and transport-friendly.
Elegant and brilliantly built.
Drawbacks
It is hard to adjust the footrest.
The material of the seat is not breathable.
5) CedarsLink LK-STU Best Chair For Guitar Practice
| Specification | Tested Values |
| --- | --- |
| Manufacturer | CedaraLink |
| Model | LK-STU |
| Backrest | Yes |
| Adjustable Height | Yes |
| Footrest | Yes |
| Foldable | Yes |
| Weight Capacity | 300 pounds |
The Cedars Link LK-STU is the best chair for playing guitar, and it has an excellent build for musicians with everything you want to see in a chair. This good guitar chair is perfect if you want to look fabulous on stage.
Lightweight and Reliable
It has a lightweight, sturdy design with reliable steel construction. It can bear up to 300 pounds and provide adjustable levels for heights from 23 to 32 inches. CedarsLink LK-STU is a comfortable and portable chair suitable for all types of performances. Its backrest may locate at an angle where it doesn't feel incompetent while playing. However, this chair may require a room on stage or studio.
Excellent Seat Cushioning
Let's talk about comfort! The seat is very comfy due to the material cushion and is known as the best guitar chair for a bad back and provides exact support for the back. There is a footrest that will give extra comfort to your posture. The foot has rubber pads to give a safe and robust grip.
Innovative Foot Rest
The footrest is adjustable, and you can make changes according to your need. Moreover, the seat and backrest adjustment is also straightforward. It provides an accessible capacity for every type of user.
Compactly Foldable
CedarsLink LK-STU is a good chair to play guitar in due to portability. You can quickly transfer it anywhere and store it in small places when you fold it. The LK-STU is suitable for any household due to its classy looks. It has all the features that you may want in a guitar chair.
Benefits
Comfortable for your sitting posture.
Highly adjustable so that anyone feels easy to spend hours.
The backrest is very comfy and perfect for a bad back.
It has a sturdy and stable design
Easy to adjust footrest and backrest.
Best Chair to Play Guitar – A Buyers Guide
If you want a stool or chair that will last longer and provide comfort, you should consider some essential factors. It helps you find the best chair to play guitar without much looking.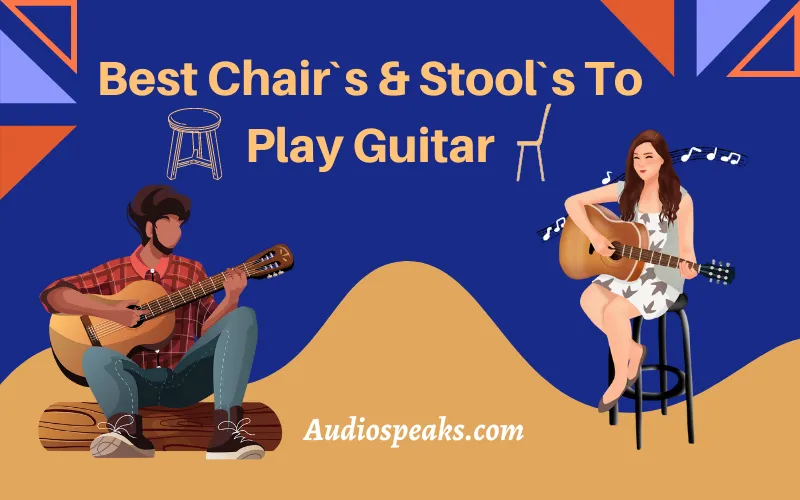 Suitable Height
The main reason for using the chair for a guitar is to support your legs. You can only hold your guitar correctly if your legs are in the correct position. Any discomfort will lead to pain or stress and ruin your performance.
You cannot maintain your balance when the chair is too high, and if the chair is short enough, your knees will point upward and give you an awkward angle. Due to this, your guitar will need to get the proper position and freedom in your hands.
That's why it is vital to choose the best chair height for playing guitar, and you will get the right choice from the above list of chairs for playing guitars. Adjustrite Musician chair is a good guitar chair as it will give a suitable adjustment for adults and children with a 1″ increment in height. Ensure the chair is proportional to your height to avoid any inconvenience.
Comfort of the Seat
The other main factor for consideration is the comfortable seat because you may spend hours practicing guitar. The seat should have comfortable settings so that you will not feel tired, and as a result, your performance may ruin.
It is essential to choose a stool or chair with comfortable padding. For this, you can use a chair like Quick Lok Dx749 that has a comfortable seat and provide an option for re-padding. You can change the seat pad whenever it becomes defective.
Design and Frame
The build of any guitar chair or stool has a significant impact on performance. Try to choose a chair with a comfortable body shape and give maximum comfort when you sit on it. These chairs are not only good for your performance but also your physique.
The best chair for guitar practice has a footrest and backrest. It is your priority whether you want any footrests or not. However, this chair's comfort level may differ from the others. It would help if you preferred the chairs or stool that will give an elegant look and be easy to store.
CedarsLink LK-STU Portable is the best chair, which has an elegant look and is a comfortable seat for you. It has a musician-friendly design with a footrest and a comfortable backrest. Moreover, this chair is an excellent choice for those with bad backs.
Maximum Adjustability
You are not a musician in your home or studio and may perform on stage. For this, you should have an adjustable chair so that every type of user can use it according to their need. The best type of chair is an adjustable quality and can fulfill all of the requirements of any user as they are different in height and weight.
So, before buying any chair for you, consider the adjustment feature. The Adjustrite and K&M is a good pick in this regard, as it has a lot of flexible options and is best for children and adults. Both guitar chairs are easily adjusted according to the guitarists' weight and height.
Build Quality
As a musician, you better understand the importance of the stools or chairs, and you may want them to last long. For this, you should prefer good material with the excellent build quality. Only the build quality of the things ensures their life and durability. When you want to buy a chair or stool for your guitar practice, make sure it has a robust build quality and must be corrosion and rust-proof.
Other things can also take part in the durability of this. Look out for the things that have options for replacing them when damaged. You can choose Adjustrite, as it has an option for re-padding, and CedarsLink LK-STU Portable offers a sturdy, long-lasting build.
Price and Warranty
Keep in mind that only some expensive things are good and don't go with the cheap ones as both are unsuitable for use. However guitar chairs are suitable for use but need to be more vital to commit to your all budget. It is suitable for you to use things that have good features and quality. The high price is not a warranty for last long life.
You will be amazed to see that the low-price things can perform well compared to the expensive ones. You should also prefer the product's warranty as you will have time to change them if you see any problem. The CedarsLink LK-STU Portable is outstanding not for price but also in features.
Choosing the best type of chair to play guitar requires understanding the features. You can buy a perfect one once you figure out what you want in a guitar chair. I have provided all the insights in the buyer guide. I hope choosing the best guitar chair is no more challenging for you when you have all the information in the form of a review. However, if you want my expert recommendation, singling out a product from this list is challenging due to the features every chair offers. I prefer the Quick Lok Dx749 as my best chair to play guitar due to its style, comfort, and compact design. It helped me play guitar without making additional adjustments and has an adjustable design suitable for everyone.

Best Recommended Product
What is the best chair for guitar practice?
For practicing guitar, it is vital to have a chair with comfortable seating. The K&M Performance Stools are an excellent choice due to their thick padding and cushion, making you comfortable sitting for hours without any fatigue. You can also adjust it according to your height. 
What Height Should a Guitar Stool Be?
It depends on your height, but most people use stools around 24″ tall. It is a good option that will suit every user. But if you are taller than 5'5′, you should consider a 30″ guitar stool for practice as it is an excellent pick for every tall rocker.
Is it better to sit on a stool or chair?
Yes, it is better to sit on a stool as it will help to maintain your posture. These stools are best for those who practice guitar for hours and cannot end up with a poor posture and give a straight back posture compared to the chairs. 
Can you play a guitar in a recliner chair?
Recliner chairs are the best option for taking a good nap, and they will not prove a good choice for guitarists as they will not give a comfortable posture and freedom to hold the guitar. Choosing the best chair to play guitar makes your practice or studio hours comfortable.