Everyone has a guitar pedal, whether you're a professional player, hobbyist, or weekend warrior. For better performance, one can rely on an integrated best multi effects pedal with all the effects in one place. The best way to find what speaks to your ears is to get behind various guitars and amps and see what rings true with you. It can help you figure out what works best for your needs. However, you cannot test every option out there available.
I've found that guitarists have more than one tone to their fingers. However, it is a matter of configuration and convenience. A multi effects unit is excellent because it saves you from carrying dozens of compact pedals such as stompboxes to consistently accomplish your desired tone when playing live or recording in the studio. The second perk about the multi effects pedal is their overall performance, which should be something else every musician values.
Table of Content:
Best Multi Effects Pedal in 2023
I know how difficult a task it can be to choose just one favorite pedal from this list of the best multi effects pedal 2023. However, I believe that each pedal is among the best on the market, with so many different options and excellent technical specifications.
All offer something genuinely unique and exciting. There are selected by me because they have been thoroughly tested against the product criteria and approved for use in live performance situations, often as exclusive tools for the artists' touring rigs.
1) Zoom G1X Four Best Multi Effects Pedal under 150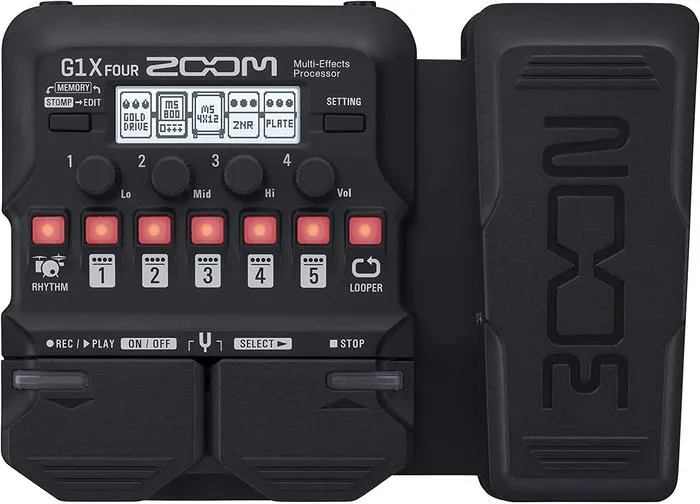 | | |
| --- | --- |
| Manufacturer | Zoom |
| Model | G1X Four |
| Type | Digital |
| Effects | Multi-FX |
| Power | 9 Volts |
| Connectivity | 6.35mm jack |
| Dimensions | 6 x 11 x 2 inches |
The Zoom G1X Multi-Effects Pedal is a portable pedal that can adjust to fit your guitar's needs. Over 70 effects come built into the pedal, some being wah, volume, and pitch related. With an expression pedal, you can control more effectively the sound produced, and it ranges from subtle accents to radical destruction of your sound quality.
Amplifier Cabinet Models
The G1X contains 13 classic sound effects to give you a better modern-day recording experience. The tools are handy for music production and prove as strong alternatives to connecting your guitar to speakers or microphones in a traditional recording studio setting.
Good Practice Tool
Zoom has built an impressive guitar FX pedal that acts as a Swiss army knife. It comes with 68 drum patterns. You'll only have one option remaining: playing guitar.
And with 30-second loop capabilities, making music will never be easier or more fun. If you end up deleting something you liked, it stays there forever on the 50 user preset patches.
Excellent Live Performer
The Zoom G1X is the best multi effects pedal under 150 for musicians who play guitar or bass. It's packed full of features to help you make the most out of your musical production.
I love it for its generous number of savable presets and drum loops that can be modified, allowing you to create an instrumental track from scratch. It allows for making perfect melodies without needing anything else in the process.
Benefits:
Pricing is out of the world, making it affordable for the buyers.
Quality and number of effects are overwhelming.
There are 68 rhythm patterns available that accounts for a helpful addition.
It is easy to use and understand due to its simple layout.
Drawbacks:
It lacks the inclusion of any case with the purchase.
The loop program is limited to only 30 seconds which deems less.
2) SONICAKE RockStage Best Multi Effects Pedal under $100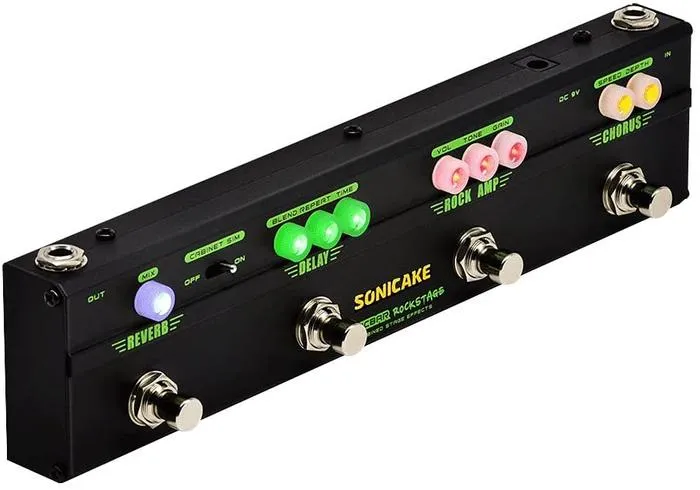 | | |
| --- | --- |
| Manufacturer | Sonicake |
| Model | RockStage |
| Type | Digital |
| Effects | Multi-FX |
| Power | 9 Volts |
| Connectivity | 6.35mm jack |
| Dimensions | 15 x 2 x 2 inches |
The RockStage pedal by Sonicake is the best multi effects pedal budget to answer your rock guitar effect needs. It performs similarly to more expensive and complicated pedals while still being affordable enough to fit in any budget and not take up much space on your board. Perfect for hard-rocking guitarists, this multi-effect pedal gives you analog distortion ability and other effects.
Authentic Analog Effects
The BBD-style chorus effect is the ideal companion for electric guitars with its warm and dreamy feel. The delay adds depth to the mix by giving each track in the chain more space. Finally, there's a selection of reverb algorithms to give your guitar that final touch. All of this analog flavor comes wrapped in a rich digital interface.
Superbly Built
Another strength of the Sonicake Rockstage best cheap multi effects pedal is its durability. This pedal takes all of the punishment you can throw its way, on the road or in the practice room.
The LED-backlit knobs indicate which effects are currently activated, a handy addition if you often play on dimly lit stages. With a cab simulator also installed, you don't need an external amp to enjoy the effects that RockStage has to offer.
A Good Midground
We all know that life can quickly become overwhelming, so excellent multi-effects pedals are important to those who want to pursue an enthusiastic hobby like playing electric guitar. Sonicake's Rockstage provides you with professional and advanced effects without spending much money.
Benefits:
It features a cabinet simulator to generate the actual stack sound from PA.
It has analog-voicing delay and reverb to add more emotion to your playing.
The modules are easy to use and understand with accessible knobs.
It has a perfect combination of the effects you need for the music.
Drawbacks:
Sound is less refined and more nuanced than you would expect from other high-end competitors.
Effects seem weak for some presets, which can cause a problem for a few users.
3) BOSS ME-80 Multi Effects Pedal with Looper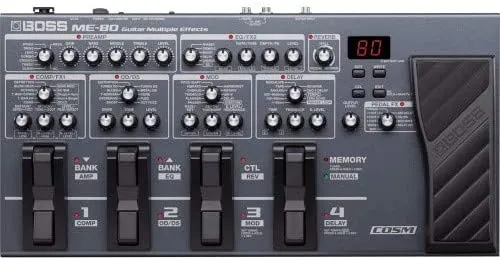 | | |
| --- | --- |
| Manufacturer | Boss |
| Model | ME-80 |
| Type | Digital |
| Effects | Multi-FX |
| Power | 9 Volts |
| Connectivity | 6.35mm jack |
| Dimensions | 20 x 6 x 13 inches |
BOSS is a company that has long been at the forefront of the music technology industry, and it is one that I admire very much. They have an excellent range of guitar pedals and, this time, have taken things to a whole new level with their ME-80 Multi Effect Pedal with Looper, which gives you access to a myriad of sounds.
Cool Set of Features
The most distinctive feature of the ME-80 is the four footswitches located along the bottom row, in addition to the array of preset buttons on top. To make operation as simple as possible, Boss made a pedal optimized for live performance by placing all of its controls within proximity to both hands without obstructing access to protruding stomp switches.
Variety of Effects
The ME-80 contains many valuable effects, including distortion, compression, modulation, and delay. Each of these effects has its dedicated section with individual controls. They help you quickly manipulate your tone in ways you might not have considered before.
Great Compatibility
The ME-80 has compatibility with many different instruments. Hence it's a good recording tool. It is also known to sound great with electric guitars, which users find intriguing.
The ME-80 isn't limited to only having effects for the electric guitar. However, it can process vocals and drum overheads when needed making it multi-functional. It is similar to having Ableton Live's effects rack on a pedalboard!
Less Orthodox Functions
One of the best aspects of the BOSS ME-80 is that it's a multi-instrumental effects unit. In addition to using the effects it provides specifically for electric guitar, you can also use it as an effects unit for vocals, percussion, or keyboards, depending on your particular project. This versatility makes it a dream to work with.
Benefits:
The body is sturdy to endure any stress it can take while you carry it.
It has one of the best and most authentic sounds with the guitar.
The boost works on user command pretty well for chorus and other effects.
It provides good versatility when choosing between presets and effects.
Drawbacks:
There is a learning curve at the start when getting hands on the product.
The power supply comes separately, so you need an additional purchase.
4) Zoom G3Xn Best Multi Effects Pedal under $300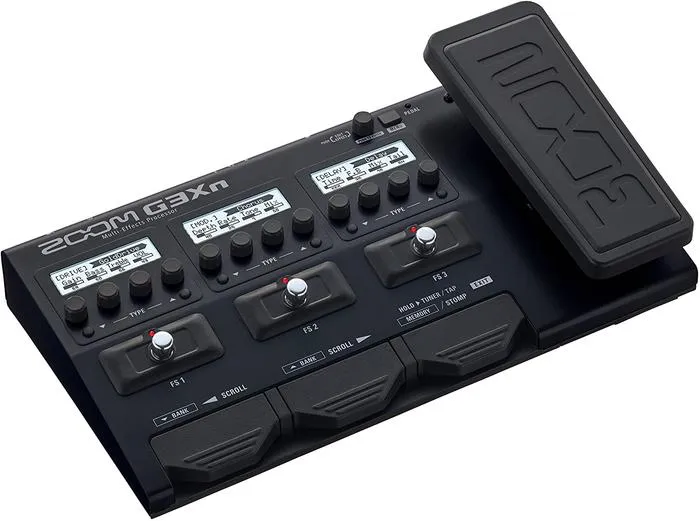 | | |
| --- | --- |
| Manufacturer | Zoom |
| Model | G3Xn |
| Type | Digital |
| Effects | Multi-FX |
| Power | 9 Volts |
| Connectivity | 6.35mm jack |
| Dimensions | 12.52 x 7.13 x 2.52 inches |
The Zoom G3Xn puts an array of multi-effect options in a pedalboard body, making it the ultimate all-in-one processing hub for a guitarist. The Zoom G3Xn is not just your average pedalboard processor – its high-quality effects and amp modeling capabilities also make it an excellent recording tool that produces excellent results in the studio!
Extra Large LCD for Control
Guitarists can see what they're doing at three times the typical size with three extra-large display screens. The G3Xn has four footswitches to give an authentic stompbox feel. Onboard is a built-in tuner, loop station, and rhythmic pattern generator to create an interactive experience for players.
Unique Range of Effects
The Zoom pedal is a fantastic tool for combining unique effects with various amp and cabinet models. The most basic versions of the Zoom series contain reverb, overdrive, phaser, delay, and other effects.
You can mix and match up to 7 different genres of effect simultaneously – from British half stacks to high-gain American combos.
Complete Control using Few Buttons
The G3Xn is the best Multi Effects pedal under 300. It comes equipped with a built-in storage system allowing you to keep up to 150 different effects combinations, which allow you to essentially premeditate your processing for every point of a set and how you want it to sound. Also, coming with an expression pedal, you have complete creative control over all aspects of each effect.
Benefits:
It allows for the straightforward three-stompbox operation for guitars.
The presence of classic simulation of the amp is extraordinary.
The built-in expression pedal provides improved control.
It is an excellent choice for recreating and exploring sound.
Drawbacks:
The sounding drive seems to lag and is not the best one.
The size seems ultra-compact for live shows.
5) Line 6 Pod Go Best Multi Effects Pedal under $500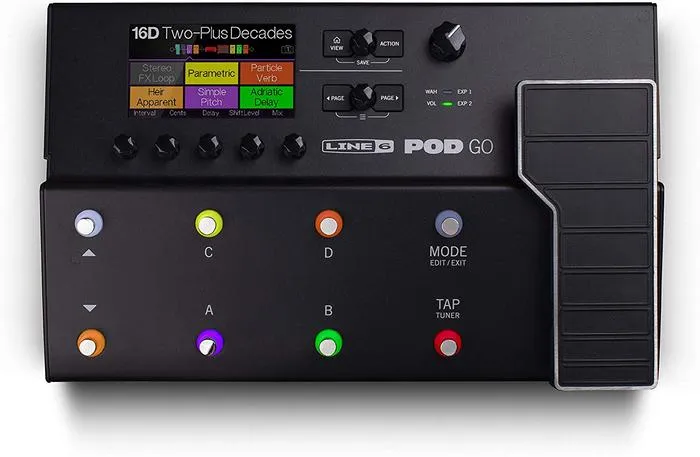 | | |
| --- | --- |
| Manufacturer | Line 6 |
| Model | Pod Go |
| Type | Digital |
| Effects | Multi-FX |
| Power | 9 Volts |
| Connectivity | 6.35mm jack |
| Dimensions | 6.7 x 4.8 x 2.5 inches |
The Pod Go is a handy and superb multi-effects guitar pedal. This pedal from Line 6 embraces the classic control setup and provides a color screen LCD that makes it easier to use. Whether you're looking to play live with Helix tones or record with modeled amps, the Pod Go will make all of your guitar effects dreams come true with its versatility.
Easy to Control and Perform
This pedal has eight stompbox-style footswitches with colored outlines and individual functions, easily accessible at your feet. With the tap tempo switch, you can sync the tempos of any timing-based effects such as delay and reverbs, while at the front of the pedal is an onboard tuner that can be used as a quick reference when fixing specific notes one by one.
Perfect Multi-Effect Pedal
If you want something among the best multi-effects pedals but don't want to break a bank, check out Line 6 Pod Go. It's lightweight and compact, so it's easy to carry around and transport while on the go. It also produces impressive tones with our effects whether you use it in the studio or on stage.
Simple User Experience
The Line 6 Pod Go is the best Multi Effects pedal under 500 guitarists due to its focus on providing a simple user experience. Its appeal is thanks mainly because it's usually easy for them to use as it can access the entire Helix sound library, which includes many of Line-6's best amps from modern times.
The pedals and footswitches used for controlling line 6 pod plus remain placed in an ideal location that makes using the unit a joy to behold.
Benefits:
Plenty of effect and amp models provide a perfect multi effect pedal.
The inclusion of third-party IR loading is an excellent choice.
Backlit switches are great for operation.
The compact and ultra-portable design makes it possible to carry around.
Drawbacks:
It lacks the inclusion of the XLR outputs, which can affect the overall experience.
There is a lack of MIDI IN port, which is not suitable for band sequencers.
The wireless signal seems to have less strength and broken connectivity.
6) Zoom G5n Best Multi Effects Pedal for Bass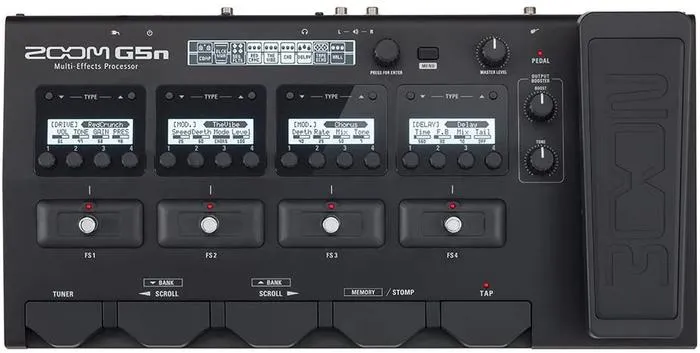 | | |
| --- | --- |
| Manufacturer | Zoom |
| Model | G5n |
| Type | Digital |
| Effects | Multi-FX |
| Power | 9 Volts |
| Connectivity | 6.35mm jack |
| Dimensions | 18 x 9.5 x 4 inches |
The G5n amplifier modeler is a unique offering from Zoom. It is the best Multi Effects pedal for bass, equipped with 100 presets based on some of the world's most famous guitarists.
So whether you want to get that vintage rock sound for your punk band or into the newest styles in the modern music scene, this fantastic technology will come in handy for always-on tone delivery.
Highly Responsive Amplifier
The G5n guitar pedal is like no other multi-effects device. It contains five highly respected, finely-detailed recreations of tube amps and five-speaker impulses that give you the ability to create your tone in all sorts of ways.
Additionally, these effects can stack on top of 68 different processing effects and 100 presets for you to pull off an endless amount of unique sounds.
Complex of Features
The G5n has broad number of features. The pedal contains different presets for building up your custom tone. These presets can then be saved for instant recall, so you'll never have to build a tone from scratch again!
Inspired Performance
Musicians will like the Zoom G5n. With this pedal, it's possible to record great guitar sounds into your DAW or amp setup. The product comes with many different settings that will let you try out many different sound flavors. Those musicians who want song inspiration will enjoy using this pedal as well.
Benefits:
It is the perfect choice for affordable spending while getting maximum effects.
This multi effect pedal is ideal for beginners.
No software is needed for manipulating and creating the music.
There are 75 patch slots available to choose from.
Drawbacks:
There are issues related to the MIDI connectivity.
It can't be carried for small gigs, as the setup and portability are difficult.
7) Line 6 HX Stomp Best Value Digital Pedalboard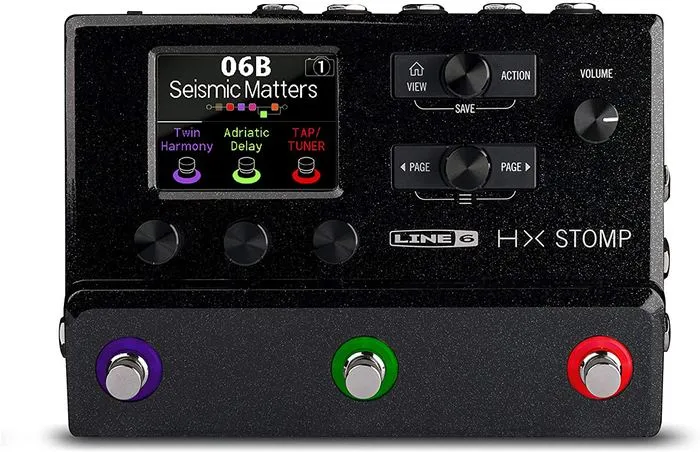 | | |
| --- | --- |
| Manufacturer | Line 6 |
| Model | HX Stomp |
| Type | Digital |
| Effects | Multi-FX |
| Power | 9 Volts |
| Connectivity | 6.35mm jack |
| Dimensions | 6.7 x 4.8 x 2.5 inches |
Line 6 is a famous player in the music industry known for its range of digital amplifiers and for producing top-notch products. The HX Stomp is their best value digital pedalboard that combines the quality ethics of Line 6 with the vast number of effects. It is a compact unit for your guitar music production and revamping.
Plenty of Quality Effects
The HX Stomp boasts over 300 effects, amplifier, and cabinet models. All of the effects are modeled not just after specific stompboxes but whole amps and cabinets, allowing you to recreate your favorite sounds, all in a sequencer-friendly system.
The HX stomp can probably be compared to a smaller version of the flagship Helix, effectively paving the way into the world of classic effects and amp models.
Easy to Operate Compact Size
Thanks to the compact and user-friendly design, it's easy to fit this Line 6 multi effects pedal on a crowded pedalboard with other Line 6 effects! The HX Stomp also works best when used with other Line 6 pedals.
That doesn't mean you can't use it as a standalone multi-effects unit for your rig. It's simple to use while performing exceptionally well with companion LED lights to make things more interesting.
A Mixture of Complex and Simple Features
The Line 6 HX Stomp is a simplistic guitar effects processor to bring something entirely new to any guitar player's repertoire. It sounds excellent straight out of the box, but more advanced users will be able to take advantage of all it has to offer.
It is also the best multi effects pedal for beginners, so don't be fooled by its price point or outlook; versatility is key.
Benefits:
Compact size allows it to fit onto any pedalboard without much hassle.
It has hefty 300 amps and loaded effects to make the journey easier.
It is versatile and powerful, including features like True bypass and DSP bypass.
123dB ultra-low noise and dynamic range provide pristine audio quality.
Drawbacks:
The lack of an onboard expression pedal can provide a limiting experience.
It has a somewhat steep learning curve for the new players.
8) Digitech Element XP Best Multi Effects Pedal under $200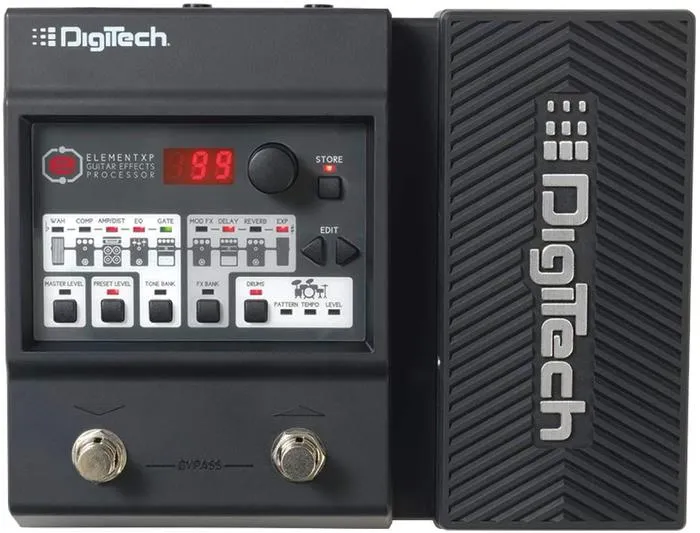 | | |
| --- | --- |
| Manufacturer | Digitech |
| Model | Element XP |
| Type | Digital |
| Effects | Multi-FX |
| Power | 9 Volts |
| Connectivity | 6.35mm jack |
| Dimensions | 6.44 x 11.69 x 2.63 inches |
The Element XP by Digitech is a highly capable effects pedal. The pedal sports 37 options for effects and 12 models for amplifiers, and nine cabinets to choose from.
If a guitarist had to take all of these products with them when going on tour, it would require a lot of space, which ultimately means more products. The Element XP allows guitarists to explore their favorite tones without compromising, one of its best selling points.
A Large Custom Preset Storage
The Element XP comes with a tuner and a headphone jack that allow you to practice to continue making progress towards your perfect guitar sound. With 100 presets, you'll have no shortage of options for building up your initial effects recipe on this best multi effects pedal for headphones.
Dynamic Edge for Performance
The Digitech Multi-Effects Pedal is a reliable option for getting your practice sessions off on the right foot. Loaded with some elegant and eclectic drum tracks to play along to, you can perfect your sense of timing and rhythm as you continue practicing.
If a Whammy or Wah-Wah effect leaves you wanting more, don't worry because it comes complete with an expression pedal that can control both of these excellent effects. Perfect for all skill levels, the Element XP best multi effects pedal for metal, will have you sounding just like your favorite rock stars in no time.
Straight Forward Functionality
It can be tricky when a multi-effects pedal comes rocketing at you with too many controls for the avid pedal junkie to wrap their head around, but Digitech's Element XP is straightforward. Therefore, I'd recommend this pedal for anyone who doesn't want to compromise on functionality while wanting something straightforward, as it were.
Benefits:
It is the most lucid and easy to program MultiFX you can buy for the money.
It helps to create the sounds quickly without any hassle.
The multi effect pedal is great for a headphone amp for practicing.
Very simple to set up and easy to operate without any assistance required.
Drawbacks:
Onboard tuner function seems only workable but not super helpful.
The purchase lacks a manual which seems problematic for beginners.
9) NUX Cerberus Analog Multi Effects Pedal

| | |
| --- | --- |
| Manufacturer | Nux |
| Model | Cerberus |
| Type | Digital |
| Effects | Multi-FX |
| Power | 9 Volts |
| Connectivity | 6.35mm jack |
| Dimensions | 12.6 x 4.3 x 2.55 inches |
NUX is a producer of excellent equipment with effect pedals, the most recent offering being their top-end Cerberus. It is packaging a quartet of effects into one unit with many individual adjustments to each effect – essentially giving users control over what type of mix they're looking for in their music.
Delay Channels
This analog Multi Effects pedal comprises a delay channel, which uses a switch to select presets. There's also an option for timing, which signifies the rhythm of the effect to one beat (1/4 note), two beats (1/8 note), and so on.
On either side of the effects, pedal are other channels, including a reverb channel that is activated using a button called 'Reverb.' In this channel, you can use a setting called 'Decay,' which can control the length or finality of your echo.
Customizable Controls
The Modulation section is present directly beside the Delay channel. It houses three different effects – Chorus, Phaser, and Filter – applicable with a simple click of the button dedicated to them. To adjust the modulation/effect applied to your audio, simply use the associated dial that appears by clicking on either one of these thumbnails.
Distortion Channel
There is a distortion channel on pedal for different amp simulations. It works with the help of buttons and ramps up the presence of distorted tones. Besides the distortion channel, the small LCD allows you to toggle the presets and save them according to your desired pattern.
Suitable Option  
Are you a guitarist who prefers to play things that are complex and different from everyone else? If so, the Nux guitar is one for you! It lets you combine effects simply by pushing down on its footswitch. With multiple rotatory switches for tweaking your effects, there are endless possibilities for how you can enjoy the guitar.
Benefits:
The control panel is simple and easy to understand for beginners and advanced users.
A wide range of effects is available that can ensure a rich experience.
More than 128 presets for the musicians to play around with the options.
The build quality is exceptional, providing a sturdy feel to the pedal.
Drawback:
It lacks the integrated expression pedal, which can limit the overall experience.
10) BOSS GT-1000 Best Guitar Multi Effects Pedal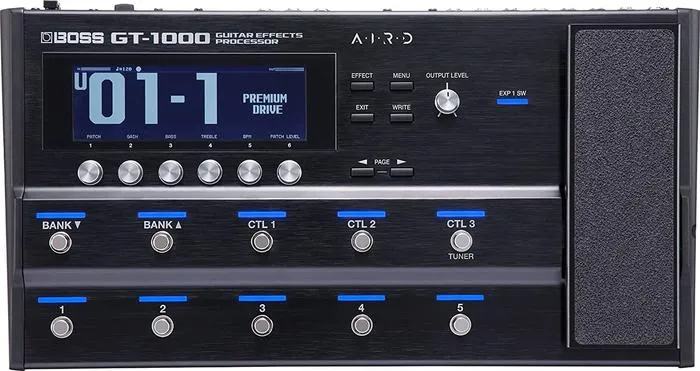 | | |
| --- | --- |
| Manufacturer | Boss |
| Model | GT-1000 |
| Type | Digital |
| Effects | Multi-FX |
| Power | 9 Volts |
| Connectivity | 6.35mm jack |
| Dimensions | 24 x 6 x 9 inches |
The Boss GT-1000 is the best guitar multi effect pedal that offers a combination of industry-leading modeling capabilities and effects. It can improve and reshape the tone while keeping the quality of the guitar performance alive. The audacity and authentic sound keep the audience mesmerized, thinking about where the sound is coming from!
Versatile Connectivity Options
The GT-1000 can fit seamlessly into a recording studio setup, and one of the main reasons for this is its versatility. The pedal makes it easy to connect with modern equipment due to USB connectivity, including PC and Mac, thus giving a slew of possible options for direct recording and editing tones in detail.
All in one Pedalboard
Often, one is required to go on tour, and many instruments and gadgets tend to come with you. It can be quite the hassle for an individual musician to lug around many items, a multitude of pedals, for example.
Believe it or not, this is why BOSS has developed the GT-1000 pedalboard into a device that will control your live sound using just one unit. Boss's best multi effects pedal for live performance ensures that your live performance goes smoothly without interruption.
Premium Quality Features
While the Boss multi effects pedal might be a bit more than the casual shopper is looking to spend, the unit is still an excellent choice if you are shopping around for top-notch quality.
Being a one-stop shop for all your guitar effects needs, the GT-1000 is hard to beat as it gives you an outrageous number of options. It eliminates the need for multiple pedals while providing premium quality features for those who value their music hardware.
Benefits:
There is one of the finest Boss effects algorithms in this model.
The valve-like response improves the overall practicality of this pedal.
It has a huge number of effects compared to the competitors.
Sound quality is extraordinary and impressive for the purchase.
Drawbacks:
Although the GT-1000 comes loaded with features, it is expensive.
The editing patches do not seem super intuitive.
Best Multi Effects Pedal Purchasing Guide
This section will cover all the critical aspects you need to consider before purchasing the best multi effects pedal. Reading it will help you pick the right one for your music and effects needs.
Effects
A must-have for any music lover is a multi-effects pedal with modulation and effects. It's beneficial for creating atmospheric echoes and mimicking different instruments, especially when you're doing so to create your style or sound. Having the option to add many different kinds of reverb and echo effects is crazy useful too.
If a multi effects pedal only allows you to run a few effects at once, as a musician, this would be frustrating as it defeats the purpose of the multi-effects pedal in the first place. Even if your work requires you to have only one effect at a time at hand, I consider at least a few effects essential for the multi effects pedal.
Sound
It's essential to consider the quality of sound that a multi-effects pedal produces. One would be wise to choose a model with effects that do not create noise and buzz but rather produce seamless sounds. There is no point in purchasing an effects pedal that cannot produce quality sounds.
There are plenty of pedal effects that emulate popular studio sounds nowadays. But whether or not they sound good is questionable! It all comes down to power and quality.
Amp Modeling
The multi-effects guitar processor typically delivers an enormous selection of amp simulations, with some probably capable of emulating guitar cabs. Nowadays, the quality of amp emulation has become top-notch.
I think the best multi effects pedals should offer plenty of amp and cab options. If you are looking for a new multi-effects pedal, it's highly recommended that you look into one that allows you to use the presets and instantly recall them.
Software
Most multi-effect pedals can connect to software that allows users to change and manipulate the existing sounds. Although, many pedal owners find it helpful to utilize recording software built into the device while they're performing live so as not to be limited in terms of what their sound might turn out like.
I've covered all of the main areas you'll want to consider when shopping for a multi effects pedal. I hope that this information will be helpful while you make your purchase decision. However, to choose the best multi effect pedal from the reviewed list, I have one that intrigued me the most.
I choose Zoom G1X Four Best Multi Effects Pedal under 150 Best Guitar Multi Effects Pedal over all other options. I particularly loved the onboard preset capacity because of its massive number and versatility. In addition, I was also impressed by the well-built and brilliant design. It is a high-quality pedal that delivers on all fronts, allowing you to unleash a variety of sonic possibilities alone or with your band.

Top Recommended Product
Can I use multi-effects with the pedal?
The multi-effect pedal is versatile and can fulfill your modulation, delay, and reverb needs. One way to incorporate it into your rig is after your dirt pedals which will most likely cover all your modulating and reverberation desires.
Is Nux a good brand?
It's pretty safe to say that the quality of their products is worth it. I highly recommend you go to their website, drool over all the cleverly-named pedals, and check for what options they offer.
Do I need an amp with a multi effects pedal?
Yes, connecting the amp with a multi effects pedal is possible. Many portable solutions let you play the pedal with an amp. However, it depends on what you want to achieve after connecting the hardware.