Hearing sounds are such an essential sense in human life. Different sounds make us feel all kinds of emotions. Your favorite song can make you feel lively and happy in an instant, and on the other end of the spectrum, a loud bang can make you jump out of your chair. When we build a PC on a budget, we usually overlook some peripherals, such as the speakers, because, in our mind, good speakers are expensive to get. However, that's not true, and to help you find a solution to this, we've mustered a list of the best PC speakers under $100.
Either you like to listen to or produce music, watch movies, or play games. In all three of these mentioned activities, a good sound system is vital to get the most out of the experiences. Not all sound systems are expensive and bulky; there are lots of options to get your hands on good speakers on a budget. They may not be the best in the world, but it's better than having no sound at all.
Speakers are a vital peripheral to get with your PC. The list we have made up consists of quite detailed reviews of each speaker. We've also provided our own opinion of the top picks of these best speakers for PC to save your time.
Top 5 Best Budget Computer Speakers
Chosen Products:
Based on our opinion, we picked Edifier R19U as our top pick due to its excellent sound quality and fantastic design. The compact design and good connections add to the value of this speaker under $100.
As for controllability, we picked the Creative Labs T20. The inclusion of a treble and bass dial makes it easily adjustable to your liking. Depending on whatever you're doing, you can change the settings to a suitable scenario.
1) Creative Inspire T12 Wireless Speaker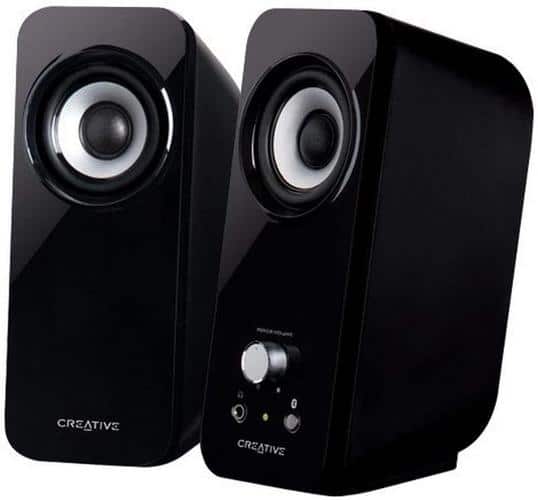 Weight: 1.3 lbs.
Dimensions: 3.9 x 7.1 x 2.8 inches
Connections: Line in and Aux
Frequency: 45-17,000 Hz
Bass Flex Technology
The Creative Inspire T12 is a surprisingly small PC speaker, but Bass Flex Technology and impressive frequency response produce top-quality sounds. The build quality is pretty standard. You have a body made primarily out of plastic, with some parts being metal. But it still rocks an excellent and simple design and would look good instantly next to any PC setup.
The front of this speaker set carries a single speaker cone. The passive radiator is spread out on the back of the speaker. The passive radiator enhances the frequency response and helps in supplying a good bass sound quality. The controls are simple and limited to just a single dial. The dial works to control volume and to turn the speaker on.
Below the dial, there is a headphone jack and an Aux-in port. This is quite convenient as this helps in private audio sessions and plug-and-play options through your phone.
This version of the T12 is wired, which means you will need to plug it into a power source. The Malaysian-based Creative inspire also makes wireless speakers. Anyways, wired speakers are not something terrible, since these speakers are meant to be used with a PC. This means they'll have to stay put with your computer speaker system at all times.
Talking about staying put, the length of the cord connecting both speakers is long enough to wrap around your PC without any hindrances.
The woofer in the back does a fantastic job as it bounces off the back of a wall, making the speakers sound even louder. The audio quality is well above average, and its performance in the bass testing was impressive. These are worth checking out at such a reasonable price below 100 dollar gaming pc.
Pros:
Nice and simple look.
Good bass flex technology
Reasonable price
Easy to setup
Headphone jack and an Aux-in port
Cons:
2) Sakobs PC Soundbar 20W Bluetooth 5.0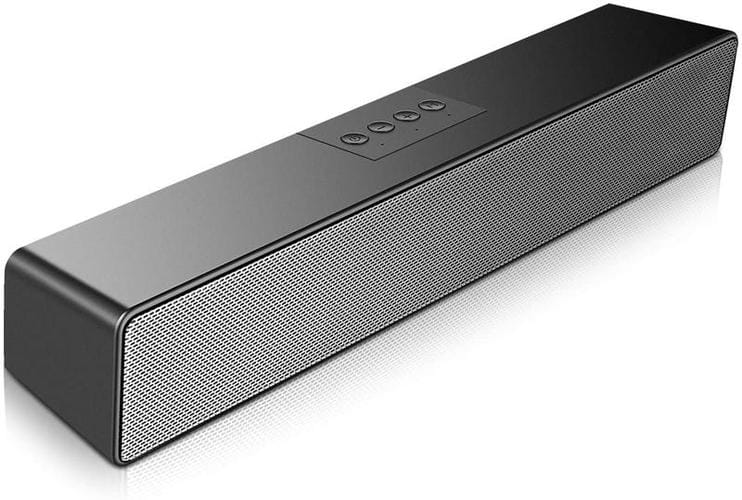 Weight: 1.72 lbs
Dimensions: 17.28 x 3.11 x 3.03 inches
Power output: 20 watts
Connection type: USB, Aux, Bluetooth
15000 mAh battery
Battery life: 16 hours
The Sakobs soundbar is a unique addition to this list of the best speakers for PC. Unlike the T12, this is not a stereo speaker. It's a single unit speaker in a long rectangular shape. The design is quite sleek and straightforward, which makes it very convenient to carry.
The speaker's front is covered with a steel grille that secures the components and makes sure the sound doesn't get distorted. Since this is a wireless speaker and needs to be charged, you'll find a micro-USB port at the back for that purpose.
Next to it, there is a TF card slot and a USB port (can be used to charge or connect to the device) right below it. Lastly, the Sakobs Soundbar includes a 3.5mm Aux jack. The bottom consists of stick-on rubbery feet so that the speaker stays stably on your desk.
Not being a stereo speaker means you'll either have to place this in front of your desktop or behind it. Because it is wireless and can connect through Bluetooth. You can easily connect your PC, Laptop, or phone with it.
This soundbar can also be used as a backup speaker next to your PC. You can use your main speakers and have the soundbar as the secondary one to pick up calls and talk through its built-in microphone. That's just a possible use for it other than that it can use as a primary PC speaker too.
The 1500 mAh battery can last up to 16 hours, equivalent to listening to almost 200+ songs. Sixteen hours mean you can quickly go through a day without worrying about its battery running out. You could even take it to your workplace to set it up with the office PC. Its tilted angle feature helps a lot in delivering the audio waves right towards the user.
Finally, the audio quality is not bad on this speaker. The mid-range tones are crystal clear, and they sound outstanding. It does get a bit distorted at high volume ranges, though. But overall for this price range, the convenience and easy portability it provides, it's a steal for a price well below $100. You can easily use it as external computer speakers.
Pros:
Portability
Built-in Microphone
Bluetooth available
Long-lasting battery
Impressive 20 watts drivers
Cons:
A bit distorted at high volume
3) Edifier R19U Compact 2.0 Speaker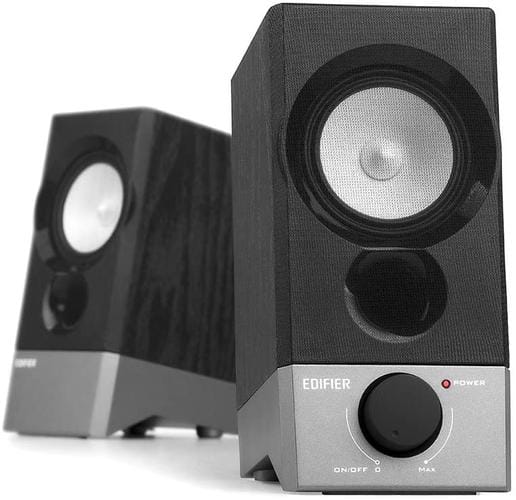 Weight: 0.035 ounces
Dimensions: 6.3 x 4.33 x 0.79 in
Connections: AUX and USB
Angled design
Frequency response: 150- 20,000 Hz
Edifier is a reputable company that has provided some great speakers over the years. Their stereo speaker R19U is easily a part of those great speakers. These speakers are not only great in audio quality, but they look really good too. The slightly elevated base with a smooth wood-finished body will make your setup look even better. The black wood and silver base are a great color combination.
As we saw the Sakobs Soundbar, the R19U also has rubberized feet, which helps it stay stable. The right speaker has all the controls, which are limited to a single dial. You can use the dial to power it on and adjust the volume. We found the volume design a little lazy as you can't judge what the volume level is due to the absence of any indications or labels.
Similar to the Creative Inspire T12, the R19U is not wireless. However, it allows the user to connect it with the PC using a USB cable or an Aux cable. Since we're searching for the best budget speaker for PC, the wired connection doesn't annoy us at all. You can also use the AUX to play music through your phone's library.
The sound quality is impressive. Edifier claims that the R19U has a balanced sound profile and that it comes with a high-quality 70mm full-range driver. We can assure you they sleekly deliver some superb sound quality which you would thoroughly enjoy at this budget. There's close to none or significantly less distortion at high volume levels.
The Edifier R19U made it into our top list because they perform amazingly in all aspects expected from a budget speaker. The fantastic sleek look, excellent sound quality, easy setup, and price make it the best value computer speakers. They are indeed worth checking out. The R19U could be a perfect buy at this range for your PC.
Pros:
Elevated angle design allows better sound projection
Very affordable
Faux-wood clean design
Balanced rich sound quality
High quality full range driver
Cons:
4) Logitech Z623 Speaker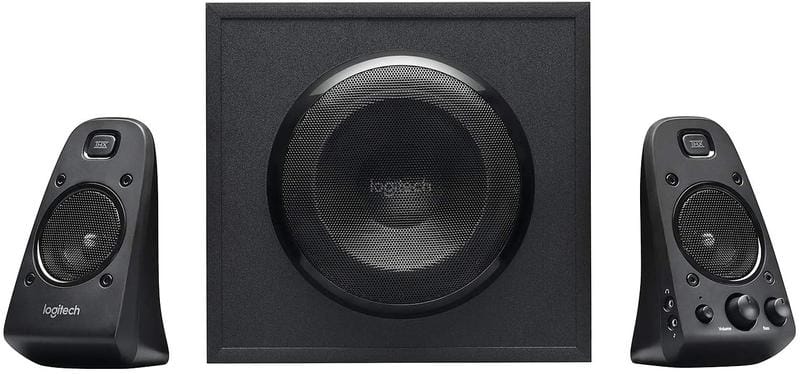 Weight in total: 18.15 lbs.
Dimensions: Subwoofer – 11.9 x 11 x 11 inches / Satellite
speaker: 7.8 x 5.6 x 5.4 inches
Subwoofer included (power: 135w)
Power output: 200 watts
Bass and Treble dials
Three wired inputs
THX multimedia certified
We have our first Subwoofer stereo setup. This review will be pleasing for all the audiophiles. Who would've thought you'd be able to buy a complete subwoofer system, but Logitech made sure of that by revealing the Z623. It's the most potent 2.1 system available right now by Logitech, and it costs less than 100 bucks.
Focusing on the satellite speakers first, they are clean looking and don't have a lot going on in terms of design, but we like that because it makes them look decent next to a PC. The right satellite speaker holds all the controls. It has a volume dial in the middle on the right of it, there's a power button, and on the other side, you'll find a bass dialer.
The left unit has an AUX connector that attaches to the subwoofer. The main satellite speaker has a more elaborate larger VGA connector power cable.
Multiple inputs will allow you to connect various devices without having to change cables. There's an RCA input and a 3.5mm input. You can plug in the AUX cable to your PC and connect it to the Z623 subwoofer and get going. The subwoofer is quite bulky, and it is omnidirectional.
The THX certification gives a sense of safety and reliability while buying the Logitech Z623 and it easily packs terrific audio quality.
A subwoofer blows all the other products we reviewed out of the park. The bass and volume on this thing are unmatchable. The sound quality is fantastic and will satisfy your audiophile ears while listening to music or watching a movie.
Connecting this to your PC would require a relatively larger desk. The subwoofer needs to be placed conveniently, so the satellite speakers are easily connectable. Therefore, if you have a smaller desk, then space management is a severe factor for you.
All things apart, this is by far the best 2.1 speaker and the best subwoofer speaker for PC on this list, and to top it all off. It costs less than $100 if you buy the analog style.
Pros:
THX Certified
Great price
Cinematic Audio level
Good looking design
Trusted brand
Cons:
No remote control
Not suitable for small PC desks
5) Creative Labs Gigaworks T20 Series 2 Speaker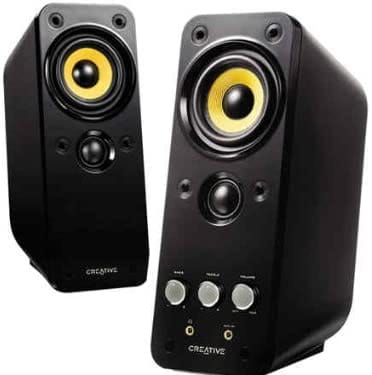 Weight: 6.17 lbs
Dimensions: 6.5 x 10 x 6.5 inches
BasXPort Technology
Power output: 28 watts
2.0 system
The final speaker on our list of the best PC speakers under $100 is the Creative Labs Gigaworks T20. The T20's are direct competitors of the Creative inspire T12 we reviewed earlier. The standard design gives out that idea even more.
Their body build is a little elevated to enhance the audio direction. The speaker design is excellent; the yellow speaker cones stand out. Although they are covered with a cloth grille, you can detach them according to your liking.
The main speaker has all the controls, as usual. It has three dials in total a bass dial, treble dial, and a volume control dial. Treble dial makes the T20 have the most customizable control pad out of all the others. You can easily adjust the bass and treble according to your style. T20 gives the most immersive gaming and music experience out of all the others.
For the T20, the ports are in the front. The two ports include a 3.5mm AUX and a headphone jack which helps in privately listening. The back also has an RCA port. The volume button works as a power button and blue light signals when the speaker is turned on.
All the ranges from low to high provide fantastic quality sounds. The treble is also fantastic, and its tuning will give you some great cinematic experience.
The BasXPort technology emits some extraordinary bass levels and makes the audio on this speaker one of the best cheap computer speakers. This is worth checking out if you want an overall good experience with your PC. These are some of the perfect fits for a great budget speaker.
Pros:
Top-notch sound quality
Simple design
Good control interface
Impressive BasXPort technology
Cons:
Buying Guide for PC Speakers under 100 Bucks
A PC speaker is an essential exterior to have, but it's necessary to consider some factors before making your purchase. There are multiple factors such as size, power, price, and more. Based on your preferences and choices, you will make your own decision.
Size of PC Speaker:
It's imperative to assess the space you have before purchasing a PC speaker. PC speaker usually has two speakers or sometimes an external subwoofer too. Please judge the area you have on your desk and choose a specific set of speakers that can fit there.
Sound Quality:
The sound quality is quite heavily dependent on the frequency range and components of a speaker. The higher the speaker frequency is, the louder you can play it. So, if you're an audiophile, we would suggest you look into high-frequency speakers.
Power Source:
We saw that some speakers require a wired power source, whereas some even work with a rechargeable battery. If you like to keep your setup futuristic and wireless, it will suit you to buy a wireless Bluetooth speaker for your PC.
Bass Quality:
Nothing makes a speaker better than its bass quality. The bass is what makes the music, gaming, and watching movies experience much better. So, it's essential to look for speakers with some good bass technology-induced into them.
Price Below $100:
Lastly, nothing influences the buy factors more than price. Even though this article is strictly made for speakers below $100, but there's still a range of different speakers available, from $10 to a speaker costing $100. So, the first factor you need to consider is how deep your pockets are.
What is the difference between a 2.0 and a 2.1 speaker?
In simple words, a 2.0 soundbar consists of only two channels; A left and a right speaker. On the other hand, 2.1 speakers also have an additional central unit, usually a sub-woofer with a left and right channel.
Do Bluetooth speakers work with PC?
The modern PC's come Bluetooth enabled straight out of the box. You can easily connect a speaker with them without any hiccups. However, older PCs require a Bluetooth dongle to connect to the system.
Is it alright to leave the speakers on?
It isn't dangerous to leave them on, but it is better to turn them off when they're not in use. Leaving the speakers turned on might deteriorate their battery or life.
Are sound bars better than speakers?
Soundbars are way more compact and convenient than speakers. Not having different channels on two speakers is the reason behind that. Speakers consist of way more power; they take up more space.
Desktop computers do not have built-in speakers like laptops do. Therefore, the only two options are either to use a headphone or an external speaker. So, it's essential to consider buying a good speaker even if it's on a budget; it will surely enhance your experience and make your life much easier while gaming, music listening, or movies. We hope you get a clear idea from our list of the best PC speakers under $100 and upgrade your PC setup.

Summaries Note