If you want to get rid of the traditional cables for connecting the guitar, it is time to move to the best guitar wireless system. It allows you to move on the stage during performances or switch from the rehearsal room to the kitchen without dealing with latency or connection issues. The wireless guitar system acts as a bridge between the guitar and the amp. You don't have to connect them using wires once you invest in the best quality wireless guitar system.
Why am I a big fan of the guitar systems without cables? Well, it's because I have dealt with the cable clutter in the past, and believe me, it's not an enjoyable experience. The selection of the wireless guitar transmitter depends on several factors like wireless range, number of channels, latency, and battery life. If you don't know about these features, don't feel stranded. I am here to help my fellow guitarists select the best instrument wireless system according to their preferences.
10 Best Wireless Guitar System Reviews
Table Of Contents:
Selecting the best acoustic or electric guitar wireless system from hundreds of choices is not an easy task. It was a daring task for me as I tried to find a few recommendations for some of my fellow musicians while working towards a product that fits my needs.
So, this wireless guitar system finding research took weeks of testing and reviewing the products. In the end, I was able to sort the 10 best wireless guitar systems that I found worthy of recommendation. Take a cup of tea or soda, whatever you prefer, and look at the reviews and buying guide to select the best wireless guitar system 2023.
Complete Guide: How to Restring an Acoustic Guitar?
1) Getaria Upgrade GWS-8 Best Budget Wireless Guitar System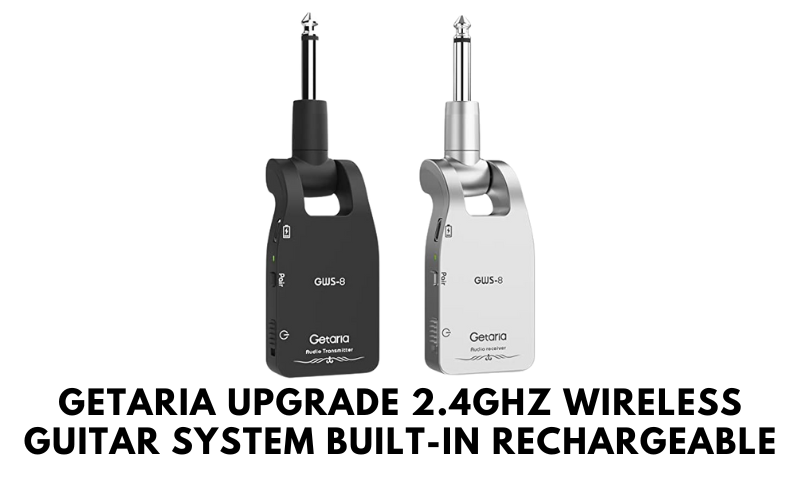 | | |
| --- | --- |
| Manufacturer | Getaria |
| Model | GWS-8 |
| Transmission | Wireless |
| Range | 100 Feet |
| Band | 2.4Ghz |
Getaria GWS-8 wireless guitar system is one of the cheap and durable brands. It is entirely wireless, and you will not bother about annoying wires. GWS-8 also comes with a maximum range of transmitting the signal up to 30 meters, which is highly suitable for long-range wireless performances.
ABS Plastic Construction
The material selection is excellent, which makes Gataria GWS-8 more durable. Like other guitar wireless systems, it has high-quality ABC plastic construction. The durable material provides long-lasting life and simultaneously gives it a dynamic look.
Glorious Finish
The feature I liked about GWS-8 is its different colors for the transmitter and receiver. The receiver is white, while the transmitter is black. All the buttons are labeled so that you feel at ease in pressing them according to your need. There is a delicate decorative line at the bottom of the parts. The logo of Getaria is right above the frame.
Ultra-Low Latency and Transmission
The latency of the Getaria Upgrade GWS-8 is under 12ms. However, the THD and Noise are at -98dB while the dynamic range is higher than 105dB. It makes the GWS-8 best for playing live as it doesn't lag and delay due to less latency.
Bluetooth Range and Operating
When it comes to operating distance, GWS-8 provided me with 30 meters. However, I observed its range to reduce to 13 meters when there is any obstacle in the system. It has a straightforward plugin design with LED lights that indicates the power state and helps me quickly determine whether the device is on or off.
Cheap and Simple
I find the GWS-8 very simple and cheap making it the best budget wireless guitar system. These features make it famous among professionals and beginners. It is best if you want a relatively easy-to-use system with solid quality without spending much money on it.
Benefits
If it offers zero delays irrespective of the distance
The latency is extremely low
The sound quality is exceptional
Battery life is good enough for portability
Drawbacks
The plastic feels super cheap
The green light seems to distract in low light
2) Xvive U2 Electric Guitar Wireless System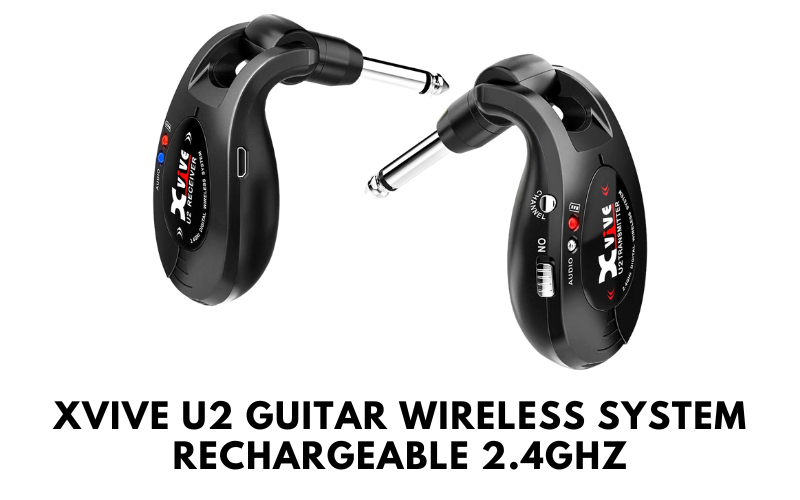 | | |
| --- | --- |
| Manufacturer | Xvive |
| Model | U2 |
| Transmission | Wireless |
| Range | 120 Feet |
| Battery Backup | 2.4Ghz |
The Xvive U2 is one of my favorite wireless systems due to its simplicity of use and reliability also. I think it is a great pick for beginners. This system will provide optimal performance with the Lithium-ion rechargeable battery that will work for about 5 hours with a single charge.
Excellent Build Quality
In my opinion, the build quality of the Xvive U2 Electric Guitar Wireless System is excellent. The Bluetooth guitar transmitter and receiver are of good quality with ABS plastic material. I think this is the main reason for its premium quality and durability. The design is very compact, and there is no need to worry about handling the wires.
Redefined Classic Look
With its refined and classy look, this best guitar wireless system brings an excellent finish. Here you will notice the manufacturer's name and a sign in the middle, and the model will be below the system. There are slots for plugging your guitar or bass. It becomes easy due to the indicators like audio, for instance.
Extended Latency Range
As we discuss, the frequency is 20HZ to 20kHZ, and make sure that the audience will hear the music with clarity of sound. The latency range will play an essential role in sound quality. Also, with the 6ms of latency, you will not hear any groove on your tune.
Easy to Use
The Xvive U2 is very easy to operate, and even beginners use it efficiently. It is best for professionals at the same time. However, learning about the guitar and its system is necessary. 
Budget Friendly
The product remaining within budget will become more valuable for users. The Xvive U2 is very affordable with brilliant features. You will enjoy solid performance whether you are a professional or casual user. This wireless guitar system is one of the simplest and cheapest in this affordable range.
Benefits
It represents an inconspicuous and stylish design
The guitar tone is of relatively good quality
Its design is effortless and works on plug and play mechanism
The operating range is longer
Drawbacks
The battery feels slightly shorter for long performances
The gain boost is not adjustable
3) LEKATO WS-50 Instrument Wireless System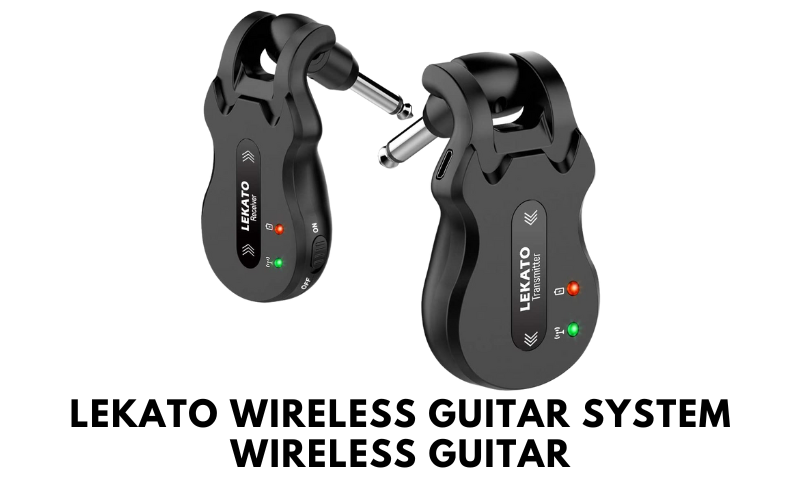 | | |
| --- | --- |
| Manufacturer | Lekato |
| Model | WS-50 |
| Transmission | Wireless |
| Range | 100 meters |
| Battery Backup | 2.4Ghz |
LEKATO WS-50 is also another reliable guitar wireless system for musicians. Whether you want to use it for your large or small stage, it will meet all your needs. WS-50 also provides you with brilliant sound quality, and in my experience, the great thing about these systems is the ease of use and convenience.
Clear Signal Transmission
WS-50 comes with an audio broadcasting quality of 24-bit 48KHz. This optimal guitar has ISM frequency and provides the clarity of sound with the transmitter. During the testing for live performances, Lekato WS-50 fetched some compared to many other wireless systems on the list.
No Interference and Signal Loss
This Instrument Wireless System will offer UHF technology with high frequency without any loss of signals. The range of signals is up to 100 meters and is enough for your stage performances. And provide their users with 4 channels for broadcasting.
Convenient Charging
With its convenient charging ability, the LEKATO becomes worthy. Its built-in rechargeable lithium battery can work for 5 hours, proving accurate during my testing. There is a USB cable with it for charging your device so that you can give an excellent performance to the audience.
Latency
The latency of 6ms doesn't feel any lag or loss signal. UHF technology and high frequency with a range of 100 meters add extra marks to its performance. Combined, they provided an extra boost, and I didn't feel lags or signal loss.
Plug and Play
In my experience, the setup is a bit complicated as you need a long press the signal key to match the transmitter and receiver. There is no other method required for this. But if the transmitter and receiver do not match, you may need to pair both with ID.
Benefits
The tone quality remains preserved
Its range is enough for long-distance performances
The charging is good for portability
It has negligible latency
Drawbacks
The recording shows a slight hiss
It produces a pop when you turn on the receiver first
4) Getaria GWS-26 Acoustic Guitar Wireless System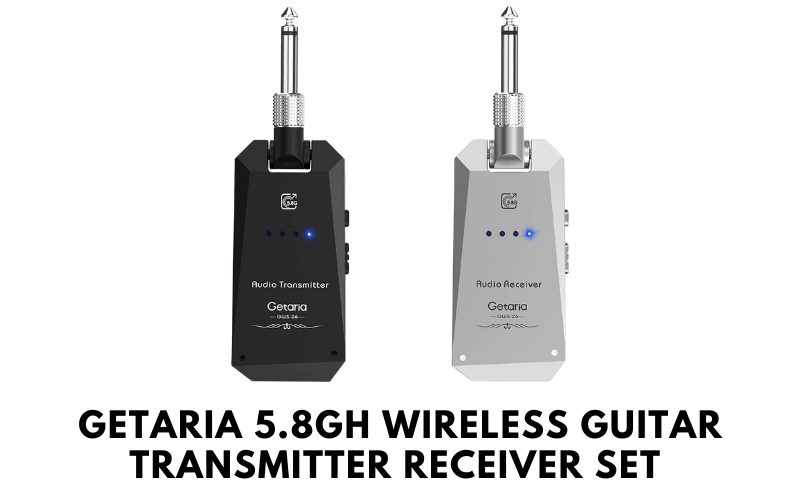 | | |
| --- | --- |
| Manufacturer | Getaria |
| Model | GWS-26 |
| Transmission | Wireless |
| Range | 100 Feet |
| Battery Backup | 5.8Ghz |
If you want my suggestion for a fully functional plug-and-play best guitar wireless system, I will rank Getaria GWS-26 at the top of the list. It has the remarkable ability to use uncompressed signals, which means that your tone will give you a natural feel without wires. I find it very simple to use as it does not require wires and works on plug-and-play mechanisms.
Build Quality and Durability
The GSW-26 acoustic guitar wireless system has a top-quality construction made from a durable ABS material. Due to this, it becomes more reliable and durable. I put it under excessive use, but the build quality remained prominent throughout the testing, even for rough usage.
Aesthetics and Utility
The transmitter and receiver are of different colors, black and white for recognition. The 4 LED indicators show the life of the battery. I find it helpful when you don't have track of battery life and want to know the battery percentage quickly. The shape and look give elegant and modern sight.
Long Range Performance
The transmitter range is about 100 feet, so you can freely move around the stage. The best thing about this system is that it has a low latency of 5.6ms, ensuring that you will not face any lag and distortion in signals. As a result, you can hear clean and high-quality sound.
Battery Life
The fast charging ability, lasting 8 hours with constant work, is precious. For short to medium-duration concerts and gatherings, it is more than enough. There are LED indicators as well to show you the battery power. Moreover, you will get a rotatable 0.25′ plug to position it according to your exact fit.
Benefits
Different channels allow it to connect more than one guitar
The sound quality remains preserved
Lightweight and easy to use
Overall great build quality and is reliable
Drawbacks
The signal starts to cut off on low battery
The case seems slightly cheap
5) Line 6 Relay G10 Wireless Guitar System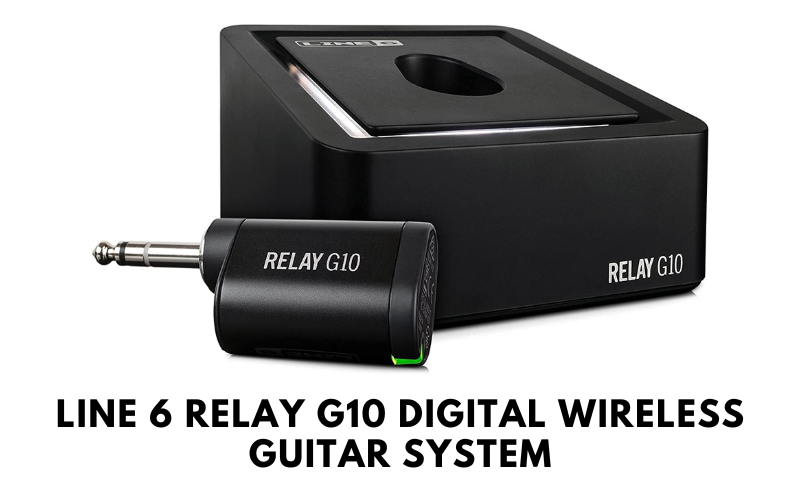 | | |
| --- | --- |
| Manufacturer | Line 6 |
| Model | Relay G10 |
| Transmission | Wireless |
| Range | 50 Feet |
| Battery Backup | 2.4Ghz |
The Line 6 Relay G10 is a wireless guitar system compatible with most amps. I became a huge fan of its excellent sound quality, which can reach a range of up to 50 feet. It is extremely helpful for musicians who regularly perform on stage.
Remarkable Build Quality
The build quality is also remarkable; with metal instead of plastic, it becomes more solid and gives a sturdy look. However, it has an input jack on its body face, and this position looks vulnerable as compared to the other guitars. If I accidentally drop my guitar, all the weight will be on it, and it may damage the G10.
Ease of Use
I love to use G10 due to its ease of use, and it is its strength, in my opinion. There is only a need to plug into the transmitter, which will connect to the receiver. If you have the Spider V 60, 120, and 240, you need not worry about the channel selection or anything.
Audio Quality
Most audiophiles like to note small sound differences when selecting the best guitar wireless system. I tested Line 6 G10 with my fellow musicians, but no one could differentiate between wired and wireless playing. Due to this, users can quickly evaluate that it will sound fantastic, digitized, and clear.
Auto-Muting
I did not expect the feature of auto-muting from G10. You will not notice any sound after plugging it in. The Relay G10 mutes for almost half a second when plugin for first. This feature is impressive as you will remain safe from noise and popping sounds.
Wireless Range
When buying any Bluetooth wireless guitar system for yourself, you may need to consider the range. The G10 offer you a range of 50 foot which is more than enough, like the shure guitar wireless. I didn't feel any distortion or sound skipping even when I tested it across the walls from another room.
Benefits
Plug-and-play mechanism to operate the system
There is no noticeable delay or latency
Handy and practical design
It goes to standby mode after some time to save battery
Drawbacks
Outdated micro-USB for charging feels cheap
6) Boss WL-50 Long Range Wireless Guitar System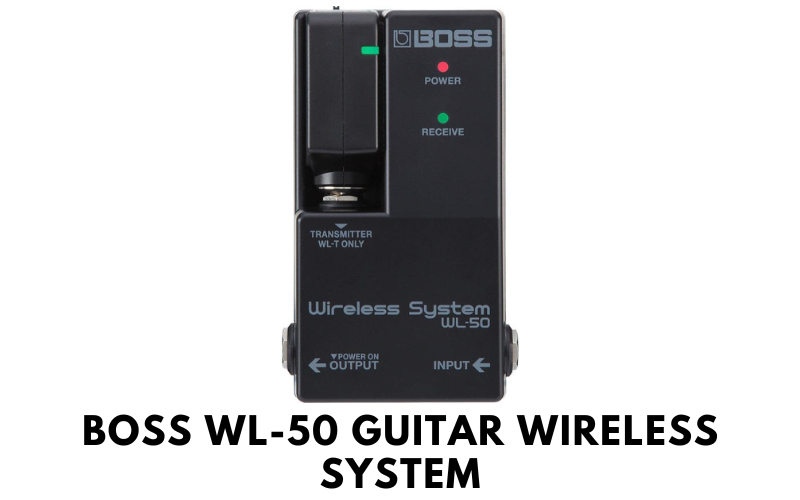 | | |
| --- | --- |
| Manufacturer | Boss |
| Model | WL-50 |
| Transmission | Wireless |
| Range | 100 Feet |
| Battery Backup | 2.4Ghz |
Boss WL-50 is a pedalboard-friendly system, and it is also straightforward to set up due to its plug-and-play feature. I have experienced excellent sound quality due to its low latency and expansive dynamics. It also provides stable performance even if you play it at its maximum range of 65 feet.
Long Lasting Build
Using a good kind of ABS material in its making becomes durable. This material makes it durable, and there is no need to worry about replacing it soon. You can place it inside the bag or carry it along during live performances without worrying about its durability.
Built-in Transmitter Dock
There is a built-in transmitter dock and a plug-and-play design. It is beneficial for those who are lazy to make a setup. The size of the receiver is like the stompboxes. You can easily adjust it to the wireless guitar setup without any challenges.
Extremely Low Latency
With very low latency, it is good enough, along with the expansive dynamics. It also remains stable with its maximum range of 65 feet. There are two wireless guitar cable tone emulators for creating natural sound.
Frequency and Transmitter
There are 14 working channels with a frequency range of up to 2.4GHz. When I talk about its wireless guitar transmitter, it contains 0.25″ line input and 0.25″ transmitter input for the receiver.
Pedal system
There is also a pedal system that is comfortable when the musicians perform in one place—the pedal system weighs 0.5lb and has a 9V DC power supply for in and out. It makes the system works flawlessly without having to set for each guitar.
Audio quality
Regarding the audio quality, the Boss WL 50 represents a top-notch sound. It will ensure excellent sound quality. However, one thing I noted during the testing is its limited range of audio. It is not up to drastic levels but still worth considering when buying it for professional use.
Benefits
It works without any latency delays
The plug-in and out are smooth and without any sounds
The range is highly suitable for stage performance
It has a solid battery life
Drawbacks
Slight fitting issues with the recessed angled jack of the guitar
The plastic construction feels slightly cheap
7) Line 6 Relay G50 Best Wireless Bass Guitar System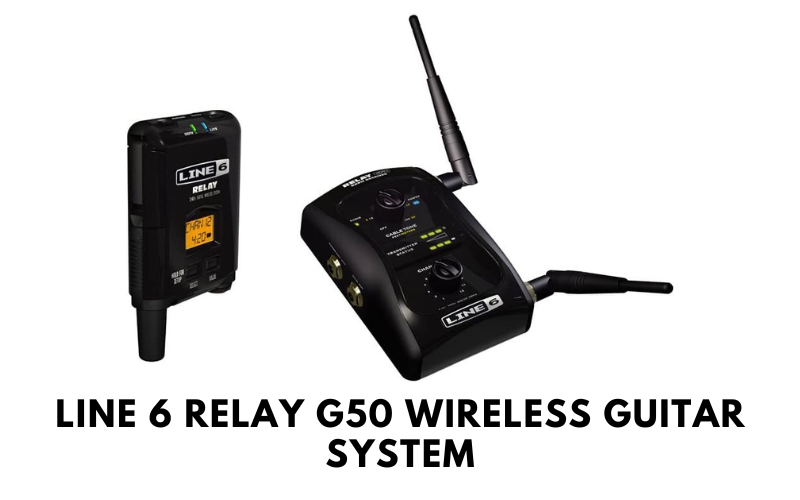 | | |
| --- | --- |
| Manufacturer | Line 6 |
| Model | Relay G50 |
| Transmission | Wireless |
| Range | 200 Feet |
| Battery Backup | 2.4Ghz |
With its super-quality sound simplicity and exciting features, the Line 6 Relay G50 will become more valuable than the other wireless system. The G50 can redefine the wireless experience of guitarists. It is one of the few guitar wireless systems that can make your live performance go crazy without latency and performance issues.
Cable Less Long Range
The Line 6 Relay G50 is the best wireless bass guitar system with an impressive 200-foot range making it the ultimate choice for hardcore performance. I tested it for the 180-foot range, which still resulted in deterioration-free signal quality. It means you can rely on it and move across the stage without having to face reach issues.
Superior Sound
With the superior sound and thunderous low-end punch, it works great. The range is 200 feet and is suitable for powerful stage performances without disturbing signals. The sound quality will be excellent, with total bandwidth and zero compression.
Performance and Usability
It is normal for wireless guitar systems to not operate at their potential, especially for long-range connections. Line 6 G50 is different from others in this aspect. It produced the same connectivity performance when connected closely or operated from 180 to 200 feet.
Professional Dependability
The Relay G50 best guitar wireless system is very dependable and keeps the signals away from interference. To enhance the security of signals, it offers signal protection technology. That's why it is a perfect pick if you need professional dependability.
Indicators
It is a lightweight wireless guitar system with ease of use and has an LCD for channel numbers. LED lights will indicate the battery's life and power status. It helps keep up with the battery level and lets you plug in time before the juice runs out.
Benefits
It supports the popular 24Ghz band
The frequency range is super wide
It is reliable and sturdy to use
The tone quality is at par with the cable
Drawbacks
It is slightly more expensive than other options
The transmitter belt clamp seems slightly crude
8) Boss WL-20L Guitar Wireless System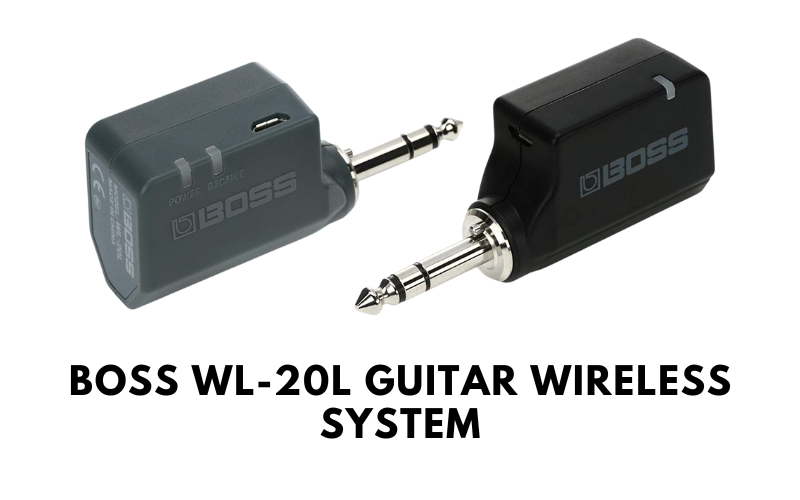 | | |
| --- | --- |
| Manufacturer | Boss |
| Model | WL-20L |
| Transmission | Wireless |
| Range | 100 Feet |
| Battery Backup | 2.4Ghz |
Due to its simple plug-and-play design and solid stability, the Boss WL-20L has become one of the best wireless guitar systems on the market. The charging of the component is also effortless with the USB adapter. I find the WL-20L better than the WL-20 due to its practical pickups and keytars.
Seamless Wireless Connectivity
If you don't like entangled wires like me, then Boss WL-20L is for you. It produces a reliable performance, like your standard guitar cable. Only plug the transmitter into the gadget and the receiver into the pedal. There is only a need to dock them together for about 10 seconds, and the WL-20L will start to work.
Worry-Free Connection
You may not need to worry about range even if you are playing it at its highest level. Its superior features will offer you the full range of signals without any cuts and lags of sound.
VWT Technology
The Virtual Wier Transmission technology makes Boss WL-20L more valuable than the others. It will ensure to provide complete range frequency response with quality transit, just like the high-end systems; it also gives you a dynamic range.
Cable Tone Simulation
The WL-20L wireless relay system introduces the feature of a Cable Tone Simulator, which will allow you to sync your Relay's sound to the cable's sound. Now there is no need to go back to adjust some settings.
All the channels of Relay work at the same time. However, for an analog wireless system, it may become different. There is no need to scan for channels by using any source.
Battery Charging
For charging, there is no need for a special cable or adapter as you can do it using the standard USB adapter like your smartphones and tablets. There is an option to charge the transmitter and receiver separately and simultaneously with included micro USB cable.
Drawbacks
It lacks a proper docking station
It needs improvement for working with active pickups sometimes
9) Samson Concert 99 Multi-System Guitar Wireless System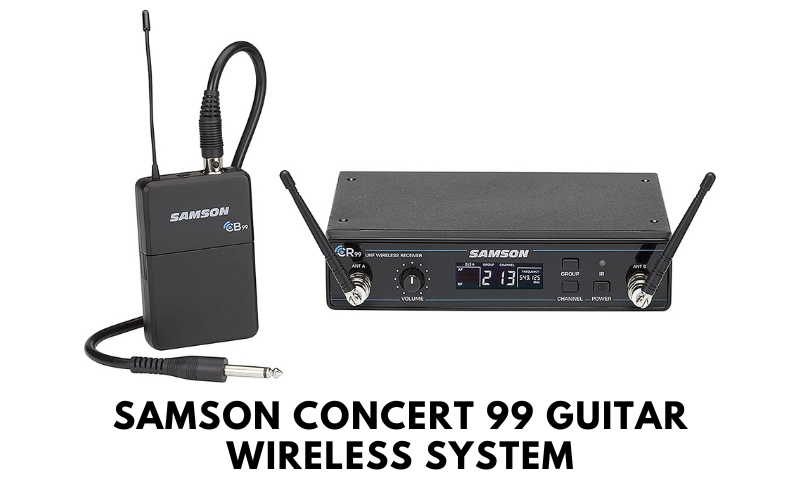 | | |
| --- | --- |
| Manufacturer | Samson |
| Model | Concert 99 |
| Transmission | Wireless |
| Range | 100 Feet |
| Battery Backup | 2.4Ghz |
The Dynamic Microphone and 80 channels of high-quality audio make the Samson Concert 99 valuable among all. It has a rack-mountable frame with a stage-ready backlit display. I also find Concert 99 best in signal and multi-system arrangements. The frequency-agile system is very effective for educators, singers, and businesses due to its wireless freedom.
Mountable Design
The Concert 99 best guitar wireless system body is highly durable and resistant to outer elements due to its metal construction. Besides the durability, the design is easily mountable. It showed better results against rough use than the previous wireless systems. The price does not seem over as the value and durability it provides is according to industry standard.
Clean LCD View
With the Samson Concert 99, you will get an LCD. This feature is fascinating to me as we can see on it the dark stage even at a long distance. The LCD also indicates the battery life, channel numbers, and UHF frequency.
Professional Dynamic Microphone
The CR99 Wireless Receiver comes with it to receive the CH99 Handheld Transmitter signals. The Samson CH99-Q8 uses this feature for its professional dynamic microphone capsule for better transmission.
Battery Life
Regarding battery life, it will offer you 8 hours of constant uptime. I have tested the battery life, and the results were almost close to the claimed numbers. The backup time is great for the live performance as it is enough for a few hours of fun and entertainment.
Benefits
The frequency latency is negligible
It has a wide operating range
The features are unique and practical
It has durable metal construction
10) Audio-Technica System Wireless System for Guitar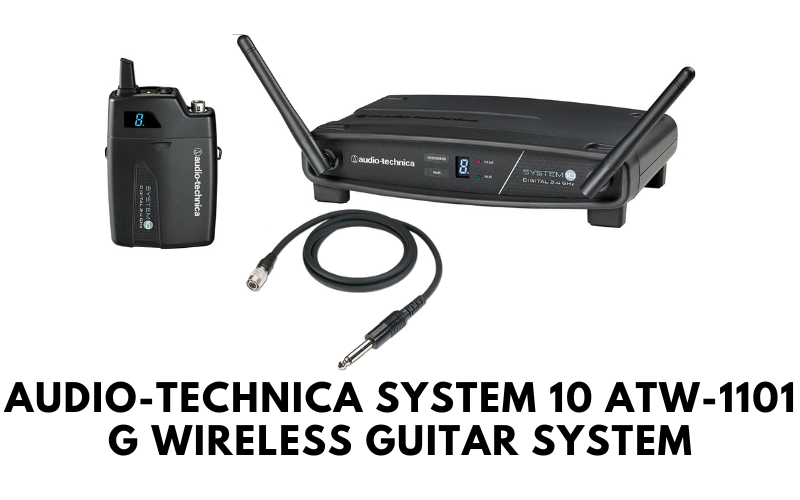 | | |
| --- | --- |
| Manufacturer | Audio Technica |
| Model | System 10 |
| Transmission | Wireless |
| Range | 100 Feet |
| Battery Backup | 2.4Ghz |
The Audio-Technica System 10 is also a well-known brand for guitarists. I find that system 10 provides an excellent quality of sound and dependable performance. The frequency of the 2.4GHz range makes Relay free from interference from other instruments.
Easy Operation
It is straightforward to use this wireless guitar system. With the instant selection and setup, it takes less time compared to others. It also has three levels of diversity assurance: space, frequency, and time, ensuring interference-free performance.
Receiver Reception Quality
Multiple mount options exist; you can select between the balanced and unbalanced jacks with controls. You can even use recording devices with it. The receiver quality is excellent, and you won't feel any feature lacking compared to the other wireless systems I have listed here.
Long Battery Life
The battery timing is about 12 hours, which is suitable for performing on the stage. It is almost 50% more than most guitar wireless systems currently available. If you do not keep track of battery percentage or get irritated by plugging into an outlet every few hours, the Audio Technica System 10 is all you need.
Excellent Sound Quality
The Technica System 10 is not only the best for the signal and coverage, but it also has splendid sound quality. You don't have to worry about the vocals disappearing due to poor-quality sound as it carries them as received. The distance also doesn't affect the sound production and remains the same within the range.
Benefits
It delivers a clean audio signal without interference
The sound quality is absolute, with accurate bass
The build quality is reliable and sturdy
Super easy to operate
Drawbacks
Slightly expensive than competitors
The Best Guitar Wireless System Buying Guide
Depending on your budget and needs, you will see many options in the market. It's up to you can select the best one for you. If you do not know about features, here are some features worth considering when buying the best wireless guitar system.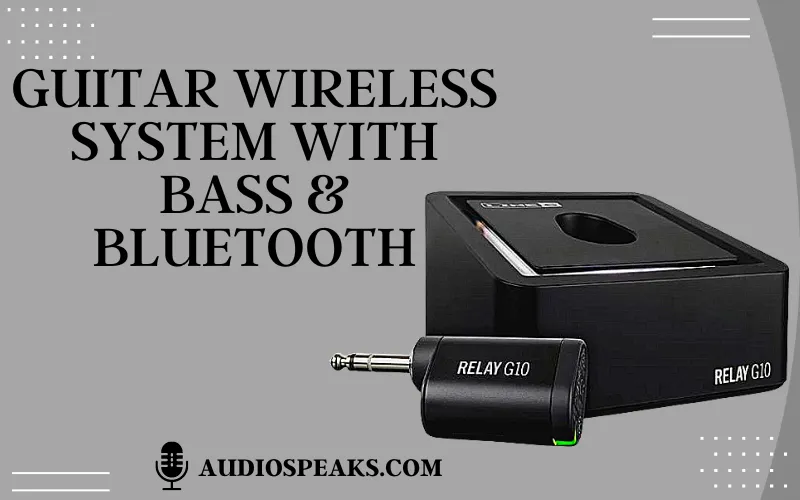 Switchable Frequency
Switching between different frequencies is very important for your wireless guitar system. Due to this ability, the lags and disconnections become less. Your sound quality may suffer if the frequency becomes busier.
So, to avoid these consequences, you should keep in mind the "Automatic Frequency Selection" feature or something like this feature. Boss WL-50 is an absolute beast for frequency switching due to its 14 ranges.
Transmission Distance
If there is a need to move around the stage during the performance, then the range of transmitting the signals is significant so that you will not lose the signals due to the considerable distance.
However, for the performance of smaller places, there is no need to worry about distance and extended operating range. But if the case is not the same, you should consider a device with long-range, like Line 6 Relay G50, that keeps the other features in mind.
Battery Type and Life
Battery life is another essential feature and will become more vital during your powerful performances. Most batteries have at least 5 to 6 hours of playtime, enough for small performances. But you should always go for better if you have a budget.
Now various brands in the market offer Lithium ion completely rechargeable batteries. Some also contain fast charging features, and you can charge them with short time intervals for your performance. Audio-Technica System 10 offers 10 hours of battery life which is the highest among the other options.
Latency
Latency is also essential if you don't want any experience with dropouts and lags. You should find out a guitar system with lower latency. The 6ms latency is quite well for consideration. All the guitar wireless systems listed here have a low-frequency range that gives you a reliable audio experience without any reduction in the sound quality.
Durable Construction
The durability of any product matters a lot; if you use a pedal-based wireless system, it becomes more vital. You may need to step on I many times, and it may become weakened with time, and I think you don't want to break it anywhere. You should pick up those systems made from high-end ABS material with a compact design to avoid sudden damage.
The wireless guitar systems will work very well with active pickups. Especially with Acoustic-electric and solid-body electrics alike, the wireless guitar will work great. They increase the utility of the guitar systems.
A wireless guitar system is highly preferable among guitarists due to its utility and wire-free operation. Some guitarists do not like it due to the latency issues, but with improving technology, latency so not a concern anymore. All the products listed here are top-notch and provide no latency issues. You can select between the listed options for buying the best guitar wireless system. However, my recommendation stays with the Getaria Upgrade GWS-8 due to its long range and excellent audio quality. It has all the features for a perfect guitar and wireless system duo.

Product Recommendation
What wireless system do pro guitarists use?
Pro guitarists prefer the guitar system with high-quality audio and with a secure and stable system. They also want features like encryption, software control, and flexible networking in their system. The best transmitter will offer almost 9 hours of continuous operation.
What is the difference between 2.4 GHz and 5.8 GHz for wireless guitars?
The 5.8 GHz guitar wireless systems are less susceptible to frequency interferences than 2.4 GHz systems. There are a few wireless electronics that send information over this frequency. That's why the chance of interference of signals with other gears becomes less while playing guitars.
Do wireless guitar systems affect tone?
There is no difference in sound quality from the guitarist's point of view. But still, some professionals have an opinion that there is little to no difference in quality and no matter whether to use a cable or wireless transmitter and receiver for your guitar.
Are wireless guitars worth it?
It becomes more worthwhile when you're performing on a large stage as you will be free to move around the stage, which may not be possible with a wired guitar. You may not need to worry about the cables creating any mess on stage while performing.
Do wireless guitar systems work with active pickups?
The wireless guitar systems will work very well with active pickups. Especially with Acoustic-electric and solid-body electrics alike, the wireless guitar will work great. They increase the utility of the guitar systems.