Throwing a tailgate party on weekends is the norm for entertainment and having fun with friends and family. But the problem is that normal speaker systems are not loud enough to make the sound reach effectively to every person. It is where the best tailgate speakers come in handy. They are loud, portable, and can handle multiple connections making them the best choice for DJs and karaoke playing.
Being a musician and fond of parties with friends, I often throw tailgate parties. My karaoke speakers were not enough to handle a large audience, so I decided to try to tailgate speakers. I extensively researched all the available products when searching for loud and portable tailgate speakers. After days of testing some products and comparing their performance, I finally purchased my tailgate speakers. I thought of putting the list of the best available tailgate speaker so that you don't have to go through all those steps when purchasing.
10 Best Tailgate Speakers 2023
Table of Content:
Most people buy tailgate speakers for outdoor parties for durability, loudness, and portability. Considering all these factors, I have sorted the list of the best tailgate speakers in 2023. You can get help from my detailed review of these products and select the best options suitable for your usage.
I ensured that these tailgate speakers have Bluetooth and wired connectivity so that you can connect them anywhere without having to deal with compatibility issues with other devices. Let's start the reviews without further ado!
How To Use: Multipro Tailgate Speakers?
1) ION Audio Block Rocker Plus Tailgate Speaker with Microphone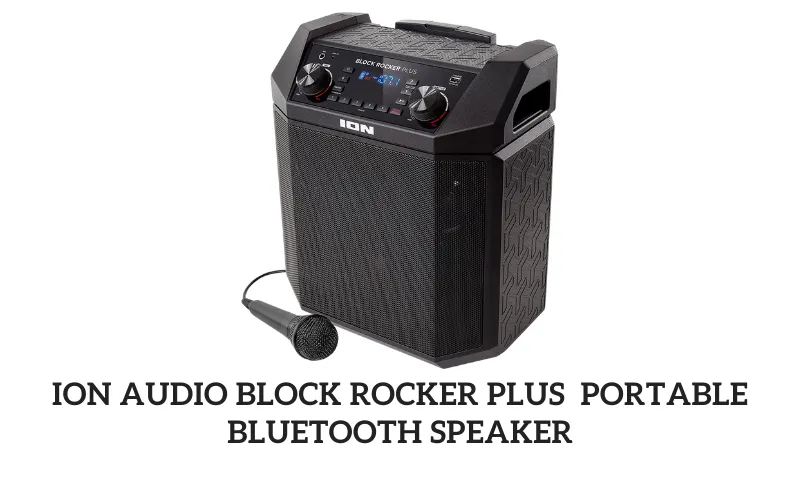 | Specifications | Values |
| --- | --- |
| Manufacturer | ION Audio |
| Model | Block Rocker Plus |
| Power Rating | 100W |
| Speaker Type | Woofer, Tweeter |
| Connectivity | Aux, USB, Bluetooth |
| Dimensions | 9.85 x 17.33 x 14.57 inches |
The ION Audio Block Rocker Plus is the best tailgate speaker with microphone I came across when testing the products. It is one of the best multi-functional, water-resistant wireless speakers with a compact design and is also rechargeable. The ION offers sound quality and loudness that makes you want to buy it for tailgate parties.
Portable Design
If you like sleek and compact tailgate speakers, ION Audio Block will surprise you with its compact design. It is rectangular with easy to carry telescope handle and built-in wheels. These wheels make it more portable, and you can take it anywhere and keep it in your suitcase.
Extended Battery Life
On continuous use during the testing, the ION Audio Block Rocker Plus provided almost 35 hours of battery time. This long battery life makes it more worthy for its users as you can enjoy your parties where you need good sound quality. Although the battery time is shorter than its counterpart, it is straightforward to recharge in less time and has the ability for quick turnaround time for its subsequent use.
Versatile Connectivity Options
I liked the ION Audio Block Rocker Plus's versatile connectivity options. It offers both wireless and wired connectivity options so that you can connect any device you want to attach to it. You can easily pair it with your smartphone, tablet, and the other audio devices from which you want to get audio input.
The wireless connectivity option works for your Bluetooth devices, and the NFC link option works. It means you can tap with your phone and other devices to play music. It is an excellent feature as anyone can get access to it at the party. Moreover, you also get both FM and AM radio on board with 15 presets.
Vibrant Sound Quality
The sound results came as I expected from the ION's best tailgate speakers, as it does not have distorted sound feedback. This built-in 2-way tailgater speaker and 1000W dynamic amplifier provide vibrant sound quality. The ION contains a 3-inch tweeter and 8-inch woofer to make a wide sound dispersion. It is a good pick if you want to hear clear, clean, and present audio.
Benefits
It comes featured with an iPad dock which comes in handy for connectivity
The Bluetooth helps to control the tracks
It comes included with the XLR microphone
The 100W power provided loudness for large parties
Drawbacks
It is slightly bulky despite having a compact design
It lacks a remote control
The speaker mode is mono only
2) Anker Soundcore Motion Boom Best Portable Speakers for Sports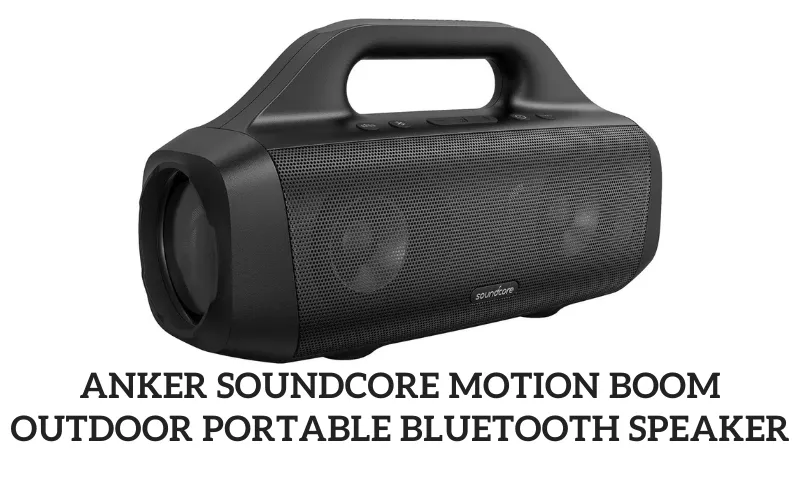 | Specifications | Featured Values |
| --- | --- |
| Manufacturer | Soundcore |
| Model | Motion Boom |
| Power Rating | 30W |
| Speaker Type | Outdoor, Portable |
| Connectivity | Bluetooth |
| Dimensions | 13.62 x 5.83 x 7.87 inches |
Regarding outdoor-friendly Bluetooth speakers, JBL covers the market with various models at different prices. The Anker Soundcore Motion Boom is among the best portable speakers for sports that I have tested so far. The reason for placing it among top performers is its compact waterproof design and awe-inspiring performance. The sound quality is also excellent for a speaker of this size.
Full Water Protection
Soundcore Motion Boom has one of the highest waterproof standards for speakers. It can stay submerged in the water for up to 30 minutes without damage. You can use it for a sports event or tailgate parties without fear, as it can withstand water better. The other exciting thing about it is that it can float, and this feature makes it perfect for your pool parties.
Soundcore App Support
The soundcore app works for Android and iOS without any settings. When you connect to the speaker, you will get a voice prompt and fine-tune settings. There is a play or pause button, an EQ section, and a functional volume slider.
Loud Audio
I experienced that after testing the Soundcore Motion Boom that it is competent for Bass Boost. If you like adding bass to the songs and live performances, the loud audio coupled with the Bass Boost is there to serve. During my testing, I kept this function on; without it, the sound came thin and provided less love for the bass.
Impressive Battery Life
The manufacturer offers 24 hours of battery timing which came accurately during my tests. I think I recharge it once since I have had this system for a couple of weeks. But use it occasionally, so you may not expect it to work constantly after those weeks. Moreover, you may need to be concerned about accidentally overcharging.
Benefits
The audio crispiness and rich lows are powerful for their size
It has a waterproof rating and can float on water
The speakers are accurate and produce a loud sound
It has adjustable EQ that helps in tuning the vocals
Drawbacks
It is not a perfect speaker for massive bass
The louder sounds have a higher pitch
It offers thin sound for the complex tracks
3) Bose S1 Pro Bluetooth Tailgate Speaker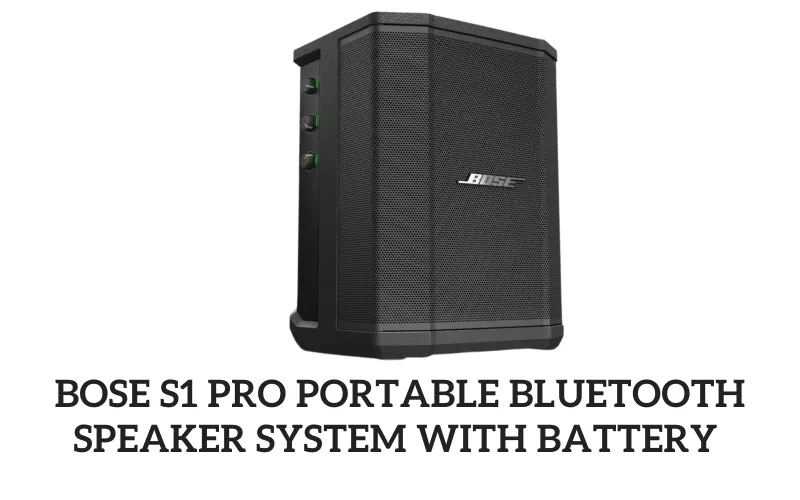 | Specifications | Tested Values |
| --- | --- |
| Manufacturer | Bose |
| Model | S1 Pro |
| Power Rating | 150W |
| Speaker Type | Party, Tailgate, Portable |
| Connectivity | Aux, Bluetooth |
| Dimensions | 11.1 x 9.4 x 13.1 inches |
I think it is the best Bluetooth tailgate speaker I have tested. It is not only portable but also contains many other brilliant features. The design is very compact, and it is lightweight. It has a specific design, and you will get quality sound in any direction regardless of the orientation you place it in.
High-Quality Material Construction
The quality of the material of any product decides its durability. The Bose S1 has high-quality material construction, giving it the most durable and robust design. A good kind of sturdy metal grill is placed at the front of the speaker to protect it from damage. It is very lightweight and compact, so it becomes easy to keep it with you anywhere.
Multi-position Functionality
One most exciting things I experienced about the BoseS1 Pro is multi-position. You can place your speaker in various directions or angles to get the sound you want. You can place it on its back, on its sides, and place it straight. It will work great at all positions and give excellent performance without wobbling.
Excellent Playback Quality
Due to its excellent playback quality, Bose best tailgate speakers have become a famous brand in the range of speakers. So, it will not be surprising that Bose will give you a powerful sound from its lightweight, compact, and trim design. It doesn't matter if you pair the device through Bluetooth or cable. It will provide fantastic sound with distinct and clear audio.
LED Communication
The LED lights on Bose tailgate speakers are the best way to communicate the speaker's status. This feature lets users know what is going on with the speakers. If the light is green, it will indicate that everything is ok, but if the light becomes red, it means an overload is imminent.
Plenty of Useful Features
The Bose S1 is full of features as you can enjoy the features just like the stereo mode, which is easily accessible through the Bose smartphone app. This app is available for both Android and iOS users, and it is free. You can update the firmware, and the process is straightforward. Only connect your smartphone through a micro-USB port on the device and then load the new software.
Benefits
It has plenty of input options
The tonal representation is right on the spot
It has impressive battery life for use wirelessly
The sound quality is loud and clear
Drawbacks
The battery life indicator is absent
It is slightly expensive
Lacks the depth and reach of the sound
4) JBL Boombox 2 Best Bluetooth Speaker for Outdoor Party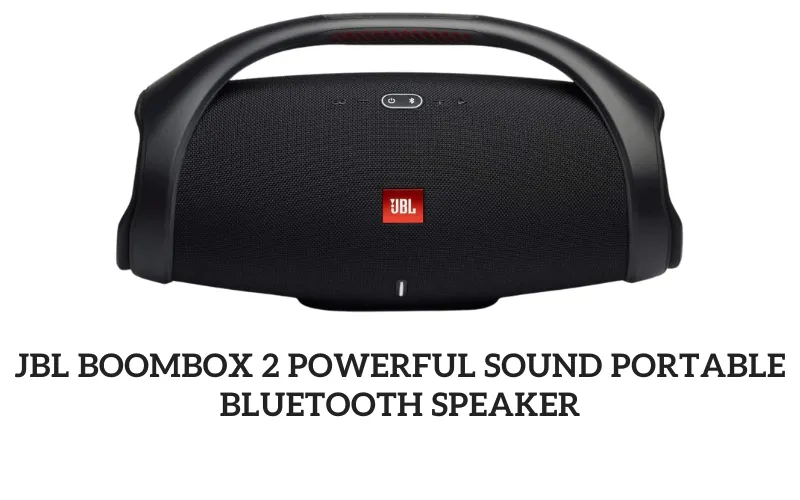 | Specifications | Values |
| --- | --- |
| Manufacturer | JBL |
| Model | Boombox 2 |
| Power Rating | 160W |
| Speaker Type | Portable, Surround Sound |
| Connectivity | Bluetooth |
| Dimensions | 19.1 x 7.9 x 10.1 inches |
The JBL Boombox 2 is a Bluetooth portable speaker of considerable size with powerful bass and high volume. Its waterproof design makes it the ultimate choice for the best Bluetooth speaker for outdoor party. I am not sure I will find any speaker delivering a better sonic experience at an affordable price. I think this is a good pick for you if you want to enjoy an outdoor-friendly system for your party. 
Heavier and Portable
The Boombox 2 is a heavier speaker. So, here the question is, how can it be portable? This speaker's portability means you can take it to your backyard, your car's trunk, or your rooftop with its built-in handle. However, if you think you can keep it in your bag, it is impossible due to its size and weight. It can be submerged underwater for up to 30 minutes due to its IPX7 rating. Although it works underwater, we don't advise you.
24 Hour Battery Life
It is pretty good battery life and will work for about 24 hours. If you stick to the default volume, it will work accurately for 24 hours. But if the volume is 60%, it will hit 20 hours easily. When the battery becomes low, you will not feel the buzzing sound you may experience with the previous Boombox.
Amazing Sound Quality
If we look at its size, it is just like a beast. But this big size overcomes the distortion of volume. No matter what you want to play on it, the bass will figure prominently here. However, you will experience quality music and note how enjoyable the late-night jazz music is in your backyard.
Benefits
It has an IPX7 waterproof rating for outdoor use
The sound is distortion-free and loud
It offers a battery backup of up to 24 hours
The audio performance is outstanding, with sculpted highs and booming bass
Drawbacks
It is slightly on the expensive side
The heavy and bulky design makes it challenging to move
5) Aiwa Exos-9 Loudest Tailgate Speaker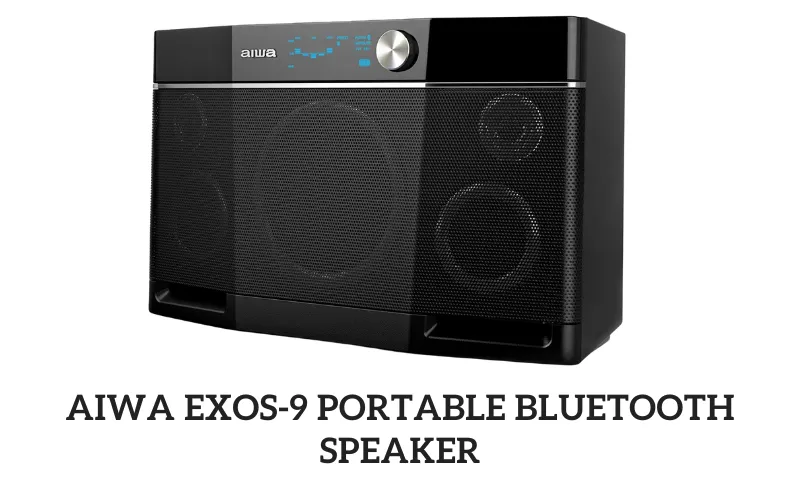 | Specifications | Featured Values |
| --- | --- |
| Manufacturer | Aiwa |
| Model | Exos-9 |
| Power Rating | 200W |
| Speaker Type | Subwoofer |
| Connectivity | Bluetooth |
| Dimensions | 7.5 x 11.7 x 19.4 inches |
Aiwa Exos-9 is also a highly rated and popular tailgate Bluetooth speaker. It is the loudest tailgate speaker that I have tested this year. The Aiwa is a portable Bluetooth speaker you can bring for outdoor parties, but it is not waterproof. However, the extraordinary features like loudness and durable build make it valuable.
Heavy Duty Design
Its heavy-duty design makes it like a beast among all the other best tailgate speakers. Its weight is almost 13 lbs, so it is good to join the gym before you take this speaker system to your parties. However, the design of the Exos-9 is very generic and has a good color scheme of black with a slight silver accent.
Onboard Graphic Equalizer
You can enjoy every kind of music on Aiwa Exos 9 speaker without distortion due to the graphic equalizer. Simply put, you can customize it according to the music you want to enjoy. For easy tuning, you have an option to set it from its 4 preset equalizers.
Loud Sound Performance
The first thing about the Aiwa is its loud sound performance. This tailgate Bluetooth speaker can fill up your large rooms with music. So, I think it will prove a good companion for you if you want to arrange a party at a prominent place because it can pump your tune loud and far.
Satisfactory Battery Life
The manufacturer has claimed 9 hours of battery timing for Aiwa Exos-9, but it only worked for about 7 to 8 hours when I listened at medium volume. If you want the speaker to work at its full potential, you may need multiple batteries, or you can buy the extended battery that doubles the Exos-9 playtime.
Portable Bluetooth Speaker
All the audiophiles who throw tailgate parties prefer portable Bluetooth speakers. With Exos-9, you can enjoy your music anywhere you want and even use them for your outdoor parties. However, the Exos-9 is a bulky Bluetooth speaker; you cannot bring it in your bag.
Benefits
The loudness and power are ideally balanced
It has a powerful and long-lasting battery
The clarity of the sound is impressive
It offers options for NFC connect
Drawbacks
The build quality is not rugged for rough use
It is not waterproof
6) ECOXGEAR EcoBoulder+ Loud Tailgate Speaker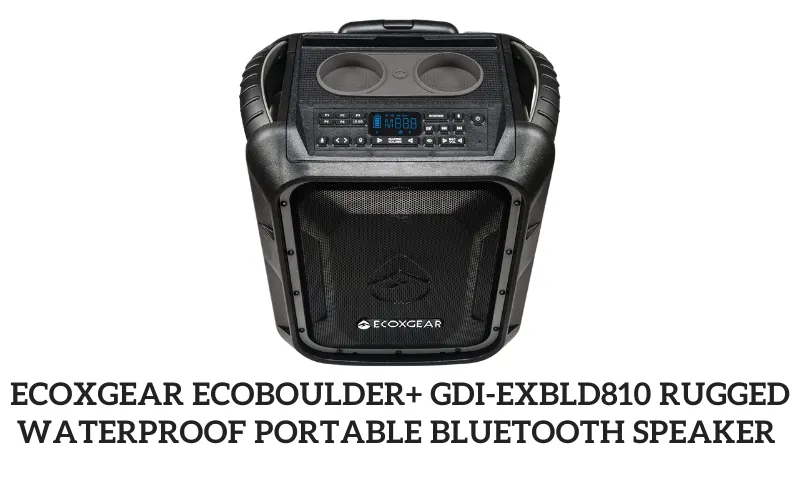 | Specifications | Tested Values |
| --- | --- |
| Manufacturer | ECOXGEAR |
| Model | EcoBoulder+ |
| Power Rating | 100W |
| Speaker Type | Built-in |
| Connectivity | Wireless |
| Dimensions | 12 x 14 x 20 inches |
The EcoBoulder+ is a Loud Tailgate speaker with 100 watts of sonic fury and brings other features like input for guitars, cup holders, and microphones. If we talk about its audio standpoint, the EcoBoulder+ has an average performance. However, this size of the speaker should give more solid depth for bass, but this Bluetooth speaker has not fulfilled the requirement.
Sturdy Design and Aesthetics
EcoBoulder+ has superb build quality with two sturdy handles that make it easy to carry. It also has two cup holders at the top of the panel. I liked Velcro-on carrying on the right side and the handy bottle opener, which proved helpful when having an outdoor party.
Impressive Waterproofing
The EcoBoulder+ is rated IP67, which means it is fully waterproof and can float. Moreover, this Bluetooth speaker repels dust. It offers a waterproof bag for your smartphone and can easily fit inside the Velcro-attached pouch.
Versatile Connectivity Options
There is a built-in AM/FM radio in EcoBoulder+ with an internal antenna, so if the signals are poor, you will rotate the entire system. Through wireless audio connectivity, you can enjoy music. There are ports for connecting the mic, a USB charging port for powering your device with its battery, and a 3.5mm aux input.
Durable and Long lasting Battery
The estimated battery duration is about 50 hours on a full charge and 10 hours at its maximum volume. So, we can say that the battery time depends on your volume levels. It will take about 8 hours to charge and remain stand by only for 100 hours.
Loud and Clear Sound
The volume of this Bluetooth speaker doesn't depend on your mobile's volume. Even you can pump your phone volume up. Entirely the volume of this speaker will become insane. I will recommend that you adjust the volume slowly and start from low. T
Benefits
It comes fitted with telescoping handles and wheels
Waterproof design makes it easy to use outdoors
The bottle opener is handy for parties
It offers solid bass and crisp audio at higher volumes
Drawbacks
The size of the speaker is massive
It lacks some sub-bass audio response
7) Ultimate Ears Hyperboom Tailgate Bluetooth Speaker System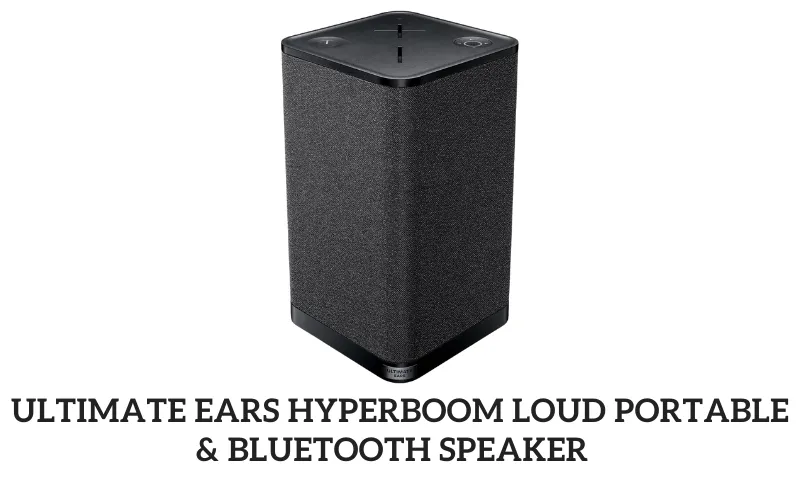 | Specifications | Values |
| --- | --- |
| Manufacturer | Ultimate Ears |
| Model | Hyperboom |
| Power Rating | 200W |
| Speaker Type | Woofer |
| Connectivity | Aux, Optical, Bluetooth |
| Dimensions | 7.5 x 7.5 x 14.33 inches |
The Hyperboom is the best tailgate Bluetooth speaker system offered by Ultimate Ears to date. It will allow you to enjoy the music whether the party is indoors or outdoors. Although heavy, it has a stylish and beautiful design that can pair two devices simultaneously. It is expensive, but you will get incredible sound at this price.
Sporty Design
The Ultimate Ear's best tailgate speakers follow its traditional sporty design. The mesh fabric covers it and the plastic hardware. However, they make the Ultimate Ears a little discreet in color by giving it a black finish instead of a colorful option, just like the others: boom or Megaboom.
Splash Resistant Build
The overall impression of its build is solid, and its durable material makes it perfect for transporting and saving it from any damage. Moreover, it is certified with IPX4 water resistance and ensures that it remains1 safe from water splashes during your pool parties and will not damage spilled drinks.
Extended Battery Life
The battery life is about 24 hours, depending on playing your music at a volume of 50%. However, the battery time is long enough to power up your party when you charge the battery before leaving your home.
Connectivity and Versatility
At the rear, a rubber hatch will hide the optical input, 3.5mm audio input, a speaker charging, and a USB port for charging your phone. The optical input is here to boost your TV audio, so the Hyperboom has good features for its users.
Well Balanced Sound
With a well-balanced soundstage, the Hyperboom lives up to its name. It can play your music very loud with clarity of sound, and there is no problem for this Bluetooth speaker to fill large rooms and places with music. The Bass will not overwhelm the other aspects of music and give you an enjoyable experience with its performance.
Benefits
It offers loud output with balanced sound
The Bluetooth switching is seamless
It has multiple connectivity options, including optical and Aux
The battery life is impressive
Drawbacks
The design is bulky and large
Lacks high-quality Bluetooth codec support
It lacks AAC and aptX support
8) Monster Rockin' Roller 270 Best Rolling Speaker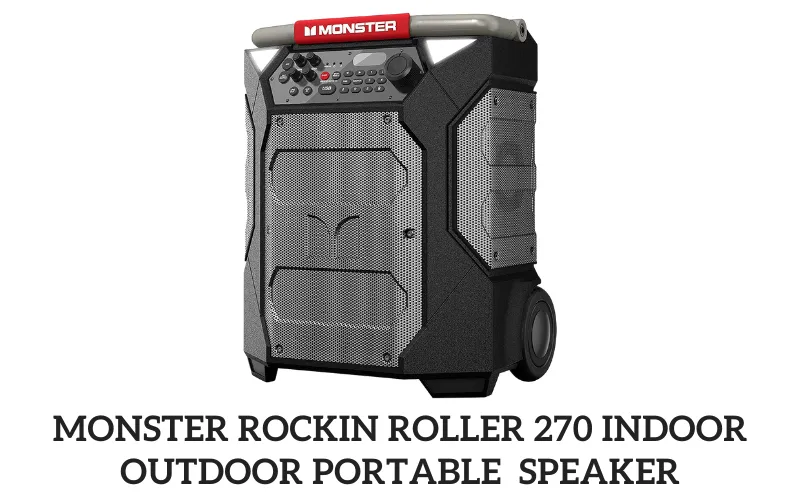 | Specifications | Featured Values |
| --- | --- |
| Manufacturer | Monster |
| Model | Rockin' Roller 270 |
| Power Rating | 200W |
| Speaker Type | Portable, Rolling |
| Connectivity | Aux, NFC, Bluetooth |
| Dimensions | 13.2 x 10.8 x 18.6 inches |
Monster Rockin Roller 270 is a good choice for those who want to have long battery life for their Bluetooth speakers. It also offers a strong Bass with a clear sound. It is the best rolling speaker with a loud sound for ideal outdoor performance. A playtime of 100 hours is excellent, and the Bass power of 200 watts makes it loud for your parties.
Huge and Bulky Build
The vast and bulky structure will support its battery time and power. The weight is about 34 pounds, and the size is about to be a medium traveling bag. However, it will not create difficulty with telescoping handles and wheels, but space may be a problematic factor.
Distortion Free Sound
When it comes to the sound quality, no doubt it is pretty well on the monster tailgate speaker. It provides you the two connections for speakers via Bluetooth. However, some users report it is motionless in Bluetooth sound. But the overall performance is excellent for outdoor users.
Numerous Features
The speaker remains unaffected by the environmental harshness, and the IPX4 waterproofing structure remains safe from damage. All of these make it unique and add marks to its list. The Qi-wireless charging and its 270 degrees ability of sound dispersion make it more worthy. Without using any extension, you can pay radio on it. By using the Monster control app, users can control it remotely.
Long Battery Life
With a long battery life of 100 hours, it will work for 40 to 50 hours at its total volume. When it charges, you can easily use it for several weeks, and it also has a Qi-wireless charging feature, which is excellent.
App-Based Control
Monster Zone Control App is a specific app for these Bluetooth speakers and allows users to control their functions with their phones. It will be easy to increase or decrease volume and brightness. Even Bass will also control it.
Benefits
Sound is clear, sharp, and has deep bass
The battery can last for weeks
The theatrical effect makes the sound disperse in all directions
It offers easy to control using the Monster Zone Control App
Drawbacks
Somewhat heavy for portability
Bluetooth has some static for a few instances
9) QFX PBX-61081 Best Tailgate Speaker with Wheels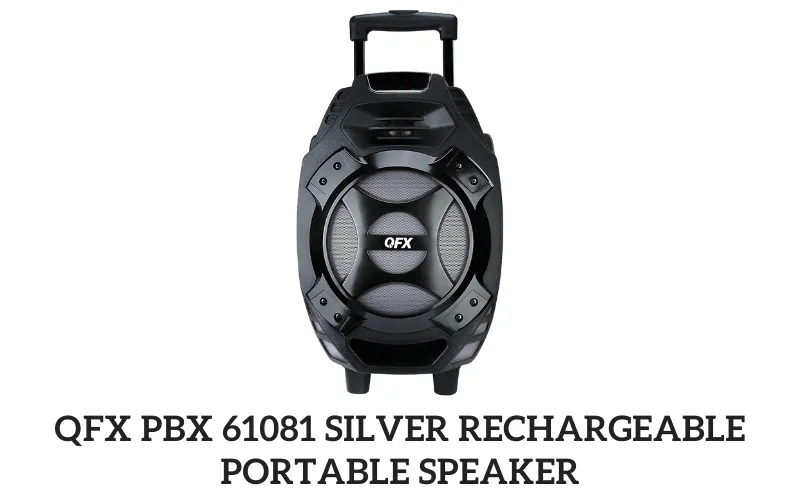 | Specifications | Tested Values |
| --- | --- |
| Manufacturer | QFX |
| Model | PBX-61081-SI |
| Power Rating | 2600W |
| Speaker Type | Outdoor |
| Connectivity | Aux, SD Card, RCA, USB, Bluetooth, Infrared |
| Dimensions | 12.4 x 12.4 x 20.9 inches |
QFX has been working for 30 years to manufacture innovative electronic products to increase the entertainment level of its users. The QFX PBX-61081 is the best tailgate speaker with wheels, designed like a suitcase with wheels and handles to increase their portability. It is also rechargeable; you can take it anywhere with a nearby electric outlet.
Portable Design
QFX PBX-61080BT's best tailgate speakers have a compact portable design. Its dimensions make it worth moving around with it. Due to the wheels and handle, it becomes easy to keep it with you. Here you will find a built-in pole mount socket and offer an 8″ woofer. It is black and covered with a black metal grille.
Impressive Battery Life
Its Lithium-ion battery is rechargeable, and there is no need for any electric outlet connection to operate it. The QFX will work up to 6 hours when you play music at medium volume. And you can also use included power cord.
Innovative Connectivity
The QFX will offer you an Aux port, SD to play music, and a USB port for connectivity. It becomes a great choice with built-in FM radio and TRS inputs of ¼ inch microphone. Using it through a Bluetooth-enabled device will be accessible as a music app; otherwise, you can handle it with the speaker's remote control.
Easy Control Mechanism
The remote control with this Bluetooth speaker makes it very handy, and you can listen to your favorite music in several ways. You can also access your favorite radio station with its built-in radio. The controlling mechanism of QFX PBX-61081 BT is very comfortable and handy.
Impressive Sound Quality
Although it doesn't contain a great Bass, it is loud enough that you can enjoy your pool parties, etc. It has sound clarity and perfect reception for FM radio. However, I wish it contains AM to support games, but it does the job well with this price.
Benefits
It is best for indoor and outdoor use
These speakers are loud and affordable
Build quality is highly reliable
The wheel design is easy to carry
Drawbacks
Bass is not impressive enough for large parties
Its Bluetooth is patchy
10) The SOUNDBOKS Gen.3 Rolling Bluetooth Speaker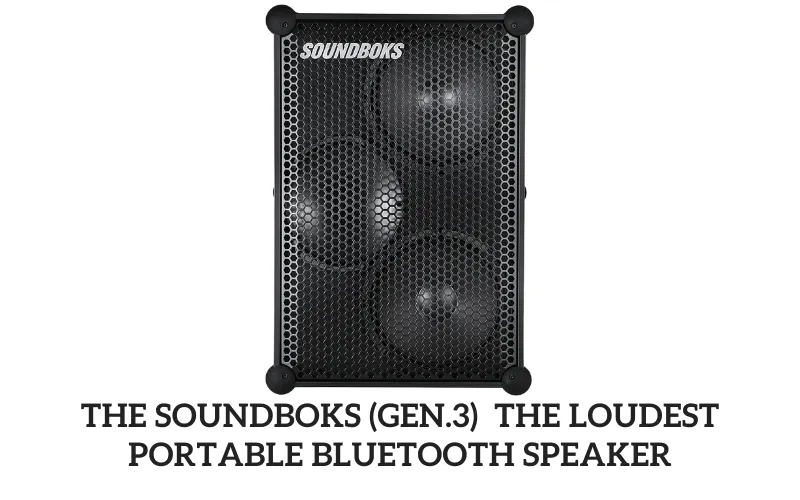 | Specifications | Values |
| --- | --- |
| Manufacturer | Soundboks |
| Model | Gen.3 |
| Power Rating | 216W |
| Speaker Type | Outdoor |
| Connectivity | Aux, XLR, Bluetooth |
| Dimensions | 31.5 x 19.69 x 15.75 inches |
So many features like Bluetooth speakers, amplifiers, and functions of PA look like a dream. But all that is where the SOUNDBOKS Gen.3 Rolling Bluetooth Speakers steps in. This Monster speaker can work with or without a power outlet, and you can also pair other speakers with it for multiple playbacks. Moreover, the app of this speaker gives free rein over its frequency response with various customizations.
Surprisingly Well Built
The SOUNDBOKS Gen 3 looks bulky at first, but to my surprise, it is light to carry. There is a swappable grill that the user will paint according to their taste to customize it. The built quality is also outstanding; you can take it for outdoor events without any tension. It can also handle dust and water as it is an IP65 rating.
Versatile Connectivity Options
There are many ways to connect the audio source to it, and this ability makes it unique. It can support 5.0 Bluetooth for wireless playback and deliver a set of inputs called a Pro Panel with a combination of XLR and quarter-inch ports. These ports are beneficial for musical instruments, microphones, sound mixers, and other compatible connections for the audio source. There is a house for 3.5mm aux input and output.
Long Lasting Built-in Battery
Its battery lasts up to 40 hours on medium volume and works 5 hours on maximum volume. However, SOUNDBOKS allows you to select different sound powers for the speaker because it can vary the battery life to average at various power-ups. It takes three and a half for charging. There is a button on this speaker. When you press it, the LED will shine and indicate the charging level.
Loud Output Volume
If you power SOUNDBOKS properly, then it becomes loud. It will work well when I stream music from my phone via Bluetooth and turns my phone volume to maximum and control the output volume through the speaker itself.
Benefits
The battery life is great
The construction quality is durable
It is best for outdoor parties due to splash and dirt resistance
Connect with multiple speakers for larger parties
Drawbacks
The bass is not ultra-deep
It is more expensive than other options
Buying Guide for the Best Tailgate Speakers
Some important aspects should remain under consideration while buying the best tailgate speakers. Keeping these features in mind will ease the decision-making and buying the right products. The following features will make you capable of evaluating the excellent speaker for tailgating.
Sound Quality
If you are concerned about how your speaker should sound according to your music preferences, it is essential to consider sound quality. There are various speakers in the market. Some are good for dance music like hip hop, while others are best for their balanced frequency to suit all music styles.
Some also have an equalization method on the speakers using a mobile app, while some contain buttons. It only depends on your requirement of how you want to have your tailgate speaker. Aiwa Exos-9 is my top pick for its loudness, sound clarity, and other sound parameters.
Portable & Lightweight
A portable speaker for tailgating prevents the hassle of moving and taking it to parties. That's why the size of your Bluetooth speaker may also affect the choice. You may want to bring it with you for your barbeque parties and outdoor functions, so it is essential to determine your system's size.
A heavy speaker may cause problems, but a lightweight one will be easy to carry in your bags for longer distances. Anker Soundcore Motion Boom is the portability king for tailgate parties, as it has a built-in handle and is lightweight to assist in carrying it.
Ruggedness
The durability of the material of your tailgate speaker also matters a lot. If the built quality is good, it can face harsh conditions like extreme temperatures, moisture from rain, spilled drinks, and direct sunlight.
Your speakers should be ready to face them all, withstand all the bumps, and be water-resistant so that the poolside parties will not spoil due to your speakers. There are some IPX rating speakers in this list that can float also. Soundcore Motion Boom has an IPX7 rating that makes it highly waterproof, while the rugged body keeps it away from any damage during transport and use.
Battery Capacity
Portable Bluetooth speakers contain batteries so that they can perform anywhere from about 5 to 100 hours before a charge. This feature is also essential to consider when buying tailgate speakers. The battery backup depends on your intended use. It is up to you if you want to use it only for a few hours or if you are looking for something that will give you full entertainment.
Some tailgate speakers may need to swap the batteries when the current cells have depleted, while others will charge using your car's cigarette lighter. JBL Boombox 2 is perfect if you want long battery backup for tailgate parties, as it offers 24 hours backup.
The best tailgate speakers are the ultimate choice for outdoor parties and larger gatherings. They produce loud and clear sounds that the audience can enjoy and dance to the beat. However, selecting the tailgate speakers depends on your party audience numbers, type of environment, and other parameters like portability. Here I have listed the top 10 tailgate speakers you can buy with money. But my personal favorite is Bose S1 Pro. It comes with a Bluetooth connection and battery pack, making it highly suitable for outdoor use. The quick charge and 11 hours of backup make it highly reliable for tailgating.

Product Recommendation
Are tailgate speakers loud?
As you may know, parties must have good quality sound for enjoyment. For this purpose, you may need a good tailgate speaker with loud and heavy bass. That's why these tailgate speakers are the best options for outdoor parties due to their loud sound and being portable.
How many watts is loud enough for a party?
The rough rule for sound is that if you want to have an indoor gig, then 5 watts you should aim for per person. But when you play outdoors or want rave volume, it becomes 10 watts per person. So, consider this thing.
How loud should speakers be for a party?
The range between 50 and 60 dB for the indoor party is good enough. It will be best for listening to music; no one will feel discomfort, and it will not damage your hearing. For outdoors, the range of 70 to 80 dB is ideal.
What size speaker do I need for an outdoor party?
The size and power of the speaker determine its loudness. If you want to host an outdoor party with a limited audience, any speaker having less than 100W power can work. But for a larger gathering, consider using a speaker of more than 100W. Ideally, 200W or near it is good for loudness in larger outdoor parties.
Do higher watts mean better sound?
Yes, it is true that if the speakers have high power, they become louder and clear. However, a slight difference in power didn't make much audible change. The power should double for loudness if you want to see the difference.