Marine speakers are generally water-resistant, more durable, better implemented for the waters typically used in boats or near oceans. These are to combat the humid and salty environment and exposure to water. And these marine speakers are being designed specially to bail out serious sound while standing up to the salt.
There are a lot of things you should keep in mind when you own a boat and marine speakers. So we have devised a buying guide you should consider so you can find the classical one. If you want to upgrade the quality of your system, you should examine these picks as you get the best audio quality of your marine speakers and enjoy them just like you do at home.
10 Best Water Proof Marine Speakers
1) Polk Audio DB522DB+ Coaxial Bass Marine Speakers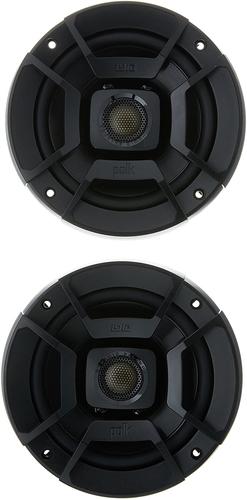 5.25-inch series
Marine certified
Bottom mount 2.01 inch
Top mount 1.74 inch
Polk Audio DB 522 feature a polypropylene woofer cone with a rubber surround for solid playback. This 2-way marine speaker has flexibility under environmental stress and are certified and tested for salt fog, UV and humidity.
A big part is, this certification also means the speaker has a non-corrosive grille, waterproof inner and outer surround material, and stainless steel mounting hardware. These factors ensuring the fully protected product material against the elements.
Polk Audio DB+ Series give a dynamite value and brands their quality as stellar performers. It includes boldly designed grilles that add flair to your marine vehicle interior.
These features confirm minimal distortion, a smooth response, and incredible sonic detail. If you want to build your system on a budget, consider the built-in crossover that can bear the highs and lows flowing patterns.
Enjoy a simple drop-in installation for any vehicle include cars, boats, etc. Each audio speaker in the DB+ series lineaments a shallow tweeter design and easily re-installs the grille.
You can enjoy the peace of mind knowing each marine speaker cone is built to last, which entirely blocks grime, liquid, and dirt from entering the speaker. It also gives a clean and polished look and will never discolor or degrade with time.
Pros:
Universal fit
High sensitivity
Above standard tweeter
IP55 rating
Cons:
The high price
A bit challenging to install for total newbies
2) Kenwood KFC-1653MRW High End Marine Speakers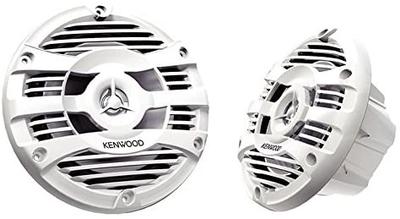 2-way marine speakers
4 ohms impedance
Water-resistant PP cone
UV resistant grilles
One of the best overall marine boat speakers is this pair of tan-colored speakers from Kenwood. These best marine speakers are hands down to install on your boat if you love listening to music while out on the water and provide very picky sound quality.
You will get commendable performance in the coming years because of the UV-resistant grilles and stainless steel hardware. You'll be blown away by the loud and clear sound they put out.
The best marine speakers for bass have enough volume and bass to be heard clearly while underway. These 2-way speakers with cone and tweeter are the best 6.5 marine speakers.
These speakers escort power and fidelity that gimmick water-resistant cone woofers and balanced dome tweeters and are explicitly designed- for marine use.
For a more affordable option, we recommend this pair of top-rated marine speakers from the folks at Pyle. The cone is water-resistant because you should have no problems once these marine speakers are well fit onto your boat.
It can withstand heavy water splashes, the quality of construction is outstanding as well. It has a durable design because of polypropylene cone with molded plastic ABS plastic and a grille to run-in sun damage.
Pros:
Super high-quality sound with little distortion.
Completely straightforward installation system.
Didn't damage with sunlight heat
Con:
No best sound at high volume.
3) Kicker 45KM604WL LED Light Marine speakers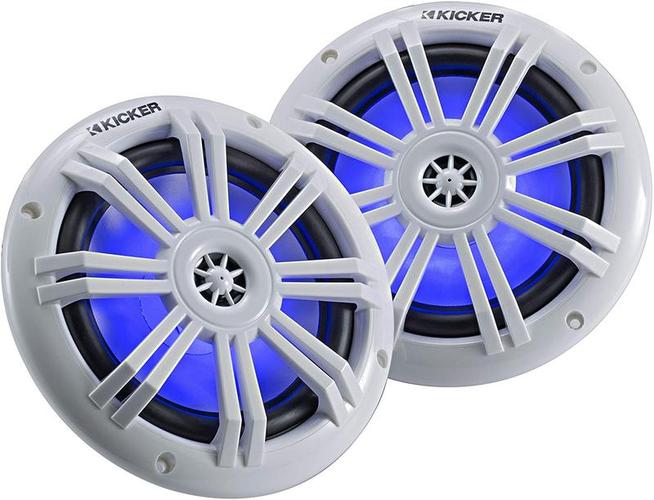 6.5 inch 2 way light up marine speakers
4-ohm impedance
150 max watts
Injection-molded cones
These marine speakers can endure almost any weather condition with splash-and-spray-resistant sealed motors, cones, and locking terminal covers. To maintain top-shelf performance in marine environments, Kicker treated injection-molded cones, baskets and grilles with UV rays protection material.
For paramount strength and durability, the best marine speaker is pirate from rust-proof stainless steel. With great water-proof qualities, the audio range and quality of these speakers are specifically designed- for the marine environment.
Full-range audio is by spectacular highs, and midrange sounds are braced, with the mild of marine speaker installation, assured that you have nothing to worry about its performance.
Even if you don't have an external amplifier, these will still offer you adequate clean sound while your boat is running. You will find no problems in airspace needed in the enclosure, but, the air volume considerations are wished-for the subwoofers.
Pros:
Extremely weather durable
Nice balanced sound with clear mid-tones
Beautiful aesthetic
Cons:
The LED remote comes separate
Its watertight fittings for LED lights is not good
4) Sony XSMP1611 Marine Speakers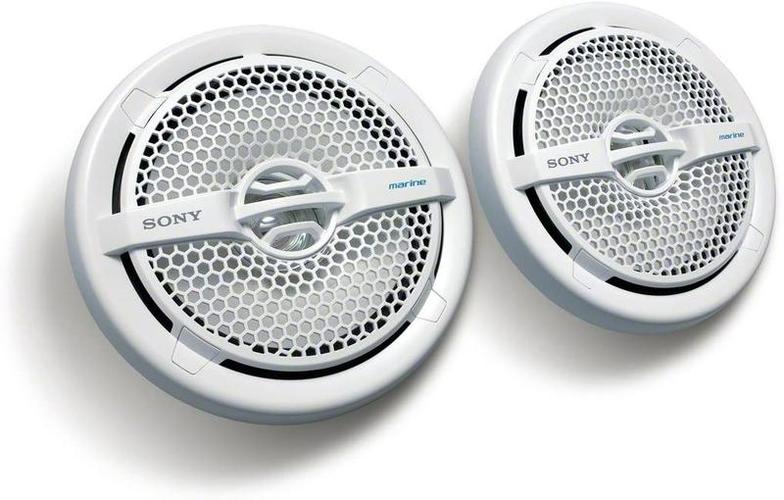 6.5-inch dual cone
UV ray and saltwater resistant
140 watts maximum power handling
Removable grill
Sony XS-MP1611 are dual cone marine speakers comes with UV coated and water-resistant for marine applications to provide great sound. However, great sound is only the gob of the equation when it checks in to marine speakers.
With a duple cone design, the marine audio speakers have marvel sound quality and having great potential power; these marine speakers are rated for 65 watts RMS and can stream your favorite music.
Even when you crank it up and living true to the figment reputation, the polypropylene woofers and tweeters ensure that your music sounds the way it's supposed to. With a UV and saltwater resistant build, they come in black and white color options, and the grille can be removed and painted.
These marine speakers clinch up well to being seethed by saltwater. Occasionally and getting hours of sun exposure that you bargain on power and performance. You will need high-end marine speakers to combat with the utmost of the marine environment.
Pros:
Cheap in price
After installation looks good
Polypropylene woofers increase the sound clarity
Con:
5) Pyle Marine Speakers For RV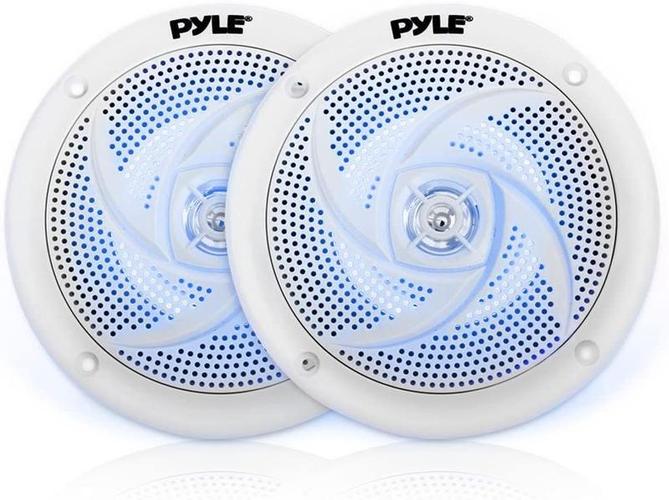 6.5 inch 2-way waterproof and weather-resistant
Low profile slim style
240-watt maximum power
Illuminating blue LED lights that are fluently used on water-based conveyance, these marine speakers with LED lights are made, with a low-profile design installed on boats, marine crafts, and other off-road vehicles. Pyle marine speakers are available at an affordable price.
Pyle marine speakers are waterproof and designed for use in your boat, on the dock, by the pool, or mounted outside and used for several vehicles. It has a weather-resistant feature to combat heavy water splashes and other outdoor conditions. 
These waterproof marine speakers come with 2-way full-range audio to deliver a stereo speaker sound system. Its rust-proof mesh design maintains the quality and gives long-time protection. 
It also has a waterproof design with the voice coil and magnets sealed. They can withstand heavy water splashes, salt sprays, UV rays, bumps, and scratches and are easy to install with the 9.8 feet wirings. You get a full-range marine speaker sound system that will fill your boat with quality sound by adding excitement for a fun adventure.
Pros:
Pretty easy, and they look great.
Look and sound great.
You can install with 9.8 feet wirings.
Con:
6) Boss Audio Systems MR50B Marine Speakers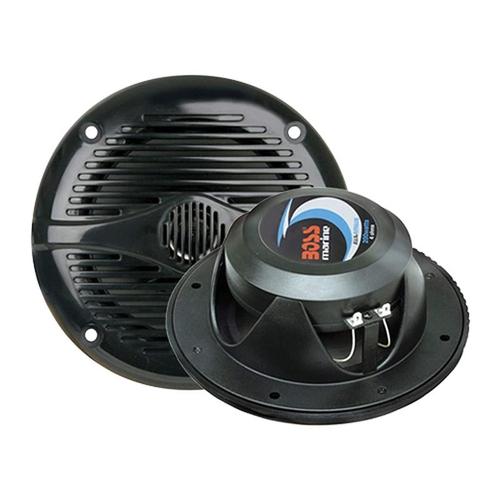 150 watt per pair
5.25 inch and the full range
2-way weatherproof
3-year platinum warranty
Boss has long been linked- with high-quality marine speaker sounds as their expertise is evident with these two ways, full-range speakers. A dome-shaped tweeter provides a dispersion of sound waves and ensures you will experience Boss sound quality in your boat.
The MR50B marine speakers are treating with dernier insulating techniques. So, these marine speakers can be able to bear the splashing of water or any rainy forecast.
We powerfully exhilarate efficient installation of the product to nail down proper and safe utility. This best marine speaker system provides a 3-year platinum dealer warranty as long as the purchased through Amazon.
These weatherproof marine speakers can withstand salty sprays from the sea. Polyurethane is used to make a highly resistant cone. Voice coils are facile to combat high temperatures and maintain their potency and fatigue properties.
It subsidizes our speakers with the advantage of longer play times with lower heftiness. The treated cloth makes the marine speakers durable and plays well with the cone.
Pros:
High-frequency sound
Lightweight
Easy to install on the bike
Great sound at outdoor places
Con:
No much bass at outdoor places
7) Pyle Dual Marine Water Resistant Speakers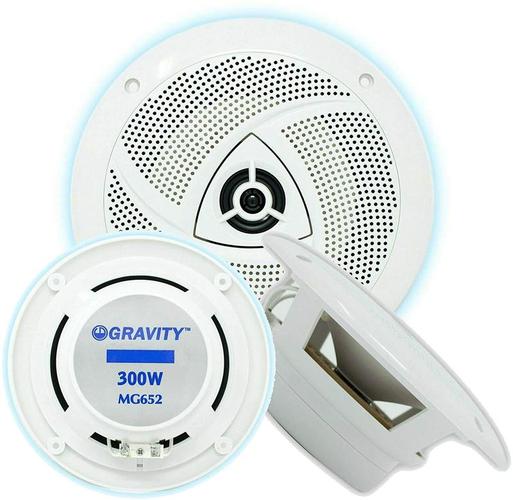 10-inch outer frame
Waterproof and weather-resistant
300-watt power
Poly carbon cone
Upgrading your boat's sound style doesn't mean to blow a hole in your budget. Dual's quality marine speakers look and sound great. Pyle provides 20 Oz circuit magnet for full-range stereo speaker sound. Whether you're out on the water or relaxing at these best marine speakers are built tough and ready to rock.
It brings a heavy-duty molded ABS plastic basket with strong grill construction to combat sunlight destruction. This corrosion-resistant basket provides plenty of protection from UV rays.
Butyl rubber material extends the life and keeps the sound distortion-free with gold-plated plug terminals. With 8.5 inches standard size, complete wirings, and mounting hardware, it became easy to install these speakers.
These speakers have 300-watt power with an 8′ poly mica woofer cone for a booming low end. Its 1′ polymer dome tweeter for the sweet high sand mounting brackets is for the high-frequency response.
Pros:
Waterproof with a marine-grade if IP44
Built for life in water
Heavy-duty plastic cabinet construction
Con:
Some units claimed faulty after 8 weeks
8) 6.5 Inch Bluetooth Marine Speakers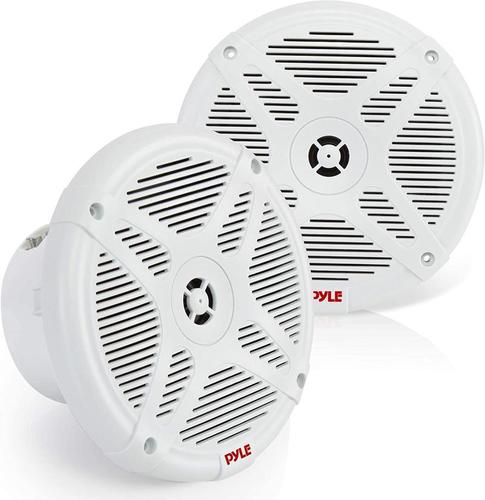 This is the time to upgrade your audio by adding an exciting visual treat for your eyes also full-range stereo sound production for your ears with these 6.5 Inch waterproof Bluetooth marine speakers. This pair of marine speakers is waterproof and has a waterproof rating to withstand heavy water splashes.
With a superior waterproof and weather-resistant design and construction, these 6.5-inch waterproof marine speakers make the perfect addition to your marine vehicle or automobile. Its easy-to-use speaker installation templates and a maximum power output of 600 Watts.
The range of frequency response of these best marine speakers is 65 Hz to 20 kHz. Your speakers will remain secure in Santoprene surround from the elements and keep your sound distortion-free. It also has a music streaming capability so you can connect your device and listen to your favorite songs.
With two 6.5 inches Bluetooth marine coaxial speakers, users can play their music on their phone, tablet, or laptop throughout the boat, or they can choose to make these speakers compliant through other speakers.
Pros:
Easy to Install
Low-profile design
Low power draw
30-foot Bluetooth range
Cons:
Not loud
Mediocre sound quality
9) 6×9 Inch Dual Marine Speakers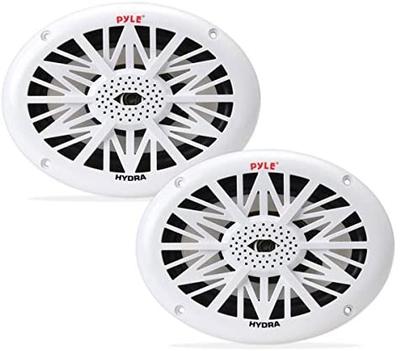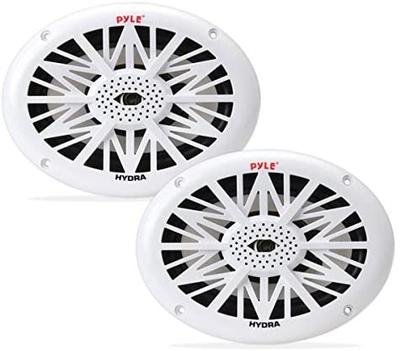 Outdoor audio stereo sound system
260-watt power
Poly carbon cone and cloth surround
We use only marine-grade components and materials making, speakers completely, waterproof, and can withstand medium water splashes. It's a weather-resistant marine speaker made of Poly Carbon cone with a cloth surrounded by a rugged and durable design.
It's molded SBS plastic basket and grill structure to combat sun damage. And it is constructed with a low-profile design that can -be -easily used on boats.
These marine speakers are easy to install with 6×9 inches standard size, complete wirings, and mounting hardware. It has a frequency response of 55Hz-20 kHz and 4 Ohms impedance.
It has mounting depth of only 3.45 which is universal standard OEM replacement size and a cut-out size of 6.06 "x 8.98".
The 6×9 marine speakers are not ordinary. Every good stereo player is almost compatible with it. Get an enclosure box; for your 6×9 marine speakers for bass and place them inside a box, then allow the bass to be deeper and fuller sounding.
Connect an external amplifier and enjoy your music. No need to spend hundreds of dollars to install a pair of fine speakers and a subwoofer.
Pros:
Decent sound quality
Inexpensive
Easy to install
Free shipping with Amazon prime
Cons:
Durability questionable
Minimal mid-bass
10) Rockville DWB80B Marine Speakers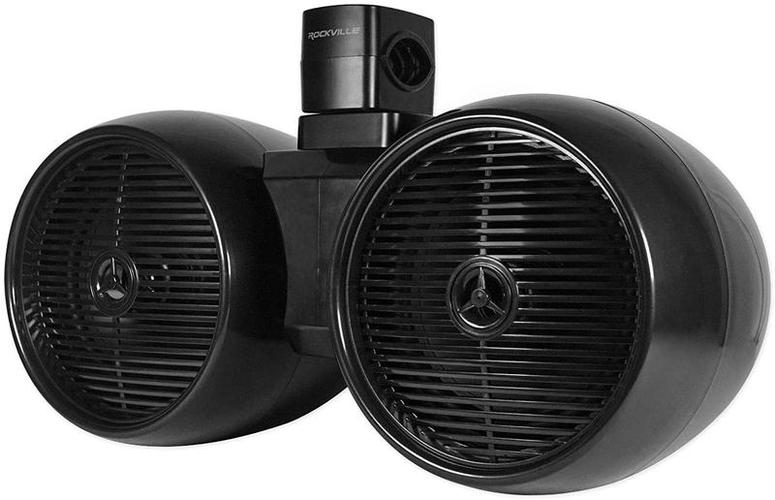 8 inches subwoofer diameter
800-watt max power
Integrated grill
4 ohms impedance
2-way marine option offers some high-power handling lows, and it's unsurprising. They will not get damaged by freshwater, saltwater, or moisture. In addition, the quick-connect terminals are made out of stainless steel because they are designed as board tower models and easily mount to bars and roll cages.
Rubber is a waterproof material. A long-excursion woofer makes for low-end bass and mids that make these marine speakers stand out. Rockville engineers always cared about sound quality and added a new and improved nylon mounting bracket.
As Nylon is strong, lightweight, so it can withstand harsh conditions. Rubber fitment inserts give you the ability to mount this best reviewed marine speaker to wakeboard towers and roll cage bars of varying thickness.
These marine speakers have a high peak power handling of 300 watts, sound pressure levels of around 98 decibels frequency response, and low impedance. Rockville has gone to protect these bad-boys from the hammering salty sea air and made them ideal for medium size boats.
To position the marine speaker in any direction for optimum listening enjoyment, a 360° rotating mechanism built into the bracket allows you to do so. These can withstand all elements on the water for a lifetime of worry-free use with the delegated upper frequencies.
Pros:
High quality and unique hanging design
Highly reliable construction for all types of weather
Top notch 300 watts power
Con:
Sound tends to distort heavily when using at high volume.
Things to Consider For Best Loudest Marine Speakers
Listening to your playlist is the easy part. But we never say the same about selecting the right speaker only when a speaker has specific standards approved by international maritime regulations. With the recent advances in technology, there are more options available in the marketplace.
If you want a better quality sound to entertain or chill on your boat, we have the information you need. So take a look through our guides and pick up the product that satisfies your need according to sound, durability, and versatility.
Impedance Rating:
Considering the environment you use marine speakers in, we will explain the impedance rating that which one is best if you want clear sound from your marine speakers. The impedance of the speaker will change depending on the frequency of the signal. Impedance rating is given as a resistance that any marine speaker gives to the current or voltage.
Amplifier:
What you are trying to do is if you have an amplifier that gives more power. If your RMS wattage adds up to more watts and creates a louder, better sound quality depending on how loud you want your marine audio system.
If you are buying marine speakers for your boat, then you must know their usage. So you can get the best marine speakers fit for the purpose. You will want speakers with a much higher wattage and volume if you are going to be waterskiing.
Portability:
The first and foremost thing to remember is the portability of the marine speakers that you are buying. Transportable speakers are required when you join outdoor activities, and a convenient set is not enough for it.
You are likely to be content with easily-carried devices even if you do not scheme on outside activities like this, for the reason that you may have to bring it when you move out.
Directionality:
The location of your marine speakers is vital due to directionality. Sound is enhanced when it bounces off the walls and other surfaces. So speaker placement is also more important. Try to pick the spots that are going to give the sound the most coverage.
Budget Value:
The very first thing you should consider while picking out marine speakers is your budget. And if you have a minimum amount of money to spend, you can obtain premium quality speakers that will allow you to enjoy and play.
This will narrow down the number of speakers you can consider, as the speakers vary wildly in price. And if you don't mind spending several hundred dollars to achieve such, you can obtain high-quality speakers with a proper high-end speaker system.
Durability Tested:
Specific protections to fight harsh weather conditions a good pair of marine speakers will typically include. Heavy-duty parts that can withstand months and even years out on the water can also be used by the best marine speakers.
For instance, a tower speaker can usually handle a lot of wear and tear before you begin to see the signs of age. So you see, in-car speakers, a durable set of boat speakers, instead of the paper cones, will typically use plastic cones.     
Power Handling:
If you want your marine speakers to become able to handle an equal amount of power more than stereo or amplifier, you should stop blowing them out. A typical stereo head unit will have 200 watts of peak power that can be confusing for manufacturers to measure in different ways.
A 50-watt speaker will work fine. The head unit will probably have four channels. So that 200 watts need to be divided by four since the most power the stereo can produce on any one of them is 50 watts.
Consider Your Volume:
However, if you are in a marina, you must keep in mind your neighbors. And when we talk about improving the volume of your marine speakers while maintaining the quality, it is also necessary to consider marine stereo speakers.
As a result, an excellent sound is produced, at low levels as well as high. And good quality speaker, allowing you to enjoy your music no matter where you are.
Polk Audio DB522DB+ Coaxial Bass Marine Speakers deliver clear and crisp sounds, and they can hold their own against the most expensive and non-affordable products. Template and replacing older speakers with these done in few minutes. It can also produce a clear voice even at a higher volume while the bass is good.

Kenwood KFC-1653MRW High End Marine Speakers are water and weatherproof as they contain durable butyl rubber surrounds. So, these will survive in the more extreme environment that your boat is to be in it. It will not only add to your bass response but also extend the life of your sound system.

Boss Audio Systems MR50B Marine Speakers are good-looking speakers that delivered plenty of sound to your aqua sport. It has a marine replacement, and moisture won't bother in giving a sound at high volume. These dual marine speakers are easy to install on the boat and have appreciable performance. Also, have fast shipping and a great price.

Top Recommended Product
Are Kicker Marine Speakers Waterproof?
Yes, marine speakers are waterproof, designed for free air mounting applications, and perfect for boat audio. So, kick your boating excursion up a notch with the Kicker 6.5 Inch 4 Ohm 195 Watt LED-Lit Coaxial Speakers.
Do marine speakers need a box?
No, a free-air or infinite baffle subwoofer does not need a box and saves your valuable space, but you should install it in an airtight compartment or enclosure.
How many speakers do I need in my boat?
In the bowrider area and two or four in the cockpit marine, boats often have stock cutouts for four to six marine coaxial speakers. Getting the speakers higher also helps with perceived sound quality. So make sure all speakers are high enough to keep from being kicked.
Does my boat need a subwoofer?
Optimum bass on a boat, achieved when multiple subwoofers are often a necessity. The speaker having only one subwoofer is skipping the majority of its low-frequency potential up in the bow. The purpose of this is to provide consistent bass output in all zones of the vessel not, to be loud.
Are Pyle amplifiers any good?
It pushes them very well, with no overheating issues, no corrosion issues from salt air, and no internal shorts or manufacturing issues. Pyle puts out decent, not decent products for the price. The real problem is, boat audio is a catch.