The best waterproof headphones for swimming are designed for the swimmers with a unique water-resistant design for enhanced audio underwater. But it is pretty tricky to find the best waterproof headphones for swimming on the market full of water-resistant headphones and earbuds. That is why we have gathered a comprehensive guide to help swimmers get reliable headphones.
Moreover, you need to think that your device or smartphone should also be water-resistant to play music underwater. At the same time, you should also acknowledge that wireless headphones and communication protocols like Bluetooth also struggle underwater. In our list of the five best waterproof earbuds for swimming, we have included a few traditional and other modern headphones to satisfy the needs of swimmers.
Running a studio as a Music creator making me knowledgeable in Acoustics industry. I've personally researched, compared, and hand-picked Top Quality Products for my use and write experienced review.

WHO I AM?
Table of Content
5 Best Waterproof Headphones for Swimming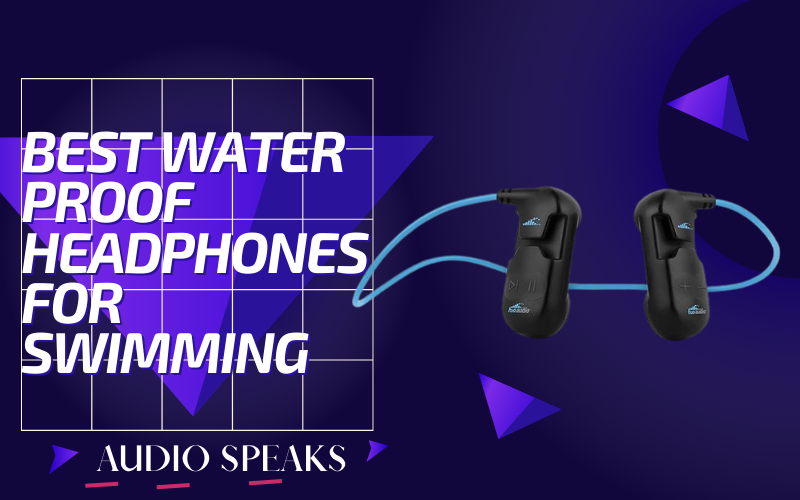 It is essential to know about headphones to buy the best waterproof headphones for swimming 2021. It would help you make a better decision, and it's a safe way to invest your money in a device.
We have discussed the waterproof headphones' specifications, features, pros, and cons to quickly choose one according to your requirements.
1) H2O Audio Sonar Best Waterproof Earbuds 2021
| Specifications | Values |
| --- | --- |
| Brand | H2O Audio |
| Connection | Wireless/Bluetooth |
| Battery Life | 7 Hours |
| Wireless Range | 30ft in the air; 4″ underwater |
| Storage | 8 GB |
| Type | MP3 |
| Supports | .m4a & MP3 |
| Dimensions | 1.38 x 0.79 x 0.79 |
| Weight | 5.3 Ounces |
H2O Audio is one of the best waterproof earbuds, containing all-in-one water-resistant qualities with bone conduction technology. They are equipped with internal storage enough to hold thousands of songs.
Bone Conduction Technology:
These earbuds are compatible with various devices, and bone conduction technology delivers clear sound underwater. The smart and seamless design of these earbuds is perfect for swimmers.
Compatibility with iTunes:
These earbuds are considered the finest apple waterproof headphones for swimming because of their compatibility with Apple iTunes format. You can connect any Apple device with these earbuds and get results beyond your imagination.
Moreover, it also supports Bluetooth, MP3, and .m4a, making it compatible with almost all smart devices. In addition, these earbuds are smartwatch compatible, which makes them more consistent.
Built-in Memory:
These earbuds are the best waterproof headphones for swimming which contain built-in memory to download your favorite MP3 and .m4a songs. The 8 GB storage capacity can store thousands of your favorite songs and music tunes.
The compatibility with MAC and PC makes it able to copy/paste or drag/drop any song or music from your computer. You can download your favorite song on your computer and conveniently move them in your underwater earbuds.
Long Battery Life:
One of the essential features of these earbuds is their long battery life. If you are a professional swimmer, you will spend much time underwater training.
To satisfy your need, you need headphones with long battery life, and H2O Audio provides you with that. With the 7 Hours of long battery, you can complete your swimming laps without interruption.
Easy to Use:
These are among the best and easy to use underwater earbuds that come with the fail-safe bone conduction sound. They are small and compact in design, and you do not need to be an expert to use these headphones for swimming.
The headphones come with big buttons with raised markings to reduce or increase the volume or pause it underwater. These reliable earbuds are perfect for swimming even 12ft underwater and provide you with clear sound.
Purchase Decision:
When you go out looking for the best headphones for swimming laps, give a shot to H2O headphones. They are fool-proof, easy to use, compatible with Apple and other Bluetooth devices.
Their built-in memory makes them unique and better than other headphones for swimming. In addition, the 7 hours long battery life gives you enough time to complete your swimming laps peacefully.
Pros
Customizability
Long Battery life
Compatibility with MAC and PC
8 GB built-in storage
Support MP3 and .m4a
Cons
2) Sony Waterproof Headphones for Swimming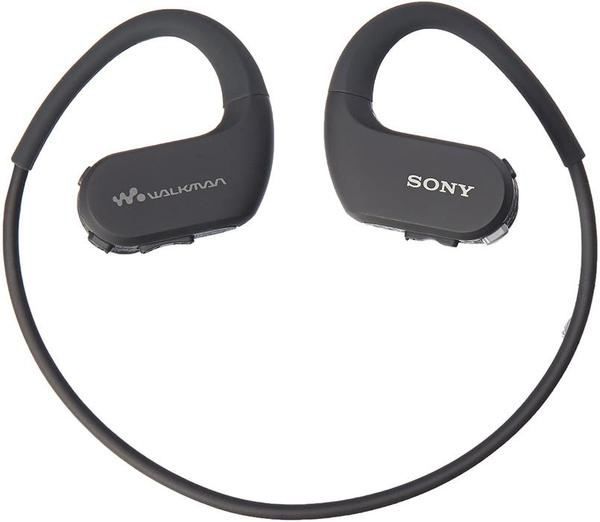 | Specifications | Values |
| --- | --- |
| Brand | Sony |
| Connection | Wireless |
| Battery Life | 12 Hours |
| Storage | 4 GB |
| Type | MP3 |
| Supports | Multi-format |
| Dimensions | 5 x 2 x 7.44 Inch |
| Weight | 1.13 ounces |
| Special Feature | Fast Charging |
When you start looking for water-resistant earbuds you must look at Sony waterproof headphones for swimming. With this lightweight one-piece music player, you will be active, wire-free all the time.
One-Piece Water-Resistant:
This waterproof masterpiece of Sony keeps moisture out underwater while you enjoy good music. The one-piece device is easy to maintain and store safely after use.
Wireless Music Player:
If you are looking for the best waterproof headphones for swimming and running, your search ends here. These are the ideal headphones for all kinds of sports and active lifestyles.
The unique and wireless, hands-free headphones let you swim, work out, and play outdoors without any stress. The ergonomic design of these headphones promises never to fall out even during the most rigorous physical activities.
Smart & Waterproof:
The Sony present you with smart, compact headphones which can be carried easily. They can also store the music for hours which is possible because of the 4 GB built-in storage capacity.
These best water-resistant headphones are designed for athletes in all sports or the toughest training. You can use them in both salt and fresh water up to two meters deep without affecting their sound quality.
Quick Charge:
When it comes to the best waterproof headphones for swimming, Sony is always a reliable partner for you. These headphones provide you with quick charging and long battery life for your athletic activities.
With the mere charge of 3 minutes, you can get 60 minutes of playtime. And with a fully charged battery, you get 12 hours of playtime which is enough for your needs. The charger comes to the headphones inside the box.
Drag, Drop, and Go:
You don't need to get worried about anything with these headphones. It supports multi-format playback and lets you play MP3, AAC, WMA, or L-PCM music files. You just need to copy/paste or drag/drop files from iTunes for Windows and Mac.
In addition, when you don't want to feel cut off from the world, you just need to click a button, and you will be in touch with the sounds around you while keeping the music playing. You can use this feature while running on the streets and more.
Purchase Decision:
This ergonomic design of Sony headphones for swimming headphones stays fit while you swim deep, run around the streets, or do a workout in the gym. These sweat and dirt-resistant headphones, compatible with multi-format files.
The quick charging, long battery hours, and built-in storage capacity take your music and workout experience to the next level. While shopping, choose your headphones wisely to avoid any regret.
Pros
Quick charging
Long-lasting battery
Comfortable
Easy control interface
Useful in saltwater
Cons
Ambient noise mode can hinder music
3) SwimAudios Waterproof MP3 Wireless Headphones for Swimming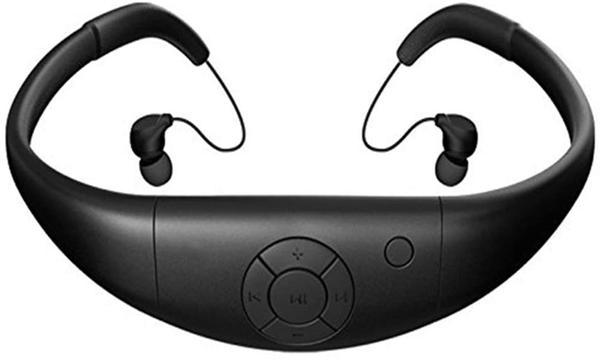 | Specifications | Values |
| --- | --- |
| Brand | SwimAudios |
| Connection | Wireless |
| Battery Life | 6-8 Hours |
| Storage | 8 GB |
| Supports | MP3, WMA |
| Dimensions | 6.22 x 5.87 x 1.46 Inches |
| Weight | 5.6 Ounces |
| Special Feature | Shuffle |
Your search for the best wireless headphones for swimming is over because SwimAudios presents it as the best product to date. It provides you with 8 GB of memory with a removable flash drive.
Storage Capacity:
It allows you to download up to 2,000 songs and music tunes, making it invincible. In addition, it supports all major playing formats, including MP2, WMA, OOG, DRM, AAC-LC, and WAV.
In short, it is an all-in-one headphone that is perfect for swimmers with a unique feature of shuffle playing.
Water-Resistant:
With the 0.2 Inch particular sound unit, you can enjoy the perfect bass underwater. These water-resistant horn headphones are remarkable for swimming. Moreover, headphones are specially equipped with special earplugs for swimming.
These earplugs perfectly adjust in your ears and provide you with perfect soundtracks with excellent sound and deep bass.
I wanted this kind of water-resistant headphones to focus in my high school, but you still have a chance to enjoy them.
Ergonomic Design:
These ergonomic headphones are better than Bose waterproof headphones for swimming. They are upgraded and perfect for running, fitness, exercise, swimming, and other games.
This headphone is lightweight and stable head-mounted and perfect for listening to underwater music. The three-pointed triangle head-mounted design makes it more stable on your head.
Multiple Features:
The best waterproof headphones for swimming come with long battery hours and multi-format support. Headphones are lightweight and contain a built-in storage capacity to play three meters underwater for hours.
They are heat and water-resistant, giving them a unique position among headphones for swimming.
Longer playing Time:
When you download a song on your PC, directly copy/paste it into the MP3 player, and there is no need to make new folders. This headphone has a long playing time of 6 to 8 hours with a charge of just 2 hours.
Moreover, this waterproof headphone and MP3 player is heat resistant too. I can tell you that I enjoyed the music and songs in hot spring bathtubs and showers. Moreover, the unique features allow you to shuffle songs with one touch.
Purchase Decision:
These headphones are specifically made to fulfill your swimming needs. You can download thousands of songs and enjoy them underwater with the perfect bass and high-quality sound.
The heat-resistant headphones are perfect for hot waters and play straight up to 6 to 8 hours without hassle. In addition, easy drag and drop of files from Mac and PC makes it more user-friendly.
Pros
Heat resistant
Support multi-format
Perfect bass
Special shuffle feature
Easy drag & drop
Cons
The battery could compromise in heat
4) MTYBBYH Waterproof Wireless Headphones for Swimming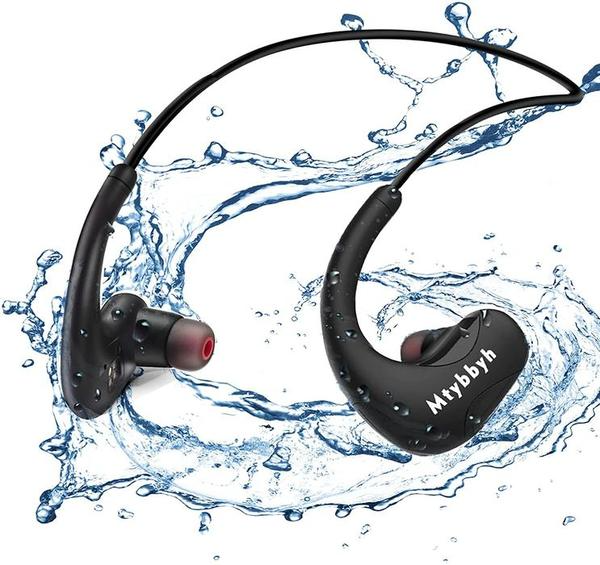 | Specifications | Values |
| --- | --- |
| Brand | MTYBBYH |
| Connection | Wireless |
| Battery Life | 8 Hours |
| Range | 33ft Open Space |
| Storage | 8 GB |
| Supports | Mp3 |
| Dimensions | 5 x 5 x 2 Inch |
| Weight | 1.06 Ounces |
| Special Feature | Active Noise Cancellation |
When it comes to the battery of the best waterproof headphones for swimming Bluetooth, it is equipped with a high-quality magnetic quick charger. It helps in charging your headphones in no time.
Battery:
These headphones take only 1.5 hours to charge completely, and they play non-stop for up to 8 hours. The headphones work perfectly underwater with wireless Mode and cause issues in Bluetooth connection.
Downloading Songs:
To download the MP3 songs in the in-built memory of the MP3 player, you need to connect the data cable provided with the headphones to the computer. After that, you need to copy/paste from the computer to the player.
The only setback of these headphones is that they support only MP3 format. You need to convert other formats into MP3 before downloading them into players.
Dual Mode:
As mentioned above, these headphones come with dual-mode, the local player (MP3) for water use, and Bluetooth Mode for use on soil. As we all know, Bluetooth does not work correctly underwater; that is why it's a great thing to do.
To switch between two modes, you must press the '+' and '-' buttons simultaneously. The volume of the music and song will be a bit less while swimming due to the waterproof net or speaker membrane.
Built-in Noise Cancellation:
These fantastic Bluetooth swimming headphones come with a tremendous noise cancellation mic. You can do both, make calls and listen to music with the one-click on the earbuds.
It lets you make clear calls and provides you with a stable stereo sound quality, and deep bass gives you an extraordinary music experience. In addition, the in-ear headphones are comfortable and sweat-resistant, providing the best sound.
Fast Charging and Wireless:
MTYBBYH is a famous manufacturer of the best waterproof wireless headphones for swimming and other sports. It provides fast charging for hours of underwater wireless use, and enjoy your favorite songs.
The built-in memory and high quality MP3 player provide you with unmatched high quality sound. These waterproof earbuds wireless-only support MP3, so you have to convert other formats in MP3 to play on this player.
Purchase Decision:
This headphone provides you best stereo and deep bass underwater and in space. The long battery and MP3 player are perfect for all of your sports activities.
Preferably, these headphones would be an excellent and budget-friendly pick for you.
In addition, there are the best waterproof earbuds for swimming Bluetooth support up to 33ft which is quite impressive. Moreover, the noise cancellation mic helps answer calls while the headphones are on.
Pros
Noise-cancellation Mic
Deep bass
High-quality stereo
Dual Mode of playing
33ft of Bluetooth on space
Cons
5) Huiccn Best Underwater Headphones for Swimming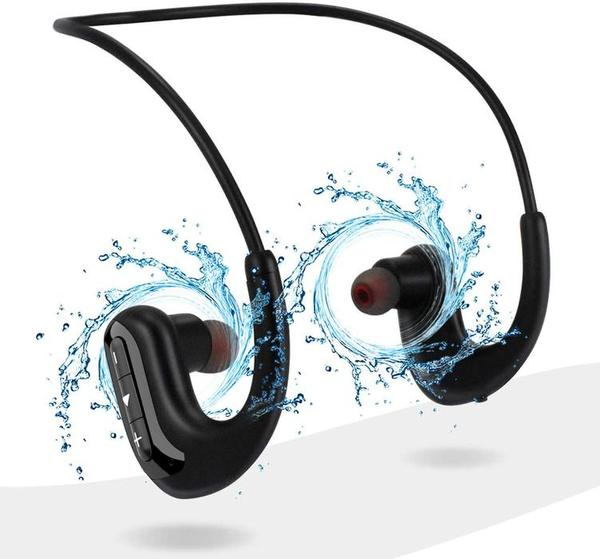 | Specifications | Tested Values |
| --- | --- |
| Brand | Huiccn |
| Connection | Wireless |
| Battery Life | 8 Hours |
| Range | 15m |
| Storage | 8 GB |
| Supports | MP3 |
| Dimensions | 5.2 x 5.2 x 2.13 Inch |
| Weight | 5.6 Ounces |
| Special Feature | Active Noise Cancellation |
Long-Wireless Range:
Huiccn presents the best underwater headphones for swimming, running, and walking. You will be comfortable while using them in any scenario. In addition, they are fully water-resistant and best to operate underwater for swimming.
They provide an extended wireless range for Bluetooth on space and amazing MP3 wireless underwater. With these headphones, you can enjoy them at both places underwater and on the ground.
All-in-One Headphones:
These are the best Bluetooth headphones for swimming and other sports. It comes with a built-in MP3 player to provide you with smooth and clear sound underwater. Moreover, a long-range of 15m Bluetooth wireless on the above from water.
In addition, you can listen to songs, podcasts, and music while running, walking, and, most importantly, swimming. Bluetooth is not a very good method underwater; that is why to use an MP3 player.
Magnetic Charger:
These headphones have abandoned the traditional interface type charging which their predecessors were using in the past. Now, it is replaced by safer magnetic charging, which is a great way of charging.
Moreover, it takes only 2 hours to get charged entirely and have playtime up to 8 hours. More importantly, you get up to 5 days of standby time which is more than any other headphone on this list.
Sound Quality:
The best wireless earbuds for swimming delivers you a premium audio experience along with a wide dynamic range and rich bass. The remarkable feature reduces sound leakage and ensures that you get the best audio possible.
It is a dual-mode headset that provides you with Bluetooth and an MP3 player consisting of 8 GB of memory. You need to connect an mp3 player with your computer via data cable and freely transfer the song to download the songs.
Waterproof Earplugs:
To ensure safety and comfort, you get the three earplugs that provide you a comfortable experience wearing. In addition, it prevents water from flowing into the ear canal, which also gives you comfort while swimming.
In the end, it comes with a noise cancellation mic which is great for answering calls if you are connected via Bluetooth.
Purchase Decision:
It is excellent if you have decided to level up your music experience, choose the best waterproof headphones for swimming. These headphones' incredible sound quality and underwater bass are the best things.
Moreover, the 15m wireless range on Bluetooth and three earplugs provide you with more comfort. The latest magnetic charger takes even less time to charge your headphones completely.
Pros
Excellent sound quality
Three ear-plugs
Magnetic Charger
Long-playing time
15m wireless range
Cons
Lack multi-format support
Buying Guide for Best Waterproof Headphones for Swimming
There are hundreds of swimming headphones available to choose from, so it can be a little tricky. That is why our team spent much time making the list of the five best waterproof headphones for swimming discussed above.
But before making your final decision about headphones, you need to know some important features about the headphones that will help you make your investment-worthy. Keep these features in mind to get the best waterproof headphones for lap swimming.
Wireless:
When you start looking for underwater headphones, look for wireless ones. But you need to know that Bluetooth does not work very well underwater. That is why go for those headphones which have an in-built MP3 player.
There are plenty of waterproof headphones available on the market and the list mentioned above which are best headphones for swimming Spotify.
Waterproof:
You need to know two things: waterproof headphones can be used underwater, while water-resistant headphones only withstand rain, sweat, and splashes.
For swimming, choose waterproof headphones because they would be an excellent choice.
Battery Life:
Batty life is one of the most important things for the best wireless earbuds for swimming. Manufacturers usually list the ratings of a battery, which can be affected by user usage and outside factors.
In the specification section, we have listed the battery life of all the wireless headphones. You can check it there before placing any order.
Noise Isolation:
Noise isolation is one of the most prominent factors found in high quality headphones. It blocks the ambient noise and is designed for better overall sound quality and bass.
Microphone:
Some of the modern and the best waterproof headphones for swimming come the in-built microphones. They are great for calls, talking to people, and recording your voice.
Benefit of Best Waterproof Headphones for Swimming
Wired headphones are not perfect for swimming because the wire could be messing, and it can cause a distraction while swimming. That is why you should always go for the best waterproof headphones for swimming.
There are lots of benefits is of wireless waterproof headphones, which are as follows:
Great for swimming and other activities such as running, workouts, walking, Etc.
They are durable than any other headphones available in the market.
These headphones are usually waterproof, heat-resistant, and dirt-resistant.
They provide high quality underwater sound and bass.
Most waterproof headphones for swimming come with Noise cancellation and a good quality microphone.
How to Use Best Waterproof Wireless Earphones for Swimming?
Most of the best waterproof headphones for swimming come with the in-built memory, which is enough to store thousands of audio songs and music. You need to connect these MP3 players of headphones to the Mac or PC.
Drag and drop the mp3 songs in the player, and you are ready to use them while swimming. Now, wear these waterproof earbuds wireless properly and get prepared to dive in the water.
With just one click on the MP3 player or the buttons of the headphones, the music or song will start to play. Most modern waterproof wireless headphones allow you to shuffle, pause, resume and skip the song from the buttons.
The latest headphones, such as the H20 audio waterproof headphones for swimming, come with an additional microphone. It allows you to answer calls while wearing the headphones, but you need to connect via Bluetooth.