When it comes to the car audio industry, the Rockford Fosgate has built a reputation. If you are a car audio enthusiast, you must know that this name stands for outstanding performance and engineering. The best Rockford Fosgate subwoofer is outstanding for those who want heavy and distortion-free bass on a budget. It can make the audio and bass punchier significantly compared to the other various subwoofer of this class.
Moreover, the versatility and compactness give more room to work with the cargo area bass kit and will prove a good addition for regular users who want to bring a little boom to their car's stereo system. These subwoofers are best in their features, performance, design, and reliability. After testing and many searches, I narrowed down a list of the best Rockford Fosgate subwoofers for you, so have a look at their specifications and features and pick one that will suit your listening habits.
Top 6 Best Rockford Fosgate Subwoofers
Table of Contents
Rockford Fosgate subwoofers are louder than you think and can withstand the ridiculous and harshest power-handling conditions. They come in two categories regular subwoofers and Rockford Fosgate subwoofers with box. I rank these 6 best Rockford Fosgate subs according to their ease of use, power, and bass punch. Lets read it.
1) Rockford Fosgate Punch P300-12 Sub With Built-in Amp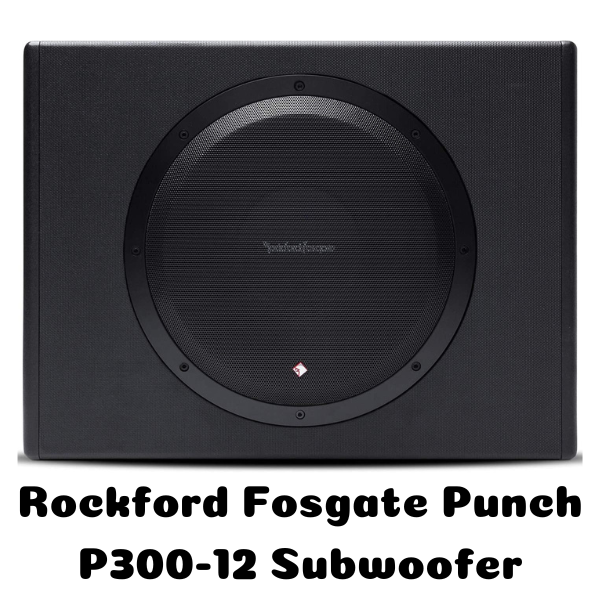 | | |
| --- | --- |
| Frequency response | 35 – 150 Hz |
| Dimensions | 15 x 19.8 x 11 inches |
| Size | 12 inches |
| RMS | 300 watt |
| Connectivity technology | RCA |
| Impedance | 2 ohm |
Rockford P300-12 is the winner regarding the performance and sound quality. It is part of the "Punch" series and delivers deep bass, which produces impressive notes. During testing, P300-12 confirmed every criterion to be a great subwoofer, and the remote-level control facility added extra marks to its list.
Focus on Performance
The Punch P300-12 Rockford Fosgate sub with built-in Amp has a simple design. But with the measurements of 15 x 19.8 x 11 inches, it is not lightweight and does not even have a compact look, so it is good to consider that you have enough room in your vehicle before installing this excellent subwoofer. However, the solid performance reflected that size didn't matter when I tested it inside my truck.
High Density
The 5/8 inch MDF cabinet increases its size and weight. But it is also a fact that this high density significantly impacts the sturdiness and sets the stage for its boost and powerful performance.
Closed-loop Design
P300-12 has a closed-loop design that helps the subwoofer for optimum performance between the Amp, enclosure, and woofer. With an OEM audio system and integration in the aftermarket, the Rockford Fosgate subwoofer with box has an optimum enclosure. Its closed-loop design gives a flawless performance.
RMS Rating
Rockford Fosgate sub with a built-in amp has an RMS rating of 300 Watts, and this rating is enough to meet the needs of this 12-inch sealed enclosure. Due to this, RMS provides loud, punchy, and accurate sound, and the onboard EQ allows you to tweak the audio output you want from this classy subwoofer.
Frequency Response
The frequency range is from 35 to 150 Hz, which is disappointing. It is a shallow range of frequency provided by a 12-inch sub. I felt the limiting frequency could impact performance a bit but not drastically.
Benefits
It has a closed-loop design which provides optimum performance.
The installation process is straightforward due to its enclosed nature.
Equipped with a 5/8 inch durable MDF cabinet.
It was built in EQ with a customization facility.
It comes with remote bass control levels, which give ease of use.
Drawbacks
The frequency range is limited and not enough for this size of subwoofer.
2) Rockford Fosgate P3D2 12 Inch Sub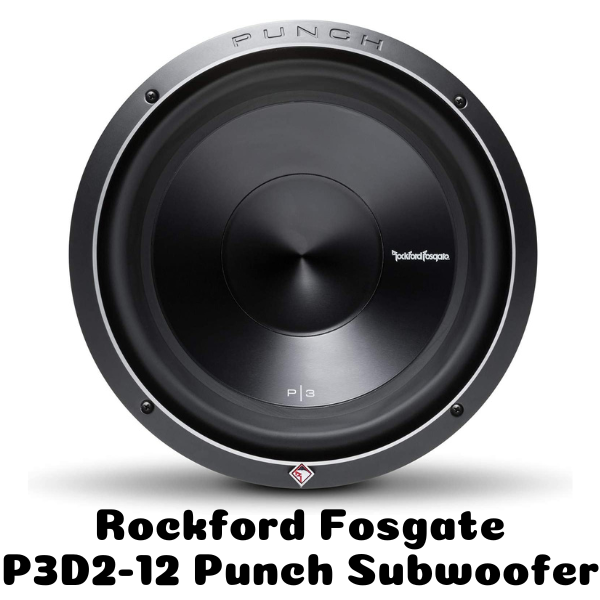 | | |
| --- | --- |
| Frequency response | 27-250 Hz. |
| Dimensions | 14.5 x 14.5 x 10 inches |
| Size | 12 inches |
| RMS | 1200 watts |
| Connectivity technology | RCA |
| Weight | 19.8 pounds |
P3D2 12 is the best Rockford Fosgate subwoofer with a 12-inch sub and excellent RMS of about 600 Watts. Within the car, it has deeper notes, and if you want to rattle your vehicle install two around you. But I experienced a little low performance out of the car because everything became fat and dull.
Actual Feel
Its deeper notes give an authentic feel; when it comes to the vibration, they are out of this world. It is not useless to say that the vibrations produce by this subwoofer give you a cheap massage on your driving seat due to their power.
Deep Bass
Due to its deep bass, it is an Ultimate Attention Grabber. The P3D2-12 Rockford Fosgate 12-inch sub produces crystal clear sound that can grab the attention of anyone. So if you like to have fun with the highest-rated deep base, it is one of the best Rockford Fosgate subwoofers.
Power Handling
The size of this sub is 12 inches, comes with dual 2-ohm, and provides max power handling of 1200 watt or 600 RMS, which is enough for getting good performance from this type of subwoofer.
Durable Built
High-quality material makes it reliable and durable, and due to its top-notch build, it will last long. It is featuring with dust caps and anodized aluminum cones. Its spider-like venting system makes it more worthwhile this design keeps the motors cooler, and a hybrid stamp cast makes it more powerful and reduces its resonance and weight.
Price Affordability
Rockford Fosgate P3D2 12 Inch Sub is not expensive if we look at its great features of venting, aluminum cones, durably built, deep bass, and powerful vibrations. It is budget-friendly, affordable for everyone, and impressive for what it gives.
Benefits
The bass produced from this sub is intense and hard.
The sound quality is exceptionally good.
It keeps you focused no matter where you are due to the heavy bass.
Drawbacks
At maximum levels, it can hurt your ears.
The installation is not easy, and you may need the help of someone professional.
3) Rockford Fosgate R2S-1X10 Prime Shallow Sub
| | |
| --- | --- |
| Frequency response | 38 Hz to 250 Hz |
| Dimensions | 16.5″D x 23″W x 8.3″H |
| Size | 10 inch |
| RMS | 200 watts |
| Connectivity technology | wired |
| Weight | 14.85 pounds |
If you have budget limitations, lack of space, or want to add more bass, R2S-1X10 Prime is one of the Best Rockford Fosgate shallow subs for your vehicle. It is a loaded enclosure of subwoofers that comes with excellent features. I recommend you add and check R2S-1×10 in your car and enjoy its powerful bass without sacrificing your precious space.
Fit Small Spaces
The R2S-1×10 is a shallow loaded enclosure with good quality that can fit in small spaces with its slim-line depth of 3.25 inches from the top and the bottom is 5.25 inches. So there is no need to worry about considering space before its installation.
Premium Quality
Its premium quality makes me believe it is specially designed for harsh environments. It is the best option for trucks and other large vehicles where it can bear many daily waves of abuse. It has a 5/8 inch MDF cabinet and wraps into a heavy-duty carpet, making it more durable and scratch resistant. This cover also adds an elegant look to the subwoofer.
Clarity of Sound
If you are looking for a subwoofer that can deliver sound clarity, then R2S-1×10 is a good pick. However, it is not for the users who love thundering bass because it is something you should not expect from this subwoofer. But for enjoying audio on low ends, its performance is more than enough.
RMS
The R2S-1×10 Prime comes with power handling of 200 watts RMS, and it can clock at 400 watts on its peak power. It is not mind-blowing but has done its job very well. With the RMS, it hits decent levels, and on low ends, it can provide enough power to give sound clarity.
Frequency Limit
The frequency range on that note is limited and ranges from 38 to 250 HZ, which is not enough for this subwoofer size, but it fulfills the requirements of sound clarity very well.
Benefits
It comes with a thick 5/8 inch MDF cabinet build.
It has a small footprint and comes in a space-friendly design.
Wrap in scratch-resistant and heavy-duty carpeting, keeps it safe from slipping.
Add low ends and round out the audio with clarity.
Affordable for everyone.
Pre-loaded and shallow subwoofer.
Drawbacks
The range of frequency is relatively limited.
4) Rockford Fosgate Punch P300-10T Best 10-Inch Subwoofer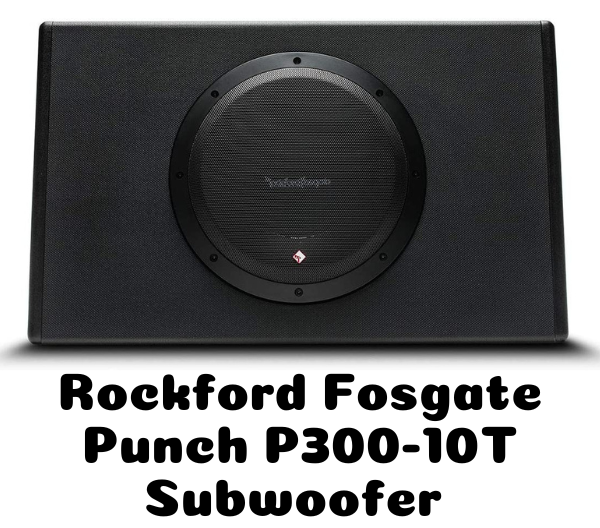 | | |
| --- | --- |
| Frequency response | 35Hz to 150Hz |
| Dimensions | 13.3″ x 21.7″ x 7.9″ x 4.8″ |
| Size | 10 inches |
| RMS | 300 watts |
| Connectivity technology | Input power connectors |
| Weight | 23.8 pounds |
Punch P300-10T is the best 10-inch subwoofer Rockford Fosgate which will prove an all-in-one solution for dropping the bass. It is a 10-inch output woofer with a solid build, and its slim, enclosed design makes it perfect for universal truck applications.
Sealed Enclosure
It is an in-one enclosure solution, and this feature makes it more convenient for quick-release output. You can easily remove it when you need extra space in your vehicle. Moreover, its closed-loop design provides extraordinary performance within the enclosure, woofer, and Amp due to its dimensions of 13.3″ x 21.7″ x 7.9″ x 4.8″.
Acoustical properties
The P300-10T is known for its best 5/8 inch Medium Density Fiberboard, which makes it more durable. And the heat-activated vinyl finish makes it more resistant to marks and scratches. These acoustic properties make it more reliable and prominent than others.
Internal Amplifier
The integrated Amp adds extra marks to the list of this subwoofer. The internal Amp ensures minimum impact on the vehicle's electrical system and provides 300 watts of RMS for optimal performance. Furthermore, its class-D topology ensures its high efficiency and low current design. With an internal amp, it brings the highest possible output.
Switches and Knobs
The switches and knobs on the P300-10T are best for gaining variable control. You can easily adjust the settings through these knobs and switches and set the subwoofer's output according to your system. Moreover, you can also boost and crossover the circuit that you match to your taste. Its auto turn-off and on feature is also an excellent feature. There is also a built-in phase switch.
Remote punch
A remote knob for bass brings setting to your fingertips, and you can also add a Remote Punch level for more ease. Plug into the amp panel and place the cable in your required position so you can do all of the settings from your driving seats.
Benefits
It is a budget-friendly subwoofer.
Class-D topology provides high efficiency and low current design.
Switches and knobs provide ease of use.
The sound quality is excellent, with an accurate and clean punch.
It contains everything from the box to the Amp and grill.
The included remote makes controlling the sub easy.
Drawbacks
This subwoofer is not for heavy bass lovers; you may need to fix it.
5) Rockford Fosgate P3SD2-8 Competition Subwoofers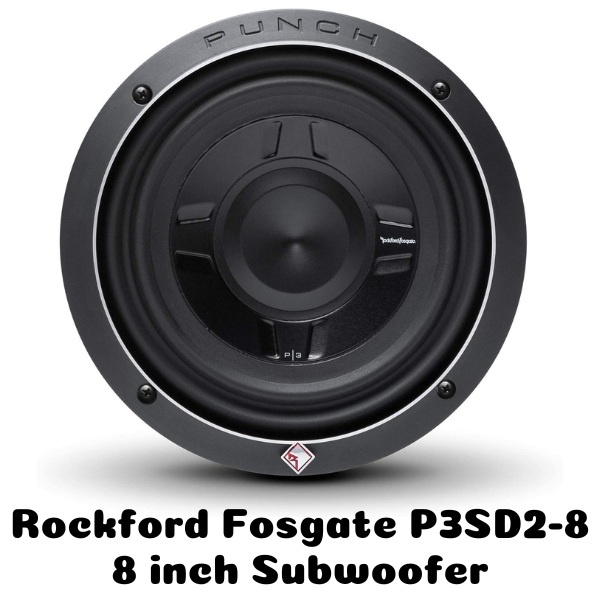 | | |
| --- | --- |
| Frequency response | 38-250 Hz |
| Dimensions | 9.8 x 9.8 x 5.3 inches |
| Size | 8 inches |
| RMS | 150 watts |
| Connectivity technology | 10-AWG nickel-plated push terminals |
| Weight | 8.8 Lbs. |
Rockford Fosgate P3SD2-8 Competition Subwoofers are the best solution for those who lack space. The 8-inch subwoofer is compact, but that doesn't mean it compromises sound quality and other features. I like these subs due to their punchy and tight bass at the same time without distortion.
Stamp Cast Basket
The stamp cast design provides an exemplary platform assembly and also helps to reduce distortion. On the other hand, the Stitched Tinsel Leads improve its performance and also work to reduce fatigue. Its stamp-cast basket design also increases the overall strength and minimizes resonance and weight.
Venting Design
There are built-in dust caps with a spider-like venting design that ensures the motor is cooler and dust free. This design makes the Rockford Fosgate competition subwoofers stand out.
Aluminum Voice Coil Former
The Anodized aluminum voice coil gives heat dissipation of about 100 degrees at full power and quickly build-up thermal dissipation on the coils. It keeps the woofers cool and increases performance.
Max Power
The P3SD2-8 is a slim 8-inch woofer with a 2-ohm DVC and offers 150 watts RMS to 300 watts for maximum power handling. Its custom 10-AWG push terminal is nickel plated.
Punch with Limited Space
P3SD4-8 provides high bass in a tight space, which is an excellent aspect of this slim subwoofer. With its low profile mounting depth, it works great. The best Rockford Fosgate subwoofer understands the needs of small vehicles. It has the feature of dual 4-ohm voice coils and comes with wiring flexibility, and gives 150 watts RMS.
VAST Technology
The durable and flexible M-roll build Santoprene feature is a VAST technology that increases the radiating area of cones by up to 25%.
Benefits
The bass is very punchy, tight, and clean without any distortion.
It is loud enough but will not damage your hearing.
The build quality is sturdy enough,
Its assembly is straightforward.
Drawbacks
The screw pattern didn't match the factory setting
Due to its unique shape, there is a long break-in period.
6) Rockford Fosgate P3-2X12 Punch Subwoofer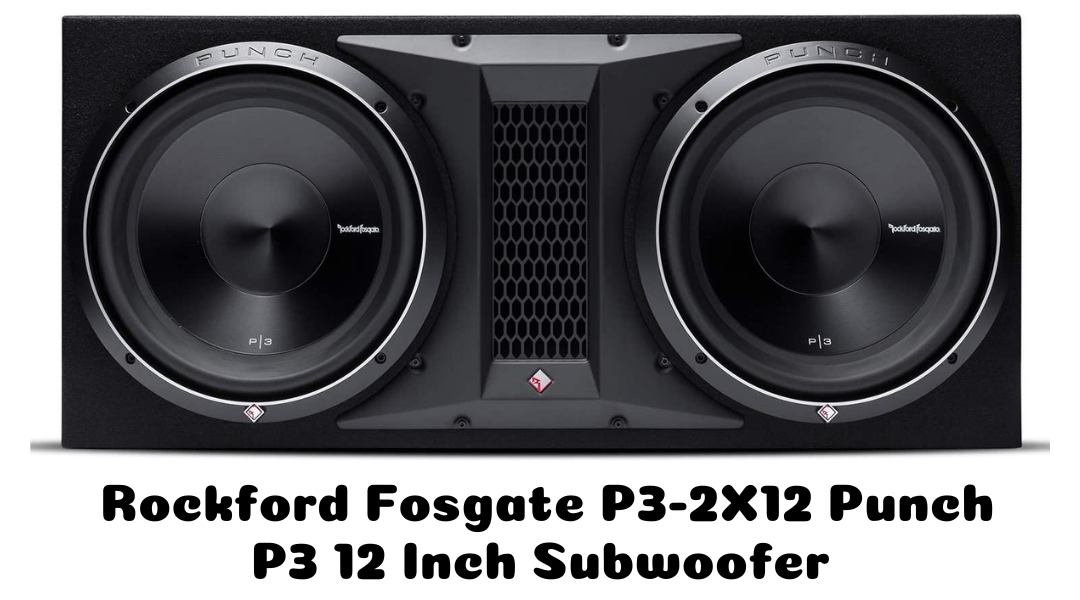 | | |
| --- | --- |
| Frequency response | 27 to 250 Hz |
| Dimensions | 15.1 x 33.9 x 15.7 inches |
| Size | 12 inches |
| RMS | 1200 watts |
| Connectivity technology | Internally wired |
| Weight | 89 pounds |
The P3-2×12 is a loaded punch subwoofer and the best Rockford Fosgate subwoofer with a box. It follows the signature design of the P3 line and has a 12-inch size that can support more giant cones and also has VAST technology. Its vented design keeps the motor cool and maintains the voice coil's temperature for optimum performance.
Solid Build
It has an enclosed design and doesn't fall behind the quality of the material. The P3-2×12 has a reliable and versatile design, and the thick 5/8 inch MDF with heavy-duty carpet keeps it scratch-free and free from slip. The entire box has a measurement of 15.1 x 33.9 x 15.7 inches, and the weight of this sub is about 89 pounds. Consider the weight if you want to install it alone.
Bass-Pumping Beast
When it comes to bass, the P3-2×12 Rockford Fosgate punch subwoofer will not disappoint you, and it is good to consider it a "bass pumping beast." you can get the attention of others when you install and run this best Rockford Fosgate subwoofer in your car.
Power Pack
The punch P3 subwoofer provides 1200 watts RMS while at a peak power rating of up to 2400 watts which is more than enough to make it a power pack subwoofer.
Frequency Range
Frequency ranges from 27 Hz to 250 Hz, but it can handle two times with much power. According to the brand's proprietary, it also features a high flow port and low noise.
High Flow Vent
High flow and low noise proprietary ensure the high airflow so that low bass frequencies will reproduce accurately and provide the highest output.
Quick Release Terminals
It contains high current binding posts to get the max signals for speakers and make it easy to release the terminals quickly whenever you want to move the enclosure.
Benefits
It has MDF build with a heavy-duty carpet finish.
It comes with a dual 12-inch subwoofer with accuracy.
Provide Low noise and high flow ports.
It has a sound venting system and high-temperature voice coils.
RMS rating is up to 1200.
Provide accuracy and quality sound on high volume.
Drawbacks
It is a heavy-weight subwoofer.
Expensive and not in the range of everyone.
What is unique about the best Rockford Fosgate subwoofers?
The Rockford Fosgate subwoofers have a high peak, RMS, and multiple coils. All of these things made them the best in the car audio industry. Moreover, most tinsel leads come in 2 ohm DVC, adding extra marks to their list.
Are Rockford Fosgate subwoofers good?
Yes, Rockford subwoofers are good enough due to their lot of advantages. They bring good and quality products for their users to get excellent results. The sound quality is good, the build is sturdy, and it will last for years.
Which Rockford Fosgate performs well in vented and sealed enclosures?
The Rockford Fosgate P3D4 10 is one of the best options and performs well in vented and sealed enclosures. The sealed enclosure can produce louder volumes, and the vented enclosures are best for low-volume applications.
Why is power handling important?
Power handling will keep the performance of your subwoofers best. The RMS power rating accurately predicts how a sub can perform well in a given condition. However, the most important thing is to pay attention to the peak power handling numbers so that you have an idea about the power delivered to the voice coil.
If you are still confused about what is the best Rockford Fosgate subwoofer and looking for my recommendation, the Rockford Fosgate P3D2-12 is the top choice. It is the best Rockford Fosgate subwoofer as it comes with a sturdy build and a 12-inch size with deep bass and crystal clear sound. Moreover, it is budget-friendly.

Product Recommendations