If you work long hours in the office sitting at your working desk following the same routine every day, you need a relaxing setup in your living room to get rid of all the tiredness. For this purpose best ceiling speakers are your best companion to soothe your body with the mesmerizing audio experience. They help to revitalize your nerves after hectic days.
Either you are a fan of subtle music or like to relax by diving into the deep bass, the best in ceiling speakers got you covered. It is a misconception among people that in ceiling speakers system does not provide a good quality sound. This is true to some extent, but if you search for the right product, you get the same experience with a commercial speaker system.
To make the selection process more seamless and less irritating, we have done hours of research to provide you with a home ceiling speaker system that suits your needs. You can get help from our installation guide for more clarity. So what is stopping you? Let's dive deep into the review to find the best in ceiling speakers for music.
Top 10 Best in Ceiling Speakers 2023
1) Micca M-8C Top Ceiling Speakers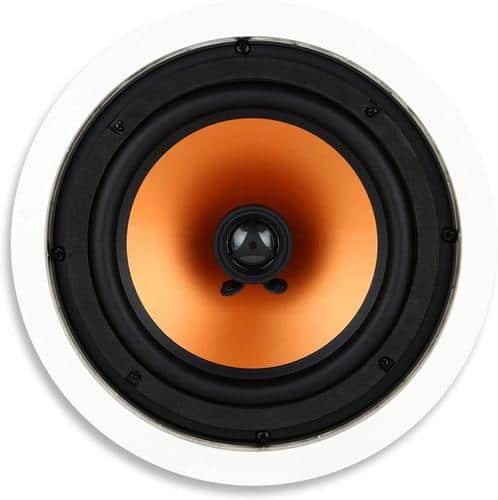 2-way ceiling speakers
6dB crossover network integration
Impactful listening experience
Soft dome tweeter
Many of the speakers on this list are only available as a single speaker, so if you're looking for something that can produce stereo sound from a single device, Micca's M-8C top ceiling speakers are the best choice. It has an output power that allows it to be used in conjunction with other products in their Media range, as well as with any number of other devices in your home that requires amplification.
The speaker is a surprisingly powerful and immersive sound system for its lower price. Its 8″ woofer paired with the 1-inch tweeter provide a sense of fullness that many more expensive speakers can't match while still maintaining an excellent level of clarity even at higher volumes.
The only thing missing from these low-budget performers is heavy bass. You can augment your home audio systems with subwoofers if you want to get any real rumble in action films or party jams – but that's not really what this set was designed for anyway.
The designer of this speaker had a goal to make it as invisible and natural-looking as possible. The speakers come with detachable grilles that can match the ceiling color for less disruption and are easily paintable in any desired color.
It also has a 1-inch tweeter which is moveable, so the sound doesn't need to go straight up and down only in one direction.
With these cheap in ceiling speakers, your listener will get lost by a full soundscape with incredible clarity for one of the best prices in the competition. Whether bought as part of a home theater system, singly or paired together – listeners can enjoy amazing audio that they'd never expect to come out of such small boxes without breaking their bank account open wide.
Pros:
Excellent sound quality and clarity
Good value for money
The price point is superb
Installation is simple
Match well with ceiling
Con:
The grill can lose its grip over time
2) Polk Audio RC80i Outdoor Ceiling Speakers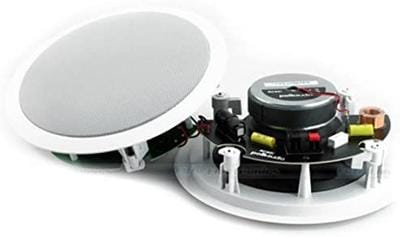 Moisture resistant rubber drivers
Paintable aluminum grille
Excellent sound reproduction
Balanced and lifelike audio
You might be interested in knowing that you could direct sound in any direction you wanted. Polk Audio outdoor in ceiling speakers have a design that can swivel for the user's convenience. They have an 8-inch balance control cone woofer and a dome tweeter, which together produce an excellently balanced range of audio.
If you are looking for versatile ceiling speakers to fulfill your indoor and outdoor requirements, these speakers got you covered.
With their moisture-resistant construction and superior durability, the RC80i's are best for various environments, including bathrooms and kitchens, without causing damage.
Outdoor patio use is also feasible, making it the best choice for outdoor ceiling speakers out of its competitors. However, direct exposure to the elements is viable for them.
Polk Audio is the best in ceiling speakers for outdoor patio with an enhanced and sleek design, making it a great addition to any home's decor.
Despite their 8 inch size, they can match with the ceiling if the colors match. In the different color ceiling cases, you can color the paintable grille to hide them completely.
Setting up the speakers requires cutting a hole in the ceiling, attaching the wiring, and affirming the speaker to the place. Overall the process of connecting is nice and simple for most of the part.
The Polk RC80i produced a high-quality sound, which we found to be impressive. The high ranges shine with extreme clarity, while the mid-ranges are evident.
Instrumental and vocal music particularly stand out as being particularly well-done. The bass is loud enough without overpowering the listener.
However, you might want to consider pairing these with a subwoofer for even better results when it comes to low-end performance. This speaker is a strong contender for the title of the best in-ceiling speaker on the market.
Pros:
Sleek and elegant design
Ease of installation and settings
Clear and crisp sounds
Adaptable to any environment due to moisture resistance
Cons:
Not best ceiling speaker for bass
3) Polk Audio RC60i In Ceiling Speakers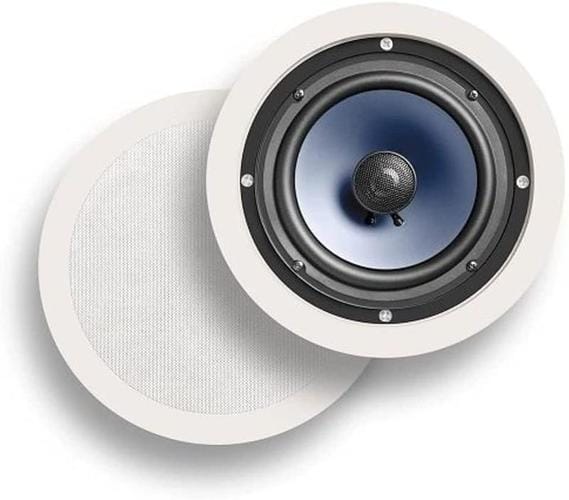 Seamless audio quality
Balanced and lifelike sound
Rubber seal drivers
Timber matched overhead design
The Polk Audio RC60i speakers are the smaller brother to RC80i that offer an impressive sound. To produce richer and more dynamic sounds, they have 6.5-inch woofers with magnetic shielding for less distortion than typical drivers found in this size range. The tweeter is also improved and provides a high-frequency response typically associated with large speakers. These speakers offer listeners access to excellent audio quality with their sleek design, seamlessly blend into almost any setting.
A result of the design is a nice balance in a frequency range that doesn't quite have as much power compared to its older sibling. This isn't surprising because it's smaller than most speakers and has less surface area for sound waves to travel through.
This speaker lacks in punch, and it makes up by having many options on placement throughout the house with rubber back, making them moisture resistant so that you can use these in kitchens or bathrooms. If you're looking for something small enough but still great quality, then one of these will do just fine.
Since each speaker has its stereo capabilities, single placement is also an option for ultra-small spaces. However, the lack of separation in soundstage can be a disappointment to more sophisticated audiophiles as they seek out that quality level.
The clean and uncluttered appearance blends well with the surrounding environment and making it less prominent. Furthermore, the paintable grille can assist in achieving nearly complete disguises if you don't like the speakers to be visible on the ceiling.
If you require relatively small, moisture-resistant ceiling speakers by making a small sacrifice in sound quality, Polk RC60i is the best choice.
Pros:
Wide applicability across home
Blends well with the surroundings
Moisture resistant properties
Paintable grill for further customizations
Con:
The stereo separation looks poor
4) Yamaha NS-IW280CWH Home Ceiling Speakers System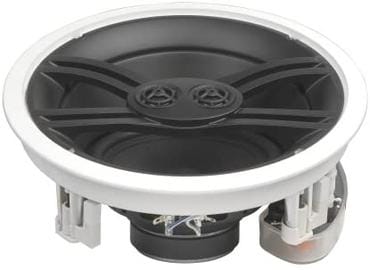 100W input capacity
Polypropylene mica cone woofers
Grille with protective cover
SoundMax technology
The Yamaha NS-IW280CWH speakers are the first three-way speakers on our list. They come in a pair and have separate drivers for bass, mids, and treble frequencies, which means they can provide a good punchy bass that will never become overbearing.
A 6.5-inch cone woofer provides this sound without any problems to ensure your experience is memorable, beginning to end with its classic design that'll look great anywhere you put them. There are separate tweeters to handle mids and trebles, which have spatial capabilities thanks to a swivel mount that allows them to move in any direction.
Mid-range tweeters bring additional layers of nuance to the foreground in music, allowing more clarity for individual instruments and vocal tracks. Bass is not a prominent feature in this system; however, a subwoofer addition can easily remediate.
The artistry seems to be of high quality, as one would anticipate from a Yamaha product. The detachable grille of the speaker is easy to paint to help it blend in with its surroundings.
The design is elegant and non-intrusive enough to go unobserved if you want to hide it from the ceiling. However, the speaker system is suitable for the non-humid climate as it does not support any moisture resistance.
The installation process is pretty straightforward and easier than other speakers we reviewed here. Anyone with a little skill and knowledge does the installation task without difficulty.
Even though the Yamaha in ceiling speakers is slightly more expensive than its competitors, mainly Micca M-8C, it is worth every penny invested. Overall, it provides an impressive audio quality with good value for money.
Pros:
It produces punchy bass
Three-way speaker setup
The mid-range production is impressive
Elegant and non-intrusive design
Cons:
No moisture resistant properties
Slightly expensive than its competitors
5) Amazon Basics 6.5″ Ceiling Speakers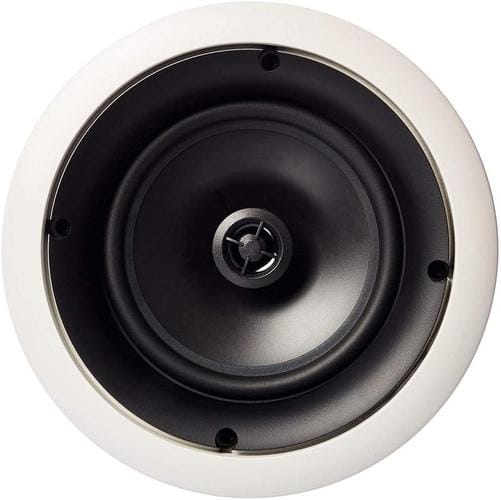 Hi-fi music playback PA
2-way speaker system
High-fidelity Ring Tweeter
Wide frequency range
AmazonBasics are a straightforward set of ceiling speakers, making them perfect for those who need something simple. With the lowest price on Amazon, these will give you plenty to work with at an affordable cost. If you want one speaker capable enough to provide quality sound, this may be ideal.
The sound from this speaker is a little underwhelming, but it still manages to be pretty good. The highs are clear, and the lows produce a decent amount of bass, considering them as small ceiling speakers.
The single 1-inch tweeter with a composite woofer of 6.5 inches provides a fine sound quality with mid-ranges on the muddier side, while the rest of the audio has great crispiness.
The design of this grill is straightforward, with a neutral color that will work well in any space. Its lack of flare isn't necessarily bad, though; it might be what you want if you're looking for something to blend into your surroundings without standing out too much. Besides that, you can paint the grille to match the surroundings in a better way.
However, AmazonBasics fall short by a significant margin in audio performance when it comes to the best in-ceiling speakers.
Its sound quality is not worse but, at the same time, not worth praising over some of the names that we already discussed here. If you are looking for something having superior sound, you can explore more options before decision-making.
Pros:
Setting up the speakers is straightforward
Low price point
Modest yet elegant design
Neutral color for perfect blending with ceiling
Cons:
It sounds quality could be better
Mid-ranges are muddier
6) Bose Virtually Invisible 791-2 Ceiling Mount Speakers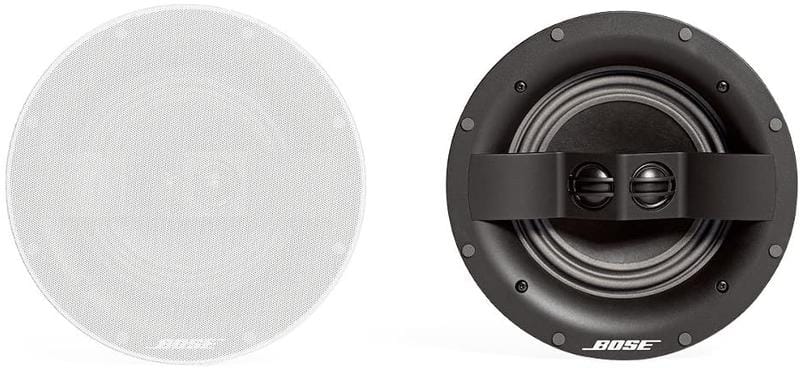 Exclusive stereo surround
Bazel less construction
Magnetic attachment grille
Strategically placed tweeters
The Bose Virtually Invisible 791-II is the most expensive item on this list by far, but it's also one of the best. The two speakers provide amazing sound for your home theater system and are perfect if you're looking to have a complete surround sound experience without taking up too much space in your living room or bedroom.
Bose Virtually Invisible speakers are ultra-thin and easy to install anywhere. These speakers have a paintable grille for your ceiling, 7-inch woofer with two 1 inch tweeters to ensure sound reaches the furthest corners of your room.
They provide you with rich tonality and absolute clarity throughout the frequency range, thanks to their signature Bose Sound Balance that comes along.
The Virtually Invisibles are the best speakers for people who want that sophisticated sound. The Bose Centerpiece and Boom make this system complete, especially if you'd like to keep your home theatre looking sleek and modern.
You read that right; these speakers are not just good for your ears – they're also cleverly disguised to look like the ceiling. You'll be hearing everything from every direction with this system.
The Bose Virtually Invisible speaker system is the best in-ceiling speaker that is sure to please everyone. Unlike other models, these speakers produce studio-quality sound and require less installation work.
There may be some Bose Speaker's versions out on the market for those who want better value for money, but none come close to matching its design and performance values.
Pros:
The excellent sound projection in all directions
Virtually invisible design
Unrivaled sound quality and performance
Installing in a smaller space is more convenient
Cons:
The overall value for money is questionable
7) Theater Solutions TS80C In Ceiling Speakers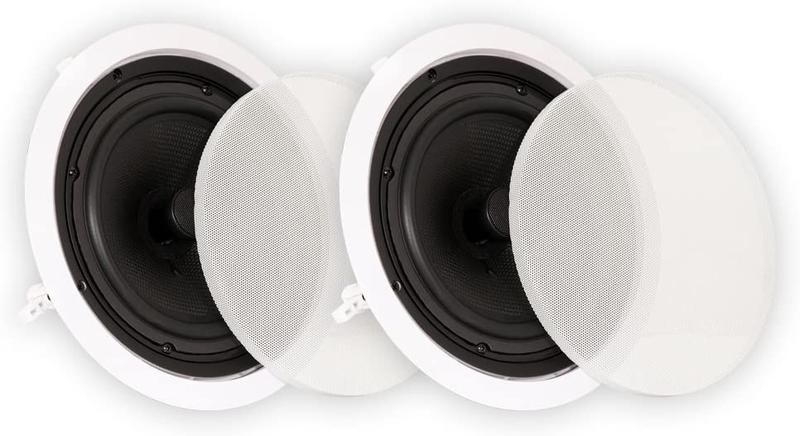 Woven fiber bulletproof Cone woofers
Butyl rubber Surrounds
Silk titanium dome tweeters
unique wall locking mounting system
Theater Solutions ceiling speakers are among the most affordable speakers in our list that provide adequate audio quality. As the name implies, they are best in ceiling speakers home theater. While they can produce some nice and loud sounds with a great balanced, they could benefit from a little more assistance regarding bass.
It has swivel-mounted tweeters that can rotate up to 15 degrees to make them the best ceiling mount speaker. Its 8-inch fiber woven cone generates an outstandingly loud and distortion-free sound, despite its lack of substantial bass.
The mids and trebles lack the level of refinement that comes with a premium price in ceiling speakers. This is the thing that you need to keep in mind before making any decision.
The paintable grille gives the TS80C a unique design perfect for those who want to blend in. And installation couldn't be easier with instructions and templates included. It suits well for almost every ceiling due to its moisture resistance properties.
You cannot expect such features in the ceiling speakers in this price range. The versatility makes it a strong contender for the best ceiling speakers for all-around performance.
The Theatre solutions are good in ceiling speakers that will suit most people looking for speakers without much power or space. If you're after really high-end audio, though, then it might be wise to spend just a bit extra on some of the top-performing options like the Miccas 8c's, which offer impressive clarity and range at any volume level.
Pros:
Perfect choice for using with home movie system
It produces clear and distortion-free sound
A great offering of versatility
Unique grill design to blend in well with the surrounding
Cons:
It lacks a punch in the bass
8) Pyle PWRC65-BT Bluetooth Ceiling Speaker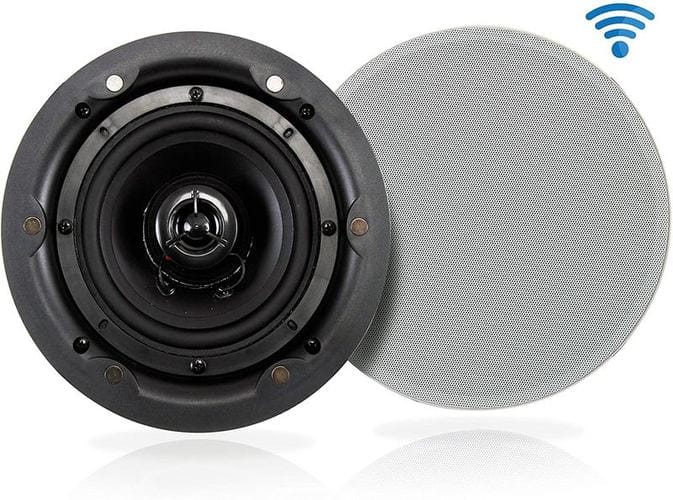 Excellent flush mount design
300W peak power
Magnetic detachable grille
The Pyle Bluetooth in ceiling speakers is a great option for those who want to save money. These quality Bluetooth-enabled, 6.5-inch ceiling speakers offer many of the same features as Polk's at half the price. This makes them perfect in various rooms with different speaker needs and any household looking to cut costs without sacrificing sound and aesthetics.
The audio quality on this Bluetooth ceiling speaker is noticeable for its absence of deep bass. In our list, these are one of the thinnest ceiling speakers compared to other speakers.
Their lack of punch is reimbursed for by their outstanding 300W of power, delivered with minimal distortion. When paired with a more powerful subwoofer, these will perform admirably well. At the same time, the mid and treble look more in frequency range while carrying every minor detail.
The installation does not require a person to be technical, as the installation is easier. It requires proper connection of the wires at the right places and crafting eight size holes for the placement.
In the end, you can attach the clamp mounts to the speaker. The addition of a magnetic grille makes it simple to get to the adjustable half-inch tweeter for greater directional control of the audio output.
In addition, to become adjustable to the ceiling, the Pyle's wireless in ceiling speakers have a great tendency to blend well with the surrounding. You can achieve a higher level of camouflage by painting the detachable grille to match the ceiling.
However, because they are not suitable for use in smoggy environments, you can use them in environments with no humidity. As one of the most affordable pairs on our list, they provide great audio quality concerning the price.
Pros:
Installation is pretty straightforward
The magnetic grill makes it more adjustable
Blends well with the ceiling
Thinnest dimensions among competitors
Bluetooth capabilities
Cons:
Sound quality could be better
Lacks moisture-proof properties
9) Niles CM7SI FG01659 Stereo Ceiling Speakers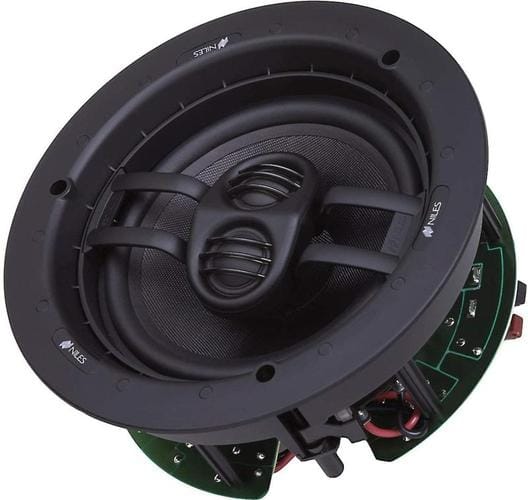 Glass fiber woofer cone
Fluid-cooled UltraSilk tweeters
Weather-resistant construction
Optimal performance and reliability
Niles is a speaker company that has been manufacturing speakers for over four decades, and the CM7SI single-speaker stereo sound system does not disappoint. With its sleek design and colors to match any décor, you can enjoy your favorite music or TV show with this new addition from Niles. It has a great range of depth and audio clarity to fulfill your need.
A 7-inch composite material woofer produces a surprising amount of rich and satisfying bass.  Two dome tweeters, placed at right angles to one another, provide a wide sound field that extends throughout the room.
Sharp and well-detailed mid and high-range adds a pleasing touch to the music. It is necessary to have more than one speaker for larger rooms to provide extended coverage for the audience.
The Niles is yet another ceiling speaker that shows resistance towards moisture, expanding its applicability for diverse environments. You can use it ideally for the bedroom or washroom.
The spring-loaded clamps for mounting and cutting templates that come with the kit make the installation a breeze for anyone. They are easy to place discreetly, thanks to the magnetically attached and paintable grille, which allows them to blend in almost completely if you prefer.
Their mid-range ceiling speakers from the Nile prevent you from feeling irritating when you are overpaying for something. With these, you get the impression that you are getting the product at the right price. Overall the sound crisp and wide applicability ensure its excellent value for money.
Pros:
Balanced and excellent sound quality
The slim design provides unlimited possibilities
Moisture resistance properties
The price range is considerable
Cons:
Mid ranged speakers
Not for bass lovers
10) Klipsch CDT-5650-C 2 Ceiling Surround Speakers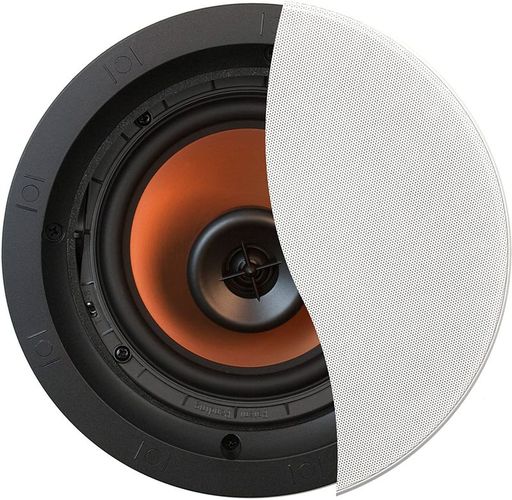 1″ Titanium Tweeter
Treble and midbass attenuation switches
Controlled Dispersion Technology
Horn-loaded technology
Pivoting Cerametallic Woofer
Klipsch CDT-5650-C II is expensive but worth the cost best in ceiling speakers for surround sound. With cutting-edge audio technology and a wonderfully textured sound you will enjoy for years to come, this single speaker can outperform many of its competitors with ease.
It has a ceramic and metal woofer that comes in a 6.5-inch size. The bass quality is second to none as it produces mature bass that is way above its price. If you pair them up, then there is no need for an external sub-woofer due to their strong bass.
Besides that, these ceiling speakers can pivot a 15-degree turn in any direction to make the sound available and clear. The Controlled Dispersion Technology is an excellent addition that surrounds the music to all corners.
The ability to fine-tune the drivers greatly aids in creating a spacious soundstage even from a single speaker. Attenuation switches are also available for adjusting the treble and mid-bass.
This particular feature is absent in the rest of the competitors. When played at a high volume, the sound remains cohesive, and we put this to the test extensively. When listening to music, there was no distortion across the entire frequency range tested.
With these excellent ceiling speakers, installation and placement are a breeze. Its slim design allows you to set them up in various places without much complexity or inconvenience.
The Klipsch CDT-5650-C II is a speaker system that does not reflect any bad reputation. On our list, this is without a doubt one of the best ceiling speakers for an immersive experience.
Pros:
Innovative and audible sound
Construction seems durable to last for years
Excellent sound customization choices
Soundstage is expansive
Cons:
Price seems a little high
Tips for Indoor and Outdoor Ceiling Speaker Installation
Nowadays, it's an easy process to install ceiling speakers as manufacturers make it fairly simple for the users. However, here we give some tips and tricks for you to understand the procedure for installing ceiling speakers.
Correct Measurements:
The first step to install a ceiling speaker makes a perfect place for them to fit properly. It's very important to make a perfect size hole for speakers to fix at their place accurately.
For this purpose, the most important part is to measure the diameter for placement of the speaker and make a perfect size hole before cutting. It is vital to measure all the sizes before cutting so that your speakers fit correctly.
When you install dual or multiple speakers, you must check the audio in their placement area. If you want to see how your speaker looks after placement, get someone to hold the speakers and check the quality. The other thing to look out for is that if the speaker has an axis on the driver, then check angles simultaneously.  
Hole Cutting:
Most people make mistakes while installing ceiling speakers by an inaccurate hole. It's important to choose the right position and then cut. The other mistake often happens during installation by the people because they do not check the position suitable for them. They forget to discover the piping, conduits, or other hindrances at the place where they make a hole.
To check any obstacle, bend a wire into shape. The bend must be longer than the radius of the speaker hole, so it remains easy to check all the edges. Move the wire in all directions; if you hit any obstacles, make another choice for the placement of speakers.
If you do not face any problem, then make a hole for both of the speakers. Checking both holes is better than moving one hole backward or forward due to the other hole.  
Placement of Speakers:
The distance between speakers matters a lot as it has a big impact on audio. This goes for stereo, surrounded, and multiple speaker distribution installations. If you are installing speakers for TV, it is important to have equal distance from the source.
If the distance of the speaker from the source does not match, this may affect the audio. Ensure the better position, good measurement, and distance between both speakers or if you have multiple speakers for perfect impact.
Installation for Stereo Speakers:
Make sure that the distance between the speakers is 6ft to 10ft for stereo installation. At the close position, you can hear the audio of both speakers without any stereo image.
If there is a long distance between the speakers, you may experience some "dead" spots in the room and cannot get an accurate stereo sound image.
The minimum distance between speakers makes a good stereo impact, and without lacking bass and mids, you can enjoy the sound. Mostly 6ft to 10ft is a good spot for stereo speakers' installation.
Installation Procedure for Surround Sound
While installing, it is important to remember that the front left-right and rear left-right are on equal distance. Also, make sure that your front left-right and the center of the speaker place on the same axis. 5 1 surround sound ceiling speakers require careful installation.
The reason is that the sound from the left-right speaker and from the center speaker will arrive at different times to your ears. In the advanced high-end home theater, they use some delay instruments on the output to correct this time difference. But most of the receivers lack this. That is why you need to make sure to apply all the speakers at the same height axis.
1) Installation for Multiple Speakers:
While installing multiple speakers, there is not any hard and fast rule of 6ft to 10 ft. But for a good impact, you need to make sure that the distance between speakers remains equal.
You will need to check that the spreading of sound from speakers will not create any dead sound or any time difference to reach sound to your ears.
2) Selection of Amplifier:
Amplifiers that match and are close to the max power of output are best for your speakers. This will make sure your speaker works professionally and resist any damage for overdriving amplifier to get more out of the speakers.
The input and output use of any amplifier must match requirements. For example, if the speaker has 150 watt at 9 Ohms, then choose an amplifier that meets the specifications.
A little bit of under and above that range can be acceptable. It's better to contact the manufacturer for suggestions and contact their customer support if you can't understand.
3) Selecting the Right Cable:
Cabling is something that needs more attention than anything else while setting up the best ceiling speakers. There is a good reason for this attention as they can affect the sound quality and clarity.
You cannot get louder and crisp sounds from an inferior cabling setup. If you try to pass more current from these cables, they can overheat and gradually affect the efficiency.
For setting up cables, always consider the quality and their gauge size. Make sure that the gauge size matches with the speaker's Ohm. As the cable does not take a direct path, the length is also a matter of consideration.
For instance, connecting an 8 Ohm speaker requires at least 18 gauge cables. Always read the user manual carefully before selecting the cables.
4) Painting to Blend Surroundings:
There are two types of speaker grills, paintable and non-paintable. If you like your speaker setup to blend well with the ceiling, choose a paintable ceiling speaker. Careful selection of the grill material ensures the paint quality.
Some people go with plastics that are not good for paint. Getting hands-on with the user manual or reading the product description lets your know about the speaker's paint retaining properties.
For the paintable speakers, try painting them before installation. This step is relatively easier as you can paint the speaker in comfort before installing it on the ceiling. Before painting, make sure to cover other parts of the speaker or end up painting the unnecessary parts.
Polk Audio RC60i In Ceiling Speakers are our premium pick among the ceiling speaker reviews. They provide seamless audio quality with a high sound range. You can experience more balanced audio and due to the presence of mineral-filled polymer cones.

Yamaha NS-IW280CWH Home Ceiling Speakers are the best stereo ceiling speakers for people looking for a balance of everything. The swivel tweeter makes the dispersion easier and widespread for the audience. We experienced them as more user-friendly towards installation, and paintable grille comes in handy for blending it with the ceiling.

Bose Virtually Invisible 791-II Ceiling Mount Speakers are the best ceiling speakers that click our minds every time someone asks for our recommendation. They produce high-quality and full-range audio to make your listening experience more immersive.

Top Recommended Product
Do I need a subwoofer with my ceiling speaker?
A subwoofer is not necessary for the ceiling speaker in most cases. But if you like a balanced sound at the low-end frequencies, you might consider getting a decent subwoofer setup. Best ceiling speakers have a balanced bass to enlighten you with low frequencies. However, choosing a subwoofer can make the sound more seamless and entertaining.
Are in ceiling speakers any good?
Ceiling speakers are a viable option for stylish and low-profile looks. They are better than commercial speakers as they can handle a good sound quality by taking less space in the room. To get excellent audio quality and bass, only go for the directional ceiling speakers with a premium price tag.
How many ceiling speakers do I need in a room?
The answer to this question directly relates to the dimensions and size of the room. If you are looking for a ceiling speaker to fit in a large hall, you may need 2 to 3 pairs of these speakers. But for a normal size room, pair of speakers works best for providing you a crisp and audible sound for your favorite songs or movies.
Is Yamaha in-ceiling speakers good?
Yamaha in-ceiling speakers is incredible at producing audio. They are relatively easier to install, and their build quality ensures their reliability. You can get directional tweeters that can enhance the listening experience. Besides that, the reputation and branding of Yamaha are positive among music enthusiasts.