Most people like to hoard albums and playlists from their favorite artists and genres to the point that they get bored. Then they think about how to discover new music that they might like without ditching the old genres and artists they like. It is where music streaming services and application comes into play.
You don't have to dig deep to find services that let you discover the music based on your interests and history. Such applications are common these days and help you find the music that may interest you. I will enlist them with the features they offer the users and a possible explanation of how they sort the music for you. Let's get started!
How to Discover New Music on Spotify?
Spotify is the newest and greatest way to find entirely new and offbeat music. This music streaming service is so efficient at doing so because of a special recommendation engine, Bart, that uses an AI system to recommend music based on a listener's taste.
The AI engine of Spotify provides music recommendations based on past activity, including previous listening routines. Most people who don't know the best way to discover new music on Spotify can use Spotify to get curated recommendations. The BaRT also lists new tracks of the genres you mostly listen to provide a customized experience.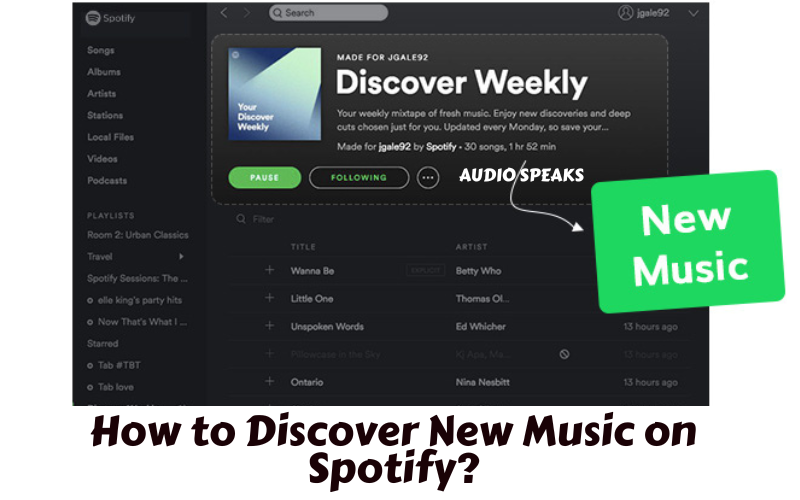 Three algorithms combine in the Bart to provide users with the new songs of their taste and choice. It predicts the songs using RAW Audio Modeling, Collaborative Filtering, and Natural Language Processing. The algorithm is so strong that spending 30 seconds on a song will yield suggestions based on that song.
Here is the best way to discover new music on Spotify:
1) Made for You
Spotify's Made for You section is available to desktop and mobile users. This playlist is personalized in just a few simple clicks so that you can enjoy the right music at any time based on your listening habits over the last six months.
2) RADAR
It enables you to search for playlists from local and international artists. It has new songs listed released recently. You can filter them by country and genre to further narrow the search. The RADAR function is accessible from the desktop app when you search RADAR in the search bar.
3) Playlist Recommendation
When you create playlists online, it's easy to see which songs are in recommendation next. They're suggested based on a playlist's genre and added to the bottom of the list. You can add these recommendations if they fit your criteria for the new music according to the genre you listen to.
4) Fans Also Like
If you don't know how to find new artists on Spotify, Fans also like it is a great feature on Spotify in this regard. It systematically generates similar artist suggestions and other up-and-coming stars whose music revolves around the same music genre when you click on a specific band's name.
5) Friend Activity
Spotify's Friend Activity is another way to experience the service and discover new songs. You can see what your friends are listening to and share songs on social media. If you prefer not to broadcast your listening activity on Spotify, it is possible to disable sharing in settings within the desktop app.
How to Discover New Music on YouTube?
YouTube Music is relatively new compared to Spotify. It has both web and app versions to let you explore new music. It has a database of official videos, song audios, live versions, artist radios, remixes, albums, and playlists under the same hood.
YouTube music has a smart discovery algorithm that helps you have endless options of playlists. When you play music of different genres, it assesses the taste and liking of the user. As time pass, it provides playlists based on the listening behavior and songs you like. Here is the list of features to search for new music on YouTube.
1) Explore Tab
The Explore tab is the recommended place where you can find a lot of new and exciting music. It has all the options to provide you with recommendations based on what's trending and New releases. You will also find Charts where you can see what's trending in your country and worldwide. If you want to expand your musical horizons, check out our Mood & genre section.
2) Playlist Recommendations
YouTube Music creates a list of songs it thinks you will be interested in, but only if you tell the app about your preferences. To modify these suggestions, one must first create a new playlist and then begin adding songs from the recommendations list. In a mobile app, the playlist recommendations appear as Suggestions.
3) Fans Might Also Like
If you like to discover artists with the same genre and style as your favorite artists, hopping over to the Fans might also like option is recommended. It helps you to discover new and emerging talent. This section is accessible through your favorite artist page and resides at the bottom.
How to Discover New Music on Apple Music?
Apple Music is the default music application on the iOS devices that came as a replacement for iTunes. It is also available for other operating systems such as Windows and Androids. Similar to other leading streaming services, Apple Music also has algorithms.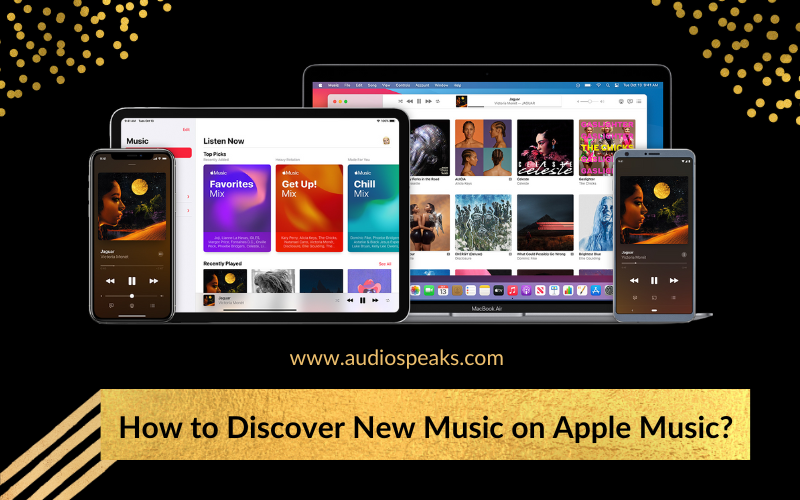 These algorithms let the application identify the users' music artists and favorite genres. After identifying them, it provides recommendations about songs, playlists, and artists. However, you may observe that the application doesn't provide many recommendations, which is disappointing for users who want unlimited suggestions.
Here are the features of Apple Music to search for the music you like.
1) Listen Now
The Listen Now section of Apple Music lists top music picks similar to your interests and recent listening activity. It is one of the best options when I like an app to recommend the music of my choice. You can further improve the list by utilizing the Love and Dislike functions. It narrows the lists and helps you enjoy music from your favorite genre and artists.
2) Must-Have Music
If I were to find new music, the Must have music options inside the Browser page of Apple Music is a perfect choice. It is for those of you who love music and want to enjoy listening to the top charts. It only enlists the new music and songs that are trending.
3) Similar Artists
It is the quickest way to find the music related to your favorite genre and similar to the artists you follow. You can head over to the artist profile of your choice and scroll to the bottom.
It has a familiar section named Similar Artists, where you can find the artists that sing in the same genre as your favorite artist. It provides eight suggestions that include emerging artists and those who are already famous but not listed.
4) Base: Line
If you want to search for unique content, then checking out the Base:Line section is a must. It is the result of the collaboration between the United Masters, Apple, and NBA to curate a playlist that they can utilize on various social media platforms and the NBA website.
How to Discover New Music on Pandora?
Pandora provides internet radio services to stream music. It will recommend songs according to your taste in music as you listen. You can also create your stations based on your type of music.
With time, Pandora will eventually be able to assess what you like and what you don't like about a song and make recommendations accordingly with help from their music analysts and data collected from the Music Genome Project.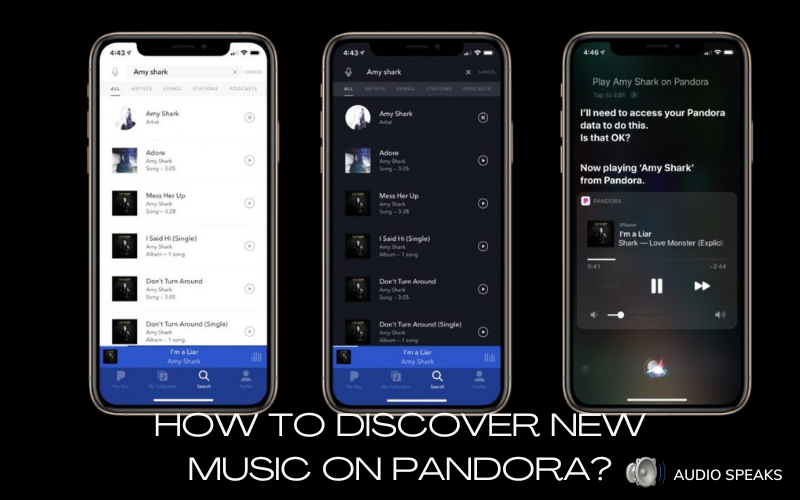 The music genome project is like a family tree for songs. You get to see each song's musical genre and other aspects. The list includes the instrument used and even the characteristics of the lead vocalists. The result is like each song has a DNA that makes up who they are, making searching and sorting them straightforwardly.
The song recommendations will sound similar to your personal preference. Because they are specifically chosen to match it and provide you personalized listening experience. It collectively ranks the music discovery feature of Pandor ranked top in the world.
Here are the features offered by Pandora about how to find new music to listen to:
1) Browse Tab
The Browser tab of Pandora is similar to other music discovery applications as it contains new music and trendsetters. The new Music section includes the music that best matches your music preference. The trendsetters enlist the artists that have gained popularity and rank top among emerging artists.
2) Pandora Modes
If you are feeling the urge and thinking I need new music to listen to, Pandora Modes offer you a customized experience. It lets you limit the type and number of songs you can play on the stations. You can get the lists customized with the Like and Dislike options given.
Top 5 Best Apps To Discover New Music
Sometimes when we listen to music, we tend to listen to the same thing repeatedly. But that is not a very good idea when it comes down to it. Music streaming services play a huge role in this situation.
Sometimes all you need is something fresh to hear, a new song to throw on while you're cleaning up or cooking dinner, or wherever else you happen to be busy and don't feel like putting together an entire playlist.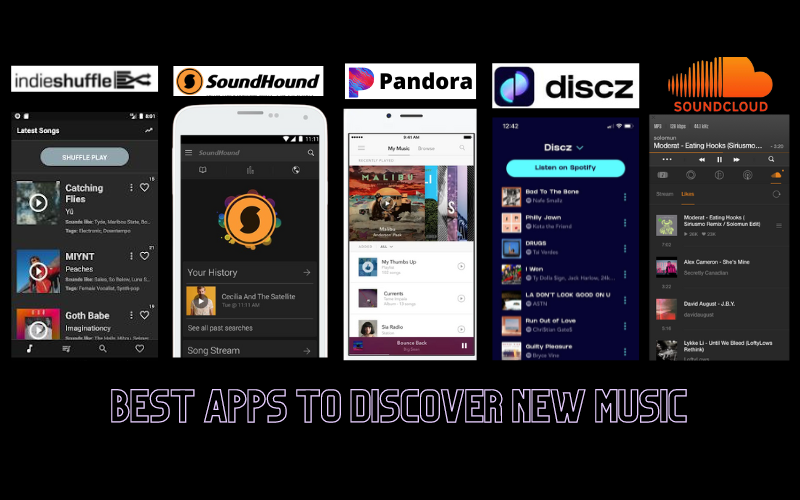 Several music search apps offer you the find new music where you have to type in a certain genre of preference, and they will show you different suggestions specifically related when it comes down to what songs are trending.
1) Indie Shuffle
Indie Shuffler is one of the best music discovery apps for indie artists to feature new songs. When you open the app, you can browse through playlists that will allow you to discover great tracks based on what's going on in your life. If you're ever wondering what new songs are trending – this is a must-have app. You can use the tag feature to find similar artists.
2) Discz Music
As an avid music fan, Discz Music promises to be the perfect app for you, with hot new tracks each time you open the app. The design is easy and sleek, so it's simple to stroll through new songs and even easier to confirm your favorites by swiping right. To trash those songs you don't like with a quick swipe left. Once Discz has logged your musical preferences, it will help you create playlists or find new artists within your niche of favorite genres!
3) Pandora
Although Pandora is a popular platform for streaming music, it might not come to mind when trying to find new tracks. Unlike Spotify and Deezer, Pandora provides streaming services and radio listening. It doesn't have the algorithms as strong as Spotify but still works well for the most part.
4) SoundCloud
SoundCloud is a great app for those interested in music, especially for people who like to listen to music when running errands. There are many artists on SoundCloud, and you'll be able to hear their covers of popular songs and their original music that you might not be able to find anywhere else.
5) SoundHound
SoundHound is a great app to have on hand because it allows you to identify random sounds and songs that you may come across by humming or singing. On opening the app for the first time, humming or singing the song into your phone is all it takes from there.
The app is also wonderful if you want new music because you can add it to your playlist after finding out what song you're listening to, whether it be from a movie, a nearby restaurant, or wherever.
Which are the Best Websites to Discover New Music?
Spotify is a holistic contender of the best music discovery apps. It is primarily because of its Bart algorithm and ongoing personal playlists/content that automatically update every week, so you don't have to.
It has a quick system for alerts and music announcements. Whenever an artist you follow announces his upcoming show, album release, or new music, it alerts you immediately. Besides that, Spotify differentiates itself from the rest of the competition by offering top-notch features of Tastebreakers and RADAR. These features introduce you to the genres and artists you probably haven't heard of anywhere.
Apple Music comes close to variety and user-friendliness, but the music discovery feature could use some work. The search engine isn't great. Users have expressed frustration over Tidal's discovery feature as it needs more improvements in its algorithms and the set of features it offers to the users.
How To Find Music You Like?
There are plenty of platforms to discover new music online. Learning which one you like the most is an important step to staying updated with new songs and finding new artists.
The streaming services and applications mentioned above let you discover new music and genres you like. They also suggest playlists based on the artists you like. If you have something going on your mind and thinking about where to find similar music I might like, these streaming services and websites are the way.
Each service has a unique algorithm and set of features that will let you discover new music. Trying them and reviewing their options will help you identify which application or service fits your needs.

Final Thoughts