The subwoofers can change the way your favorite music sounds. That is why it is a great idea to get the best car subwoofer under $200 that will give your music more clarity and depth. Many people do not want to spend much cash on the subwoofer. But you don't have to spend a considerable amount of money on new car subs, which can get them in less than 200 dollars.
High end car subwoofers reproduce the low-pitched bass frequencies and are available in different types, styles, and brands. You can get both active and passive subwoofers which are differentiated by the position of your amplifier.
Considering that situation, we have come up with a guide which has assembled the five best Car Subwoofer under 200 Dollar . This article can learn the features, specifications, benefits, and more about these best budget car subwoofers.
5 Top Car Subwoofers Under 200 Dollars
To buy the top car subwoofers for under 200 dollars, you should be aware of the kith and kin of the subwoofers. Knowing their specifications, features, and technicities would help you in buying the best car subwoofer under 200.
Most beginners inquire, what the best car audio subwoofer is. If you are not aware of the following thing, there are high chances that you will buy an average car subwoofer. So, without wasting any minute, let's learn about the features of these high-tech subwoofers.
1) JBL GT Bass Pro 12 Best Car Subwoofer Setup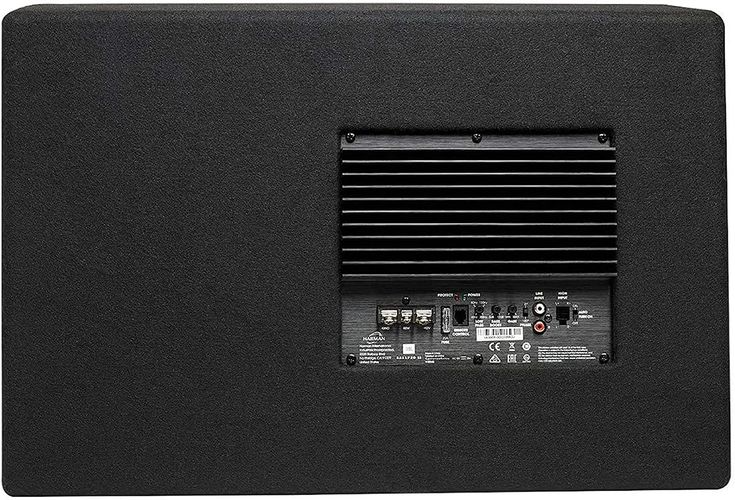 Built-in 150-watt amplifier
Remote level control
12" polypropylene cone
Progressive spider
Slipstream port
Vented pole piece
Oversized dual-stacked magnets
Speaker level and line-level inputs
Automatic ON/OFF function
Oversized speaker protection bars
| Specification | Features Value |
| --- | --- |
| Amplifier | 150 watts RMS; 450-watt max |
| Frequency | 35Hz – 120Hz |
| Fusing Rate | 25A |
| Max Current Draw | 13.5A |
| Input Sensitivity | 50mV – 4V |
| Crossover frequency | 70Hz – 120Hz |
| Dimension | 570mm x 369mm x 305mm |
The JBL GT BassPro 12 is one of the best car subwoofers under $200 available in the market. This subwoofer adds high output and low distortion bass to your car's audio system.
Its high tech slipstream port design and bottom-end bass deliver deep music and minimize the port noise. In addition, the in-built amplifier delivers your audio system maximum power and flexibility.
Its impressive and improved motor structure venting and superior mechanical reliability provide you with fantastic sound quality and durability. In addition, its remote level control provides you control to adjust bass while driving.
Built-in Amplifier:
With this with tech subwoofers, you don't need to worry about finding a suitable amplifier. Instead, the JBL Car Speaker subwoofer with built in amplifier provides you with everything you need in one piece. This built-in amplifier is competent enough to provide you with a powerful performance with reliability.
In addition, the vented pole-piece of these subwoofers helps in cooling the motor, which improves the power handling of your audio system. This unique quality gives an edge and makes it an excellent subwoofer.
Dual-Stacked Magnets:
This best car subwoofer setup uses large dual-stacked magnets to surge the magnetic fluctuation. It ultimately provides you with higher output, incredible cone motion control, and room for a high voice coil expedition.
Moreover, these subwoofers have flexible speaker levels and line-level inputs. Therefore, it allows you to connect them with any car audio system. If you are changing your car, you don't have to buy a new set of subwoofers. This product will be perfectly suitable for your new car.
Slipstream Port:
The slipstream port is one of the essential features of these subwoofers. In addition, the double flares of these subwoofers form an adverse pressure that helps in eliminating the noise at a high level. Ultimately, the noise which distorts the sound no longer can pass through subwoofers.
Thus, the subwoofer automatically provides precise, distortion-free performance even at high levels of output. In addition, the BassPro 12 is quite more powerful than it looks. Its oversized speaker protection bars keep the woofer cone safe and give it a sleek and deadly look.
Polypropylene Cone:
These subwoofers have a polypropylene cone and a rubber surround. All the technology used in making this subwoofer makes it powerful, tight, and high-performance bass that can outlast your car.
Moreover, you can enjoy your ride without interruptions because you can adjust the bass from your driving seat. In addition, the automatic ON/OFF system senses a signal coming on its level. So, you don't have to connect the wires every time.
Make Buying Guide:
These subwoofers will be a perfect choice if you want to level up your music performance. The high-powered in-built amplifier eliminates the stress of buying an amplifier, and staked magnets provide you with the perfect sound performance.
2) Rockford Fosgate P3D2 Best 12 Inch Car Subwoofer Under $200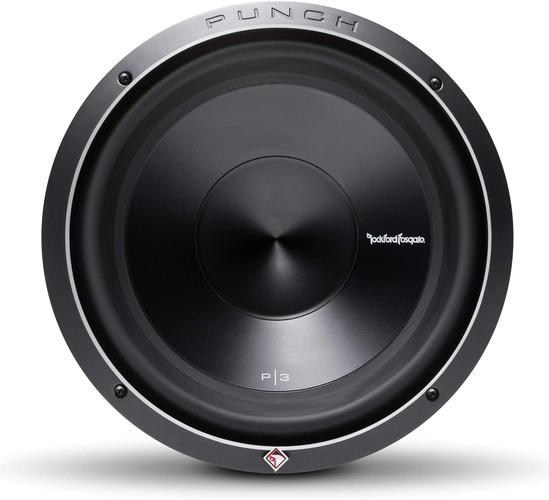 Custom 10-AWG nickel plated push terminals
Diamond cut cast aluminium trim ring with optional grille
High-temp voice coil with spun-laced Nomex reinforced collar
Anodized aluminum cone and dust cap
Stamp cast basket with integrated spider venting
Soft-touch rubber over-moulded for more grip
Protective PVC textured magnet cover
| Specification | Features Value |
| --- | --- |
| Size | 12-Inch |
| Impedance | Dual 2-Ohm |
| Power Handling | 600 Watt RMS; 1200 Watt Max |
| Voice Coil Diameter | 1.5-Inch |
| Magnet Weight | 102 oz. |
| Speaker Connector | Dual 10 AWG compression |
| SPL | 85 dB |
| Woofer Displacement | 0.094" cu. Ft. |
| Cutout Diameter | 11.25-Inch |
| Mounting Depth | 6.66-Inch |
The Rockford Fosgate produces one of the best 12-inch car subwoofers for under 200 dollars. Moreover, they are considered the global leaders in innovation and providing you with high-end sound systems for your car.
These dual 2-Ohm subwoofers are the perfect performing subwoofers delivering 1200 watts of peak power handling. Rockford also introduced the "VAST" technology to increase surface cone by 25% and a FlexFit basket for installation.
These subwoofers provide unique spider venting, which keeps the motor cool and features anodized aluminum cones and dust caps. In addition, the new hybrid stamp-cast basket offers durability and minimizes weight.
Anodized Aluminum:
The Rockford Fosgate is the best car subwoofer for under 200 dollars available in the market. Its anodized aluminum voice recoil provides superior heat degeneracy. Unlike its plastic substitute, the aluminum acts as a heat sink and quickly dissipates the thermal build upon the recoil.
This technology keeps the subwoofers cool during high SPL conditions. In addition, the flex fit frame utilizes feasible slots instead of single screw size holes. It helps lower down the heat and allows a slight adjustment of the speaker in case of mounted. And if you need extreme installation, this flex fit will also help you out there.
VAST Surround:
The Rockford Fosgate subwoofers use the "VAST" vertical attach surround technique, increasing the area of new car subs by adding up to 25%. As a result, the subwoofers push more air for even bigger bass.
This technique is uniquely redesigned in a manner that surrounds adheres to the basket. Ultimately, the music would have increased bass output and provide you with greater and rich sound.
Extended Pole Piece:
This subwoofer features an extended pole piece and an additional bumped backplate. It leaves more space for an extended and heavy excursion; that is how it can hit the deeper low bass without bottoming out.
In addition, the P3 12-Inch subwoofer work remarkably with both sealed and ported enclosure. So, it is solely up to you which kind of bass you prefer. Moreover, the speakers are a CEA-2031 industry standard that donates its fantastic power handling. If your woofers are incompetent to handle instantaneous power handling, they can damage coils.
Stitched Tinsel:
The stitched lead wire technique of these subwoofers reduces the mass of every tinsel lead. As a result, it significantly improves the performance and reliability of the subwoofers.
This feature withstands extreme duty cycles and high current, which is critical to the robust design. In addition, if this 2-Ohm subwoofer is appropriately powered, it can deliver car shaking bass, which would be highly remarkable.
Make Buying Guide
If you are buying a budget-friendly subwoofer, you must look for Rockford Fosgate P3 D2-12. These subwoofers provide you with earth-shaking bass with reliability and offer you superior heat degeneracy.
3) MTX Audio Terminator Series Biggest Car Subwoofer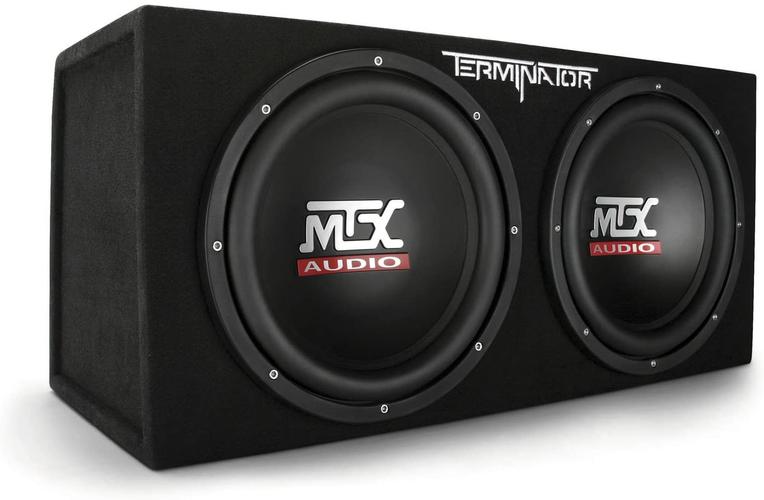 Internally wired to a 2-Ohm final load
2" Aluminum voice coil
MTX Audio Logo on Dust-cap
Rubber Surround
Polypropylene Cone
Authorized internet dealer
1-year Manufacturing Warranty
Aviation grade carpet
Embroider terminator logo on the carpet
| Specification | Features Value |
| --- | --- |
| Size | 12-Inch |
| Voice Coil | 2 Aluminum |
| Power Handling | Max: 1200-watt; RMS 400-Watt |
| Recommend Power Range | 200 – 400-watts |
| Frequency Response | 37-150 Hz |
| MDF Construction | 5/8-Inch |
| Dimension | 14 x 29-11/6 x 13-1/2-inch x 11-1/8" |
MTX audio terminator is the biggest car subwoofers with dual 12-inch subs. It has a frequency of 10Hz to 150Hz, which is excellent for the best car subwoofer under $200. In addition, MTX provides the sound clarity of 37 Hertz.
It has a sleek design that comprises medium density fiberboard. Moreover, it is covered with a polypropylene cone, and the rubber surround makes it durable and provides you with distortion-free bass.
This incredibly lightweight subwoofer consists of 2-inch aluminum foil. At last, the impedance of these subwoofers is 2-Ohms which is very rare because 2-Ohm subwoofers are consistently expensive.
Power Handling:
 When it comes to playing music, a terminator like its name has excellent power handling. With this subwoofer, you get the 2-Inch aluminum voice coil, and the RMS power is 200-400 watts.
The terminator series TNE212D has 12-Inch subwoofers, which will make your car journey more entertaining. In addition, at a picnic spot, you don't need any extra speakers or subwoofers. You can just open the doors of your cars and enjoy the incredible, rich music.
Design of Subwoofer:
If you are looking for cheap hard-hitting subs, then you should go for terminator subwoofers. They have a frequency range from 37-150Hz that allows you to enjoy songs with heavy bass.
These subwoofers have already speakers installed, so there is no hassle of doing it. In short, it is a complete party package which you can enjoy on picnics and road trips as well. The bass and detailing of the music are fantastic with the terminator subwoofer.
Price Worth:
This 1200-watt dual speaker subwoofer provides you with great music, bass and detail. It brings out the best in every song, and you cannot put a price on jamming along happily to some loud, energetic music.
Still, they are the best car audio subwoofer under 200 dollars available in the market. In addition, you get a one-year warranty after purchasing these subwoofers, which adds to the worth of the product. I bet you will be most satisfied with its specs, bass and musical richness.
The subwoofers are already installed in the box, so minimal installation is required to start the extreme blasting tunes. These subwoofers are durable, affordable, and quality speakers that make for your entertainment.
Moreover, you may start annoying your neighbors if you blast the music too loud day and night.
Enclosure Wrap Up:
The MTX terminator subwoofers can upgrade any car's audio system in a short time. In addition, it gives the ability to play music at a high level with extreme frequency sounds.
Make Buying Guide:
This is a durable and fantastic subwoofer that fulfills all of your music-related demands. You get the maximum bass and rich music experience with this biggest car woofer. It has the state-of-the-art power handling and a rugged design, which makes it more entertaining.
4) Infinity REF1000S 10 inch Car Subwoofer under $200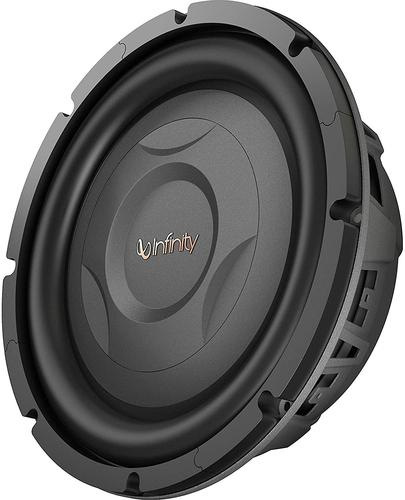 Comes with a polypropylene cone
Rubber surrounded for better grip
2" single voice coil
Incredible power handling
Selectable impedance
Large diameter
1-year Manufacturer warranty
| Specification | Features Value |
| --- | --- |
| Size | 10-Inch |
| Power Handling | 200 Watt RMS; 800 Watt Peak |
| Impedance | Selectable: 2 and 4 |
| Frequency Response | 35-175 Hz |
| Sensitivity | 89 dB |
| Warranty | 1-Year |
| Money-Back Guarantee | 60-Days |
| Dimensions | 14 x 6 x 14 |
Infinity presents the best 10-inch car subwoofer under $200, which offers remarkable installation flexibility. In addition, its low profile design allows it to fits perfectly even into most shallow mounts.
It is an excellent subwoofer for today's compact cars. In addition, its polypropylene subwoofer cones deliver an exceptional bass response at the low frequency of 27Hz. But the most fantastic feature of these subwoofers is Harman proprietary Selectable Smart Impedance.
Low-Profile Design:
Infinity REF1000S subwoofers are the best compact design subwoofers available today. The compact cars of today offer less space, that's why it would be great to have this subwoofer.
It will fit into the small enclosures effectively without compromising on sound. Infinity woofers are sleek, slim and stylish, and they provide a new experience to your favorite music. Moreover, you get a one-year overall warranty on this high-tech product.
Harman Proprietary SSI:
As mentioned in the product description, this is a unique feature of these subwoofers. Unlike other subwoofers, which allow either 1 or 4 ohms or 2 or 8 ohms, this subwoofer allows you to 2 ohms and 4 ohms with a flip of the switch.
This smart subwoofer provides you two most often used impedances in one subwoofer. Its unparalleled design provides you with everything you need without compromising its stability and thermal safety.
Low Frequency:
Your favorite songs are filled with the most amazing sounds, but you can't hear them. That's because your woofers are not able to play the low-frequency sounds. Infinity allows you to listen to your favorite music in more detail.
It offers you the lowest frequency at a very reasonable price. So now you can enjoy your favorite sounds and dig down into the depths and details. Finally, you will be able to listen to the low-end frequency you have been missing all of your life.
Reliability:
Infinity claims to test each of its units before introducing them into the market. They use the same rigid design in each unit and subject them to extreme conditions to check their breaking point.
They even keep them in freezing temperatures to baking temperatures and shake them. Moreover, it is guaranteed that you can play music or your favorite song non-stop for several days without any issue. The manufacturer ensures that the device works for several years without any problem, and you get the product worthy of your money.
Make buying guide
Want to buy the most durable, reliable and best car subwoofer under $200. Its heat control system is excellent, and you can take them where ever you want. It works fine even in extreme conditions.
5) Skar Audio EVL-12 D2 12″ Car subwoofer for 200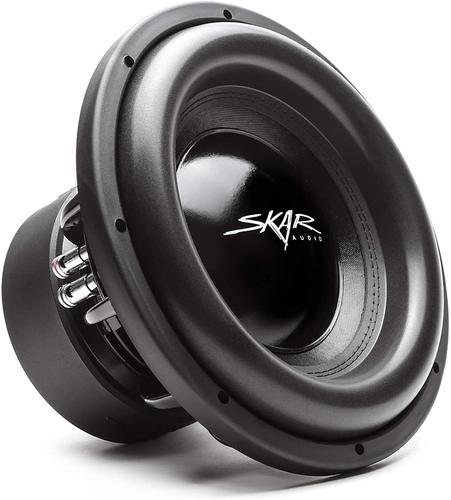 Dual 2 Ohm voice coil configuration
Competition grade pressed paper cone
Stitched high foam surround
Advanced airflow cooling system
Four-layer black aluminium CCAW Voice Coil
| Specification | Features Value |
| --- | --- |
| Size | 12-Inch |
| Power Handling | RMS 1250; Peak 2500 |
| Impedance | Dual 2 Ohms |
| Frequency Response | 25-250 |
| Motor | 166 oz. |
| Magnet Diameter | 7.35-Inch |
You are probably looking for the best car subwoofer for 200 dollars, then EVL-12 will be the perfect choice you make. First of all, it is covered with a paper cone around the subwoofer to protect it.
The high roll foam surround makes it lightweight and distortion-free. In addition, the two-layer spider protection makes it more durable and reliable. Moreover, its RMS is 1250, and it can handle a peak of 2500.
This is the incredible innovation in the market of small car subwoofers. The bass delivered by the woofers is intense and low, which does not fit your ears directly. Yet, it produces impressive bass, and still, the cooling system keeps it cool.
Heavy Bass:
Skar is the best car subwoofer under $200, and it proves it with its heavy and accurate bass. In addition, the detailing of the music is attractive, and you can enjoy the music at its full-lengths.
Its variety of unique features makes it one of the top subwoofers and gives competition to expensive brands. However, this subwoofer's most unique and impressive feature is that it doesn't hit your ears directly.
High-Tech Internals:
The 3-inch temperature voice coil can handle the power of 1250 Watts at minimum and 2500 Watts at its maximum. The manufacturer has used high-tech parts to make this state-of-the-art device.
Most interestingly, it is very compact and easily fits in your car. So this subwoofer is a perfect choice if you have a compact car because it needs competitively less space to fit.
Advanced Cooling:
This subwoofer comes with a powerful motor of 166 oz., which allows you to listen to clean and clear bass and music. This heavy motor can heat up real soon, but this subwoofer's highly efficient cooling system cools it down.
That's why you can play these subwoofers under heavy load for a long time without any problem. This would be your perfect travel partner if you are planning a road trip, and you can rely on its consistency.
Lower Frequency:
The accurate and rich bass give you the incredible experience of your favorite music. But, most of the time, you could not enjoy the music to its full extent. You feel something is missing and something is not correct.
That's because most of the subwoofers cannot accurately play lower frequencies. But this little beast can play as low as 25 Hz. So you will feel the difference yourself while listening to your favorite music and this makes it the best subs for a car.
Make Buying Guide:
If you love heavy and accurate bass, this would be the best decision you will ever make. It offers you incredible sound quality along with remarkable detailing of your music. In addition, the bass is comfortable and doesn't irritate ears.
Buying Guide for the Best Car Subwoofer under $200
At the beginning of the article, we had mentioned that it is vital to know the kith and kin about the subwoofers before making a purchase. It would help you in save your money, hassle and later regret or discomfort.
Many individuals are not aware of subwoofers or going to buy their first-ever product and looking for the best car subwoofer under 200 Dollar. It would be great if you find durable and cheap hard hitting subs in this market.
To make shopping easy for you, we have assembled a comprehensive guide which will give you awareness about some factors. You must keep in mind these factors to buy the best product.
Size Adjustment
The first and most essential factor is the size of the subwoofer. The subwoofers are designed to produce great sound for your car's audio system. So go for the size of the subwoofer, which can correctly fit into your car without compromising its essentials.
To take the maximum advantage, go for the big subwoofer if it fits in your car. Most subs in a car are universal and fit in compact as well as big cars. However, if your car doesn't have enough space, you can go for the best compact-sized subwoofers. Considering your requirements and the availability of the space, you should make a perfect decision.
Frequency Response Range:
This feature lets you adjust the frequency range of the audio output from the subwoofers. It lets you decide how low a subwoofer can play and how you can make the most of your music and sound.
It is very simple to use, and you can get the best output by slightly managing the audio quality through the frequency response feature. In short, you should look for the subwoofer which gives you this option.
Power Rating:
The third most important thing is to check the power rating on the subwoofer. You need to keep a keen eye on the RMS, which is the power rating of the audio output device.
The power rating is the continuous power that a subwoofer needs from the system or the power source. If the subwoofer doesn't come with an amplifier, make sure the amplifier you bought has the same RMS.
Subwoofer Enclosure:
The enclosure is also equally important, like the factors mentioned above. But, unfortunately, the beginners are not aware of its importance and how they contribute to the quality of a subwoofer. It would be great if you make sure to check how the subwoofer is enclosed. A sealed body subwoofer should be your first choice.
Bass Quality:
This is the main factor when you go shopping for your subwoofer. Make sure you get the high-quality bass with astonishing audio without any external noise. Always go for the subwoofer, which produces high-quality bass.
The subwoofer's job is to replicate the sound generated by the connected device. Therefore, you must invest in a high-quality subwoofer instead of a low-quality cheap product.
Cost factor:
Cost is the top factor that should be considered on a priority level. Check the price tag of the product before making a purchase. The market is filled with high-tech, expensive world-class brands to choose the subwoofers.
Make sure you check all the available products and decide to buy one which is under your budget. The five products we have mentioned above are the best car subwoofer under 200 dollars. All of these are top-rated products and are recommended by previous users and professionals.
Warranty:
When you choose a product, after assessing the size and other vital factors, you need to check the warranty period of the subwoofer given by the brand. The warranty makes sure the stress free use of the product for a longer time. Your investment is protected if a good warranty backs it.
JBL GT Bass Pro 12 is one the best budget car subwoofer, which provides everything you need, including rich and detailed music quality. The built-in amplifier is one of the most impressive features of this subwoofer. The slipstream port design delivers deep music and minimizes port noise. In the end, the remote level bass adjustment provides you with the opportunity to adjust the bass while driving.

Best Product
Benefits of Best Car Subwoofer Under $200
To enjoy the music in a better way, you need a subwoofer. It provides an improved sound quality along with fantastic bass and detailing. It is amazing that you don't have to spend a lot of money on it.
Now you can get the best car subwoofer for under 200 dollars. For more benefits, see the bullets below:
The subwoofer provides you with a rich, detailed, accurate bass and high-level sound quality.
You can enjoy your favourite music in a new way.
It enhances the sound quality of your speaker system.
It would be your perfect partner in long road trips with friends and family.
These subwoofers play low-frequency music, which is not possible by simple speakers.
Their low profile design makes them good subs for cars.
Is 2ohm or 4ohm better?
The 2-Ohm subwoofers produce more sound on fewer watts than 4-Ohm subs. Therefore, it makes 2-Ohm subwoofers less expensive and best for the users. Besides, 4-Ohms is relatively expensive, but it provides a better sound quality.
How do you know if a subwoofer is powerful?
The wattage of the device determines the power of a subwoofer. The higher wattage means the more powerful subwoofer. The minimum wattage subwoofer should be 100-watt to get good quality.