We understand how difficult setting up a car radio is when you have little to no knowledge of how it works. In that situation, you'll most likely seek out an installation service to see if they can assist you.
But there's a catch: these installation services can be quite costly. As a result, you'll have to weigh all of your options to decide which one is best for you.
You'll find everything you need to know about vehicle radio installation costs, as well as a little more, in the sections below. Check it out!
How to Install a Basic Car CD Player to Save Money?
Several factors determine the price of installing a new car radio. If you're comfortable disassembling your vehicle's front display and purchasing simple car audio, you should be able to upgrade for approximately $100 . However, if you want more than a simple CD player with a few capabilities, you'll have to pay extra.
The receiver and CD player aren't the only components of a car radio. You might want to upgrade your vehicle's speakers.
You might want additional speakers than the system already has, or you might want an amplifier to boost the bass and power of your system. All of these factors go into determining how much it costs to install a car stereo system.
On top of that, you'll have to decide whether you want to do the vehicle audio installation yourself or hire someone to do it for you. If you're only installing a new CD player, you can do it yourself with little difficulty.
If you want the entire system rebuilt, though, hiring a professional to install everything is usually the best option. Some facilities will even give you a discount on installation if you purchase the equipment from them.
How to Install a Car Stereo?
There are two ways by which a car stereo can be installed, depending upon the resources and the budget. They are explained below:
Professional Installation:
When you're wondering how much it costs to install a vehicle radio and you want more than just the car CD player, you're looking at a significantly higher price tag. It's vital to break down the many upgrades and parts to think about, which include:
1) Receiver
For less than $100, you can get a basic CD player receiver. But what if you require additional features? Perhaps you'd want a huge touchscreen, or at the very least, the capacity to play DVDs in the player.
All of this will come at an additional expense. Keep in mind that this new receiver might easily cost $500 or more, so keep that in mind when purchasing.
The portion that inserts into the dashboard is the receiver. Installing a conventional CD player without an LCD touchscreen and few accessories could cost around $25. However, if the receiver is huge and solid, with many added functions, it could cost $100 or more.
2) Amplifier
You'll need something that can handle more voltage if you want to install dedicated subwoofers and more powerful speakers. Because your vehicle's present layout is unlikely to accommodate this, you'll need an amplifier.
You may need a second battery dedicated solely to the audio speaker system. All of this is going to build up rapidly. The size (and price) of the amplifier will determine by the amount of power you require as well as the size of your speakers.
While amplifiers are simple to install, they may necessitate additional effort, resulting in a cost increase of $10 to $30.
3) Speakers
Basic speakers are inexpensive, but they will not produce the same level of music quality that you require. Higher-end speakers have better-sounding highs and lows, but they are more expensive. You may just need four speakers if you have a smaller or older vehicle. You may need to replace eight or more speakers if you have a newer vehicle.
If you drop $100 per speaker, the cost of the speaker alone will be approximately $1,000. If the speakers aren't the right size for the automobile and need to be modified, the installation cost is likely to rise by $50 or more.
4) Wire Harness
If you're questioning, "how much does it cost to install a car stereo?" keep in mind that the wiring harness is one of the hidden costs. You'll need new wiring if you're entirely revamping the audio system.
This necessitates installing a new wire harness, which consists of a succession of wires secured in rope-like shapes. This makes it simpler to get to it afterwards (and to keep everything neat and organized).
Unfortunately, the wire harness is expensive on its own, and putting it together takes time. It will also cost more to have it installed.
The second is, without a doubt, the best option. That's why installing this wiring harness is likely to cost you more than $20. The piece will set you back around $10.
Installation By a Professional:
If you buy a CD player from a service station, some will give you a discount or even waive the installation price. However, if "free installation" is advertised, it is likely not for a completely new system. Because this can take hours (if not longer), full-overhaul installations will almost certainly add several hundred dollars to the bill.
When you sum it all up, you have the option of keeping the cost of your installation around $100 or spending several thousand dollars. It all boils down to the system you want to learn about.
While they aren't always prohibitively expensive, pricing can range from $50 to $200, depending on the piece's complexity. Installing the most advanced radio systems could cost over $500.
Installing a Radio on Your Own:
What is needed for self-installation? How much does it cost to self-install a radio? We'd think it's reasonably priced. You may need to spend money on the essential hardware (screws and wires). As you can see, the DIY radio costs anywhere from $10 to $30.
However, keep in mind that doing it yourself may end up being more expensive in the long run. If you're not familiar with radio installations and how they work, you could end up making costly blunders.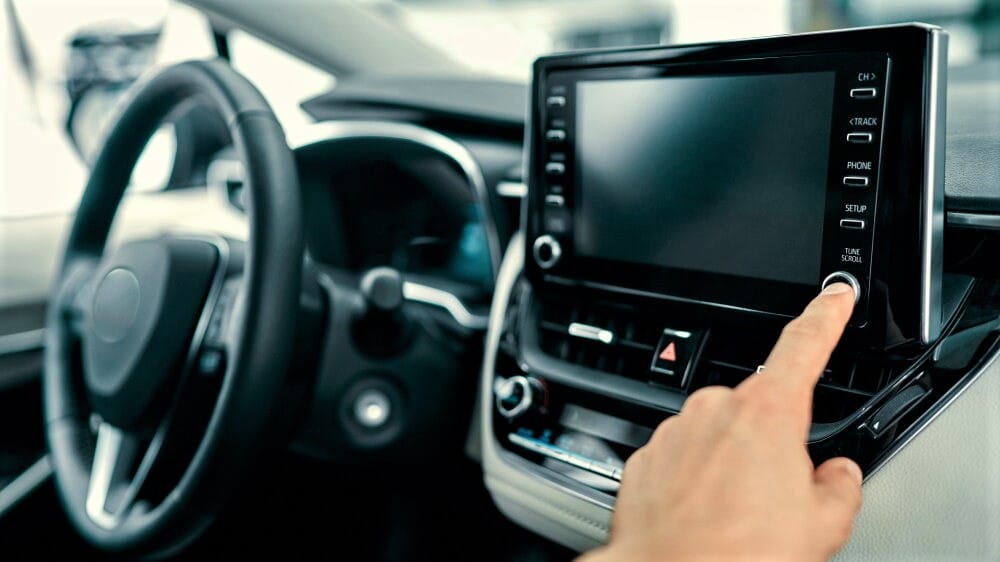 How Do I Know If My Car Stereo Is Single Or Double DIN?
It's simple: one is significantly larger than the other. A Single-DIN radio, for example, is 2 inches high by 8 inches long. It is the smaller of the two and the more common in tiny automobiles.
Then there's the Double-DIN. This one measures 4 inches tall by 8 inches long. As a result, you get twice as much power as a single-DIN model. A double-DIN radio is more popular in SUVs and large vehicles because it usually comes with a huge LCD.
Cost of a Single DIN:
A typical single-DIN radio receiver should not cost more than $100 (a good model should cost between $25 and $50). Sure enough, the installation is relatively simple and may cost less than $50.
Cost of a Double DIN:
Because double-DIN radios are larger and offer more functions than single-DIN radios, a good model will cost more than $200. On the other hand, a low-cost one could be between $50 and $100.
However, the cost of installation varies greatly depending on which functions are included (steering controls, backup camera, and so on) and can range from $25 to $200.
Precautions to Take When Installing a Car Radio
Installing a radio in a car does not have to be a difficult task. However, basic safety precautions are essential because you will be working with electrical parts and sensitive components. Here are a few to think about:
When working on a car, always switch it off. It is not necessary to switch it on until the radio has been installed.
If at all feasible, use gloves. When working inside the car, work gloves can protect you against shorts and other electrical issues when using power tools such as drivers, drills, soldering irons, and exercise caution. Before using them, take care to read the directions.
Installing the radio in your automobile will be completely safe if you follow these safety considerations.
Installing a Car Radio Receiver: Dos and Don'ts
Following the standard safety measures, you might want to discover what you should and shouldn't do when setting up the radio. Here are a few examples:
Before you begin, make sure you have everything planned out. Look for wire entrances, speaker ports, and places to connect and install items, among other things. This will save you time, effort and help you avoid problems during installation.
Stay away from the vehicle's mechanical parts and wiring (air conditioner, lights, buttons, etc.) to avoid future failures.
When setting up the radio, use tools like screwdrivers, wire cutters, and pliers instead of your hands. The tools are more efficient and secure.
Make sure everything is in order. Then, to avoid problems later, keep everything tidy, orderly, and well-located, from the connections to the radio, amplifiers, speakers, and more.
Don't start working on your car until you've figured out how the electrical system works. Also, don't forget to read the radio's instruction booklet.
Don't let cables that are loose or improperly fastened dangling. These can be quite hazardous (cause shorts, overheating, and other similar issues).
If it's not required, don't harm the car's components. You could need to install something else later, and it won't fit because something was modified.
Make sure your equipment, hands, and the automobile's interior are fully dry before working with the electrical system.
Upgrading your automobile audio system does not have to be as expensive as you would think? Without installation, it is possible to improve an audio system for as little as $400. This budget won't get you the most high-end system, but it will get you a long way if you use the right parts. A system can be created without compromise with a more considerable expenditure, such as $1100. On this budget, anyone may locate audio components for their system that completely fit what they want.

If you don't know how to install an audio system yourself, you'll need to consider installation costs when putting one together for your automobile. To avoid future problems with the system, it must be installed appropriately. A respectable automobile audio system upgrade, including installation, can cost anywhere from $700 to $1900. Of course, this can be enhanced by upgrading the hardware. However, this is the typical price range for a good system.

You get what you pay for, like with most things car-related, and as we all know, the higher your budget, the better the system. However, you can accomplish a lot on a small budget, so don't worry about breaking the bank to enhance your car audio system!

Summary