Passive speakers were the primary go-to audio system for everyone. There were no other natural substitutes. Passive speaker systems required multiple connections and an external amplifier. Fast forward a few years and now we have Active powered speakers in the market.
Thanks to these, you can quickly get them ready to roll straight out of the box, and even the built-in amplifier does a great job in delivering fantastic quality sound waves. An active speaker set is essential next to your television or home theater; therefore, we've assembled a list full of the best active speakers.
An all-in-one speaker simply not suits your living room setup or a computer setup. A single speaker unit will not pack as much power, and not look good either. Passive speakers will surely give pleasure to audiophiles, but the hassle of wiring and getting an external amplifier eliminates any kind of convenience.
So, what is the perfect choice of speaker, you ask? It is an active speaker. Active speakers are compact and convenient, like a BT or wireless speaker. Additionally, it is in the range of a passive speaker's audio quality without a bunch of wires and an external amplifier. Simply put, an active speaker is a combo of a wireless/BT speaker and a passive speaker.
To assist you with hand-picking the best active bookshelf speaker for your lounge or PC, we've reviewed some of the top products available right now. However, before we jump into that, let's look at some of our final top picks to make things a little easier for you.
Top 5 Active Speakers for DJ Muic
Multiple factors mold the preferred favorite pick. After an intensive assessment, we've cut down some of the options from the list of the best active speakers and picked out the ones we think genuinely stand out.
The first speaker we picked is spotless because of its overall build quality and features. It's the Edifier R1700BT; with a fantastic design and classy finish. You'll think this speaker is from the upper-tier class. Bluetooth connection enhances how you can use the speaker, and the sound quality is ever so exceptional in the budget it comes at. You're indeed paying far less for something worth a lot more.
The other top pick we chose is the Klipsch RP-600M for the sound quality and durability. Yes, it's the most expensive option out of all the others, but the price is justified in the speakers you're receiving. The high-quality components and technology, Tractrix ports and horns, vented tweeters, and LTS tweeters with refined lines are a guaranteed package that will give you an out-of-this-world experience.
Now that our picks are out there, you can move on and read through in detail about all the selected top 5 best active speakers.
1) Klipsch RP-600M Active Speaker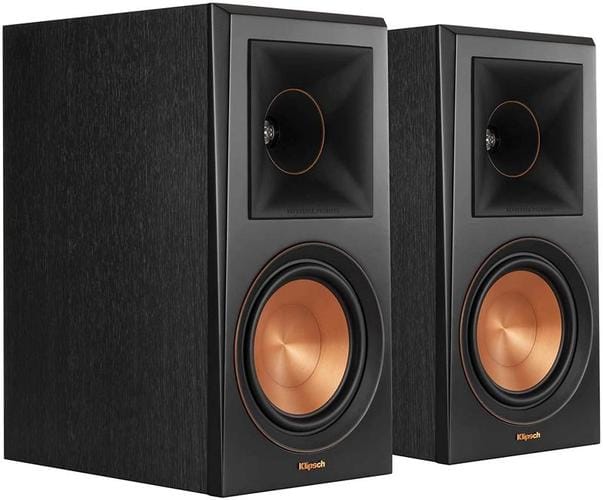 Dimensions: 15.69 x 7.95 x 11.85 inches
Weight: 16 lb
6.5 inches Cerametallic cone woofer
Frequency response: 45-25000 Hz
Tractrix ports
Detachable grille
We are starting the reviews with these elegant and clean-looking Klipsch Reference Premiere -600M speakers. These active bookshelf speakers are beautifully designed and are loved by almost all music jammers. The design is quite similar to their previous model RP-150M, but they've stepped it up quite a lot.
The body is made out of sturdy medium-density fiberboard, making it look amazing with furnished lounges and wooden floors. Klipsch provides two color variants that you can choose from; ebony and walnut.
The textured wooden fiberboard is by far one of the most impressive designs we've seen on an active speaker. It comes with magnetic grills, which you can leave on or remove based on your preference.
If you take the grille off, on the front, you'll see a one-inch rear vented titanium tweeter with a hybrid tractrix horn, and it's smoothly covered with silicone composite. This adds to the design but also does an impressive job of minimizing the deflections of sound.
Below the tweeter, there's a 6.5-inch spun copper mid-base driver. The backside has a Tractrix port which allows smooth air passage and enhances the sound performance of the RP-600M.
Klipsch provides two sets of binding ports, bi-wire and bi-amp. This may seem a bit old-school to some people, but that's what Klipsch decided to go for. The dynamic ranges on this speaker are unique. It perfectly tones every level of dynamic range and emits smoothly without any distortion.
The treble quality was outstanding. The voice is crisp and clear during music listening or watching movies and the bass is well above satisfactory levels. The tweeter is probably one of the best we've experienced. The whole design helps to produce detailed sounds, which makes the experience way better.
Its sleek design, lightweight, and fantastic sound quality make it one of the best active speakers in the market. Not only will they enhance your audio experience, but also the overall look of your room.
Pros:
Attractive design
Amazing balanced sound
Twisted copper mid-base driver
Some incredible technology which enhances the experience
Lightweight and sleek
Cons:
2) Edifier R1280T Active Bookshelf Speaker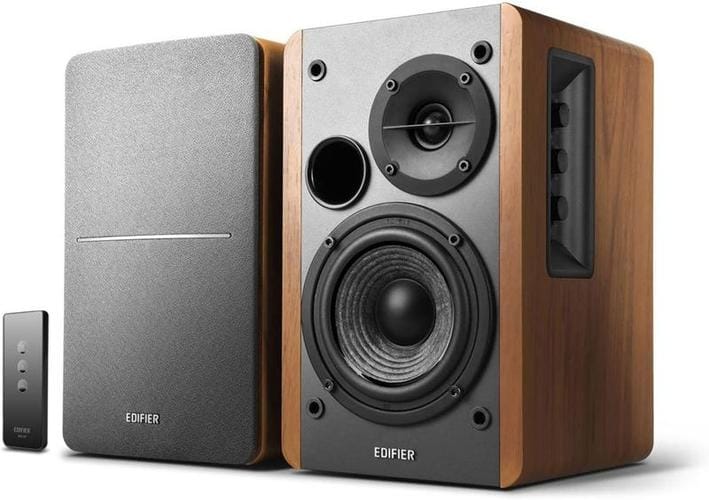 Dimensions: 17.5 x 24.1 x 14.7 cm
Weight: 4.9 kg
Power output: 42 Watts
Adjustable EQ
Removable Grille
RCA connection
If you're on a budget and out hunting for the best active bookshelf speakers, then you've hit the jackpot. Edifier R1280T comes at an amazingly affordable price and it stands firmly as a great dynamic speaker. We continue with the consistency of textured wooden speakers on this list. The R1280T has a wood veneer finish on each side, whereas the front and the top are covered in matte metallic material.
Like the Klipsch RP-600M, the R1280T also has a removable grille that you can leave on or remove based on your liking. Underneath the grille, we can see a few sets of components. You will notice the relatively wide woofer. Above it, there's a 13mm tweeter next to an open port to allow air passage and smooth performance. The right speaker is the primary unit that derives the power and gets the left speaker going.
A nice touch by Edifier is that they included a simple-to-use IR remote control. You can instantly mute/unmute and adjust the volume with the remote. The remote is restricted to only these functions. You'll find three dials at the side of the speaker.
These dials are labeled as treble, bass, and volume. You can quite simply adjust the treble and bass from here.
Now finally examining the back, you'll notice a set of different connection options that you can choose from. The R1280T unfortunately only accepts RCA input. However, you can go for two options: plug and play using the RCA-to-RCA cable or opt for the RCA-to-Aux cable.
You don't need to worry if you don't have these cables because they're included in the package when you buy the Edifier R1280T.
Due to treble and bass knobs on the speakers, the sound quality is significantly increased. No matter what kind of music genre you decide to put on, you can adjust the treble and bass levels accordingly. The bass dial is well worked out.
It worked amazingly with a lot of rap songs from various artists. The R1280T efficiently delivered the mid-range tone. The overall experience and performance of these speakers were quite good. These are by far the best active speakers you can get on a budget because they merely cost a little more than $100.
Pros:
The powerful and precise audio quality for most parts
Low price
Adjustable dials for treble and bass
IR remote control
Three dials at the side to adjust bass
Cons:
Only accepts RCA connection
3) Polk Audio T15 Self Powered Speaker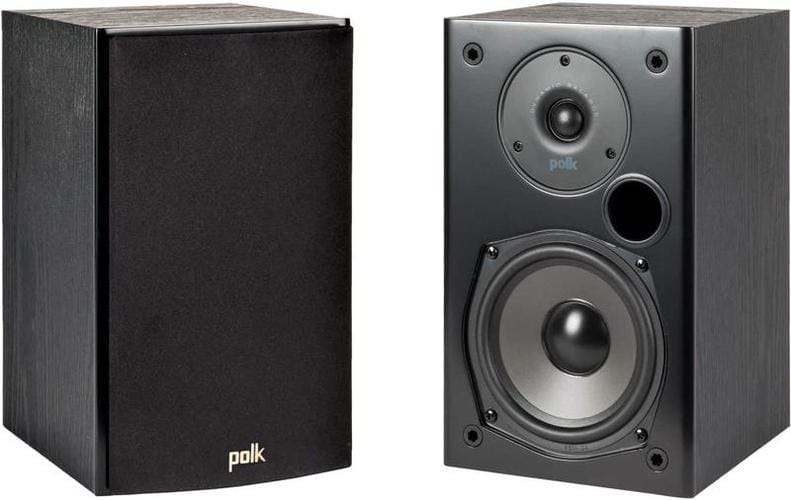 Weight: 8 lb.
Dimensions: 7.25 x 6.5 x 10.63 inches
Range of frequency: 60-24000 Hz
Detachable grille
Wall mountable
A pair of five-way binding post
The Polk Audio T15 is another cost-effective speaker on this list, making it one of the best budget powered speakers. Polk Audio provides some unique features like the ability to wall mount, which is a great addition. You can easily elevate your speakers and create a better ambiance in your room with impressive sound waves.
The Polk Audio T15 has a simple yet lovely design. The body is made out of MDF and then the final wooden texture finishing. However, the Polk Audio T15 is all black colored, unlike our previous speaker review.
The black shade gives it a clean, simple look that would suit any type of room décor. The fronts are covered by a grille that is plain-looking except for a small delicate Polk logo at the bottom.
The grille can detach to showcases what the Polk Audio T15 offers. You'll instantly notice a 5.25 inches wide composite woofer above it, a 0.75 inches wide silk dome tweeter, and lying in between these two components, there's a hollow port that allows safe air transition.
The tweeter is one of the smallest on this list. Smaller tweeters ensure enhancements in dispersion.
T15 provides an intelligent feature of magnetic shielding, which blocks any kinds of interference in signals. For example, receiving a call next to the speaker won't distort its noise. This feature is usually common in top-tier active speakers, so it's nice to see a budget speaker pull it out.
The gold plate-covered 5-way binding post behind the speaker allows for a simple connection. The T15 has impressed us on its specs and design, but how does it fare in the sound department? Well, the sound is surprisingly above average and not that bad.
It performs really well under different tones and can deliver at a high frequency, although it lacks some details. Other than that, the imaging is impressive that makes you feel expansive and gives out live performances' vibes. We hardly noticed any distortions or any sound crackling either.
All in all, it still delivers far more than what we expected, considering it only costs around $150. It provides a lot more features in that price range.
Pros:
Reasonable price
Can mount on a wall easily
Sturdy, safe design
Good quality sounds
Magnetic shielding blocks interference in signals
Cons:
Lacks some sound details; not suitable for audiophiles
4) Edifier R1700BT Active Bluetooth Speaker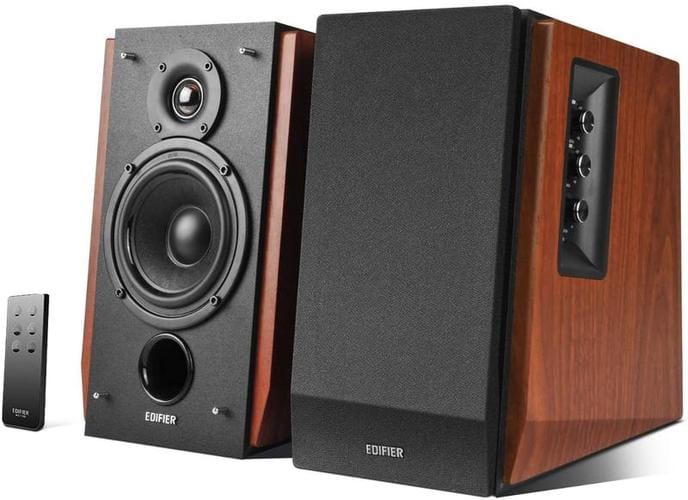 Dimensions: 21.3 x 23.1 x 25.1 cm
6.6 kg in weight
Dial control; Treble, Bass, volume.
Three connection types: RCA-RCA, RCA-AUX, or Bluetooth
Remote controller
Frequency range: 60-20000 Hz
Edifier has already impressed us earlier on this list with the R1280T, so let's review their second product now, which is the R1700BT. To make them sound interesting to you, they're the first Bluetooth-enabled speakers on this list. The R1700BT has a fresh, good-looking design and style and comes in black and walnut color.
The Edifier R1700BT also uses the classic and standard MDF finishing. The MDF finishing is then covered by textured wooden vinyl. The MDF and wood-textured finishing are pretty common, we're not complaining because it makes the speakers look amazing.
There is matte finishing on the front of the Edifier R1700BT, and a slightly slanted design helps deliver the audio at an angle that echoes in the room. The Edifier R1700BT is undoubtedly one of our favorite designs, along with the Klipsch Reference Premiere –600M.
The bass speaker cone is placed right in the front side center and covers 4 inches of the panel. The tweeter is relatively small only 0.19mm wide. The Edifier R1700BT also has a detachable grille, which is only meant for dust safety and visuals.
On the back of the main speaker, there is a non-detachable power cable and two RCA slots. The RCA ports allow RCA-to-RCA connection as well as RCA-to-AUX connection.
There's also a four-pin port that is used to connect the main speaker with the left speaker. Just like the Edifier R1280T, the side panel of the right speaker holds three knobs. These dials are used to adjust bass, treble, and volume.
Edifier did upgrade a few things on the Edifier R1700BT. First of all, you can connect your BT-enabled devices with the speakers and operate them.
Secondly, to make things way more manageable, the remote has three more buttons other than the basic volume up/down and mute/unmute button in the R1280T. It also has a "Line-in," "Bluetooth," and a power button now.
The line-in and BT buttons are essential. You can easily connect the speakers with your phone through BT and connect your TV or PC through AUX. Now by a single tap of a button on the remote, you can switch devices without having to do any additional work with plugging and unplugging cables.
The sound quality is top-notch. It performs exceptionally even at default settings. The audio balance makes you feel like they are costly speakers. With the ability to alter treble and bass, you can adjust the settings according to your preference.
The high-frequency range allows the Edifier R1700BT to fill up your room quickly. These are quite frankly our top pick because of how well Edifier tackled all the problems and added intelligent features at such a budget price.
Pros:
Awesome midrange
Sleekest design
Budget-friendly
Bluetooth connection
Smooth sound quality
Cons:
Sony SS-CS5 Active Hifi Speaker
5) Sony SS-CS5 Active Hifi Speaker
Weight: 9.4 lb.
Dimensions: 13.1 x 7 x 8.6 inches
Frequency range: 53-50000 Hz
Five-way binding post
Detachable magnetic grille
3-way speakers
Black colored
The last one to make it into our list is the SS-CS5 Bookshelf Hifi speaker by none other than the infamous Sony. Sony is a reliable brand with many consumers following, so it's safe to bet on budget-powered speakers made by them. The Sony SS-CS5 costs around $200, which is quite affordable lasts for a long time.
The last four speakers we saw had some kind of wooden finishing on them, but that's not the case with the Sony SS-CS5. The Sony SS-CS5 holds a simple and straightforward black matte body, this does look nice, but it's a rather ordinary look. The grille is detachable and uses magnets to hold onto the speaker.
Underneath the speaker, there's a little different setup than the ones we've seen so far. The 5.25 inches wide foamed mica woofer is the most eye-catching component.
The foamed mica is an unusual material to use, but it does the job well and looks nice. Above the woofer, there are two tweeters because this is a 3-way speaker system, something we haven't seen until now in this list.
There's a primary 1-inch-wide polyester tweeter above that there a significantly smaller 0.75-inch super tweeter. This allows the frequency range to bump up to 50000 Hz. That is an astonishing range.
The super tweeter delivers high-resolution audio and some phenomenal sound reproduction and quality. It might've been overkill with the 50 kHz range. On the back, you'll encounter a simple 5-way binding post which is a beautiful inclusion and takes this speaker to another echelon.
As for the sound, at any volume, the SS-CS5 speakers produce a natural and clean sound. Also, when listening to music at low or high volumes, the mid-range and treble sounds are fair and direct. These speakers emit fantastic voice reproduction thanks to the super tweeter.
The SS-CS5 is by far one of the best treble active speakers we've reviewed on this list. The bass is also pretty good for the most part. The Sony SS-CS5 is easily one of the best active speakers. The 3-way system does play a considerable part and signifies the audio quality by a margin.
The SS-CS5 is reasonably priced, as we mentioned before. The design might be a little underwhelming, but it's still a stunning powered speaker pair. They're the best active speakers for home use.
Pros:
Super tweeter included
Outstanding voice clarity
Lightweight
Detachable grille
Astonishing frequency range
Cons:
Does lack bass in heavy songs
Buying Factors for Active Speakers for Music Listeners
An active powered speaker is an investment made with its lasting for a few good years. These speakers are long-lasting and should accompany you for at least a few years. As you won't be buying every other month, it's essential to evaluate the precious factors before buying an active speaker.
These factors will help you make the best decision for you according to your space, plus it will also guarantee bang for your buck in the long run.
Frequency Range:
Active speakers are not meant for private listening. They are much bigger and meant for more extensive uses than a personal speaker. So, the frequency range is an imperative factor to judge on. Depending on how big your room is, the frequency range will deliver sounds at higher levels. Any speaker that provides a maximum of 20 kHz or above is a safe bet.
Connection Types:
Active speakers usually have a port binding that you can use to connect them to a source. This connection is a safe and optimal method, but having more options wouldn't hurt. If you're planning to connect your phone or PC, it's suitable to opt for an active speaker with an RCA-to-AUX or Bluetooth connection.
Adjustable Panel:
Many speakers have built-in control panels, some speakers don't have them, and some have remote controls. If you like to adjust your audio settings and play with them, then you'd benefit more from a speaker with various dials on its control panel. For other people, a simple no adjustable speaker would work too.
Active Speaker Size:
A good thing about the active speakers is that they are compact, and they don't weigh extremely heavy for the most part. However, size does vary, and since people like to set their speakers on unique stands around their TV. It's essential to evaluate if a specific speaker would fit.
Budget Range:
No factor influences a buy more than the budget. No matter your preferences, it all comes down to how much money you can invest in buying an active speaker. So, before anything, you should peacefully decide how much money you're comfortably able to spend on a speaker.
What is an active speaker?
We can answer this question in complex technical language, but we'll keep it simple. An active speaker, unlike a passive speaker, has a built-in amplifier inside it. A built-in amplifier means that the active speakers are powered and don't need an external amplifier to create sound waves.
Can I connect my active powered speakers to an amplifier?
You can connect your active powered speakers. But is it recommended? No, not at all by any chance. The whole point of an active powered speaker is that they do not need any external amplifier. So, connecting to an amplifier will cause problems and distortion issues.
Do speakers need an amplifier?
Not all speakers need amplifiers. An amplifier is only there to generate enough power output to make the speakers work at a higher level smoothly. So, if a speaker has enough power on its own, it can work without an amplifier. 
Are active speakers better than passive speakers?
There's no real winner among these two, but the active speakers were invented to tackle the problems that passive speakers faced. Both sets of speakers have their pros and cons. Passive speakers require more inputs and outputs but are easily upgradeable. In contrast, active speakers are easy to operate but are hard to upgrade. 
In a nutshell, we reviewed some of the best active speakers for you so that your home theater or your music gig setup can get a massive upgrade. Active speakers seem complex, but they are out there to make your life uncomplicated. Built-in amplifiers save you some additional money and so much more cable management work. So, we anticipate that you're all filled up with information and knowledge about active speakers, which will ultimately assist you in buying what's best for your ears!

Summary of Article