Boost pedals can be the best way to boost your overall guitar tone if you are playing through an electric guitar amp. Depending on what you are looking for in your tone, they can be as straightforward or complex. Boost pedals can help you smash your tube amp into searing saturation for heavy rhythm sections or boost the volume of your signal for leads and solos. They are a pedalboard essential if you play with an electric guitar and if you want to focus on building your unique tone; plus, it won't hurt to have one handy just in case.
As a musician, you are always trying to expand your repertoire. Understanding the functions and capabilities of various instruments is key to achieving this. Having an array of pedals allows you to alter your tone in limitless ways, but sometimes you don't want to get too crazy with effects pedals. When playing clean sounds like chord sequences, riffs, or solos through an amplifier, it's best to include a boost pedal so that you get the desired boost for the guitar output.
Top 10 Boost Pedals in 2023
Table of Content:
TC Electronic SPARK MINI Best Boost Pedal for Metal (Recommended)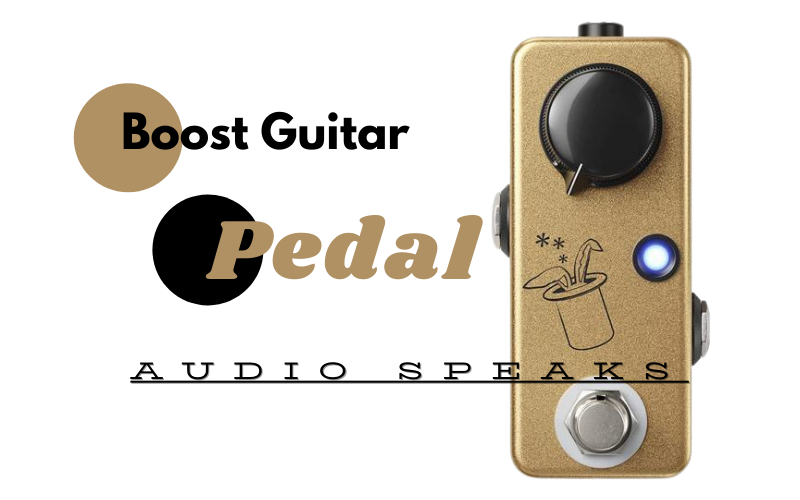 Related Post: Best Cheap Guitar Pedals to Enhance the Sound Quality of Your Music
Buying the boost pedal is essentially a task that needs a lot of testing so that you don't get into buying a product that doesn't fit well for your needs. When selecting between the sea of options,
I have to test and review each boost pedal so that you can get the feedback that can help you purchase the pedal. I have gone through each product's specifications and compared their real-life experience to let you make an informed decision.
1) TC Electronic SPARK MINI Best Boost Pedal for Metal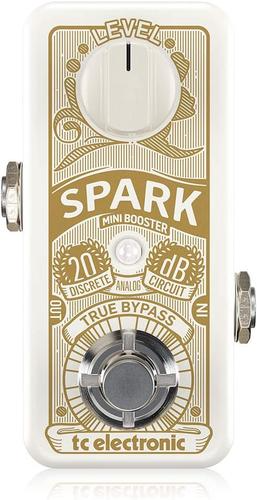 | Specifications | Featured Values |
| --- | --- |
| Manufacturer | TC Electronic |
| Model | Spark Mini |
| Type | Analog |
| Effects | Boost |
| Power | 9 Volts |
| Connectivity | 6.35mm jack |
| Dimensions | 3.66 x 2.01 x 1.81 inches |
Usually, I wind up using the passive basses for the music. I like to have some preamps before my amp's input, which is my preference. I came across the Spark mini boost pedal to try out the new boost pedal for a specific reason.
TC Electronic Spark Mini is the best boost pedal for metal that provides transparent preamps before the inputs, which suits my play style. It produces crisp, funky sounds that separate it from the rest of the crowd.
Minimalistic Design
The TC Electronic Spark Mini is a terrific example of simplicity in design. It has chosen the minimalistic layout for this boost pedal providing the volume and gain on the same knob. Spark Mini pedal delivers what it promises it will – a lot of volume and gain without unnecessary bells and whistles that sometimes make an effect hard to use.
High-Performance Clean Signal
The Spark Mini Booster is an excellent choice for guitarists who want a pedal that can give them the gain they were looking for while limiting their budget as little as possible. It's effortless to use, so if you value simplicity in your musical devices of choice, you will find a lot of joy with the Mini Booster.
Comparatively Increased Volume
TC Electronic produces some of the most potent devices globally, and I'm continually impressed by how good they sound despite their expansive catalog. The Spark Mini Booster can quickly increase the volume of your clean guitar tone by up to 20dB, which is highly effective in live or studio environments.
A Better Tome Amp
The pedal's voice is relatively open and gets more compressed as you raise the gain but doesn't come with many characters on its own. It sounds best when used to smash a tube amp. My favorite setup is to use it as an always-on pedal in front of a tube amp since I find it helps construct that perfect sense of crunch when mashing heavy chords.
Benefits:
It offers you excellent value for the money spent.
It packs excellent aesthetics with more attention to detail.
Unique Prime Time feature provides excellent short bursts of boost.
It provides a high-quality kick to the tones in a small package.
Drawbacks:
Not worth your money if you want more than basic settings.
The power supply always seems to come in the way of patch cables.
2) JHS Prestige Boost Guitar Pedal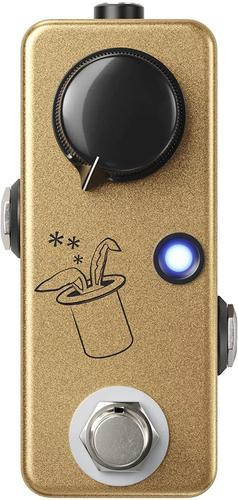 | Specifications | Values |
| --- | --- |
| Manufacturer | JHS Pedals |
| Model | The Prestige |
| Type | Analog |
| Effects | Boost |
| Power | 9 Volts |
| Connectivity | 6.35mm jack |
| Dimensions | 6 x 3 x 3 inches |
JHS Prestige is the boost guitar pedal that serves the purpose very well for every guitarist. I have placed it on the top of the list because it is the option you should always consider when buying the boost pedal. I have tested it for the boost and found it excellent for its performance compared to its small package.
Great Minimalistic Design
I was eager to test the JHS Pedals Prestige. I'd been hearing a lot about it lately and was eager to see what sort of sound is produced. Something that stood out for me was the clean boosting possibilities of the pedal. Guitarists who have humbucker pickups and are looking for a "mild boost" will love this pedal.
Excellent Boost Capability
I found that the pedal works great for the buffer and signal boost during extensive testing with different tones. It adds the tones that are pretty additive to the level that once I stopped engaging the pedal, I felt like something was missing in the tones. The part I liked most is its single volume knob which provides feedback near the original.
A Solid Performance
If you want to get the magic effects, putting the JHS Prestige pedal after the drive pedal seems to work well in most cases. It happens because it is so quiet and there is no extra noise coming. Using the pedal in this way helped me to get the most out of it in my current setup, which is very interesting for the solid performance it packs.
Highly Versatile Experience
The JHS Prestige is the best boost pedal that gives you the flexibility and tone you expect from a boost while still retaining other characteristics that help make it part of a more extensive system. Because of this, it also helps to create a musical interplay between your boost and overdrive pedals.
Benefits:
Tone control for the middle frequencies expands its usefulness.
The XLR output makes the pedal highly effective as a preamp box.
It delivers excellent boost potential for the tones.
It is versatile and relatively easy to use for everyone.
Drawbacks:
The price seems a little high for the boost pedal.
It requires a relatively small screwdriver for adjusting the DIP switches.
3) Wampler Decibel Plus V2 Best Boost Pedal for Marshall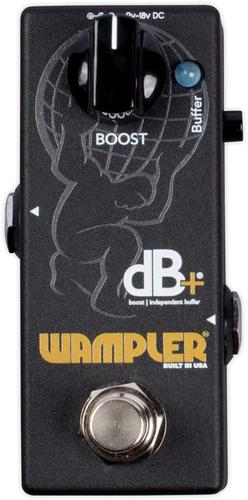 | Specifications | Values |
| --- | --- |
| Manufacturer | Wampler |
| Model | Decibel Plus V2 |
| Type | Analog |
| Effects | Boost |
| Power | 9 Volts |
| Connectivity | 6.35mm jack |
| Dimensions | 7 x 4 x 7 inches |
Wampler is the brand that I got recommended by my fellow musician friends. Its popularity is the clean boost that it produces for the tones. I have tested Wampler Decibel Plus V2 with Marshall and found it the best boost pedal for Marshall on the list. Despite its new entry into the manufacturing industry, it adds new dimensions to the electric guitar tones, which are perfect.
Superb Build Quality
The Decibel Plus V2 by Wampler is the best boutique boost pedal for guitarists looking to stand out from the crowd. They get to enjoy an exclusive and robust pedal, but they also get a piece that looks extremely beautiful. This exclusive pedal also has excellent gain control.
Simple Controls
Wampler Pedal V2 offers simplicity in its design and features. You can dial in effects quickly with the knob and save your effects settings with a switch. Users do not need to read manuals or spend hours tweaking their sound to get the right tone. The simplicity of this pedal enables users to "set and forget" their pedal as they are confident that it can remain on for days without any issues.
Clean Boost
Most guitarists are looking for a pedal that doesn't change their sound or add any other effects, something that only does what the manufacturer claims. This small box can act as a buffer for serious guitar players who want to maximize signal strength and clarity.
A Completely Versatile Pedal
The Decibel Plus V2 is a capable clean boost pedal and a buffer. That means that it will make your signal stronger, eliminating noise issues. It also ensures that all of the details of your clean tone remain intact throughout your chain – so you'll still have all of that sparkling clarity you love about your unit.
Benefits:
It is highly versatile and easy to use.
It provides a powerful boost to the tones.
The boost quality is transparent, which is excellent on a pedal.
It is a highly effective pedal for the clean boost.
Drawback:
4) J. Rockett Audio Designs Archer IKON Bass Boost Pedal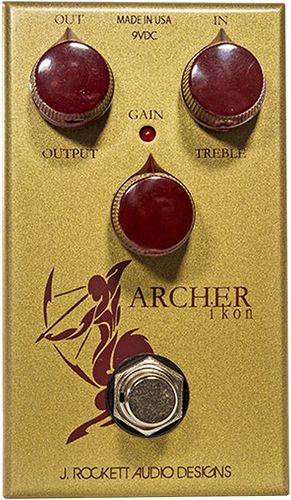 | Specifications | Featured Values |
| --- | --- |
| Manufacturer | J. Rockett Audio Designs |
| Model | Archer IKON |
| Type | Analog |
| Effects | Boost |
| Power | 9 Volts |
| Connectivity | 6.35mm jack |
| Dimensions | 7 x 3 x 5 inches |
Guitarists like to find that perfect tone, and most of the time, their greatest enemies are finding the boost pedal that won't drive their sound into something they don't want it to be or end up. I recently searched for a pedal that could add a little bass to my tone without getting in the way of how my rig sounds. In J. Rockett Audio Designs Archer Ikon, I got my solution: the best boost pedal for bass tones.
Highly Versatile Experience
Some people just want a clean boost; others want to use their pedal for overdrive and still get the best treble out of the pedal. The three knobs on the Archer Ikon boost pedal provide you with these options to let you play around with the options and make your pedal highly versatile while remaining affordable.
Build Quality
Ikon boost pedal represents high-level quality construction that adds to its durability and reliability for performance. But, as with anything built by humans and sold as a product, some defects will show up. It usually only accounts for a few people who have received the pedal and is hardly an issue, causing minimal inconvenience to those affected by it.
Perfect Overdrive and Boost Combo
The Archer is the best boost pedal for those looking for something similar to the pedals made famous by the Klon. If you're considering purchasing an overdrive and a clean boost pedal, we can assure you that the J.Rockett Archer will exceed your expectations.
Benefits:
The versatile performance makes the pedal a unique choice for boost.
Tone quality is imposing due to the clean boost.
The pedal's build quality does seem to do justice to the price.
It offers plenty of buying options with different capabilities.
Drawbacks:
The intense noise is less compared to the other choices.
Quality control needs to address issues related to defective units.
5) MXR M133 Best Boost Pedal for High Gain Amps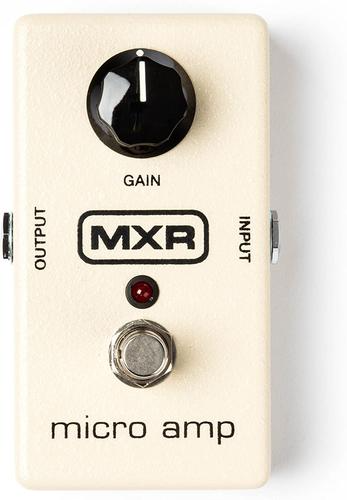 | Specifications | Tested Values |
| --- | --- |
| Manufacturer | Jim Dunlop |
| Model | MXR M133 |
| Type | Analog |
| Effects | Boost |
| Power | 9 Volts |
| Connectivity | 6.35mm jack |
| Dimensions | 5.9 x 4.6 x 2.7 inches |
MXR M133 has a reputation for being the best boost pedal for high gain amps. I have tested it with Roland FR-7X Electronic V-Accor to check whether it fits the reputation. The purpose of the setup was to highlight the soloist within the section. It provided results best in quality and functionality, which landed it a place in my list of the best boost pedals.
Excellent Build Quality
Housed in a sturdy metal chassis, the M133 Micro Amp is a clean boost pedal that takes up very little space as part of your pedalboard. It is equally suited to be placed within or at the start of your chain to make it easier for you to lead off a piece of music with an evident chime tone or use it as a standalone boost that will provide extra sparkle to your tone.
Hardwire Bypass Ability
I found that the M133 by MXR is capable of operating smoothly within an extensive pedalboard, precisely due to its 'hardwire' bypass option. I learned through my assessment that this not only exceeds standard true bypass functionality in terms of noise reduction and signal clarity but also accommodates better tones than most options out there.
Warm Tones with Clean Boost
I was also surprised that this best boost pedal for acoustic guitar works excellent when adding creative coloring elements and saturation to your guitar's tone. It provided me with a warm and subtle tone without having any issues with tone control when setting the position to 3 o'clock.
High Gain at Affordable Price
The MXR Micro Amp is ideal for anyone starting a band who wants to arrange short and sweet gigs. This small but powerful pedal can help you achieve your preferred high-gain guitar tone to play in front of your audience.
Sounds and Tones
Even with gain control set to zero, the pedal provides an ultra-transparent slate for capturing and amplifying a crisp signal. It is handy when your guitar cable has long extensions that degrade the signal or if you're looking to act like a tone enhancer or "cleaner."
Benefits:
Excellent build quality provides a good value.
The transparency is almost perfect for the tones.
Small chassis is very helpful for guitarists.
Boost works perfectly similar to a preamp.
Drawbacks:
It looks pretty basic for the expert players.
The battery compartment does not seem convenient due to the screws.
6) MXR Booster Mini Boost Pedal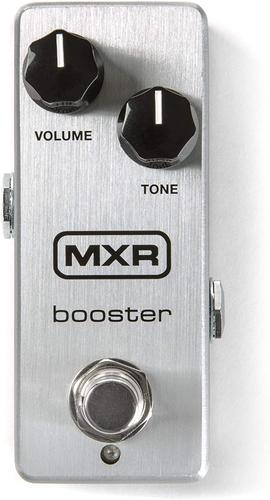 | Specifications | Tested Values |
| --- | --- |
| Manufacturer | Jim Dunlop |
| Model | MXR Booster |
| Type | Analog |
| Effects | Boost |
| Power | 9 Volts |
| Connectivity | 6.35mm jack |
| Dimensions | 3.56 x 1.62 x 2.19 inches |
I have always enjoyed the MXR Micro Amp pedal. I feel like it's been an under-the-radar classic stompbox for many years. The enormous volume knobs on top are also very powerful (and sensitive) while having a much more linear range than most volume pedals. It also has a tone control that allows your high-end "singing" to come through clearer. On top of everything, it's priced very reasonably too.
Additional Volume Boost
The booster Mini is one of the better options that I have tested for the added volume to the tones. It gave me an additional 5dB for the volume making it 25dB, enough to provide a clean tone. It didn't matter how heavy the rhythm section I played, and it worked like a charm most of the time.
Perfect Balance
The dual-control layout on the Booster Mini lets you play around with the balance of volume and tone to get your desired sounds. I've found that by gradually increasing the volume control on the pedal once I have my desired amount of boost in place, I can dial in a bit more bass or treble, depending on how clean my amp channel is playing.
Clean Tones
The MXR boost pedal is an excellent device for guitarists who feel they have "no" presence in their musical endeavors. With a clean boost pedal that comes in a small enclosure, it's easy to employ the effects of this pedal in all manner of live and recording settings with no previous experience required.
Dual Pedal Mode
The MXR Mini Booster Pedal is a two-in-one pedal designed to offer band members of any musical genre the sought-after boost found in MXR Micro Amp and, at the same time, crank up the subtle grit behind your prerecorded melodic components. It allows you to subtly control your overtones in tandem while you play with precision and accuracy.
Benefits:
It has a unique dual pedal layout for complete control.
The volume boost is impressive for the tones.
It removes any harshness from the sound, making it pleasant to listen to.
The tones are clear and loud for most players.
Drawback:
The Echoplex Preamp seems to hassle with an internal trim pot.
7) Keeley Mini Katana Volume Boost Pedals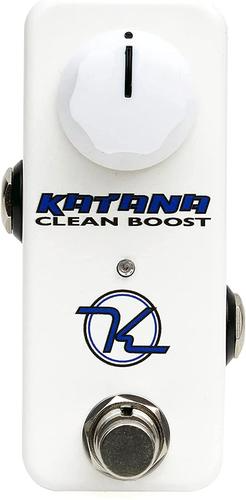 | Specifications | Values |
| --- | --- |
| Manufacturer | Keeley |
| Model | Mini Katana |
| Type | Analog |
| Effects | Boost |
| Power | 9 Volts |
| Connectivity | 6.35mm jack |
| Dimensions | 4 x 6 x 3 inches |
Last year I attended a music trip with my friends, and one of my mates had Keeley Mini Katana volume boost pedals. The moment I heard the boost from the pedal, I was eager to test it out. So, I have bought one and put it to the real test for one of my favorite tones. It produced terrific transparency, ideal for the lead melodies and clean chord sequences.
Exception Tone Quality
Unlike other boost pedals, the Katana-Mini is a transparent boosting device that adds volume and tonal fidelity to your guitar playing. You can push your sound over the top and project your tone with a natural, organic timbre.
Transparent Boost to the Tones
Despite the Mini Katana boost pedal's small size, it is as powerful as its full-sized counterpart. It has the same inner circuitry that the latter boasts of and allows you to breathe life into your clean tone without smothering your guitar's natural harmonics​. I found the tones to act crisper when using it.
Pleasing Treble
The tones that Katana produce is one of their types. I have observed its extra treble during the testing without any switch engaged. Using it with the Fender amp helped me get the increased clean boost towards full-on raunch. However, the setup raised the overall hiss that you may not look for in this combination.
Ease of Volume Control
The volume knobs expand the soundscape when moved out of their inception position. It adds color with a slight overdriven edge and grit when both settings are engaged.
It adds a lot of scope and breadth to the volume sound for different applications like performances at your gig (as opposed to studio recordings) where you would use the knob to change parameters subtly while performing on stage
Benefits:
It features solid build quality compared to many other options available.
Provides plenty of tonal shaping options utilizing a Hi-gain and Hi-cut switch.
The boost it offers is very clean and bright.
It excels for the transparent boost for the tones.
Drawback:
The pricing seems expensive for the mini pedal.
8) Fender Engager Mid Boost Pedal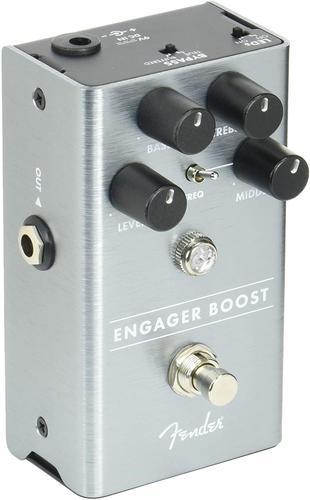 | Specifications | Featured Values |
| --- | --- |
| Manufacturer | Fender |
| Model | Engager |
| Type | Analog |
| Effects | Boost |
| Power | 9 Volts |
| Connectivity | 6.35mm jack |
| Dimensions | 6 x 4 x 6 inches |
When looking for the clean boost pedal capable of providing the 20dB clean boost for one of my musical ventures, I came across the Fender Engager Mid boost pedal. It solved the issues I was facing with other pedals due to its perfectly clean boost and overdrive. Besides it, the level knob delivered a smooth boost that I liked more.
Detailed Array of EQ
One thing that I truly loved about this pedal was the easy-to-control EQ layout. You can have your friends or band members think you're a sound magician when they hear how versatile and different your tone operates. Best of all, you don't need to be an experienced guitar player for this. That is why I chose this specific pedal as the best in the business.
Clean and Crisp Sound
Over time, when I had the chance to pioneer how to best experiment with the EQ controls on my Engager Boost pedal, I discovered that these settings need adjustment depending on which pickup position you're using on your guitar and with other pedals.
Finding the right sound for your volume/distortion settings could go a long way towards keeping a clean, crisp tone throughout your performance without sacrificing dynamic power.
Clean Boost
Clean boosts have become a favorite piece of equipment in many guitarists' arsenals. Still, one of the most accessible and flexible options currently being offered on the market for players is the Engager Boost by Fender. It is the best boost pedal that adds volume or color to your clean tone, allowing you to sculpt it with precision and control.
Benefits:
It is a good EQ range to cater to your needs.
It has plenty of boosts to offer for the tones.
The Bass, Mid, and Treble adjustments on this boot pedal make it not only a boot but an EQ for your lead tone
This pedal adds a truly clean boost no grit or dirt.
Drawbacks:
There are more compact boosts available.
It is slightly expensive.
9) NUX Lacerate Mini Transparent Boost Pedal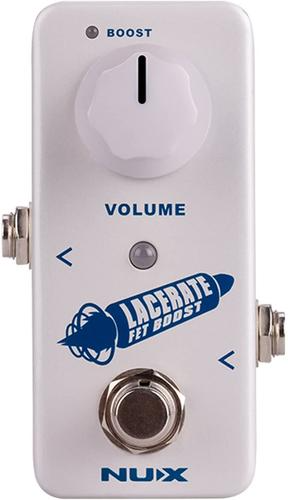 | Specifications | Tested Values |
| --- | --- |
| Manufacturer | NUX |
| Model | Lacerate Boost |
| Type | Analog |
| Effects | Buffer, Overdrive, Boost |
| Power | 9 Volts, 18 Volts |
| Connectivity | 6.35mm jack |
| Dimensions | 2.56 x 2.6 x 4.61 inches |
Last month my girlfriend was looking for a transparent boost pedal, and we tried a different boost pedal in the act. After a search of a few hours, she settled with the Nux Lacerate Mini due to its high-quality pickups.
She has now settled with this unique boost pedal and runs it through different genres. I think it is the only pedal she loved in a while, so I included it in my best boost pedal list because of its tasteful tube-like crunch and tonal diversity.
Design and Construction
The Lacerate Boost by NUX is a super high quality and versatile pedal that completes the lineup of previously released Lacerate Pedals explicitly designed as a particular micro boost unit. It comes in at a minuscule profile with white paint, reminiscent of MXR's Micro Amp boost, and creates a versatile loud and vintage tone that can be adjusted to fit your preferences.
Excellent Gain with Clear Tone
If you're having a problem getting your clean channel to exactly sound as you want, try using 'Clean' mode. It is the default option, so that it can be tedious, but it will most likely work for you now. You can then make some adjustments to the knobs on your guitar or even the controls on your amp.
Reliable Clean Boost
I believe that if you're looking for a reliable and straightforward clean boost pedal, then the Lacerate mini pedal is worth looking at. If you are not looking to spend too much time getting accustomed to using a blend of controls, this is the boost pedal worth considering.
Simple and Easy to Use
As much as I adore complex stompboxes, sometimes it's refreshing to see a pedal about simplicity. You activate the clean boost function of the Lacerate by stepping on the footswitch and then holding down on it for a bit longer to engage the crank function (both modes are controlled by manipulating volume control knobs at foot-level). To me, it's just simple elegance.
Complete Versatility
NUX's Lacerate FET Boost is a sturdy pedal with a no-nonsense outlook that allows guitarists to find some new tone in their playing. The Clean mode will push your amp into spanky valve grit and crunchy tones, while the Crank mode gives you slightly more aggressive sounds – perfect for cutting through when everyone else is competing for attention.
Benefits:
Solid unit with sturdy material for long-term use.
It has a clean, dynamic boost with no coloration whatsoever.
It can accent the character of higher-quality pickups.
The boost mode adds a super tasteful tube-like crunch to the tones.
Drawbacks:
The bright feature seems too much touchy sometimes.
The overdrive second stage does not seem to work for everyone.
10) Xotic EP Best Boost Pedal for Solos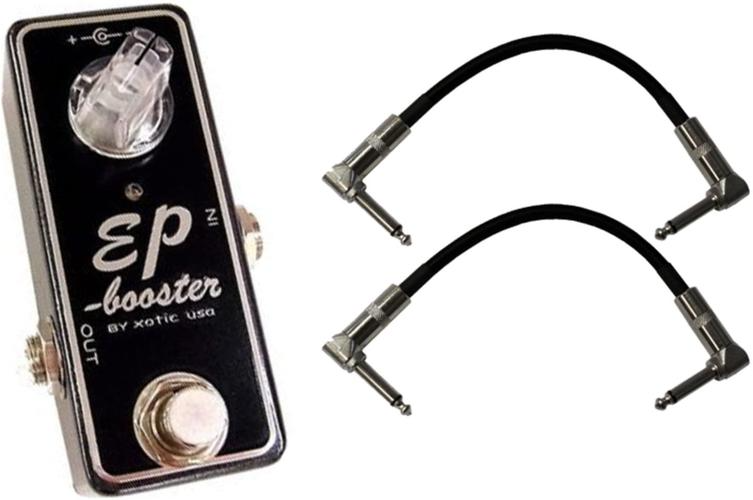 | Specifications | Values |
| --- | --- |
| Manufacturer | Xotic |
| Model | EP Boost |
| Type | Analog |
| Effects | Boost |
| Power | 9 Volts |
| Connectivity | 6.35mm jack |
| Dimensions | 3 x 8 x 10 inches |
If I have to point out the best boost pedal for solos, bass, and effect loops, Xotic EP is the pedal that ticks all the boxes. It can give you the desired boost without adding any artificial element to the tones. The versatility of this classic pedal allows it to work on all genres while giving the boost you desire for the performance.
Build and Durability
I have always praised the manufacturers who like to add durability factors to their products. Xotic EP is such a fantastic pedal that fulfills the durability criteria. You can throw it on the wall, and it will still work. It is the result of quality components used in the construction. Besides that, the classic look gives it retro vibes, which most enthusiasts like me prefer for their pedals.
Gain and Tonal Quality
Many guitar pedals, including the boss boost pedal, claim to offer 20 decibels of boost, but I've found that some don't preserve what makes a clean guitar and amplifier tone sound so good in the first place. The EP Booster Mini by Xotic is one little pedal that stands out when adding just a bit more volume without making your notes lose any of their clarity.
Xotic EP is the best boost pedal for effects loop that represents the FET design. The impedance output is towards the lower side, making the bass, mid, and high frequencies intact. The boost remains clean with tones that provide a considerable gain for the most part.
Versatile for Guitar Player
The internal switches on the Xotic EP's best guitar boost pedal for solos claim to provide shape to the guitar sound. I tested and felt that to be true as it shapes the EQ of the clean guitar sound. I found Xotic EP more versatile as it helped me perform well no matter what genre it plays.
Benefits:
It features internal switches for the bright and bass boost.
The discrete FET preamp is an excellent addition.
More than 20db gain is enough for the crips sounds.
High build quality makes it perfect for carrying around for live performances.
Drawbacks:
Small size can interrupt regular operation.
Slightly expensive choice.
Best Guitar Boost Pedal Buyers Guide
Whenever I get asked what to consider when buying the boost pedal, I always point out a few things that need utmost consideration. Choosing the best boost pedal is not an easy job, so you must consider these considerations before investing in these instruments. Let's have a detailed overview of these:
Standard Vs. Mini
It's also important to consider the size and shape of the enclosure itself. Generally, there are two types on the market – standard and mini. Standard boxes can hold more technical components, but mini ones may be better if space is limited or you want to create a simple pedalboard. Both should be equally durable materials, regardless of their shape or size, so you don't need to worry about that.
Power Requirements
Next up, you'll need to consider how much power your signal pedal will require. While a battery or other minor source can power some, others require enough energy from an electrical outlet to function correctly. If you're unsure of what yours requires – whether it comes with power sources or not – be sure and check the specs thoroughly before going any further.
Deciding between the boost pedal of different power helps you figure out their practicality. Battery-operated pedals tend to be more helpful for the live performance as you don't have to worry about the outlet or power source on the go.
True Bypass
We cannot overstate the importance of 'true bypass.' It means that when the footswitch is not in the on position, there should be no interference at all. Meaning it works as though there is no pedal when in off mode, allowing the signal to flow freely without any interruptions.
True bypass has a reputation for a big positive, and that is good because you'll find that most pedals on the market come with the feature. It means you can have the unit ready to boost your signal when need is, but it literally won't do anything while you don't want it to, which is very important if you want to keep your tone as stable and replicable as possible.
Additional Functionality
The next step you'll want to take is to decide whether or not you need additional features on your pedal. Many come equipped with an equalizer designed to improve one's sound, but it might not be necessary if all you care about is a boost in volume.
These specific pedals can vary considerably in price and innovations they have to offer, so you'll likely have to do some comparison shopping before reaching your conclusion.
Of all the great choices for the best boost pedal, selecting the one seems challenging. However, if I have to single out one from the horde, TC Electronic SPARK MINI Best Boost Pedal for Metal Best Boost Pedal for Solos stands out due its classic looks and useful features. It provides the clean boost and amps that you want for the tones. The bass boost and sound crispiness make it desirable for most musicians. You won't get anything better than this pedal if the budget is no issue.

Top Recommended Product
Are boost pedals worth it?
Boost pedals are worth it if the primary aim is to add a transparent and clean sound. It also helps to increase the sound and boost the native input. Besides all the theoretical differences, most boost pedals are best at producing the treble to the sounds.
Do boost pedals add gain?
Yes, the boost pedal can add gain to the sound. However, not all the pedals are equal in creating the gain. Some provide better gain over others while adding clarity to the sounds making them more practical than other pedals.
Where should the boost pedal go?
The position of the boost pedal may vary with the amount of boost you want to get. You will need the boost pedal initially, and turning the overdrive and distortion pedal on can cause the tone to get gritter according to preference.
Is a boost pedal the same as a preamp pedal?
Most of the time, the boost and preamp pedal are not the same. Both work differently according to their practicality and application. The preamp pedal has a preamp that lets you connect the plug straight into the powered PA, while the boost pedal cannot do the same.
What is the difference between boost and overdrive?
Overall, the boost and overdrive serve almost the same purpose: to add grit and dirt to your tone. However, there is a difference in how much amount both add to the signal, in general. Boost adds fewer signals than overdrive, making both stand out in the tone department.