Are there old speakers at your home, and do you want to convert old wired speakers to wireless? Don't worry if you don't know the drill, as this article will guide you on how to turn any old speakers into wireless streamers.
Now you can turn your old speakers to a new level by converting them into wireless. Using a wireless speaker kit makes it very easy to make your speakers brand new. You will need an amplifier to power up the speakers.
To pick the best wireless kit for your speakers, follow a few steps I will describe in detail. Keep reading until the end to know which speaker kit will be best for your speakers.
Choosing the Best Wireless Speaker Kit
With the help of a receiver and transmitter, the wireless speakers can stream the audio from wired speakers. There are various wireless speaker kits in the market for turning wired speakers into wireless ones, so you have to know which one you should buy and which will be best for you.
Choosing the wireless speaker conversion kit is critical to your whole process. If you choose the wrong kit, it will affect your speaker system. So, wisely choose which kit will be perfect for your speakers.
Types Of Wireless Speaker Kits
There are 4 main types of wireless speaker conversion kits:
Transmits radio frequency signals
With built-in amplifiers
Transmit Bluetooth signals
Without a built-in amplifier
Built-in speakers are cheaper than others and also require low power output. If you want a high-power speaker, buying a speaker with a built-in amplifier will be good.
Transmission Range
To consider the transmission range, you will also have to consider the wireless speaker kit. Most wireless speaker kits have approximately transmission range from 100 to 300 feet.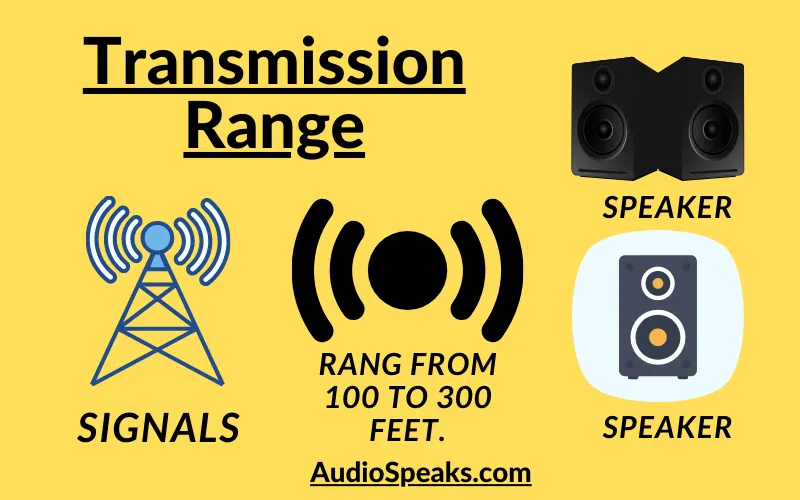 Amphony 1800 wireless speaker kit will be the best choice with 300 feet range; when there are blocks with ceilings and walls, it reaches 100 range. There is no need for audio compression for audio signals; they transmit without audio compression.
Easy Setup
It is elementary to set up the wired speaker into the wireless speaker. If you want to know which wireless speaker kit will be the best choice, Rocketfish RF-WRSK18 is one of the quickest and easy setup kits.
If you buy another one, you must assemble and set up the transmitter and receiver, but Rocketfish is so comforting that it automatically detects the receiver pairs.
3 Ways To Converting Old Speakers Into Wireless
You can now convert your old speakers into wireless by following the steps. Make sure to follow every step carefully.
Choosing The Correct Kit
Most wireless speaker kits have three main parts: two receivers and a transmitter. Wires come included in the power output. There are four main types of wireless kits that I have mentioned above.
I'll make the decision easier for you; you must choose a built-in amplifier whenever you turn your speakers into wireless. Built-in amplifier kits are excellent to use because they have high power output. You must choose an amplifier speaker kit if you have an active speaker.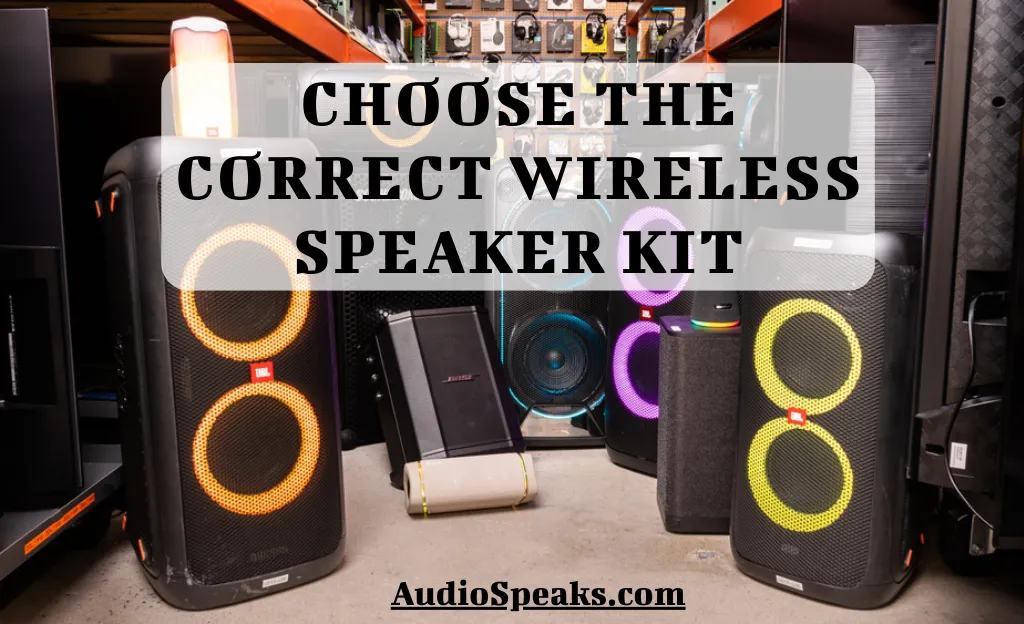 BIC America is a good choice if you want the best wireless speaker kit. It is straightforward to set up because of no built-in amp. Its transmission range is 60 to 80 feet maximum. Make sure to check the input of the receiver and transmitter. If your receiver has pre-outs, RCAs can be connected from the receiver to the transmitter.
Connection Of Transmitter
In this step, you must connect the built-in amplifier to the transmitter. The signals transfer through Bluetooth or frequency. The input depends upon the kit you choose. Generally, you will see these options:
RCA: Connection to the RCA input from the receiver pre-outs.
Speaker wires: Connection to the transmitter inputs from the receiver outputs.
AUX 3.5mm: You have to use RCA 3.5mm adapter for the 3.55mm transmitter to connect the transmitter and receiver. There is more power required for this whole process.
Connection With Receiver
It depends on the kit you choose for the connection. The whole setup depends upon various factors.
1) Without Internal Amp Speakers
For speakers without an internal amp, this process is the best option. If you use a separate amplifier, connect the RCA to the amplifier from the receiving unit. Now after conning them both, connect the speaker and amplifier with the help of speaker wires. The next step is the connection of the AC adapter to the receiver and then plug the AC adapter into the power source to turn it ON.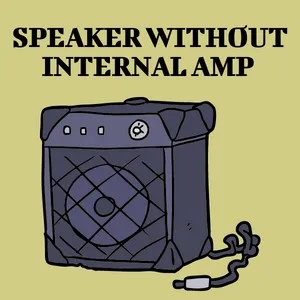 2) Receiving Units With An Internal Amp
It is not a standard process, but few receiving units have built-in amps. You only have to do one step, connect the speaker wires to your speaker from receiving unit. Then plug the power outlet into the source to turn it ON.
3) Speakers Who Have An Internal Amp
The speakers with internal amplifiers are called "active speakers." They have the benefit of connecting directly to the power outlet. You only need to connect the RCAs from the receiver to the speakers to stream the audio signals.
Testing The Setup
If you have completed the whole process, your speaker should work wirelessly. If you want to test your whole setup, follow the steps:
If the system's audio mocks or you feel something disturbing about the sound, check the connection between the receiver and transmitter.
Manually check the connection setting between the transmitter and receiver to notice if there is any improvement in the sound quality.
By playing around with the receiver and transmitter, you can adjust the volume levels of the speaker.
Advantages of Converting Your Old Speaker to the Wireless
It is a perfect idea if you have owned a speaker for a long time and now want to convert old speaker to Bluetooth. You only have to remember a few things while choosing the best wireless speaker kit. If you are still confused about doing or not doing, here are a few advantages to knowing the benefits to convertold hi-fi to wireless.
You can use your old speaker by connecting it to your mobile phone.
There is no need to buy DVDs, CDs, or any albums, and there is also no need for long wires to connect your iPhone to the speakers.
It is possible now to use your old speakers with Chromecast. It will make your system's audio quality unique and fill your room with an exciting environment.
Your old speaker system will get a whole new life, and you will benefit from going around with fewer wires.
There is no need to throw your old speakers to waste. You must wonder how to turn old speakers into wireless streamer to give them a place in your upgraded setup. It is super easy to convert your old speakers into functioning wireless speakers. There is no complexity involved when converting the old speakers to wireless. You can easily follow a few simple steps described in this article and give a whole new look to your old speakers. Remember to choose the best kit to start the process; otherwise, you will not get the exact results you want.

Final Words