After a long, busy day at work, everyone enjoys viewing a movie or listening to music on loudspeakers in their free time. While listening to the music, you might notice a buzzing or humming sound in the background and wonder why your computer speakers are buzzing. Sometimes, this buzzing sound might increase to the extent that even if you turn the audio off, it stays make and is quite annoying. If you are facing this issue and want to get rid of this problem, you are reading the right article.
There are different causes of this speaker buzzing sound; one reason is radio frequency interference and AC line noises. There might be some other issue that is causing this buzzing sound. This article contains a complete list of issues and solutions that create computer speakers buzzing when plugged in. Stay tuned if you want a quick and easy solution to this problem.
8 Common Reason for Speaker Buzzing
Formation of group loop.
Extremely high speaker amplifier gain.
Audio effects that sound like buzzing.
Issues with the audio driver.
Problematic or low-spec speaker.
Audio effects that sound like buzzing.
Rattling of the speaker transformer.
Interference due to the radio frequency waves
How To Stop Speaker Buzzing? 8 Steps
Many reasons are causing buzzing problems for the speaker in your PC; you need to narrow down the causes that might be the reason for this buzzing. In this way, it will become easy to solve the problem. If you know where the problem lies. Follow these steps to narrow down and find the cause of this problem.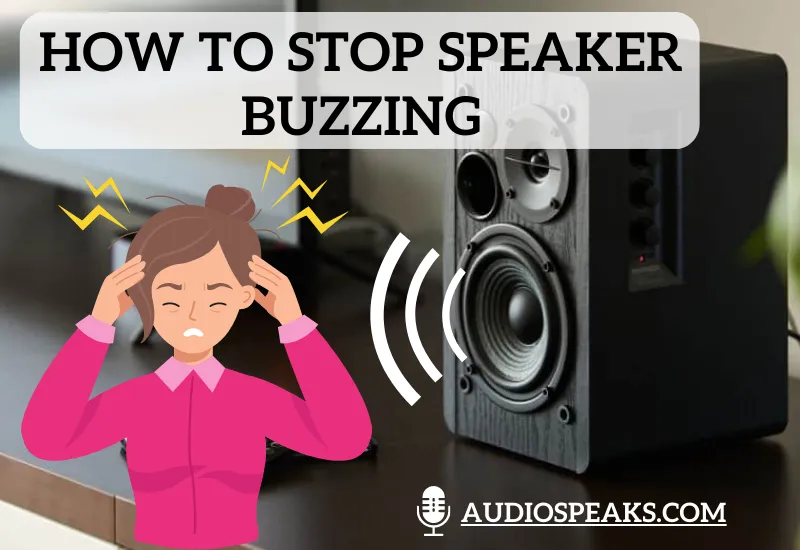 1) Disconnect the Computer's speaker
While the computer is running, unplug the speaker. There may be a problem with group looping, electromagnetic interference (EMI), or amplifier problems if you continue to hear the buzzing or humming sound even after disconnecting. The amplifier gain is the cause of the hissing if the hissing gets louder every time you put up the level and stops when you turn it down.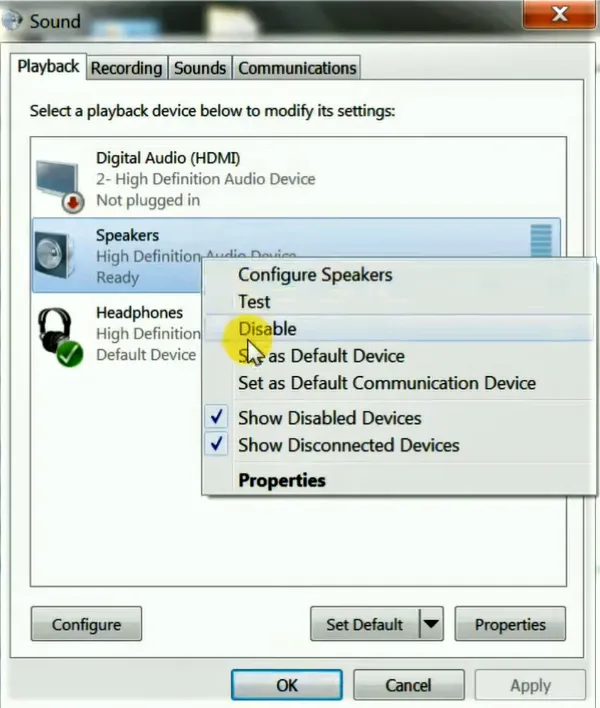 2) Check Background apps
Check if any apps are running in the background of your PC. Some sound might be coming out of these apps, causing the humming or buzzing sound from your PC.
3) Check the Timing of The Buzzing
Look at the time of the buzzing and identify the cause. Check to see if the buzzing noise begins when the device is turned on, plugged into a computer, or is playing audio. If you hear a buzzing noise while listening to the audio, the problem may be with the poor quality or damaged audio files. This issue is common; you can find it and fix the poor sound.
4) Link to a Different Device
To determine whether the PC has any issues, use the same speaker on a different device. After being connected to the other device, if the speaker still doesn't sound buzzy or humming, the PC has a problem. To avoid group looping issues, try using a laptop or smartphone that is not connected in.
5) Listen Carefully
The group loop sound should produce a 50–60Hz sound that you can easily identify when you check the nature of the sound. The transformer's shaking may be the source of the buzzing noise, producing a fluctuating sound.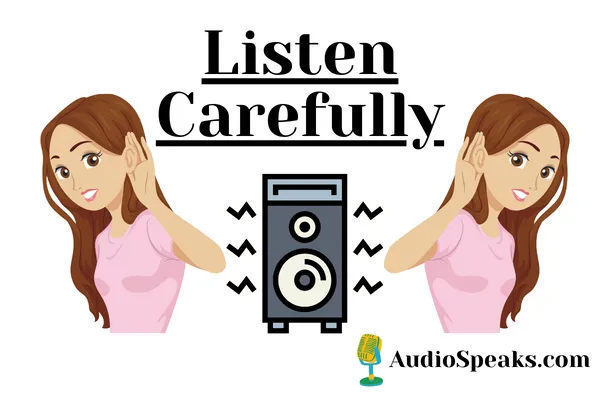 6) Shut Off Every Device
You can try to turn off every gadget in your house or location before checking the EMI; there might be a problem with radio or phone tower interference.
Troubleshooting Speaker Buzzing Sound
Here is complete troubleshooting detail of how you can remove the buzzing sound from your computer speaker;
Group Loop and AC Line Hums Troubleshooting
A noticeable change in the group loop can be attributed to the use of a shared ground by two or more devices connected to separate AC outlets. Another issue arises if the connection uses signal cables. The solution to this problem is to use a single AC socket. You can fix these issues by;
Use a Single AC Outlet
Using a single AC outlet to power all the linked devices is one of the simplest and most popular ways to close the loop. You can also utilize power strips or surge protectors to eliminate the group loops.
Use Interactive Line UPS
One of the best ways to eliminate AC line hums is to use a line interactive UPS. The UPS converts AC to DC if you have an available AC source. DC turns to AC when an AC hum stops, then go through a filter to power your PC.
Use a Group Isolator
The easiest answer is to utilize a ground-loop isolator if you don't have access to a single AC source to connect your gadgets. The audio will have one audio jack through the in-port, and you can plug the out-connector into a PC or other device to use the audio.
Troubleshooting Radio Frequency and Other Interference
One of the other significant reasons for the buzzing sound is the interference due to the RF signals. Multiple electronic devices in our home generate electromagnetic signals; they might be responsible for inducing sound to your speaker. If you cannot keep a sufficient distance between the interfering gadgets and your audio devices, keep your PC, speakers, and other audio equipment away from them. To fix this issue, you must update the audio driver. In that case, you can use proper shielded cables that will protect your device from interfering RF waves that might be a source for broadcasting stations or radio towers.
There is also a possibility that your PC's internal components are producing interference when you connect the speaker to the motherboard. EMI might have an issue due to components such as graphics cards. The best solution for this problem is to use headphones or DAC to get rid of this problem.
Troubleshooting Amplifier/Speaker Problem
There is a possibility that your speaker or amplifier is old, damaged, or low quality. In this case, you will have to replace the speaker. You might try cleaning your speakers and removing any dust causing the buzzing noise. To stop the cones from buzzing, you will need to remove them and clean them. Clean the woofer outer membrane, speaker, cone rubber, and tweeter dome membrane to fix the issue.
Troubleshooting Software Issues and Updating Audio Driver
There are many complaints about speakers buzzing when the computer is off. It might be due to some software seasons, such as an audio driver. You need to update the audio driver to remove this problem. To update your audio driver, you can update it by searching in the drivers and reinstalling them with an update. You can also disable the audio effects to remove the buzzing and humming sound.
Why Is My Computer Speaker Static?
Your computer speaker becomes static because of outdated and corrupted audio drivers; they can cause disruptions. You will have to update the audio drivers to remove any corrupted drivers.
Why Do My Speakers Buzz When I Turn Them On?
There are two leading causes of this problem. There might be a lousy audio cable connected to the amplifier causing it to buzz, or electrical noise passed through the amplifier cable causing this buzzing when I turn it on.
How To Get Rid of Computer Noise in Speakers?
If you want to know how to stop the speaker from buzzing. There are different solutions to fix the speakers' buzzing sound, such as troubleshooting the hardware problem, updating your audio driver, configuring the computer's audio settings, breaking the electrical group loop, and avoiding frequency interference.
A buzzing sound from a computer speaker is a common issue that can happen due to the reasons listed above. You can try the methods given above to resolve any buzzing issue. After reading articles and following the troubleshooting, I hope you won't have to search again for why do my computer speakers buzz. If you have any questions or feedback, feel free to ask in the comments below.

Summary