When looking for a cinema-like experience, getting the right equipment is necessary. Out of all the accessories used for the multimedia and home theater setup, display and audio matter greatly. For the best listening experience and immersive audio, the best Dolby Atmos Soundbars stand tall amongst the competitors. They come in handy for the top-notch audio while you enjoy watching your favorite movies or playing games.
Dolby Atmos Soundbars does provide clear and high-quality audio that you miss out on most other audio systems. The sound from Dolby Atmos speakers is most convincing and feels immersive from every direction. It comes equally good from the front, back, right, left, and above. The technology is a breakthrough in audio technology which enabled people to enjoy the most convincing 3D and surround sound.
Table of Content
15 Best Dolby Atmos Soundbars 2023
Finding the perfect Dolby Atmos Soundbar is not a walk in the park, as it requires a lot of searching and testing. Selecting the right option for the budget and multi-speaker setup is crucial.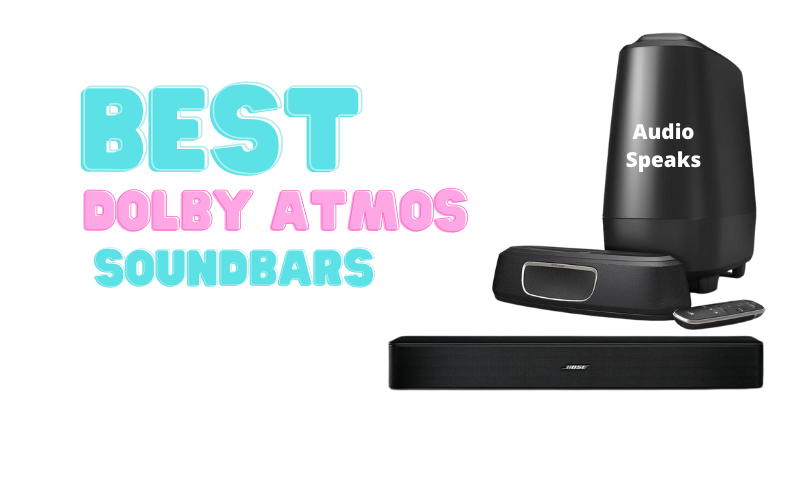 I have utilized my experience with audio devices and soundbars to sort the best speakers according to the setup and budget. I collected the narrative from audiophile friends and industry professionals to select the 15 top Dolby Atmos Soundbars. Let us have a look at each Dolby Atmos Soundbar review!
1) SAMSUNG HW-Q950A Best Dolby Atmos Soundbar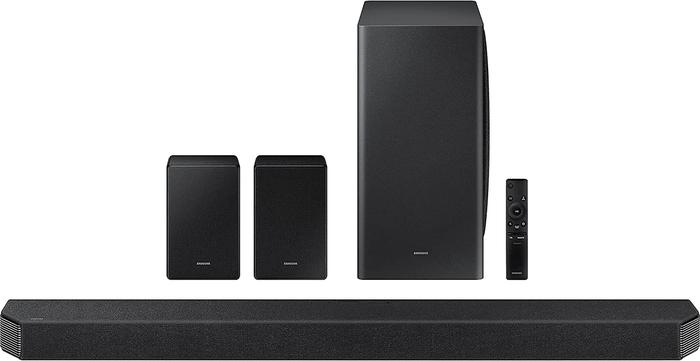 | Specification | Values |
| --- | --- |
| Manufacturer | Samsung |
| Model | HW-Q950A |
| Connectivity | Wireless, HDMI |
| Recommended For | Television |
| Dimensions | 5.4 x 48.5 x 2.7 inches |
The first Atmos soundbar I have reviewed is Samsung HW-Q950A. It can provide almost 16 sound channels, which is impressive. The Dolby Atmos performance from a soundbar is quite good, and I heard every bit of sound that any audiophile wants. It accumulates a separate system and gets the convenience of a soundbar.
Under the Screen Design
Although the central part of the soundbar of the Samsung Dolby Atmos Soundbar is almost a meter wide, it is easy to keep it under the screen of your TV set. The soundbar's rear is heavy, but you can still easily place it on a bookshelf. It is also good to know that the subwoofer is slim enough that you can adjust them down the sofa and under a sideboard according to your convenience level.
Raw Audio Power
The other extraordinary feature of the Samsung HW-Q950A is the average set of speakers that is notable and all of the 16 channels of sounds delivered by the 22 speakers. These enormous channels of 616W are unrestrained by the audio horsepower.
Excellent Audio Projection
You will enjoy your film soundtracks with HW-Q950A as each speaker works with great power, covers your most oversized living rooms with projection, and provides full action more thoroughly than any other soundbar. Moreover, the two new channels provided by HW-Q950A are more worthy of filling even the slight gaps.
Tap View Technology
There are two HDMI inputs for connectivity: one HDMI output and optical digital audio input. There is also necessary connectivity support for WiFi and Bluetooth. Another exciting thing about Samsung is the Tap View technology, from which you can connect your Samsung phone and soundbar by touching the phone to the frame of the soundbar.
Benefits
The movie's playback is highly powerful
Well-rounded soundstage for the Dolby Atmos soundbar
It works flawlessly with HDR and HDR10+
Helps to connect the Alexa voice that comes in handy
Drawbacks
The display position is slightly poor
Music seems a bit unrefined for the few people
2) SAMSUNG Q700A DTS Soundbar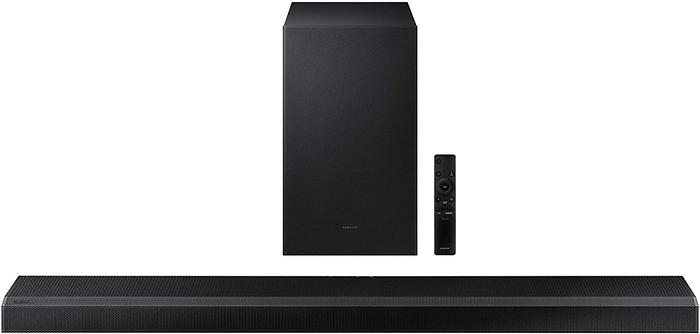 | Specification | Featured Values |
| --- | --- |
| Manufacturer | Samsung |
| Model | Q700A |
| Connectivity | Bluetooth, HDMI |
| Recommended For | Televisions |
| Dimensions | 4.5 x 38.6 x 2.4 inches |
The Samsung HW-Q950A DTS soundbar comes with a neutral sound profile that will give you various types of audio content. Although you will not be able to enjoy the deep bass in action movies, it can support Dolby Atmos and DTS: X content and contains many other sound features in Samsung's Acoustic Beam Virtual surround technology.
Design and Aesthetics
The Samsung HW-Q700A Best Dolby Atmos soundbars have a glossy and sleek design with a metal grill. This grill covers the bar's top, front, and other hard plastic parts. When it comes to the subwoofers are made of wood, and the front side has a thin fabric covering.
Loudness Level
The level of loudness of the HW-Q700A is a bit high. It becomes highly effective at parties and large rooms or areas. But sometimes, you may feel some distortion in low and high-frequency ranges if you play it at the maximum volume. However, this distortion depends on the input content, so it is nice to keep the saved content for better performance.
Powerful Audio Delivery
The frequency response of the Samsung Q700A is almost perfect, with a neutral sound profile. But simultaneously, you will see a slight gain in the low-frequency range. However, this soundbar is an excellent choice for most audio content. When we talk about the deep bass, handling it may become difficult and frustrating. In the presets, you can pick up the sound of your choice with your liked graphic equalizer.
Sound Enhancement Features
The other exciting feature of HW Q700A is sound enhancement. You can also use a graphic equalizer, or other presets for compensation if you want a better tuning for your soundbars, such as Adaptive Sound and Standard. When you go to the Advanced Sound Setting in the SmartThings app, a Voice Enhancer feature provides straightforward dialogue.
Benefits
It comes with wide compatibility, including Bluetooth and WiFi
There are several EQ and presets available
It gets loud for use at parties and large spaces
It supports DTS and Dolby Atmos
Drawbacks
The low bass is not much impressive
It does not support Google Assistant and Chromecast
USB support is not for playback
3) SAMSUNG HW-Q950T Dolby Atmos Speakers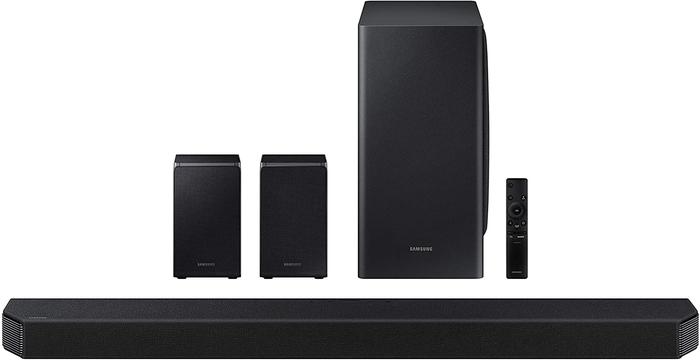 | Specification | Tested Values |
| --- | --- |
| Manufacturer | Samsung |
| Model | Q950T |
| Connectivity | Bluetooth, HDMI |
| Recommended For | Televisions |
| Dimensions | 51 x 24 x 11 inches |
The Q950T is one of the best-sounding Dolby Atmos speakers that emerged as an improved soundbar in the league of 3D soundbars of the Samsung family. It is an excellent addition to enhancing precision and dynamism by providing almost 14 separate channels. Over the period I have tried it, I got amazed by its sleek and stylish body with an added touch of Kvadrat covering.
Compact Design and Metallic Finish
When looking at the Q950T Best Dolby Atmos soundbars, I noticed that it looks similar to the other Samsung soundbars. But to some extent, it is compact in design with robust rear and hulking subwoofers, just like its predecessors. The difference is that it covers with Kvadrat cloth which covers every driver of the speakers. Its top and front edge cover with Kvadrat felt an excellent replacement for the old metallic finish. 
Sound Quality and Range
No doubt, the sound quality of Q950T is more than enough. It is too capable of providing you with a dense, complex, and layered movie sound with tremendous power. You will not feel any kind of weakness or distortion from system speakers.
It can fill massive places with good sound quality in a fantastic way delivering the levels of bass with depth. Moreover, you will enjoy mid-range openness and treble detailing that you will not see any other speakers of this level.
Connectivity and Support
We can say that this 7.1 soundbar is a unique system that can meet all of the formats of today's requirements of Dolby Atmos and DTS:X audio. You can easily connect them with WiFi or Bluetooth, including a Hi-Audio file format. Moreover, you can also combine it with your phone by tapping it against the bodywork of the soundbars.
Sound Enhancements
Although Dolby Atmos and DTS:X set the soundbar to the default for various playback modes, its trio processing mode is also best for enhancing your audio content. The Game Pro mode is attractive due to its impressive experience and Adaptive sound. It will automatically select the best audio track that will increase the reliable understanding of any content you want to play.
Benefits
It can get loud for most playback.
The channel support is unprecedented.
It has a sleek and stylish design with the ability to blend well with the setup.
The overhead is overly impressive.
Drawbacks
It lacks an auto-calibration system.
Slightly more expensive than other options.
The display system is not well positioned.
4) Sony Dolby Atmos Soundbar HT-G700

| Specification | Values |
| --- | --- |
| Manufacturer | Sony |
| Model | G700 |
| Connectivity | Bluetooth, HDMI |
| Recommended For | Television, Surround System |
| Dimensions | 38.6 x 4.38 x 2.63 inches |
If you do not have enough space for your surround sound system, the Sony HT-G700 will be a good pick for you due to its smaller footprint. Although it is not a surround system, the Vertical surround system brings various sound channels that will work brilliantly without any up-firing speakers.
Slim Shape and Round Curves
The design of the HT-G700 supports 55 inches or giant TV as they are more significant in height than the above soundbars. You will see a two-tone texture in its black finish as the top of the surface is matte black while the front part of the central unit is covered by the speaker grill, giving it an aesthetic look.
It looks like the HT-X8500 in appearance due to its slim shape and round curves. It supports IR signals without blocking them even if you place them in front of your TV, and it is also doesn't matter that your TV set on a central stand.
Explosive Sound Quality
Sony Dolby Atmos soundbar is not much explosive in sound, just like the other soundbars with up-firing speakers. But it performs pretty well with digital processing. While testing its height effects, placing them on your TV's left and right sides is good, just like you can see in various TV advertisements worldwide.
Vertical Sound Engine
Its Vertical Surround Engine is the worthiest thing that will add extra marks for HT-G700. It can deliver you a 7.1.2 surround sound quality by using digital processing. However, this will also bring ease for those people who want to install soundbars and don't have enough space for an extensive system. It will be a good pick for small spaces and support Dolby Atmos and DTS:X sound audios.
HDR10 and Dolby Vision Support
Regarding connectivity options, Sony G700 does not come with an excess of HDMI connections. It has only a single HDMI input, an HDMI e-ARC output, and only an Optical input. There is a USB input, but it is only for updates. It can support HDR10, Dolby Vision, and HLG. Standard, music, and cinema modes are available for audio.
Benefits
It fits well in the compact space without any additional setup required
The bass feels tight and punchy for most of the tracks
It provides immersive audio and high-end music performance
The sound seems pretty solid with the Atmos effect
Drawbacks
The menu system does seem complex
Sometimes sound seems less crisp and clear
It lacks streaming functionality
5) TCL Alto 8i Cheapest Dolby Atmos Soundbar

| Specification | Featured Values |
| --- | --- |
| Manufacturer | TCL |
| Model | Alto 8i |
| Connectivity | Bluetooth, HDMI, 3.5 mm jack |
| Recommended For | Television |
| Dimensions | 43 x 7.75 x 5.75 inches |
If you want to extend or expand what you have and are also looking for a branch for your external sound system, the TCL Alto 8i is the cheapest Dolby Atmos soundbar. It provides you with versatility for connecting different systems in different ways. You can get just like a cinema impact in your living room by installing TCL Alto 8i. 
Sleek and Minimalistic
The design of the TCL Best Dolby Atmos soundbars is very sleek and minimalistic so that you can place them anywhere in your room. Its top and front are charcoal colored, and the remaining parts give you a black plastic finish.
The buttons are at the side of the soundbars, but in experts' view, the onboard controls are more convenient if you cannot find your remote. The LED indicators show information about the sound level. All of them can be controlled by the remote, making the design user-friendly.
Multi-Dimensional Sound
TCL Alto is a good design system with multi-dimensional sound to get the theater experience at your home. It has unique sound modes to get sounds according to your taste and requirements. For any content, TCL gives you an incredible listening experience. With accurate midranges, it provides clear and ideal dialogues.
Subwoofer and Bass
With built-in dual subwoofers, these soundbars are incredible. These subwoofers create thumpy bass and make the sound rich. You will feel it more than hear it, but they are still not enough like the other dedicated subwoofers give you too much.
The TCL is best for you if you are not concerned with booming bass. But if you are looking for more thunder sound, you may consider some other things instead of built-in ones.
Connectivity and Devices Support
TCL also can connect wirelessly with various devices, just like the other high-rated speakers or soundbars. You can combine it with any Bluetooth device to enjoy more exciting things. The wireless connectivity option makes it more worthy than the other soundbars on the market.
Benefits
It supports Dolby Atmos with built-in subwoofers
The sleek design makes it compatible with any setup
It offers content streaming with three EQ presets
You have a choice to choose and tweak the sound
Drawbacks
It lacks a dedicated subwoofer
High volume levels do not sound well
It doesn't handle low bass quite well
6) JBL Bar 9.1 Best Budget Dolby Atmos Soundbar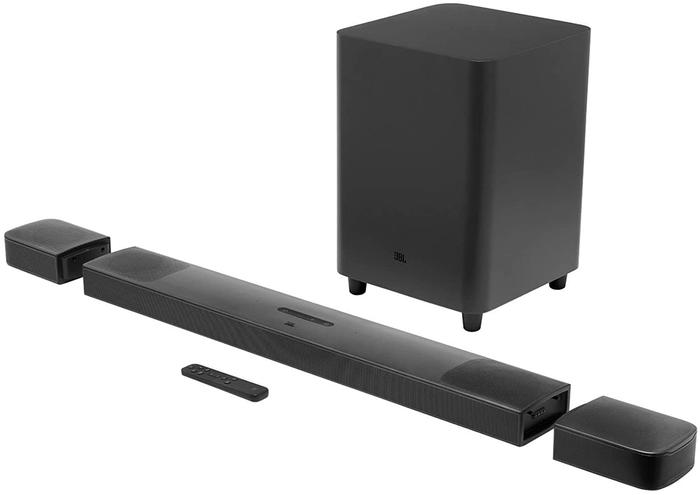 | Specification | Tested Values |
| --- | --- |
| Manufacturer | JBL |
| Model | JBL Bar 9.1 |
| Connectivity | Bluetooth, HDMI |
| Recommended For | Television, Surround System |
| Dimensions | 40.63 x 15.04 x 19.21 inches |
The JBL Bar 9.1 is a compact and attractive package in the list of soundbars which I liked for many reasons. There is no need to install speakers or cables; it can support any audio format under the sun. You only need to grab the speakers and set them in the room if you want to watch something with high-quality audio.
Plastic and Metallic Combination
JBL Bar 9.1 look like the other soundbars due to its gray casing and speakers' grills. The top and sides of this soundbar have metal, and the back has plastic. Due to their size, you may place these subwoofers away from the soundbars, but it will not be possible if you have a small space.
WiFi and Google Home Connectivity
You can set up JBL Bar with cables, which can connect with WiFi, but to use this, you will need to have the Google Home app. In this way, you can join it with WiFi and keep the firmware updated. When added to your account, it will appear in your Home app, just like the other Chromecast-enabled speakers. You can add it to the speaker's group and control it from any local device.
High-Speed HDMI Support
This soundbar contains optical and HDMI connection ports, but it is good to go for the HDMI route. However, optical can only support DTS and Dolby Digital, but you may face some bandwidth issues. The HDMI has Atmos DTS:X and provides advanced lossless formats like DTS-HD Master Audio.
Immersive Audio Quality
JBL Bar is the best budget Dolby Atmos soundbar regarding audio quality. You will get a bouncy sound that creates the best immersive experience. It is essential to adjust the speakers in your room. The sound quality does not seem to disappoint most of the time.
Benefits
It works superbly with all types of media
It provides options for docking and detachment depending on the needs
The bar looks sleek and blends well with any setup
HDMI ports allow for the HDR pass-through
Drawbacks
The screen is not user-friendly due to the simple dot matrix model
It requires frequent recharge for the satellites
One HDMI option for input seems less
7) Sony Z9F Soundbar

| Specification | Values |
| --- | --- |
| Manufacturer | Sony |
| Model | Z9F |
| Connectivity | Bluetooth, HDMI |
| Recommended For | Television, Home Theatre |
| Dimensions | 44.5 x 23.7 x 9.5 inches |
It is worthy to say that there is no Dolby Atmos soundbar like Sony HT-Z9F for better and up-firing audio. It is the best Dolby Atmos soundbars under 1000 that use drivers for front firing. But the HT-Z9F is different due to its sound field akin to the 5.1.2 system. It works virtually as it offers Dolby Atmos virtually.
Unique and Fully Featured Design
The design of Z9F is straightforward and unique. The bar is up to a meter wide and has a feature for a removable grill responsible for hiding the trio drivers. It is a full-function remote control and gives the option of touch controls for power from which you can select input and volume options. There is an IR repeater you can use if you need it.
4K HDCP and Dolby Vision Support
At the rear, you will get two HDMI inputs for connectivity which are compatible with 4K HDCP and Dolby Vision, and an HDMI with ARC. It also contains a USB port, an analog stereo 3.5 mm minijack output, and optical digital audio input. 
There is a Sony LADC extension for implementing Bluetooth, and it lacks NFC. You can also pair headphones for your private listening. Moreover, the Chromecast is built-in and has interaction with Google Assistant.
Stereo Dynamics
Sony Z9 is among the best Dolby Atmos soundbars with excellent stereo dynamics. Due to its loudness, it is perfect for large rooms and also best for crowded places like a party or show. Even it works excellently at its maximum volume, and you will not feel any thumping and compression effects while playing any sound.
Surround Quality
Sony HTZ9F doesn't use any surround satellite; they only use Sony S-Force Front Surround to increase the sound experience. No doubt it did a great job of giving the experience of sound to hear like come from around you but still, it is not as impressive as other dedicated satellite soundbars bring sound to you.
Benefits
It provides regular surround sound with a vertical S-up mixer
Controls are easy to navigate and use
The sound is spacious and balanced for an excellent listening experience
It supports DTS:X and Dolby Atmos
Drawbacks
Overhead sound is not up to the level
The dynamics seem more subtle
8) VIZIO Elevate HDMI 2.1 Soundbar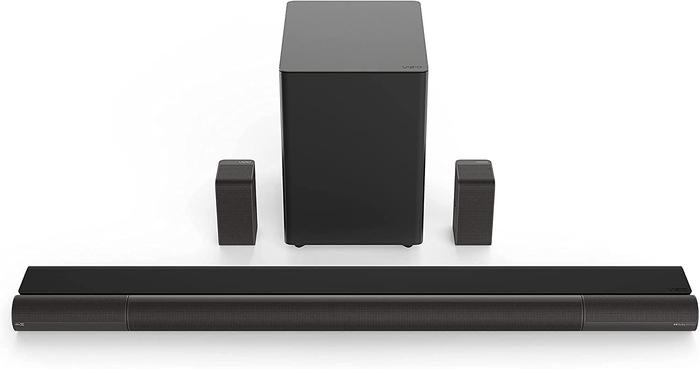 | Specification | Featured Values |
| --- | --- |
| Manufacturer | Vizio |
| Model | VOP514AH6 |
| Connectivity | Bluetooth, HDMI, 3.5 mm jack |
| Recommended For | Television, Home Theatre |
| Dimensions | 4.45 x 20 x 2.19 inches |
If you want to listen to the original sound in your home, then there is no option better than VIZIO. It will enhance the experience of your movie night. I believe there is no more convenient way than a Dolby Atmos soundbar.
Slender and Cylindrical
The design of these Best Dolby Atmos soundbars is slender and cylindrical. It has a beautiful satin silver finish and clean lines. The most extraordinary thing about this soundbar is the cutout area underside, which is specially designed for Vizio's H1 OLED TV so you can place it directly. You only need to remove and pair it carefully together but if you dint has Vizio TV, then keep the cutout attached. 
Complete Controlled Levels
One thing that will bother me about Dolby Atmos soundbars is that I cannot control the sound levels individually according to my needs. But this will change with the Vizio HDMI 2.1 soundbar because it offers control on everything like surround balance, left, right, and surround level. Atmos height channel affects bass, treble, the subwoofer level, etc.
Performance and Bass
The Elevate system contains 18 drivers between the soundbars, subwoofers, and surround. These drivers provide enough watts for the system to hit 107 decibels for the ear-splitting. Moreover, these subwoofer gets down to 30hz, sufficient for rattling your walls, but instead of any other thing, you will feel only bass in the result from your soundbars.
Connections and Ports
Vizio soundbar offers an optical connection on the left and two aux connections underneath. One of them has an intelligent speaker on the right- side. The two HDMI inputs allow you to pair your devices directly, and a third HDMI port is also available for an e-ARC connection. The first two connections give signals to your TV, and the e-ARC is accountable for getting downstream signals from your TV.
Benefits
Simple to set up and get the soundbars running
Complete control over the sound output and its levels
The design is sleek and unique
Dialogues are clear with clean sound quality
Drawbacks
It is a costly option compared to other competitors
The effects are dependent on the room size
9) Denon Home Sound Bar 550

| Specification | Tested Values |
| --- | --- |
| Manufacturer | Denon |
| Model | Soundbar 550 |
| Connectivity | Bluetooth, Auxiliary, HDMI, USB |
| Recommended For | Surround Sound Systems |
| Dimensions | 25.95 x 4.72 x 2.95 inches |
Denon soundbar is impressive because of its small size and loud sound. It is a package of performance and features for immersive sound and movie watching. It has a compact design that packs all the tools for home theater and gaming setup. If you want to be surrounded by sound, this is the thing for you.
HEOS Platform
The HEOS Platform is easy for Home Soundbar 550, which also has online features. Furthermore, you will use Google Assistant as an alternative to Alexa. You can enjoy HEOS built-in access to the Internet station and quickly get the integrated streaming services like Amazon Music and Tidal into its interference. This soundbar also supports Spotify, so you only need to connect and enjoy your music.
Effective Dialogue and Performance
It is good to say that the Home Sound Bar 550 brings terrific mileage as the performance is big than its size with apparent sound effects. The effects and dialogues will be in their position while watching anything on your screen with this soundbar. Denon can manage all the impacted places even if you have a 65-inch screen and ensure that it gives you the exemplary aspects when required.
There is no need to use any up-firing speakers with Denon. Without them, you can feel all of the verticality in the sound. The bass that comes from this single box size soundbar is fantastic. It will give a punchy, weighty, and powerful voice content with tremendous capability.
Multiple Connection Options
The lower area at the rear has reserved for ports. Here you will get HDMI input, digital optical, HDMI e-ARC, 3.5mm jack, Ethernet cable, and a USB port. All of these ports provide Denon with various options for plugging multiple devices. The HDMI input will help if you are short of a few on your TV, for instance.
Benefits
It comes with plenty of connectivity options
Audio is totally entertaining for the music
The overhead performance is unique
It supports DTS:X and Dolby Atmos
Drawbacks
It can deliver an unbalanced presentation due to volume ramping
It can cost the most for additional speakers
10) Sony ST5000 e TV Soundbar

| Specification | Values |
| --- | --- |
| Manufacturer | Sony |
| Model | ST5000 |
| Connectivity | Bluetooth, HDMI |
| Recommended For | Home Theater |
| Dimensions | 46.9 x 13.2 x 47.2 inches |
The Sony HT-ST5000 is another brilliant Dolby Atmos Soundbar with WiFi music options and compatibility with 4K HDR. This combination of soundbar and subwoofer is more than enough than the other rivals in the market. Adding a built-in Chromecast makes it more eligible and multiroom than the other competitors like Bose and Sonos.
Compact and Heavy
The HT-ST5000 e TV soundbar is compact and needs less space than others. Although it is smaller in each direction, it is still heavy enough. There is a subwoofer the size of a bowling pin along this soundbar. There are seven 65mm drivers in the front of the soundbar, three of which are tweeter mounted in the middle.
Easily Adjustable
It is good to know that Sony brings simple adjustments and settings and makes this Dolby Atmos soundbar upfront for its users. In the 'Setup,' you can adjust settings according to ceiling height and distance from the soundbar and subwoofers and alternate the balance between the front up-firing and subwoofer drivers. However, if you want to change them, go back to the settings and adjust them according to your needs. 
4K and HDR Pass Through
The connectivity and ports of this soundbar are also excellent. There is an HDMI output with three HDCP 2.2 compatible inputs, which can support 4K and HDR pass-through. It also has an optical input, a 3.5mm jack, and a USB port for various devices. There is also an option for wireless connection so that you can enjoy music by connecting it with WiFi through the Ethernet or 4.1 connection of Bluetooth.
Pack of Entertainment
The sound of these Best Dolby Atmos soundbars prevents pushing the soundbar to the sonic limits. You will not feel any harshness and strain on its vitality even if you bring its volume to its maximum limit.
The sound of this system will urge you to nod your head at the beat of whatever you play on it, the integration among the treble, bass, and midrange is fantastic, and the HT-ST5000 brings a great sense of timing and rhythm. So, this soundbar is a pack of entertainment.
Benefits
The bass is weighty for most music
It is fully compatible with the Chromecast
The input options are plentiful and diverse
It has an excellent build quality
Drawbacks
The remote design is outdated and needs a revamp
Soundbars seem expensive compared to others
Listening at a loud volume can deliver distortion
11) Sonos Arc Smart Soundbar

| Specification | Featured Values |
| --- | --- |
| Manufacturer | Sonos |
| Model | Arc Smart |
| Connectivity | HDMI, Bluetooth |
| Recommended For | Gaming, Entertainment |
| Dimensions | 3.4 x 45 x 4.5 inches |
There is no need for supplementary speakers if you have Sonos Arc Smart Soundbar, and you will experience excellent sound quality with premium surround sound. It is a perfect addition to your home cinema in a minimalist surround package. You can say that Sono Arc is an all-in-one surround system.
Wall Mounted Design
Sonos Arc is specially designed for more giant TVs and proves the best partner for the 55-inch TVs. However, if you don't have enough space for this sizeable width, there is no need to worry as it can be easily wall-mounted. Its onboard accurate play tuning software will automatically adjust the speakers' frequency according to the response.
Solid Bass Response
8 elliptical woofers are well combined so that you will hear the solid bass response, and the tuning balance is also very nice to get a clear sound to its excellent level. All of these audio capabilities make it best than all.
With this good accuracy, it can match its three silk dome tweeters and provide crips high sound level of control. It can discriminate between individual instruments, but you will not feel any type of disjoint among these particular arrangements.
Remote Functioning
Although the Sonos doesn't contain any remote with it, you can connect the soundbar to your TV through the Audio Return Channel and control it by using your TV remote, and for this, you can also use the new Sonos S2 smartphone app.
Benefits
The music playback and sound are outstanding
The audio is controlled, dynamic, and detailed
It comes with Sonos smart connectivity
It has an excellent build quality
Drawbacks
It lacks HDMI pass-through ports for connectivity
It has limited integration for the smart assistant
12) JBL BAR5.0 Multibeam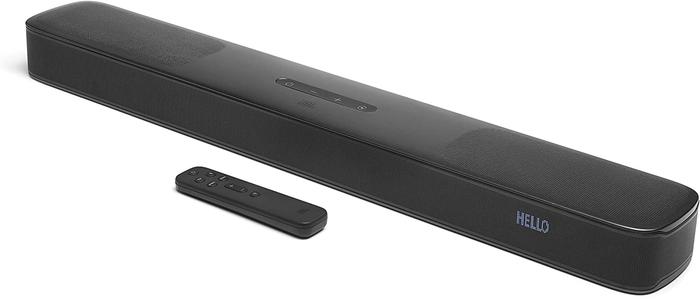 | Specification | Tested Values |
| --- | --- |
| Manufacturer | JBL |
| Model | Bar5 |
| Connectivity | Bluetooth, HDMI |
| Recommended For | Gaming, Music |
| Dimensions | 38.03 x 6.34 x 5.08 inches |
JBL Bar 5.0 Multibeam is the best Dolby Atmos soundbar under 500 with the latest audio product technology to increase the compact soundbar's popularity in the market. It can play Atmos soundtracks and bring a slot into a multi-room audio system, and you will like the sound surrounding all of the space in your room through its Multibeam technology.
Bright Display and Soft Looks
The design of JBL Bar 5.0 Best Dolby Atmos soundbars is a little bit wider, but it is shorter than the Sonos Beam. However, there is no issue with placing it beneath your TV, but if you have any space issues, you can mount it on the wall.
It has excellent aesthetics; its round edges give it a soft look, a transparent acoustic mesh grille wraps all around, and the grey metal provides an extra flash. The forefront-facings a bright display, making it easy to read anything from. The connectivity area is at the rear, and the look is neat.
Energetic and Engaging Sound
If we talk about the audio, the JBL performs in an energetic, engaging way and is more significant than you expect. However, there are some cautions, nothing you will find unsurprising given its compact form.
Various Connectivity Options
The e-ARC has full support from HDMI output for full Atmos signal. The USB port is among the connectivity options, but it serves only in the UK, playback in the US, and LAN Ethernet and optical. In the wireless option, you will get the inclusion of WiFi, which is open to its full breadth. It also provides access to Google support to the ecosystem's multi-room. Moreover, it can also give support for Chromecast.
Distinct Sound Quality
Regarding performance, the JBL works well for Airplay, Chromecast, and Spotify Connect, and the sound quality is evident. On the other side, Bluetooth is also outlain, less energetic, less agile, and very soft in tone. But there is a thing you may suffer from when you have a 5.0 compact sound stage as it will not provide whole space for music to work with.
Benefits
It has a compact size, making it suitable for the living room
A highly affordable option with loads of options
The sound is more energetic
It has multi-room support
Drawbacks
The Dolby Vision pass-through seems problematic
Sometimes the Bluetooth playback acts a little lethargic
13) Sony HT-A7000 Sound Bar

| Specification | Values |
| --- | --- |
| Manufacturer | Sony |
| Model | HT A7000 |
| Connectivity | Bluetooth, HDMI |
| Recommended For | Home Theater |
| Dimensions | N/A |
The Sony HT-A7000 is one of the top rankers among the best Dolby Atmos soundbars. It is a stylish speaker for your TV that gives you immersive sound with enhanced performance, even for the best TVs. Moreover, it can produce a cinematic effect with great sound content.
Perfectly Projected Sound
The HT-A7000 soundbar is up to 51-inches wide, and in this result, you will expect to hear the best sound for all types of movies, music, and other sound content. Sony can wisely bring the driver configuration area so the beam tweeters the projected sound through all the chambers. Due to this, a good sense of scale brings from the soundbar's soundstage.
Configurations and Effects
There is much room for all 11 drivers in which two beam tweeters, five midrange drivers, and two subwoofers fire towards the setting area. Moreover, here you will see a pair of upward-firing units on the top that will bring height elements to Dolby Atmos and DTS:X soundtracks.
Connectivity and Ports
There is a hardwired connectivity option underside of the Sony HT-A7000 soundbar. These ports support e-ARC/HDMI output, and two HDMI 2.1 inputs can handle 8K @60Hz. 4K @120Hz and Dolby Vision HDR signals. Moreover, there is a digital optical port, analog input via a 3.5mm jack socket, a USB port, and an analog output compatible with Sony Bravia TV.
Smart Features
The setup of the Sony is smartly packed, and the calibration process is also simple. You will also find a set of on-screen menus for their users. DSEE Extreme upscaling technology helps restore the audio settings and details while using the low data stream.  
Benefits
Excellent build quality and aesthetics
It comes with a room correction feature
The surround performance is at par with high-end soundbars
It offers adjustments for the subwoofer levels
Drawbacks
It has difficult to read the display
It does not have bass, treble, and EQ adjustments
14) Sony HT-A9 High-Performance Soundbar

| Specification | Featured Values |
| --- | --- |
| Manufacturer | Sony |
| Model | HT-A9 |
| Connectivity | Bluetooth, HDMI |
| Recommended For | Home Theater, Surround System |
| Dimensions | 28.44 x 8.19 x 18 inches |
If you are looking for a better soundbar solution but do not want to invest in a full-fledged home theater system, then the Sony HT-A9 is the best choice. Its wireless communication between speakers and base works impeccably and is also an excellent ability to support all audio formats. However, lacking a subwoofer may cause some suffering as the omission of a dedicated center speaker is not in it.
Four Speaker Communication
There are 4 wireless speakers and a base unit attached to your TV if you have Sony HT-A9, and all four speakers work very well. Two HDMI ports are available at the back of the base unit, and power, Ethernet, and a 3.5 mm port are also available for connection with your TV.
There is a USB port for connecting the unit. Its four wireless speakers communicate with the base, but they need to be powered up and connected to any outlet on your wall. That's why you can place them on a table or sitting instead of mounting them on the wall so that you can connect their electric wires from them to the outlet.
Complete 360-Degree Sound
The best thing about the HT-A9 is that there is no need to place these speakers in you at the exact place for better sound because they are wireless and are capable of connecting automatically, so they create a dome of sound by adjusting the sound level. You will the sound come from everywhere no matter where you are sitting in your room.
Every speaker has its up-firing speaker with a soft dome tweeter and a wide directivity woofer with two microphones. They all work together to bounce the sound all over the room, and they can create an additional twelve "phantom" speakers for a complete 360-degree sound setup.
Wireless Casting
The four wireless speakers of HT-A9 communicate through a tiny box bigger than an Apple TV. Through e-ARC, this box is connected to the TV and also provides you wireless connectivity for Bluetooth. Airplay and Google Cast so you can enjoy everything on your TV screen. Moreover, you can also attach your phone, tablet, and other devices for more fun.
Benefits
The sound seems real and immersive
It has a loud and clear sound
Comes with the support for all audio technologies
It has wireless connectivity
Drawbacks
It is pricey compared to many other soundbars
It doesn't offer smooth working with high ceilings
15) SENNHEISER AMBEO Soundbar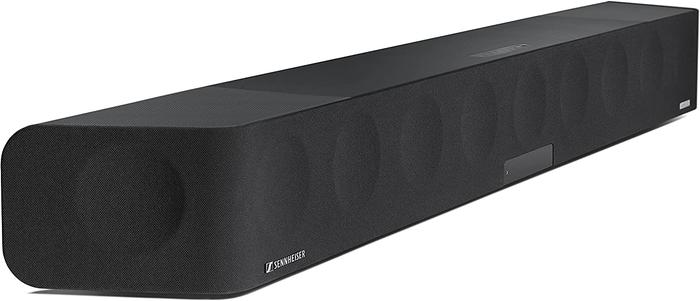 | Specification | Tested Values |
| --- | --- |
| Manufacturer | Sennheiser |
| Model | Ambeo Soundbar |
| Connectivity | Bluetooth, HDMI |
| Recommended For | Television |
| Dimensions | 49.8 x 6.73 x 5.31 inches |
The last on by list for the best Dolby Atmos soundbars is Sennheiser Ambeo soundbar. Although I have listed it at the end of the list, it comes with all the perks and features you can expect from an expensive soundbar. It has good connectivity, and options are ample for the users.
Space Friendly Design
The AMBEO is a space-friendly soundbar, but it is not flexible. It is like a beast, too heavy, and requires some creativity to get to the place. Some soundbars combine arrays of small drivers with separate subwoofers, but Sennheiser is made for oversized drivers.
Naturally Processed Audio
The most impressive thing about the AMBEO soundbar is that it is well set up and will draw your attention. The processing is natural, and you will not feel any inconvenience, and there is no beamy, nasal bleakness as you face in other soundbars setups.
The sound content of AMBEO is good for everything we watch, and it brings us to feel some kind of spaciousness that looks natural even for standard 5.1. But at the same time, it may affect the tone of the audio source, and at higher settings may also lessen the impact of sound. However, the high frequency may not be bearable for everyone.
eARC and Dolby Atmos True HD
For connectivity purposes, three HDMI 2.1 ports will support e-ARC, which means they can easily handle Dolby Atmos True HD format. But these ports cannot deliver next-gen gaming features like VRR and ALLM. They can only pass the external signals in 4K HDR, including Dolby Vision.
These HDMI are Ethernet sockets and also provide support for WiFi. The USB port is also available but only for updates, optical input, and a stereo RCA aux-in. It has a subwoofer, and you can add a dedicated bass unit.
Benefits
It has immersive, natural, and rich sound
The details and dynamics of the audio are perfect
It mimics the sound effects with convincing surround
The connectivity options are plentiful and practical
Drawbacks
The body of the soundbar is slightly large
It is pricey compared to most other soundbars
How to Choose the Dolby Atmos Soundbars?
Here are some main factors to consider while buying the Dolby Atmos soundbar:
DTS:X Compatibility
Although Dolby Atmos and DTS:X technologies are not a big difference, finding a soundbar that can perfectly support them is impossible. If you want to enjoy the high-quality sound while watching movies on Amazon Prime Videos, Netflix, and Disney, then go for soundbar support for Dolby Atmos. But before buying the best Dolby Atmos soundbars, consider these factors.
Subwoofer Facility
To enjoy low frequency, pick up the soundbars with the large dedicated subwoofer. There is no matter whether these are wireless or integrated. However, some soundbars can provide a wide range of sound without a subwoofer, but some models come with it.
Voice Assistants
If we look at the best Dolby Atmos soundbar, one comes with Google Assistants and Alexa support. Some bars, like Sonos Arc, let you choose between these virtual assistants. They become instrumental while controlling the music by remote. If 2you want to enjoy home theater, these voice assistants prove more helpful and can give your TV support these technologies.                                       
Placement of Soundbar
When looking for a soundbar, you will also be concerned about where to place it. Some users want to put their TV on their media unit and place it in front. But sometimes, it becomes difficult to use the remote control or access the bottom of the TV if the stand is not high. There are various low-profile soundbars for the position, so choosing the one best for you is essential.
Streaming Support
Today these soundbars are connected to WiFi, and you can enjoy music streaming even if your TV is off. So it is essential to consider that your soundbar also supports all of the streaming methods of your choice like Spotify Connect, Airplay, and other devices. Some of the soundbars will give support for Bluetooth streaming.
The selection process of the best Dolby Atmos soundbar does involve a lot of research. Finding the best soundbar loaded with all the required options does seem challenging. It requires proper market research and trying them practically to know their potential. I have done this work to provide you with a list of 15 top-ranked Dolby Atmos soundbars. You can choose them according to your room and audio requirements. I prefer SAMSUNG HW-Q950T Dolby Atmos Speakers above other soundbars due to their options and audio quality. These Best Dolby Atmos soundbars produce 3D true sound for Dolby Atmos and DTS:X for an immersive experience. The 20 speaker's setup provides the sound quality equivalent to the high-end home theater and multimedia setup.

Best Recommended Product
Is Dolby Atmos soundbar worth it?
Most online streaming platforms offer Dolby Atmos support. If you have a similar home theater setup where you stream Blu-rays and Netflix content, Dolby Atmos soundbars are worth it. They offer a natural listening experience that makes them a definitive candidate for a home theater or multimedia setup.
Is Dolby Atmos better than DTS?
DTS:X supports higher bit rates and thus provides a fine sound quality. On paper, it may seem advantageous over Dolby Atmos, but in reality, it is not that simple. The Dolby Atmos offer better codecs support, making them comparable and sometimes at par with the DTS:X despite the lower bit rate.
Does Dolby Atmos improve sound quality?
The Dolby Atmos has improved sound quality over many other standards. It happens because it has object specific audio system enhancing the sounds and providing the amplifications more vividly.