Acoustic guitars are capable enough for serious performance without requiring any amplification. Yet they sometimes need a boost to add more depth and effects to the native sound. Usually, it happens when playing guitar for a large audience at a party, street play, or a local coffee shop. All this amplification can be addressed by using the best acoustic guitar Amp. It is a handy tool that can boost the guitar sound while helping you add more to it without much tunning.
Although the acoustic guitar Amp world is full of options with similar features and performance, thorough research is still needed to buy the right one according to the need. So, I wrote this article for those who want an expert opinion when buying the best acoustic guitar Amp for busking or gigs. I have used all my guitar playing and product testing knowledge when creating this handy guide. Dive into it and look at the brief review to find out what suits you best when purchasing this handy tool for your guitar playing.
5 Best Acoustic Guitar Amps 2023
Table of Content
I have looked at several acoustic guitar Amps (either used by me or available at major online retailers) for selecting the top 5 acoustic guitar Amps for this article. Although there were similarities in power, rating, and basic features, the performance was the primary ground where they varied.
So, after testing for a few weeks, reading recommendations and reviews, and discussing with my fellow guitarists, I have gathered enough data to sort out the top options. Let's look at these options individually and see what they offer!
Complete Guide: How to Restring an Acoustic Guitar?
1) Fishman Loudbox Mini Acoustic Guitar Amp
| Specifications | Values |
| --- | --- |
| Manufacturer | Fishman |
| Connectivity | Bluetooth |
| Output Wattage | 60 Watt |
| Compatible Device | Guitar |
| Dimensions | 26 x 16 x 16 inches |
Fishman Loud box Mini Acoustic Guitar Amp is one of the most reliable tools for producing the sound of acoustic and diverse vocal instruments. It is a lightweight and portable amp that makes sure to give out standard acoustic sound. The Bluetooth connectivity option made it easy for me to practice by playing backing tracks and other vocals for your performance and practice sessions.
Lightweight Body Design
The Loud box Mini BT 60 is one of the lightest APM of the Fishman series. It is very portable, and you can easily manage to keep it with you. The quality of sound delivered by the Loud box Mini is a trademark and makes a standard for great acoustic sound.
Channels and Performance
Loud box Mini is a pack of 60-watt power and comes with two channels with the legendary preamp and tone control design. The other features are digital reverb and chorus for the instrument channel and microphone. Moreover, it supports an XLR DI output and AUX input. They will prove helpful for jamming and capturing your performances.
High-Performance Amplifier
Fishman is well known worldwide for its better performance and warm, accurate sound. That's why even working for the last 35 years; they sold over 7 million acoustic instruments of different styles and kinds. They have a keen eye for making amplifiers to create real musical sense. Due to this reason, most acoustic guitarists pick up Fishman Loudbox more than others.
Classy Aesthetics
The Loud box Mini has a fundamental and elegant design with the touch of its vintage Fishman design. The look is very classy, with the brown and tan motif making Fishman recognizable and giving them a unique look. The front panel contains easy controls. You only need to read and adjust.
Easy-to-Access Controls
You can use simple controls in a relaxed and confident way. However, if you want to adjust, there is a far-left instrument channel with a phase switch. You can adjust high, low, mid, chorus, and reverb with a knob.
These settings are simple but very essential for changing the style of tone. There is another set of mid, low, high, and reverb knobs for the Mic channel that help you manage a wonderful vocal mix. There is only a need to plug in adjust knobs and make a brilliant performance to surprise others.  
Versatile Connectivity
Fishman is a pack of features and connectivity options that increase its value. The Bluetooth ability is a great addition and makes it more powerful. You can use it according to your needs, like jams, practicing, add backing tracks. Even you can also break music between sets with its Bluetooth feature. You will see that it becomes more valuable than others.
Benefits
It can last for long hours on a single charge
The speaker system and tweeter have a full range
Both channels offer independent EQ for playing
It offers Bluetooth connectivity for smartphones
Drawbacks
The outputs options are not diverse
It lacks a looper
The depth of bass may feel lacking due to the small woofer
2) Fender Acoustic 100 Best Acoustic Guitar Amp for Gigs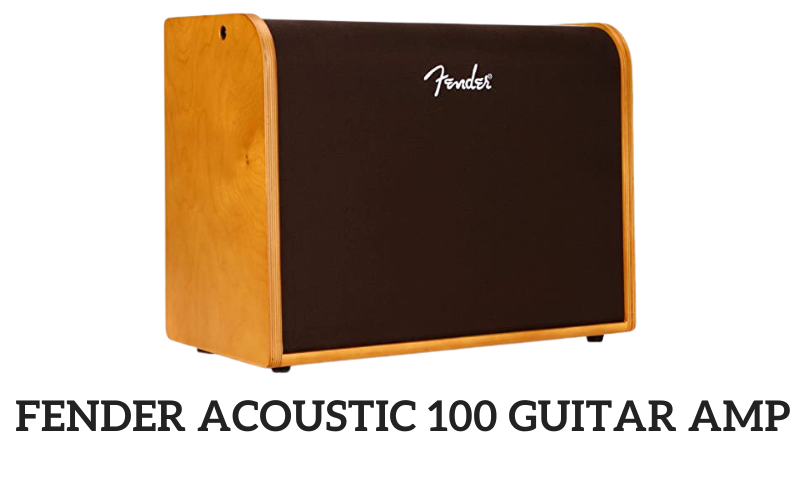 | Specifications | Values |
| --- | --- |
| Manufacturer | Fender |
| Connectivity | Bluetooth, USB |
| Output Wattage | 100 Watt |
| Compatible Device | Guitar |
| Dimensions | 21.8 x 13.1 x 18.3 inches |
Fender Acoustic 100 guitar amplifier is the best acoustic guitar Amp for gigs. It will be a good choice if you want to play it live. I looked closely at various popular amplifiers and found that the manufacturer of Fender delivers their best in this regard. There are lots of features in it for ease of use. I think Acoustic 100 is very suitable for every style of playing.
Range and Channel
Fender offers you two separate channels for playing with the sounding 8″ full-range Whizzer cone speakers. You can play it according to your needs, allowing you to play the guitar and sing simultaneously. This model gives you the power of 100 watts for playing the guitar. 
Functional Effects
The manufacturers of Fender equipped it with a quality amplifier with significant functional effects. I find with it the functional effects of Delay, Vibratone, Reverb, and Tap Echo. But instead of all these features, there is one top thing it's 3-ban EQ that will give you more control over your tone.
Wireless Connectivity
The connectivity option of any product is significant. Now every intelligent gadget needs a wireless connection for easy handling. So as Fender gives to its users. It has a Bluetooth connectivity option, which you can easily pair with your smartphone. In this way, you will be able to stream back your tracks and music.
Elegant Minimalistic Look
The Fender Acoustic 100 brings a great aesthetic sense and looks great from the outside. I am more than happy with its elegant minimalistic finish. It's durable and made from reliable material to work for you as a good companion for years.
Affordable and Versatile
The Fender is not cheap; I think it is one of the most expensive amps of Acoustic 100 if we compare it with other models of Fender. But in my experience, this price is worth it due to its features, exclusive sound quality, and versatility. It's worth every cent!
User Friendly
I find it very easy to use various styles of music. It is up to you, which kind of music you want to play, whether slow or subtle fingerstyle songs or louder rock tracks. This Amp will work great and be a proven good pick for you.
Benefits
It offers more selection for the effects
The support for the USB direct recording is phenomenal
Its Whizzer cone offers a full range of sound
The design blends well will other equipment
Drawbacks
It packs a slightly higher treble
It is not suitable for cranking hard
3) Roland AC-33 Best Acoustic Guitar Amp with Mic Input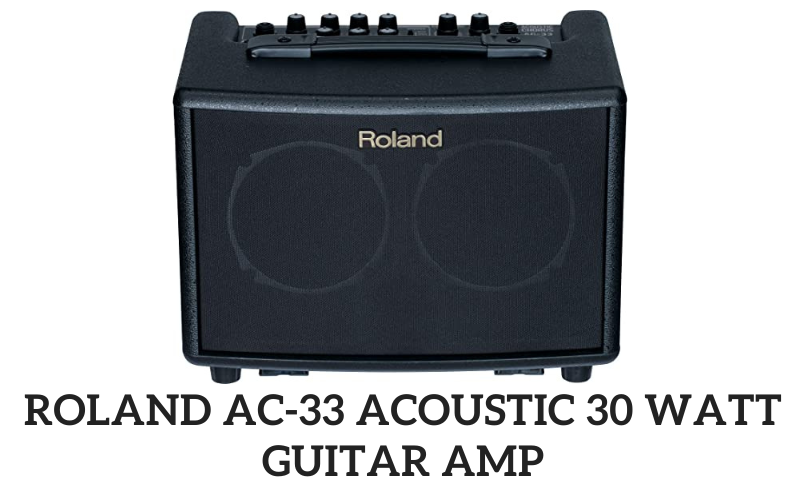 | Specifications | Values |
| --- | --- |
| Manufacturer | Roland |
| Connectivity | Wired |
| Output Wattage | 30 Watt |
| Compatible Device | Guitar |
| Dimensions | 15 x 11 x 13 inches |
Roland AC-33 is the best acoustic guitar Amp with mic input and built-in effects. This Amp is excellent due to its portability and can go places where no amp has gone before. You can bring it where your imagination leads you with excellent battery power. I also find this amp guitar one of the most interesting due to its anti-feedback and phrase looper.
Dual Powered
The battery power of AC-33 is incredible and capable of running on AC and battery power. Thanks to this excellent battery power, you will use it everywhere, even in the backwoods, streets, and where your mind leads you. It is the best acoustic guitar Amp for home use as you don't need repeated recharge during use.
Dual Channels
Roland's best portable acoustic guitar Amp has a Bluetooth connectivity option through which you can pair it with your smart gadgets. Moreover, you can also plug in two acoustic guitars or single guitar and a microphone. Furthermore, you can also plug in a CD or MP3 player, which amplifies the signals with rich stereo sound. 
Built Quality
When it comes to the build quality of AC-33, it touches top-notch here as well. It is very compact and lightweight, so keeping it with you while moving from one place to another is straightforward. You will get a built-in tilt stand with it. The AC-33 comes with rosewood-look cabinets with a black finish. This attractive wood and stylish finish will match your living room and acoustic guitar.
Natural Sound
The Roland AC-33 contains the latest DSP technology, which provides rich high acoustic sound with projection. This stereo design enables a multi-band chorus. Moreover, its Wide mode, reverb, and 3D-type effects are specific for acoustic guitars. You will get 30 watts of natural sound from its twin speakers.
Versatile Features
There are two channels of AC-33, and they have dedicated volume controls, chorus, and multi-ban EQ. its mic channel has XLR and 1/4′ inputs. The CD or MP3 player can connect to play for practice or performance. The ambiance, reverb, and volume keep you playing the Amp at full potential without any issues.
Benefits
The build quality and presentation are excellent
The tone has more width due to better stereo
It offers sound features with excellent sound
Impressive premium quality onboard graphics
Drawbacks
Slightly moderate looper
Output options are not according to modern standard
4) BOSS Acoustic Singer Live LT Best Acoustic Guitar Amps Under 500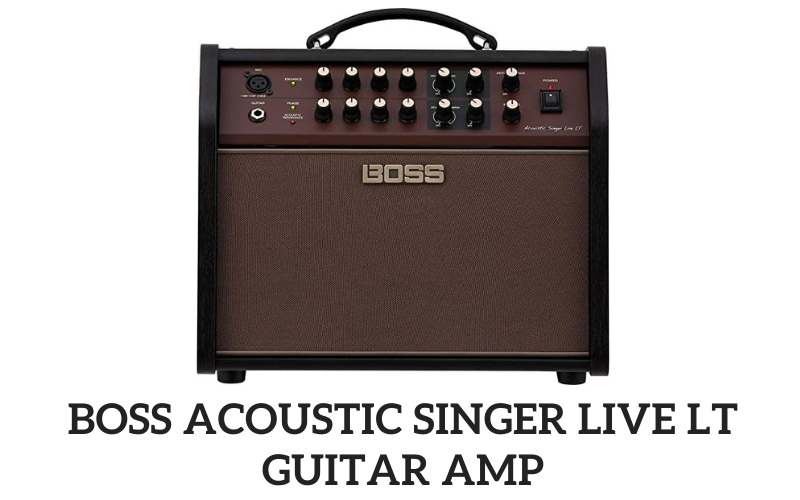 | Specifications | Values |
| --- | --- |
| Manufacturer | Boss |
| Connectivity | Wired |
| Output Wattage | 60 Watt |
| Compatible Device | Guitar |
| Dimensions | 14.33 x 10.67 x 11.81 inches |
Boss is one of the most famous amps in the series of acoustic guitars which provide good performance. Its speakers, design, and high-definition quality add extra marks to its features list. I keep the Boss series Acoustic Singer Live LT quite well above many other competitors in performance and quality. Its onboard controls will make developing new ideas for your live shows easy.
Improved Aesthetics
The Boss Acoustic Singer Live LT has a very compact design with a tilt-back cabinet which add punch and clarity. Regarding the chorus and delay, the Boss gives quality tones and dimensions. However, I prefer its colorful ambiance reverb. The Live LT can rate at 60 watts of power for playing.
Powerful and Independent Amplifier
It has a robust design and will customize for a 6.5-inch woofer and dome tweeter. The Boss will drive by two independent power amps so that you can get a quality-optimized sound with a complete, efficient response.
Multiple Channels
The Boss Acoustic Singer Live LT is among the best acoustic guitar Amps under 500 with both guitar and mic channels and comes with analog input circuitry. There are 3-band EQ, phase switch, anti-feedback, Acoustic Resonance switch, and an enhanced effect on the mic channel. All these features make it very comprehensive and make sure to provide better performance.
Onboard Effects
The onboard effects are significant and helpful for handy performance. There are various onboard effects like delay, the chorus on the guitar channel, echo on the mic channel, and independent reverb on both channels available in Boss acoustic guitar amp.
Diverse Connectivity Options
There is a USB audio port for your computer recordings or playbacks. Its rear panel consists of Aux input with the control of levels of the music. Moreover, an XLR DI jack and two input jacks are also there for guitar controls and mic effects.
Easy Setup and Connectivity
My Taylor 12-string and Martin OM -28 will require a quick dial for an easy and straight setup. I experience a green setting here on the Acoustic Resonance switch for a smooth voice. The exciting thing is that it's a handy USB out from where I can connect my computer or other intelligent devices for actual performance.
Natural Sound and Range
You will experience natural sound if you have the Live LT, which excels over other options by providing silky sheen vocals. Adding a splash of reverb also increases the depth of sound when used with the best acoustic guitar amp settings. I didn't experience any problem with the range and natural sound delivered by the Acoustic Singer.
Benefits
The effects quality is right on the spot for guitarists
It has several features ideal for live performance
Better for affordability and portability
The tonal quality is excellent
Drawbacks
The design is not much attractive
Pro and Live models have a slight edge regarding features
5) Vox VX50 AG Best Acoustic Guitar Amp Under 300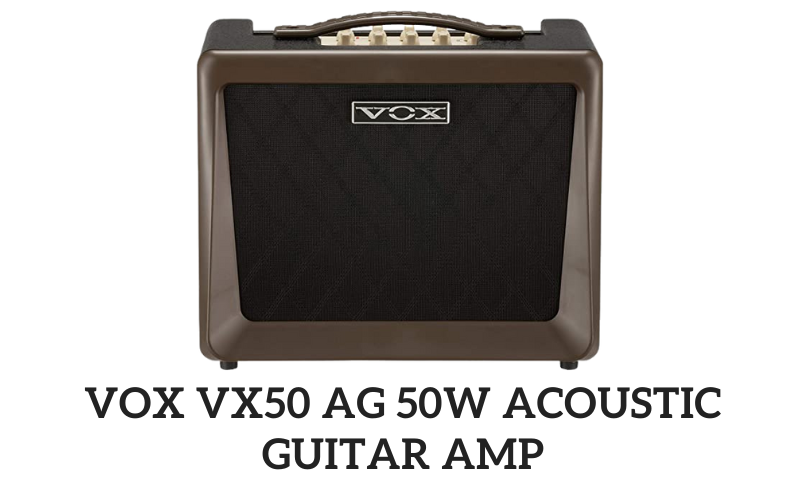 | Specifications | Values |
| --- | --- |
| Manufacturer | Vox |
| Connectivity | Wired |
| Output Wattage | 50 Watt |
| Compatible Device | Guitar |
| Dimensions | 8.19 x 12.32 x 13.94 inches |
The Vox VX50 Best Acoustic Guitar Amp under 300 is a unique acoustic guitar amp joined by a new model featuring Nutube, the new vacuum tube. It will provide you with a very natural uncoloured sound with excellent rich volume and can cover all areas with detailed powerful strokes. It is a one-setup unit you can quickly bring where you want and is also perfect for onstage monitoring.
Lightweight Body
The AG 50W is very lightweight, and I was wondering if, when I pick it up, there is an amplifier in it or not. But the Amp was in there and still had no weight compared to the acoustic guitar. The overall weight of this whole box is almost 4.1kg.
Tube Tone for Natural Acoustic Sound
When you connect your acoustic guitar with Vox, you will get a thick harmonic, and woody tone from its speakers. This tone will come out after processing through a Nutube-equipped preamp of Vox. However, acoustic guitarist use processing the sound in their studios.
But Vox VX50 AG gives it a modern impact, and you can do it while performing onstage. If you use this Vox once, I bet you will remain surprised and think that is why the other acoustic guitars don't contain these tubes.
Ideal Controls
The Vox AG is the best acoustic guitar amp for beginners; that contains two channels, making it ideal for singers and other players who love to perform. These channels can boast input for 1/4″ instruments and XLR cables. Due to its phantom power ability, you can use XLR with your required microphone.
Moreover, there are onboard reverb and chorus; they can utilize separately or together. All these features will provide three-dimensional quality to your tone so that you can enjoy it.
Ease of Use
The ample output, bass reflex structure, rich low-frequency sound, and Coaxial speaker keep it to a high level. It is equipped with a mic input with phantom power with the support of vocalist performance and all their control by a single knob. Applying chorus and reverb to the mic and guitar is also straightforward.
Channels and Performance
When it comes to channels, they offer two channels and mic input with phantom power to give more versatility for instrumental play. Here you will also find the built-in reverb and chorus, which both work for two channels. Vox provides 50W for your onstage or studio performances with its combo features.
Lightweight and Compact
The VOX VX50 AG is a compact and lightweight amplifier with 50W output power. Its rich tone and natural sound are courtesy of the Nutube-equipped preamp. I liked its amplification of the sounds and how well it preserved the sounds during live performances.
Onboard Effects
The quality of sound of the VX50 AG best budget acoustic guitar Amp brings both Instrument and Mic channels. The exciting thing is that they contain independent EQs. Various onboard effects, like a host of input and output jacks, make it perfect for guitarists.
Benefits
It offers great value for the features offered
The build is sturdy and lightweight
It has energy-saving auto power on and off features
The tone quality is vibrant and warm
Drawback
It lacks the option for a footswitch
Best Acoustic Guitar Amp Buying Guide
Have reading the above best acoustic guitar Amp reviews added more questions in your mind about selecting the right option? Don't worry! I will guide you more about these Amps by listing the features you must consider when buying them. This list will help you narrow the choice depending on your requirements.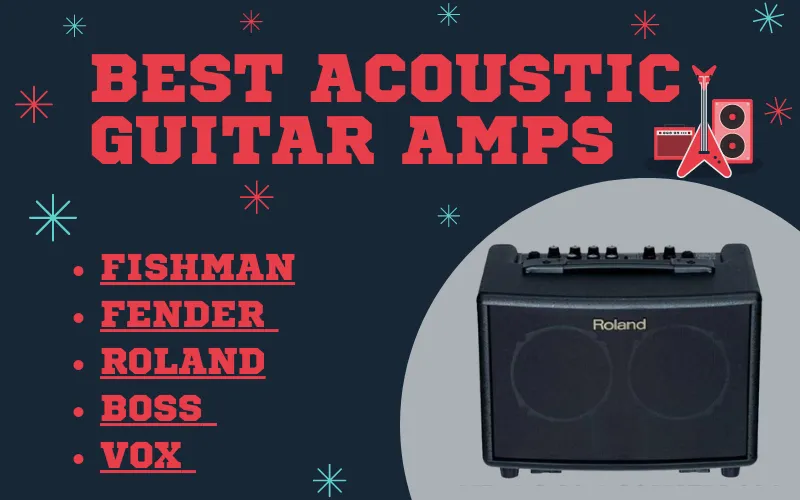 Output and Wattage
You can find acoustic guitar amps anywhere from 5 watts to 100 watts. The wattage you'll need depends on what you'll be using your amplified tone for and how loud you want it to be. If you're playing small gigs or practicing at home, a lower wattage Amp like Roland AC-33 will do just fine.
But you'll want to go with a higher wattage if you're playing large venues or need more power for other purposes. In this regard, Fender Acoustic 100 is the perfect choice due to the 100W of raw power for loud performance.
Speakers Performance
Combo amps are a great space-saving option for those who want to have both an amplifier and speaker in one unit. The size of the speakers varies depending on the power of the Amp. In some cases, the cabinet houses multiple speakers.
If you're looking for the loudest sound possible, you'll want to choose large speakers to move a lot of air. BOSS Acoustic Singer Live LT and Fender Acoustic 100 offer loud sound due to more air movement through the larger speaker.
On Board Effects
Acoustic guitar amplifiers are designed to replicate the organic tones of the guitar as best as possible. Still, they also often have built-in ambient effects that enhance the sounds of the guitar. These effects might include replications of ear-pleasing room effects, like reverb or chamber echo.
Many acoustic guitar amps have several built-in effects, such as reverb, chorus, flanger, delay, and echo. However, these effects are unnecessary to get a clean and accurate acoustic tone. Having built-in effects mostly depends on your taste and preferences.
Channels and Inputs
Most acoustic guitar Amps work on dual channels, enabling them to operate the guitar and options to let the vocal mic plugin. It completes the setup for the guitarists singing during the live performance.
All the options listed above have two channels for bringing more versatility to your live performance or recording. You can utilize these channels to get various tasks like rehearsals, recordings, and live performances. However, the best acoustic guitar amp under 200 does not have two channels in most models, which you must remember when buying.
Portability & Handling
The size and weight of your amplifier are something you should take into consideration if you plan on using the same one for both practice and performance. If you need to be able to move it around quickly, then a 50-watt Roland AC-33 is the best option. If you're able to budget for two amplifiers, this becomes less of a concern, and you can opt for a bigger model like the Fender Acoustic 100.
Acoustic guitars are great for playing your favourite tunes to the audience or leisure time when you want to play some guitar tones. It is okay for solo performances and playing for a few people in a room. But the best acoustic guitar Amp is handy for amplification and louder sound. It improves the overall tonal quality and lets you add more depth and effects. All the acoustic guitar Amps listed above are capable enough to help you play the music you want. You can select anyone according to your needs, but if you want an expert opinion, Fender Acoustic 100 Best Acoustic Guitar Amp for Gigs is my favorite one. Its output is according to the Fender standard, and you won't be disappointed when recording a gig or practicing with it.

Best Recommended Product
Do you need a unique amp for acoustic guitars?
For most tasks, the answer is straightforward. When playing for a solo or small gathering, you don't require a unique Amp for acoustic guitars. But if you need amplified tone and louder sound, investing in a high-quality acoustic guitar Amp can give better results.
What size Amp do I need for an acoustic guitar?
The size of the Amp depends on the nature of your use. If you want to practice the guitar, investing in a 5W-30W Amp is more than reasonable. However, if you require Amp for live performance and gigging, anything between 50W to 100W is enough.
What makes an acoustic guitar amp different?
Acoustic guitar Amps are different from electric guitar Amps. They are not acting as PA systems only as they have more options to control the effects and other settings for retaining the natural sound. In contrast, electric guitar Amps are not that capable of retaining the natural resonance.
Is a 50-watt guitar amp loud enough?
50W guitar Amp is suitable for most scenarios for gigging and live performances. However, it depends on the models, and the performance of each one decides the overall loudness of the Amp. The output level also relates to the loudness, so multiple factors decide the loudness of an Amp.
Do bigger guitar amps sound better?
The bigger and louder Amps are opposites when we look at the sound quality. Usually, a bigger Amp sounds louder with a clean headroom to offer more loudness before reaching the "break up" point. The loudness and sound quality also link with the wattage and type of hardware used for making the guitar Amp.