Connecting your Bluetooth speakers with your Vizio TV takes home entertainment to the next level, and it takes a straightforward process. You only need to grab speakers with Bluetooth facilities and turn them on. Hold your Vizio TV remote, go to settings, find the Bluetooth Audio Out option, and select it. You will find them connected in a moment. It is how to connect Bluetooth speaker to Vizio TV; for more details, stay tuned.
Immersive music experience with seamless connectivity is a blessing for buffs, and guess what? This article will make you learn everything in detail about connecting Bluetooth speakers to the Vizio TV. You can even switch the speakers' connectivity from a TV to a smartphone, tablet, etc. Whether a gaming session with friends or a movie night with your loved ones, Bluetooth speakers with Vizio TV can get the best entertainment sessions.
Is Vizio Smart TV Bluetooth Compatible?
Yes, Vizio TVs are entirely Bluetooth compatible, and you can connect multiple devices such as speakers, headphones, keyboards, etc. Bluetooth feature is a blessing for TV users because it gives them a hands-free audio and video experience. The connectivity protocols are super easy with the Bluetooth facility.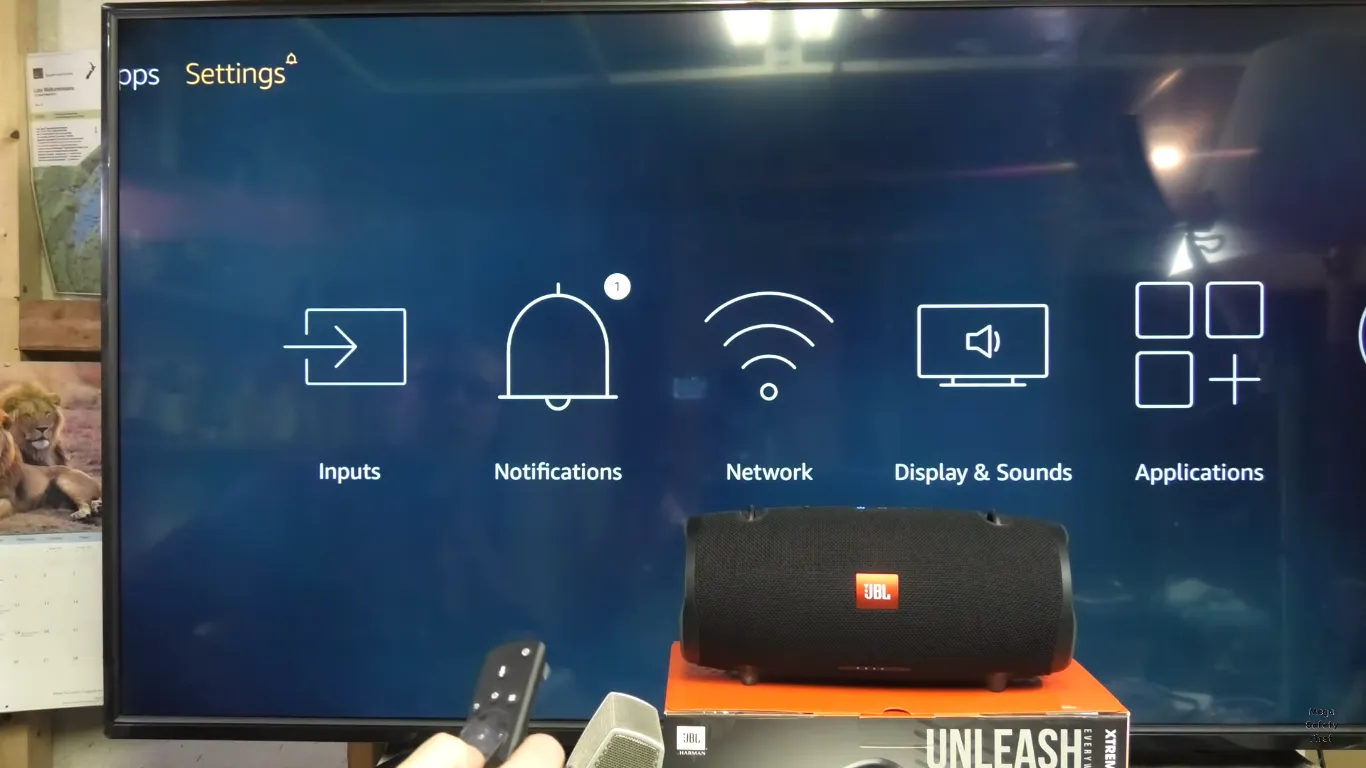 No Bluetooth? How To Add Bluetooth to A Vizio TV?
No worries if your Vizio TV doesn't offer a built-in Bluetooth facility; you can add it yourself with the help of an external adapter or a transmitter. Once you get the transmitter or adapter on board, you can get the desired device for connectivity. It eliminates all the cords and allows you to enjoy a wireless audio experience. Before I take you through a detailed process, you can learn how to connect mp3 player to car stereo without aux.
How Do I Get My TV to Play Through My Bluetooth Speaker?
Here is how to connect Bluetooth speaker to Vizio TV with a simple and easy-to-follow process. There is no rocket science or no requirements that you can't arrange for the job. So, let's get started.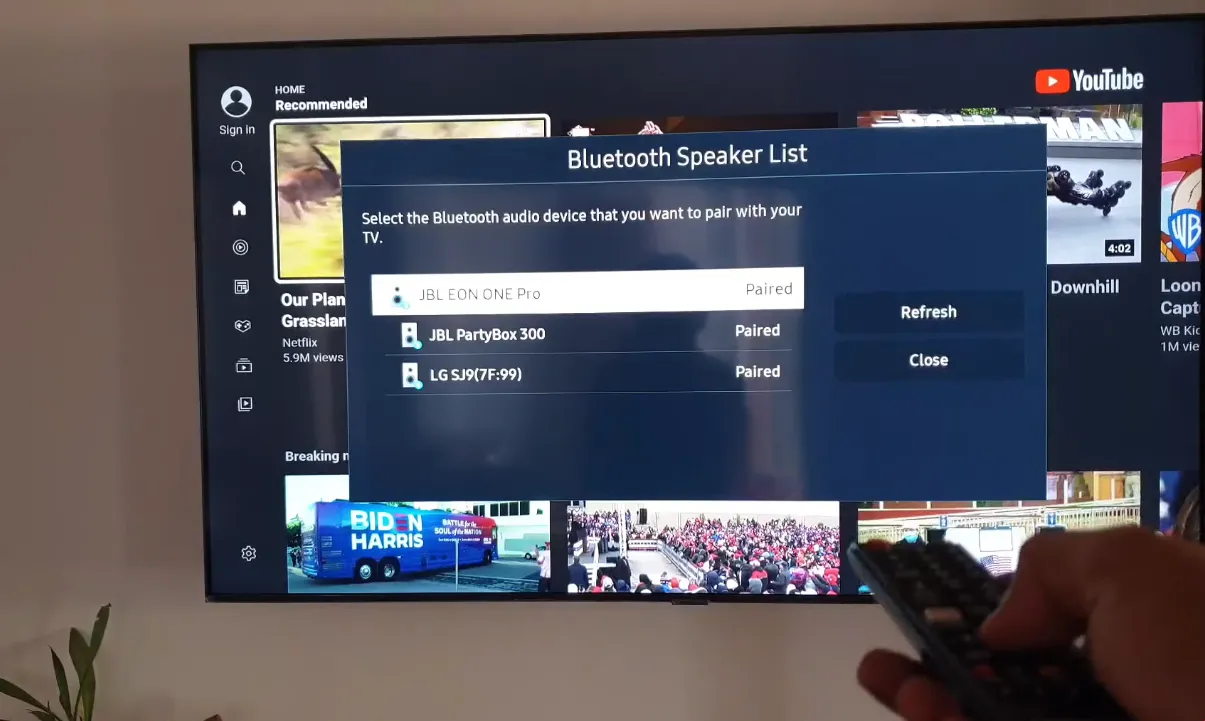 1) Prepare Your Bluetooth Speakers
First, you need to ensure that your speakers have Bluetooth compatibility and are fully charged. Moreover, the pairing mode should be on. You can also get help from the speakers' manual. It gets you every possible guidance in text and pictures for better understanding.
2) Turn On Bluetooth On Your Vizio TV
Now, you need to turn on Bluetooth on your Vizio TV, and for that, you need to access the TV menu. Once you open the menu, you will find Bluetooth settings. Here, check the button; if it is off, turn it on. But before you turn it on, you need to ensure that the speakers are fully charged, or else you may lose connectivity between the processes.
3) Get Access to the TV Menu
Access to the TV menu helps you learn more about audio settings, and you can fix them as you like. You can increase or decrease volume, bass, and other technical details here to get the desired audio immersive experience.
4) Start Pairing Devices
After doing so, you are good to search for the devices available to pair up. Once you find the desired instrument in the available audio device list, you can tap it for connectivity. It will take no time to build a successful connection. You can also consult the manual to fix the PIN settings for security purposes.
5) Enjoy Non-Stop Audio Files
Once you complete the pairing process, you can see the speakers connected to your TV. So, it is how to connect Bluetooth speakers to your Vizio TV. Now, you can enjoy a seamless audio experience with no hurdles of cords and cables.
Can You Pair AirPods with A Vizio TV?
Look, no built-in facility offers connectivity to airports with a Vizio TV, but getting a transmitter or an adapter is a way forward. Before you buy a transmitter, you need to check the compatibility requirements, and if they are good in the given scenario, you are good to go.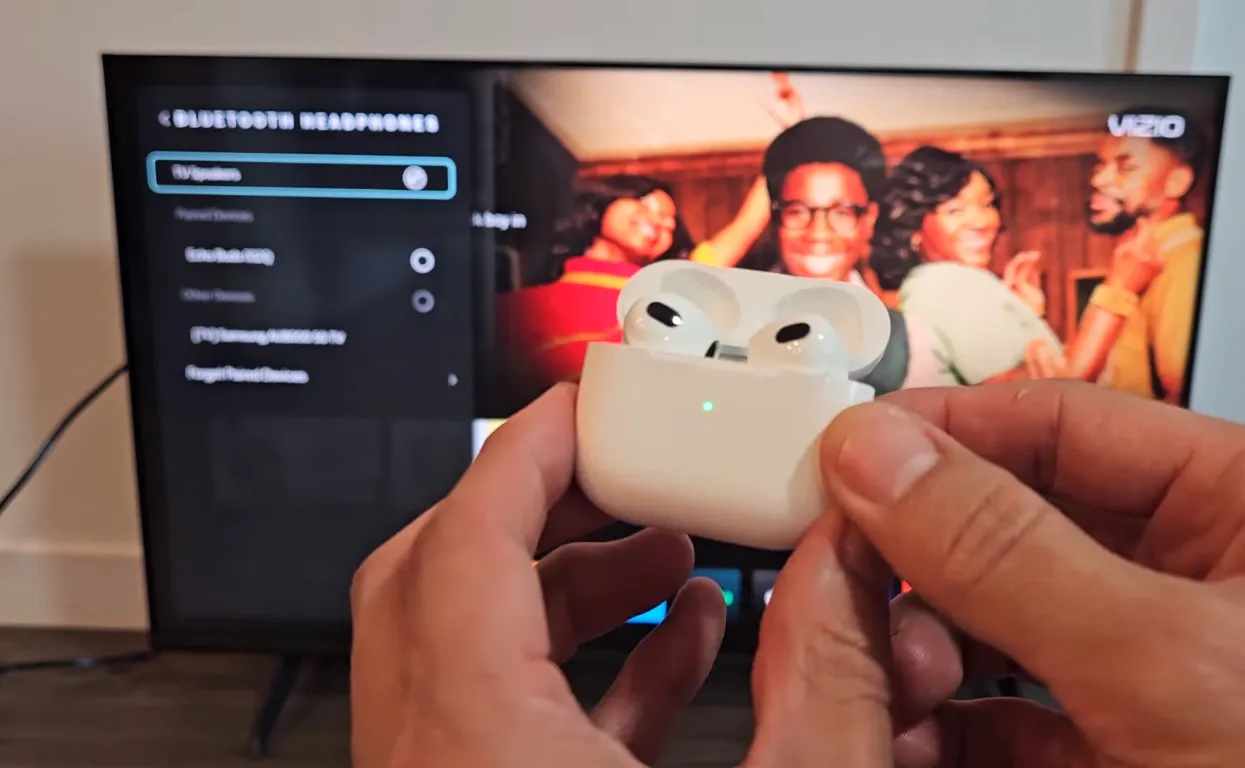 Can You Pair Your Phone With A Vizio TV?
Yes, you can indeed connect your phone to your Vizio TV. There are multiple ways to pair it, including Bluetooth, HDMI connections, Screen Mirroring, etc. However, pairing through Bluetooth is the easiest and doable in all conditions.
Moreover, it is easy, comfortable, and trendy. Above all, it asks for no extra cost because most Vizio TVs offer a built-in Bluetooth facility, which is a plus.
Have you learned how to connect Bluetooth speaker to Vizio TV? It takes no pro skills or expertise but fundamental knowledge. All you need to do is to arrange Bluetooth speakers with Vizio TV that is fully compatible. Then, turning the Bluetooth on and paring them is a gateway to the best audio experiences. If one device doesn't offer Bluetooth facility, you can still connect it by using an adapter or a transmitter.

Wrap Up:
Do Vizio TVs connect to speakers?
You can connect Vizio TV to the speakers you arrange externally. There is no hard and fast rule to enjoy audio outputs, but a good pairing of Bluetooth between Vizio TV and speakers. You can also connect them through an RCA cable of 3.5mm, an adapter, or a transmitter.
How do I put my Vizio TV in pairing mode?
There is a simple process to follow. You need to get access to the TV menu, find the Bluetooth settings, and turn it on. Remember to follow on-screen instructions for a smooth audio output. Once you pair them up, you can enjoy non-stop audio files you like.