Are you trying to play electric guitar without Amp and thinking whether it will work? Do you need Amp for electric guitar? Well, it depends! Although an electric guitar can produce sound without using an amp, it will not provide a clear audible sound on its own compared to an acoustic.
You may need to spend money on an amp if you want to play your guitar at the full range of sound and high volume. Playing the guitar without an amplifier may be boring because there will be no acoustic resonance. You will get a flat and dull sound with no energy. So, an amp is essential for electric guitar.
Does an Amplifier Make a Difference?
It is a critical thing that comes into mind whether you need or do not need an amp. You can notice the difference between hearing the sound with and without an amp.
The basic build of an amp contains a preamp that is accountable for amplifying the signals from the guitar. It identifies the signals, adds gain to the sound, and determines the fundamental tone. However, it can add a bulk of signals, but they are not too strong.
The part of the Amp gets the signals from the preamp and provides it more strength so that the sound will become loud in the result. Through the Amp, your speakers will easily rock and not disturb the sound at any cost.
It will also help the guitarist to listen to the output signals that come out from the speakers. An amplifier is responsible for magnifying the signals from the electric guitar and giving them shape, so the sound becomes better.
You can adjust the Amp until it gives the specific feedback of vibration, and if you keep changing, the feedback will become more consistent. Moreover, you can play with different settings like echo, distortion, and reverb.
Now the sound of your electric guitar can build up feedback with an improving tone. When you remove it, you can quickly notice that your electric guitar will become quiet. It may become in some cases but not steady as with an amplifier. You will not get the strength of sound without using an amp.
Although you can use another source for playing your electric guitar to amplify the sound, it may be more challenging than doing it with specific equipment that is made for this purpose.
Does an Electric Guitar Need to be Plugged in?
No, there is no need to plug in the guitar, but the Amp needs to be plugged in. If you want to understand why it is necessary to plug in the electric guitar, you may need to understand how it works to produce sound.
The electric guitar has a hollow body and works as a resonator. The strings produce vibration when you strum their strings, but the issue is that the vibrations of an electric guitar are not enough so they may make a weak sound. However, it is not too weak to hear, and you can play your guitar when it is unplugged, but you will receive low output compared to acoustic.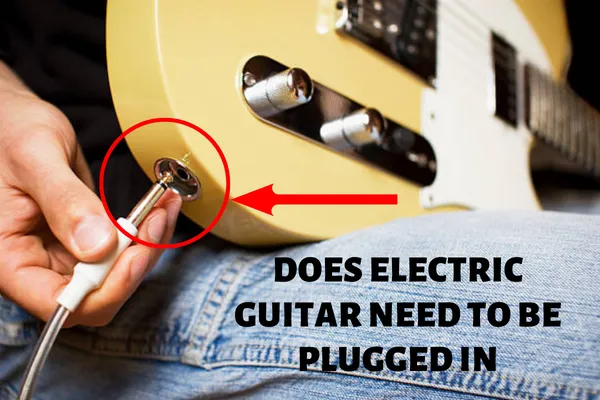 Even an electric guitar with a solid body will not produce a loud sound when you play it unplugged, and at 10 feet, you may struggle to hear the sound.
The semi-hollow electric guitar may improve performance and produce more acoustic sound. But they need to be more reasonable and sounder like an electric guitar. If you want your electric guitar to make enough sound that others can hear, you should plug it in.
Can You Use Any Amp for Electric Guitar?
No matter your guitar brand, you can use any amp for your electric guitar. You can use any amp brand if you will use it for the same instrument. It means you can use any electric guitar amp for an electric guitar amp, and any acoustic guitar amp can connect to any acoustic guitar.
However, it is a standard that 99% of guitars come with a high impedance of 1/4 inch of phone plug output, and almost 99% contain 1/4″ high impedance instrumental input. You only need to plug in them, turn them on, and start to play.
Moreover, most amp manufacturers don't make guitars, and if the users try to match the brands, they will be out of business. So, there is no need to search for the same amp and guitar brands because it is impossible. But ensure reliable things that can last long and create no issues while playing.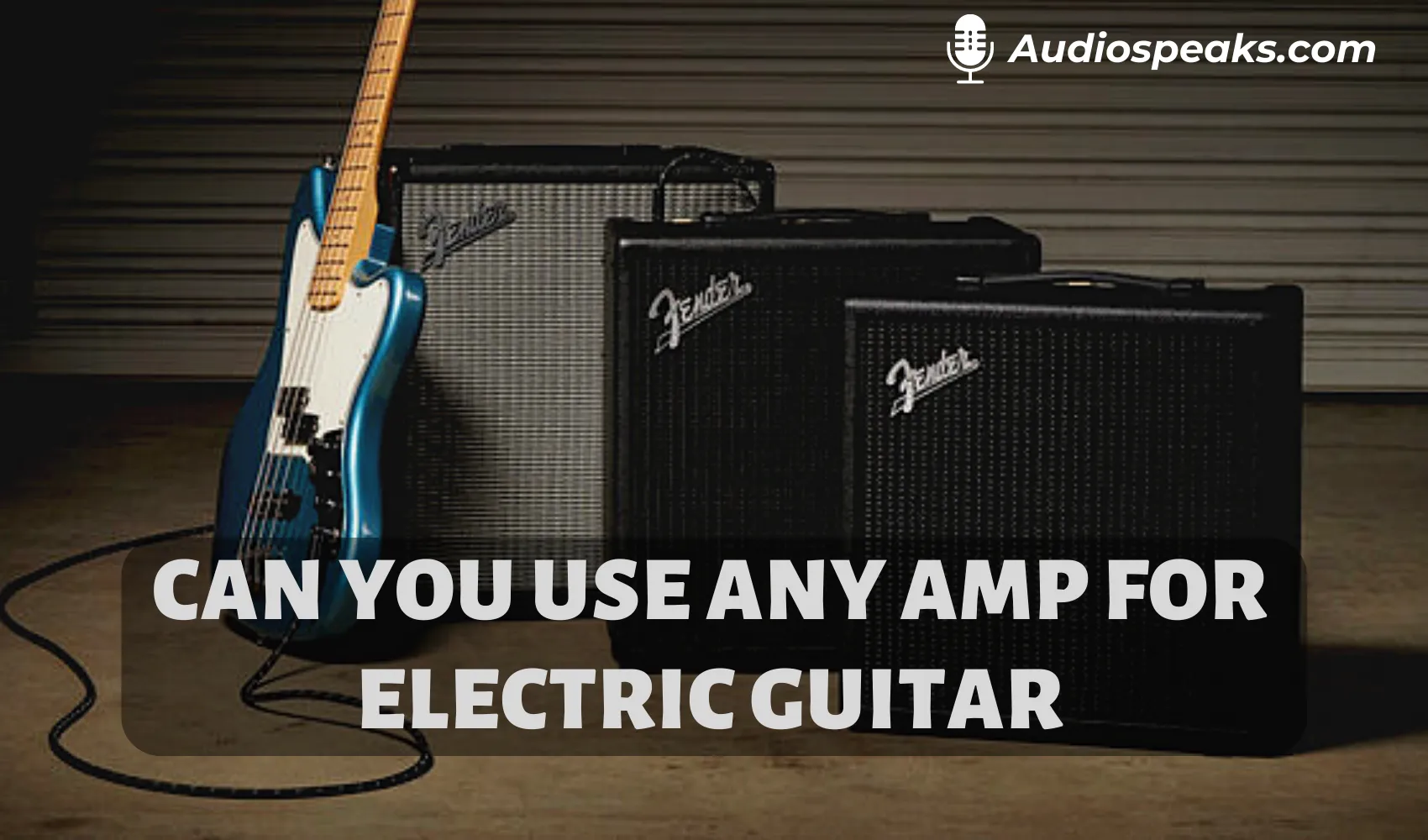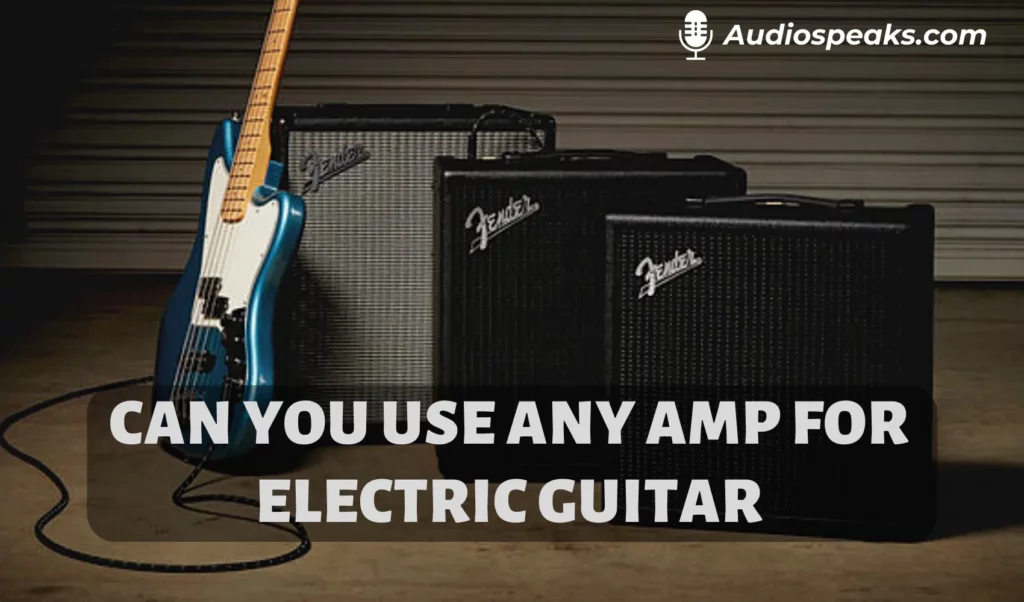 However, there are brands with some intended uses. The amps for the PA system have different inputs and XLR-balanced lines. These amplifiers contain a power amp stage, the tune shaping circuits, and a preamp with input from the guitar. All of them are part of the same amp head when it comes to guitar rigs, and they may handle by other tools as a mixing board.
You can also use a PA system with your guitar by using a preamp as a separate box with an entire rig. You will not need any PA amp to produce volume. The same case is with keyboard and bass amps, and they can work with the cable of 1/4″ of the guitar and provide a different type of sound that is objectionable to various guitarists.
Can You Use Acoustic Amp for Electric Guitar?
Yes, you can use an acoustic amp for electric guitar. However, using a regular amp will produce a different type of sound than you will get from the electric guitar. Although the sound will be clean enough, it will sound flat. The reason is that acoustic amplifiers are like a PA system, not a traditional amp.
Let's look at the difference between all the guitar amps, how they work, and what kind of tune they provide when you plug your electric guitar into an acoustic amp.
Using An Acoustic Amp with An Electric Guitar
It depends on what you expect, and the results may disappoint you. You may expect the typical sound like an electric guitar sound with a lot of mid-range that can stand out in the band, handle all the beats of other instruments, and make its place among them.
There is a difference in the sound that you may notice from most of the acoustic performances. The acoustic guitars are more resonant and give a more robust performance.
The difference is the same as you may notice between electric guitars and acoustic guitars, and it transfers to the sound that comes from using an acoustic amp. Most acoustic guitars contain magnetic soundhole pickup, and most have the internal mic, saddle piezo pickup, or a combination of both.
But they work identically since the strings' vibrations are better and produce strong sounds. The acoustic amps also offer reliable sound, and the magnetic pickup makes the sound dull compared to the sound from the acoustic guitar with the same Amp.
However, it doesn't mean you cannot use an acoustic guitar with an electric guitar because some music and instruments can make suitable combinations using the acoustic Amp. It will become helpful when you play Jazz, and the semi-hollow and hollow guitar work great with an acoustic guitar.
The other benefit is that you can use an acoustic amp for most of the dual channels, and they can handle two input sources simultaneously and support microphones. It means that a songwriter and a singer can carry only one Amp, but it can do the same thing with two or three pieces of a jazz combo with a vocalist and guitarist.
But if you want to play various musical genres, you can use a multi-effect pedal, an amp modeling pedal, and an overdrive pedal. It will help to shape the sound of your guitar tune, and by using the acoustic Amp, you can look at an ultra-portable PA system.
Is Amp Important for Electric Guitar?
Yes, an amp is essential for your electric guitar, which is vital if you want good sound input. An amp is as important as the instrument itself. It will take your guitar signals and then change them into compressed, saturated, and heavy sounds that will have a signification.
Are Electric Guitar Loud without an Amp?
Yes, electric guitars can produce sound without an amp, but they may be reticent and do not have the same range as they can give with an amp. The sound of an electric guitar without an amp is like that of an acoustic guitar.
How Loud is an Electric Guitar without an Amp?
With an amp, it is easier to hear the strings. However, you can hear it without any problem and if you have an amp, try to use headphones, and keep it low so that no one can disturb you.
Connecting an electric guitar with the Amp depends on your use and requirements. Without Amp, the sound quality is not very high and does not travel long distances. Using Amp helps to build quality resonance and high-quality sound and improves the overall guitar-playing experience.

Final Words