Before recording and experimenting with different amps, you should know how to connect your electric guitar to your computer. It is vital as you cannot record and experiment with your music without connecting to the computer.
You can do it quickly and only need specific and essential equipment if you want to connect your acoustic or electric guitar to your computer. You can get more information from this guide and some ideas for recording guitars.
How to Connect the Electric Guitar to the Computer?
It is easy to connect a guitar to a computer, and there is no need to require any specific hardware except an audio interface. The audio interface can process the signals of the guitar in the language of the computer in a safe way.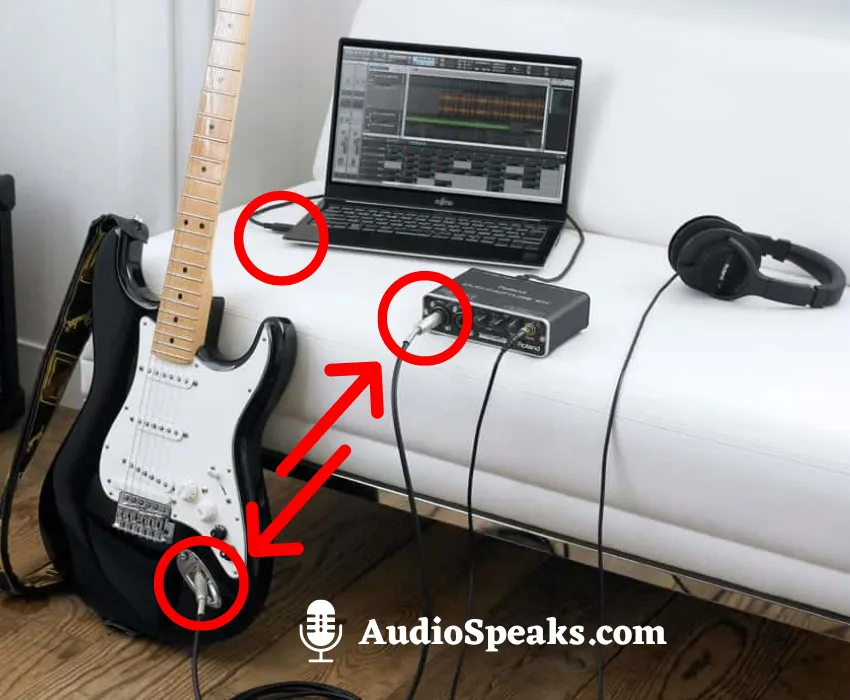 There are various options for connecting a guitar to a computer. The two most common methods are: with and without an interface.
4 Easy Method To Connect Guitar To PC Without Interface
If you don't want to connect your guitar without any interface or then try out the following methods:
1) Plug Your Guitar Into The Mic Jack
You can plug your guitar into the mic jack, which is one the cheapest ways to connect electric guitar to PC. You should have a 1/8-inch male and a 1/4-inch female adapter.
Another option is to use a dedicated 1/4 inch male and 1/8 inch female cable. However, it has a disadvantage because you cannot connect it to the Amp. If you want to connect an Amp, use a 1/8-inch female and 1/4-inch male connector. But remember always to use a cable from the guitar company as it suits it.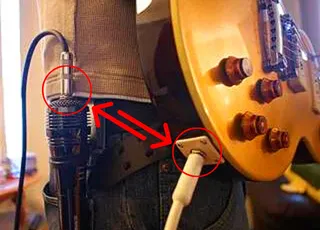 Moreover, you can also use an Aux cable for this purpose. But it may not prove a better replacement as it is not associated with the guitar company and causes delays when you play.
Only connect it to your computer and guitar whenever you choose the right option. Then go to the settings and enable all recording devices in the input section. Also, turn up the volume, and after completing the process, you can hear your guitar via your laptop computer.
2) Use A Dedicated USB To ¼ Inch Cable
You can use this method to connect the electric guitar to the computer frequently. It's one of the easiest methods to connect your guitar to the PC. If you want to make this step successful, choose the suitable cable.
For this, you can use a dedicated USB cable of 1/4 inch. If there is a red led indicator on the USB connector, it may end up with a failure. But once you attach both devices and set them according to instructions, it works like a charm. You can turn up the volume and play your guitar on your computer.
3) Use A USB Digital Interface
When it comes to the audio interface, it is a sound card that can improve the sound quality through some external devices. They are very helpful in connecting and processing your PC for various analog and digital signals. You can connect your guitar to the laptop or computer, and then this USB digital interface will convert the signals of the guitar and give much more sound reliability.
It will not only take you a step forward so that you can move towards professionalism but also open the door for recording quality material. However, the audio interface has now become a vital part of recording studios and home studios. There are various USB Audio Interfaces containing a DAW, and some of them have unique software to convert your sound to amp modeling.
4) Use A Multi-Effects Pedal
If you want something that can translate signals into an amp when you play guitar, then multi-effect pedals are great in this scenario. It contains various parameters that will help you to shape your sound. These pedals also have expressions and can control the program or become volume pedals.
There is a USB port on the multi-effects pedal, and you can connect it to your computer and the guitar. Moreover, these pedals are preset, and the high-end pedal allows you to you them as an audio interface.
For connection, use an out interface into the mic input on the PC and then enable the "Listen to this Device" pick the mic option and then go back to the Control Panel. But you cannot do this without an adapter, and use a guitar cable of 1/4 inch for a 1/4 to 1/8 inch adapter.
However, most high-quality pedals are expensive, so you can consider low-budget ones to know how these devices will work. But if you don't get a good result, invest in the high-end ones.
How to Connect the Guitar Using Audio Interface?
It is the most common way to connect an electric guitar to a PC. The audio interface is a box that can accept the signal from your guitar and convert it into digital signals so you can send them to your PC via USB.
The interface box has different knobs and buttons, allowing you to link your guitar line to the interface from your guitar line. When you connect them, it provides these signals to your computer through USB.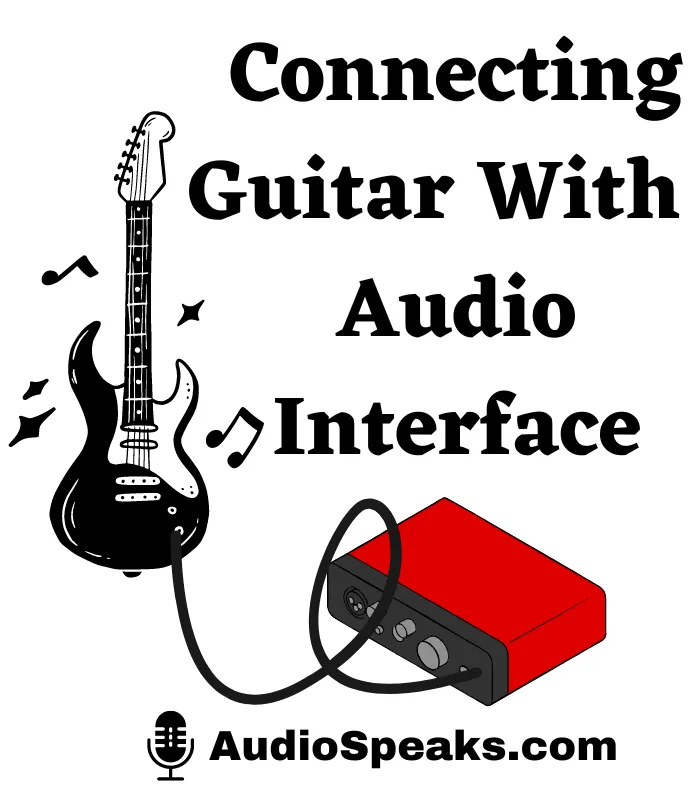 One crucial thing to know is that you can connect various instruments simultaneously through the interface. It is the best option for recording because you can record various mics or instruments simultaneously.
Most interfaces can plug in the headphones directly so you can play guitar in silence. You also have the option to connect other devices so that you can equally enjoy your guitar while traveling. Remember that all the interfaces have different functions, so choose one of them according to your requirements, and it is the simplest way with various options to connect your guitar to the computer.
Why Guitar to PC Interface is Best?
When we go back a few years, the question of how to play guitar through a computer was still a mystery, and establishing it via interface was not considered valid. Traditional studios and recording gears are incompatible with the computer; even personal computers didn't reach the point of popularity.
An Amp with a dynamic microphone and mic was the more convenient way to record the guitar. The gears are directly attached to the mixing desk and recorded on tape in those setups. Some of the studios still have analog equipment when it comes to recording guitars.
Nowadays, everything has changed, and the guitar connects to the computer through interfaces that work with DAW and software. They become a central part of any recordings, and various analog instruments handle them. It is a complete package to handle the effects, MIDI equipment, and plugins.
They are less expensive, compact, and come with unlimited tracks. When you connect your guitar to the computer interface, you can bring the recordings to the masses. All of the recording reels can get recorded into a box.
How To Use Your Computer As A Guitar Amplifier?
The sound could have been better when the SIMS entered the market earlier. They can produce quality sound and prove a natural alternative to the Amps. Only connect amp SIMS with your PC, an audio interface, and an audio output device like a speaker or headphones. Then it will become a practical guitar amp that can run on a computer.
Installing a guitar Amp simulator, you can use your computer as a guitar Amp.
After this, use an audio interface and connect it to the guitar
Connect audio interface through USB
And then, your PC will run the guitar amp simulator.
In the end, connect it to headphones or a speaker for work.
Which is the Cheapest Way To Connect Guitar To Computer?
The cheapest way to connect your guitar to your PC is by using the guitar cable of a 1/4 inch female and 1/8 inch male adapter, which may cost about $5. through this, you can easily connect your guitar to the mic jack. Moreover, you can also use a dedicated male cable of 1/8 or 1/4 inch.
How Can I Plug My Guitar Directly Into My Computer?
You can plug your guitar directly into your computer using audio input jacks. For this, you must use a guitar audio interface. But a direct connection may damage your guitar or computer.
How To Play Guitar Through Computer?
An audio interface is one of the common ways that you can use connect an electric guitar to a computer. It is a simple box that lets you connect your guitar or other input, convert signals into digital signals, and send them to the computer via USB.
Various considerable options are capable of playing music via computer. If you want the fastest way of shaping tones, I hope you get one from the above methods. Directly connecting the guitar to the computer has changed the game and gives different effective ways for creativity. You need to have some experience to bring amazing value to the recordings. So keep exploring the thing and try different ways to improve your skills.

Final Words