Most guitar enthusiasts incline towards the tube amps due to the feel and tone they offer over the solid-state amps. The best solid state amp is practically reliable and efficient in many aspects over the tube amps. They are portable, sturdy, affordable, and classy, which is advantageous for people who have just started playing guitar. Although there are several things that we can discuss, like amp modeling and impulse responses overall, they offer excellent value. All these things aside, many pros, including Johnny Greenwood and B.B King, use solid-state amps for their performances.
Technology has come a long way, and today's lower-wattage solid-state amplifiers from leading brands can provide a warm sound comparable to their valve amplifier counterparts. They offer features like Android compatibility and downloadable software that keep up with the latest digital music trends. Whether you're looking for a classic sound or something more modern, a solid-state amplifier will suit your needs.
7 Best Solid State Amp Review
Table of Content:
Sorting the best solid state Amp in 2023 becomes easier because of the variety of available options. However, it can get challenging for enthusiasts who don't have experience buying these amps. After investing hours into the research, I have made it easier for you to pick the best one. Based on my research and testing, I have listed the seven best options you can buy. I have added a detailed review of each amplifier and a buying guide to get the best for your guitar play.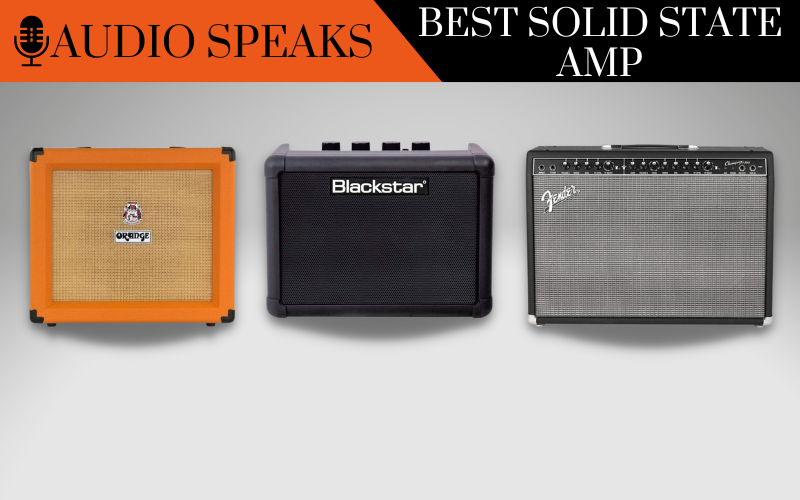 1) Blackstar FLY3BLUE Best Cheap Amp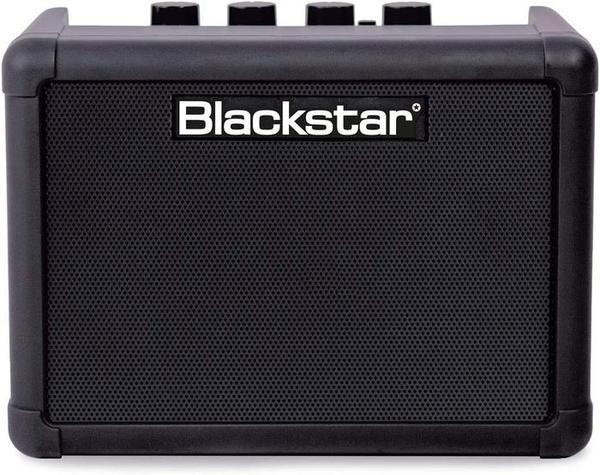 | Specifications | Values |
| --- | --- |
| Manufacturer | Blackstar |
| Connectivity | Bluetooth |
| Output Wattage | 3 Watts |
| Compatible Device | Guitar |
| Dimensions | 7.6 x 5.6 x 4.3 inches |
I travel a lot and need something portable yet well-packed for my guitar performances. After testing and trying out luck on several guitar amps, I settled for the Blackstar FLY3 Blue amp. It is not only portable and compact but also the best cheap Amp when it comes to spending bucks on a solid-state amp. The built-in delay was surprising for me as it offers clear and clean sound
Strong Plastic Build
At first glance, the Fly 3 may not give off the impression that it is a durable product. The body does not seem as premium as a wooden amp may look, but the plastic is durable. It is important to remember that the Fly 3 is a battery-powered portable amp that costs less than other amps on the market. When considering all these factors, you may sacrifice the premium looks.
Simple and Clean Layout
The Fly 3 is perfect for those who want to keep their guitar practice setup simple and efficient. This unit removes all the bells and whistles that can often get in the way, like screens, presets, complicated layouts, and effects menus. All you need is excellent sound quality, which the Fly 3 offers in a small and convenient package.
Single Purposed Dials
The layout of the Blackstar Fly 3 is worry-free compared to other competitors. Instead of multipurpose dials, it uses distinct five dials that provide single purpose turning. As they are clearly labeled and responsive, you don't have to figure it out whenever you tune the dials.
EQ Controls
The EQ dial on the Blackstar amplifier controls the I.S.F feature, which gives you a range of tones from the US to the UK as you tune the dial. You can achieve it by adjusting the mid-sweep frequencies – with the 'US' setting inclining towards more low-mids and the 'UK' amp offering better high-mid frequencies.
Impressive Clarity and Warmth
The Gain control is highly responsive in clean and overdriven settings, making it easy to get the tone you want. I have found that a clean tone sounds best when set at around 11 o'clock. It provides a balance of clarity and warmth that works well with single-coil pickups like on a Fender Lead II.
Pros
Highly portable due to compact size
Sound quality is brilliant from the drive channels
It has a built-in delay for impressive performances
Simple and easier to use
Cons
The wattage is low and needs improvements
The plastic construction seems cheaper than wooden
It has four hours of battery timing which is concerning for portability
2) Fender Champion 100 Best Solid State Amp for Live Performance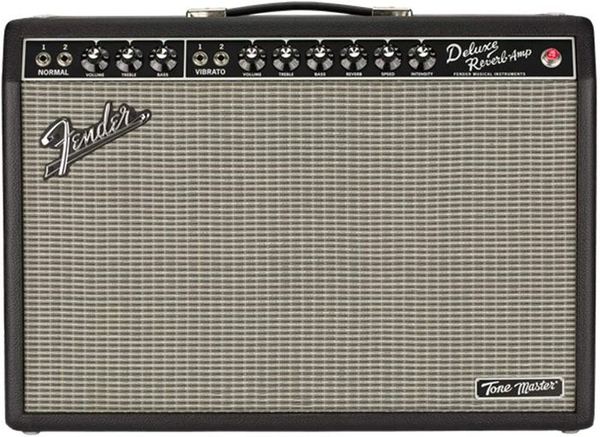 | Specifications | Tested Values |
| --- | --- |
| Manufacturer | Fender |
| Connectivity | Aux |
| Output Wattage | 100 Watts |
| Compatible Device | Guitar |
| Dimensions | 29.3 x 13.6 x 22 inches |
The Fender Champion 100 is a versatile and affordable amplifier perfect for those looking for a reliable model. It has two channels, an XLR output and an auxiliary input. The modeling features of the amplifier allow for a variety of classic and modern amp tones, as well as effects like vibrato, delay, reverb, and chorus.
Classic Plastic Body
The Fender Champion is the best solid state Amp for live performance with a sleek black body, classic silver grille cloth, custom-made speakers, and a reasonable price tag. It makes it the perfect amplifier for most live presentations. Though it's not very portable because of its 100-watt power, it does have a handle at the top for easy transport.
Built-in Effects
The Fender Champion 100 is a great DSP-based amplifier with excellent built-in effects! The simple rotary control on each channel allows you to choose from 16 different sound configurations, making it easy to get the perfect sound for any situation
Various Channels
The presence of two channels on the Fender Champion 100 gives versatility to the guitarists. The first one is clean, while the second channel varies from crazy distortions to overdrives, thanks to its 16 amp voices. These voices and the included classic Fender amp sounds make it the best solid-state Amp for metal. It comes included with modern and old US and UK sounding amplifiers to let you have a choice of selection
Executive Sound Quality
The 3-band EQ provides a wide range of tonal options, making it versatile and suitable for use in the studio, on stage, or during practice. The voices and effects are also well-balanced and distinct, giving you plenty of options to mix and match until you find your perfect sound.
Silent Sound Practice
The headphone output is another excellent feature for sound quality. It allows you to play during silent practice sessions and hear precisely as the amplifier emulates the sound. Overall, it's the best solid state fender Amp for enthusiasts who love to have solo practice sessions.
Pros
It has a built-in effects loop for live performances
100 watts output is powerful for reliable sound
Build quality is reliable and sturdy
The clean channel sounds accurate
Cons
A bit heavy for portability
The overdriven sounds are not the best
3) Boss Katana-50 MKII Best Solid State Amp for Clean Sound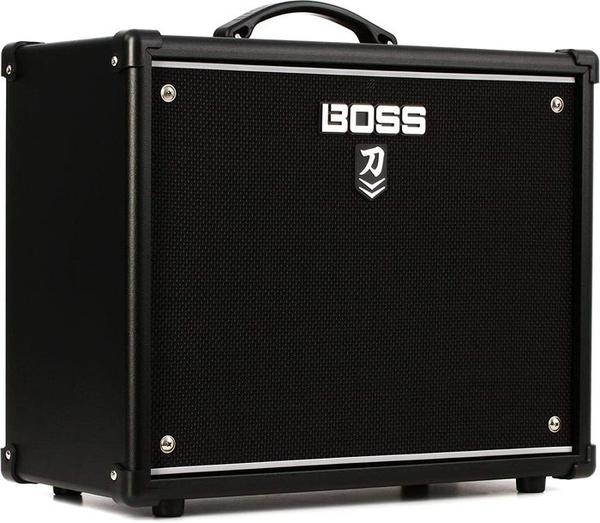 | Specifications | Features Values |
| --- | --- |
| Manufacturer | Boss |
| Connectivity | USB, Mic-in |
| Output Wattage | 50 Watts |
| Compatible Device | Guitar |
| Dimensions | 18 x 15 x 12 inches |
If you're looking for a 50W modeling amp that delivers high-quality sound and packs a punch, the Boss Katana 50 MKII is worth checking out. With its easy-to-use interface and tube amp-like sound and response, it's no wonder the Katana series has become one of the most popular modeling amps on the market.
Unique Streamlines Design
The Boss Katana is the best solid state Amp for clean sound with a sleek and modern design that will turn heads. The minimalistic look of the Amp means it will blend in perfectly with your other music equipment, and the high-quality MDF wood cabinet makes it both sturdy and lightweight. The plastic skin covering the main cab gives it a smooth finish reminiscent of luxury but much more durable
Tons of Effects
The Boss Katana amplifier also includes a plethora of effects, all of which are emulated after popular Boss pedals. These effects include chorus and flanger, auto-wah, and harmonizers. The overdrives and distortions included in the Boss Katana amplifier are also modeled after existing Boss pedals
Knobs Control
The first knobs on the Amp allow you to choose between 5 different amp models. The volume knobs are handy because it functions as independent volume control, which means you can make minor adjustments to the levels of your presets without affecting the others. The equalization section is next and includes the standard bass, middle, and treble knobs
Excellent Loudness
The Katana is the best solid state combo Amp which sounds excellent at lower volumes, so it won't disturb anyone in the house if you must practice late at night. You can also switch the wattage on the Amp, which is great if you use it in different settings. Even using soundproof curtains, you can still annoy the neighbors with this Amp if you're not careful
Sound Quality
The clean channel on this Amp sounds great. It's very warm, and it sounds a lot like a tube amp. The EQ has a lot of range, so you can get a bassy or trebly sound, depending on what you want.
Tone Studio Software
Boss's Tone Studio software is a great way to get the most out of your Amp. You can control every aspect of the tone, from the overall sound to the individual effects. The software is easy to use, with sliders that let you set every parameter. You can also assign effects to different colors, making creating your unique sound easy.
Pros
It comes with handy power amp input
The ease of use and adaptability is remarkable
It produces excellent clean and distorted tones
You can use it with up to five effects
Cons
It may suit some gigs as the sound is not loud enough
It lacks an FX bypass button which some users may feel annoying
4) Line 6 Spider V Best Sounding Solid State Guitar Amps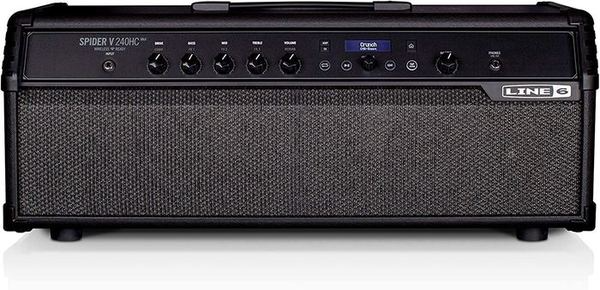 | Specifications | Featured Values |
| --- | --- |
| Manufacturer | Line 6 |
| Connectivity | USB, Mic-in |
| Output Wattage | 200 Watts |
| Compatible Device | Guitar |
| Dimensions | 10.71 x 26.93 x 10.5 inches |
The Line 6 Spider V is the company's flagship digital modeling guitar amplifier. These amps are robust, flexible, and capable of producing a wide range of sounds from different genres of music. It's no wonder the Spider V has become one of the best sounding solid state guitar Amps for many working musicians and hobbyists.
Several Amp Models
Spider V amps come with various amp models, making it easy to find the sound you want. These are models of iconic amps that you've probably heard of before, and Line 6 does a fantastic job of replicating some classics.
Compatibility with Controllers
Line 6 has an array of foot controllers that can be used with their Spider V amps, meaning you won't have to fiddle with them onstage during a performance constantly. It gets rid of the knob toning and pushing the buttons during the song performances.
Sound Quality and Performance
Line 6 is the best solid state Amp, a serious piece of equipment for gigging guitar players. It has all the positive aspects of the 120-watt version but with double the power at 240 watts. The two 12-inch speakers provide a wide range of sound that will cover all your needs in a live set. If you're in a cover band, this Amp is a great choice, especially when paired with one of Line 6's foot controllers.
Amazing for Any Genre
The Spider V 240 is perfect for any musician because it comes with various sounds for different genres, whether you play indie, rock, jazz, blues, or rock. You'll never have to worry about your sound quality because every effect, preset, and amp model has a natural and organic feel. You can also tailor the presets to your liking to make them perfect for your music.
Wide Range of Styles
The Spider V comes packed with a treasure trove of presets that will have you covered for any style or genre. I highly recommend getting creative and learning to make your tones from the ground up. Not only is it far more satisfying, but you'll also end up with a sound that's uniquely yours. Besides, many presets are perfectly usable as-is, and the ones that don't sound so great can easily be fixed with a few quick adjustments
Pros
It offers superior cabinet and effects models
The loudness allows for the powerful stage performance
It can suit any music genre due to its versatility
Offers complete control over reverb, drive, and distortion
Cons
There is a learning curve in understanding tweaking the features
Only one dial and two buttons to control
The power button on rare seems annoying
5) Orange Crush35RT Best Solid State Amp for Home Use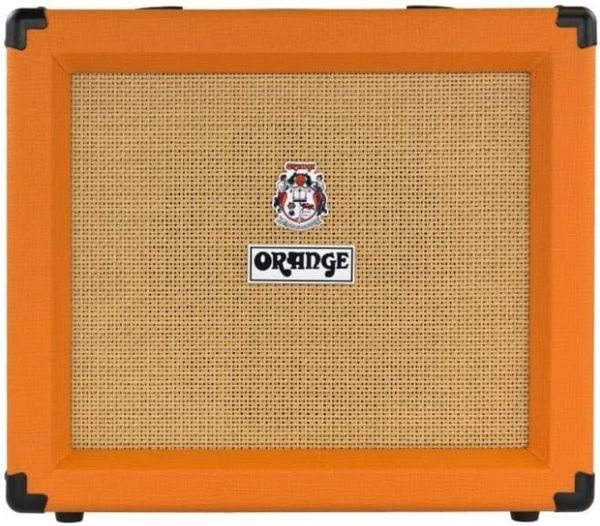 | Specifications | Tested Values |
| --- | --- |
| Manufacturer | Orange Amps |
| Connectivity | Headphone Line |
| Output Wattage | 35 Watts |
| Compatible Device | Guitar |
| Dimensions | 11.8 x 20.5 x 19.1 inches |
If you're looking for the best solid state Amp for home use for both practicing and gigging, the Orange Crush 35RT is a great option. It is a simpler but unique version of the Crush series that offers high-quality performance with dual clean and dirty channels. The size and wattage may give the impression of mediocre performance, but don't let it fool you, as Crush 35RT can deliver tube-like performance and sound.
Unique Aesthetics
The Crush 35RT's unique aesthetics are sure to turn heads. The orange cabinet and white rear panel give the Amp a one-of-a-kind look. At the same time, tidy internal electronics with high-quality 3D printed circuit boards provide excellent sound quality. The cabSim circuit gives the Amp a bigger sound than is possible with other amps, making it a great choice for anyone looking for an amp with great sound and style.
Control Layout
The Crush 35RT is a two-channel amplifier you can easily swap between with a toggle switch. What's great about this Amp is that it has separate volume control for each channel so that you can have different settings for your clean and distorted sounds. A shared gain knob allows for controlling both channels. Besides, there is a 3.5mm AUX jack with an EQ knob layout.
Dual Channel
The clean channel on this amplifier gives you a crisp and clear tone, while the dirty channel provides an overdriven crunchy sound or the fuzz of high-gain distortion. You can easily switch between the two channels and adjust the volume and gain levels to get the perfect sound.
Consistent and Reliable Sound
The 35RT is a great-sounding amplifier for modern or vintage tones. It's versatile enough to use with your band or studio and a very reliable piece of equipment. Although it may not look complex like the valve Amp, it is more affordable and consistent, thanks to the absence of vacuum tubes.
Impressive Cabinet Simulation
Besides all these impressive features, I like the CabSim circuit for the level of detail and sound quality it produces. Operating it is straightforward as it only needs to push a button to turn it On. If you have plans to operate the Amp with the PA system on small and medium gigs, Crush 35RT is what you should trust.
Pros
It comes with built-in reverb and tuner
Excellent build quality and reliability
The sound is clean and crisp, like tube amps
It is easy to use and extremely portable
Cons
The dirty channel can sound fuzzy
The power switch placement is not conventional Aux quality needs improvement
6) Vox Cambridge 50 Best Solid State Amp Under 500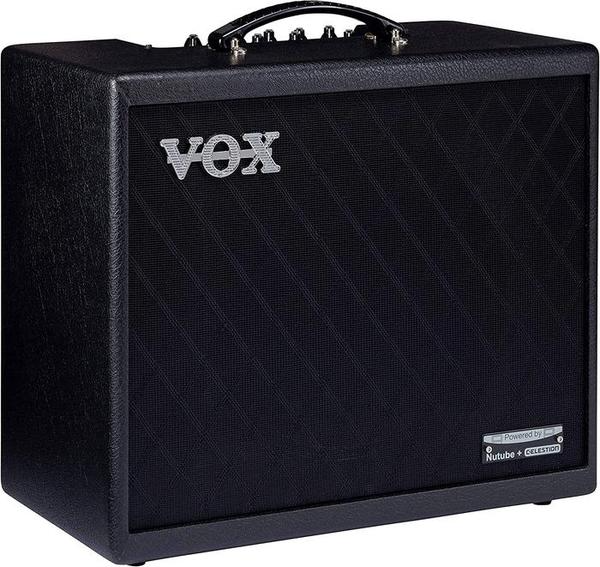 | Specifications | Values |
| --- | --- |
| Manufacturer | Vox |
| Connectivity | USB |
| Output Wattage | 50 Watts |
| Compatible Device | Guitar |
| Dimensions | 12 x 20 x 21 inches |
If you want to upgrade your amplifier from a smaller practice amp to something more powerful, the Vox Cambridge 50 is a great option. It's perfect for practice and performance, with enough power output for casual jamming and gigging. Plus, the additional features are just awesome. It is the best solid state Amp under 500 for enthusiasts.
Sophisticated Build
The build quality is reliable, housing a single 12-inch speaker. It lets you generate the volume clear and crisp making it handy for small gig situations. On the front, the Vox logo appears prominent and looks familiar with the black-on-black grille cloth.
Virtual Element Technology
Vox has used Virtual Element Technology (VET) on Cambridge 50, although it is common on more expensive Amps. What it does is improve the sound produced by digital simulation. This technology is designed to help produce a more realistic and natural sound, which can significantly benefit musicians.
Built-in Tuner
If you don't want to bring a separate tuner for live performances, the Cambridge 50 has you covered. It comes with a built-in tuner that starts its magic with a simple push of the button. It helps you identify the desired pitch and shows if you are high or lower than the set value
Quality Overdrive Sound
Although most modeling Amps don't provide the audio quality musicians want, Vox doesn't lack in this department. It featured NuTube technology and went the extra mile to provide the overdrive sound while preserving the quality.
Solid Output
The Vox Cambridge 50 digital amplifier can output 50 Watts of power, making it great for performing. You can get louder output which can ultimately disturb your neighbors. It can also handle a lot of gain for playing metal or hardcore rock, making it great for those genres.
Pros
It comes with an excellent onboard tuner
The volume is super loud and clear
The valve tunes are naturalistic
It has a Tone Room App that offers lots of tweaking
Cons
t offers slightly bright and high gain tones
You must buy the foot switch separately
7) Fender Tone Master Deluxe Reverb Best Solid State Amp for Pedals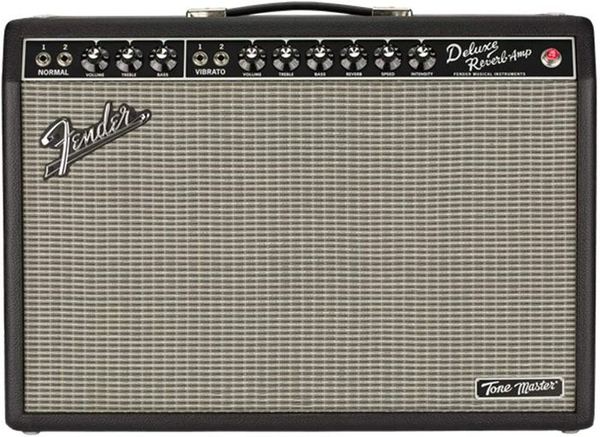 | Specifications | Tested Values |
| --- | --- |
| Manufacturer | Fender |
| Connectivity | Standard |
| Output Wattage | 100 Watts |
| Compatible Device | Guitar |
| Dimensions | 27.4 x 22.6 x 13 inches |
My choice for the best solid state Amp for pedals goes with the Fender Tone Master Deluxe Reverb. It is a great option if you're looking for a versatile modeling amp with a great tone. It's not cheap, but it offers a great-sounding amp like high-end tube amps.
Lightweight and Portable
The Fender Tone Master combo is a lightweight and easy-to-carry amplifier, which is great for guitarists who must move around for performances. This Amp packs a lot of power for its size and performing guitarists will love how easy it is to transport.
Support Different Genres
The Tone Master Deluxe Reverb is perfect for various genres, from indie to country to blues and classic rock. With its huge range of sounds, this Amp is sure to give you the perfect tone for any style of music.
Great Sound Quality
The Fender Tone Master Deluxe Reverb is an excellent-sounding amplifier that exceeds all expectations. It is very responsive for an amp without tubes and works great with additional guitar pedals.
Suitable for Pedals
The Deluxe Reverb is a great option if you're looking for an amplifier that can handle pedals well. I've tried it with a few different pedals, and it works great. I'm impressed with how well it handles pedals, considering it's a digital recreation.
Affordable Pricing
When it comes to the Tone Master Deluxe Reverb's pricing, it is on the higher end; however, it is worth every cent when you consider how versatile and great sounding the Amp is. There is no doubt that the Tone Master Deluxe Reverb is not overpriced.
3D Projection
The Tone Master series of amps provide a great 3D projection, native to the expensive and high-end tube Amps. The Mustang V2 range also has a great 3D projection; this solid state Amp by Tone Master does it better. Cheap Hi-Fi speaker systems don't have the same level of sound quality as the Tone Master.
Pros
Highly reliable with a digital interface
It has attractive vintage styling
It is portable and ultra-lightweight
Amp responds to each control nicely
It is a solid two-fender Amp
Cons
It lacks the power output
It is not louder enough for larger gatherings
Things to Consider When Buying the Best Solid State Amp
Here are the considerations you must consider when purchasing the best solid-state Amp.
Power Rating and Volume
Getting an amp with the perfect power rating for your needs is crucial. You don't want an amp that's too loud for practice or too quiet for the stage. These days, there are amps with built-in power attenuation that let you get big, cranked tones at lower volumes. Always look for the Amp that has a balance of power rating and volume for getting better performance.
Tone Studio
Most cheaper amplifiers utilize solid-state technology simply because it's more affordable than their tube amp counterpart. As a result, solid-state amps have gotten a bad rap over the years because they're generally associated with low quality and low budget. But this simply isn't the case.
If you're using distortion pedals like the best marshall solid state Amp, you'll likely get just as good of a tone from a high-end solid-state amplifier as you would from a tube amp. The bottom line is that the technology of a solid-state amplifier has come a long way, and it's worth considering if you're looking for a new amp.
Speaker Size
When conceptualizing the sound, an amplifier produces, many people focus solely on the size of the speaker. It's true that a smaller speaker will have a generally clearer sound with stronger high frequencies and that a larger speaker will have more bass.
But it's important to remember that the size of the speaker isn't the only thing determining an amplifier's frequency response. Every component in your amplifier – from the power supply to the wiring – contributes to the overall frequency response.
Built-In Effects
The built-in effects say a lot about the performance and modeling of the solid-state amplifiers. It is a misconception that solid-state Amps lack overdrive and distortion. But with the advanced technology, these Amps are getting better daily. Always look for the solid state Amp that offers a variety of effects to carry you through the live performance without any issues.
Although solid-state amps have become increasingly popular among guitarists in recent years, many still prefer the sound of tube amps. When solid state amps first came out, they had a reputation for being inferior to tube amps, but I believe that they have come a long way and have caught up to their tube counterparts. I hope this article has helped clear up some misconceptions about digital solid-state amps! I recommend Line 6 Spider V as the best solid state Amp for the live performance and home. It is the most versatile and popular digital modeling guitar amplifier made by the company. Its ability to produce a wide range of sounds from different genres of music has made it a favorite among working musicians and hobbyists.

Product Recommendation
Are solid-state amps worth it?
Solid-state amps are ideal for players who want a clean and powerful sound. However, they can sometimes make an electric guitar sound harsh because they don't have the natural distortion that tube amps have. Therefore, solid-state Amps are famous among keyboardists and guitarists too.
Is solid-state better than tube amp?
Generally, tube Amps offer better sound quality and depth than solid state Amps. However, some models offer sound comparable to tube Amps. They also have the advantage of being more affordable and reliable than tube Amps.
How long do solid-state amps last?
A solid-state Amp can last more than 25 to 30 years if cared for and used with care. Although tube Amps also offer similar durability, they still need maintenance. They require re-tubing every 2 to 3 years which solid-state Amps usually don't need.
Can you push a solid-state amp?
As a gigging musician, you know that having a great amp can make all the difference. And when it comes to amps, solid-state amps are some of the bests. They're small and lightweight, so they're easy to transport. They can also produce a lot of sound without having to be turned up to ear-splitting levels. They cut through the mix well, so your band will sound great even in a noisy venue.