When networking with friends playing Fortnite or multiplayer games, your teammates may have asked you to turn on mic monitoring. But if you have not heard this term before, the first question that comes to mind is what is mic monitoring, how to activate it, and what impact it will do on your gaming.
It's common to shout while playing games or speak loudly with others during a meeting or handling clients. You may encounter this issue regularly, but it is not good and can create misunderstandings among players and clients. In the worst cases, it can ruin your entire experience, and the problem is that you have no idea that you are creating a mess.
Because of this, the concept of Mic Monitoring comes in so you can avoid this issue. When you use it effectively, you will understand how other people hear you during conversations and gaming. It is an effective technique that can eliminate this issue from your life. This guide will cover the different aspects of mic monitoring, so stay tuned!
What is Mic Monitoring?
Mic Monitoring is a feature that will allow you to hear the Sound of your voice accurately while speaking with others in headphone conversations.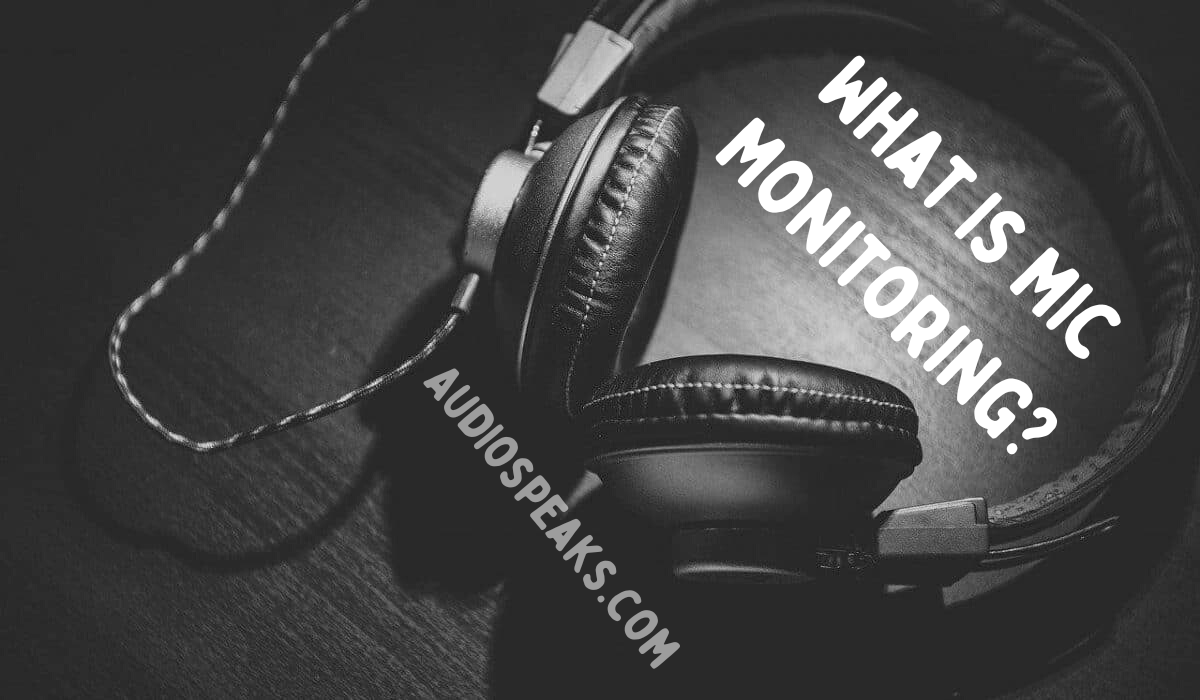 Whatever you speak, you can hear it through your speakers or headphones. It is very useful technology as you can catch your mistakes and correct them by yourself at once. However, it is a common feature of gaming headphones, and you can use it for your PC, laptop, mobile phone, etc., as it makes its way to the other consoles due to its effectiveness.
Mic monitoring translates the microphone's input and passes it to you through the headphones' output. It means that your voice will amplify when you speak, and you can hear it in your headphones to correct it immediately and sound great to others. Due to this feature, people on the other side will not hear anything until you adjust your mistakes and volume accordingly.
How Do I Turn On My Microphone Monitoring?
Turning on the mic monitoring on every device is different. Here are some steps to turn on mic monitoring on common devices.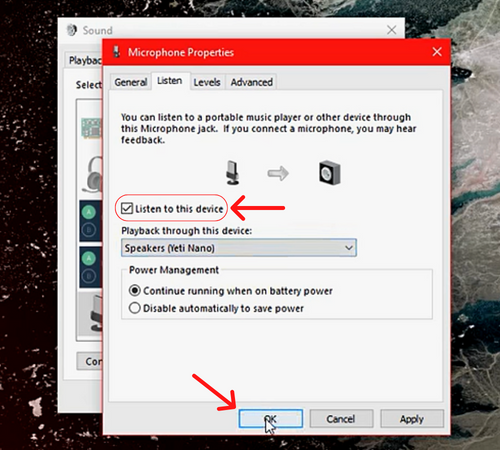 How to Turn On Mic Monitoring On The PC?
Connect an earphone and microphone to your system, and for mic monitoring on windows 10, follow the below steps:
Open the control panel and go to Sound and click on it.
Now click the "Recording" on the top of the window.
Go to your default microphone and double-click on it.
Here is a tab of "Listen" on another window.
Select "Listen to this device."
From the list, select the earphone that you plug into your system.
In the end, click on "OK."
Turn on mic monitoring on Mac.
First, install a mic monitoring software and set it up by following the steps below.
Open File and choose New Audio Recording on the bar.
Now turn up the volume.
Bring the volume of the mic monitor to the max.
That's all!
How to Turn on Mic Monitoring on Xbox One?
The Xbox mic monitoring will automatically turn on when you plug in a headset. It is a built-in feature of any Xbox. However, in rare cases, it may not work. Then follow the below steps to turn on mic monitoring in Xbox one:
Plug in the cable of your mic monitoring on your Xbox controller.
After pressing the Xbox button to navigate the left tab, go to System and Audio.
Now adjust the slider of your mic monitoring accordingly.
How to Turn on Mic Monitoring on Phone?
Generally, you can access the mic monitoring from the sound level bar in your microphone audio recording app on Android or iPhone. The bar will go up and down, and through this, you can know whether your voice is loud or low. But it will not show you the status of your Sound.
If you want to listen to the Sound accurately, you must use a phone microphone. The phone microphone should have a 3.5mm monitoring jack so you can hear properly and adjust accordingly.
Importance of Mic Monitoring
Besides hearing your voice properly, mic monitoring has many other benefits. Due to the other features, people prefer to use them for their recordings, conversations, and other activities. You can understand the importance of mic monitoring from the following points:
1) Efficient Troubleshooting
It is one of the best sources for excellent troubleshooting, as you can hear what you speak before you start a phone conversation, meeting, or any other activity. You can change the audio setting while listening to your voice via earphones.
There are various options like deleting or adding sound effects, changing the damaged cable or microphone, and changing your Audio's level. You can get back to your activity with quick fixes.
2) Good for Video Creators
Mic monitoring is also a great choice for video creators as they can hear themselves and cut off too much noise from their videos. Without any help, you can detect the problem and adjust it according to your recording.
3) Avoid Raising Voice
Through mic monitoring, you can understand there is no need to raise your voice to be heard. You can hear your voice from your earphones and avoid yelling as you can hear whatever you speak softly or loudly. Mic monitoring makes you a professional as you can change the voice pitch according to the situation and also help to solve any faults.
People read you based on the volume, tone, and Sound of your voice. For example, if your voice becomes loud for your client, it will seem reckless and aggressive. But polite speaking proves you are a trustworthy and professional person.
4) Feel Relaxed and Confident
When you can hear what you say, it will give you a feeling of relaxation and confidence. You can set your tone and voice according to the situation, and it will lead you to a fluent speaking experience. It will become more beneficial when you use the microphone for a podcast.
5) Saves your Time
Mic monitoring keep your post-production very simple, and you can keep an eye on what you are recording. You can easily know the status of your voice, background sound, and other errors that your mic collects. It will save you time editing your recordings and developing a shooting strategy.
6) Better Team Communication
No doubt, mic monitoring makes better communication among the users. You can easily understand your tone and voice for others because it is not good to shout in a game or during a meeting.
You may not want to become an odd person for a client due to your unreasonable Audio and don't want to create a mess or internal conflict by shouting during the game. So, audio monitoring makes you responsible and keeps your communication under control.
Drawbacks of Mic Monitoring
Although mic monitoring has various advantages, there are some disadvantages as well. The drawbacks are the following:
1) Cause Echoing While Recording
Your microphone can pick up your voice in case the level of your mic monitoring is too loud or high in your ears. It is not a big deal if you are using your headset casually. But for recording, it will sound like a persistent echo in the background with a low volume, which may not have a good impact on your recordings.
However, you can eliminate this issue using your low-volume headset. This way, you can hear yourself and reduce the echo in the background. Moreover, different headphones have a special design to cancel the mic monitoring. You can consider them while recording.
2) Take Time to Get Used to It
When you start to use mic monitoring, it may take some time to use it as you can hear a single word that you say repeated back in your ears. But it is not a big deal for most people using mic monitoring.
Where is mic monitoring on Xbox one?
Go to the mic monitoring section from the menu and then go to the home screen of Xbox one and press the Xbox button. Now select the tab System and then Audio. Adjust the slider according to your requirements.
Does mic monitoring cause echo?
If the level of mic monitoring is too high, then your microphone will pick up the Sound from your headset and lead to an echo. It may create a problem if you want to record your gameplay simultaneously.
Why is audio monitoring important?
Audio monitoring is important to reduce noise pollution, especially in urban areas. Noise pollution is one of the human beings' most common stress factors, which can lead to other health problems like sleep deprivation, anxiety, etc.
Now you may understand what is mic monitoring through this guide. It is a great feature to know what you speak. Moreover, it is good for users who want a headset for conference calls and gaming. Now there is no need to shout into your microphone to hear yourself. Mic monitoring makes it possible to hear yourself and adjust your volume consequently.

Conclusion