When a musician or a DJ performs live, they face this situation multiple times when they can't hear themselves. Usually, this situation is ignored, but with the help of the best in ear monitor, you can hear yourself play or sing without help from the sound guy. There are plenty of options if you are looking for the best ear monitor headphones!
In-ear monitor headphones are the perfect solution for musicians, producers, and DJs who want to get the most out of their music. In-ear monitor headphones provide superior sound quality and comfort, making them the ideal choice for professional and casual listening. This article will look at the best in ear monitor headphones available today, their features, and how to make the right choice for your needs.
Top 8 Best In Ear Monitors
Table of Contents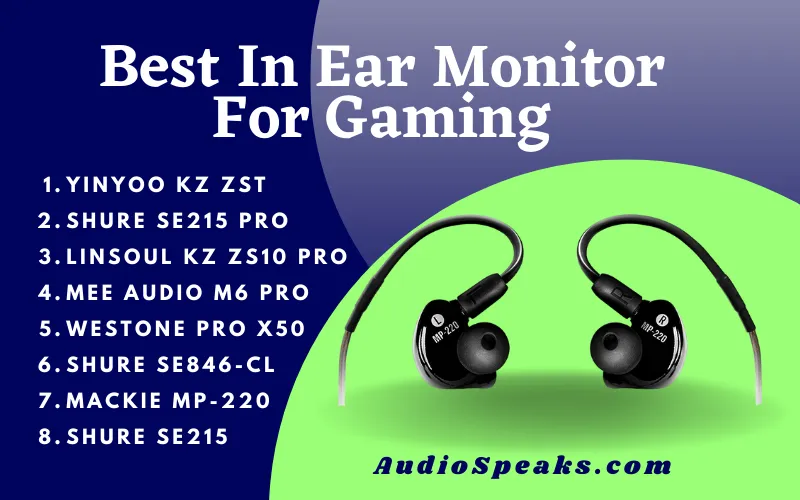 When you enter the market to buy the best in ear monitor headphones, you will see plenty of options with various features. It gets confusing to choose from these monitor headphones. To solve this problem, I have compiled a list of the top 8 best in ear monitors. I spent several weeks testing and trying these headphones and doing extensive research. I have finalized this list after sorting them from hundreds of options. These headphones have significant features and won't disappoint you with their performance. Let's get started!
1) YINYOO Easy KZ ZST In-Ear Monitor Headphones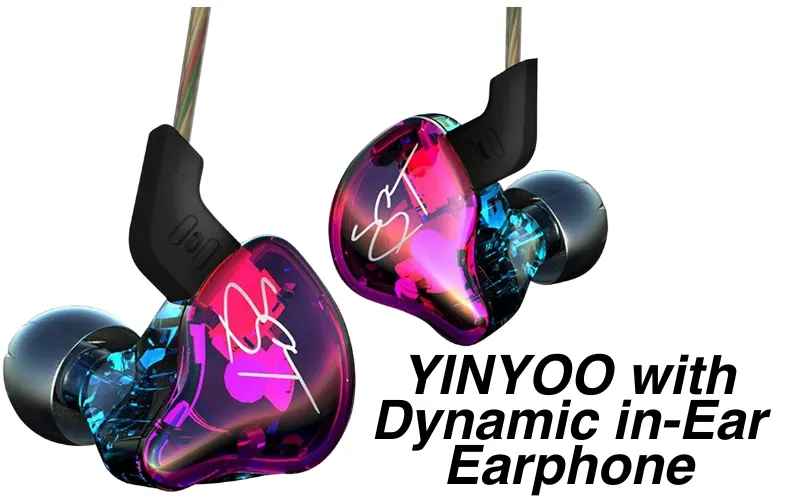 | | |
| --- | --- |
| Manufacturer | YINYOO |
| Model | Easy KZ ZST |
| Color | Multicolor |
| Connectivity | Wired |
| Special Feature | Noise Cancelation, Stereo |
In my search for in-ear monitor headphones for sound mixing and recording, I came across YINYOO Colorful Hybrid in-Ear Earphones. These earphones are famous due to their comfortable and excellent sound quality. The noise cancelation effect of these headphones cancels the surrounding noise and fits perfectly into the ear through which you can directly listen to the sound and get better quality.
Stylish Design and Compatibility
YINYOO earphones are best known for their stylish design and premium sound quality. These earphones are a perfect fit for the latest generations of iPods, iPad, and iPhones. Along with these devices, these headphones are also compatible with mp3 players, android tablets, and other devices. A KZ ZST cable comes with a 3.5mm L plug. Any device with this 3.5 mm jack can connect to these earphones.
Comfortable Fit and Excellent Sound
YINYOO earphones have a strong and durable design that works well with memory wire technology. The thin in-ear headphones allowed me to move, and they remained in place without the fear of tangling somewhere or falling. They fit perfectly in the ear, and due to this reason, the sound quality felt amazing without any disturbance.
Noise Cancelation HIFI Headset
These earphones comprise noise cancelation 1 BDA + 1DD HIFI headset and colorful hybrid balance armature. They ensured perfect sound quality through their dynamic in-ear earphones with silicon tips. These silicon tip earmuffs felt much better than conventional earmuffs in comfort and carrying.
Benefits
Its noise-cancelation technology is perfect
The silicon tips enhance the comfort of these earphones
They ensure high performance with audio earphones of around 20 USD
Drawbacks
The sound could be a little bit louder
Difficult to hear around the huge crowd
2) Shure SE215 Pro Best In-Ear Monitors For Singers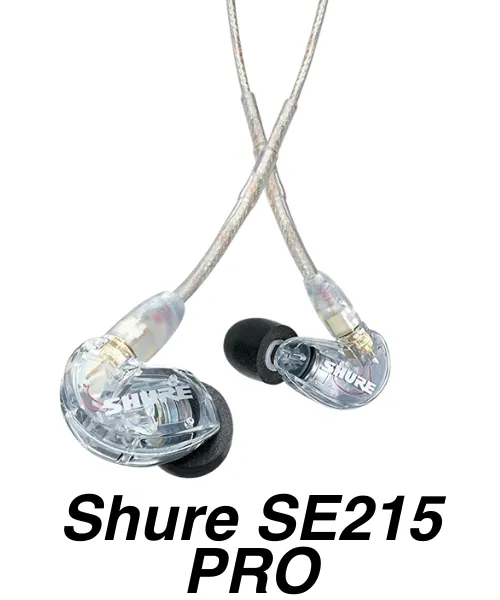 | | |
| --- | --- |
| Manufacturer | Shure |
| Model | SE215 PRO |
| Color | Clear |
| Connectivity | Wired |
| Special Feature | Customized fit and sound isolation technology |
I like to try out, compare and test new gadgets more often, and it is where Shure SE215 Pro In Ear Monitor Earbuds caught my attention. It has incredible full-range sound and lets me hear the music as it should. It fits my ear perfectly and helped me through many live performances by blocking the surrounding sound through its unique sound isolation technology.
Customize Fit and Full Range Sound
This in-ear headphone is one of the best in-ear monitors for singers due to its full range of unique sounds. It can provide a maximum audible frequency to which a human ear can listen within the limitation. This effect enabled me to hear the music loud and clear, with all the highs and lows at the best rate. It comes in 3 different sizes; you can find your fit by trying them on.
Sound Isolation Technology
The sound isolation technology helped me listen to the music and blocks approximately 37 dB of extra noise from the surrounding; this feature is best for singers performing live. They can hear their music without any problems and distractions. The earphones in and noise out technology is working best with the help of these earphones.
Tested by Pro Musicians
These earphones are tested by multiple musicians who have experienced a detailed sound with perfect bass. They are the best in ear monitor earphones if you like to listen to music with heavy bass. The most admirable thing is its size, fit, and attachment to the ear canals. You can also enjoy the perfect sound quality and call performance as well.
Benefits
It is available in different sizes and ensures a perfect fit.
The durable reinforcement cable is present for easy customization.
The carrying case is compact and tangle-free.
Clear and perfect sound for singers and music lovers.
Drawbacks
Tonal palette could be broader.
The cord seems bulky.
3) Linsoul KZ ZS10 Pro Best In-Ear Monitors For Gaming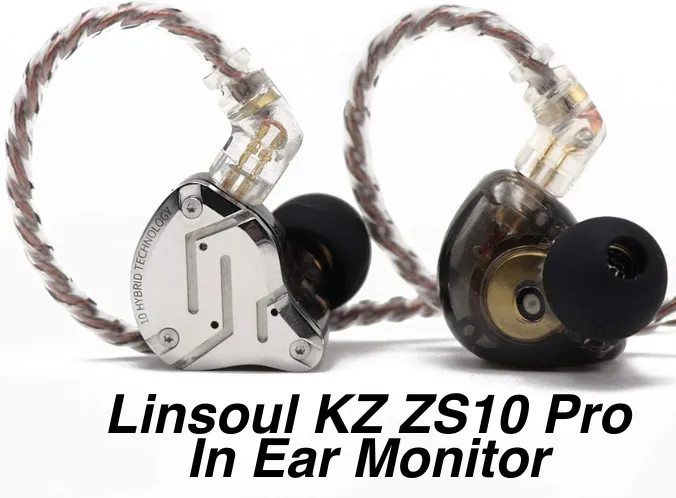 | | |
| --- | --- |
| Manufacturer | Linsoul |
| Model | KZ ZS10 Pro |
| Color | Black |
| Connectivity | Wired |
| Special Feature | Upgraded hybrid and magnetic dynamic unit |
I love using bass guitar and in-ear monitors as my go-to gadget for performance. As a musician, it is becoming my hobby to try every aspect of music and use every instrument available in the market. For this purpose, I decided to buy Linsoul KZ ZS10 Pro in-Ear HiFi Metal Earphones. These earphones are perfect and have many fantastic features, such as their drivers for high frequencies and ergonomic design with noise-canceling technology.
Upgraded Dynamic Unit
These earphones are the best in-ear monitors for gaming and have upgraded 4BA+1DD Hybrid earphones; these earphones also have a magnetic dynamic unit to converge the music. It is a pro version of KZ ZS10, and it has many unique features, including self-customized balanced armatures with 30095 drives and 50060 drivers; all these drivers work to provide maximum frequency. This earphone also has the adaptation of the Tesla double magnetic dynamic unit.
Premium Sound Quality
With the help of multiple drivers and premium sound quality, the sound is dynamic, transient, and bright. The maximum frequency delivered to these earphones is 40kHz. The sound quality is perfect and provides a smooth, detailed music experience. The sound quality, balanced frequency, and high brightness portray balanced armatures and perfect cohesion.
Ergonomic Design & Noise Cancelation
The faceplate of this device consists of 304 stainless steel, and the cavity has imported resin. The overall design is practical and durable; gold-plated 2-pin cables are attached to prevent them from breaking. The noise cancelation technology fits perfectly into the ear to the cavity made with extensive data of cochlea.
Benefits
Its design and noise-cancelation technology are amazing
The one-year warranty explains the authenticity of the product
PCB board is there to enhance the frequency
They snugly fit the ear without any discomfort
Drawbacks
They give tinny sounds if not perfectly sealed into the ear
Bass is less comparatively
4) MEE Audio M6 Pro In Ear Monitor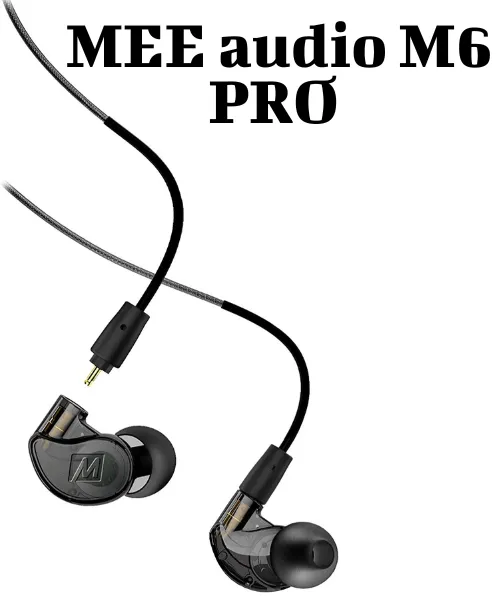 | | |
| --- | --- |
| Manufacturer | MEE Audio |
| Model | EP-M6PROG2-BK |
| Color | Black |
| Connectivity | Wired |
| Special Feature | Sound isolation design and memory wire ear hooks |
For my recent event as a DJ at a private event, I wanted to buy a cheaper in-ear monitor headphone, but I could not find anything with unique features and an affordable price.
Finally, I found MME audio M6 PRO In-Ear Monitor Headphones, which had all the features I was looking for. The sound is flat, and the sound isolation effect magnifies and perfectly focuses it into the ear. There are memory wire ear hooks to provide a comfortable fit with the help of its seven pairs of ear tips.
Sound Isolation Design
The sound isolation design includes 7 pairs of ear tips with closed-back earpieces. It ensures the earphones are perfectly fitted into the ear, and there is no space in the ear cavity to let the outside sound enter the ear. The comply t-series are also helpful in memory foam tips that reduce the ambient noise levels. The listening volumes are safer, and they give a superior audio experience.
Memory Wire Earhooks
There are memory wire ear hooks in the headphone; these ear hooks include seven pairs of ear tips that help provide a secure fit to your ear and help keep them comfortable and prevent them from falling out.
Compatibility and Reliability
These earphones are compatible and reliable; they have a sweat-resistant design and user-replaceable cables. These earphones are compatible with all devices with standard 3.5 mm or 6.3mm jack. A regular audio cable, headset cable, mic, remote, and carrying case are in the box for your help.
Benefits
These earphones are very affordable
They come with two cables that are helpful for replacement
The sound quality is flat and clear
It comes with a high-quality case for storage
Drawbacks
Long hours of usage seem less comfortable
Memory wire can tangle with the cloths
5) Shure SE215 Special Edition Best In Ear Monitor For Bass Players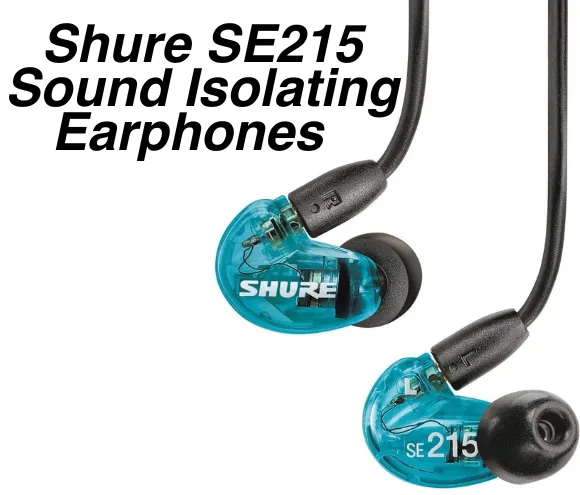 | | |
| --- | --- |
| Manufacturer | Shure |
| Model | SE215SPE-A |
| Color | Blue |
| Connectivity | Wired |
| Special Feature | High insulation design |
Shure SE215 is one of my go-tos in ear monitor earphones for concerts. I am delighted and comfortable with this best in ear monitor earphone due to its unique features, including the sound signature effect with low-frequency and minor boost sound quality. It has a translucent blue color that complements the overall dress. The design of these earphones is ergonomic and trendy.
Memory Foam Pairs
These Shure earphones are one of the best for snugly fit and contain three memory foam pairs and three silicon pairs for the ear tips. The memory foam pair are available in different sizes; 12mm, 13mm, and 17mm in diameter. You can get your desired size, and these foams will squish into your ear canal. The silicon ear top is also available in three different sizes to ensure the bud fits in and out.
Comfortable Design
The overall design of Shure earphones is comfortable with the help of over-the-ear memory wiring, they mold into your ear easily, and you can comfortably attach them to your ear. The over-the-ear wiring sometimes protrudes from the foam fit, but that happens after a few hours of installation, and you can adjust it during performing efficiently.
Sound Isolation Technology
Shure offers sound isolation technology and blocks all the active noise entering the ear. You are set if you have a proper fit and a memory foam pair for your earphones. These earphones provide the best sound isolation by blocking the background noise and efficiently providing a maximum frequency of 25-100Hz.
Benefits
Impressive and high-quality sound
The MMCX is removable with a sturdy cable
The set is perfectly comfortable and fits well
Highly effective noise cancellation
Drawbacks
The upper frequency is quieter than the lower
Earbuds pop out frequently
6) Shure SE846-CL Best Wireless In-Ear Monitor System
| | |
| --- | --- |
| Manufacturer | Shure |
| Model | SE846 |
| Color | Clear |
| Connectivity | Wired |
| Special Feature | Sound Isolation and customized the fit |
When I first bought a Shure in-ear monitor headphone, I knew I had to try its other models as well; I bought Shure SE846-CL Sound Isolating Earphones after trying different Shure in-ear monitor headphones previously. I was astonished by the fantastic features of these earphones; they have sound isolation technology and block approximately 37dB of background noise. There are many other features;
Sound Isolation Technology
The sound isolation technology of this Shure model is the best wireless in-ear monitor system as it can block more than 37dB of noise, and you can listen to music with an enhanced listening experience. You can easily focus on the sound by canceling all the distractions overall. This sound isolation technology helps you hear clearly and is the right way to hear music.
Customize Fit and Secure Ear Design
These Shure headphones are excellent in-ear monitor headphones as they provide you with a perfect fit to your ear, and you can customize these headphones as they are available in 3 different sizes. You can get them after checking different sizes. A wire form fit is installed in this earphone, and it keeps the earphones in place, and the cables do not come in the way.
Full-Range Sound with Durable Reinforced Cable
These headphones provide a full range of sound with the help of their four high-definition drivers; they have high-end clarity, define the sound, and you can hear everything. The low-end performance can also help you understand and enjoy the music. There is a detachable cable along with the headset; you can wear it quickly throughout the day, and it is easy to replace.
Benefits
Its sound isolation technology is superior to other features
The customized fit enables this to fit everyone
Its carrying case is compact and easy to travel with.
The sound signature is adjustable
Drawbacks
It is costly and hard to afford
They look generic other than luxurious
7) Mackie MP-220 Best In-Ear Monitor System Under $500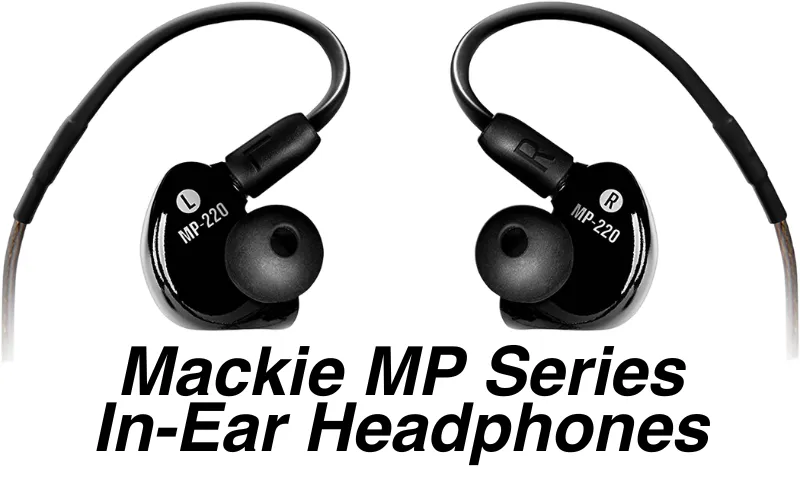 | | |
| --- | --- |
| Manufacturer | Mackie |
| Model | MP-220 |
| Color | Black |
| Connectivity | Wired |
| Special Feature | Dual high-performance dynamic drivers |
If I recommend the best in-ear monitors for DJs, Mackie MP Series In-Ear Headphones are one of my top choices. After testing them for weeks, I like their dual high-performance dynamic drivers that perfectly deliver music's high and low pitches. These headsets are perfect for those who mix heavy bass, drummer, and bassists. Some of the qualities of these earphones include the following;
Dual Dynamic Drivers
Mackie MP series is the best in-ear monitor system under $500 and have a specialty of dual high-performance dynamic drivers; they deliver perfect pitches of sound. They are one of the best ears monitor headphones due to this feature. The number of drivers in a headset is essential while selecting the headphone; these drivers reproduce bass, treble, mid, and other frequencies into your ears.
Shielded Cable
These headsets come with a shielded and braided cable; these cables are safe from damaging or tangling. They ensure extra durability and premium performance with the help of this in-ear monitor. Sound quality defines the overall quality, and if the cables are shielded perfectly, you can enjoy the perfect performance easily.
Detachable Connector
These headphones contain a detachable connector, and this increases the comfort and reliability of these headphones. You can attach and set the cable with the wires, and the MMCX connector will help it attach comfortably and efficiently.
Benefits
The sound separation is perfect
It is affordable and economical
The design is robust and sturdy
The sound is crisp and clear
Drawbacks
After trying these two drivers, you will need more
They can make ears go sour after long hours of use
8) Westone Audio Pro X50 Best In Ear Monitor For Guitarist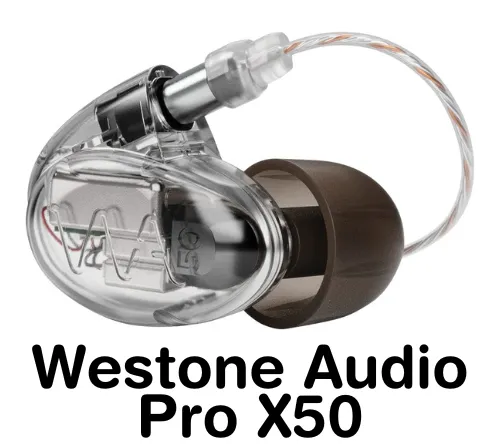 | | |
| --- | --- |
| Manufacturer | Westone Audio |
| Model | Pro X 50 |
| Color | Gray |
| Connectivity | Five Drive |
| Special Feature | Linum Bax T2 detachable cable |
After trying a couple of earbuds and in-ear headphones, there was something still missing, and I wanted to try more headphones to compare and check the performance. Westone Audio Pro X50 IEM Earphones were on my list for the task. The ergonomic technology of this headset with a balanced armature driver helped provide the perfect sound quality and felt a treat to the ears.
Ergonomic Technology
Westone in-ear is the best in ear monitor for guitarists; this headphone is a universal-fit earpiece with its compact, lightweight, and highly comfortable design. The proprietary ear tips of this headset are perfect for providing superior performance. They ensure a great fit, seal into the air, and block the background music.
Balanced Armature Driver
The Weston's proprietary audio balanced-armature drivers give a premium music experience, and the frequency range is perfect for delivering the maximum loud music with a high-frequency setup.
Linum Bax T2 Detachable Cable
There is a high-strength, low-resistant wire design and an aramid fiber. Along with this, an advanced MMCX connector helps connect and move the cable. This connector ensures a comfortable connection.
Benefits
It resolves all the traditional IEM issues
It has a comfortable and fitted design
The armature drivers are perfect for enhancing the frequency
The build quality is worth the price
Drawbacks
Sometimes the sound seems muddy
To make your singing and guitar live performance successful, you must have the best ear monitor to help you listen to music or hear your voice. This information contains the list of all those in-ear headphones, and I hope it helps you decide on the perfect earphones for your needs. In conclusion, YINYOO Colorful Hybrid in-Ear Earphone is the best overall pick among this list of in-ear monitor earphones. Its noise cancellation HIFI headset is perfect; along with this, the design of this earphone is new and trendy. This earphone is exceptionally lightweight and comfortable to connect while performing.

Best Recommended Product
How Do Ear Monitors Work?
Two small transducers are known as dynamic drivers inside the in-ear monitor. These in-ear monitors are placed inside ear canals and produce sound waves. These drivers don't need batteries; they are durable and last longer than previous headphones.
Why Do Singers Wear In-Ear Monitors?
Singers wear in-ear monitors to hear their voices while performing. It is common in music events that the singers can't hear themselves due to the crowd cheering. These monitor headphones allow them to reduce the background noise and focus on their singing.
What is the Use of In-Ear Monitors?
In-ear monitor headphones help protect the ear from background voices; their primary role is noise cancellation. They are well-known for canceling outside noise and increasing your sound or music while performing on stage.