A fiberglass subwoofer is a way to go if you want to add some serious bass to your car audio system. That's why you should know how to make fiberglass subwoofers. Fiberglass offers superior strength and durability compared to other materials, making it ideal for withstanding the high-stress levels that come with big bass.
A fiberglass subwoofer box DIY can be custom-built to fit perfectly in your vehicle, ensuring you get the best sound quality. Making your fiberglass subwoofer is a relatively simple process, and in this article, I'll walk you through everything you need to know.
I'll cover the basics of what you'll need in terms of materials and tools, as well as step-by-step instructions for building your box. By the end of this article, you'll be ready to start enjoying some severe bass in your car!
What is a Fiberglass Subwoofer?
A fiberglass subwoofer is a type of loudspeaker that uses fiberglass as its primary material. Fiberglass is an excellent material for loudspeakers because it is powerful and stiff yet lightweight.
Usually, people search, Is fiberglass good for subwoofers? Fiberglass subwoofers have several advantages over traditional paper or plastic cone subwoofers. First, they are much more rigid, so they can reproduce low frequencies with less distortion. This makes it ideal for use in portable speakers and car subwoofers.
3 Ways to Find: Are Subwoofers Worth it for Music in Cars?
Second, they are much lighter, making them easier to carry around. Finally, they are more weather resistant, meaning they will last longer if you use them outdoors.
If you're looking for a high-quality subwoofer that can handle some serious bass, then a fiberglass subwoofer is a great option. Just keep in mind that they do require more power to drive than traditional cone subwoofers.
Best Material for a Subwoofer
Many beginners inquire; what is the best material for a subwoofer? Some materials can be used for a subwoofer, but the best is fiberglass. It is an excellent material because it is solid and durable yet relatively lightweight.
This makes it ideal for a subwoofer because it can withstand much abuse without being too heavy to move around. Another reason fiberglass is the best material for a subwoofer is that it doesn't absorb much sound.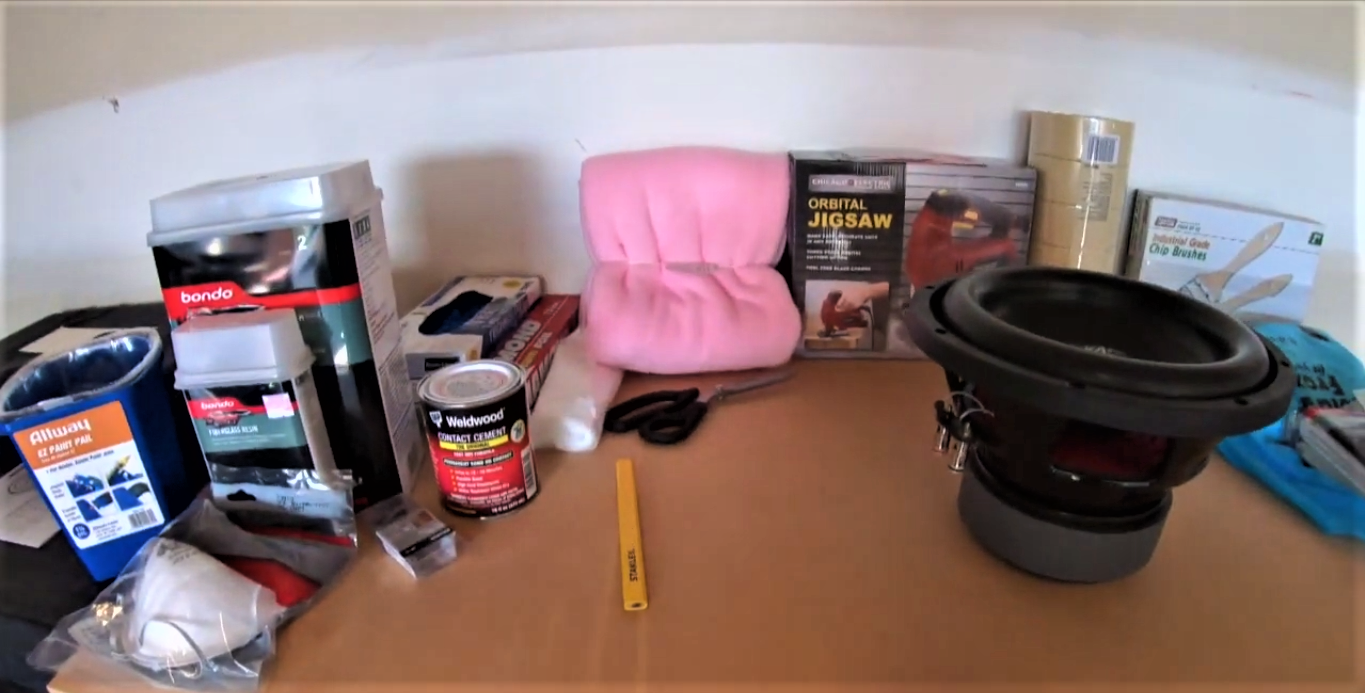 It means that the sound from your subwoofer will be more precise and accurate than if made from a material like wood or plastic. If you're looking for the best sound quality from your subwoofer, consider getting one made of fiberglass. It's the strongest, lightest, and most accurate material available, so you can't go wrong with it!
How To Build a Ported Fiberglass Sub Box
Building a ported fiberglass sub-box is easier than it may seem. With patience and attention to detail, anyone can do it! Now, here's how to build a ported fiberglass sub box:
The first step is to cut out the pieces for the box. You will need two pieces for the front and back, two for the sides, and one for the bottom. Once your pieces are cut out, you must drill holes for the ports. The size of the port will depend on the size of your subwoofer.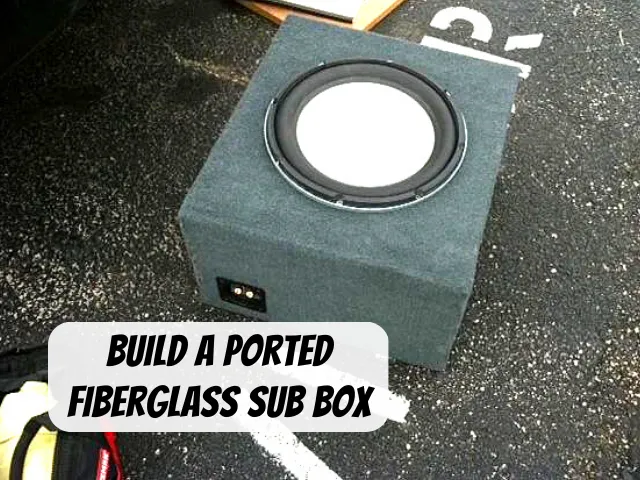 After drilling the holes for the ports, you must attach the front and back pieces. Then, you will need to attach the side panels. Ensure that all the seams are properly sealed so that no air leaks.
Once you have all the pieces attached, you will need to put some silicone sealant around the edges. It will help to keep everything airtight. Finally, let the box cure for 24 hours before installing your subwoofer.
What Things do You Need to Make a Fiberglass Subwoofer?
Assuming you want to learn how to make fiberglass subwoofer that's what you need:
Tape measure
Plywood (at least ½ inch thick, but ¾ or 1 inch is better)
Ruler or a straight edge
Circular saw
High-grit sandpaper (100-grit or higher)
Staple gun and staples
Fiberglass matting (available at auto body supply stores)
Resin (also available at auto body supply stores)
Hardener for the resin
Disposable gloves
Mixing cups and stir sticks
Spreaders
Old rags or newspapers to lay over your work area
Designing Your Own Fiberglass Subwoofer
If you want the best sound quality out of your car's audio system, you'll need to design and install a custom fiberglass subwoofer enclosure. While this may seem daunting, it's not that difficult – and I'll show you how!
To start, you'll need to determine the dimensions of your desired enclosure. It will depend on the size and shape of your car's trunk, as well as the make and model of your subwoofer. Once you have these measurements, you can begin designing your enclosure.
Once you've decided on a type of enclosure, it's time to start construction! I recommend using ½-inch thick sheets for the sides and bottom of your enclosure and ¾-inch thick sheets for the top and front baffle (the panel where your subwoofer mounts). Fiberglass is easy to work with and can be cut with a saw or router.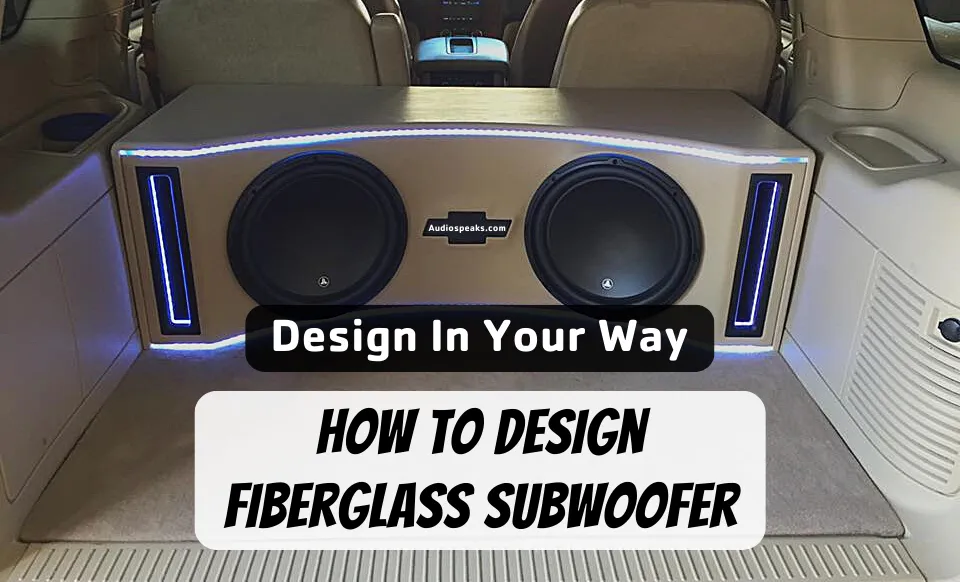 When cutting fiberglass, always wear gloves and a dust mask to protect yourself from particles. Working in a well-ventilated area is essential to avoid inhaling fumes from the adhesive and fiberglass.
Once your enclosure is complete, it's time to install your subwoofer. First, remove the original woofer from your car and place it inside the new enclosure. Mark the locations of the mounting holes on the baffle and sides of the enclosure, and then drill these holes using a ¾-inch bit.
Next, attach the woofer assembly to the baffle using screws and washers. Make sure to tighten these screws until they are snug – you don't want them overtightened, as this could damage your woofer.
Now it's time to connect your power supply and speaker cables. Run these cables through the opening in the front baffle and then out through the door of your enclosure. Finally, plug in your subwoofer and turn it on!
Your custom fiberglass subwoofer enclosure is now ready for use! Enjoy improved sound quality with every music track – thanks to its superior construction and powerful performance!
Instructions to Make Fiberglass Subwoofer
To learn how to make fiberglass sub-enclosure, you will need the following supplies:
Fiberglass cloth
Fiberglass resin
Hardener
Gelcoat
Measuring cups
Stirring sticks
Utility knife
Sandpaper
Protective gloves and clothing
Fiberglass Subwoofer Box
Here's the best way to make a fiberglass subwoofer box:
Begin by measuring the fiberglass cloth and cutting it to size. You will need enough to cover the entire area where the subwoofer will be placed.
Next, mix the fiberglass resin and hardener according to the instructions on the packaging.
Once the mixture is ready, apply it to the fiberglass cloth using a brush or roller. Be sure to work quickly, as the mixture will begin to set soon.
Once all the cloth is coated, allow it to set for the recommended time before moving on to the next step.
You will need to apply gelcoat to the fiberglass subwoofer mold. This step is essential as it will give your subwoofer a smooth, professional finish.
Apply the gelcoat with a brush or roller, evenly covering all areas. Allow it to be set for the recommended time before proceeding.
The last step is to cut any excess fabric from around the edges of your mold using a utility knife. Once trimming everything, you can sand down rough edges before removing your subwoofer from the mold.
Fiberglass Subwoofer Advantages and Disadvantages
A fiberglass subwoofer has several advantages over a traditional subwoofer:
Fiberglass is much lighter than most other materials, so a fiberglass subwoofer will be easier to install and transport.
Fiberglass is an excellent acoustic material, meaning that it will produce superior sound quality.
Because fiberglass is non-conductive, it will not interfere with electronic equipment like a metal subwoofer.
There are a few disadvantages to consider as well:
Fiberglass can be more expensive than other materials.
Because it is lightweight, a fiberglass subwoofer may not be as durable as a heavier model.
Some people find the sound of a fiberglass subwoofer to be too harsh or "tinny."
2 Types of Enclosures
Regarding subwoofer enclosures, there are two main types: sealed and vented. Both have advantages and disadvantages that should be considered when choosing the right kind of enclosure for your system.
Sealed Enclosures:
Higher efficiency due to no air leaks
Tighter bass response because sound waves cannot escape
Require more power to produce the same volume as a vented enclosure
Less flexible in terms of design and size
Vented Enclosures:
Lower efficiency due to air leaks
Bass response is not as tight because sound waves can escape through the vents
Require less power to produce the same volume as a sealed enclosure
More flexible in terms of design and size
How many layers of fiberglass is enough?
In general, three layers of fiberglass are considered sufficient for most applications. However, some applications may require more or less depending on the specific needs.
Does polyfill make bass deeper?
A polyfill can make bass deeper by filling in the low frequencies not produced by the speaker. It will make the overall sound fuller and more complete.
After reading this guide, you should know how to make a fiberglass subwoofers. This project requires time and patience, but the result is worth it. Making your fiberglass subwoofer is a great way to get superior sound quality in your car's audio system. The process is relatively simple, and with patience and attention to detail, anyone can do it! Just be sure to take your time and follow the instructions carefully, and you'll enjoy some severe bass in no time. With a custom-made enclosure, you'll get the most out of your subwoofer and enjoy your music.

Summarized Note