Microphone stands are the most underrated to help you in a studio or on stage. For most music enthusiasts, the best microphone stand is at the end of the preference list when buying music instruments. But the fact is that these stands are the most important things you will need when performing on stage or setting up your studio.
Microphone stands are the perfect objects for holding the mic securely in a position. Your recording or performance will go smoothly with the best microphone stand. But if the microphone stand is not strong enough to keep the mic in one position, you will have to face disastrous effects. This article lists the top microphone stands to help you get the best one for your next project. So, stay tuned.!
Top 8 Best Microphone Stand
Table Of Contents
Various microphone stands are available in the market; it took me a month to develop these top 8 best microphone stands. I have tried and tested these stands, noticed every specification and feature, and explained them in detail.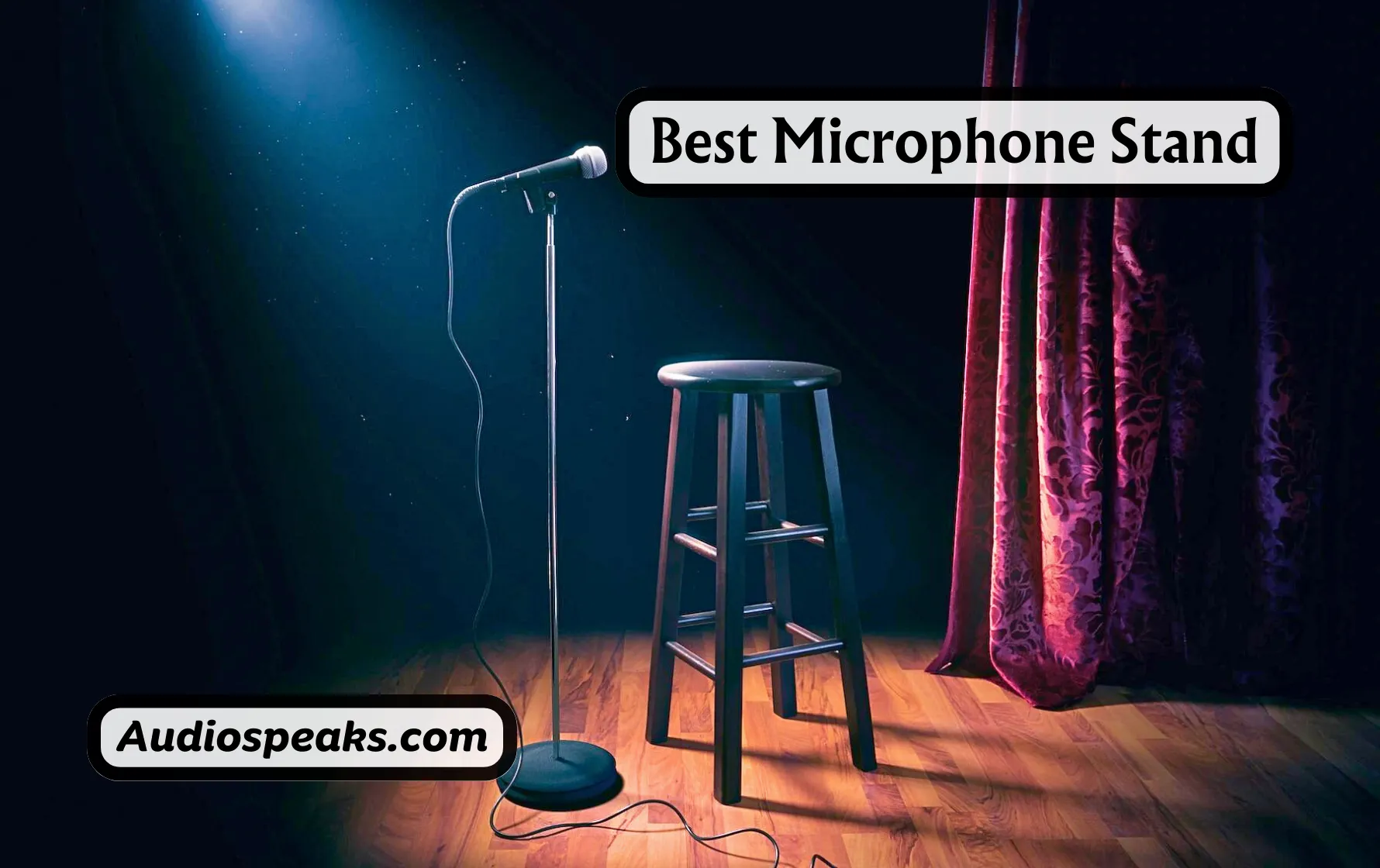 All these microphone stands are perfect, and there is a difference in their features slightly. All of these stands have my endorsement, but ultimately, it's up to you to decide which best suits your demands and budget.
1) On-Stage MS7701B Best Boom Mic Stand

| Specifications | Featured Values |
| --- | --- |
| Brand | OnStage |
| Color | Black |
| Material | Metal, Steel |
| Max Height | 61.5 Inches |
| Adjustable | Yes |
The OnStage MS7701B is one of the best and classic examples of a tripod boom mic stand. I have noticed some exquisite features in the stand, unlike many others. The OnStage stand's height adjustment clutch, vice-like boom clamp, and folding legs are conventional, making it easy to use.
OnStage has a cable clip and a sprung mic clip that helps attach the boom arm's end side with a threaded mount of standard size. The height of the stand ranges from 32 inches to 62 inches. It helps place the mic with various applications and settings to execute shows like school music plans, concerts, karaoke, and many other public speeches.
Benefits
The mic stand has a good value
It is easy to use and adjust
The design is sturdy and portable
Drawbacks
There are some stronger stands available in the market
The weight on the end is not strong enough to help heavy mics
2) Gator Frameworks Best Microphone Stand for Stage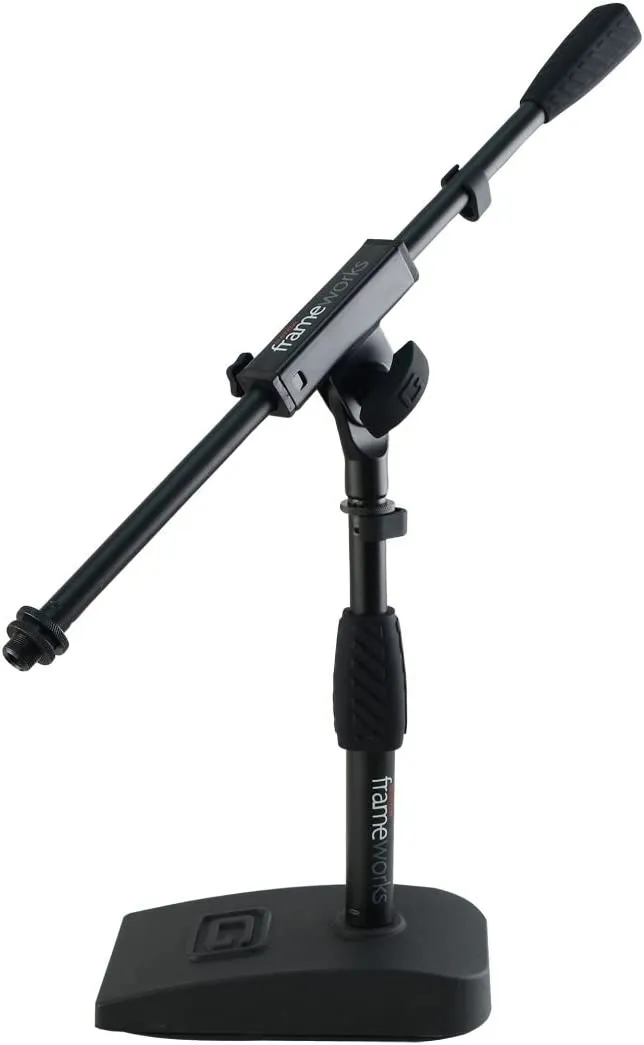 | Specifications | Featured Values |
| --- | --- |
| Brand | Gator Frameworks |
| Color | Black |
| Material | Steel |
| Max Height | 23 Inches |
| Adjustable | Yes |
The gator framework is a short microphone stand with a small and compact base. It is also known as telescoping boom mic sand. Gator is a highly versatile and good-quality stand that helps you customize your mic's position for desktop, amps, and bass drum. Due to the stand's versatility, you can use it for your studio and stage.
The construction of the mic stand is strong as it consists of heavy-duty steel with a weight of 2.5lb. It helps to keep the mic in space strongly. I became a big fan of its compact base and performance stages. The maximum height of the sand is 23 inches with a 16-inch single-section boom. The weighted base is 4.5 inches x 8 inches to help keep the mic in one place.
Benefits
The construction is strong and sturdy
It is compact and perfect for holding the mic
The cable management includes the U-shaped base
Drawbacks
Main shaft is difficult to tackle and tighten
Bolt assembly of the stand makes it difficult to assemble
3) Pyle Desktop Best Microphone Stand for Desk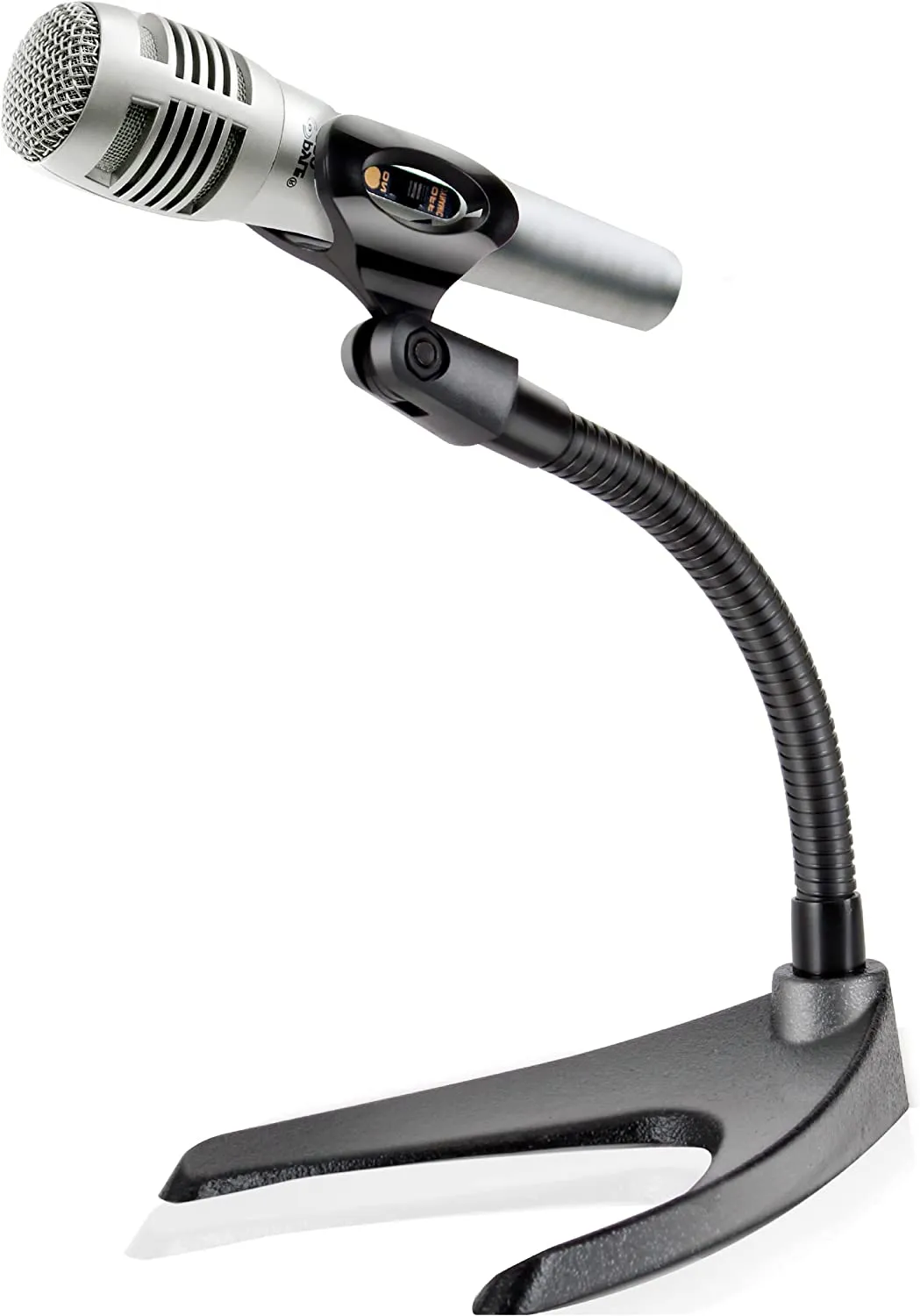 | Specifications | Featured Values |
| --- | --- |
| Brand | Pyle |
| Color | Black |
| Material | Steel Alloy Base |
| Height | 8.2 inches |
| Adjustable | Yes |
Pyle desktop comes with an adjustable gooseneck, and the stand is 8.2 inches high. There is no noise while adjusting the stand. You can easily and quietly adjust the microphone sand. While reviewing, I noticed its ideal mic stand with a flexible and bendable shaft that is perfect to put on a desk, counter, and any table you like. The gooseneck shaft allows the stand to stay in any position.
The overall die casting of the mic is U shaped with a sturdy base. The overall base is 5.6 inches x 6.8 inches in dimension. This best microphone stand for desk helps provide stability and balance and prevents falling. There is also a 2.02 lbs. counterweight to give the stable placement of the microphone.
Benefits
It is a professional mic for table, desk, and counter
This mic stand is highly portable and simple to use
Its construction is durable and focuses on live vocals
Drawbacks
The base standard is not as strong as it should be
Some users reported missing parts of the stand while assembling
4) Stage Rocker Heavy Duty Microphone Stand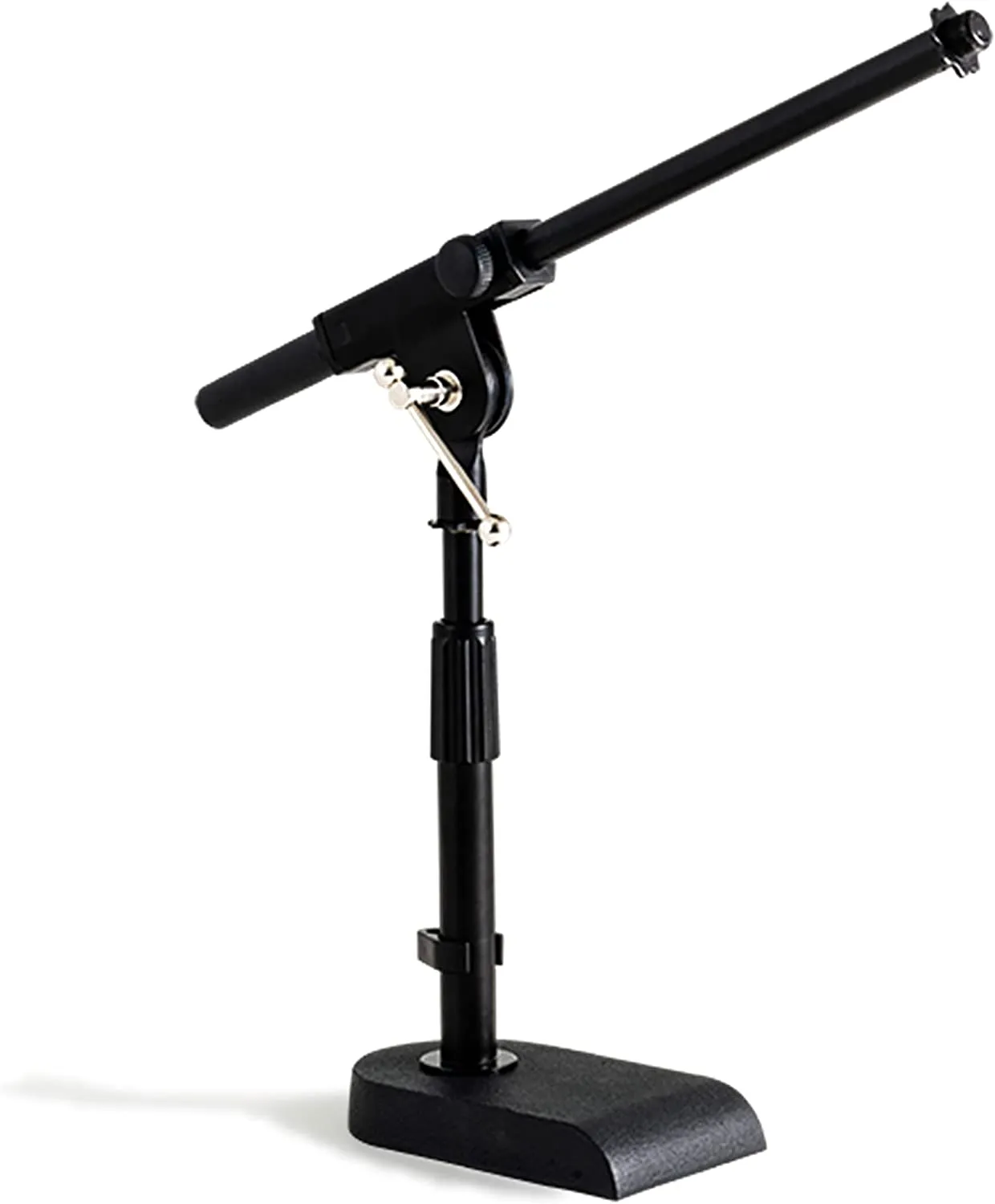 | Specifications | Featured Values |
| --- | --- |
| Brand | Stage Rocker |
| Color | Black |
| Material | Metal |
| Height | 20.87 inches |
| Adjustable | Yes |
The stage rocker is adjustable, and the boom mic stand is perfect for raising or lowering the height whenever needed. There is a T-handle adjustment through which you can easily manage the height from 16.54 inches to 20.87 inches. The reliable and coated steel midpoint locking clutch made my work easier to fix it.
Stage rocker has an ergonomic clutch design and helps you adjust and place it at an optimal height for the perfect comfort. Stage rocker is a heavy-duty mic stand with a die-cast base. It provides a perfect balance and stability for kicking the drum and amp mic. There is a weighted powder-coated black finish base that prevents scratches.
Benefits
Has an extendable boom arm for quick and easy height adjustment
It is versatile to use and ideal for bass drum and guitar use
The whole design is stable and sturdy
Drawbacks
Base is not as heavier as it should be
There were a lot of missing parts reports from many customers
5) HERCULES MS533B Best Microphone Stand for Singing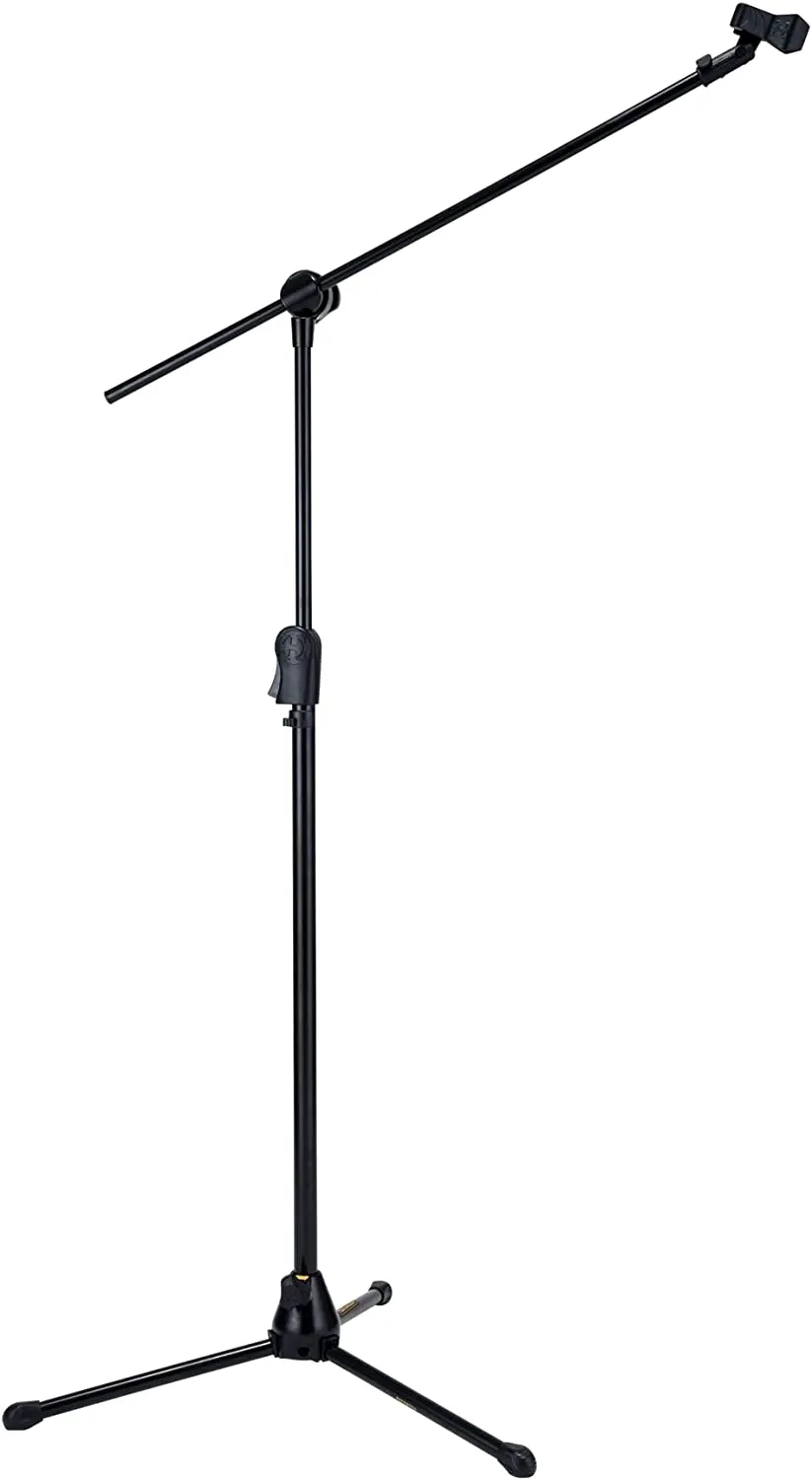 | Specifications | Featured Values |
| --- | --- |
| Brand | Hercules |
| Color | Black |
| Material | Aluminum |
| Height | 94.5 inches |
| Adjustable | Yes |
The Hercules tripod base has a boom stand, also known as the best mic stands for streaming. When I looked at the stand first, I thought it was a simple single-pole stand, but it is much more than that. There is a nifty one-handed and squeezable EZ clutch that helps in increasing the fast height adjustments.
It is a 2 in 1 boom clamp with a single knob adjustment that helps adjust the boom length and angle securely. It helps convert the stand from a straight stand to a boom that stands easily and quickly. There are some hidden inner extension tubes that you can pull from the main stand. You can easily spot the inner extension tube when you unscrew the big boom clamp knob.
Benefits
It is a unique hideaway boom microphone stand
The overall structure is well-engineered
The microphone is versatile
Drawbacks
It might be an overkill for some
The stand lever reportedly stops working after some time
6) On-Stage DS7200QRB Best Microphone Stand for Podcasting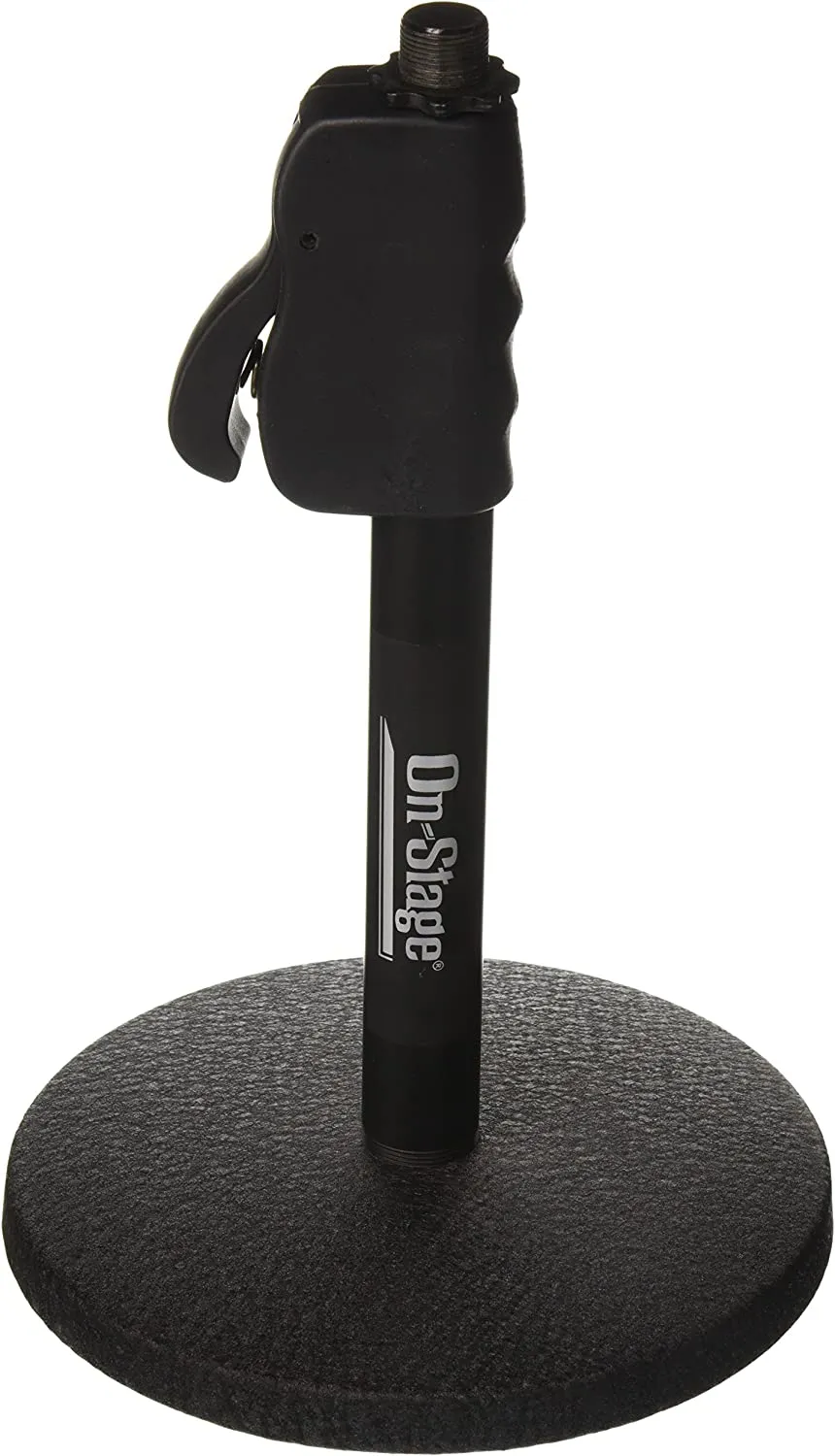 | Specifications | Featured Values |
| --- | --- |
| Brand | OnStage |
| Color | Black |
| Material | Rubber |
| Height | 16 inches |
| Adjustable | Yes |
The On-stage is the best microphone stand for studio recording. You can use it for podcasting; the height is perfect for holding a hefty mic. The mic has a 5.9 inches steel base which weighs around 3 lbs. You don't need to fear dropping over the mic from the stand.
The single shaft comes out from the mid of the bat, and the height spreads from 10 to 16 inches with a quick clutch release. The whole adjusts quicker as compared to the old twist-style clutches. The OnStage microphone stand is a simple and effective stand with a low price.
Benefits
The overall stand is of great value
There is a quick-release trigger clutch
The overall Solid build quality is perfect
Drawbacks
You might not find it readily
The quick-release adjustability sometimes fails to work
7) Ultimate Support MC-125 Best Microphone Stand for Gigging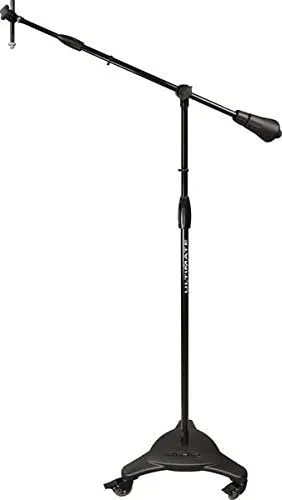 | Specifications | Featured Values |
| --- | --- |
| Brand | Ultimate Support |
| Color | Black |
| Material | Synthetic |
| Height | 82.75 inches |
| Adjustable | Yes |
Ultimate support MC 125 is one of the best super smooth microphone stands. It is effective to move in all directions and easily rotate in both directions. You can also ensure zero movements if needed. I discovered this best amazing stand in 5.75 lbs. die-cast counterweight that you could adjust easily in the right placement.
While reviewing, I found the heavyweight base also has a hybrid circular and tripod design to provide extra stability and lockable castor at every corner of the stand. You can easily wheel the stand to any position and lock the place by stomping on the footplates. The height adjustment ranges from 51.5 inches to 82.75 inches.
Benefits
It is a perfect solid studio workhorse
The stand is hugely extendable
There is an adjustable counterweight
Drawbacks
The microphone stand is rather pricey
The included tools are not of good quality
8) K&M König & Meyer Best Microphone Stand for Shure SM7B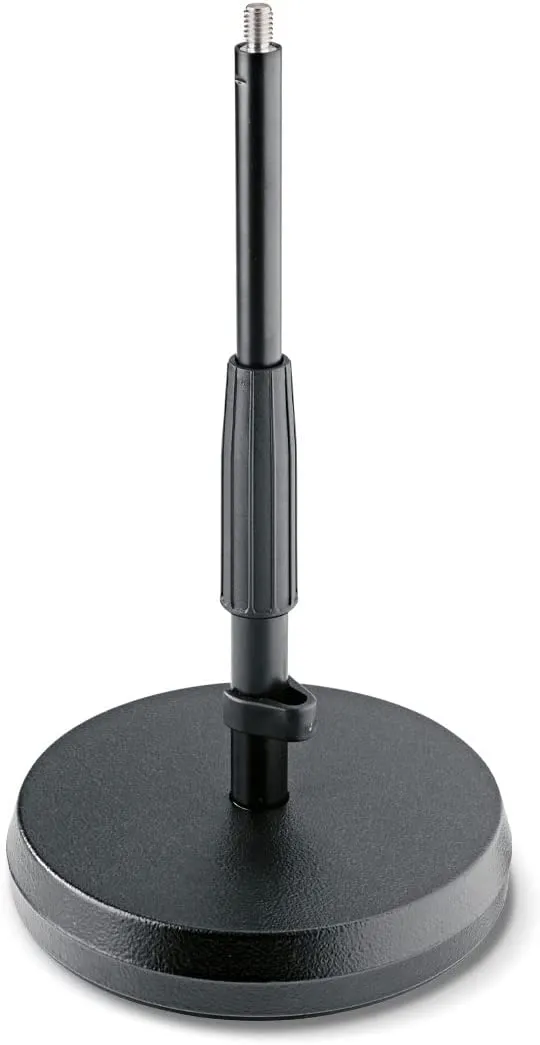 | Specifications | Featured Values |
| --- | --- |
| Brand | K&M |
| Color | Black |
| Material | Rubber |
| Height | 13.6 inches |
| Adjustable | Yes |
K&M is one of the best microphones for an innovative stand technology leader. It is a short stand with hand height adjustment, allowing maximum durability and stability that helps keep the music flowing. I had to thread the microphone separately to use it for hands-free sessions, and it was not present in the package.
The overall stand is highly portable; you can place it on a table or floor and adjust the height. The height is adjustable between 8.6 inches to 13.6 inches. The ergonomic design has a clutch that helps secure the microphone's clutch. K&M is a superior-quality microphone stand and involves world-class construction.
Benefits
It is great for kick drums and guitar amps
There are lots of pro features
The overall stand is looks premium
Drawback
It is only for low-level tasks
Selecting the ideal microphone stand from the vast array of available options can be challenging. I have curated the best microphone stands to ease the process. I have tried and tested it. I recommend using the K&M Microphone Stand as it has a strong build and minimum drawbacks. You don't want your stand too heavy or light to hold the mic's weight.

It has a perfect size with a perfect weight to adjust different mics. Along with being strong, it comes in a good price range. Due to all these features, this perfect headphone is my favorite.

My Recommended Microphone
How Do I Choose a Microphone Stand?
Multiple things matter, including the height range, clutches, studio booms, portability, weight, mic stand boom arms, and broadcast booms. You need to list all the features you are finding inside your stand and then look for the one.
What is a Microphone Stand Called?
A microphone stand is also known as a tripod stands. It has a general function; the tripod boom stands add a boom arm for more positioning options than the standard tripod stands. The round base stands are perfect for singers on stands as they like using these stands as compared to floor spaces.
Do you need a mic stand?
Yes, a mic stand is extremely important if you are using a mic. Without a stand, your microphone would record all the vibrations, knocks, bumps, and other disturbances. It will cause the recording to be unstable. It is important to have a stand to keep your live streaming, podcasts, and speeches going smoothly.