If you're a drummer, you know protecting your hearing is crucial. After all, drums are among the loudest instruments out there and can cause severe damage to your ears over time. That's why finding the best earplugs for drummers is essential for any musician who wants to keep their hearing safe and sound. But don't worry – protecting your hearing doesn't mean sacrificing sound quality or performance.
So, if you're a drummer looking for the perfect set of earplugs, you're in luck. I've researched and tested to find the best earplugs and headphones for drummers. Whether you're a professional drummer or just starting, these earplugs will help you keep your hearing safe without compromising sound quality. Let's dive in and check out the features of these earplugs!
Top 5 Best Earplugs For Drummers
Table Of Contents
With so many earplug options, how do you know which one to choose? Don't worry – I've got you covered. Based on their features, I've tested and ranked the 5 best earplugs for drummers, so you can easily find the perfect pair for your needs and budget.
From noise reduction to comfort and fit, these earplugs have it all. So, whether you're a professional drummer or a music lover attending concerts, these earplugs will help you enjoy your passion without damaging your ears.
1) Loop Experience Good Ear Plugs For Drummers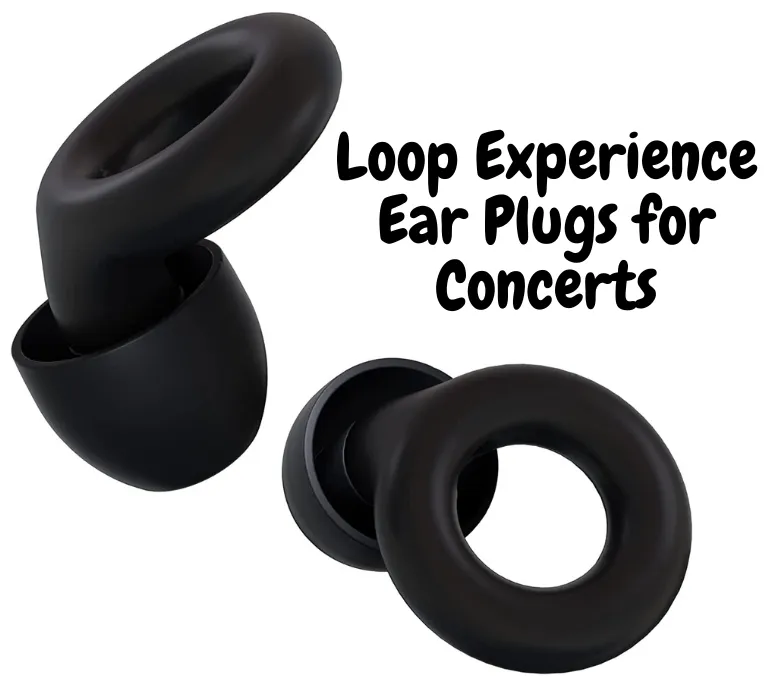 | | |
| --- | --- |
| Brand | Loop |
| Weight | 0.63 Ounces |
| Size | Available in four sizes |
| Color | Black |
| Material | Silicone |
| Product dimension | 3.03 x 3.03 x 0.73 inches |
Loop Experience earplugs are one of the best earplugs that look great, and due to their many excellent features, they are at the top of the list. Its round acoustic channel doesn't distort music and makes the ear canal's resonance natural. Have a look at the features of this best earplug for drummers.
Advance Filters
Their advanced filter technology gave me good results when I tested it. These filters can reduce volume up to 18 dB evenly across mid, high, and low frequencies. My ear remains protected from loud sound due to these filters, which also deliver pure sound.
Multipurpose Usage
It is a multipurpose earplug, and I find them best for different noisy places. They give me good results when I use them behind the drums for my commute, festivals, and concerts. They are best for those who trigger by noise.
Stylish Comfort
The loop experience's earplugs come in four sizes; you can pick one according to fit. I used its medium size, perfectly fitting my ears and blocking the way or noise. Moreover, it is a stylish accessory, and when I used it, my friends were astonished.
Ease of Use
It is easy to insert these earplugs; they don't stick out of my ears when I wear them. I used them for long hours but felt no hurt in my ears. It is good to use smaller or medium sizes; if they slip out of the ear, then go for the larger size.
Benefits
It is easy to fit them into the ear.
It comes in four different sizes.
They are smart earplugs and provide comfort.
You can use it for multi-purposes.
Drawbacks
They may not block enough noise.
2) EARPEACE High Fidelity Best Wireless Headphones For Drummers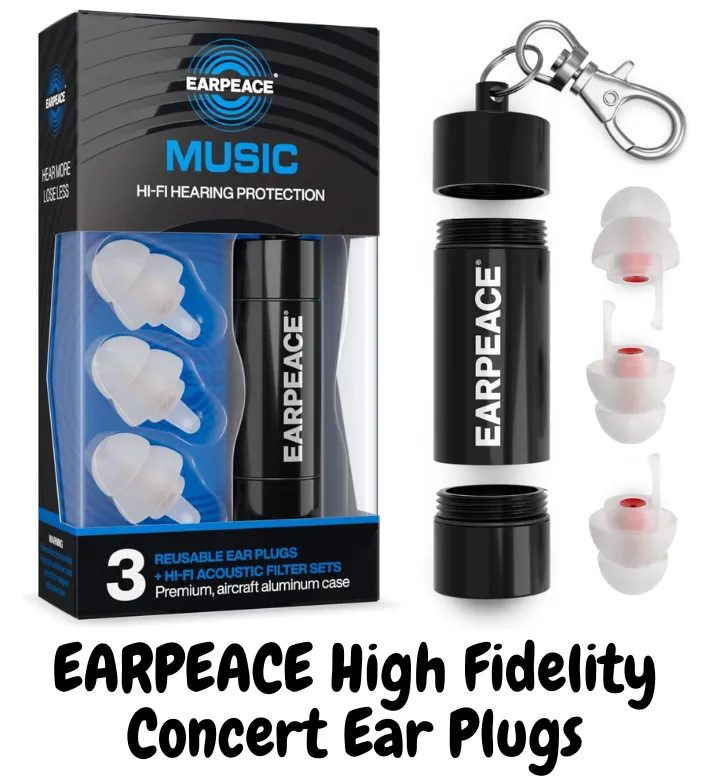 | | |
| --- | --- |
| Brand | EarPeace |
| Weight | 0.3 Ounces |
| Size | Medium |
| Color | White |
| Material | Silicone |
| Product dimension | 4.21 x 2.32 x 1.06 inches |
Do you want to protect your ears while drumming or attending concerts but find wired earplugs too cumbersome? Look no further than EARPEACE wireless headphones! These best wireless headphones for drummers offer the best ear protection without the hassle of wires or connectivity issues. With EARPEACE, you can protect your ears without sacrificing sound quality or breaking the bank.
Comfortable & Cost-Effective
The Earpeace are the best earplugs for drummers because they are comfortable and cost-effective. I like their ultra-soft and hypoallergenic silicone tips. I found them very friendly for my pocket and ears.
Invisible to Ears
As a music enthusiast, I've tried many earplugs at concerts, but nothing beats the comfort and noise reduction level these earplugs provide. When I wore them to a concert, my friends couldn't even notice them as they were practically invisible in the ears. The best part is that despite their small size, they provide high-fidelity sound levels.
Three Filters
These ear protection for drummers come equipped with three different filters for noise reduction, and I must say, they work like a charm! Whether you're exposed to loud music, drumming, or attending concerts, these earplugs offer optimal protection with their medium, high, and max-level filters, which can reduce noise up to 26 dB.
But what sets these earplugs apart is that, despite their impressive noise reduction capabilities, they still provide a crisp and clear sound at a safe volume level. When I tested them out, I was blown away by how well they filtered the harmful noise without compromising sound quality.
Everyday Carry
The earpiece plugs proved best for my drumming sessions and gave me hearing protection in daily use. I love to use them during my commute to the gym, clubs, etc. I feel relaxed and isolated from the noisy environment during meditation.
Benefits
It works great, especially at concerts.
Its filters are interchangeable.
They are reusable earplugs.
These are super comfortable.
Drawbacks
The pool tap is too short, and ear tips may not fit most users.
3) Etymotic Research ER20XS Best Ear Protection For Young Drummers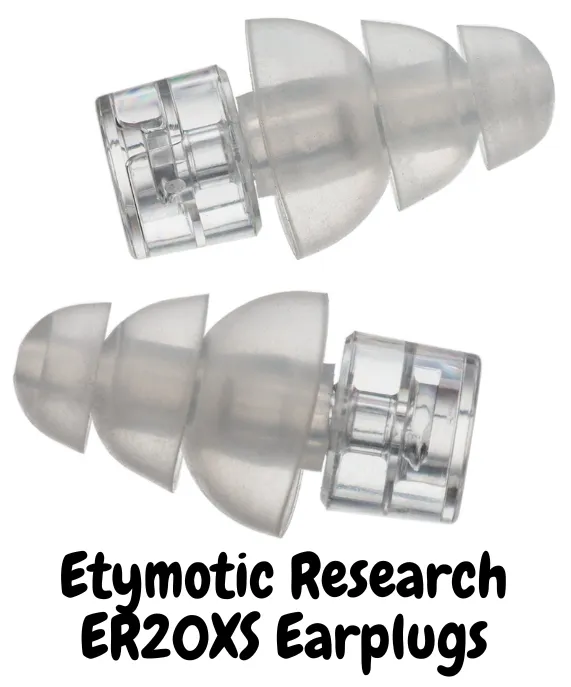 | | |
| --- | --- |
| Brand | Etymotic Research |
| Weight | 0.42 Ounces |
| Size | Normal |
| Color | Clear Stem/White Tips |
| Material | Silicone |
| Product dimension | 1.57 x 2.56 x 0.79 inches |
As a young drummer, finding suitable earplugs that provide optimal protection without compromising comfort can be challenging. That's why I was thrilled when I discovered the Etymotic Research ER20XS earplugs. These are one of the best earplugs for drummers to protect ears from loud sounds. After using them, I knew I had to include them in my list of the best headphones for drummers.
Reusable and Comfortable
One of the best things about best ear protection for young drummers is that they are reusable, making them an eco-friendly option. Additionally, I found them incredibly comfortable, even during long drumming sessions, which is essential for any drummer.
Extended Life Span
The earplugs also come with replaceable tips, so you can easily swap them out when they become worn or lose their ability to block noise effectively. This feature is great because it extends the lifespan of the earplugs, making them an excellent investment in the long run.
Tip Sizes
It is the best headphone for drummers and comes in two tip sizes, and the standard size fits most users. I used its standard and XS model. Both are good, but I love its XS model, which is compatible with a helmet and hat.
Carrying Case
There is a carrying case with the Etymotic earplugs, and I found it very useful as this case keep the best headphone for drummers safe from losing and scratching. Moreover, its neck cord is also a great addition and makes them more reliable because I can put them around my neck when put out from my ears.
Sound Quality
When it comes to sound quality, I like their professionalism. You can hear the difference with true high fidelity. Reduce the environmental sound, isolate your drumming, and provide clear sound.
Benefits
They have a beautiful and visible look.
It can reduce up to 20 dB.
The build quality is of high end.
Easy to fit in every size of ear.
Drawbacks
They don't provide much reduction as you expect.
4) Vic Firth VICEARPLUG Ear Plugs For Playing Drums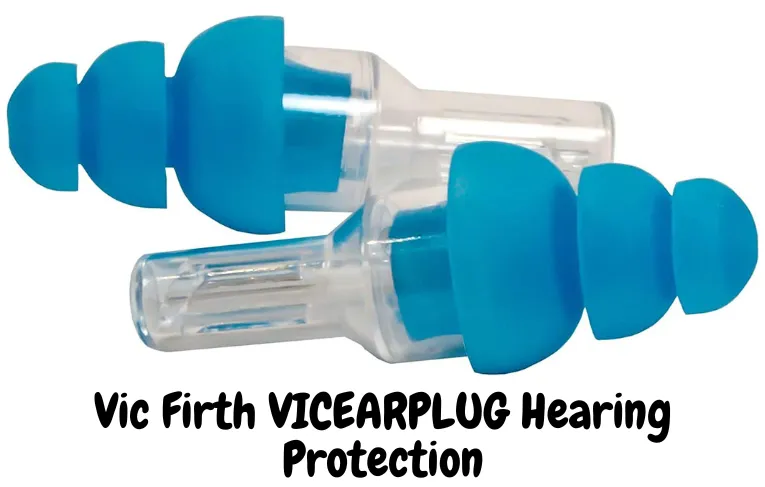 | | |
| --- | --- |
| Brand | Vic Firth |
| Weight | 0.95 Ounces |
| Size | Regular |
| Color | Blue |
| Material | Rubber |
| Product dimension |  1 x 1 x 1 inches |
Vic Frith is on this list due to their excellent sound and balanced noise. They give lower noise protection ratings of up to 20 dB at high frequencies. Although they work well for too much loud sound, you may consider something sustainable. However, without any doubt, they lower the rate of hearing damage.
Quality Design
It is a well-known brand with special accessories and drumsticks qualities for users. Vic Frith ensures hearing safety for drummers due to their noise-canceling ability. I love their color and material and found them reliable and weightless.
Affordable for Everyone
It is a good pick for a cheap or affordable option. The price of Vic Frith is available at a reasonable price and provide excellent feature. These cheap earplugs give about 20dB of sound reduction, and when I tested them behind the drum kit, I realized that they are the best earplugs for drummers.
Neck Cord
The neck cord is another great feature, and I found it very useful as I take them out of my ear during drumming sessions without worrying about losing them. Their neck cord keeps them around my neck safely.
Benefits
They are inexpensive earplugs.
Provide good sound while drumming.
Come in a carrying case.
Neck cords make them safer.
Drawbacks
It has a less life span.
The noise protection rating is low.
5) EARasers Noise Cancelling Custom Earplugs For Drummers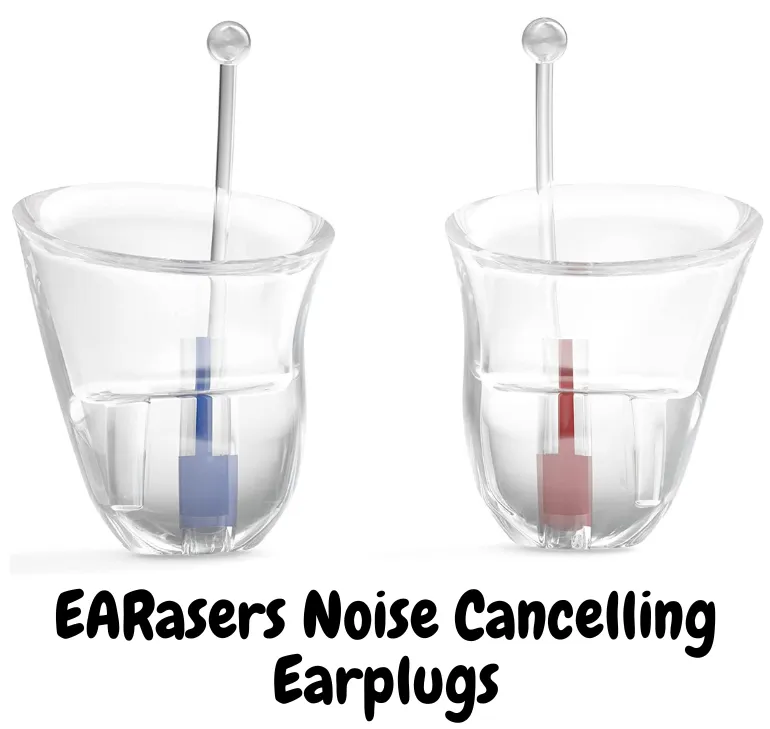 | | |
| --- | --- |
| Brand | EARasers |
| Weight | 1.6 Ounces |
| Size | Medium |
| Color | Transparent |
| Material | Silicone |
| Product dimension | 7.99 x 2.99 x 0.98 inches; |
The Earsers Musicians Plugs are a reasonable solution for various noisy environments. These custom earplugs for drummers are on this list because of their top-notch features and are suitable for different ear types. It is the best option for those who want to get in one option for different environments and drumming sessions.
Great Sound Quality
As a drummer, I tested different earplugs for playing drums and found them reliable in concerts. These good earplugs for drummers protect my hearing and keep the sound quality consistent. Earasers don't muffle sound and keep it genuine when you use them in harmful noise.
V-Filter
These best earbuds for drummers have a special V-filter, and after testing, I experienced that it works great for ensuring high-level protection. During your drumming session, you will attain buzz-free and pure sound through this filter.
Excellent Material
Its soft silicone design makes it one of the best earplugs for the drummer in the market. It is very good as it provides a custom design like other expensive options. The Smart Steel technology keeps my ear in shape and comfortably fits the ear canal. I like it most due to its ergonomic design and medical grade, ensuring a clear and natural sound.
Reused Facility
One of my favorite features of the Vibes High Fidelity good headphones for drummers is their ability to be reused. As a drummer, I appreciate the value of investing in high-quality earplugs; the fact that I can reuse them after cleaning them is a game-changer. In addition to their reusable nature, I love how easy it is to replace the earplug tips when they get old.
Comfortable Experience
Due to their flexibility, I found them very comfortable. They set into my ear canal with ease. When I tested it for long hours of use, I experienced that it caused no irritation or pain in my ears.
Benefits
They are very comfortable even after use for a long period.
Reused facilities make them more reliable.
The silicone tip easily adjusts into the ear canal.
They are very affordable.
Drawbacks
The hole in the middle exposes the thin layer of the filter.
Protecting your hearing from loud sounds is crucial, especially for drummers exposed to them regularly. As a musician, taking caution and safeguarding your hearing from potential risks is essential. Earplugs are an effective way for drummers to reduce the loud noise of drums and prevent noise-induced hearing loss. After careful consideration and testing, my top drummer recommendation is the Loop Experience Ear Plugs for Concerts. These earplugs are popular among drummers for their excellent noise protection, affordability, and comfort. They fit comfortably in your ear without making a hole in your pocket.

Top Product Recommendation
What ear plugs do drummers use?
Earplugs that can provide great noise isolation, allow you to focus on your beats, and provide quality sound to the drummers without entangling with wires are the best earplugs for drummers.
Are loop earplugs good for drummers?
Loop earplugs are good for drummers as they provide high-fidelity hearing protection to drummers, musicians, and DJs. They can reduce noise up to 18dB and come with extra accessories.
Should drummers wear earplugs?
Wearing earplugs is important for drummers and other musicians as they may come across a high range of dB, about 100 to 120, which is not good for your hearing. Exposure of above 85dB can cause hearing loss. It is good to wear earplugs.
Do drummers damage their ears?
Drumming causes noise-induced hearing loss, and it is a big danger. High volume and intensive beats are more damaging for drummers than other musicians, as drums are the loudest instruments. But you can overcome this damage by using the right earplugs.