Skullcandy is one of the most reputable brands popular among audiophiles due to its comfortable-to-use and universal products. But sometimes, they cause issues when you connect them to your device. Among these problems, "Skullcandy left earbud not working" is the most common problem.
Skullcandy earbuds can last a few years despite their regular use. Their design provides excellent high-quality audio sound to your eyes, but what if one earbud stops working? It might be so annoying and worrying for you.
If you are facing the same problem, this article is perfect for you to start troubleshooting. Let's start with the detailed guide about the common problems for Skullcandy Left Earbud not working.
Skull candy Earbud Troubleshooting
Here are some common issues and fixes that most Skullcandy users can face when using earbuds:
Skullcandy Left Earbud Not Working
Are your left Skullcandy earbud stops working suddenly? It might be due to the dirt getting into the earbud's holes and blocking the sound, damaging the earbud sound. You may have gotten it wet unintentionally, and then water damaged it.
There is a 90% possibility of water damage or dirt in holes stopping the earbud from working. Many other problems can cause this problem, like Bluetooth connectivity.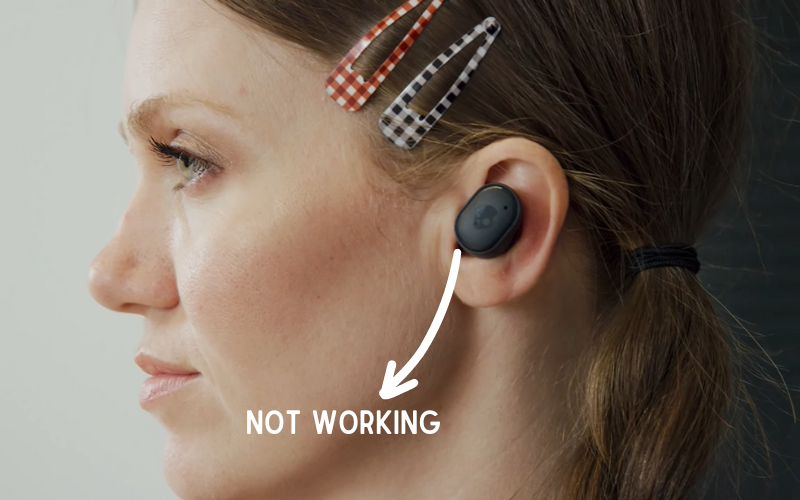 Sometimes in the middle of tunes, one earbud stops, and you annoyingly think, "why is my Skullcandy left earbud quiet?" If one earbud stops working, your whole listening experience disturbs and annoys you. If your earbud has no more significant issues and can be repairable, it can play back your favorite tunes again.
You can fix it by observing the earbuds for possible damage. If dirt or blocked mesh is the real cause, use alcohol-based cleaners and cotton buds to clean the surface. You can also use a brush to clear any debris on the surface of the earbud. Cleaning can resolve 90% of the issue when the left earbud is not working.
Skullcandy Left Earbud Not Charging
It is the most common problem that Skullcandy users face. Make sure the red light is on when you connect your earbuds to plug in for charging. If it does not come on, it means there is a problem with the charging.
The best and most common solution to this problem is to leave your earbud outside the case for almost two hours. The battery will become drained by doing this. Place them again into the case until the battery gets fully drained, and ensure they are charging now.
Another reason for this problem is that grime or dirt might get into the charging case, causing the earbuds not to fix inside the case. That is why the lid does not get close, and the earbud is left uncharged.
The incorrect replacement of earbuds is also a common problem, so place the earbuds correctly in the case before closing the lid. Otherwise, they will stop working during any call or music.
Sometimes the charging case is broken, so the earbuds are not charged. If you know the problem and how to fix it, try to fix it by opening the earbud and soldering a new USB cable, but it is a tough job. So, it would be best to take it to a professional repairperson.
Skullcandy Earbuds Are Not Pairing
Are your Skullcandy earbuds not pairing together? There might be some issue restricting the pairing. To know what the problem is, follow the procedure:
Ensure your mobile phone's Bluetooth is ON; see it at the top of the screen to confirm it.
If it is off, go to your phone's settings, and turn it ON.
While connecting the earbuds with a device, both earbuds and device must be closer to each other, almost in a range of five feet.
Resetting your phone might resolve the issue if there is still a problem with pairing. In android mobile phones, it is possible in a second by turning on and off the airplane mode.
Sometimes you connect your earbuds with your partner or friend's phone to listen to something. While connecting the earbuds with your phone, they might be connected to their phone if they are around you. Check if your earbuds connect to their phone, which might be why they are not pairing with your phone.
Some mobile phones have an intelligent management system; Bluetooth turns off automatically if their charging is low. If you pair earbuds with your device, ensure the device has complete charging.
You can also resolve the issue by deleting or unpair the earbud connectivity with the device and re-pair it with a device. After forgetting the device from a phone, tap on its name and connect it again.
If your laptop or computer has a USB 3.0 port, it might interfere with connectivity. If a connection is not happening, try to get away from the computer or laptop.
Make sure that your phone is connected to the earbuds or not. If unsure about it, check the earbud's name and connectivity into the mobile's Bluetooth setting.
Troubleshooting Common Issues If Left Earbuds Don't Work
If you have tried all the possibilities of pairing earbuds with your device but still worrying about why is my left earbud not connecting? Then, there will be another problem. Here are a few reasons why your left or right earbud stopped working.
1) Water Damage
Earbuds or other electrical devices are prone to water damage. Many devices have a waterproof rating; their features protect them from water damage.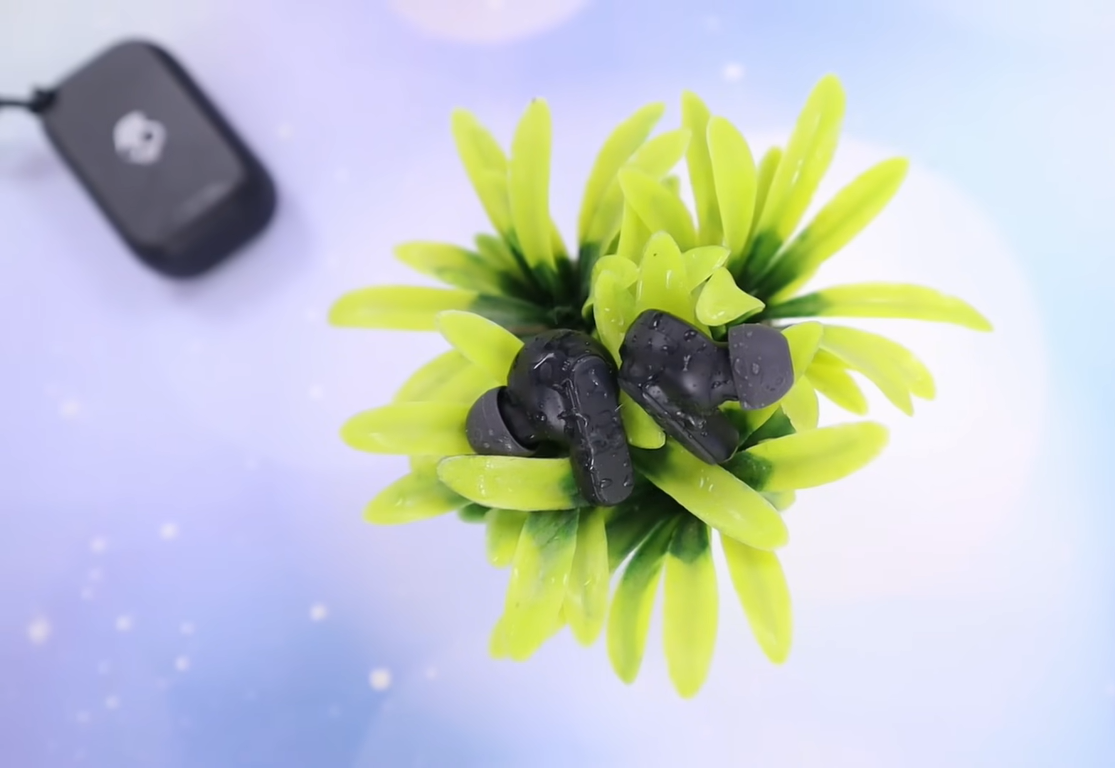 If your earbuds got damaged by water, you would use different fixes. Placing them immediately into rice can save them as rice can absorb moisture fast; it rarely works, but placing the earbud in sunlight or drying them using an air-dryer works. Make sure that whatever method you use, the device must be fully dry before turning it on again.
When your earbud is wet, dry it as quickly as possible with a napkin or towel. If you use earbuds in the gym or workplace, clean your sweat from earbuds before placing them into their case.
2) Dirt in Earbuds
If you use your earbuds regularly, most of us don't prefer to clean them daily. It is the biggest problem that stops working one of them or both. Dirt and dust are common in earbuds if you take them to the workplace daily.
Clean the debris or dust using a cloth, and ensure no dust is left. Use a pipe cleaner, toothbrush, or toothpick to clean all debris from the holes of earbuds. It would be good to use an alcohol wipe to clean them, but do not dampen the earbuds too much.
Don't get too aggressive with a toothpick or use a too-wet cloth to clean your Skullcandy earbuds; it can damage the inside components.
3) Broken Wire
If you are using wired-connected earbuds, you might face problems due to their wire. Maybe the wire of one earbud bent, and it stopped working; if you are sure it is a problem, then fix it immediately.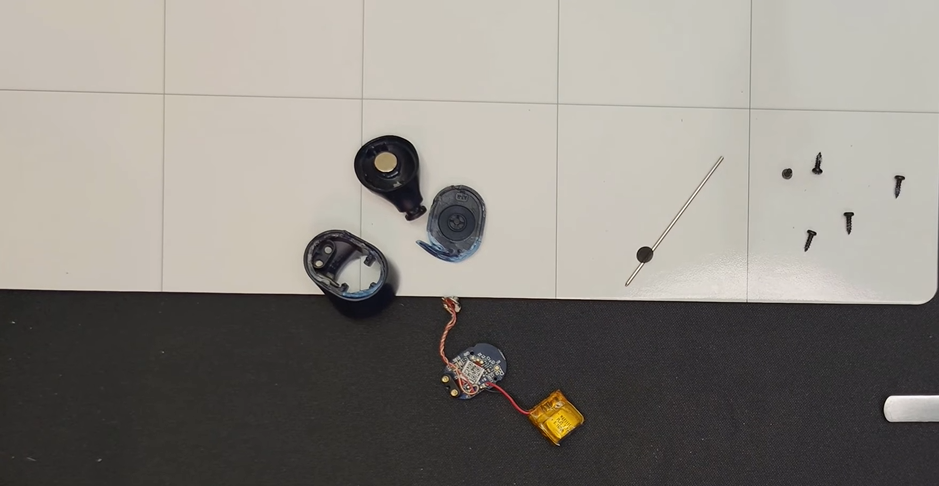 You can resolve the issue by watching any online wire-fixing video. If the damaged wire is inside the earbud, do not rush to fix it, you might damage it more while fixing an issue. It will be good to take it to any professional repairperson; if your Skullcandy earbuds are within $20, then replacing them will be better.
4) Verify Audio Setting
Most computers and mobile phones have a "mono" feature. It is possible that you accidentally turn it on, and it causes one earbud to stop working. Your device will be in stereo mode if this feature is on; check it before doing anything.
The toggle of the audio balance must be in the center of the slider, sometimes, it turns to one side of the slider, and audio goes to only one side or the other. Check even if you did not intentionally change the setting. It might be located under the volume or sound options, called sound balance or audio balance.
Why Did My Left Earbud Suddenly Stopped Working?
There are a lot of reasons that can cause an earbud to stop working. Some of them are fixable, like if there is dust or dirt in earbud holes or Bluetooth connectivity problems. A few problems are challenging, like frayed wire and water damage.
How Do I Pair My Left Earbuds?
While connecting the left earbud with the device, long press the right and left earbuds simultaneously; it is the symbol that both earbuds connect. After pairing them together, then start pairing them with a device.
Can I Pair Only One Earbud With A Device?
Connecting the right earbud with a device to pick up any call or listening music is possible. The track and volume are adjustable on a mobile phone. The left earbud connects with the right earbud, so you cannot use the left earbud to connect with a phone; only the right one can connect with a device.
Skullcandy earbuds can effectively work for years, but a problem can disturb the normal functioning of these earbuds. If your earbuds are also annoying you, especially a left one, then this article is a complete key for you. Don't worry; now you can fix this problem by cleaning them or fixing an issue by following the article's details. I hope you will find an answer to your left earbud. Stay tuned for more informational knowledge.

Conclusion