Whenever we see musicians recording a song or performing, they usually wear headphones. People confuse headphones with trendy looks and consider them aesthetic objects.
Why do musicians wear headphones, and do they have any specific purpose besides aesthetics? Today in this article, I will discuss all the aspects of wearing headphones and their role.
Why Do Musicians Wear Headphones While Recording?
You may notice that most musicians wear headphones while recording. They do so to prevent bleeding and make a connection with the engineer and producer, who are in separate rooms. Headphones also help musicians listen to the metronome to set levels and hear playback with the extra layer of production.
1) Preventing Bleed
It is one of the most common reasons musicians wear headphones while recording multitrack. Multitrack recordings require instruments for recording one by one. When these parts are recorded, they will go through the mixing process.
In the process, tracks are balanced out and blended. At this stage, different effects add to give the sheen of recording. Recording each instrument in complete isolation without background noise is essential to make the mixing process effective.
Bleed occurs whenever a microphone picks up a sound from any other outer source. You can understand it from a simple example. If a drummer and a singer are recording in the same room, in that case, the drummer may bleed into the microphone of the singer, and it may make the vocal track complicated to edit because the drums interfere with the vocal performance.
Through the headphones, the musicians can hear the backing track of the performance. And keep their singing according to the track without bleeding into the microphone. So using headphones is necessary thing for musicians while singing to make the performance accurate.
2) Communicating With the Producer & Engineer
The other purpose of wearing headphones is communicating with the engineer and producer. Both are the central part of commercial multitrack recordings, and they run this session from a separate control room and give instructions to the musicians. But the question is that why do the singers wear headphones while singing? Continue reading to know the reason.
Why Do Singers Wear Headphones While Singing?
Now you know what do musicians wear and why they prefer headphones. Here are the reasons why singers wear headphones during singing:
1) Superior Sound Quality
As the headphones fit tightly into the ears and seal the way of the ear canal, in this way, headphones block the way of outside noise. Due to this, the sound that comes from the monitors directly goes to the ear canal. The singer will become capable of hearing the details in a better way. And due to the excellent sound quality, they will get all instructions and perform well.
2) Hearing Health
Singers and musicians are more likely to deal with hearing loss. They are more prone to developing tinnitus as they listen to anything above 85 decibels due to the noisy outer environment and have a considerable risk of hearing damage. However, they can avoid this problem by using headphones at lower volume levels.
3) Individual Mixes
Headphones are essential for singers as they get the sound from the individual performer and ensure they can match their voice from the other performers on stage. Through these headphones, they can listen to themselves and mix everything without giving up the volume. And singers can get clues about the tracks from headphones that the audience cannot hear.
4) Reduced Vocal Strain
One of the most reasonable benefit of using headphones for singers is easy access to the lower levels of mixing to reduce vocal strain. When a singer cannot hear their voice over the band, it becomes difficult to compete with the sound. If singers listen to their voices in headphones, they will feel less strain and sing more accurately. It will become constructive even if they make many shows in a condensed period.
5) Clean Sound for the Audience
If you have blasting speakers on stage, then the mic of singers may pick up the feedback, and even the expected effects of feedback can create a bleed in their performance. Due to the direct playback in the ears of the performer, the audience will get a precise mix of sound. The backstage engineers make it possible to give an excellent experience for the audience and the singers.
6) Mobility
Stage monitors require a lot of space, take a bunch of wires, and have directional sound. Due to this, performers may not get suitable mixes in the presence of these wedges.
They can also create problems for musicians and singers if they want to move around the stage, as they have to stay in specific spots to hear appropriately and avoid the clutter on the stage. With headphones, they will eliminate the clutter and get an excellent mix even during crowd surfing.
7) Portability and Personability
We know that earphones are small and portable. They are better than a 45-pound wedge. It is up to you whether you want to use giant speakers and set them for every time for work. No matter what the venue is, you must configure each setup differently. But the earphones or headphones come with ease of use without any large setup and give better performance without any setup.
8) Stereo Sound
With headphones, singers can set their mixes, and if they use stereo sound, they can easily adjust the sound balance. Due to this, one ear can get a different sound from the other. Working with a stereo sound, it becomes more natural for the ears to hear, and the musician may feel that the instruments are around them.
Why Do You Wear Headphones When Recording A Podcast?
It is good to wear headphones during a podcast recording; you may have to keep extra headphones for any sudden guest. However, earbuds are also good. Some users don't like to get the stranger's earbuds for some reason.
You will become a better podcast presenter when you use headphones for recording podcasts. The only way to hear your voice is when you want to record your voice, work on a radio station, or podcast through headphones.
Headphones take your ears from the side of your head and then put them in front of your mouth. This way, you will be able to hear your voice just as others can. Using headphones while recording the podcast is essential as you can easily access most controls, like presentation style and voice adjustments.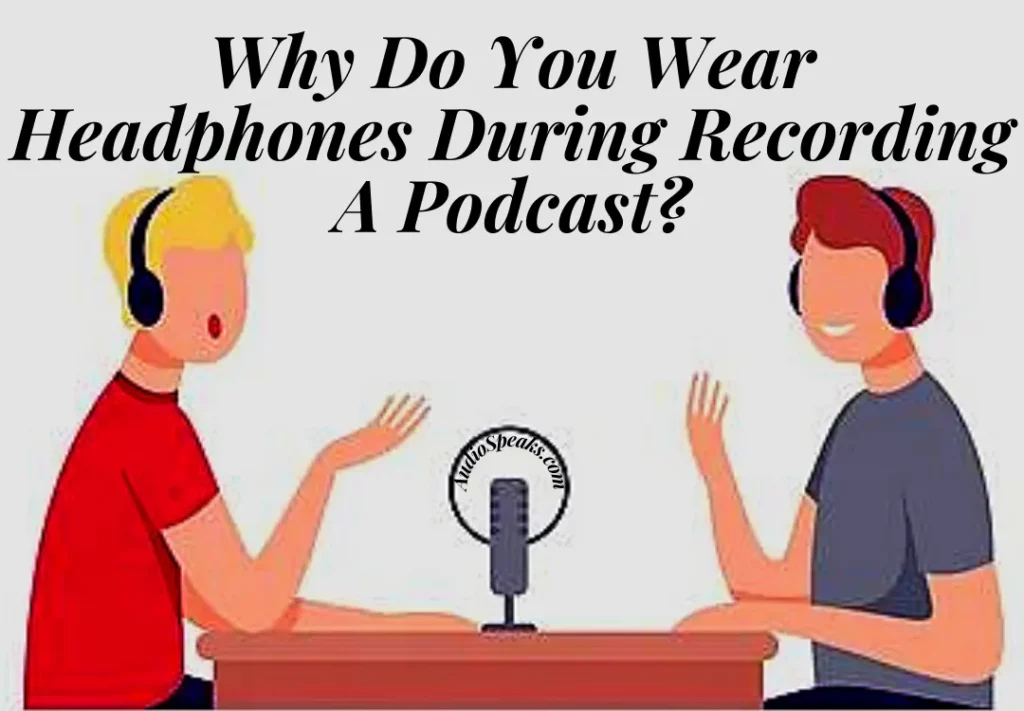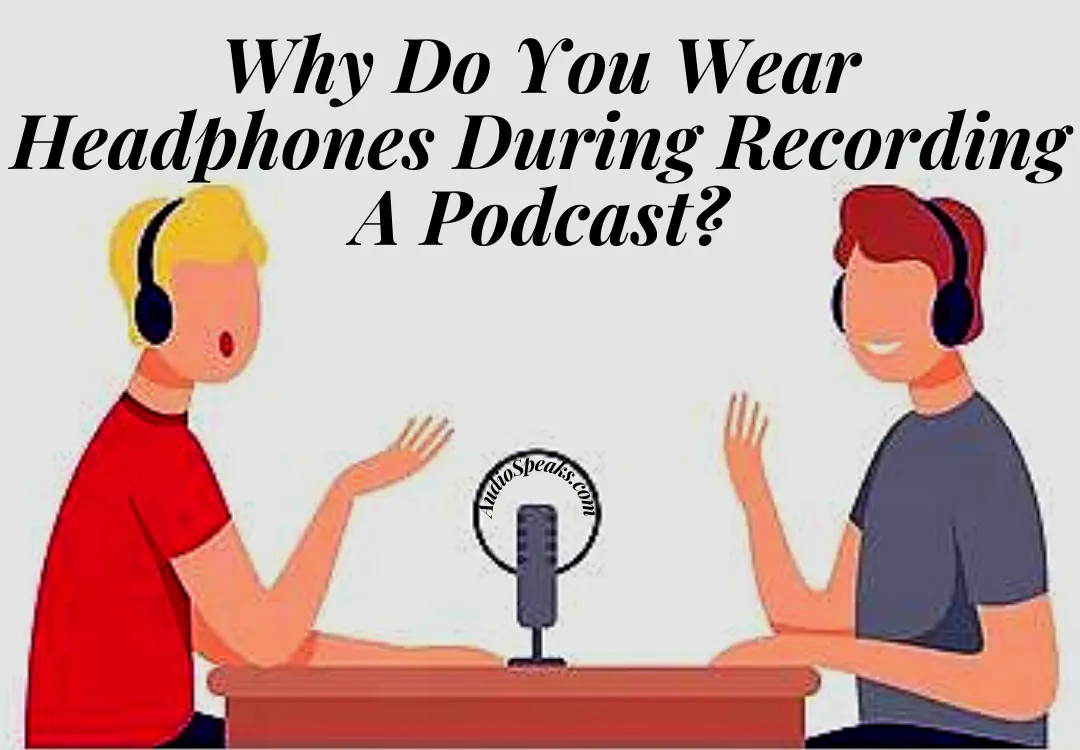 When you talk into the microphone, your brain will process what you hear via headphones and provide a chance to have a self-review to make minor tweaks. It will complete in just a few seconds and include various other features like tone changing and volume, and you can also adjust the millions of variables when you start to present or record your show.
However, if you have yet to experience recording a program with the use of headphones, then try to use them. You will get a massive difference in your performance and hear how you sound to your audience.
3 Advantages of Wearing Headphones During Podcast
There are a million different ways your show can be ruined during the recording phase, but if you wear headphones, you can get the following advantages: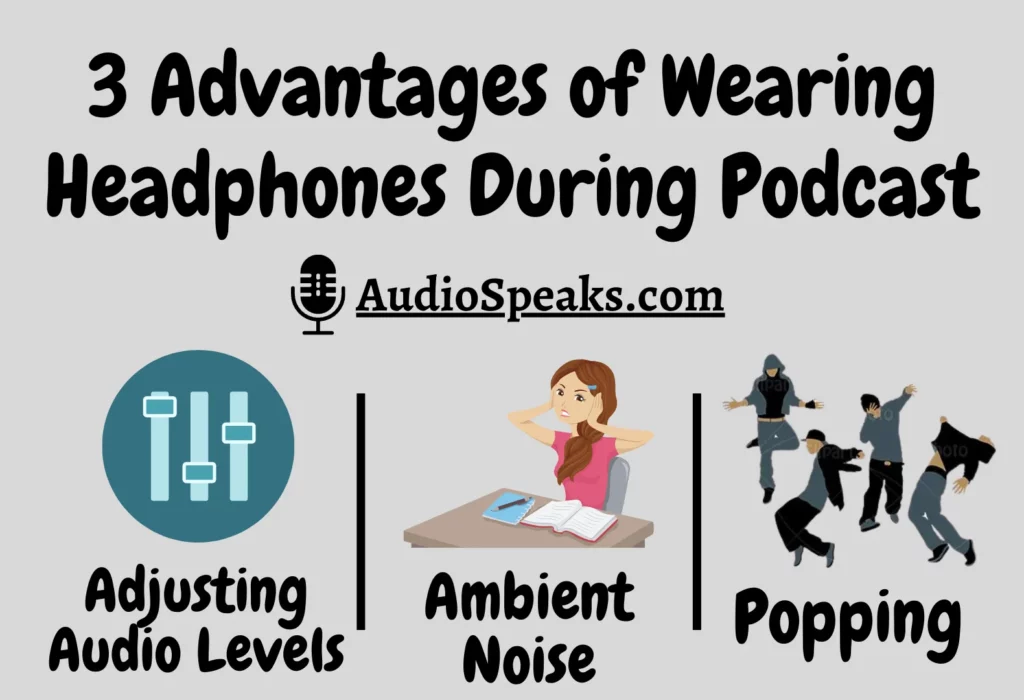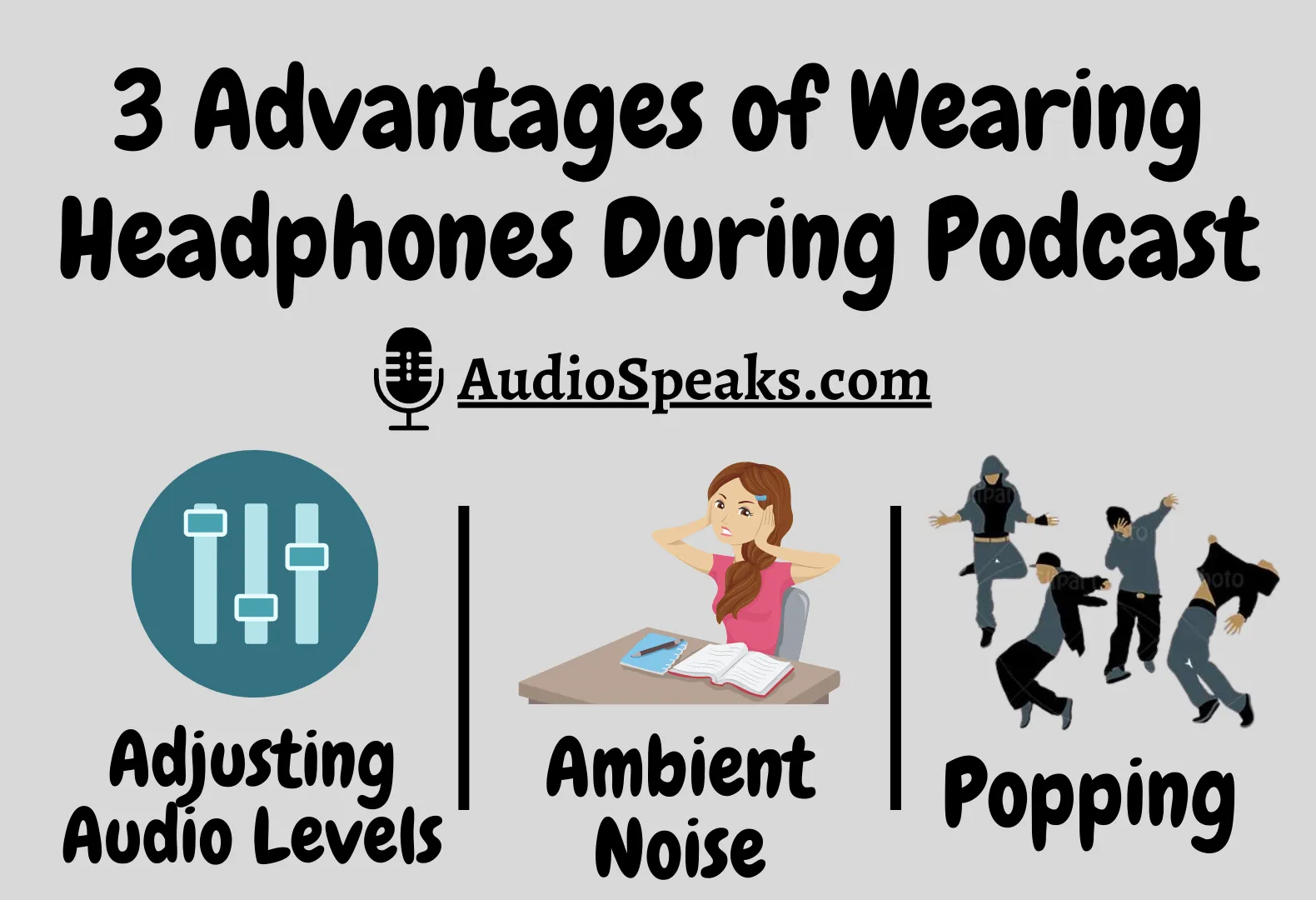 1) Adjusting Audio Levels
Before starting the program or recording, ensure nothing will go into the red for this. You should have something to test before starting. For this purpose, the headphones prove handy as you can easily hear your voice and know that you are ready to go.
When you can listen while recording, you can check that your voice is high or low and adjust it according to your requirements. It will also prove beneficial when you start editing your podcast because you may not need to go through the lowering and raising your time-consuming voice section.
No matter what you do, make sure that voice levels will not go into the red. Although you can increase the audio post volume, sometimes it blows out, and the only solution is to send them to the audio graveyard.
2) Popping
Popping is a term known for the harsh sound, and the words and starts will create it with hard consonants such as 'pop' or 'kettle.' it will occur when you talk too close to the microphone.
However, you can avoid it by using a pop guard or talking across the mic instead of directly down the barrel. Even if you have your mic at exact settings points, you may still face popping.
It is one of those problems that may not detect without headphones. There are also some effects related to the editing software that can remove this sound. But when the pop is horrible, then the editing software cannot process. Although you can manually cut out the pops, it is a detailed process and can turn a 30-minute edit into a prolonged duration.
3) Ambient Noise
Various types of ambient noise can affect the sound of your show, but one of the worst offenders is wind. But it is hard to hear how it can affect your podcast recording if you don't use headphones.
It becomes challenging to listen to the conversations with the noise of the winds, and it may also irritate you to hear what you want to say. But it is impossible to fix this issue, but when you wear headphones, you can ensure that you don't have any chuck in your audio due to wind.
That's why headphones may become your best friend of you if you are a podcaster. Ensure that the volume is at the highest level and do the same for editing. If you want complete control of your podcast, hearing everything is essential.
Why Do Guitarists Wear Headphones When Playing Live?
When it comes to the live performance, it is messy because noises and lights are coming from everywhere. Much enthusiasm and a flood of emotion want to hit the stage, and it feels like it will overstimulate the head.
Due to these reasons, the guitarist may miss a sound or timing and compatibility with other instruments. So they use headphones during the live performance so that they can get pay attention to the music. These headphones help the guitarists evaluate themselves, making it easy for them to listen to what they play.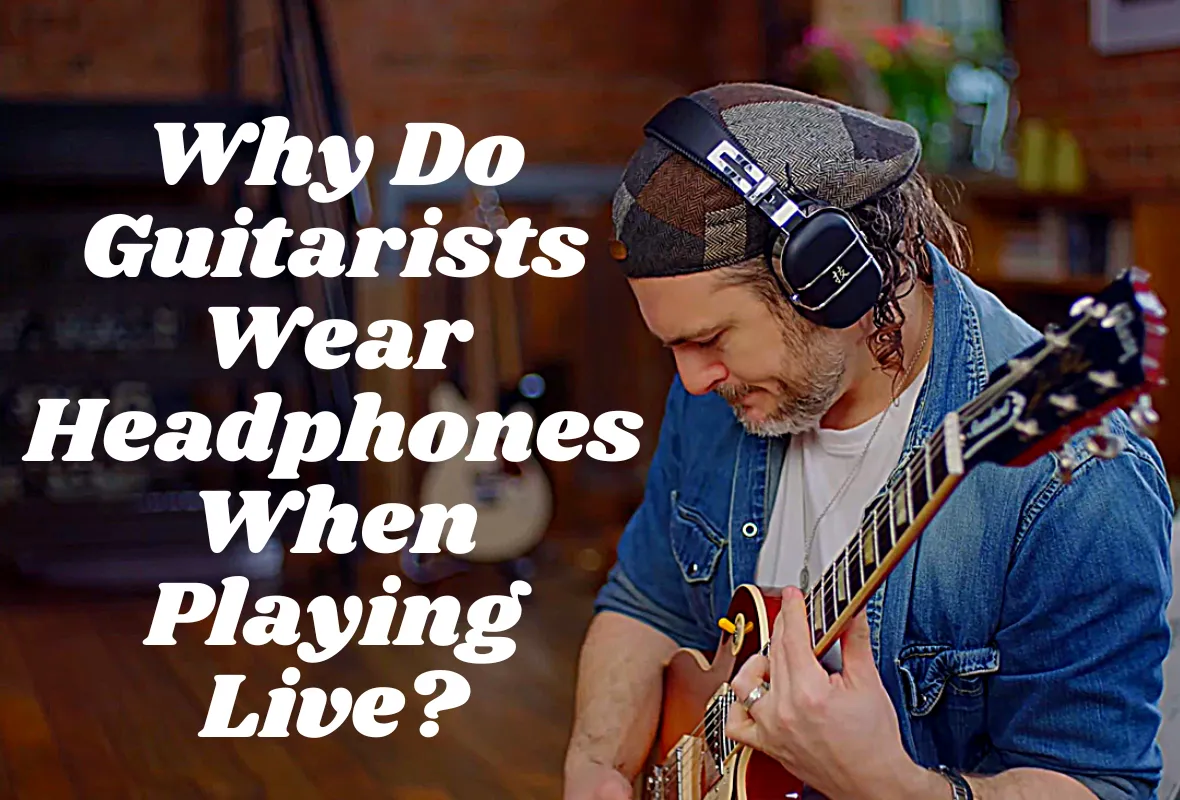 All of the headphones on stage have separate external isolation, which helps them avoid distractions from the outside. In this way, they can pay attention to their instrument and performance. Headphones also help them hear what the rest of the band is playing and improve their performance with good sound.
Why Do BTS Wear Earpieces?
The earpiece is also known as the in-ear monitor. Its work is to allow the idol to hear their voice while singing. But the thing may get wild in the live performances and sometimes becomes very loud. Due to this, BTS wear headphones, and without these earpieces, they can lose their spot in music.
Why Do Musicians Wear Headphones When Playing?
Musicians wear headphones so that they will remain on track and everyone gets involved in the beat. A click track is just like a metronome beat that serves as an audio cue and keeps the musicians and vocalists in sync during their performance.
What Do Singers Hear in Their Earpieces?
These little earpieces are like small ear monitors and give the musicians information about what's happening. They get instructions from the backstage engineers and producers and sync with other performers. Singers can hear the rest of the band, so they will remain in time and tune with the band.
I hope this guide will prove helpful for you and that you will get an answer to all of your questions. Although musicians can perform without headphones, they may get distracted by the noisy environment. It is suitable for them to pay attention to their voice for recording podcasts, playing music, playing guitar, and even singing songs. The headphones keep them in contact with the other stage performers.

Final Thoughts