Imagine exploring highways you have never before, listening to your favorite tracks with solaceful beats, and you can enjoy all this with the finest technological development of this time. I am talking about the double Din in car stereo head units. This article will let you find everything to answer the question; What is double Din in car stereo? Entertainment with nicety, reliability, and thrill, what else do you seek?
In a world of full advancements and unique developments, if you want to see the symposium of creation and innovation, the double Din in car stereo is the one that meets the criteria. It is indeed a great multimedia marvel with unique and elegant aesthetics. It smooths your driving and fills it with beats that touch your heart. Let's get straight to the point below.
What Does Double Din Mean in A Car Stereo?
The double din is twice the size of the single din stereo head unit, and it occupies a big space compared to the single din. However, it offers a more interactive display with multiple desires, including navigation, touchscreen, hands-free communication, and a handy multimedia playback interface. It puts the ultimate convenience in your driving experience.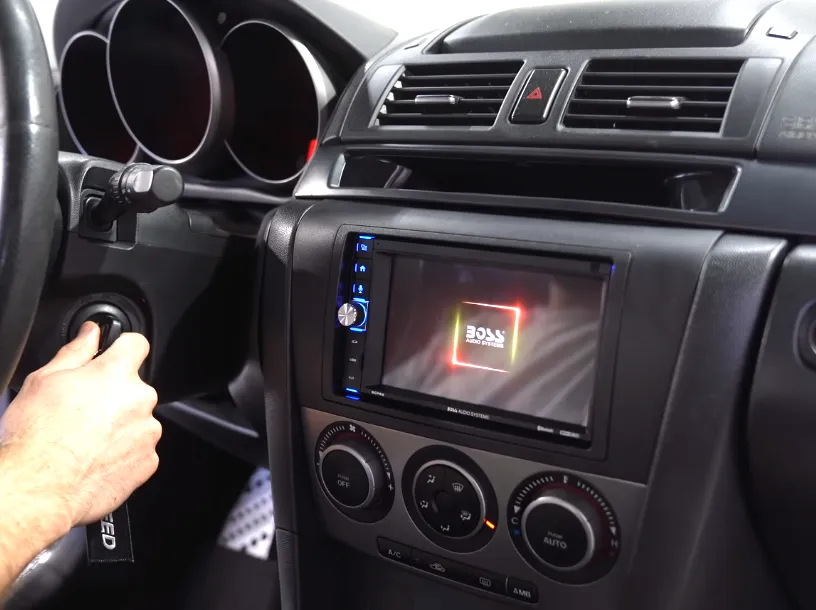 If you wonder, what is a double din radio? It is the second name of the double din stereo head unit. I found it an amazing help for those who seek a delightful entertainment experience with the ultimate ease of use. Before I take you to the in-depth details, you can learn, How to connect RCA home theater projector to phone.
What Din Size is My Car?
If you are looking for a double din stereo head unit to place in your car, and you are unaware of the din size, measure the size of your current radio unit, its height, and width. If you find the height is around 4 inches, it means it is double din, and if it is less than 4 inches, it may be a single din, not a double din. Double din car stereo with Bluetooth and Navigation gets you the best return for the money. 
What is double din in car stereo? I hope you know the answer and that the right measurements can help you win the best fit for the ultimate entertainment, communication, and ease of use.
What is the Difference Between Double and Single DIN Car Stereo?
Single-din and double-din car stereos are different, which is very much evident to make you pick the right one for your car. Here are the main points for better understanding.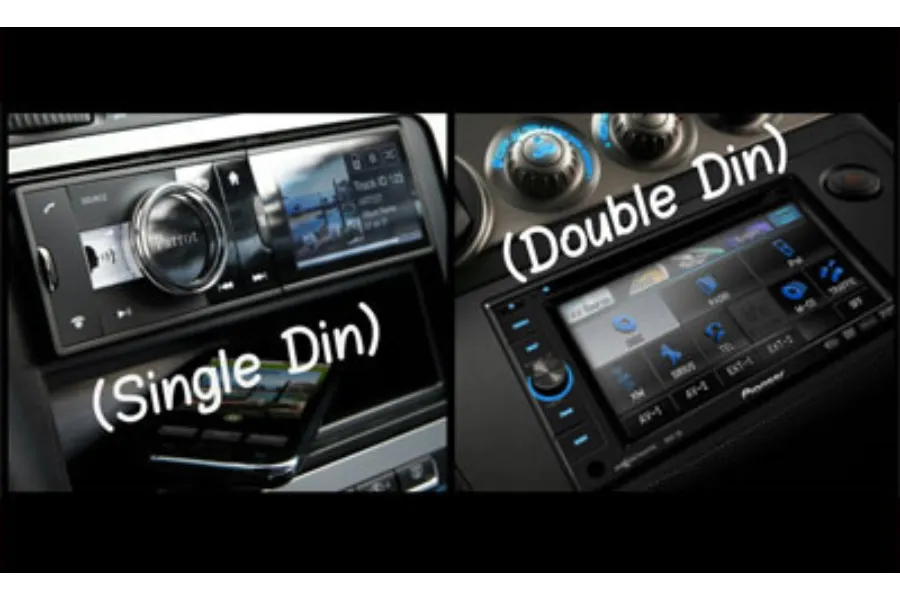 1) Size and Display
When it comes to the height of these two, there is a clear difference. If it is 4 inches, it refers to the double din, and if it is 2 inches or less than 4 inches, it will surely be a single din stereo head unit. Moreover, the display with double din will be large enough for a better feel, touchscreen, and many other functions. 
2) Entertainment and Ease of Use
The entertainment level with the double din stereo is way more than the single din. It doubles the joy with an elegant touchscreen option with navigation and other facilities. Moreover, it is easier to use as compared to the single din. This match between double din vs single din favors double din. 
3) Functionality and User Interface
The functionality of Double Din is super good, with multiple features and a great user interface. On the other hand, the single din needs improvements and some useful touches to make it an alluring choice.
4) Compatibility, Installation, and Price
The compatibility of the double din is excellent, and you can use multiple devices on it. The installation is easy, and the price range is slightly higher than the single din. However, to enjoy worldly features, the cost of the double din is worth it. What is double din in car stereo? I hope you know the answer well enough now.
I hope you have enjoyed learning about; what is double din in car stereo. There is a visible difference in size, features, aesthetics, functionality, and coat. However, the double din stereo head unit is way better than the single din because of its premium features such as a large screen, hands-free usage, navigation, multimedia, etc. It takes your whole driving experience to a new height.

Final Verdict
What are the benefits of a double DIN radio?
You enjoy multiple perks with double din stereo, such as better sound, beautiful aesthetics, a large display with a touch screen option, hands-free usage, and much more. Above all, it fits all the contemporary needs. So, you can benefit from all these benefits by having a double din stereo head unit.
How do I know if I need a single or double DIN?
It depends on your preferences and needs. However, if you are an individual who seeks the excellence of sound, aesthetics, ease, and other features, you have the best option by grabbing the double din. On the other hand, if your car allows a small space of two inches, you can go with the single din, but it will make you compromise on multiple perks.