Are you standing in the guitar shop or going to purchase one? Like most guitarists, you must be curious about Pau Ferro Vs Rosewood as one of the top options. This is where you want to know the tone quality and fretboard quality of both.
Rosewood and Pau Ferro both are best in their own ways. If you want to select one, Pau Ferro is better than Rosewood in many ways. Pau Ferro offers better sound and fretboard quality. It has a smooth, brighter, warmer sound, pleasing the ears. Rosewood also has a sweet sound, but not better than Pau Ferro.
Let's find out what the differences between both Pau Ferro and Rosewood are:
What is Pau Ferro?
Pau Ferro is a southern tonewood that has various other names. Santos rosewood and bolivian rosewood are the two other names of the Pau Ferro, indicating how familiar the Pau Ferro is to Rosewood.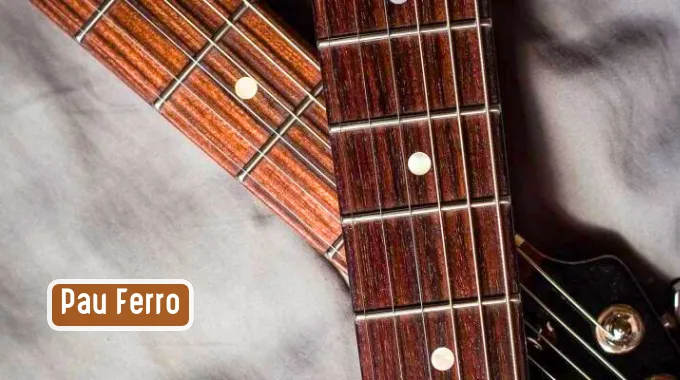 It is a tonewood that has become popular in the past few years. In guitar buildings, most manufacturers prefer to use it due to its high quality. Unlike Rosewood, Pau Ferro is the more sustainable alternative for guitars.
Big companies, like Fender, are using this tonewood, and many are following them to compete. When comparing Pau Ferro Vs Maple and Rosewood, the Pau Ferro has exceptional sound quality and fretboard performance.
What is Rosewood?
Rosewood is a rossy brown and deep tonewood with purplish brown color. It has rich streaks and is grained with black resinous layers. Polishing is simple and easy, but it isn't easy to work on because of its resinous nature.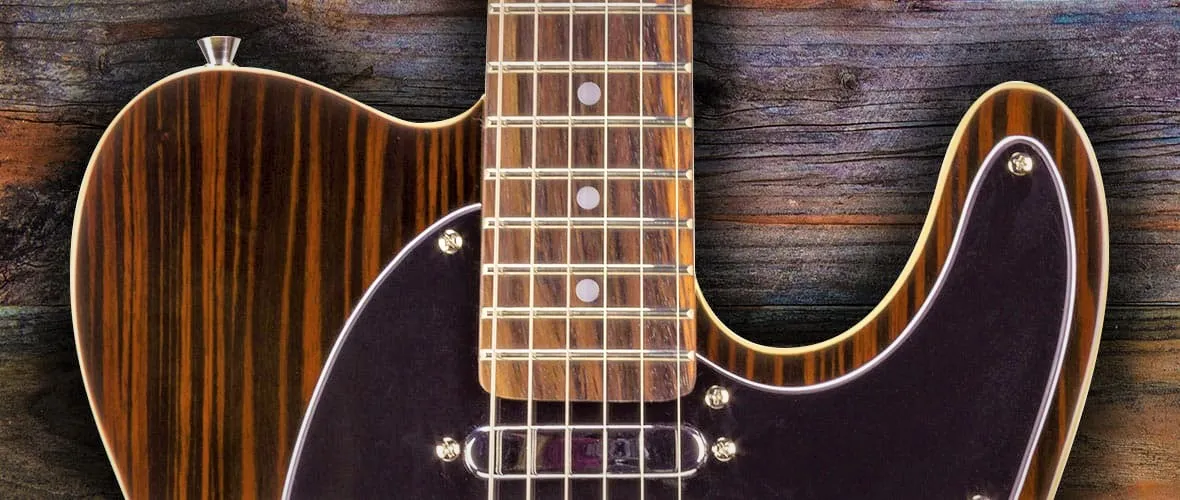 It has large dimensions, squared logs, and planks that have never been seen because before the tree comes to its maturity level, hearty wood start decaying, which makes it faulty at the center. There is so much demand for pianos, guitars, and cabinetmakers.
Pau Ferro Vs Rosewood
Both pau ferro and rosewood are tonewood, which is convenient and popular. They are both high-quality wood and have similarities but differ in many ways. Here are their differences:
Pau Ferro vs Rosewood Body
Pau Ferro has a denser body than rosewood. Frequencies always absorb into the fretboard. It means the frequencies absorb less in the pau ferro fretboard, producing a sharp and better tone. The feel of the pau ferro is comparable with the rosewood, meaning effortless.
Pau Ferro gives a smooth playing experience. It has a tighter grain than rosewood, resulting in a sharp sound. The color of the pau ferro body is also lighter than rosewood. It is easier and smoother to play with than rosewood due to its deep and strong body.
Pau Ferro Vs Rosewood Bass
The pau ferro and rosewood bass is high quality, but the pau ferro has brighter and deeper bass than the rosewood. Both make excellent basses, but companies mostly love using the pau ferro because it produces a brighter tone.
Both tonewoods are heavy and dense. Rosewood is lighter than the pau ferro. It makes the pau ferro more appropriate and best for the guitarists.
Pau Ferro Vs Rosewood Tone
Pau ferro is always better than rosewood. It does not mean that rosewood does not have good sound, but pau ferro sound is warmer and brighter than rosewood. It gives a sweet and impactful sound to the ears.
Pau Ferro Vs Rosewood Grips
Both pau ferro and rosewood are known for their smooth and comfortable grips. Their grips have no competition because both have slightly different grips, but they are easy to hold. Some people like a rougher grip of pau ferro, while some like a smooth grip of rosewood.
Pau Ferro Vs Rosewood Vs Ebony
Pau Ferro is known for its warmer quality. It has balanced projection and dryness, unlike ebony.
Rosewood is less dryer than the pau ferro and ebony. It has a beautiful and bright voice, but less than the pau ferro. Its balanced voice is the reason why every manufacturer prefers to use it.
Ebony has a clearer and smooth voice. It is one of the most popular fretboards available now in each market. It gives a smooth voice to the legato playing.
In conclusion, comparing Pau Ferro and Rosewood, it is evident that both tonewoods offer unique qualities. However, Pau Ferro stands out as the superior choice in several aspects. It delivers better sound quality and fretboard performance with a smooth, bright, warm tone that pleases the ears.

While Rosewood also possesses a sweet sound, it falls short compared to Pau Ferro. Pau Ferro's sustainable nature and preference by renowned guitar manufacturers like Fender further establish its prominence.

Conclusion
Is Pau Ferro Better Than Rosewood?
Pau Ferro is better than rosewood in many ways. It has greater sound quality than rosewood, which makes it the best alternative. It is lighter in color and harder than the fretboard of the rosewood. With tighter grain, it complements the overall tone better.
Is Pau Ferro Harder Than Rosewood?
Yes, pau ferro wood is harder and stronger than rosewood. That is why they have slightly different tone quality. The color of the pau ferro wood is lighter than the rosewood and gives darker streaks. It feels like Ebony while plying due to its hard body.
Is Pau Ferro Oily?
Pau Ferro fretboard is slightly rougher than the rosewood and Ebony. Ebony, rosewood, and pau ferro need to be oiled after 6 months. Oiling helps them nourish and clean out all the grime stuck into it due to the long playing. Otherwise, pau ferro is not naturally oily.