Bone conduction headphones are extraordinary, with their inner system transmitting sound through vibration. These headphones bypass the ear canal and send it around to the inner ear with the help of the bones of the skull. Are bone conduction headphones safe for ears and skulls? They are indeed safe if you know how to use them properly. 
These headphones can damage the inner ear if you do not follow the proper guide. Usually, high volume and excessive usage may put your hearing at stake. In recent years, bone conduction headphones gained enormous popularity with their unique open-ear design. Some say it is not safe. The situation between these two approaches causes anxiety and confusion. Let's eliminate it immediately.
What are Bone Conduction Headphones?
Bone conduction headphones are different from conventional headphones for many reasons. These headphones do not transmit sound to the ear canal but to the inner ear directly by using the bones of the skull. Moreover, they send the around through vibration that the inner ear receives as a sound. Are bone conduction headphones safe? Yes, they are safe if you know the way of usage.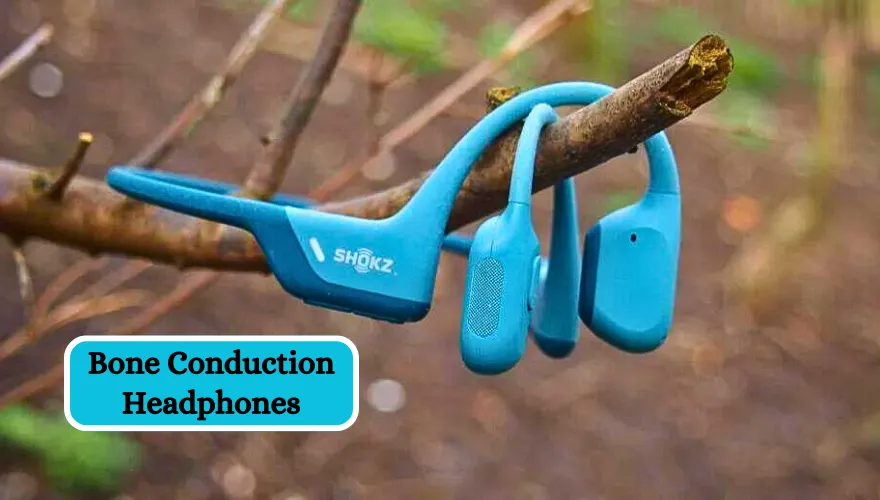 How Do Bone Conduction Headphones Work?
You put the Bone conduction headphones on the cheekbones. It uses a transducer that helps produce vibration. The vibration goes to the Cochlea, it is the area where vibration converts into sound. It is how bone conduction headphones work.
Features of Bone Conduction Headphones
Bone-conduction headphones are suitable for many reasons, and they are different in design and inner system. I have studied and used dozens of bone conduction headphones and learned four critical points about them. I'll share the detailed features, but before doing so, let me take a wild guess you are aware of; are bone conduction headphones safe? If not, stay tuned.
1) Open-Ear Design
Unlike conventional headphones, these headphones offer an open-ear design that doesn't affect the ear canal and is suitable for better hearing protection. Are bone conduction headphones safer for your ears? Yes, they are safer for ears than earbuds and other traditional headphones. You can easily be aware of situational happenings while using bone conduction headphones. 
2) Unique Transmission System
The sound transmission system of bone conduction is different from traditional headphones. It doesn't deliver sound to the ear canal but approaches the inner ear directly for vibration dissemination. When the inner ear receives the vibration through the bones of the skull, it seems like a pure sound. It is a safe method of enjoying nonstop music and other audio files but with care.
3) Ultimate Hearing Protection
You need not isolate yourself to listen to the situational sounds. It doesn't block the ear canal; you can hear surrounding sounds easily. It allows you to enjoy your drive or work out without being worried about getting it off to listen to what is happening in your surroundings. So, this feature is beneficial and valuable for the price. 
4) Versatile and Easy to Use
It has so many colors and multiple functions with no hazards. The versatility is superb, and you can use it without worrying about complications. It is constructive for individuals with hearing impairment, and its lightweight body allows you to carry it freely. 
So, these are the primary features you get with bone conduction headphones which traditional headphones do not offer. They style your hearing with beautiful designs and colors and get you the best return for the money.
Are Bone Conduction Headphones Safer Than Earbuds?
Yes, they are safer than earbuds because they do not block the ear canal. Moreover, an open-ear design offers more safety for your ear canal. The risk of hearing damage goes magically down with the bone conduction headphones. Before I take you to the details for which they are different, you can get the answer to the question; are beats studio 3 waterproof?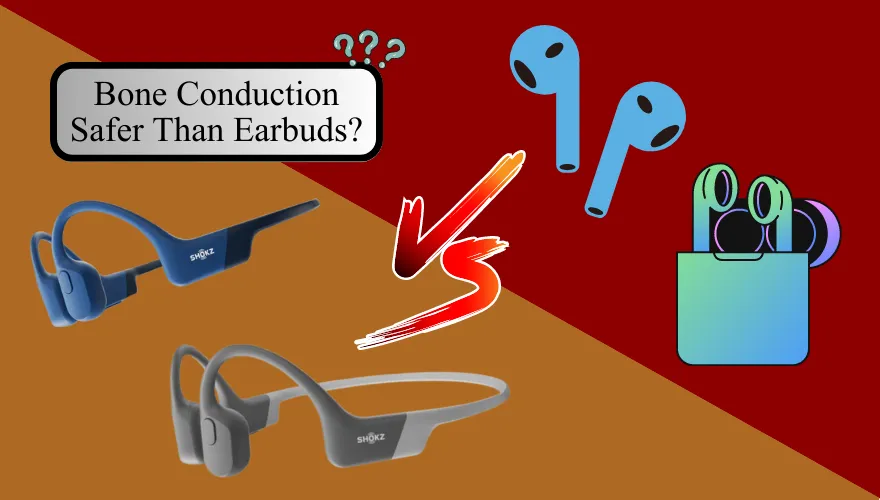 Are bone conduction headphones safe for cycling?
Bone conduction headphones allow the cyclist to hear what is happening in the surroundings or other traffic signals. So, these are far better options than traditional headphones for cycling. Situational awareness makes things better for safety protocols.
Are bone-conduction headphones better?
The answer depends on the individual preference and needs. However, they are better for working out, cycling, and other outdoor activities, allowing you to hear ambient and live happenings. The intelligent features with beautiful designs and open-ear design make them even better.
Are bone conduction headphones safe at work?
Yes, they are entirely safe to use at work. You can engage your hands at work, enjoy nonstop music, and take calls freely. They allow you to enjoy audio files without indulging in long cords. You also get rid of healing damage by using them.
Are bone conduction headphones safe? They are safe, but you must be careful when placing them around your ears. The design is open-ear which is suitable for hearing protection. They do not block the ear canal, and that's the reason you can hear surrounding sounds as well. You get to enjoy sound through the bones of skulls that receive vibration and convert it into sound. You can have them in multiple colors for varying pricing ranges.

Final Thoughts