Do you want to know the difference between the Orange Micro Terror and Micro Dark? To your surprise, the difference is not big enough. They are very similar in build, sound, and bass, with few exceptions.
The first difference is the presence of an effect loop, which is available in Micro Dark and not in Micro Terror. The second difference is auxiliary input in Micro Terror, not Dark Terror. However, both contain a 12AX7 tube-driven preamp with a solid-state power amplifier. Let's explore this guide by comparing orange Micro Terror vs Micro Dark to know their other different aspects.
What Orange Micro Terror?
The orange micro terror is a hybrid and low-powered amp head with a special design, tube preamp, and solid-state amp. The term micro refers to its weight, size, and power output. These are popular among amps due to their compact size. The best thing is its low power range which gives an orange micro dark tone without blowing your mind.
Orange micro terror stack has a separate amp and speakers, which you may need to connect through an external source. With 20 amp power, they are louder than you imagine.
What Micro Dark?
The front panel of Micro Dark doesn't contain AUX input, and the orange micro dark tone knob is replaced by a Shape knob which works for the same purpose.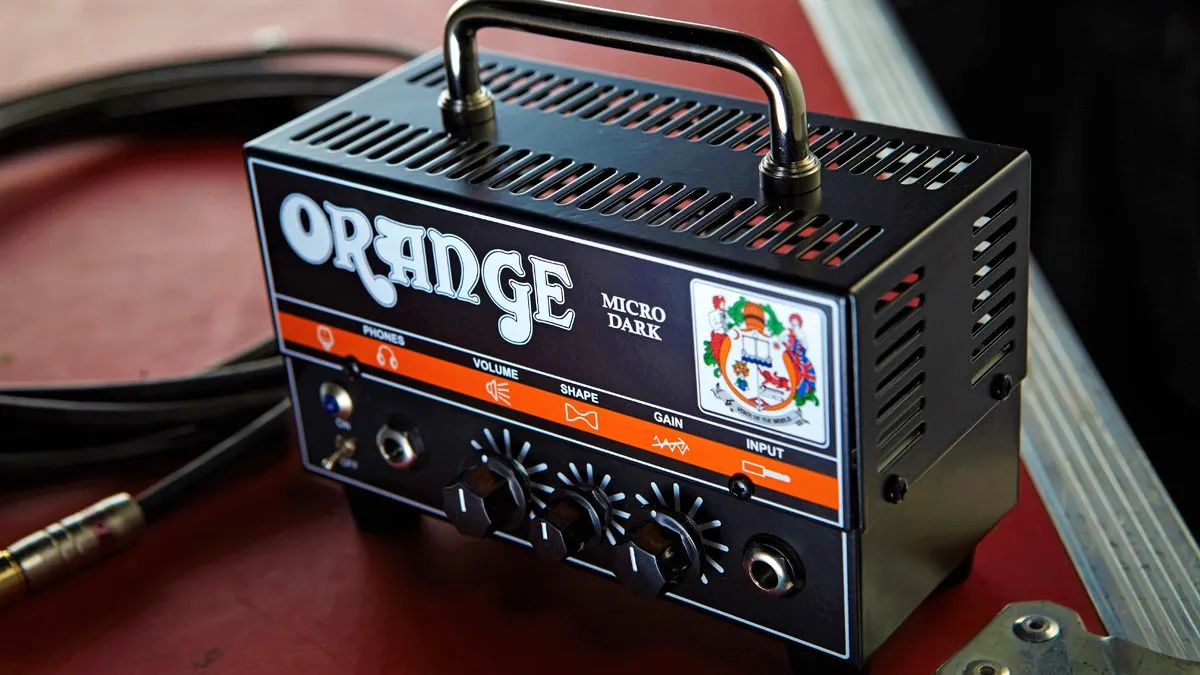 At the rear panel of the orange micro dark schematic, you can see a 12AX7 tube and an FX loop which is important for those players who want to add external effects to their micro rig. Both amps have great power, but its tube may affect the preamp amplification.
Orange Micro Terror VS Micro Dark
The following are the major difference between orange Micro Terror and Micro Dark. Let's have a look at them to know how much they are different and how much they are the same.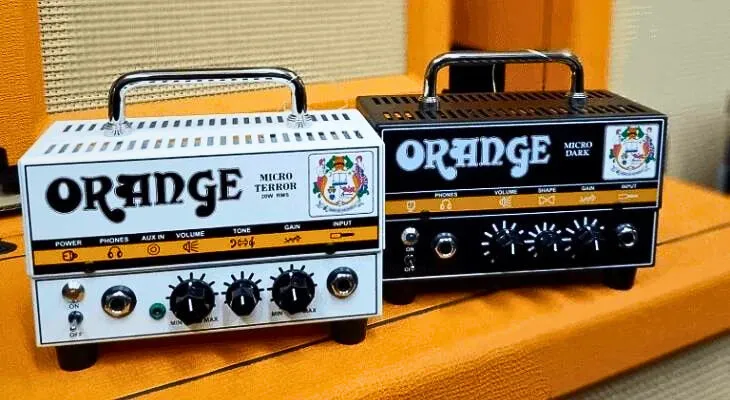 1) Build and Aesthetics
There is not much to say about the build quality of both amps because orange amps don't compromise on their build quality. Orange micro terror and orange micro Dark are solid enough and made from tensile steel. It means that they will not affect even you may not give them much care.
Moreover, both amps are small and compact; you can refer to them as "lunch box" amps. They are small enough to fit and carry into your backpack while traveling.
2) Sound Quality
Regarding the sound quality of both amps, they are good in their work. But orange Micro Dark is not as loud as the micro terror delivers. It looks like they swapped their volumes.
Terror has a much richer and cruncher sound than the micro Dark, which is a little fuzzier. Moreover, the tone control between both amps is also different. Micro terror has a simple tone control system. At the same time, orange micro-dark tone control requires your attention to determine your desired high, low, or mid frequencies.
The orange micro-dark tone has a shape that terror doesn't have. You can change the sound by adjusting the knob to sharp and dark, offering a wide range of tones and making it more versatile. In short, terror has a crunchy and midrange tone, but the orange micro-dark tone is darker, fuller, and fatter.
3) Bass Performance
Orange micro terror and micro dark deliver excellent low-end competence but are slightly different tones. Orange micro terror bass is warm and punchy. Moreover, its balanced and clean tone makes it different from dark bass, perfect for different music types. Unfortunately, it lacks special EQ controls.
Orange micro dark bass offers specific bass for guitar players. The best thing is that it contains a special bass control feature that helps you to lower the frequency according to your need. Moreover, it is very powerful and aggressive, and this feature makes it perfect for players who require a heavy touch in their tones.
How good is Orange Micro Terror?
Orange micro terror fulfills all the strong build requirements according to the standard of Orange. It is strong enough with high-quality tensile steel housing and a single ECC83 valve feature. Its volume and depth add extra marks to its list, and the orange growl is in excess.
Is the Terror Stamp a Micro Dark?
Terror stamp is a micro-dark with minor tweaks to gain structure and CabSim. Moreover, it has some features to set up two volume levels and offers a system to switch between them.
What does the Orange Micro Terror do?
Micro terror is offered from the clean and crunchy sound. Its 12AX7 preamp tube provides warm characteristics, which is basic for every guitar player. Moreover, micro terror is also great for British music and tones.
In conclusion, the Orange Micro Terror and Micro Dark share many similarities regarding build, sound, and bass. They both offer compact and durable designs, making them convenient for travel. In terms of sound, the Micro Terror delivers a louder and crunchier tone. At the same time, the Micro Dark offers a darker and fuller sound with its shape control.

When it comes to bass, the Micro Terror provides a warm and punchy tone. In contrast, the Micro Dark offers a powerful and aggressive bass with its specialized bass control feature. Despite these differences, both amplifiers can deliver excellent performance and cater to different musical preferences. Whether you prefer a crunchier tone or a darker sound, the Orange Micro Terror and Micro Dark are versatile options for guitar players seeking high-quality amplification.

Conclusion