Many individuals think installing an amplifier in their car is too challenging and should only be done by experts. However, adding a 4-channel amplifier for 6 speakers is a great choice if you're a music enthusiast looking to improve the audio system in your car. Furthermore, you don't need to be an expert to finish it, which is the nicest part.
If you are worried about the wiring, you must ensure that your amplifier has adequate power to drive 6 speakers. If you make a mistake, you risk harming yourself or your equipment. This article is for you if you want to learn how to wire a 4-channel amp to 6 speakers. Continue reading to learn what you need and how to get your speakers and amplifier to produce the greatest sound.
Supplies and Equipment You Need To Wire A 4 Channel Amp to 6 Speakers
When connecting your speakers to your amplifier, you will require several items. These resources include the following:
A couple of zip tiles to carefully assemble the wires.
Superior speaker wire for the speaker connections.
Sealing connections or joints with electrical tape.
Cable adapters for RCA (at least a pair)
A crimping device for cold welding joints.
Relay and fuse holder.
Use a digital test meter to measure the voltage.
It is crucial that you get the materials you plan to utilize from reputable electrical stores to protect your speakers and amplifier. Before going any further, you must realize that connecting 6 speakers to a 4-channel amplifier is bad. The lifespan of the amplifier will be shortened if you connect more speakers than it can handle because the additional speakers will increase the load.
You will also have to deal with an amplifier that overheats and progressively degrades. Purchase an amplifier that matches the capacity of the speakers if you wish to connect them in series or parallel.
Get a 6-channel audio amplifier rather than a 4-channel amp, for instance, if you have 6 speakers. However, connecting 4 speakers to a 4 amp or a 6 amp channel is acceptable. You can connect six speakers to a four-amp channel without endangering the life of your amplifier.
How To Wire 6 Speakers to A 4-Channel Amp? (2 Quick Ways)
It's crucial to understand how to do it securely if you want to increase the volume of your car sound system by connecting more speakers than the amplifier can handle. A four-channel amp can accommodate up to six speakers employing a few straightforward methods without causing harm to the device or risking your safety. Here are the ways to connect 6 speakers to 4 channel amp:
1) Connect Wire 6 Speakers to A 4 Channel Series
How to wire 6 speakers to a 4-channel head unit? When connecting a 4-channel amplifier in series with 6 speakers, you are essentially building one big amplifier. It may be helpful since the wiring is frequently made simpler and safer. The sound quality won't be as good as it would be if wired in parallel, though.
How can I series-connect a 4-channel amp to 6 speakers? Here are the steps for 6 speaker 4 channel amp wiring diagram: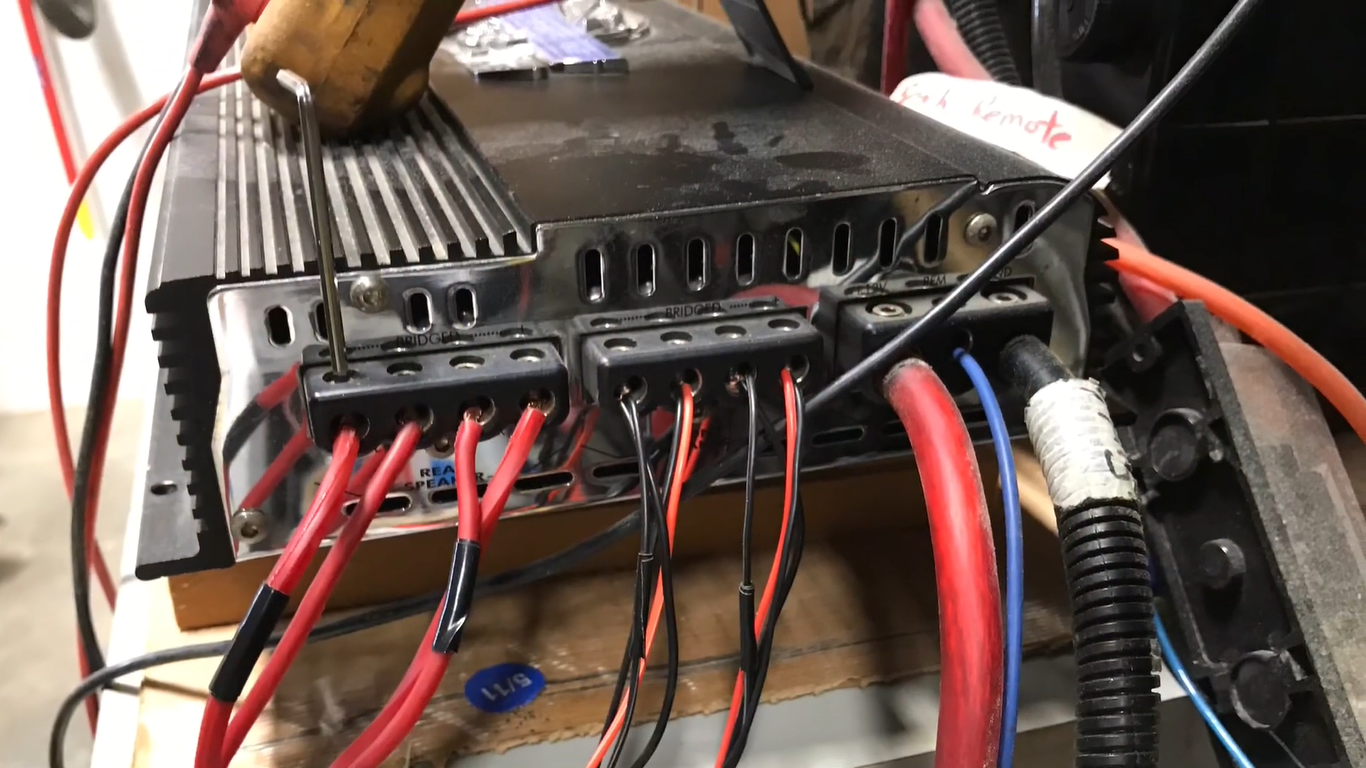 Step 1: To wire two speakers together in series, start by connecting the negative terminal of one speaker to the amp output. Next, repeat the previous steps, but add a second wire from the positive connection of the second speaker to that channel so that there are now 2 wires flowing. This will build a circuit for the loudest possible sound.
Step 2: Series-connect two more speakers to one additional amplifier channel (do the same steps above).
Step 3: Connect the final two speakers to the amplifier's final two channels. Simply connect the negative terminal of each channel to the other channel's negative terminal and the positive terminal of each channel to the positive terminal of each loudspeaker's positive terminal.
2) Wiring 6 Speakers To A 4 Channel in Parallel
When six speakers are connected in parallel to a 4-channel amplifier, the sound quality is at its highest. However, this configuration is easily overloaded, which could harm the amp and speakers. It is a result of the amplifying device being distributed across all speakers, each of which is given more power by the batteries than by the capacitor in the automobile audio.
When wiring in parallel, you can be confident that each speaker will receive the same power, which is crucial for obtaining the best sound.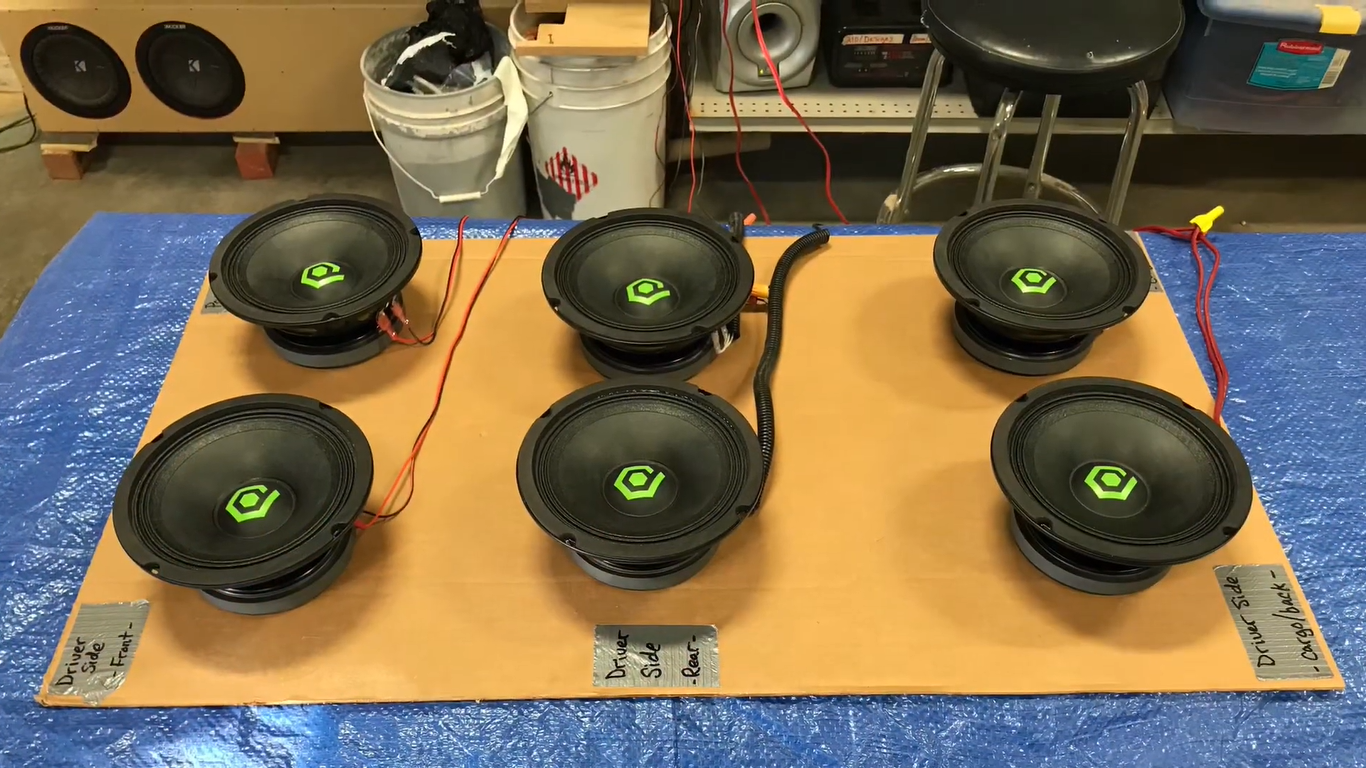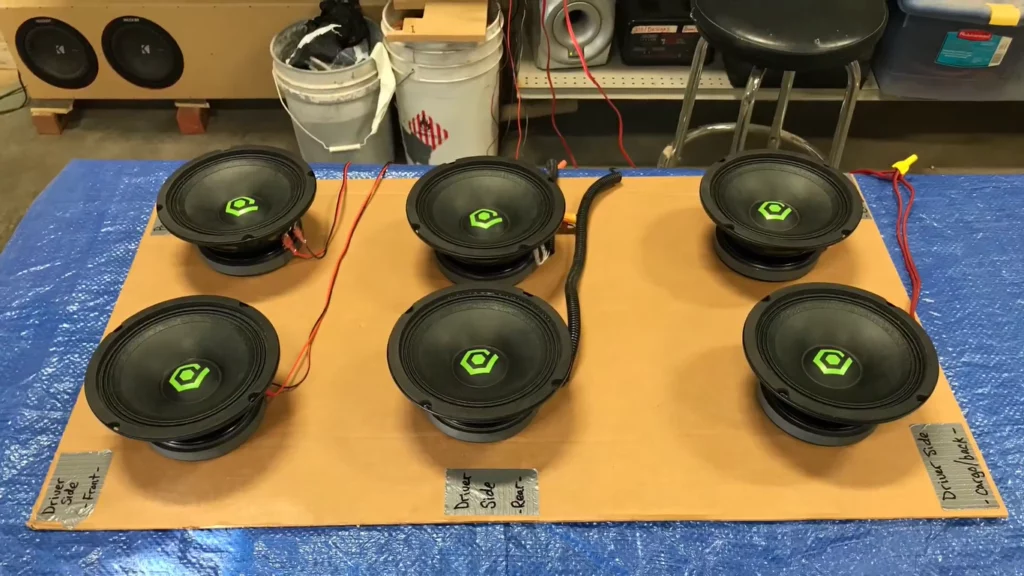 Step 1: You must connect 2 speakers to one amplifier channel and 2 speakers to the other.
Make careful you join the first speaker's negative terminals with the second speaker's negative terminals and the first speaker's positive terminals with the second speaker's positive terminals. The channel's negative and positive terminals can then be connected to the first speaker's negative and positive terminals.
Step 2: Normally connect the final two speakers to the final two channels of the amplifier.
You can benefit from greater volume and clarity now that your loudspeakers are connected to the amplifier. Be sure to ask an expert for advice if you have any queries about the procedure.
How To Connect 6 Speakers?
Repeating the following steps in parallel or series will allow you to connect 4 speakers in 2 channels. The choice between two speakers for a single channel comes next.
Imagine that there are 6 speakers in your automobile, distributed as follows: 2 on the dashboard, 2 on the rear, and 2 on each side. In this case, you can connect 2 back speakers to 1 channel and 2 side speakers to another.
The final two speakers are connected in a single channel using the two remaining RCA connectors. You can change the setup, though, to suit your tastes.
How Many Speakers Can Your 4-Channel Amplifier Connect?
Although four speakers can normally be connected to a four-channel amplifier, some amps can accommodate up to 8 speakers. Each sound system's impedance must be considered when connecting several speakers to a 4-channel amplifier.
Although some 4-channel amplifiers may be able to handle impedances as high as 16 ohms, most can handle impedances between 2 and 8 ohms. It's also crucial to confirm that the amplifier can handle the overall impedance of all speakers.
The impedance of the amplifier or speaker is specified in detail by the manufacturer of each product. You should carefully read the impedance calculation information I have supplied to determine whether or not your amp is appropriate and how to wire it.
How Many Speakers Can I Connect with A 4-Channel Amp?
A 4-channel amplifier could drive up to 8 speakers. You can draw up to twice as much power from the amp if you wire it properly. Make sure your amplifier can be set up in this manner securely first.
How Big of An Amp Do I Need to Power Six Speakers?
For 6 speakers, a 4-channel amp is required because the system can handle it more than adequately. Typically, with a 4-channel amp, you can power anything between 2-8 speakers
Are Parallel or Series Speakers Louder?
Speakers wired in parallel will always be louder. Low voltage per speaker due to series wiring results in increased impedance, which decreases speaker volume. A parallel circuit produces more volume because it lowers the resistance and impedance of each speaker.
Can A Speaker Handle a Speaker Amp's Power?
Speakers may not be able to control an amp's power. The number of electrical energy speakers can transform into audio is a constraint. Any damage will happen if the amplifier generates more electrical energy than the speakers can control. Instead, distortion or clipping may occur.